Friday, April 1, 1988
9 PM. Back from Orlando. My trip was interesting, and I'm glad I went.
It was good to see Ronna and spend time with her and her family, and I liked seeing the Orlando area, a place I'd like to return to and explore further.
Because I slept very well on Wednesday night and woke up on Thursday morning feeling refreshed, I knew I would drive up rather than take the plane.
At 8:30 AM, I had to take my yellow call slip to the post office and wait to get the travelers cheques I ordered, but I was at the State Road 84 entrance to the turnpike by 9 AM.
At that hour, it was relatively cool, and I felt pretty cool and collected myself as I drove north.
My plan was to get to West Palm Beach by 10 AM and to Fort Pierce by 11 AM, but I was soon way ahead of schedule.
By 10 AM, I was already passing the Stuart exit, and at 11 AM, I was on that long stretch of desolate road between Fort Pierce and Kissimmee, 100 miles with only the
Yeehaw Junction exit between them.
That was the scariest part of the trip, or it would have been had I felt anxious. But I felt very calm, and the car performed well though it tended to vibrate when I got it above 60 m.p.h. (The turnpike speed limit is now 65.)
At the rest stop before the Kissimmee exit, I called Ronna's mother, who gave me directions to her house. I got off at the South Orlando exit onto 441, a road that is just as tacky in Orange County as it is in Broward.
But mistakenly I went the wrong way on I-4 and found myself taking an
unexpected tour of downtown Orlando, which looks pretty nice.
I got off the interstate by City Hall and turned around, going back on I-4 towards the southwest, exiting onto the Bee-Line Expressway and getting off that at Orangewood Avenue.
That led me directly into the Williamsburg development, where I easily found Ronna's mother's house. In all, the trip had taken me four hours.
The house was abuzz with activity when I arrived. Billy had come home the day before suffering from a stomach virus, and two of his friends from school – Hank, a New Yorker, and Stella, from Nigeria – had just arrived to keep him company. At the same time, Ronna's grandmother's speech therapist was about to leave, and two women soon came in to clean the house.
After I greeted everyone, Ronna and Sue told me that their flight was fine but they'd arrived after 2 AM. Ronna's mother looked well despite having her foot in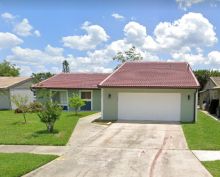 a cast from her accident, and I was surprised to see Ronna's grandmother doing so well after such a harrowing series of hospitalizations.
The stroke that occurred when Mrs. S had her angioplasty has left her tired and a bit lame, but the most pronounced effect was aphasia. Again and again in the course of conversation, she would stop, unable to articulate the word she was searching for.
At times, as Ronna noted, her grandmother would make spoonerisms, but she'd
also substitute one word for another – like "wall" for "porch" – and I noticed that at one point she referred to Billy as "she."
And this morning, as Ronna and I walked along with her for a few hundred feet, she introduced us to a neighbor as "my granddaughter and his friend."
Billy was showing his friends a videotape of his appearance on the previous evening's local news, when he was asked his opinion of a new gas tax increase as he was pumping gas. Since he was feverish and nauseated, Billy felt he looked terrible, but actually he seemed okay.
Sue said things were fine with her and Robert, and that her AIDS work was
going well. Though she stuck herself with a needle that had been used to take blood from a drug addict, her HIV antibody tests continue to be negative.
For lunch, we all helped Ronna's mother put out bagels (imported from Fort Lauderdale by an aunt), tuna and salad. Beatrice suggested some points of interest nearby, and Ronna and I took a little drive.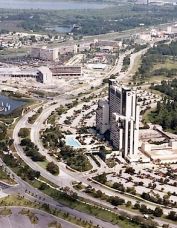 For the first time ever – and I've had the Camaro for over a year – I took down the T-roof and we drove in an open car. We went up International Drive, past the Peabody Hotel, famous for its ducks which parade out of the lobby at 5 PM.
International Drive first looks classy and then tacky, with lots of garish signs and tourist attractions: places like Shell World, Wet 'n' Wild (a water theme park), and odd little museums.
Ronna and I walked around the Mercado, a shopping center in the form of a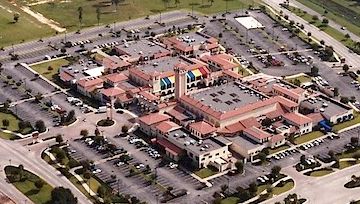 Mexican village – it was like a Rouse Company project – and then we drove back south, past Sea World, to Harcourt Brace Jovanovich's free Places of Learning.
On the outside was a huge ground map of the U.S.A., and Ronna and I spent half an hour walking all over the country, looking at the places we'd been to and want to visit.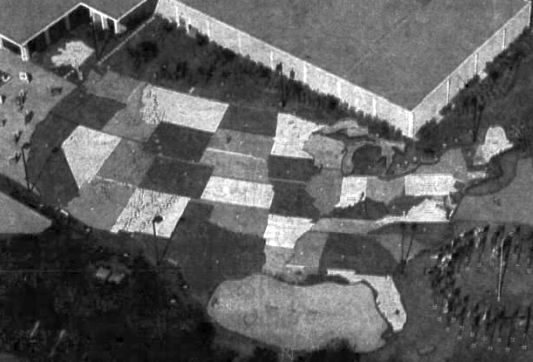 We wandered around a giant outdoor chess set and seven-foot-tall replicas of children's books from Treasure Island and Tom Sawyer to The Little Prince and Little Women, complete with covers and inside pages of text.
At the end was The Parent's Store, a kids' bookshop so complete that it actually seemed to have books from publishers other than HBJ.
Back at the house, we watched TV until dinner time when Ronna's mother drove her, her sister and me to the new Sizzler on International Drive, where we were to meet Ronna's aunt, uncle and cousins for dinner.
They were late because of a flat tire, so we got on a very long line of tourists from Missouri, Miami, France and Holland. As Ronna's uncle said during dinner, Orlando is now the number one tourist destination in the country.
I hadn't seen Ronna's aunt and uncle since they moved out of Brooklyn to Florida soon after my own parents did; they look older but fine.
Of course, I have seen Robbie and Betty in recent years. Betty had flown down from New York the day before, and Robbie – whose arm was in a sling following wrist surgery – lives in Orlando now.
Their sister, of course, is too ultra-Orthodox and super-kosher to spend Passover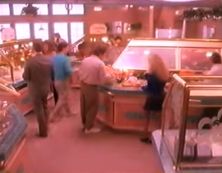 at her parents', and in any case, her baby is due within the next month.
The food at Sizzler, including a salad bar, was pretty good, and after the meal, led by Sue, who did most of the work, we changed her uncle's flat tire.
Beatrice told me how Procter & Gamble will probably eliminate her job and those of her sales reps in May when they introduce their own system to do the work she'd been doing for Oil of Olay, Clearasil and other Richardson-Vicks products.
Clearly, Beatrice is worried, and that night she had a lot of work to do on some report that was due this morning. Back at the house, Sue was helping her while I watched some videos with Ronna, Billy and their grandmother.
At midnight, I went to bed in Ronna mother's office, which is a new addition to their three-bedroom ranch house.
It struck me as odd to see a maple tree outside the window.
As I was driving up on the turnpike, I first noticed how different the foliage in Central Florida is from what I'm used to seeing in South Florida, where palm trees predominate. We don't have the bottlebrush trees that were all around the houses in Orlando.
Billy and his grandmother slept in their rooms, on the other side of the "great room," which contains a living and dining area where Ronna's mother slept on the couch – where she usually sleeps – while Ronna and Sue slept in her bed.
But Sue and her mother stayed up till 2 AM working, and of course, in a strange bed in a strange house, all excited, I couldn't get to sleep.
Actually, I'm surprised that I slept soundly between 4 AM and 8 AM, but I guess I was exhausted.
After showering and dressing, I had breakfast with Billy, who felt better and looked pretty good. If he weren't Ronna's brother, I'd probably think he was incredibly hunky because he's cute and well-built.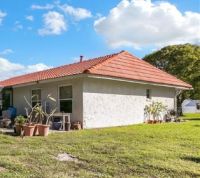 But to me, Billy is still that little boy who loved dinosaurs and ice hockey and who, when I first met him, tried to hide from me that he still drank juice from a baby bottle.
Of course, now he's graduating college in a couple of months and going to Gainesville to do grad work at UF.
Ronna finally got up, and as I mentioned earlier, I went for a little walk with her and her grandmother.
I had shpilkes – the curse of the ocnophile – and wanted to leave even as a part of me wanted to stay.
But they all had to prepare for Passover, and Ronna and Sue were planning to go over to their aunt's. (There was a lot of intra-family tension, particularly on Ronna's part, that I let go by me.)
After I said my goodbyes to everyone, Ronna and I went outside, where I hugged her and said I'd see her in New York in five weeks. Then I took off.
My car stalled out three times in front of their house, and then I went the wrong way twice before I finally got back on the turnpike.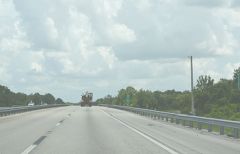 Although I'd been scared that I'd get an anxiety attack on the long stretches between exits, I was fine, and I actually felt pretty good.
When anxiety crept up, I told myself just to keep moving ahead, and when I heard the Miami radio shows come on at 1 PM, I felt more at ease.
My energy flagged around Port St. Lucie, but I plugged on and didn't stop till I got to the West Palm Beach/Lake Worth rest area, where the gas station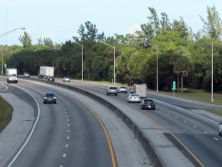 attendant said my engine was boiling hot.
He advised me to cut off the air conditioner, and I made it home fine, getting in before 4 PM.
I'm glad I changed my routine for a day or two.
---
Saturday, April 2, 1988
10 PM. Last night Mom made our secular humanist version of a Passover seder.
Jonathan was out with Marshall for their usual Friday night dinner, but Marc brought Rachel, a friend from New York visiting for the weekend, and we had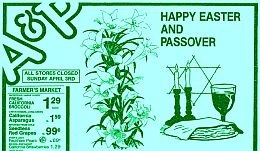 Mom's spinach-and-egg-and-matzo thing, which tasted good if a bit dry.
Back in my apartment, I read over my mail, which included a note from Tom, thanking me for sending him "that funny letter" from the literary agent Nat Sobel. Tom sent along a parody of the letter by one "Bat Bozo," exaggerating the letter's stupid remarks and bad spelling.
Well, today I got another letter from Sobel.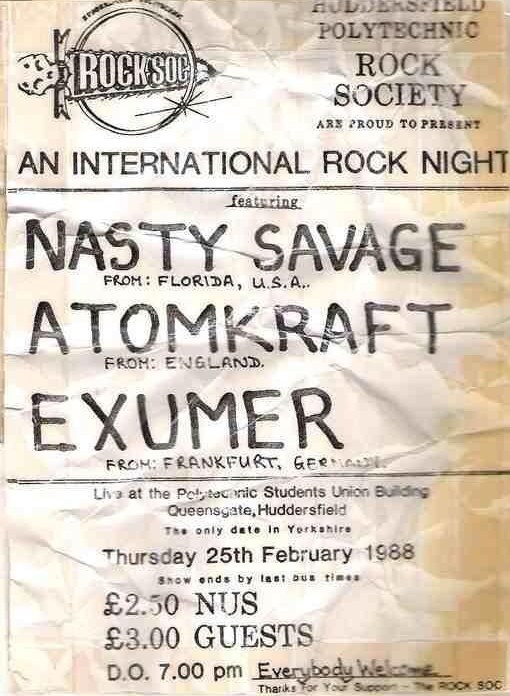 Remember how I congratulated myself on not sending him the nasty letter that I wrote in anger but instead a measured, polite response?
Sobel is obviously a bigger asshole than I'd imagined, for he felt compelled to send me another snotty letter condescendingly saying how "bemused" he was by what I'd written.
This time I sent him back his own letter, on which I scrawled how originally I'd wanted to tell him how stupid he was and now was sorry I didn't, but that I was now enclosing Tom's parody, figuring that might "bemuse" him further.
I ended the note: "Please leave me alone!"
(Imagine: a struggling writer imploring a literary agent to leave him alone!)
Am I too self-destructive? I don't think so. Although Sobel defensively claimed he had "literary" clients, I think he was angry about my defiant attitude toward the literary establishment, no matter how politely I expressed it.
In effect, my original response told him that I'd gotten as far as I had without a literary agent, that I didn't want to write for the marketplace, and I thanked him for looking at the manuscript which he had solicited.
I ended by saying, "I'm sorry I'm not the kind of
writer you're looking for."
Why would that enrage him? Is he so annoyed that someone won't play his game?
As for my self-destructiveness, I did send the polite reply the first time. Sobel had no reason to write me back at all after that letter.
If I get any more mail from his stationery, I'll simply throw it out without reading it.
Probably I should not have sent him another letter, but I wanted him to know, via Tom's parody, that there are writers who think he's a jerk and that he's an object of ridicule among me and my friends.
And if I never get published by a New York trade house, I'll be happier knowing I don't have to deal with creeps like Sobel. If he's representative of the world of book publishing, who wants to be in it?
There's no real harm done. Sobel is too fatuous to be a good enemy, and I hate what he stands for.
In my naiveté, I thought that writers were supposed to point out the hypocrites and the fools and the banality of evil – or in this case, the evil of banality.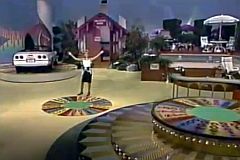 I still have my freedom. I can always make a living with my (non-writing) knowledge and skills, and if I don't get the books and the prizes and the celebrity and the money, I can live with that.
Am I sure? Well, I've been happy living without those things for this long.
---
Sunday, April 3, 1988
8 PM. It's Daylight Savings Time, which means it's only just gotten dark a little while ago. If I were up North, I'd appreciate the extra daylight, but in the Sunshine State, it doesn't seem to matter all that much.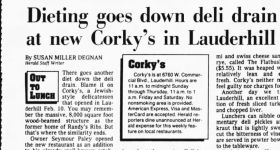 Last night I went out to dinner with my parents at Corky's, which was uncrowded, probably because it was the second seder night.
Dad showed me his commission check for the month, which totaled nearly $20,000. Unfortunately, most of it is going straight to the IRS. But Dad should continue to earn good money for the next six months at least.
They had a good day at the flea market, but yesterday morning Marc was asleep when Dad called, and when Marc finally got to the flea market two hours late, he said he was too
sick to stay. Dad asked Marc if he'd taken drugs, and Marc said yes.
Figuring Rachel had brought them, Dad said, "Those are your New York friends. If you were up there, you'd be in the gutter."
"I made a mistake," Marc told Dad as he left. He showed up for work today, but I'm afraid Marc is always going to be susceptible to cocaine and other drugs. Some people just are.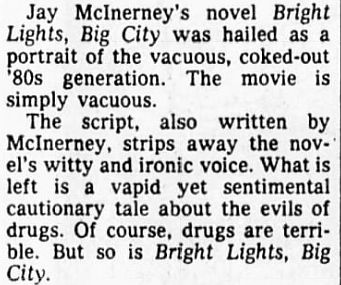 Yesterday afternoon I saw Bright Lights, Big City, and Marc's behavior seems awfully close to that of the Michael J. Fox character in that movie.
Although McInerney's screenplay was very faithful to his novel and the acting was okay, the film didn't have the vitality of the book.
Over dinner, Mom remarked that she thought Jonathan was now a Christian and that his spiritual quest was all based on what she called "his extraordinary fear of death."
I said that we all fear death, but Mom insisted that Jonathan's emphasis on spiritualism – that there's a better world and reincarnation, etc. – is all based on his one overriding fear. I think it's just a coping mechanism for someone who never fit in very well.
For whatever reasons, I've been able to adjust to life better than my brothers – or perhaps my crutches are simply more socially acceptable.
Or maybe it's the ten years of therapy with Dr. Lipton, the Wouks and Mrs. Ehrlich?
---
Thursday, April 7, 1988
11 PM. I just spent an hour on the phone with Teresa, who had some interesting
news: A friend of Perry's was unable to co-op his building on 87th and York, and he needed to sell the apartments he'd been warehousing so he could get his co-op plan (the eviction type) through.
Teresa had to make a quick decision and get the $11,000 down payment for a $110,000 one-bedroom apartment. Her mother lent Teresa the money, which she'll pay back by refinancing the Berkshires house.
There are no apartments left, or Teresa said she would have bought another. She plans to rent it out (unlike at the sublet on the rent-stabilized
apartment on West 104th, she can legally charge whatever the market will bear) and eventually sell it at a good profit.
She's excited that she'll finally own a place in the city. Her ultimate goal, still a long way off, is to own a house on Fire Island.
Teresa saw Josh at the chicken store this afternoon, and earlier he'd told me about their meeting. (Uncharacteristically, Josh said Teresa looked "cute" today.)
Josh should be leaving his apartment in Brooklyn Heights next week and going to either Harry's or his parents' temporarily. All Josh's stuff will be in storage until he closes on his co-op.
Teresa said she'd consider letting Josh stay in her new place for a little while, but of course it has no furniture.
Teresa has gotten three summer shares – the writer, Tod, and two "hamishe" single women –  for Fire Island, so that's settled.
How come all the news from New York City is still only all about real estate?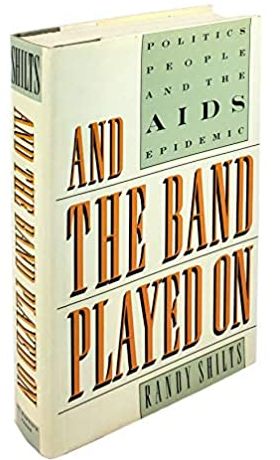 This afternoon I finally finished And The Band Played On. It was a very moving book when it recounted the struggles of people who had AIDS and the few lonely doctors, public health officials and gay activists who worked so hard at the start of the epidemic.
But the book also made me angry and depressed when I realized – not for the first time, of course, but never so clearly – how homophobia caused the Reagan administration and the media to ignore the disease at first, and then to play politics with it.
And it's still going on: In yesterday's State of the State address to the Florida legislature, Gov. Martinez stressed the part of his AIDS package that dealt, not with education or health care, but with quarantining AIDS patients who "wantonly

spread" the disease.
Although it's 1988, Americans are still treating people with AIDS as criminals, as somehow guilty until proven innocent.
Some other thoughts about Shilts's book:
There's a clear split between gays in San Francisco and those in New York, who tend to be more closeted, less political, and somewhat more insipid than the no-nonsense S.F. gay leaders.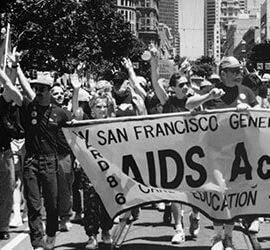 Beyond AIDS, the book points out society's inability to deal with long-term problems. Public health officials could more easily mobilize against the Tylenol poisonings or Legionnaire's disease because they happened at one discrete time and place.
This American failure to manage long-term problems extends to education, the budget, Social Security, the space program, etc. Every "solution" is a short-term fix. Is it because TV has accustomed us to the half-hour sitcom, the 30-second commercial, and the five-minute news story?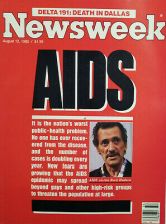 I think TV and our obsession with celebrities explains why it took Rock Hudson's diagnosis to finally get Americans aroused about AIDS, and that's a sad commentary on our times.
I feel very pessimistic about the future of the human race. Again and again, ignorance leads to evil. I see things in Israel and Central America, Lebanon and Northern Ireland, South Africa and the Persian Gulf only getting worse and worse.
I'd never want to bring a child into the world of 1988.
---
Saturday, April 9, 1988
9 PM. Last night sleep came to me at 10 PM, and then I dreamed solidly until 7 AM.
I dreamed about being back in the Rockaway of my childhood summers, walking
along the Boulevard, past the candy store on Beach 56th Street and the drugstore on Beach 56th Place, up to Lincoln Court, where my family had their bungalows.
In another dream, I visited Avis and Anthony. I guess I'm going to see them this summer.
I also dreamed about seeing Elihu. While reading the Shilts book, I began to worry that some of my old friends from college had died of AIDS, so while I was having lunch the other day, on impulse I called Elihu's number and hung up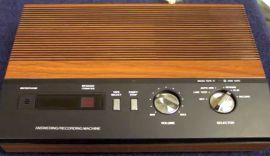 when his answering machine message came on.
Of course, despite his robust-sounding voice, Elihu still might have AIDS. But at least he's alive now.
Anyway, I felt incredibly refreshed this morning as I went to teach my class at BCC. I started off by reading Max Apple's "The Oranging of America," which seemed to mystify my students.
While I like teaching adults, my students are so determinedly middlebrow that I
can't really influence them – not like an MFA program teacher or undergrad teacher of college-age kids and certainly not like a high school teacher like Tom.
We went over two short pieces by Joe Goldstein and Tim Murphy, which were pretty well-written, and Tim handed in a long story for next week's class.
After class, I went out for a late breakfast at a local coffee shop, and then, at my parents' empty house, I finished reading the papers, did more laundry, and exercised for 90 minutes to three Body Electric videos.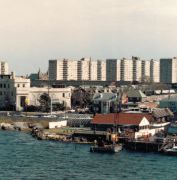 Back at my place, I called Grandma Ethel, who is going back for her third CAT scan this week this week after the doctors messed up the first two.
It will be only four weeks until I arrive in Rockaway and see her again, I told Grandma. I hope her health hasn't deteriorated too badly during the past half-year.
After I showered, changed my sheets, and ran some errands, I went out to the pool at 5 PM and sat in the sun for 45 minutes.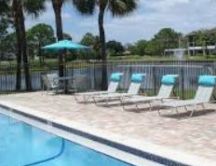 I put SPF 25 sunscreen on my face (and because I was the only one at the pool, I actually covered my head with my black tank top to ward off the heat), but I left the rest of my body unprotected to renew my tan.
Bagels have returned with the end of Passover!