Thursday, November 12, 1987
9 PM. I just returned from Broward Community College, where I taught a boring class on cause and effect. I didn't prepare well enough, though for what they're paying me, I did a good job.
Dr. Grasso sent me a note proposing I teach all next term on Saturday mornings, an introductory creative writing class.
I agreed, of course; it's not often I get asked to teach creative writing.
The class may not even make, and sometimes I think I don't even want to teach creative writing if I have to do it with students who are not much above composition level.
This morning I visited Patrick at BCC-South and he said he saw my "story about AIDS" in the Florida Review.
To say that "I Survived Caracas Traffic" is about AIDS is to insult all those who
have really written about the disease.
Patrick said he "didn't know what to make of the story," and his creative writing class "couldn't figure it out."
Why? I asked, as the story was one of my least experimental and most straightforward.
"Well, I guess the class had trouble with the subject matter."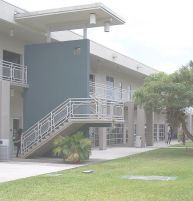 Fuck them.
I don't know if the story made Patrick realize I was gay, but I don't care at all.
What bothered me is that he was too thick to "get it" – especially since Patrick is one of the most literary people around Broward.
I don't belong here. If people who are interested in literary writing are taken aback by the modest mention of homosexuality, I can see that this is not where I want or need to live.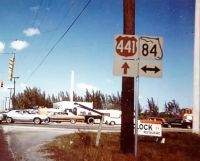 As I said to Dorothy yesterday, "There are only two reasons I come to Florida: my family and the weather in the winter."
I wasn't just saying that for effect, either. I need more than Mom and Dad and Marc and Jonathan and a warm climate.
Today was a perfect day, and I couldn't even appreciate it. What I really need to do is test myself with a Northern winter again.
Otherwise, I'm going to think that I'll never be able to live anywhere but here for the worst of winter. I'm sure I could adapt if I had to.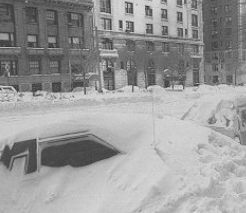 For 28 years I endured New York winters, and while I didn't enjoy the cold, the dark, the ice and the snow, I didn't complain more than anyone else I know.
If I had a heated place to live, I was fine – maybe a little blue, but I did some of my best writing on wintry days when I felt depressed.
Maybe I'll come for a few weeks to see my family and take a break from the cold, the way I did in the winter of 1979-80. Besides, I'm beginning to take good weather too much for granted.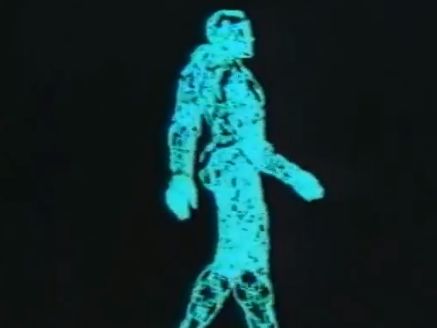 Last night I slept magnificently, with lush dreams that were so complicated they were pleasant even when they were scary. I wish I had written them down.
I took care of a number of errands during the day, and I read the Los Angeles Times/Gallup survey of the American electorate, a groundbreaking study which divided voters into 11 distinct groups. (I'm either a "60s Democrat" or a "Secular.")
The labels "liberal" and "conservative" are about as valuable today as are "Whig" and "Federalist."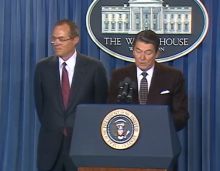 I'm glad Reagan appointed Judge Anthony Kennedy to the Supreme Court; he's a moderate conservative, like Justice Powell, whom he replaced.
That the right-wing nuts are complaining is the best endorsement Kennedy gets. If he's confirmed, Reagan will really have been defeated in his attempts (with Bork and Ginsburg) to turn the High Court into a far-right nightmare.
Last night I called Lisa, who's recovering from a concussion she suffered when she fell off a mattress being held aloft by her fellow teachers during a bed race at a pep rally.
Lisa's principal had drafted her for the job, and when one bed carrier fell, Lisa hit the gym floor head first. She can't sue because of her contract but has a claim in with Worker's Compensation.
Maybe she'll go with me to the Miami Book Fair this weekend. I enjoyed it last year, although now I don't need an infusion of literary culture as much as I did then.
But I want to see Bret Ellis. Today I read Terrence Rafferty's New Yorker article on him and Janowitz, "Advertisements for Themselves," which said the Brat Pack's bad novels owe more to marketing than any aspect of literature.
Maybe these Brat Packers are really more like best seller-authors like Irving Wallace and Sidney Sheldon rather than serious literary writers, as Rafferty seems to contend.
He's certainly right in saying that they never deal with the serious issues of art and life the way that Mailer, Bellow, Baldwin, and others of their generation of novelists did in the '40s, '50s and '60s.
Boy, the Brat Packers have taken a terrible critical drubbing lately. Given how underappreciated I feel compared to them, I have to admit that makes me feel good.
But I have an easy, nearly carefree life, and I refuse to feel like a failure or a victim. Also, I still need to be able to laugh at myself.
Where I go from here, I'm not certain, but I think I'm probably asking the right questions as I go.
---
Friday, November 13, 1987
6 PM. For whatever reason, I woke up in a good mood late this morning. After reading the Times, I headed over to my parents' to work out to a tape of Body Electric.
As usual Dad was busy with paperwork and phone calls. He told me that Burdines and other big stores have called to cut back their orders for spring goods because they fear a recession.
After showering and dressing at home, I went to the optometrist to have a
thorough examination and to see if I can wear the new Johnson & Johnson disposable lenses.
I like to fool around at the eye doctor, and all the equipment gives me a chance to play.
I seem to be a good candidate for the disposable lenses, but I've got to return to the eye care center tomorrow morning after I sleep with the lenses tonight.
When the doctor asked me if I sleep with my current lenses, I replied, "No, we're just good friends."
Dr. Klein's diploma from Brooklyn College shows he graduated just two years before I did, but the young doctor who did the preliminary eye exam refused to believe I was 36 until she looked it up on my chart.
"I look normal for my age," I explained. "It's Dr. Klein who looks terrible."
Maybe tonight I will see more clearly in my dreams?
I had lunch at the deli by the Main Library parking lot and then caught up on recent issues of American Banker.
The times they are a-changing. USA Today declares the Yuppie phenomenon dead, its last gasp coming on Black Monday, for which Yuppie greed is almost universally blamed.
---
Sunday, November 15, 1987
4 PM. Getting used to the new contact lenses is proving difficult. I hardly slept last night, dozing off at about midnight and awakening every so often until 3 AM,
after which I was unable to get back to sleep.
A headache bothered me terribly; although I assumed it was from lack of sleep, it might have been due to sinusitis. Anyway, I felt like a piece of worn shit this morning.
At least the Sunday Times came at 4 AM, so I had something to read, and I suppose I'm lucky that this was the first Sunday on which I had no obligations.
There are no papers to return tomorrow, and it will be the first Monday I won't be giving a computer workshop since Columbus Day.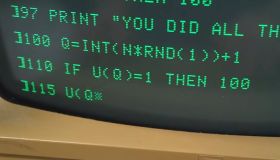 I do have a workshop starting on Wednesday, and I should begin preparing for the BASIC workshop that begins a week from Tuesday.
But I have time for that, and time to grade other papers before Thursday night's English class.
What I need to do today is rest. I feel so tired.
I've read just about all of the Sunday papers, including the Chicago Tribune, and I did work out to the Body Electric show I taped yesterday.
It's difficult to relax with my lenses in. While I suppose I'll eventually get used to
having them in all the time, right now I feel uncomfortable – and as I said to the doctor's assistant yesterday, it's much more a psychological problem than a physical one.
I've again been thinking about the successful young fiction writers, especially after reading an interview with Tama Janowitz in the Fort Lauderdale paper. I've decided it behooves me not to be bitter and envious of them.
Each one seems committed to his or her writing, and if I were in the same position as Janowitz, McInerney or Ellis, I'd probably feel as they do about my own success.
One thing I do not have to face that they do is a barrage of critical
attacks in the media. I can work in anonymity, and that may be an advantage.
I remember Susan Mernit once said that Tama was lucky because she stumbled into subject matter that proved popular.
My time may yet come, or it may not. I'd like to think that any of the so-called Brat Pack writers would treat me not like some has-been or nobody, but give me the courtesy a fellow writer – even not a very successful one – deserves.
Back in the MFA program a dozen years ago, I never really expected to make money with my writing, but I guess I thought it would bring me more respect than it has.
It's not the fault of successful writers that our culture has moved to a point where there's no in-between, that one is either a tremendous failure or a pitiful success.
What?!
That Freudian slip tells me a great deal about my own emotional problems and my fear of success.
---
Monday, November 16, 1987
4 PM. I've just walked back here from my parents' apartment. Getting across University Drive is tricky, but it's an almost straight walk as I cut through the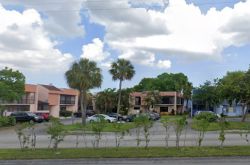 shopping center and the condo parking lot.
I've been feeling mildly feverish and mucus-y since I got up this morning.
Although I slept very well last night, I still felt exhausted. By 1:30 PM, when I came back home, I immediately fell into bed.
I got into one of those deep-relaxation alpha states that seem better than sleep. It was one of the rare times when I feel all my tension melting away. It's a pity it had to end.
Right now I'm still a bit fuzzy. I feel all cottony and lazy but not really tired.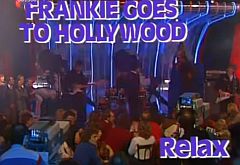 Maybe I needed more rest than I thought.
My legs and stomach are really sore from the strenuous workouts of the weekend, and it felt good to walk somewhere, if only for five minutes. I miss walking in New York City.
The mail brought tons of junk offers from magazines, travel clubs, insurance companies, charities, etc., in addition to five credit card bills and the MacDowell Colony Newsletter, which made me very nostalgic for the place.
It was terrific to see photos of the MacDowell colonists and staff and to read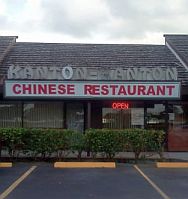 about the people I was with.
Last evening I brought Chinese food from Kanton Kanton over to my parents' house and had dinner with them and Jonathan. They'd had a pretty good weekend at the flea market, especially at Dad and Marc's booth.
I stayed to watch 60 Minutes and Physicians' Journal Update on the Lifetime network (a show geared to doctors, with commercials for prescription drugs) before returning here at 9 PM.
I phoned Ronna, who'd arrived only a few minutes before from a weekend in
Pennsylvania. She and Jordan went to visit Pat and Russ and their new baby, and Ronna said they all had a good time.
I'm glad Ronna is socially active and that she's spending time with Jordan. Maybe they'll get back together, though I doubt it.
I'm not jealous at all, and I suppose I should be if I really did want to marry Ronna. Actually, I think I'd be relieved if something were up between her and Jordan.
Ronna was screwed out of a raise by her boss's boss at Yeshiva, getting only $750 out of an expected $1500 increase.
This happened while another woman "who's very nice – but also young and cutesy and thin and who plays up to the boss" got the full amount.
Although the boss acknowledged he probably made a mistake – he said he was misled by some early comments about Ronna – she can't get another raise for a year.
Since I've never worked in an office, I know little about office politics, but Ronna says she basically likes her job and there's little she can do except see if the New York State Department of Education job offer comes through.
Hey, it's the second half of November already, and it's definitely becoming tourist season.
Ronna said that her sister and brother-in-law went to Orlando to get out of New York's snowy and chilly weather for at least a little while.
The weekend here was magnificent, and today is breezy and mild.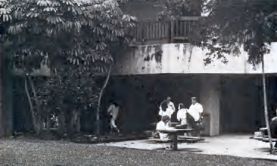 Tonight I've got to teach cause and effect, and I made sure I'm a lot better prepared than I was last week.
My face has broken out in zits, like I'm still a teenager.
I may be getting used to my lenses. However, when I took them off for twenty minutes this morning, it felt like a great relief. By my next appointment on Thursday, I should be ready to decide if I want to stay with these disposable extended-wear contacts.
I still feel so tired. It's been difficult for me to adjust to all the changes in my life in the six weeks since I arrived in Florida. Outwardly I've done fine, but inside I'm kind of rattled.
---
Thursday, November 19, 1987
9 PM. My work week is over, and I feel exhilarated.
I began teaching the research paper tonight. Before that, I had the students read an essay by Ellen Willis on high school – a rather simple piece, I thought, but from the blank stares and silence I got when I asked questions afterward, I realized they couldn't follow the logic of Willis's writing.
I tend to forget that people can be adept verbally but not have the vocabulary or critical thinking skills to understand words on the printed page. No wonder they hate reading. If I had to read like they do and struggle to get through the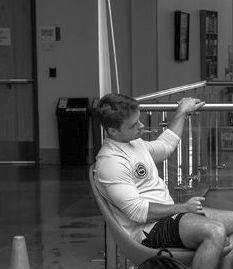 meaning of every paragraph, I'd hate reading, too.
There's one guy in tonight's class that I've had a crush on for weeks, and when he came in late tonight in a tight tank top, I lost my whole train of thought.
Actually, there are a number of cute young people in the class, but this Robert guy – an angelic-looking, intelligent, muscular blond who smiles at me a lot – is stunning. He seems to have such confidence. On the other hand, he could be a total asshole.
I've become friendly with some of the evening adjuncts who hang out in the conference room before our classes begin at 7 PM. Most are very intelligent and
interesting, though they're victimized in the manner of all college part-time faculty members.
Well, four weeks from now, my experience returning to teach college composition will be over, and though it's been okay, I don't want to repeat it again for at least another two years.
I've decided not to apply for any English jobs this year – not that I'd get them anyway.
Last night I tried to figure out if I can take any graduate classes next term; I may take only one because of all the Teacher Education Center workshops I'm doing.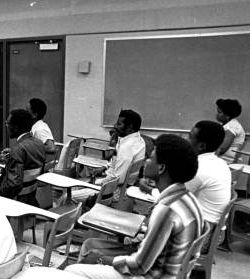 Unfortunately, I teach exactly when all the education courses are given because teachers are free from 4 PM to 7 PM.
I fell asleep early but woke up in the middle of the night, fretting over the BASIC programming workshop that begins at Riviera Junior High next Tuesday.
I don't whether to teach plain-vanilla BASIC or structured BASIC, and I have to sit down and really work up a game plan, create handouts and assignments, etc.
It will be a lot of work, but I've got the whole weekend to do it. On Monday I can grade the papers I'll be handing back at BCC that evening. Then, after Tuesday, I'll have five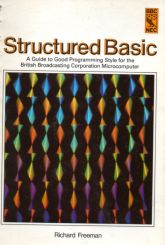 days without teaching to catch up on the rest of my work during the long Thanksgiving weekend.
My mind racing, I stayed awake till about 7 AM, when I managed to fall asleep again. I had a pleasant visit with Libby in a dream before getting up for good at 10:30 AM.
After grading papers for the rest of the morning, I did my weekly grocery shopping at Publix and then picked up my mail – all credit card bills – before going to the optometrist, where I confessed to being an extended-wear dropout.
They gave me the option of a daily-wear program where I could get new leneses every month to keep them free of mucus and protein buildup. I've got a new pair now, plus two more pair, and I go back for a checkup in three months.
As with all Ponzi schemes, my credit card chassis requires constantly getting more cash. After working on ways to get around the problem of cards with low cash advance lines, I think I may have hit on a solution:
Amoco Torch Club has a program where you can phone for travelers checks which are mailed to your home and billed to a MasterCard or Visa. I think this will work.
And I also understand that American Express is offering a new program of gift checks, though I'm not sure you can use your card to pay for them.
I got my first bill on my second AmEx Optima, and if they approve my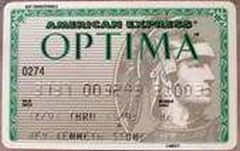 application for a PIN, I'll be able to get $500 a week in cash advances on two Optima cards.
I've applied for only one new card recently and don't intend to try again till the spring. By then I'll pay off some cards and hope to have a clear six-month record of no inquiries.