Tuesday, October 20, 1987
8PM. It's unclear exactly where we're headed, but one thing seems certain, and that's that the mood of the nation and the world has changed.
The Dow closed 102 points up, which would be a record on any other day, but that meant only that it regained 20% of yesterday's loss. And most stocks declined, as did the broader indexes.
The Tokyo market lost 15% of its value, and similar events happened on the other world exchanges. Clearly, yesterday was a genuine worldwide financial panic, the kind I've read about in history books but never expected to see firsthand.
On Wall Street today, the market swung wildly back and forth, ahead 200 points, then down 300, then up 200. Program trading was suspended; the Fed announced it would pour money into the system to assure liquidity; the prime rate fell back to where it was before last week's rise; and some market trading had to be suspended.
"The stock market crashed yesterday," began the lead story in today's Wall Street Journal, and the Times had a banner headline.
After a day of following the ups and downs of the stock market on TV and in the
papers, I'm exhausted.
A recession seems likely, and more people are talking about a depression – though always with the caveat that social security, unemployment insurance, the FDIC, etc., assure that it can't be as bad as the 1930s.
This morning, Josh called from work: Carter-Wallace fell to $6 today (he bought it at $100), but he's got to stay with it. I couldn't tell Josh what the future holds, although I was flattered he asked me.
Later he called me from the city Department of Transportation, saying that Joyce has a $35,000 job working with PCs waiting for me there.
I told him I couldn't take it now and that I hoped that maybe it would still be there in the spring; I can't leave Florida now, and I'd have no place to live on my own in New York.
I graded two of the three batches of papers for the English 102 course and still have to read Antigone and make up a syllabus. Grading papers is drudgery that I'm no longer accustomed to.
I'm not sorry I agreed to take over these three night classes at Broward
Community College, but that's only because I know I'm not going to do it again next term.
Meanwhile, I continue to work my credit card schemes.
This evening, after I went out to dinner at Taco Viva, I discovered I could use my Optima Card at an ATM to access my weekly limit of $500 in cash advances. And I still have $9000 left on that credit line.
Hey, I'm only running my personal finances the way the U.S. government runs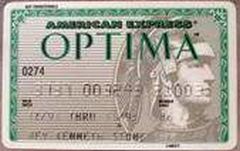 its finances: borrow, borrow, spend, spend. The difference is that I try to spend very little.
(Also, while I can't print money like the U.S. government, I can declare bankruptcy.)
Dad said that some of his Bugle Boy customers, fearing a consumer downturn, have decided to cut their spring orders. Mom wonders what this means for her plans to buy a house next year.
I didn't sleep enough last night and I read too much today. Tomorrow's a busy day, too, and I haven't yet prepared for either class.
Although I'm lonely for my friends in New York, I can't wait till I'm in my own apartment instead of staying with my family.
My life has changed so much in the past couple of weeks since I've come to Florida, I don't think I've absorbed it all yet.
---
Wednesday, October 21, 1987
11 PM. Last night I spoke to Ronna and was very disappointed to learn that she won't be coming for Thanksgiving after all. Because of a deadline for the Yeshiva University alumni bulletin, they aren't letting her take off from work then.
Hopefully, she can come in January, but I'd wanted to see her sooner. She says she misses me but that her life is fine.
She went to Pittsburgh to visit Phil and his family and even flew home. And Ronna likes her new playwriting workshop, which she says is very basic: "more of what I needed" than the last one.
After preparing for my classes this morning, I left Davie at noon and headed for Little Havana, stopping off in North Miami Beach to have lunch at Corky's.
At Auburndale Elementary, I lectured and helped the teachers look at software; Mr. Wellsford, the school's computer teacher, has been more than helpful. Next week is our last session, which will be only two hours.
After the workshop ended, I drove up N.W. 27th Avenue/University Drive and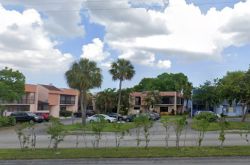 had a light supper at home before going over to BCC, where my English 102 class also went smoothly.
I handed out a syllabus, returned papers, and then went over Antigone, which I read last night, along with An Enemy of the People for next week's class.
It's fun to teach literature again after not doing it for three and a half years.
---
Thursday, October 22, 1987
11:30 PM. Wall Street fell back again, and it's becoming clear that the financial markets are going to be volatile for several more weeks. For the next few trading
days, business will end at 2 PM so they can catch up with the paperwork.
President Reagan was forced to hold a news conference – his third all year – and he babbled some statement about being willing to work with Congress to solve the budget deficit. To my mind, the trouble is that if we're heading into a recession, a tax increase now might make the economy worse.
Of course, tonight Reagan noted that John Maynard Keynes, unlike himself, did not have a degree in economics, so he's probably not concerned.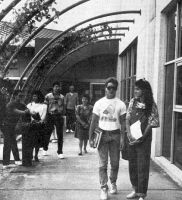 In talking to people, I find it hard to detect a change in their attitudes, and most seem fairly confident that a depression in these times is unthinkable. It's interesting that all the talk of the vaunted "safety mechanisms" – the FDIC, SEC, Social Security, and unemployment insurance – are the creation of New Deal liberalism.
I for one am enjoying following the markets on CNN all day (and after the 11 PM Moneyline, one can follow the Asian and European markets all night), and I'm cheering when the Dow tumbles.
Joke: What do you call a yuppie arbitrageur? Answer: "Waiter!"
We need more
jokes like that.
This morning I was awakened by the phone's ringing. It was Mom calling Jonathan (whose broken toe is getting better): Marc had never opened at the flea market.
Later, he finally showed up, but Marc was here most of the day, sleeping; probably he'd been out all night. As much as I'm not fond of dogs, Marc's China is a cute puppy and very affectionate, even with me.
I exercised for a short time with heavy weights and spent much of the day grading papers. More lenient now, I'm getting into the groove of grading but still
hate the drudgery.
I got a second Optima Card with a $5000 credit line, but I'm not certain they'll let me keep it after they discover I have another Optima Card with a $10,000 credit line. On the other hand, Discover never discovered that I have three of their cards.
Tom sent a letter and some poems and an International Herald Tribune article about McInerney/Janowitz/Leavitt/Ellis, who continue to get very bad press.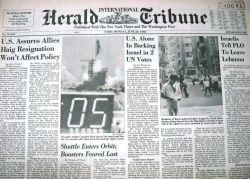 Like everyone else, I'm envious of these young yuppie novelists, but the article did say that they've destroyed the myth that writers have to starve for years.
And that's good. Why shouldn't writers be paid well? The writing I've done for the last dozen years is worth the $275,000 that Leavitt's getting for his next two books.
As with my teaching, I've decided to treat myself as if I'm earning what I deserve to be making, and my credit cards help me to live accordingly – even if I spend very little. (I've spent about $20 in the past week.)
I refuse to be a victim or a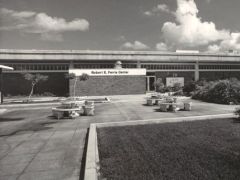 loser.
Before class at BCC tonight, I chatted with Mick. He's been getting his poetry published in numerous magazines, but he's finding it hard to get a book done.
Grading papers is really grinding him down, and of course I now can see very clearly that I can never go back to the horror of a full-time job at BCC or a similar comp/remedial teaching position.
I did enjoy my class this evening; I got a lot done and I dismissed them at 8:30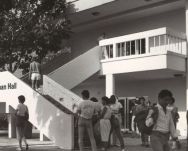 PM. Teaching half the hours I'm supposed to is one way of doubling my salary to something more reasonable.
On the BCC campus, in my class, at the Broward Mall where I had dinner, all over . . . I see these gorgeous young guys I enjoy looking at.
I wonder if I could ever be content to do nothing more than look.
Before Ronna and I get serious about future plans, we've got to thoroughly talk this issue out: I'm bisexual in the sense that I can enjoy sex with a woman and
especially with Ronna, but I'm clearly primarily attracted to men as sex objects. (I think I'm catching my students' awkward phrasings.) And that will never change.
I don't want it to change. I like being gay: it's a part of who I am, whether I act on those feelings or not.
I've had no trouble controlling my sexual feelings heretofore, but suppose another guy came along – someone I was attracted to and liked the way I did Sean, but someone who was also a person I could see myself having a long-term relationship with?
Wouldn't I prefer being with that guy to being with Ronna? Wouldn't she be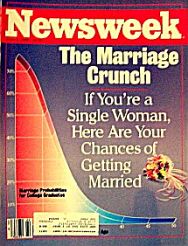 better off with someone totally straight?
Well, yes, we know that. But times are tough for single woman, and it doesn't seem like Ronna's going to find another guy to marry anytime soon.
Are we just "settling" for one another? Or is being friends – and we certainly are that after seventeen years – the most important factor in a marriage?
There are other issues besides my homosexuality: where we'd live, what we'd live on, how we would keep house, etc.
It's hard for me to picture myself married or being a father. That doesn't mean it's not possible, of course.
---
Saturday, October 24, 1987
8 PM. I feel depressed about my life.
Tim Swaren, the new Sun-Tattler editor, returned all my unused columns without a note or word of any kind. A couple of them had been marked up for publication, presumably by Michael Burke or another former editor.
I feel I've been treated very shabbily by the paper. I wrote my heart out for $20 a published column, and some of my columns were excellent.
Yet I never received any word that there was the slightest reaction to my work from readers. Nor did anyone at the paper ever say I was doing a good job.
Also making me depressed is that I feel I'm in everyone's way here at the house. For example, upstairs the Dade phone is only in this room, and Aunt Sydelle just called and Dad's talking to her in here.
This morning I opened a can of soda in Jonathan's room and the foam spilled all over. I tried to clean up, but tonight Jonathan found a horde of ants feasting on the sticky coaster, which I neglected to wipe off.
My stomach has been hurting off and on all day.
Last night I fell asleep early and slept okay, but I got up at 5 AM with the others and couldn't get back to sleep.
Yesterday I saw an ad in the Herald announcing that Tama Janowitz would be at the Waldenbooks at Mayfair in the Grove today from noon to 2 PM and I decided to go.
Before I left, I worked out to last week's tape of Body Electric and made sure I taped today's show.
Earlier, I had gone out to get the New York Times and to put oil in my car (I needed two quarts); while I was out, I took out $1000 in cash advances from ATMs.
Making it into Miami with little trouble, I found street parking in Coconut Grove. I'd never been in Mayfair before, and it seemed awfully ritzy.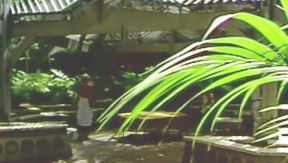 Tama Janowitz was at the front of the store at a table with copies of A Cannibal in Manhattan. She had on dark glasses and looked tired.
I told her I'd read Slaves of New York at MacDowell and liked the book and that I was a writer too, and said I had a story in the new Between C & D. She asked if I lived in Miami, and I told her I was living like an old Jewish retired snowbird and that I had an apartment in Manhattan.
"That's the ideal way to live," Tama said. She has been busy touring for two months and just flew in from Houston late last night. Tama signed her book, which I bought with my new Optima Card, and said she'd look for my story in Between C & D.
As I was leaving the store, I noticed there was a video of her playing on the TV. I felt like some shy kid next to her, even though she doesn't really seem snooty at all.
I drove around the Grove, up Bayshore Drive and Brickell Avenue, across Biscayne Bay to Miami Beach, up Collins Avenue and across the 79th Street Causeway – the same route my character takes in "I Survived Caracas Traffic."
Back home at 3 PM, I had some pancakes and then my stomach began to hurt again.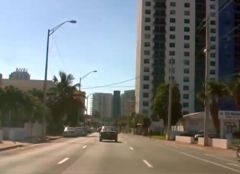 Later I felt somewhat better and marked ten papers from Monday night's class; I have about fifteen left to go.
God, the students are so banal – and they can barely express themselves even when their grammar and sentence structure are okay. You can tell they don't read.
Yesterday I read an issue of Poets & Writers which featured boy genius editor Jonathan Galassi, who said that he gets manuscripts from young writers who
can't really write grammatically correct sentences.
Bret Ellis says he wants his editor to do no more than correct his grammar. Does that mean that even some young hotshots had to take remedial writing?
Probably not, but I've noticed that even a talented, Ivy League-educated writer like Justin mixes up it's and its and makes other errors I wouldn't expect.
Dorothy called me tonight. I'd seen her on the street in New York a month ago and managed to avoid her, but now she had me trapped.
She's getting thrown out of her apartment and feels burned out and not up to
paying the $500 a month she'd need, even in Brooklyn.
An elderly aunt in Fort Lauderdale is dangling the prospect of helping to relocate Dorothy down here, and she asked me all sorts of naïve questions about the area and about adjunct work teaching English in the area.
I told her the pay was bad, and since she doesn't drive, she'd find it hard to teach at any colleges. This term she's at Brooklyn College. She says she hates teaching English but doesn't think she can do anything else.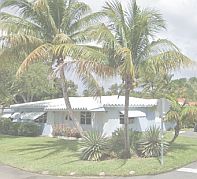 What a typical victim adjunct! I don't understand how Dorothy can be so out of it, either.
I also spoke with Teresa, who'd been called by Sun Pointe Cove as a reference. (I'd listed her as a previous landlord.)
She says she and Norton have been fighting in the chicken store, though there haven't been any big blowups – not yet, anyway.
Teresa now realizes that her relationship with married Eric can go nowhere, and she replaced the photograph of them on the coffee table with one of her and me.
She was denied unemployment benefits and expects to lose her appeal because Richard will just offer her her former job back.
Judy came in from next door while Teresa was on the phone with me, and that just reminded me how much I missed being back at the old apartment.
Yesterday, the Senate rejected Judge Bork 58-42, the biggest "no" vote against a Supreme Court justice nominee and a big blow to Reaganism.
---
Monday, October 26, 1987
10 PM. Today's classes went well. Although I may only be doing a half-assed job, that's probably better than most people would do in my place.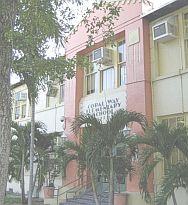 I got the Coral Way Elementary teachers on the computers, but we were limited by the narrow selection and poor quality of the CAI software the school has.
Tonight at BCC, I went over mechanical problems and talked about writing, preparing the students for next week's in-class theme.
The rest of this week I'm having in-class writing, but tomorrow I have another batch of English 102 papers to grade before Wednesday.
I enjoy my teaching and am glad I got the opportunity to see what teaching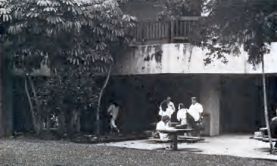 English again was like.
This morning I added my latest stint at BCC to my résumé. Unfortunately, in a world of specialists, I don't look like I'm committed to either my creative writing, teaching college composition, or my computer education workshops.
I got seven – count 'em – credit card bills tonight, all of which I paid and are already in the mail. Earlier, I deposited $1200 in credit card cash advance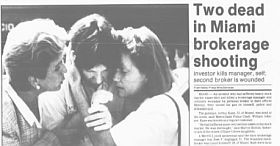 checks into my credit union account.
A Miami man who lost all his money in the stock market last week walked into a Merrill Lynch office in South Dade and killed one broker and shot another before turning his gun on himself.
---
Tuesday, October 27, 1987
8 PM. I didn't get to sleep until after 4 AM because my mind was racing with thoughts and ideas I can't remember now. Nonetheless, I felt pretty good today.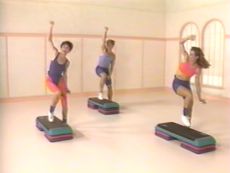 I exercised aerobically with an 11:30 AM TV show, and in the afternoon I sat out on the screened-in terrace by my room and graded all the papers for tomorrow's class.
Last night Josh called. I hadn't realized he had stocks on the Sydney and Tokyo exchanges, which collapsed recently. (They're starting to climb back a bit, as did the Dow, up 56 points today.)
Josh plans to start work with the city DOT on December 1, though this evening I heard
that Mayor Koch instituted a 90-day hiring freeze until New York City can assess the effects of the market turmoil within an economy too heavily reliant on Wall Street and financial services.
New York may become like Houston after the oil bust.
Josh sounded lonely, but we had a good talk. I miss him and my other friends. It's clear that while I can survive okay in Florida, New York City is the core of my life. Still, I've got six months here, and I'd better make the best of it.
Later this week I'll check to see if I've been approved for the apartment. When I move into my own place, life here will be a bit different, I'm sure.
My parents are very nice and make me feel at home; they never allow me to pay for my food or clothing.
But I still need more privacy than I have here and the freedom to read the newspaper in bed or to stay in bed as long as I want.
Tomorrow is the last day at Auburndale Elementary, and so far there are no other Teacher Education Center workshops in the offing besides the one next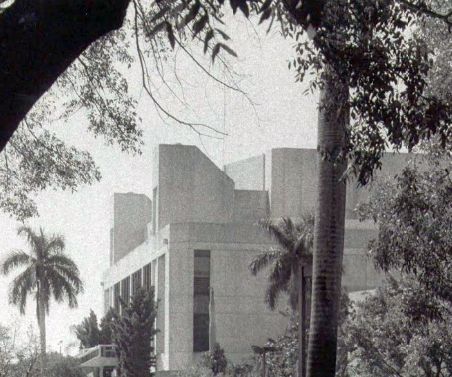 year.
But with my BCC classes, I don't really mind. Maybe I'll have more time to write once I get settled.
But write what? That's the problem. I haven't looked at my college diaries yet. There are always papers to grade, TV shows to watch, chores that have to get done. I feel pretty lazy.
Now that I don't have the Sun-Tattler column, I don't really get ideas for columns, and so I'm hoping I can channel the creativity that worked most of this year into my fiction or other serious writing.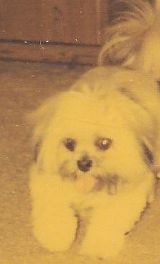 Marc was here today and he brought China, who is so affectionate toward me that I can hardly believe it.
When Sean called, I asked him about the dogs at his mother's, Rusty and Tina, and he said he assumed they were dead because they're no longer at his mother's house, but she's never mentioned them and Sean never asked her about them.
That's so typical of Sean. Since his phone call, he seems more real to me but also a part of the past.
It's ironic that "Caracas Traffic" finally appeared after Grandpa Nat died and after Sean, alive and well, finally called me.
---
Friday, October 30, 1987
4 PM. I had put off going to Sun Pointe Cove apartments to check on the status of my application because I thought I'd be unpleasantly surprised. And indeed I was when I went there today.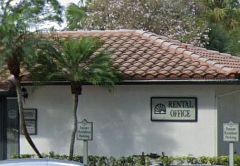 Because they found out I skipped out on my apartment in Lauderhill at SandalGrove, I couldn't rent an apartment at Sun Pointe Cove – not unless I paid all of the money up front.
This upset me a lot. Part of it is simply that I felt judged and rejected. (That's some neurotic throwback to childhood, I guess.)
But the rest of it was the fear that I'm spending too much money on the apartment; giving it all in one gulp made it seem more expensive.
However, by 4 PM, I decided to rent only till the end of March. Five months,
even at $645 a month, comes to $3225 – and that didn't seem so bad.
So I'll move in next week after I give them a bank check, and I'll return here to live with my parents for my last few weeks in Florida.
Okay, that's settled.
Last evening my English 101 students wrote their essays while I tried to grade the essays for next Monday's 101 class. Unfortunately, I found the papers so awful that I could get through only half of them.
Just now I graded all but six, and I'll put them off for a while.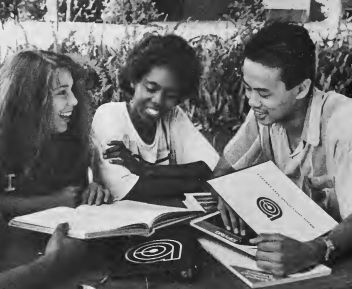 Reading my students' tortured prose is extremely painful for me now.
Last night there were forms in the part-timers' mailboxes asking if we wanted to teach next term, and I wrote Dr. Grasso that I'd only consider teaching a literature or creative writing course on the weekend.
Naturally, I don't expect to get one, and I'll be just as happy not to teach at BCC again. As much as I enjoy the teaching process, grading semi-literate essays makes my own writing worse. It will be a long time before I teach composition again.
I keep having to stop myself from fantasizing about getting an NEA fellowship.
Even though this year's manuscript of "Caracas Traffic" is the strongest I've ever submitted, the odds against getting the grant are still 18 to 1.
It's folly to set myself up for another disappointment. I've had enough letdowns this month: no Florida grant, the loss of my column.
Sophie called today and gave me another Wednesday computer workshop, this one at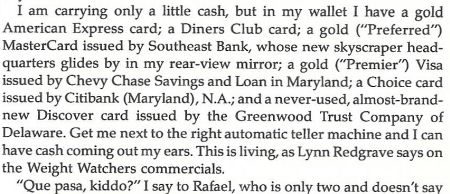 Vern E. Blanton Elementary in Miami from November 18 to December 2. So that's more work and more income.
Then Joe Cook called and said he's got a 200-page manuscript that needs editing and he wondered if I'd be interested.
Sure, I said, and so Joe is coming over on Sunday to show me what needs to be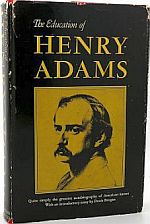 done. It should be interesting, and maybe I can make a few extra dollars.
Last night I began The Education of Henry Adams, a book I've wanted to read for years. Adams says he was brought up in an eighteenth-century childhood that left him unprepared for life in the twentieth century.
I know how he feels.