Monday, January 13, 1986
3 PM. I'm in my new apartment in Lauderhill. The last couple of hours I've been unpacking, putting stuff away, getting the place set up. There are about a million things I want to do, and as usual, I want to do them all at once.
Although last night's flight was smooth, I felt more nervous than I have in a long time. I kept seeing the sunset on the horizon line at different angles, and that very much upset my sense of balance. I'd already seen the movie on my last flight, and I felt generally uncomfortable for the entire trip.
We landed in a rainstorm, and I had trouble at Budget Rent-A-Car: they'd quoted me the wrong price — $89 instead of $99 — and I was also given the wrong car at first.
It was 9:30 PM when I got to my parents', who were considerate enough not to bother me; I pretty much went straight up to bed. My circuits had probably overloaded, and I needed lots of sleep.
I did have an anxiety dream about trying to keep Mom from "helping" me move into the apartment.
Dad did come with me to the warehouse, where I got another suitcase, more clothes, my TV and phone. But all my books and papers are buried under Marc's stuff. It will take a long time before I can get at everything.
At the rental office I got the key, and we moved in. The furniture is okay, though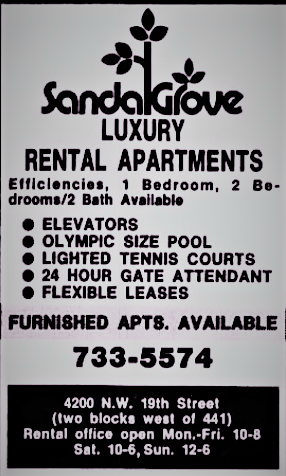 this bed I'm on now is hard and narrow and tips over when I sit on the end. (I tried to remedy that by putting boxes under it.)
When I brought Dad back to Davie, I had an attack of vertigo, probably caused by a combination of stress and the effects of the plane last night. Though I felt dizzy, I bought out Kmart and Albertson's, spending over $100 — thank goodness they take Visa — on supplies and food.
So much goes into starting an apartment. After the last two hours, I don't think I'd ever want to move again, at least not soon.
This is an okay place; right now I'm not used to it, but I'm sure any homeless person would have the thrill of his life spending one night here.
At the moment, my money worries don't seem all that real. I'm worried about getting a car, but since I'm putting this one on my Sears card (which has about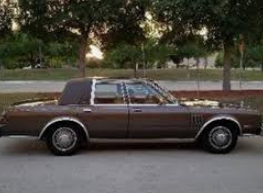 $850 available credit), I'm not that desperate. Actually, the car is a very plush midsize Chrysler Fifth Avenue.
I've just taken a shower — how fat I looked in the bathroom mirror — and am trying to chill out. At 6 PM, I have a class at the Broward Community College campus.
If I weren't so much of a perfectionist, I'd be better off: every minute I think of something else that I need.
Look, I can't beat myself up. In less than a day, I've had to adjust to a lot.
*
10 PM. Home arrelly. Home for the next few months, anyway. Right now the apartment doesn't feel "mine" yet, but I haven't even slept here one night.
I enjoyed my FIU class on The Community College at BCC. Joe Cook is a friendly, intelligent man who's been at Miami-Dade Community College, Florida Atlantic University and Florida International University, and he knows all about Florida politics and education; I believe he could tell you where all the bodies are buried.
He runs the class as a seminar: we all have to do ten reports on articles on the community college, and four of them will be given as oral reports.
There are about eight students in the class, most of them BCC teachers,
including Debbie Nycz, who used to be the faculty union president. Others include a woman who used to be at the University of New Hampshire, the former director of BCC's Criminal Justice Institute (who, if I remember correctly, was kicked out in some grading scandal), and a dance teacher at Dade County's arts junior high school.
Tonight we focused in on the purposes of the community college and began talking about the Florida system. The course is a little parochial since it focuses on BCC and Florida, but I enjoy the gossipy aspect of that, and I think I'm going to enjoy myself as well as learn something.
I had dinner at Gaetano's pizzeria beforehand, and after class I stopped off at my parents', where I picked up a blanket and some other items.
I feel pretty strange, but I'm happy. It's kind of amazing how one day I could be living a life in New York and the next day be here in Florida, leading a different life. But it's all one life, really.
Today the world is a smaller place. Although I've still got a lot on my mind, I need to take it easy and just relax and sleep when I can.
---
Wednesday, January 15, 1986
Midnight. I forced myself to spend the last hour writing fiction and I came up
with four pages of a story that isn't really a story — but maybe some of it is salvageable. We'll see.
I don't feel the exhilaration I used to when I completed a piece, but this is good discipline for me. Writing fiction is hard work, not just the rush of creativity I got when I first started. I never really learned good writing habits because I avoided revising and planning.
This afternoon in class, in explaining how he's going to teach us structured BASIC, Ray made some good points. The way I learned BASIC is the way I learned to write: rush through what you have to do, and if necessary, clean up the mess later. My bad programming and writing habits worked but hurt me in the long run.
Last evening's class at FAU — The Changing Environment of Business, Society and Government, a public administration course — proved interesting.
The teacher, Joan Pyne, is young and enthusiastic, and after spending half the class lecturing, she led some decent discussions on articles students have to bring in (we have no papers, just exams).
The guy next to me said he didn't see why gays should have the right to work when he didn't want to be near them (little did he know. . .), and she put him down without telling him he was an asshole, though you could tell she felt that way.
I talked a lot — too much, I realized, after I'd raised my hand for about the sixth time, so I stopped. Though I was worried about competing with business majors,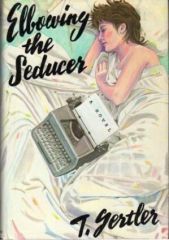 I was the only one in the class who knew what federalism was.
Back home at 10 PM, I read T. Gertler's Elbowing the Seducer until I fell into a refreshing sleep, during which I dreamed that I was back at Teresa's in the summer.
This morning, after I read the Herald in bed — delivery began today — I went to Davie to collect my mail. There was a lot of it.
Tom wrote that he's not mad that I'm not coming to New Orleans this winter, though he's disappointed he won't get to see me. He seems antsy at NOCCA and said he's resigned as a "ranking teacher" to concentrate more on writing and less on teaching.
Tom found out he won't be eligible for his retirement pension until he's 55, not after he completes another 7½ years (to make 20 years of teaching), as he'd thought. I am not sure he can last it out.
Another thing upsetting Tom is that Debra is going to Germany and won't be back for a long time, making him wonder if their relationship is ending.
Along with a good letter from Rick, I got a lot of other stuff in the mail: credit card bills, financial statements, and questionnaires from lobbying groups for Education Commissioner candidates to fill out.
At home after lunch and some errands, I spent a few hours writing letters and playing with my money. I opened a Citibank South Dakota money market fund as part of my Financial Account with them, in addition to my CDs and checking account.
Ray's BASIC class includes Debbie, Dave, Jim Wilson, other BCC instructors and two women from last year's LOGO class. George, a former student of mine, is the lab coordinator. I'm not familiar with a lot of the commands of the IBM PCjr's that we're using.
Dave — who's an expert programmer — told me there was a briefcase of my books in the English Department. After class, I went over there, and sure enough, there was my old briefcase. It must have been there for over two years.
---
Friday, January 17, 1986
3 PM. It's been a busy and worthwhile first week in Florida.
Tomorrow morning at 10:30 AM, I'm due at a forum for education
commissioner candidates for the American Association of University Women brunch at the Miami Airport Hilton.
I don't know what to expect. Will all the other candidates be there? The press lists two "serious" candidates from each party, three of whom are state legislators and one a former university president.
I know there are five "minor" candidates, one of whom is a fundamentalist. Today I got two more invitations to forums, but they're in Tallahassee and Sarasota, and I don't have the time or money to go to them. (The "serious" candidates have all raised between $50,000 and $100,000.)
Too bad Florida is such a big state. If I discover that I'm just making a vain effort (in both senses of the word vain), I'll withdraw, taking my income tax proposal with me.
I have no idea what kind of response I'll get; tomorrow will be the first test.
Pete Cherches phoned from his mother's in Tamarac, and I said I'd come over tomorrow afternoon. It's good to have a friend coming down here already, as that makes me feel less isolated.
Alice will indeed be coming down next weekend since the story ideas Mom gave her proved interesting to the editors she queried and acceptable to the Broward
Tourist bureau.
Alice, unfortunately, was feeling ill last night; it sounded like either a stomach virus or her PMS, which is growing worse.
Last night I also spoke to Teresa, who's awaiting word about the job at the Comptroller's office.
On Tuesday, after meeting the press secretary, she went to see Howard Rubenstein, the head of the PR firm managing the campaign. He told her she made a lousy impression and gave her tips on how to appear more professional (for example, not to talk so quickly).
Yesterday she met Ned Regan himself and was surprised by his good sense of humor; he seemed to like her, but of course it's not definite yet that she has the job. I've got my fingers crossed, as Teresa needs the stability that this job can provide.
Last evening I was in the snack bar at FAU staring at this cute, well-built guy, and then I'd realized he was my student at BCC in the summer of 1983.
He remembered my name — "Richard, right?" — and though I guessed Michael instead of Mark (his last name's Feinberg), I did recall he'd gone to the University of Florida before BCC.
I spotted his Money and Banking text and told him I'm taking the class, too. (It's a big lecture room with about 80 students.)
He told me he's 22, was out of school for a year, living on his own and working, and now he's a marketing major, going to classes at Commercial Boulevard every night and "living back with Mom."
"I can't wait to tell her my old English teacher is in my class!" he chirped. 
Even though Mark told me he hates reading, I'm still attracted to him, but I'm sure he thinks I'm a fat old jerk.
He's definitely gay. I remember thinking he was cute and funny when he was my student, but I had a crush on another guy in that summer class.
The Money and Banking course may be too much for me. Never having taken an economics class since high school, I'm at a great disadvantage: I found I didn't understand stuff the teacher obviously took for granted that all her students knew.
The teacher is a young woman, very sharp, who wants us to follow the weekly money supply statistics in the Wall Street Journal. Missing the first lecture didn't help, but last night I took 26 pages of frantic notes.
It's a four-hour class with a long break — and though I did learn a great deal, some of the material was too difficult and abstract for me. I'll give the class a chance, but if I do badly on the first quiz and test, I'll just drop.
After all, I'm not a business, finance or economics major; this is a class I never would have taken as an undergraduate. Still, it's a way of stretching myself.
I slept soundly for nearly eleven hours, making up for the previous night's insomnia, and woke up this morning feeling very refreshed. After picking up my mail (lots of bills), I spent the afternoon working out, reading the papers and watching soaps.
I've really got to lose weight. I felt so fat with Mark last night.
---
Sunday, January 19, 1986
5 PM. A week ago I was just about to leave New York. It feels as though so much has happened since then.
On Friday night, I had a hard time falling asleep. I was thinking of a letter Crad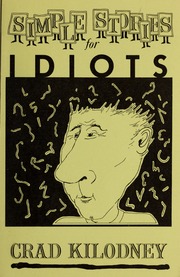 had written me. In response to my question as to whether he would rather be a successful writer or feel happy day to day, he said he'd prefer being a writer because he's "had such limited experience with happiness."
Crad is determined to be, in his own word, "legendary." Either he'll succeed or he'll go mad — and he may go mad even if he succeeds.
He noted that we're very different people, and my answers don't have to be his, but that I shouldn't think of myself as a failed writer: "It's society who's failed; it's your publishers who've failed."
Perhaps, but unlike Crad, I need to live in society.
I woke up early and tried on various outfits before deciding on my sport jacket, blue corduroy Levis, a striped shirt and wild plaid tie. I arrived at the Miami Airport Hilton just as the AAUW brunch was getting underway.
Seated at a table of mostly blue-haired sweet old ladies, I surveyed the scene. The crowd was middle-aged to elderly, mostly WASPs, and a few younger blacks.
The "serious" candidates for education commissioner did not attend, but I did get to see my "minor" opponents in action.
Rayma Page is chairman of the Lee County School Board and obviously fairly intelligent for a layperson, but I was turned off by her fundamentalist Southern Baptist orientation. It's prejudice, but whenever I hear anyone say "Miamuh," I
feel as though I'm in the wrong place.
The same went for Neil Mooney, a self-described "hillbilly football coach" — yet he had a surprise: he emphasized that he's a strong advocate of the fine arts in education.
A black Republican, Vince Goodman, had weak subject-verb agreement and a Reaganish agenda: "physical discipline," prayers in schools, tuition tax credits. Plus he was a fearmonger on AIDS. Though he had a decent speaking style, I had no respect for him at all.
When I got up to speak, I was nervous, but as I talked, I gathered steam. I mentioned areas of agreement with the other candidates but said they weren't
specific as to how their goals would be achieved.
Then I laid out my plan for a state personal income tax. Murmurs all around, and then someone shouted out in jest (I assume), "He's a socialist!"
This disapproval goaded me on, and I became more eloquent as I got angrier. If I wasn't exactly William Jennings Bryan, I think I did rather well. And I acquitted myself well during the question-and-answer period.
While it was clear I ruffled feathers because — unlike the others — I told the
audience something they didn't want to hear, a number of people came up to me and said, "You had the most specific and best ideas," "You're right: it's ridiculous Florida doesn't have an income tax," and "I'm not sure I agree you, but you should go on griping and go on fighting for what you believe in; that's so rare today."
I left feeling as though I'd done well — a B+ or an A- — in my maiden speech as a "serious" candidate. The experience definitely encouraged me to go on.
Up in Tamarac, I found Pete at his parents' house. He brought me a soda and showed me a videotape of "Love Me Like a Bitter Pill," the hour-long performance piece he did with Katrinka and Donna.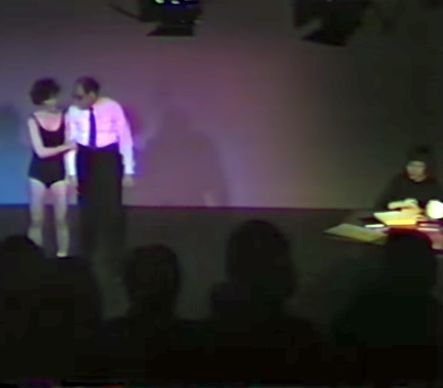 I was impressed with the professional quality of the material (and the tape). Pete has tremendous stage presence; I've known that for a long time.
He choreographed some scenes, used old pieces from Snacks and his other early books; there were some dialogues using materials from tourist dictionaries and a chinchilla-breeding text (you know: the old ironic-juxtaposition shtick); and one very serious monologue Pete did as a pathetic, half-crazy old European doctor he met in a bar. (Whoopi Goldberg would be envious.)
Pete said he's got a lot of other things planned, including writing text to Thelonious Monk's music, doing more choreography with Katrinka, and working
on other book projects.
The only writing he does now is when he's got a reading scheduled. That's Pete's answer to what a writer does in a post-literary age. Although he may mean something different than Mark Feinberg, Pete also said he "hates to read."
I think he's on to something, but then I may be, too. So many writers our age seem to be stuck by the same dilemma I have, and we may even be better off than those like Tom, who continues to be as literary as ever, as prolific (when he's got the time) as before.
Tom, like Crad, doesn't question whether what he's doing is worthwhile, given the lack of audience. I wonder: Should the National Endowment for the Arts even give fellowships in creative
writing when the readership for these writers is so small?
Maybe, like the farmers and factory workers, we writers have to adjust to a world that no longer values our products as they once did?
Pete and I drove to Fort Lauderdale and went to the opening day of the new Museum of Art. It actually was quite impressive: a fine building architecturally, it housed light, open spaces, and the premiere exhibit was of American paintings from 1960-1985.
Although Pete knows a lot more artists than I do, I can still spot a lot of painters'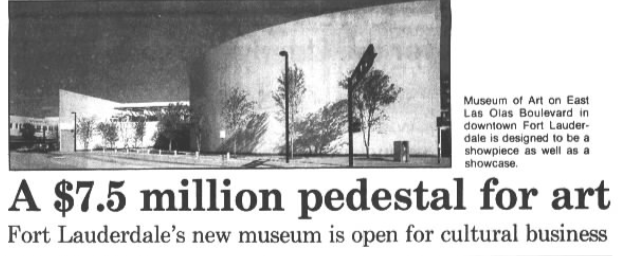 works from my contemporary art classes in high school and college.
We ran into Ruth and Marvin Sackner, the book-art collectors, and I saw Magi Schwartz, whom I remembered from Poetry in a Pub and whatever else passed for culture here in Broward.
The new museum, though, is quite a boost for Fort Lauderdale.
After it closed at 5 PM, we called Lisa, who came down to meet us at Ernie's Bar-B-Q on U.S. 1 near the 17th Street Causeway, a very unpretentious place with decent food.
Lisa looked great now that she's so thin. Of course, she and Pete had a lot to talk about after not seeing each other for a long time. They discussed what their MFA classmates were doing: most of these people I've heard of, but don't actually know.
And Lisa told us what it's like to teach English at Spanish River High School in Boca, how the kids are so WASPy and conservative and uninterested in learning anything, and how she breaks some rules to get through to them.
I know Lisa really loves working with young people, and I'm certain she's a fine teacher. But as she herself admits, Lisa probably can't teach for more than
another five years because she'll burn out.
Still, she's very happy and is glad to be moving to West Palm Beach with two of her fellow teachers. In New York, Lisa felt a bit uncomfortable — she didn't like Manhattan or the subway — so she's better off down here even though "there's nothing to do at night."
Worried that she's not writing anymore, Lisa said she'd like to return to grad school to study literature.
We all came back here and talked for a couple of hours. Although I was extremely tired, I was grateful for the company: I know how lucky I am to be be
able to spend time with two good friends for a change.
When they left last night at 11:30 PM, I was so exhausted and overtired that I couldn't sleep (or even write in my diary).
This morning, after a so-so rest, I read the papers and lay in bed till 1 PM. At my parents', I did my laundry and had lunch, and then I went to Sears to check out their DP abdominal machine, on sale for $99, but I didn't buy it.
The Herald had a front-page story on "credit card-itis," but I'm definitely not a compulsive buyer. The people who have problems are those who buy needless luxuries to gratify by some need; I'm so cheap that I think five times before making a big purchase. 
I tend to use my credit only for necessities and cash advances.
I am thinking of buying a used car; I'd rather spend $2000-$3000 in cash than be locked into the semi-permanent payments a new car demands.
---
Monday, January 20, 1986
3 PM on the first federal Martin Luther King Jr. Day. I feel glad there's finally a holiday for Dr. King, though last week when Mom said it was "a terrible thing," I was shocked. It made me realize that she and my father are becoming like my grandparents: relics of a lost time.
I wish my parents a long life, but they've started to become old people already; time has passed them by. I hope the same thing doesn't happen to me, that I can keep up with the changes in society.
Of course, from the way it looks, society may not catch up to me.
I take inspiration from people like King. Most people remember him as a civil rights leader who helped end segregation (here in Florida, a lot of people I've spoken to remember legal segregation), but he also fought against the Vietnam War and criticized the capitalist economic system.
The sanitized image of him we've got now is perhaps natural — it probably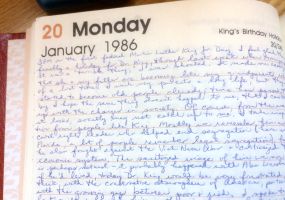 happened with Abraham Lincoln, too — but if he were alive today, Dr. King would be terribly frustrated, I think, with the conservative atmosphere of America, particularly with the growing gap between poor and rich.
Last night I spoke to Josh, who told me his mother is having laser surgery today. She's almost blind now, and Josh thinks this operation can only delay or stop further degeneration in her vision.
I feel bad for Josh's mother, who retired from Brooklyn College just last week. Now she may be sightless for the rest of life. The condition is likely hereditary, since her mother had it; Josh's vision is already bad, and I hope he never gets this.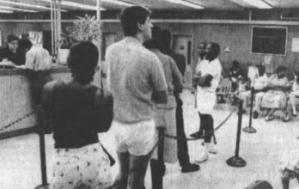 Though today was a federal holiday, Florida state offices were open, so I went to Unemployment. I filled out the various forms, which will be mailed to Albany, and I'll probably have to wait four weeks before I hear from them.
They told me to go to the Job Service, which I did immediately. The caseworker there, an Indian, told me he thought New York was cheaper than Florida and said I should have lived "in Jamaica, near the E and F trains," rather than in Manhattan.
Now I just have to submit my Internet forms to Albany via the mail; if I don't hear from New York in a month, they said I should return to the Fort Lauderdale
office. I'm glad that's in motion. Even $100 a week in unemployment would be a great help.
I deposited my CUNY paychecks into the credit union and then wrote out a check to Citibank. While kiting checks, I keep my money flowing and collect interest in two places for several days due to the float.
After reading an article on the decline of transfer education last evening, I wrote up a two-page report on it for tonight's Community College class. Right now it looks like my two graduate FIU courses may not be as much work as my two FAU undergrad courses.
I also worked out, both last evening and this afternoon. As long as I keep exercising, reading, learning, doing positive things, I can't go too far wrong.
It's such a gorgeous day out that it makes me feel good. I'm so glad I no longer have to face the subway at rush hour.