Tuesday, November 12, 1985
9 AM. I decided to stay in Florida all this week. My nose was congested all day, and my ears kept clogging up, so I called Baruch College and explained that I was sick, and they cancelled my classes for the week.
As far as they know, it's only my fourth absence, still in the legal range since I teach every day.
Of course, I feel guilty that I'm letting down my students; I missed three SEEK classes in a row. The Monday/Wednesday class won't be so bad, for I'll miss only tomorrow's class.
Tomorrow I'll call up John Jay; my classes there are no problem because of my lack of absences so far.
I don't think I'll miss much at either of my Columbia courses, though I'll have to speak with Howard Budin about my final project for Computer Graphics.
I made a reservation for a flight on Saturday evening.
Although I feel guilty, I also feel the need to relax. My getting ill again is just a confirmation that I've been under terrible stress the last few months.
Ironically, while I was out, Marc took a call for me from the Broward County school board; an electronic voice said that my application is incomplete and needs three references.
I assume that's the Cooper City High School vacancy in computer education, so I sent them a list of people to contact. Maybe I should go over there and speak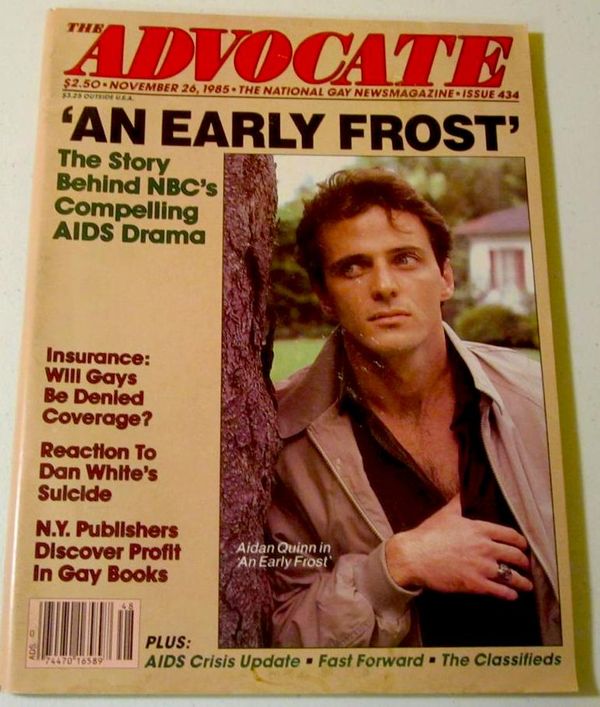 with the principal.
Last night I took a long drive around West Broward and then watched the AIDS TV movie, An Early Frost, which was well-done by TV standards.
I'd love to tell my parents I'm gay, and I keep telling myself I will, but there never seems to be a good time. I'm embarrassed, not about being gay, but knowing they'd be embarrassed talking about my sexuality.
Tonight at dinner at Hurdy Gurdy's, Dad asked me what I was staring at, and of course I couldn't tell him it was our cute young waiter. Someday.
In the next couple of years, if I'm lucky, I'll meet a great guy and maybe that will make me want to settle down. Who knows?
This afternoon Mom played the videos she'd made from the movies of her wedding and the bar mitzvahs of me and Marc.
It was quite odd to see all the relatives and friends, many of whom are now dead, looking so young. At my parents' wedding in 1949, Grandma Ethel was the mother of the bride and only a few years older than I am now. Grandpa Nat was about 50, younger than Dad is now.
Looking at Grandpa Herb, Grandma Sylvia, Uncle Ralph, Bubbe Ita and my other great-grandparents – all of whom were dancing, eating, joking,
schmoozing – well, I'd like to sound more profound, but it made me feel as though they're still alive, that those times are still around in some parallel universe or something.
It was really weird to see myself in the two bar mitzvah videos. At 13, I was a goofy-looking kid with glasses and buck teeth; at 16, I was thin and delicate-looking but handsome (although you could tell I didn't know it).
I've never really made sense of my life, have I? I feel very detached from myself at childhood and adolescence.
Today was hot and rainy, so I spent a lot of time inside, resting, although I went out to deposit $1000 in cash advances from ATMs at the credit union.
I still feel I need to catch up on my sleep. I got the Florida International University spring class schedule, and as at Florida Atlantic University, there are very few computer ed graduate classes being offered that I haven't taken yet.
I'll have to put together a schedule of classes that interest me. But I still feel pretty directionless.
---
Wednesday, November 13, 1985
4 PM. I called John Jay this morning and told Doris's replacement I'd be absent: no problem.
Last night I had one of my all-time best sleeps. I slept so soundly and felt so refreshed this morning, it was like a miracle. I had great dreams, too: there were Brooklyn landscapes and old friends and dead relatives.
This is really an escape from reality for me – not only my dream-filled sleep but my days away from New York, too. However, I think I probably need it.
I had such a hectic time of it through September and October, and August was stressful if not very busy. Of course, as I said yesterday, I still feel pretty
directionless.
With few FAU and FIU computer ed courses this winter, I probably should take some of those FIU courses in their doctoral program in Community College Teaching. One class meets at Broward Community College on Monday, and the others meet at Bay Vista on Tuesday and Thursday.
Maybe I should try to write both fiction and non-fiction, too. Last winter's schedule was too full for me to write, but taking 9 or 12 credits this winter might give me the right mix of outside stimulation and time to create.
There have been lots of times in the last six months when I've lain awake wondering where my life went wrong. In 1977 I seemed on the edge of a promising career as a writer, at least – and maybe as a college teacher, too.
In some ways I sabotaged my own chances for success, I feel. I wasn't ready for success then; hell, I was still basically an adolescent. I needed to grow up, live on my own and take some hard knocks.
However, somewhere I lost something. I stopped writing fiction the way I used to, and it wasn't all due to the time I lost in making a living or adjusting to a new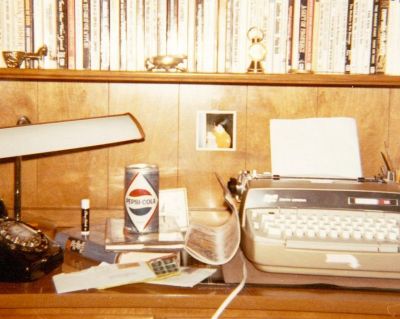 life. My short stories were pretty good, but they were the work of a kid.
As an adult, I've lived more successfully and coped with crises and day-to-day details that were beyond me in 1978, but I lost the spark I had as a writer.
Inattention, bad reviews and a lack of self-confidence combined to make me gun-shy. Somewhere along the line, writing stopped being fun.
Now I'm uncertain I can recapture the discipline or the magic. Yet there were times this year – when I wrote in Brooklyn in August or when I finished "My
BASIC Problem" last winter, when I thought I was back to my old self again.
Do I want to publish more books? Yes! But I'm so afraid. Of course, if I don't try, I'll always find excuses when I really know I have it in my power to write (and to some degree, to publish my writing).
Maybe I should live this winter as if I'd gotten an NEA fellowship. (Despite my fantasies, I'm pretty certain I'll be rejected for the fifth or sixth time).
I didn't do very much about my writing in 1985; basically, I put my writer-self away. Can I bring that part of me back? That's the big question for 1986.
Can I write even after I've accepted the fact that I'll never be a David Leavitt, a
Jay McInerney, or a Jayne Anne Phillips?
Remember how persistent I used to be" What made me give up? And if I find I'm no longer a writer, can I accept that and go on with my life? Can I find a satisfying way of earning a decent living? Will our hero find happiness? Stay tuned to the next diary, folks.
(Hey, aren't I a little too old for this sort of thing?)
---
Thursday, November 14, 1985
7 PM. I'm ready to go back to New York. I feel better and I guess it's time for me to resume my life.
But I'm apprehensive because I feel I've got some difficult times ahead for the rest of the year; I worry about getting sick again, and the stress of my jobs, my coursework at Columbia, and living with Teresa.
If I could, I'd stay in Florida. Yet I know I have to see this term to its conclusion.
When I called Grandma tonight, I could tell immediately that she was ill; for the last two days she's been dizzy and nauseous and had pains in her stomach.
I tried to reassure her, saying it's probably only a stomach virus that will go away – but I feel so bad for her, being sick and alone. I guess I know it could be me.
Today I saw my other living grandparent – if you can call Grandpa Nat "living." Well, he sleeps . . . He was asleep when I arrived, his head back in his wheelchair, his toothless mouth wide open.
And he eats; the orderly told me Grandpa always has a good appetite, that he would eat the toilet paper if he were allowed to.
And he speaks, usually unintelligibly, but he repeats well and sometimes comes up with odd utterances.
"Do you know who this is?" said the friendly Jamaican nurse, referring to me.
"A ghost."
"A ghost? No, Nathan, this is your grandson."
Maybe I am a ghost. Maybe I'd like to be one.
Driving back from the nursing home, I was so preoccupied thinking about Grandpa that I started to speed up in a 15 m.p.h. school zone until a cop pulled me over.
He didn't give me a ticket, but I almost wish he had, for his lecture made me feel awful. If I'd gotten a ticket, I could be angry – at him and at myself; instead, I just felt guilty.
The cop explained how 5- and 6-year-old kids get killed by speeding motorists.
"Do you have children, sir?" he asked. "No? That's probably why you didn't think about speeding."
Perhaps I was so sheepish – "I really should know better," I said, and I meant it – that the cop decided a ticket wouldn't do any more good.
Or else he was smart enough to realize that a lecture would be more effective than a ticket in getting me to obey school zone speed limits in the future.
Last night I watched The Times of Harvey Milk, which made me feel ashamed
about not being more "out" with everyone.
Milk showed what one person could do – and his murder will make him live forever as a symbol of gay pride, although it was his life that really accomplished everything.
A few weeks ago, his murderer Dan White committed suicide, sort of putting a close to the whole thing like the last act of a Greek tragedy.
I'm a loner and not effective in organizing people, but I think I could accomplish something other than ego gratification if I ran for Education Commissioner.
I still need to think about it, though if I do it, I can't let my family tell me what to do.
After a week, I've already had too much of my family. I'm no longer accustomed to Dad's yelling and muttering. He raises his voice several times a day, although Mom said he isn't even aware that he does it.
I do remember how Grandpa Nat and Grandma Sylvia would scream at each other, thinking that was a normal way to converse.
Now that my parents and brothers are all involved in the flea market, they've become more self-involved than ever. Except for the eccentric Littmans, my parents have no friends. Jonathan's few friends are weirdos like his fellow Rajneeshi, Marshall.
Marc is the most social and therefore the most normal. I don't like the way Mom, Dad and Jonathan talk about Adrianna.
This afternoon Deanna, Marc's old girlfriend, called. She's been having trouble with her pregnancy and came down here to consult her husband's brother, a gynecologist.
Anyway, while Marc was on the phone with her, my parents and Jonathan were comparing her to "this other one," much to Adrianna's disadvantage.
I'm sure Adrianna isn't perfect, but I think Jonathan and my parents view her almost as a threat because she can "take Marc away" to the outside world.
When I do return to Florida, I'll make sure that I'm not too involved with my family; that shouldn't be hard. Marc should probably move out, too. At least he has more of a grip on reality than the others.
I did sleep very well last night and had a dream in which I sold a new story I'd
written.
This morning I drove into downtown Miami, which is always exciting to me. There are new skyscrapers going up, and there's the downtown People Mover, the elevated car-on-tracks which connects with the Metrorail station at Government Center.
There's amazing growth still going on downtown. The last time I'd been at the Cultural Center, only the Museum of Fine Arts was open; now the Historical Museum and new Main Library were operating.
The library was really beautiful, nicer even than Broward's new main library; I got a kick of finding myself and my books on the computer screen catalog.
The plaza of the Cultural Center, though kind of Spanish in design, seemed a fine public space that reminded me of the AT&T building, also by Johnson and Burgee.
At 4 PM today, I went to FAU's Commercial Boulevard campus to fill out a readmit form; this way I can get a student loan if I attend FAU because I'm matriculated there. I remembered how happy I was attending Dr. Linda Murray's Measurement class at that campus last winter.
Back here, I read by the pool until 5 PM, when I walked back to the condo and found a peacock wandering about. I got very close to it and was able to see the
translucent colors of its feathers. God, how beautiful!
A neighbor told me it's been on the condo grounds for a month, and the kids have been feeding it.
I came in and watched my favorite local newscaster, John Hambrick, who until last spring was on WNBC-TV in New York City; I feel he shares my Big Apple skepticism about South Florida.
It's been raining on and off. Life still is easier in Florida.
---
Sunday, November 17, 1985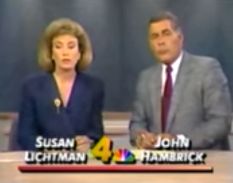 2 PM. Back in New York, I continue to feel depressed.
Yesterday I felt a real sense of dread as the time got near to leave. I didn't want to come back to New York.
Teresa said I should just not return, but I have too much of a sense of responsibility to do that. If I just quit teaching in the middle of the term, I'd let down my students and my employers, and I'd end up feeling awful.
At the airport, I felt scared, so I took a few Triavils. The L-1011 wasn't very crowded, the flight was fairly smooth, and I tried to enjoy the film, The Heavenly Kid.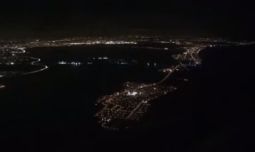 When we landed in New York, it was raining very hard. Since I hadn't checked any luggage, I got right out of the terminal and into a taxi.
Unfortunately, the driver was a Haitian who had no idea of where he was going; I had to direct him after he somehow got us to Flatbush Avenue in Brooklyn. It was nearly 10 PM when I came in, wet and exhausted.
Teresa wasn't home, but I made up the couch on the chance that she might return. As it happened, she spent the night at Michael's.
I couldn't get to sleep right away; I kept obsessing about my lost BancOhio Visa Card. But when I did sleep, I had faraway dreams of escape.
Up at 9 AM, I nevertheless stayed in bed until noon or so, when I went out for lunch and the paper.
My forearms ache – from what, I don't know – and I've been coughing and spitting up phlegm. I still don't feel very well.
I feel very lonely and in need of a hug, a kiss, a touch. It's been so long since someone has made me feel loved. At times like this, I think about Sean an awful lot. I called Ronna's number, but she wasn't home.
The mail waiting for me included Crad's three new books, The Scarlet Book, The Yellow Book
and the serious one, Cathy – but I haven't looked at them yet.
Miriam wrote that Ed and Leora think they'd like to consider a new book by me for Zephyr Press, for publication after the Akhmatova book they're doing in 1987.
That would give me something to look forward to, though I'm afraid to get my hopes up. I do want to get back to fiction writing again. I miss being a writer.
Here's my plan as of now: I'll live in Florida for the next year and a half, till at least the spring of 1987. I'll get my own apartment and settle in and try to write.
For the winter, I'll just take courses and not work. I may or may not run for Education Commissioner. As Dad said as he drove me to the airport yesterday, things may turn around for me soon. It can't always be this hard.
Maybe 1986 will be like 1981, a new beginning after a rough year in New York. Back then, a lot of unexpected good things happened, and the next year, 1982, was the best of my life: I had lots of money, a nice home in Sunrise, recognition as a writer, my relationship with Sean.
I feel I've lost so much ground since then. I'm a mess now, the way I was in 1980, and I need time to get my act together.
All I have to do now is get through this semester. I'll take it day by day – hour by hour if I have to – and eventually it will be over. Or I will be over.
(Stop being so melodramatic, kid!)
---
Tuesday, November 19, 1985
9 PM. Teresa left for Michael's about an hour ago. Tonight she was going to meet Louis, his "special friend," and Louis's wife.
From other people, Teresa knows that Michael and his ex-wife used to regularly sleep with this couple, and she didn't feel thrilled about going. But she figured nothing would happen on a Tuesday night.
Teresa's life continues to be a vast comedy of manners – or of errors. She really needs stuff to do to fill up her time; I almost think she seeks out these complicated situations so that she'll have something to talk about.
Last evening she had her usual shpilkes. I could tell by the way she spoke to her friends on the phone that she was dying for someone to come over, but people were too busy or tired or just happy to be where they were.
So I tried to make her feel better by coming in to the bedroom and watching an execrable miniseries, Kane and Abel, with her. She needs company almost all the time.
I spoke to Justin briefly last night. He's temping at Shearson this week after a long weekend in Reading with Larry.
Justin doesn't talk much about his feelings or their relationship, but I can tell he's really happy. And he should be: love is something to be treasured.
(We're Mr. Profound tonight, ain't we?)
Alice also called, wanting to know if I'd like to meet her in Fort Lauderdale on the weekend of December 5-8.
She got signed up with the P.R. firm that got her on trips to Peru and Costa Rica; the firm's latest account is the Broward County Tourist Development Council.
Peter wasn't invited, and he didn't want to take off from work, so Alice thought that if it was a boring trip, she could use my company.
I told her that I'd think about it, but I don't have the money to zip in and out of Florida every couple of weeks – even though I'd love to go back there again.
Tonight I spoke with Josh. Not much new on his end: Chloe's now no longer
working weekends; he read me a short note from Tom Whalen; Josh said his father "thinks I'm a scumbag because I griped about taking them out to Long Island for Thanksgiving."
I told Josh about my visit to Grandpa Nat, about Crad's new books (Crad said Josh's copies are on their way) and a News 4 report tonight, "Is God Punishing Us?" – a question posed by AIDS, the Colombian volcano, the Mexico City earthquake, the Puerto Rican mudslide, the Ethiopian famine, the recent airline crashes and all the other disasters of 1985.
I found the question in bad taste. What kind of God causes tragedy on a monumental scale? If that's what God is, who needs Him?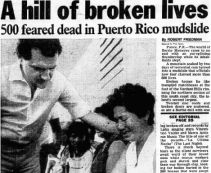 No, mankind's tragedies are either random natural occurrences or disasters caused by human beings themselves.
Today was a mild (70°) sunny day, and it felt quite good.
One disaster that didn't happen – in South Florida, at least – was freakish, late-season Hurricane Kate, which missed Miami and turned westward instead of northward. Mom said that last night took in the plants from the terrace after the hurricane warning was issued.
My SEEK students at Baruch were a little annoyed with me for being absent, but less than I expected; I've got a pretty good rapport with them. We had a decent
class, considering I was teaching grammar.
I even let them have an impromptu debate about Louis Farrakhan, who they've been talking about among themselves for the last couple of months. One guy said that Farrakhan is empowering people, but a girl said he is "just messing with the black man's mind."
I had to hang around Baruch till 12:30 PM, so I graded papers in the lounge, read the Times, and downstairs on 23rd Street I had a pizza and bought my 1986 National diary (style #55-148).
How many diaries does that make? My fingers tell me this new one will be number 18: chai, the Hebrew good-luck number.
Prof. Hayes didn't have much to say at our conference: I was the best of the five adjuncts he'd observed, and his one criticism was I spent too much time on subject/verb agreement.
I told him about my teaching "career," and of course he said, "You adjuncts are terribly exploited," but the man is of a different generation and can't really understand.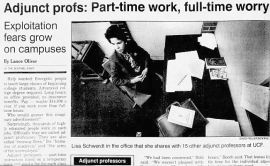 He just kept going to grad school until someone asked him if he wanted to teach a college class; that was in 1965, when demand for college faculty outstripped supply.
Ah, demographics! We poor babies of the 1950s, caught in the squeeze: not enough jobs to go around, not enough affordable housing, too few avenues to success.
Yet some make it: Josh glanced at Esquire's Register of Under-40 Achievers, incensed that Jayne Anne Phillips was talked about in the same company as Faulkner and James Agee.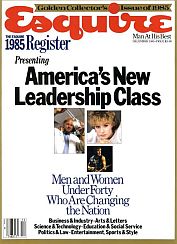 Well, what's a Baby Boomer to do? Neither those who preceded us, like Prof. Hayes, nor my Baby Bust students will know the joys of being in a yearly cohort with four million other Americans.
I went to Teachers College at 3 PM and worked on some Koala Pad drawings at the library. From the World Book, I cribbed a sequence showing how lightning forms: although it's somewhat amateurish, it may do.
Obviously, I still have much programming to do before I've got any kind of graphics project.
Tomorrow's my long day, and I'm being observed at John Jay, but it shouldn't be as stressful as two Wednesdays ago, particularly if I can get some rest tonight.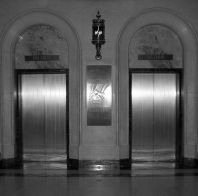 Waiting for the elevator at Baruch this morning, I heard two Chinese kids talking about their teacher: "He's old, you know, really old, but he looks young." "Yeah, I know. He's about 30 – but he looks much younger." Give me a break!
Of course, Mom tells me I should look into renting an apartment at Pembroke Pines Century Village in January.
I feel I've missed something. How did I go overnight from being mistaken for a teenager to becoming an old man?