Wednesday, August 14, 1985
Midnight. I'm so confused. I'm supposed to be in Florida a week from now, but as the time draws closer, I have grave doubts about it.
Going back doesn't feel "right" – the way going to the University of Miami for a Ph.D. didn't feel right, but I did it because I didn't know what else to do.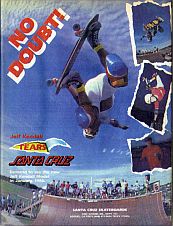 I've been driven by inertia. But tonight, after I had dinner with Gary and Eileen, I called Mom, who said she couldn't understand why I was returning if I didn't really like Florida.
Earlier, I spoke to Patrick, who did get a permanent faculty position at BCC at last; he talked about the school and Florida, and I found myself getting depressed, the same way I did on Monday when I spoke to Elizabeth on the bus.
I don't really want to return to Florida now and am doing it because I don't know what else to do.
I called Teresa, who said her father knew of an apartment in Greenpoint for $300 a month. I worried about getting an unfurnished apartment, but Teresa convinced me that she could get me all the stuff I need and said, correctly, that I
already have a spartan lifestyle.
So tomorrow morning I'll call this lady who works with Teresa's father at the Swinging Sixties Senior Center. I'm excited about it, and that must mean I want to stay in New York City.
I've gotten calls for adjunct work from Empire State College and Kean College of New Jersey, and I'm sure I can get work at CUNY.
For $300 a month, I could live comfortably, maybe even afford to buy a car. I could even afford to pay my rent and still go to Florida for the winter.
Last evening I had a good time with Tom. He's had a very productive summer, writing every day, and of course he loved being with Debra; Tom said they got

along wonderfully.
Despite not getting his sabbatical, Tom has been doing well and seems prepared to go back to New Orleans and face another year of running the writing program at NOCCA.
We had dinner at Marvin Gardens and then spent time in bookstores. I told him my problems, and when he left, he said, "You're going to be all right, aren't you? Not going to get into a major depression?"
"Nope," I said, and told him I'd try to come to New Orleans next spring.
Today was very hot and humid; I figure I'd better get used to it, but I really dread the thought of the Florida heat. Of course, if I stay here, I'll dread the New York winter.
I spent most of the day in my air-conditioned room (Teresa's room) and went out only to do some banking, have lunch, and go to Times Square to get Sunday's Fort Lauderdale News (and Los Angeles Times, for some reason).
At 5 PM, I took a cab to the Sutton Place Synagogue on Second Avenue and 51st Street, where I was to meet Gary and his fiancée/girlfriend Eileen.
During a pleasant dinner at Trachter's, I got to know Eileen. She's fairly pretty, but Teresa was right about the platinum streaks in her hair: they look odd.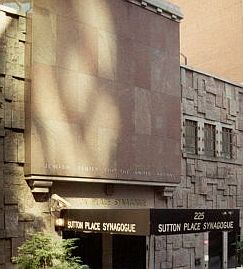 Eileen isn't smart or well-informed – Gary had to patiently explain why people were upset about South Africa and describe to her what apartheid was – but for Gary, she seems fine.
I sensed a little tension between them, as when one had to explain that he or she was joking although it had been obvious. But they get along well enough. Gary took her to San Diego and L.A. in March, and they went to New England in June.
Eileen, whose mother's brother is our old optometrist, grew up in Oceanside and now lives by the Douglaston LIRR station.
She met Gary when he had an appointment with his doctor, whose receptionist she is. She sent him his diet with a note saying he should call her if he had any questions.
Last winter when his father died, Gary went through a very rough time, so it seems just compensation that Eileen makes him happy now.
---
Thursday, August 15, 1985
11 AM. I can only report that I'm  confused. When I think about getting my own apartment in Brooklyn and going back to being an adjunct, that doesn't feel any "right"-er than returning to Florida did yesterday. Boy, if I ever needed counseling, I need it now.
Why do I have so many choices? Why can't life be simple the way it used to be?
As I've said to Alice, Teresa and Ronna, we never had any choice about going to
college: we lived in Brooklyn, so we went to Brooklyn College.
Now there would be hundreds of options for us. It's so clear to me why people become fundamentalists: they don't have to examine choices, but just do as they're told.
Mom said to me, "You just can't keep going back and forth," and as much as I hate to admit it, she's right. What I've been trying to do is avoid all kinds of commitment.
At this point, it almost doesn't matter where I choose to live, as long as I choose to live somewhere more or less permanently. Yet the words "permanently," "forever," and "for good" give me a sick feeling. I realize I'm very fucked-up.
Teresa hates her apartment because she's bored with it after eight years. I think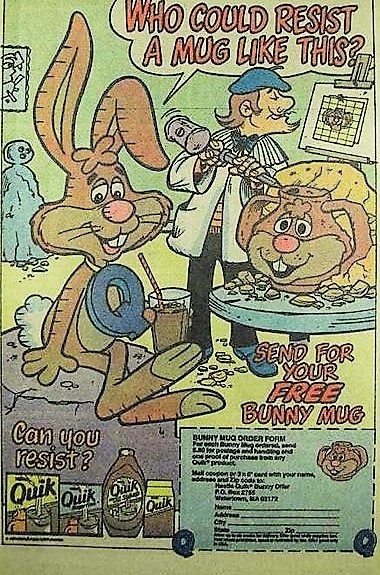 of all the details necessary to start a new place, and again I feel sick.
I feel exactly like the little bunny in the middle of the road: he sees a car coming and doesn't know whether to move to the left or the right; he takes a hop to the right, then to the left, and while he's dithering, the car comes, and – SPLAT – no more Mr. Bunny.
Not a pretty tale (neither was his tail), but an instructive one, I think.
*
4 PM. On the hottest day of the year, I continue to play bunny-in-the-road as I wander around Manhattan.
I had all but decided to be firm in my resolve to return to Florida, and then I got the mail. I got turned down for two jobs, Queens College says they may need me,
and my student loan for Columbia for $4000 was approved by Manny Hanny.
All of a sudden I see I can get $2000 after I take out money for six credits' tuition. So I go up to Teachers College all excited, and there I learn that the GSL is okay for half time, but to get the NDSL – $1500 of the $4000 – I have to take 12 credits.
Immediately the windfall disappears. And I, in my head, return again to Florida.
If only things could get solved if I admitted how fucked-up I am. No more playing at being the footloose, "flexible and adaptable" 21st century man. Let's face it: I haven't got a clue as to what my life is about. If I ever did, I lost it.
From today on, I'll readily admit to anyone that I need a psychotherapist. I've gone back and forth from Florida to New York so often these past five years that 
I don't know where I am anymore – yet I still resist the change of permanence, of trading in my temporary lifestyle for more stability.
Well, it's hard not to have a job and not to have a place to live; right now I have neither, and I see little advantage in that.
Maybe I'm going back to Florida with the hope that I hate it so much that I'll never want to stay there again. The problem is not that I dislike Florida as much as I say I do, for if that were true, I'd be crazy for going back.
The truth is the Florida lifestyle does offer me things I can't get in New York: more solitude; more time to study; an easier, less expensive lifestyle.
And New York gives me tons of things not available in Florida – or probably anywhere else – but it's a tough place, and expensive.
Unfortunately, because no solid job offer came up, I'm the one that has to make the decision about where to live. With freedom comes choices, and choices mean responsibility, and responsibility – especially for a baby like me – is tough.
---
Friday, August 16, 1985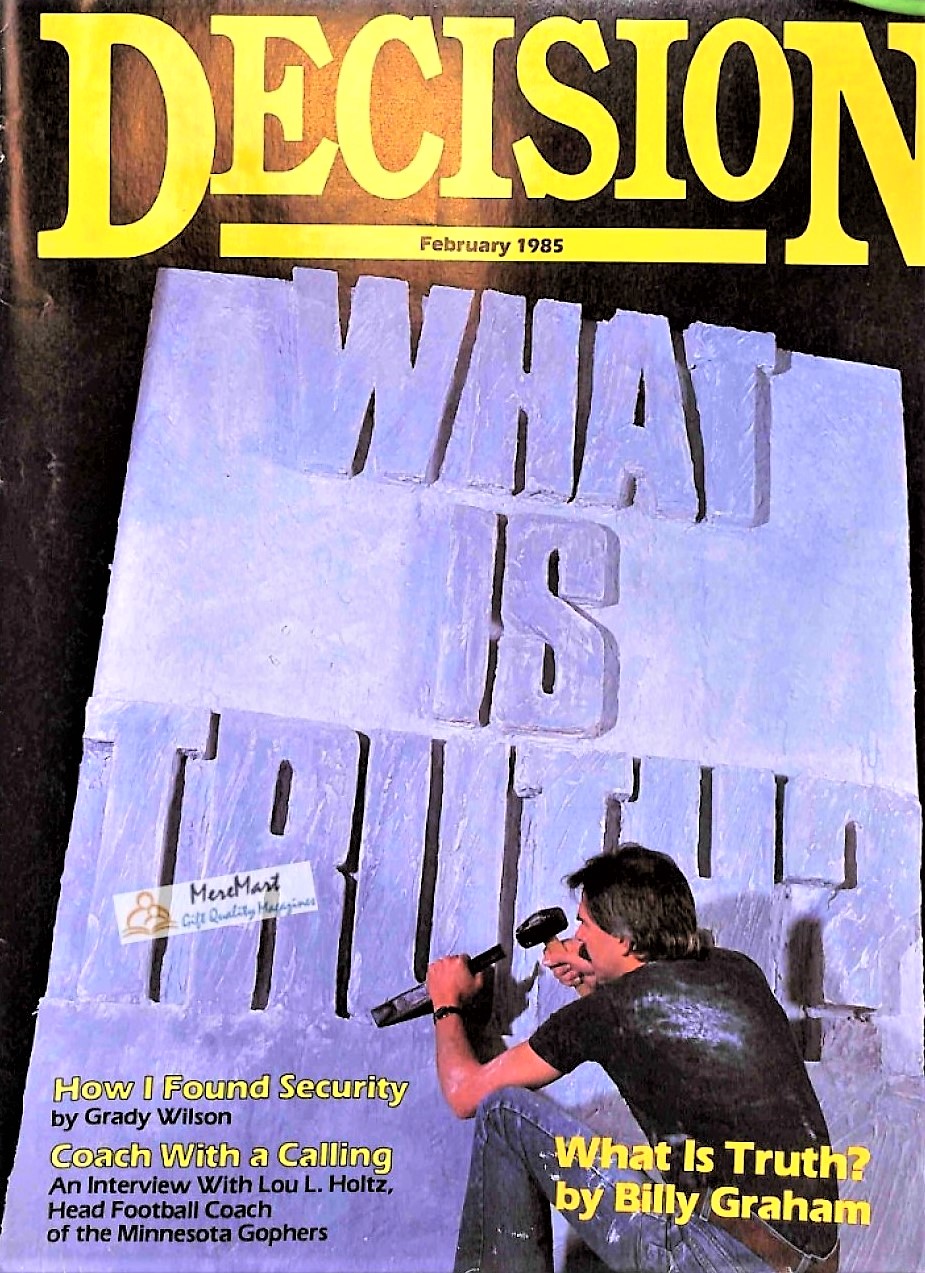 1 PM. I've made a decision. Yesterday when I met Justin at Marvin's for dinner, I told him how confused I was and he said he'd been wanting to ask me if I'd like to stay in his apartment while he's in Reading.
In the back of my mind, I had hoped he would ask, but he said that when I told him that I was returning to Florida, I'd presented him with a fait accompli.
He had checked out my staying with his landlords and roommates and everyone agreed. His fish need to be fed daily, and I'd pay his share of the rent – $333 – plus utilities, which I can easily swing.
We had an insightful conversation as Justin played shrink. He said he believed my back-and-forth lifestyle was detrimental, and that I feared commitment. Obviously.
He said that it appeared to him that Florida required little commitment while New York, because it's such a tough place, did require a commitment. Justin said I seemed to have an odd relationship with my parents, for while I've stayed with them a lot, I'm really not that close to them. (True.)
And obviously with my brothers still at home, my parents have some sort of hold on their sons. (True again.)
Would I be considering returning to Florida if my parents didn't live there? No. I wondered if I don't have some kind of fear of succeeding without my parents' help. I really need to work on that in therapy.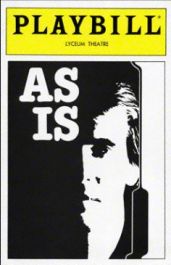 After dinner, we went to the half price TKTS booth and got seats for As Is.
Although my mind was occupied, I was stunned by the power of the play; my eyes watered over the last half of it. Jonathan Hadary was great as the supportive ex-lover of an AIDS patient, and all the performances were superb.
The play was hard-edged enough to escape being maudlin.
AIDS is such a tragedy – it's beginning to seem more and more like the Black Death of the Middle Ages – and I admire the playwright for using the tragedy for art; in a way, it tries to make sense of what is, like the Holocaust, essentially
beyond imagining.
Justin and I had dessert at Lindy's afterwards, and I asked him questions about the apartment; he told me to sleep on it.
When I got home, it was still about 90°. I called Josh, who thought the idea of subletting in Brooklyn sounded sensible to him.
If I'm not ready to move to a permanent situation, this is a stop-gap, but not a destructive one. (Today Mimi at the Nova University housing office called to tell me she has nothing available: another omen that I shouldn't go to Florida).
Ronna and I had an hour's talk at midnight – we're seeing each other tonight – and she said it sounded okay to her. She told me that she really hadn't understood why I was returning to
Florida in the first place.
Now I don't, either – except for lack of anything better to do.
I'm scared about moving to Park Slope – imagine me living in Brooklyn again after all these years – but I'm also excited.
It will be like going to MacDowell or VCCA or Millay. I'll be near Susan and Spencer, Mrs. Judson, Barbara Baracks, my cousin Michael.
Let's put it this way: it has possibilities. Even a wary Teresa allowed as how it couldn't do me much harm. She realizes, as her mother said, that our inertia feeds off each other, and to get moving, we have to separate.
I haven't told my parents yet; I just called Justin to let him know definitely.
I'm terrified, in a way, leaving the familiar – but I desperately need a change.
---
Monday, August 19, 1985
8 PM. Today was very stressful. My cough has gotten very bad. I don't know what the problem is, but I have a continual tickle in my throat. I coughed so hard, I hurt my head and felt dizzy.
Obviously I'm very tense about all the changes in my life. I've been comfortable
here for nearly four straight months, and of course for a long time before that.
Living at Justin's is totally unfamiliar to me, though looking at the room today, I think it seems comfortable.
Up early this morning at Grandma's, I went out in a cool rain. I wasn't dressed properly: all I had brought to Rockaway were t-shirts and light cotton pants. I just hope I don't end up making myself sick again.
I missed two buses, so it took an hour to get to the Junction. At Brooklyn College, I saw that the English Department has few openings for adjuncts.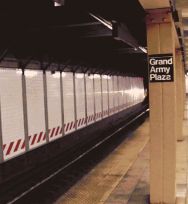 Taking the IRT to Grand Army Plaza, I realized that the subways won't be as convenient in Park Slope as they are for me in Manhattan.
From Justin's, it's an eight-block walk to either the IRT or the D train (which is all screwed up these days anyway). But as with everything else, I'll have to adjust. I talk about being adjustable and flexible, and now I should see if I really am.
Justin told me various details about the fish and how I have to feed them, about the rules of the house, etc. It seems a bit overwhelming now but that is probably only because I've had one day to absorb it all.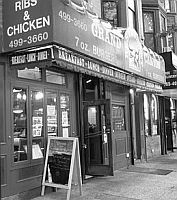 We had lunch at the Grand Canyon, the new burger place on Seventh Avenue.
Afterwards, I accompanied Justin to the laundry, the pet store (someone will come and clean the tank every two weeks), and a toy-and-novelties shop where he bought stuff for the sets he's creating for Same Time, Next Year and Pippin.
Naturally, Justin was depressed by yesterday's family funeral; like myself, he has lots of mixed emotions as far as his family is concerned.
Back at his house, we went over some more stuff I need to know about living in Park Slope. Finally, I got on the train back to the West Side (it took about 45 minutes: not bad).
Teresa had arrived home from Fire Island before I got there, and I found her cleaning the bathroom. She's very tan.
Though she hasn't criticized me directly, but every so often she gets in a little zetz designed to make me feel guilty, but I refuse to take the bait.
While I'm grateful for the time I had here, Teresa really needs to work out her life on her own. As Teresa's mother said, Teresa and I "feed off each other," making ourselves too comfortable to get moving.
Although I began to feel sick a few hours ago, I went to dinner with Teresa and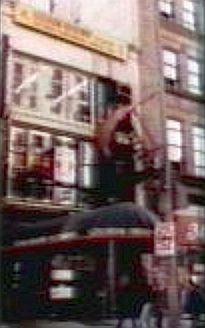 Nancy at Szechuan Broadway. A quiet meal and pleasant talk made me feel a little better, even if my cough persists.
Calling Mom just now tends to increase my anxiety, for she thinks of details in the move that I've never considered.
Am I right to move to Brooklyn? Will the next two months be a disaster? At least I'm doing something, I guess. I just wish I was settled and had a job, a way of making money.
I gave Justin the first month's rent and, really, I could manage for the next two months with no income if I had to – though of course I'm not going to have to.
Tomorrow is Justin's birthday, and I'll go over there at night and meet his roommates and other friends.
On Thursday morning I'll go with Justin to Bay Parkway, rent a car, come up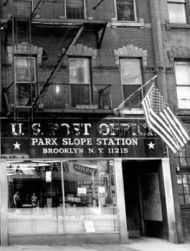 here and get my stuff, then go back to Park Slope so Justin can get his things in the rental car to get to Reading.
This is going to be a tough week.
I keep thinking I have AIDS; the cough worries me. I imagine I'll be dead in a year or two, that I'm returning to Brooklyn, my birthplace, to die.
Silly? Yes. But I'm scared, really scared.
---
Tuesday, August 20, 1985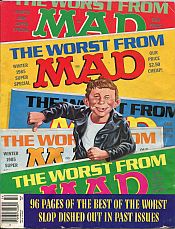 4 PM. This is one of the worst times of my life. I feel wretched physically and emotionally. If I'm going to get AIDS, why can't I die right away?
My chest congestion is worse, and I've been coughing up phlegm again. Last night I couldn't fall asleep. For one thing, I felt really sick. My head ached from my coughing and I kept wishing I'd just die.
Dad got upset because I didn't want to consider a job offer by the principal of Western High School in Davie. "You were coming home a week ago," he said sternly and I felt his disapproval.
If only the principal would have called me a week ago, I'd have been relieved and looking forward to taking a job in Florida.
But now I can't back out on Justin: it wouldn't be fair to him. But it kept gnawing at me that maybe I should have retreated to the safety of Florida.
I also was upset by a USA Today article about all the new short story writers and novelists under 30. When With Hitler in New York came out, I was only 27, but nobody paid any attention.
David Leavitt, 24, said he never questioned his legitimacy as a writer. I haven't stopped questioning mine.
Everything makes me feel worse. Why am I sick again? My right gland feels like it could be swollen. I imagine myself wasting away from AIDS, getting weaker, shunned by everyone, and I want to kill myself.
There was no hot water today. Teresa upset me, too. She still has the same old problems. Now it's Fern and Suzanne who are doing her wrong, and I overhear plenty of accusatory phone conversations. At least I won't be around this fall, for I couldn't take it. Thank God she went to Barbara's for today.
I turned in my Delta ticket, went to the bank and post office, and then I went to John Jay College. Bob Crozier was at lunch when I got there, so Doris told me to return.
In the end, he said – through Doris – that if there are classes added on to the fall schedule, as there probably will be, he'll save two SEEK sections for me.
At Empire State College's Labor College at 42nd and Ninth, I was interviewed by Julie Willebrandt, the English coordinator. The one slot open is in the electricians' apprentice program; these people are only taking the class to get into the electricians union, so they won't be very cooperative.
But I convinced Julie I'm a single-minded taskmaster, so she hired me for one section (I didn't want another one) two nights a week at $1600. Not bad – but not great.
Still, it probably isn't much work. Class is held at the High School for the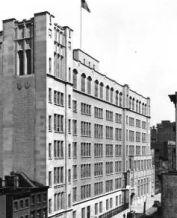 Humanities in Chelsea.
I just now came home. I'm too tired to be looking forward to Justin's party tonight; I'd rather just go to bed early, but I probably wouldn't be able to sleep anyway.
August has been the crummiest month of 1985. I feel like I'm a total emotional mess and don't know what to do. I know I need help, so I should probably call on a therapist.
Maybe I could find Dr. Gentile again? Come to think of it, it was a lingering cold and cough that coincided with my seeing him for the first time in 1979. If only I felt physically better, I'd be able to deal with everything else.
But maybe it's all so major, I got sick so that I don't have to deal with the enormity of the changes in my life.
Or maybe I'm dying of AIDS.
---
Wednesday, August 21, 1985
8 PM. A week ago I thought I'd be on my way to Florida now. Instead, I'm spending my last night here at Teresa's and moving to Brooklyn in the morning.
Odd how life works out. I'm having doubts about staying in New York, basically because it's riskier than returning to Florida. Life is safer there. Even if I didn't have the security of a job, I have my family and I know my way around. Florida's easy; as Justin said, it requires little commitment.
Last evening, as I made my way to Brooklyn on a filthy, jam-packed IRT subway, I felt I would have been lucky if I'd gotten the call from the Western High principal a week ago: I'd have gone on to a quiet, secure life, putting up with high school teaching, taking grad classes, getting a car and an apartment in West Broward.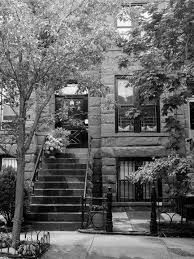 I still may choose that life eventually, for my intention is still to return to Florida next winter.  I'll stay at Justin's for the next two months, then either sublet for November or December or return here or stay at Grandma's.
None of this is a permanent solution, but then I don't seem to want one now: sorry, I can't help that.
Although I felt pretty shaky last night (I had 100.5° fever), Justin's bring-a-Chinese dish birthday party gave me a lift.
We had it in his room – which seems comfortable enough to become my room, if only for two months.
I liked Ben, his roommate, who's 38, from Minneapolis, gay (probably), divorced, a big theater person and very sweet; I hope we'll continue to get along.
I haven't yet met Jim, the downstairs roommate, who's only about 24.
Justin's friend Sharon, who's renovating her new house in Red Hook, came with her mother, her boyfriend Graham, her daughter Sidra and her boyfriend.
It was a small group but a pleasant one, and I enjoyed the conversation well enough to stay till 10 PM, long after I'd promised myself I'd leave.
Getting a cab on Seventh Avenue, I felt odd to be riding in a car through Brooklyn, the way I'd had so many times before, years ago.
Everyone at the party but me now lived in Brooklyn, but none of them had been
there for more than a few years; I was the only born-and-bred Brooklynite.
The hot water was back on when I arrived home, so I took a shower and got my first good night's sleep in a long time.
My cough is still hanging in there, but it's no worse, and I feel a bit less sick today.
Josh called. He's got a terrible cold and says everyone in his office is sick. And Teresa wasn't feeling well enough to return to Fire Island.
We spent the day together, and though it was fine, I know I wouldn't want to return to those days of last fall when I felt boxed in. Without a door to close on my own room, I couldn't stand it here; it's obviously an unhealthy situation.
We had breakfast and lunch; I read the papers while Teresa talked on the phone; Judy dropped in for a visit; we watched our soap opera; and we went out and bought a new answering machine.
Also, like millions of New Yorkers, we bought lottery tickets for tonight's $41 million drawing and fantasized what we'd do if we won.
She went off to Fern's for dinner. Despite their difficulties getting along, Teresa and Fern are very dependent upon each other emotionally.
I'm very happy to be leaving here in a good way, with no real problems, and I know I'll enjoy the space of Justin's room and I'll learn more about myself in Brooklyn.
Fall feels near as the temperatures cool off and school supplies and back-to-school clothes are in the stores.
I feel I'm taking a risk in going to Justin's and staying in New York. But if it turns out to be horrible, I can always retreat to Florida – as early as November, if I have to.
Yeah, I'm scared – but this will be an interesting experience.