Thursday, August 1, 1985
7 PM. I've just come in. Today has been a golden day. It's been sunny, cool, not humid: a perfect day to be out.
A couple of hours ago, I went out for  a walk. Now that I know that my time in New York is limited, I want to drink it in so that I can remember
it when I'm in Florida over the coming months.
Speaking of remembering, I went over to West 89th Street between Columbus and the park and stood for a while in front of the red doors of Franklin School — now the Anglo-American School.
I tried to recall the times I spent there: the blue blazers with the school crest that we wore, the wormy hamburgers but good relish they served in the basement at lunch hours, study halls in the library, talking about the new Batman TV show (and a "Batman" discotheque some students went to).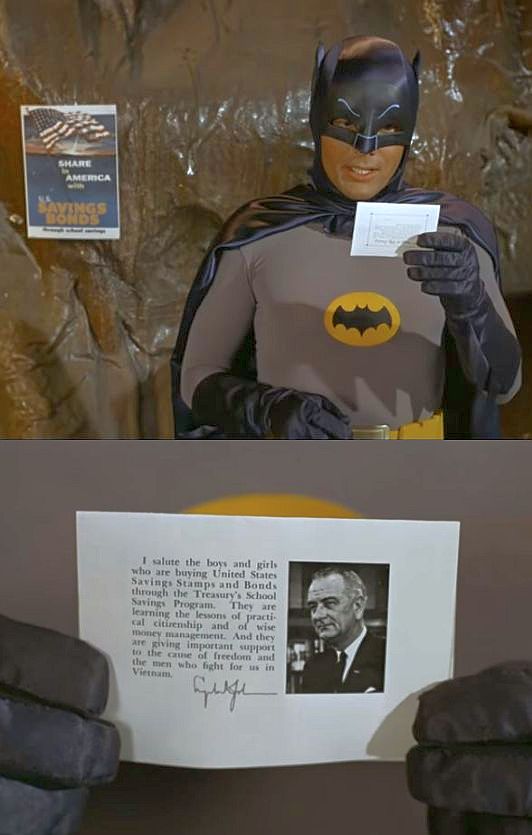 A kid who protested the Vietnam buildup was labeled "a Communist and a coward," and a girl who started every statement with, "This may sound silly, but. . ." gave a speech arguing that Time should not have made the then-almost-unknown General Westmoreland as its Man of the Year for 1965.
The East Coast blacked out in November, but the traffic jams were much worse in January, when transit union boss Mike Quill spoiled Mayor Lindsay's first days in office with a subway and bus strike. Dad and I tried all sorts of routes, and we left Brooklyn at 4:30 AM, but it always took three or four hours of the worst traffic I've ever known.
I had a big crush on George Schweitzer but didn't know it, and I was
embarrassed when he gave me a get-well card when I wasn't really sick but stayed out of school because I hated it.
I remember the talks in the headmaster's office and how Dr. Spahn said I reminded him of another difficult student, Truman Capote.
Jeez, I could go on and on . . . and I never think about those days. They were twenty years ago, but not another lifetime, and although I was unhappy then, I love those days because the memories are mine.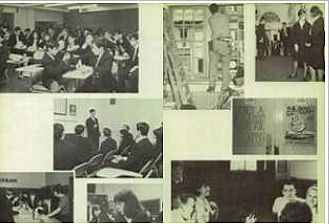 Probably because I'm beginning my 17th year of my journals, I'm getting reflective and nostalgic and maybe mawkish.
This morning I saw my reflection in the subway window and thought I looked my age. I was wearing a dark suit and tie and carrying the leather briefcase Teresa got me in Italy (and on which I was complimented at the job interview).
At Baruch College, I met Harry Brent, the English chairman, and Claude Taylor, the director of the remedial writing program. The interview was informal, and I think I made a good impression.
They already have an ESL computer lab and are starting up a non-ESL remedial lab, with Apple IIe's and software from Houghton Mifflin and another publisher and lots of in-house stuff.
They told me that my credentials with both computers and English were excellent, but they were interviewing a large number of other candidates, including the woman I met as I was leaving, that very sweet girl Roberta with whom I took John Kallas's New School BASIC class last fall.
I chatted with her as she waited to be called for the next interview — I and felt that although the situation was awkward, it didn't have to be. "I hope you get the job
if I don't," I told her, which may have sounded stupid but had the virtue of honesty.
They said they'd let us all know next week. Age has made me a fatalist. I'll be happy to take the job. The pay — $21,000 or so — isn't great, but it's a new field for me, running a computer lab.
Or I'll be just as happy to return to Florida and see what awaits me there.
Last night I spoke with Susan, Ronna and Josh; I'll miss each of them when I return to Florida. But everything here — like today, like my memories of tenth grade at Franklin School — will seem sweeter when it's far away and existing mostly in my head.
I'm one very lucky fellow.
---
Saturday, August 3, 1985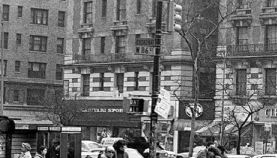 3 PM. Josh came over last evening and we had dinner at Szechuan Broadway. He may not be going into business after all because Larry, his boss, is thinking of taking a job at Morgan Guaranty.
Larry says he would take Josh with him, and meanwhile, they're supposed to be hooking up — on the sly, for $10,000 — another orphanage upstate. (They would be fired and possibly prosecuted if word got out.)
That evening Josh had spoken to Lauren, his old girlfriend in L.A., who's now unhappily married. Josh will be putting her up this fall when she comes to New York on vacation, "but if she's as fat as she says she is, I'm not gonna want to sleep with her."
Now he's seeing Chloe, a "nice" Atlantan — "but she's no Wanda" — and basically he couldn't care less. Of course, Josh's lack of feeling may be a defense mechanism to avoid being hurt again.
He didn't feel like going to the movies, so we went to the video store. Naturally Josh couldn't get anything that wasn't cool; when I suggested movies like The
Karate Kid, he snorted as if I was suggesting that we finger-paint.
With all those films in the store, we ended up with a tape of a Lou Reed concert at The Bottom Line, which was okay, but I would have enjoyed a real movie more. (I also rented Karate Kid, which I watched today.)
After several visits to video rental places with other people, I'm convinced that it's best to go alone; otherwise, you're likely to become embarrassed to say you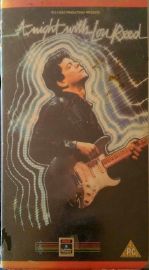 want to see a certain movie, wondering what your friend's reaction will be — or else you'll be annoyed with their ridiculous choices.
Although video rentals are cheaper than films, people seem to have more of an emotional attachment to them when they're choosing which one to see. (Because they're taken home?)
After Josh left at 10:30 PM, I read Roth's The Prague Orgy, which he lent me; it's the coda to the three Zuckerman novels and a fine piece of work.
Up at 7 AM today, I did some errands, watched the movie, exercised a little (too
little — I'm always lazy when it comes to exercising my waist, and it surely shows).
Josh and I are scheduled to have dinner with Tom and Debra this evening.
I suppose I'm wondering about the Baruch job, but I figure there's not much good wondering can do.
*
10 PM. If these are to be my last days in New York City, I'm making the most of them.
With good timing, I met Josh right at Tom's door on Chambers Street when
Debra came down to open it for us.
Tom looked pale and had a bad cold, but he was still the good storyteller and teacher, showing us this great paragraph in a novel or this bad one in a story collection, astonishing me with his incredible knowledge of books and films.
Josh brought Tom a bootleg copy of Rebel Without a Cause for him to use with his classes. Tom and Josh get along well, as they both have anti-authoritarian attitudes and a refreshing candor. I like myself better for having such people as friends.
After sitting around for an hour snacking on peanuts, we had dinner at Lotus Blossom, a Cantonese restaurant across from
Independence Plaza. Debra was quiet, but when she did speak up, she always had something intelligent to contribute.
After the meal, we walked around by the water, enjoying the breezes from the river.
The Tribeca neighborhood is not spoiled yet, but in the two weeks since I'd last visit, a condo started going up on Chambers and West Streets.
Back in the loft, we had honeydew and more good conversation. At 8:30 PM, I figured we should leave and let Tom rest, "so he can write ten pages tomorrow."
Josh took the IRT to Brooklyn while I went uptown, bought the Sunday Times, and came home to relax.
I spoke to Grandma and was glad to hear that Aunt Tillie got "a good report": no cancer was found in her stomach or internal organs.
---
Sunday, August 4, 1985
1:30 PM. Last night I read the Times and spoke with Teresa, who sounded quite depressed.
Clearly, she wasn't enjoying herself on Fire Island and was fed up with Fern. With Fern's trust fund income of $4000 a month, she really doesn't need to work and so she's not very interested in Teresa's business idea.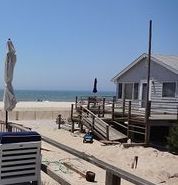 "So now when Fern starts complaining about money," Teresa told me, "I'm going to say, 'Then get a job.'"
Coming from Teresa, that sounds ironic, but perhaps she's beginning to see through Fern and the other idle rich friends she has.
Most of the weekend guests were Fern's age, and for once, Teresa felt she didn't fit in because the conversations were about teenage children.
Teresa is going to try to get me to go to Fire Island and I plan to resist, as there's nothing I dread more with only two weeks left in New York City than being bored and miserable on some beach.
I just wrote Mimi at the Nova University housing office to find out if she's got an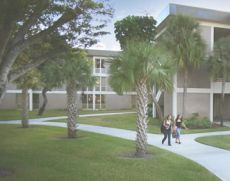 available apartment for the fall; I hope so, because the complex there was affordable, convenient and perfect for my needs.
Obviously, I'm assuming I won't get the Baruch job, but it only seems logical that I should operate on that assumption. Although I have no job waiting for me in Florida, I'm certain something will turn up there.
Good news about jobs comes on two fronts, though:
First, Justin got hired to direct two shows at the Sheraton in Reading for September and October: Same Time, Next Year and a musical.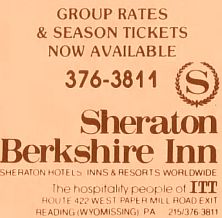 He'll be going away to Pennsylvania just about the same time I'm leaving, and he'll stay there – with his room and board paid for – until the end of October.
Good for Justin – and naturally, he's incredibly happy. Next weekend he goes down for auditions.
And Alice called and said, "I've got a new job!" She quit Weight Watchers last Tuesday and starts work at Redbook in three weeks, after she's taught a week at the Cape Cod Writers' Conference. She, too, feels very happy.
I'm happy for Justin and Alice, and I'm encouraged by what they did: taking the risk of leaving secure, well-paying jobs for something more uncertain but more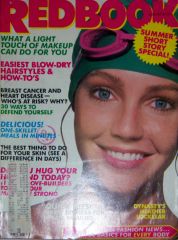 satisfying.
I've got to remember how important risk-taking is – and how to do it intelligently, as Alice and Justin did: weighing all the options and considering the decision while trusting their instincts.
This morning I went out for breakfast. So far I've spent much of the day working out and reading the Washington Post and Newsday.
*
9 PM. Have I been fooling myself all this time, thinking that I've been happy?
Tonight Alice said she couldn't understand how I could be happy if I didn't have a clear goal. We had met to see Kiss of the Spider Woman, an excellent film based on Manuel Puig's novel.
Afterwards, she wanted to give me career advice, but I guess I frustrated her because I didn't seem to want to take it. Inside, I became angry, and I still don't
know if I was just annoyed at what I thought was her presumption in patronizing me (I felt sort of like she was saying, "Someday you'll get to where I am now") or if I was upset because her comments hit the mark.
"I'm sure you'd rather be settled and on your way up to some goal," Alice said, and I responded by saying, "No, that's exactly what I don't want. I like living in different places, doing different things"
"Well, you don't want to be a perpetual student."
"But I do. I love learning."
Alice seemed to imply that at 34, I should be a finished person, established in one field and on my way up some invisible ladder. She's always believed in

inexorable progress.
But now that I've thought about it, one crazy idea that strikes me is that Alice may actually feel less secure than I do.
Two weeks ago she was desperately unhappy because of her job; now she's deliriously happy because of her job. So much of her identity is wrapped up in what she does while my identity is based on who I am. Whatever job I take, I'll be a writer first and foremost.
Do I sound like the patronizing one now? And is this all bullshit? Should I be alarmed that I don't care? Am I – have I been – and am I continuing to be – self-destructive?
Well, let's take the last question. Yes, like everyone else, I have a self-destructive streak, but I haven't been engaging in overly dangerous behavior. I don't drink, smoke, or eat more than usual. I'm pretty cautious.
True, I've been living on credit I can't pay back – but I think I'm doing that with my eyes wide open. I haven't been spending money like H2O.
No, my self-destructiveness is passive, and it lies in what I haven't been doing: working, writing, engaging in activities that benefit humankind.
Yes, I've been enjoying myself shamefully – as much as I can – enjoying everything from the burger I had at The Bagel after leaving Alice's to the breezes on Riverside Drive.
Sure, I've got enough Protestant ethic in me to feel I should be feeling guilty – but I can overcome it.
As I said to Josh when he questioned whether Debra and Tom should be together because of the difference in their ages: "You can't argue with happiness."
Yes, I've been frustrated and depressed, but even diffident me has spent enough time alone with myself to know I have been happy.
In therapy once, Mrs. Ehrlich told me not to be afraid about uncovering layer upon layer of feelings. I had said, "But what if there's nothing there at bottom?"
and she said, "Trust me: There's a core of reliable feelings within you."
And I can trust the feelings.
Of course the human capacity for self-delusion is limitless – witness Teresa – and, to get back to tonight's original question, if I have been fooling myself all these months, then I'm really in bad shape and need lots of help.
Time will tell, I guess. I think a lot about Emerson's "Self-Reliance" and his other essays. Didn't he say that the world hates people who won't conform? Now, I guess, I sound like some leftover '60s hippie.
But whenever I hear about telling me what to do, I'm inclined to do the opposite. Is that childish, anal-retentive, infantile? Or is it an admirable independent spirit?
"Living well is the best revenge," goes the Spanish proverb. And then there's the English proverb: "The proof is in the pudding."
Whenever I've done something people told me I shouldn't do – and that my core of feelings said, "Go on, do it" – I've had good experiences and been grateful I trusted myself.
Of course that doesn't mean that will always be the case.
We'll find out.
Another Spanish saying, "Que será, será," seems to suit me these days.
---
Tuesday, August 6, 1985
4 PM. For me, today is the low point of 1985. I feel horribly sick and depressed.
Last night I felt awful: my diarrhea persisted, my sore throat got much worse, and I couldn't stop sweating. I'm sweating profusely now, even though it's not that hot out. I guess my system is trying to fight off this virus.
I can't help considering that this could be the start of AIDS. It's unlikely, I know, but I'd feel more secure saying that if I knew that Sean was alive and well. At one time I wanted to locate Sean to speak or write to him; now I'd just like to know he doesn't have AIDS.
The Time and Newsweek cover stories didn't allay my anxieties. I'll feel more
relaxed if I can shake off this virus and not get any other illnesses for a while.
But if, as they say, a million Americans may have been exposed to the AIDS virus, I feel certain I could be one of them.
The only way I'd know would be to take a blood test. If I tested positive, then I could worry that I could be the one in ten to get AIDS. I know I'd plan to remain celibate for a long time, if only so as not to affect other people.
I didn't get the job at Baruch. I figured I was so miserable from being sick that more disappointment wouldn't hurt, so I called Prof. Brent. He said I was the
runner-up and that they tried to get the dean to give them two positions.
Roberta, the woman in my New School class, got the job, and he tried to convince me that even though she'd taught at Baruch (he thought I knew that, but I'd forgotten it) that it wasn't a foregone conclusion. Prof. Brent sounded as if he felt guilty, so I let him go on about it.
Fuck! Won't anybody ever realize what I have to offer?
Yes, I know: it's probably for the best, and part of me hoped I wouldn't get the job, and it's fate that I'm going back to Florida.
I'm ready. This time I feel worn down by New York.
Part of me dreads returning to Florida: the heat, the small-mindedness, the family tensions, the lack of friends. But after a few months there, I'll probably feel better about it.
Now I do feel depressed. I feel I've come to the end of the line, and I've got nothing.
At least when I first went down to Florida in January 1981, I didn't have stupendous debts. Shit. Part of me just wants to lay down and die.
I know a lot of this is illness talking: I wouldn't feel so bad if I weren't sick, but I can't imagine feeling happy again — like that line in Kiss of the Spider Woman: "When you're happy, you think you'll never be unhappy again."
The reverse is also true.
---
Thursday, August 8, 1985
3 PM. About this time yesterday, I felt my worst. I just took my temperature and it's 100.8°, as high as it's been, but I feel more comfortable. My sore throat is gone, and my nasal passages have cleared up, though I'm still pretty congested.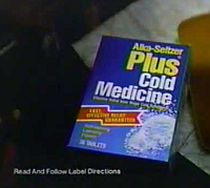 Mostly, the cold is in my chest; I'm been coughing and spitting up charming green phlegm. And I feel tired despite resting a lot last night.
Earlier in the evening, Teresa came by with her new friend Dennis, a burly guy we went to Brooklyn College with; he was taking her to Small Claims Court and then they were going out to Great Neck and from there to the beach.
She came here to get some clothes for the long weekend, and to be honest, I was grateful for the company. Later, Teresa phoned me from Dennis's car and said that all had gone okay in court. I also spoke to Mom twice yesterday.
Last night I did get a lot of sleep as I continued to sweat and sniffle. Today I slept till 11 AM, and then I went out to get groceries, cough syrup and the newspapers. I'm really out of it, but if it doesn't get any worse, I'll be happy.
Being sick, I've had a lot of time to think. I know I got sick because I'm scared to death about returning to Florida and the changes I'll be making in my life.
Although I felt more relaxed two weeks ago once I made my decision to leave New York, I never really faced the consequences of my decision, all the stuff I'm giving up by leaving.
Even now, I can hardly think about it. I feel too sick to deal with it. But nothing is permanent. What I dread is returning to a dead-end situation like Broward Community College (or
even adjuncting here in New York).
We'll see what happens. I need to get my strength back before I can deal with this. I'm still alive, at least. I used to think of colds or illnesses as a kind of "small death."
(Une petite mort, I would write in my diary: for some pretentious reason, I used to think in French sometimes. Later I would learn that expression actually means an orgasm).
Maybe this illness will help me stop being so directionless. When I feel well enough to think about the future, maybe I can get past the negativity, the passivity, and the bad memories of previous projects that seem to keep me stuck.
What will I do in Florida? The first thing I want to do is take classes – primarily in computer education, but also in education in general and in public administration and business.
I'll need about $5000-$6000 in income for the rest of the year, so I have to work. If I can't find a job teaching either at FIU or FAU, I'll investigate working in the business schools, subbing in the public schools, and see if I can find some work in that that elusive animal known as company training.
Hey, I am bright; I know that. Today the Times said 10% of New Jersey's graduating teacher education students failed the National Teachers Exam, even though the state had a very low cutoff. These dodos took all the classes I'm lacking to be certified as a New Jersey teacher, but I scored in the 99th
percentile on the NTE anyway.
The important thing, Grayson, is not to lose sight of the skills and experience you do have. You almost got the Baruch computer job. You're getting closer, that means. A year ago you wouldn't even have been considered for that job.
And you'll be back in New York when you're ready; you need to make a strategic retreat to Florida to gather your forces and regain your confidence.
Next time I come back to New York, it will be with a better future. I'll be able to live here on my own, perhaps – especially if the real estate market shocks everyone (as it probably will) and tumbles in the next few years.
*
9 PM. Earlier, while turning the AM radio dial, I heard this cornball lawyer telling about a client, an older woman who had open-heart surgery. While she was in the hospital recovery room, her husband was killed in a robbery. She was devastated and despondent.
But a few weeks later, the woman called the lawyer from her porch and said she'd been so depressed, "but suddenly all I can think of is, 'I'm alive, I'm alive!' Around me I can see people, trees, life, a world, and I'm still part of it. I'm alive!"
As dopey as that sounds, it is close to what I felt just now as I walked down Broadway. I had my lenses in for the first time in days, and I could see sharply in the dusk.
The Upper West Side must be what Paris was to Hemingway; it's so full of life. I saw kids on skateboards, drunks dancing to no music, gorgeous women with wheat-colored hair wearing white shorts, handsome guys strolling together, cranky old people, the guy playing the flute by Zabar's, the book peddlers, couples laughing at sidewalk tables.
I felt renewed. I walked down to 79th and Amsterdam and took out $200 on my new First Interstate MasterCard, and I bought the Village Voice, Wall Street Journal and New York Native.
I'd gone out earlier tonight to get tissues, my old pals the Ricola Swiss Herb
candy drops, some pizza to bring in, and two videos – one of which, Reuben, Reuben, I've already watched.
I still feel weak and sick, but I'm ready to enter the world again. I'm alive, and I'm glad I was sick because it makes things seem better now.
---
Friday, August 9, 1985
8 PM. My teeth hurt. This ache, dull and undefined, is similar to what I felt when I was so stressed out in 1980. All the days of my illness I've felt tense and aware that I'm grinding my teeth.
Despite that, I woke up this morning feeling rested and my temperature was back to normal.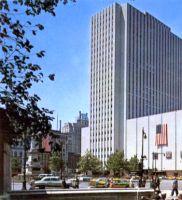 At noon, I went to Columbus Circle, where I did some banking, taking out more money on my First Interstate MasterCard and putting it in my various accounts. By the time I leave New York, I should have $10,000 in the bank.
Obviously, I owe three times that, but since it's revolving credit . . . well, you know my theory by now. Of course, my theory will work only if I continuously get higher credit lines or new sources of credit, but I'm so much "in the system" that doing that shouldn't be much trouble.
For example, according to the statement I got, my Citibank (South Dakota) checking account had an average balance of $4000 all last month. On paper, that looks good. Although I have very high debts, I'm extremely liquid and have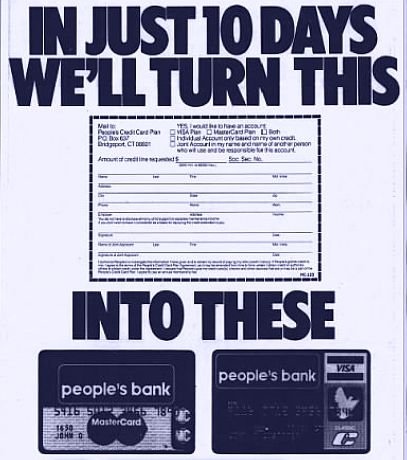 a good cash flow.
Even with major expenses — a new VCR for Teresa, dental work, rental cars, rent — I should be able to survive for the rest of the year if can get just another $5000, and I'm certain I can do that. (A student loan would help a lot.)
Despite the heat, I walked all the way home from Columbus Circle, enjoying the street people and the sights of New York. I feel awful about leaving, but I'm also determined to return.
There is no reason why I can't duplicate this arrangement with Teresa next summer, as I'm sure she'll be back in Fire Island then. Or else I'll find a cheap sublet, something not impossible in New York this time of year if I'm not too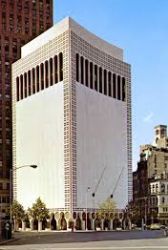 picky.
I still feel weak and my nose is all stuffed up and my cough lingers on, but I'm definitely better, as I'm starting to think about the future.
As long as I have my intellectual curiosity, returning to Florida won't be a disaster, and it certainly won't be the end of my life.