Monday, May 13, 1985
8 PM. What a wonderful life I have! I feel so lucky to be able to be doing what I'm doing.
Two weeks after I arrived in New York, I feel totally integrated into life here. I feel I have a network of friends and acquaintances. I'm a part of New York.
My reading last night at Darinka went well. Justin was the only friend of mine who showed up, but that was fine with me.
I have to start paying more attention to Justin; he's been a good, loyal friend and maybe we could be more than friends now that it's over with Ronna. I've never been greatly attracted to Justin, but perhaps I could become so if I give myself a chance.
It was good to see Ken Bernard and his wife Elaine, both of whom look the same as ever. He said Long Island University is quiet these days: some people are retiring, and there was a big scandal over the present English Department chair, Dr. Templeton, having an affair with LIU's President (but it did get them two
new full-time appointments).
Pete looked fine, too, though he was tired from getting his place ready for the painters.
It was good to see Donna again; she's been writing more and just got back from Japan with a Japanese friend whom she was with last night.
I met Janice Eidus and Ann Rower, the other readers. Janice publishes short stories in literary magazines and reviews for the Times Book Review – and she said she liked my work a lot.
Ann Rower is an older figure prominent in the St. Mark's scene; Justin told me that Vito, her lover, is a pretty well-known actor.
All the readers were good except for the late addition, a friend of Pete's from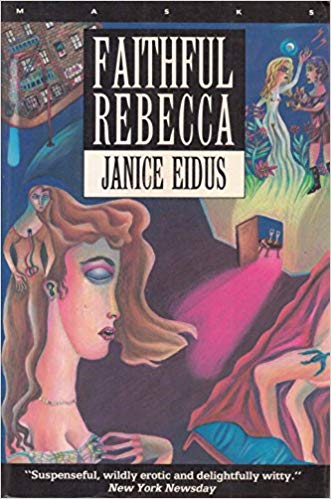 L.A. whose stuff was spacy and incomprehensible. ("She was in a different time zone," Kenneth said.)
My stuff – "The Mother in my Bedroom" and "Slowly, Slowly in the Wind" – got lots of laughs, and I was pleased with the crowd's response and the compliments I got afterwards.
I got a lift home with Kenneth, Elaine, their son Lucas (I remember him as a slim teenager; now he's a hefty, bearded insurance salesman) and his girlfriend Isabel Molinaro, daughter of Fiction Collective author Ursula Molinaro, who also attended.
Home at 11:30 PM, I lay awake feeling happy – Justin called to "dish" the reading – and got up at 9 AM. It was great to have Teresa's bed and bedroom to myself.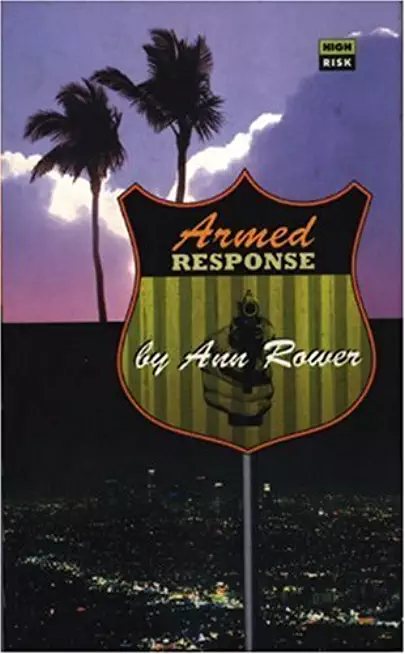 Alice phoned to ask if I could come over for lunch. Yesterday she slammed her door on the middle finger of her right hand.
At first it didn't bother her, but she was in great pain by the time she got to Brooklyn for Mother's Day, and her mother persuaded her to go with her brother to the emergency room of Kings County Hospital.
It turns out that she sprained the finger badly and it was all black and blue; the doctors put it in a splint and bandaged it and told her to take Tylenol for the pain. Since she couldn't write or type, she called in sick today.
Before I got to Alice's, I did some money-juggling, taking out cash advances on paid-up credit card lines and depositing that into my First Nationwide savings account.
Also, at Shakespeare and Company, I picked up Alvin Rosenfeld's Imagining Hitler for $15.
Pages 71-73 of the book are devoted to an analysis of "With Hitler in New York," which he calls "astonishing." Most of it is well-written plot exposition, but his analysis is the most intelligent and on-target criticism the story has had:
Grayson, one comes to understand, has de-Nazified Hitler, pacified him and projected him as normative. At some very deep level of the imagination he has removed him from history. . .
"With Hitler in New York" carries us beyond the transcendental leaps of the religious imagination, beyond the counterfeit claims of the revisionists, beyond the 'alternative' possibilities and fictitious endings of popular formula fiction,
and into a realm of imagination that all but dissolves historical memory. Whatever its author's intentions, his story succeeds in showing us just how much is lost when the name Hitler gives up its force and no longer evokes anything of consequence from the past.
The story, to me, is about the power of a name – so Rosenfeld understands me. How terrific to be in a scholarly book, bibliography and index – in a chapter that discusses D.M. Thomas's The White Hotel and Styron's Sophie's Choice.
Although Alice looked a bit haggard, it was a delight to see her again, It was such a hot and humid day that even eating outside at the Figaro made us sweat.
She was still on a high from the Cuyahoga Community College Writers' Conference. As usual, she was a real star, and I can just imagine what an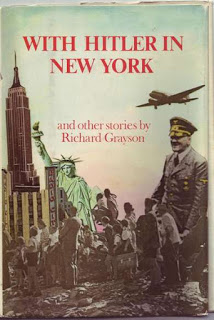 exuberant, excellent teacher she can be – Peter, too.
Alice can't believe she gets well-paid for something that gives her so much satisfaction. "It's also good to be in touch with real America," she said, "I forget that in the Midwest there are people to whom Weight Watchers is a very big deal."
Bert Stratton came over to Alice and Peter at lunch and introduced himself; Alice said he seemed a little goofy to her, but then said Bert talked mostly to Peter.
Peter, by the way, loves his new job; he spends most of the day writing at a word processor, just as he used to do at home, and feels very little pressure. When he took home his first week's pay, $450, he said, "This is a lot of money."
"Yeah, Peter," Alice told him, "and for the next two days you don't have to do anything."
This weekend Alice is going to Milwaukee because a young guy she's having an affair with is putting her up at a hotel and paying all her expenses; his father, a Weight Watchers franchise leader, wrote Jean, a musical based on the life of Jean Nidetch, which is premiering, and that's the official reason for the trip.
Next week she and Peter go to Rome for eight days as part of Weight Watchers' bonus for their executives and their spouses.
Alice and I did some errands, and I helped her set up her fan and did some other tasks she was unable to do; later, Peter was coming over to wash her hair and
give her a bath.
For the second day in a row, I caught Teresa as I was coming and she was going; she's staying at her sister's tonight, as her brother-in-law is still in Albany.
"You got a bonanza of mail," Teresa said.
Mom sent my IRS and unemployment checks (totaling $1690), the Esquire Register survey, an article from the Fort Lauderdale paper on the state's failed "top-quartile" education goal, and other goodies.
Florida Atlantic University sent my transcript – and I got all A's, even in LOGO.

Great, Grayson: 18 credits and you went 4.0! I'm proud of myself.
Later, very bad news came from Susan: at 5:30 AM on Saturday, Barbara was raped in her apartment by a big black guy who said he'd been following her for weeks.
Of course she's traumatized, poor girl. I can't imagine anything more awful.
Since then, she's been staying with Susan and Spencer and is now staying with Robin. I hope she'll be okay.
Barbara has a black eye, but of course the real damage is psychological. Luckily, she has a therapist and supportive friends.
---
Wednesday, May 15, 1985
5 PM. "Good luck will come to you when you least expect it," said the fortune cookie I brought home from Szechuan Broadway the other night. I already feel very lucky.
I've just come back from Unemployment, where I was denied benefits because John Jay College said I worked only 18 weeks and you need 20 to collect. Too bad, but I can't be that sorry; after all, I've gotten more than my share of Unemployment money this past year.
The good luck came in that I met Amira at the Unemployment office, and because she'd forgotten to go to the Employment Service, we both wound up on the C chairs and had an hour to keep each other company.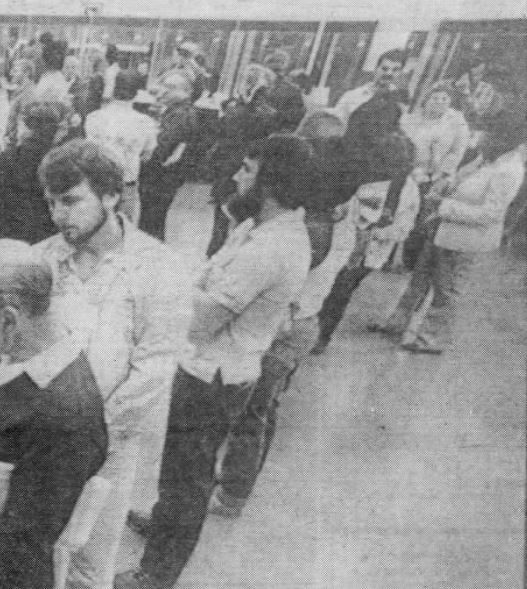 She looked terrific in a stylish white pants suit and she'd just come from an interview which went very well; she's had three interviews this week and feels confident that in the next couple of months, she'll have a job.
Amira is taking positive steps and is considering going back to college. Cate is fine, she said, and they loved Epcot and had such a terrific time in Florida that Amira felt depressed to leave.
I was a little uncomfortable because I'm staying at Teresa's, but Amira was cool about it.
After we were both through — I got a formal letter denying my benefits — we sat for an hour in City Hall Park, taking in the sun, the nearby organist playing great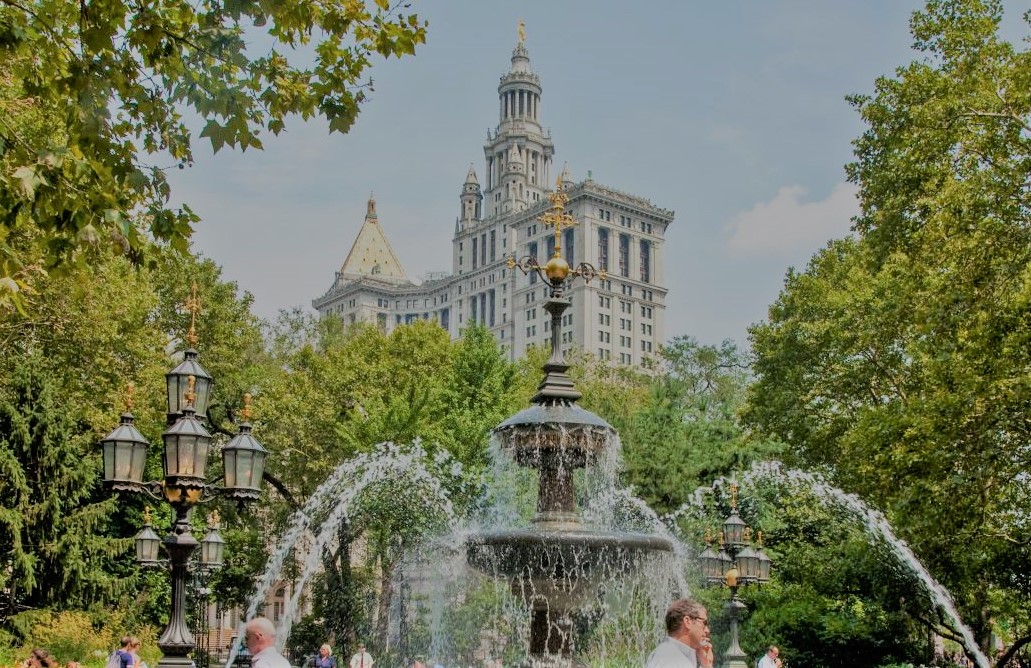 jazz, and the bag ladies searching through garbage for redeemable soda cans.
I like Amira and intend to call her while I'm in New York.
Barbara has been on my mind a great deal. What torture she must be going through, and what terror she must have felt, waking up to an assault in her own bedroom. It must make her feel no place is safe.
I told Susan I always felt Fort Greene was too seedy a neighborhood, but she says that Yuppies are moving in and paying outrageous prices – while the poor blacks still live in squalor nearby.
I can imagine the resentment these poor people must feel; I see it here on the "Yupper" West Side. What did that guy have to lose by raping Barbara? What
does a 14-year-old kid have to lose by mugging or stabbing someone on the IRT?
Last night at dinner, Mikey argued that being in prison is still worse than living in a slum, but either way, these people have no future; they're a permanent underclass surrounded by conspicuous consumption.
Not that this justifies or excuses what this monster did to Barbara. I don't mean to be like Reagan and equate Nazi soldiers with Holocaust victims. But how can people live securely in a society like this?
Now Barbara is moving to Windsor Terrace, which Ronna says "is to Park Slope what Fort Greene is to the Heights." She'll have bars on her windows.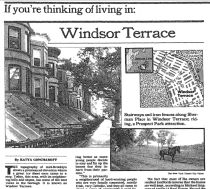 When I told Josh the story he was really bummed out: "Now I feel guilty I didn't help her when she sent me her résumé." Silly, of course – but that's Josh.
Incidentally, I apologized to him about anti-Semitism; now that I've done some reading, I see that neo-Nazi groups are very active in the U.S., using computer networks to spread hate. I guess I wanted it not to be true.
Josh said James went up to Provincetown to check out the Fine Arts Work Center, but both of us agree that James would flip out in that isolation.
Last evening's dinner at Mikey and Amy's apartment was fun. They served Mexican food: nachos and tacos.
Like all Yuppies, Mikey and Amy won't admit they are Yuppies, but all they talk
about is food, restaurants, furniture, etc.
I feel mean writing this, because they are good people and Mikey has certainly done ten times more than I have to help the downtrodden. He says that just because he likes broiled swordfish doesn't mean he's lost his ideals – and I guess he deserves his pleasures.
It certainly was a pleasure to eat that great Mexican food and later, Häagen-Dazs's new Good-Humor-Creamsicle-like orange-and-vanilla ice cream, some Pepperidge Farm almond cookies, and mandarin orange herb tea. But I can see why both Mikey and Amy have put on weight.
Neither of them likes Judy, the woman Larry is marrying on Sunday. "He doesn't do a thing without her approval," said Mikey. "She's totally changed his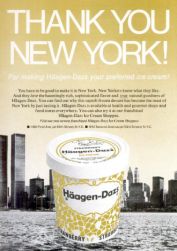 values," said Amy.
Funny, but one could also say that about them – or probably most guys (Jewish ones, anyway) and their fiancées. Actually, I thought Judy was very nice, but I've met her only three times.
Amy related how she hates her job at City Opera and she bemoaned (as do Ronna and Amira) the non-profit job scene with its low pay, long hours, and heavy-duty pressure.
Even though he makes $35,000 at Legal Aid, Mikey is also trying to leave his job. Despite his years of experience as an attorney, it's still very difficult for him to find another position.
I made as big a fuss as I could over their wedding photos and new furniture (though it had to be pointed out to me – my friends think I'm an absent-minded
professor who never notices anything).
Home at 11:30 PM, I found Teresa here with Elizabeth, her brother, and a friend. They'd all gone to Elizabeth's graduation at Columbia Law School (where Cuomo spoke) and then out to dinner and back here to drink and smoke pot.
Elizabeth is a good-natured and sensible person, the most level-headed of Teresa's friends. She's working for State Senator Franz Leichter, who's in the Controller's race, and of course she has the bar exam coming up.
I did find the Times review of Imagining Hitler that just mentioned me and my book; it appeared while I was still in Florida.
Tom writes that he came back after 2½ weeks out sick to find his "terrible PM class" in their evaluations say Mr. Whalen is uninvolved in the program this year.
"I'm 100 times more involved than they are," Tom wrote. "Fucking teenagers."
At this point, I think he may need to leave NOCCA for his own sanity.
---
Thursday, May 16, 1985
10 PM. Life seems unbearably dense these days. I get so much mental and emotional stimulation in New York, it's hard for all of it to register.
My mind begins to overflow – not that I mind (pun intended), for I feel myself more of a writer and a thinker than I have been lately.
Last night's A.I.
class at The New School was interesting; Ms. Perricone discussed robotics and the unbelievable problems in sensory processing, leading me to believe that R2D2 is a very long way off. She began a discussion of expert systems, which will continue next week.
Because Teresa was at Fern's last night, I had her bedroom to myself. I came home on the IRT and stopped off at 86th and Broadway for a Mrs. Field's brownie (most of the cookies were gone at that hour) and the next day's Times.
By now, I feel like quite a New Yorker; Florida seems like a dream world that nevertheless has great power for me.
Mom sent me the Politics column from the Fort Lauderdale News that had an
item, "Swatting a Gadfly" (nice title), about Adams "wisely" turning down an offer to be my campaign chairman.
Naturally, they didn't use my saying that I was on "fact-finding trip to the real world," a remark which could offend their readers.
The unhealthy part of my desire to run for Education Commissioner is a need to "show them all" that I'm not just the buffoon I allow the media to portray me as.
Still, I'm greatly responsible for the image the papers give me. Mark Twain and Norman Mailer would understand how I feel.
This afternoon I met Justin at Eddie Murphy Productions for our last lunch at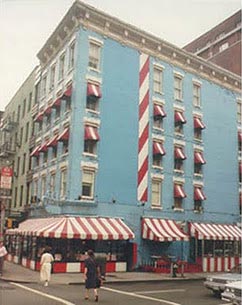 TGI Friday's before he leaves his job.
I like Justin a great deal, and now that he knows I'm not seeing Ronna, I've been getting vibrations that he might want to be more than friends. I've thought about it, too . . . a lot.
But while I'd love to have an affair and while I like Justin, I'm not really attracted to him – though I suppose I could learn to be. However, I can't imagine loving him the way I loved Ronna or Sean.
When I think about Ronna and Sean, I remember an almost instant attraction, and when I think about them now, I still feel like jumping on top of them. (Interesting, though, that Sean was so often in my thoughts when I was in Florida and I don't really think about him in New York.)
Next week Justin will be at liberty, and the week after that, he's giving himself a
trip to Los Angeles.We'll see what develops. If there's one thing I've learned about romance/sex, it's that it's got to be natural, come along naturally.
(Am I too vague for you, diary? Well, keep it to yourself.)
Susan came over after her shrink appointment. Teresa was here all day, making phone calls and not feeling well and she gave Susan some advice on traveling to Europe, as Spencer and Susan will be in England and Scotland for three weeks in August.
Over coffee, Susan kvelled over the passage about me in Imagining Hitler and said that would have her on cloud nine for a week. She confessed that when depressed, she goes to the library and looks herself up; I laughed and admitted I do the same.
We spoke about ambition and careerism. Last week she went to a reading where she saw the poetry crowd she used to hang around with. They all seemed like such victims, wearing the same jeans they wore ten years ago, all stuck in nowhere proofreading jobs.
We spoke about something we have in common: a proud rebellious streak which prevents us from being part of the corporate world or the Establishment in the literary/academic/art scene.
The other day Alice said how terrific it was to stand out in a second field and how glad she felt that people who knew her as the editor-in-chief of Weight Watchers don't know her success as a teacher or freelance writer or lyricist.
Obviously, I feel the same way, though I wish the Florida papers could see the Rosenfeld book or my academic transcripts (I made the Dean's List at Florida
International University).
Josh phoned with some semi-good news: he got a personal, handwritten rejection from The New Yorker! However, Josh doesn't fit that magazine any more than I do.
As Susan said about Vanity Fair, I'd like to be in The New Yorker for the prestige it would bring, but in many ways I'm appalled by the point of view of the magazine.
Crad writes from Toronto that he's found an apartment and that one of his stories was selected for The Pushcart Prize: more respectability, and he's ahead of me there.
Of course, nobody has less to complain about than I do.
---
Sunday, May 19, 1985
9:30 AM. In an hour I'm meeting Mikey and Amy at Penn Station, where we'll take the LIRR to Lynbrook for Larry and Judy's wedding.
I'm all ready to go; I just looked at myself in my three-piece suit and feel passably decent-looking. Imagine guys who have to wear suits every day.
What's been happening? Friday was a low-key day, with Teresa home most of the time. I went out to do some banking and I got halfway through The Money Bazaars, a fascinating look at the changes in banking.
At 7:30 PM on Friday, Josh came over and he told me about his job quandary. He's going to be offered a $40,000 job at the Board of Education, where they're setting up an computer information system – which is, of course, just what Josh has been doing at Blue Cross.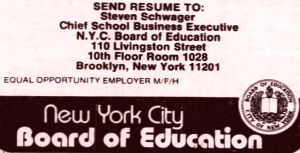 Apparently the Board is hot to get him, as Josh is really sharp at what he does. He'd be able to get not only the increase in salary, but also a month vacation (as opposed to his current two weeks), vision benefits ("so I can see that vision-trainer quack"), and the commute would be a short walk to Court Street.
On the other hand, at Blue Cross, Joyce is terribly understaffed, and he'd be leaving her in the lurch. He owes a debt to Joyce, who's shielded him a lot from the higher-ups, and of course he likes her and Larry, the guy whom he goes to Rheinbeck with.
(He and Larry, under the table, are going to get $4000 for setting up a system at
another orphanage down the road from the one where Blue Cross sent them.)
While telling me how awful Blue Cross is ("They call themselves 'the caring company' and they have the worst benefits of any place I've worked"), Josh also tried to get me to come to work there; he says that my knowledge of PCs is enough to get me a $30,000 salary. But I don't feel ready for that yet.
At 8 PM, James joined us, telling us about his trip to Provincetown. He was impressed with the town and liked the people (including Roger Skillings) and the setup at the Fine Arts Work Center.
He figures he could stay at a motel, using the stipend he'd get, and possibly find a bartending gig there. Although Josh feels James is so unstable that he wouldn't last, I think James has little to lose by giving it a try.
We went out to Szechuan Broadway for dinner and had lots of laughs as we talked literature and ways to get Grinning Idiot famous.
It was one of those magic New York nights I missed terribly in Florida: I felt part of an exciting city of young achievers.
Last night was like that, too.
Justin came over at 5:30 PM after a pair of auditions that left him wired.
He hasn't been on auditions in years but feels he's gaining confidence and poise. Justin sang some material, though they stopped him after 16 measures, so he didn't get very far. He showed me his portfolio and talked about the auditions; I knew how important this was to him.
After dinner at Marvin Gardens, we took the subway to Jay Street and walked up to St. James' Cathedral, right across from where I used to go every week to have a therapy session with Dr. Bob Wouk back in 1969 and the early '70s.
Downtown Brooklyn looked the same as ever. A born-and-bred Brooklynite, I sometimes scoff at my friends' paltry knowledge of the borough; Justin, who's lived in Park Slope for six years, hardly knows Brooklyn at all – but then, only the dead know Brooklyn.
We met Sue Ribner with her friends Lynn and Sharon and Sharon's young son, and waited for the concert to begin.

The Haydn-Mozart Chamber Orchestra is quite good; they're astute musicians with a talented concertmaster.
After Haydn's "Drum Roll" symphony, Matthew got up to conduct his Ancient Greek Melodies. I always liked the original Delphic melody, which I'd first heard at the Virginia Center for the Creative Arts three years ago and then again last year at the Millay Colony.
The percussionists were excellent, and I got a kick out of watching Matt sway as he conducted the musicians; it was as if his body was the music.
After a beautiful Mozart piece, we went downstairs to have cheese and wine and to mingle. Matt thought it went well – he liked the musicians – and I told him I felt it was a triumph.
Elizabeth looked as cute as ever; she said she's been busy painting and is thinking of going to Baruch for some courses and asked me what I thought of the college.
While I chatted with her, Justin met this guy there, a director who I think is the one whom he slept with when he was so confused five years ago.
After sizing Justin up all night, I decided once again that I'd rather not get romantically involved with him.
Justin is too neurotic about physicality – not to say that I'm not, but I don't need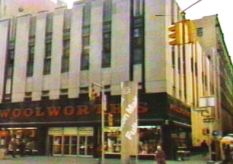 someone who's worse off than I am. Plus, I don't think I could ever love Justin, as nice a guy as he is. It will be simpler if we stay just friends.
The others took the bus to Park Slope while Sue and I subwayed it back to the Upper West Side. Sue is such a gallant lady, and I feel nothing but admiration for her.
All day yesterday Victor was helping Teresa put the fan in her bedroom and getting it working; after spending a few hours with him, I feel he's a totally good guy.
Maybe he's what Teresa needs: a low-key, helpful, sweet, decent man. It's clear to me that she doesn't appreciate him.
Well, I'd better get moving. I've got half an hour to get to Penn Station and I don't want to be late for the wedding.
*
11 PM. It was chilly when I walked to the subway this morning.
Mikey and Amy got to the Information Booth at the LIRR shortly after I did and we boarded a train to Jamaica, changing there for Lynbrook. With just a seven-block walk to Temple Beth David, we were at Larry and Judy's wedding.
Because the ceremony was private, we were ushered into a typical Smorgasbord Room to get drinks, potato pancakes, pigs in a blanket and other hors d'oeuvres.
Larry and Judy came in without any fanfare, and Amy – and Larry's other friends' wives – felt this was "tacky" and "bizarre," especially since a video camera kept following the supposedly shy couple, blinding everyone with bright lights.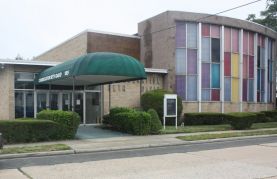 As the friends came in – Steve and Robin, Jeff and Lillian, Stuie and Anne (Mike and Mandy begged off, typically, because of a "family commitment"; by now Mike has alienated all his old friends) – I learned that most of them dislike Judy, whom they blame for controlling Larry's life. Apparently, there was no bachelor party because of some bad feelings.
But I don't really get what they have against Judy, who seems perfectly sweet to me, and I enjoyed the wedding myself. The food was pretty good, and I cast aside my inhibitions and danced with Amy and some other wives.
If I think I look foolish to other people, I'm also aware that in reality nobody looks at me – and I'm probably no worse a dancer than half the men there.
While we were dancing, Amy sniffed that the lead singer in her slinky black dress had no voice – Amy herself used to do that sort of thing – but the band was fairly good, and I worked up a nice sweat.
Aside from dancing with partners, I danced the hora and was one of those lifting Judy's chair as part of the traditional Jewish ritual of the chair-raising of the bride and groom.
It's funny, but there must be some primal instinct where all this Jewish wedding nonsense is appreciated.
All around me, I could see short story images or fragments: two old gents dancing to "Like a Virgin"; Larry's totally out-of-it father, looking dazed; the couples growing older amid talk of their growing kids, aging Florida parents,
and their businesses: law, the garment industry, accounting, insurance.
This group of friends centered around Larry is the most "normal" group of people my own age that I know, and I find them interesting. They are living out much of the same lives my own parents did.
As the affair broke up – and the caterers rushed us out so they could begin work on the next wedding – we all took roses and baby's breath from the centerpieces for the ladies.
After congratulating the newlyweds and giving them the envelopes, please, Mikey, Amy and I sped back to the LIRR station.
On the train, I held Amy's bouquet as I sat opposite them; she fell asleep on Mikey's shoulder. They've been married six months.
I don't feel bad not to be married. Sometimes when these married people tell me, "You're probably the happiest one here," I'm not sure if they're joking or not.
But I like being as much a part of other's weddings. I've learned to tolerate these catered affairs, to see them as others do – as important life rituals – and at this point I can even manage to enjoy myself a bit.