Saturday, April 13, 1985
8 PM. This has been the rainiest week of my stay in Florida. There have been intermittent downpours during the past two days.
Yesterday I got up to Boca about 2 PM after getting the typewriter cassettes I needed and having lunch in a "New York style" deli on Commercial and 441.
New York is coming into my consciousness a lot – and into my unconscious, too.
Last night I dreamed I was bicycling up Flatbush Avenue all the way from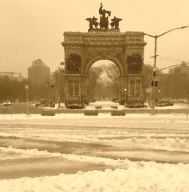 Avenue N, where we lived, to Grand Army Plaza and beyond.
It was snowing, and several times the wheel of the bike skidded, but I was always agile enough to avoid falling. It would be nice if I could take that as a metaphor for my life.
I called Justin at work on Thursday after seeing a notice in the Voice that his play had debuted the evening before. He didn't have time to talk, but he did say, "Everything went well."
Pete told me he enjoyed his first week at the new job; there's a lot for him to learn, but he likes the fact that there's not going to be any overtime, which is apparently rare for computer programmers.
Pete's scheduled me for a reading at Darinka on Sunday, May 12, along with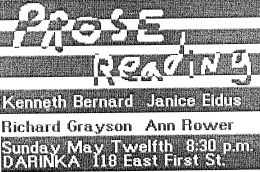 Janice Eidus, another woman, and hopefully Ken Bernard.
Josh said he didn't go to Vermont because Andy "started talking religion" over the phone and because Josh found out the woman who lived next door to Andy, whom Josh liked, had moved away.
Nor could he visit Lynn in Philadelphia because she had to study for her Ph.D. comps this week.
So he bought himself a VCR, joined two video clubs, and spent the week watching movies he'd missed. The VCR may not replace Butch, but a lot of people consider it man's – and woman's – best friend.
He told me James skipped town again – this time for New Orleans and then to Mississippi to stay with his father – because he couldn't handle things in New York.
This time, though, he didn't just disappear. Before he left, James and Josh talked at dinner at the Abbey Pub, "where we ran into some Yuppies and ended up having a good time."
I still haven't heard from Teachers College, but I think I've made a decision: If they offer me a fellowship and/or a good financial aid package, I'll spend next year at Columbia.
If I don't get in – or get in without enough financial aid to get by on – I'll stay in New York  for the fall and adjunct or teach computers, make a little money, and return to Florida next January to take another 18 credits. By then there should be new computer ed courses at FIU and FAU.
This morning Mary Alice offered me a job teaching in-service computer education workshops to teachers in the Dade County schools for the next ten
Wednesdays.
I explained to her why I couldn't take the job, that I was going to New York, but told her to keep me in mind for the future.
Yesterday I had a long talk with Ray, who hadn't known I was a writer or that I'd taught on the college level for so many years.
He said that having a knowledge of computers will help me a lot getting jobs at colleges and schools. We'll see. After years of being so unmarketable, it's hard to believe that people would actually want to hire me.
Yesterday's LOGO class ended our look at IBM LOGO as Sheila taught us some advanced primitives. We handed in our projects and next week we've got our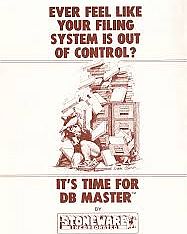 presentations. Mine is going to be an off-computer activity: a lesson plan for teaching LOGO to adults.
This morning in our Computer as Teaching Tool class, Mary Alice showed us DB Master, a database program for the Apple; next week is our final.
Two weeks to go – but lots of work and tests still left.
---
Sunday, April 14, 1985
7 PM. Teresa called late last night. She hadn't been able to return my calls this week because her parents and grandmother were in a terrible car accident.
Coming back from Mattituck, their car was rear-ended by a Mack truck; they ended up crashing into the back of another car and utterly destroying their own.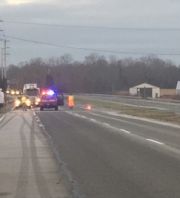 Teresa's parents both suffered numerous bruises and cuts and broke three or four ribs each due to the pressure of their seat-belts, but if they hadn't been wearing them, they might have been killed.
Her grandmother, in the back seat, seems all right: she wasn't wearing a seat belt, which was probably for the best, as the doctor said it could have broken her hip.
But all of them are having difficulty walking and feel traumatized; her father lost his voice. They're staying in Babylon, at Teresa's other grandmother's house, where they don't have to climb stairs and where other family members can look after them.
How awful! All week I'd had this feeling about car accidents. Remember
Wednesday? Life can be so uncertain.
Josh said that Harry told him that the day after Candy returned from Florida, her apartment was robbed and "all of her possessions" were stolen.
I've always been terrified that life can turn upside-down in a day, an instant. Can I learn anything from that? Only to live – here comes the cliché – life as if each day could be the last.
I read some job advice today about being prepared to get fired every day at work. That's a difficult thing to do.
Teresa seems to want me to come back and she said she's probably going to Italy with her father's mother for a month; she said she'd tell me more about it when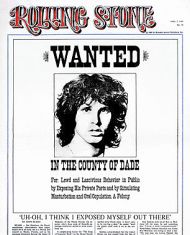 her plans are finalized. Her grandmother wants to visit relatives in Sicily.
Up at 8 AM today after some delicious dreams, I drove Mom to the flea market at Dinner Key Auditorium in the Grove – the place Jim Morrison got arrested for exposing himself at a Doors concert – where she's been doing more business than most vendors.
I walked in with her, and she introduced me to some of her fellow vendors. It's surprising, and gratifying, to see how my mother operates in the business world. When I was younger, I could never imagine Mom being anything but a mother.
Although Mom works very hard, I think she enjoys it. If she weren't working, she'd just do what she did in the old days: clean the house obsessively and get too involved in
her children's lives.
If financial adversity has cost my parents a lot in terms of security and luxury, it's probably allowed them more of a sense of freedom.
Twenty years ago, Mom and Dad seemed incredibly materialistic to me, but now their values seem so much sounder than those of the rabid Yuppies of my generation.
How can people be snobs about food the way they are in Manhattan while Africans literally starve to death?
Of course, look at me here: I eat Tofutti as I turn the pages of a magazine, not wanting to look at photos of babies in Ethiopia dying for want of bread and water.
I wish I could reconcile the strong feelings I have on world issues – against racism and discrimination against all peoples, against militarism, for protection of the environment and people's right to speak out, etc. – with my strong desire to achieve success, fame and comfort.
Maybe that's the contradiction in the American character that Poppy Ayyar spoke about in her talk at BCC the other day: the mixture of generosity and humanism with selfishness and competitiveness.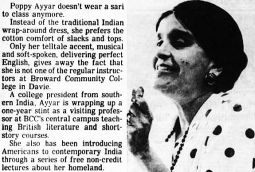 What did I do today?
Well, I exercised – again. Last night I spent two hours doing shoulder work, and today I worked on my stomach and calves.
Looking at myself in the mirror, I'm arguably in the best shape I've been in in the last ten years; anyway, my muscles are bigger, or at least more defined.
But I'm still a bit pudgy, and now I know I'll never be able to stop battling fat – until I get to about 70 or so (if I'm lucky) and start losing weight the way my grandparents did. But that's vanity.
I watched The King of Comedy, Scorsese's musing about our culture of celebrity.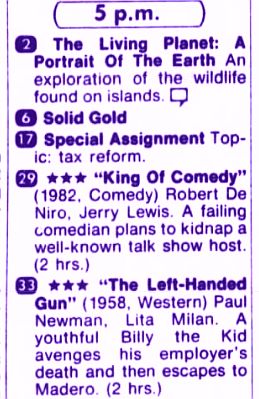 Sometimes I felt the DeNiro character – a semi-crazed aspiring comedian who kidnaps Jerry Lewis in order to get on nationwide TV – was a little too much like me for comfort.
Granted, I'm much more thoughtful and self-knowing, but look at the lengths to which I've gone to get into the newspapers and on TV. However, it's worked as well for me as it did for the character in the movie.
Richard Schickel, in his new book on the celebrity culture, postulates that celebrity assassins understand the system better than anyone – and I just read that John Hinckley's about to sign a big-bucks book contract.
It sickens me, and it also fascinates me, to know that if I tried to kill a famous person, my books would sell better than they ever would otherwise. But, then who would I be?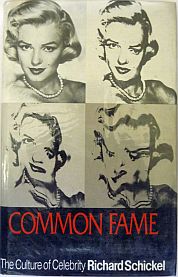 At least heretofore, my linking myself with celebrities – Burt Reynolds, Jane Wyman, Meryl Streep, Ed Meese – has been good-natured and comical.
Well, it's Sunday night and I've got two more weeks in Florida, two busy weeks, with lots to do. I feel scared but also exhilarated.
Maybe this week will bring good surprises. As Sean wrote me when he ended his last letter two years ago: "And life goes on."
---
Tuesday, April 16, 1985
8 PM. It's starting to feel like I'm leaving Florida. I've begun to gather up my possessions, throw stuff away, put books in boxes, etc.
This time should be easy, as I don't have all that much here. Another change, another leave-taking: it almost seems routine, but it's still hard.
Today I realized how many people know me here: on the Broward Community College campus, students I had in my classes come up to me, as do other people who I worked with at BCC.
Then there are my fellow FIU and FAU grad students, and people at the restaurants, stores and banks I go to who know me by face if not by name.
There's my family, of course; as much as I like to distance myself from them, I feel I've gained a lot by sharing time with them this winter.
Today I slept late, worked in the computer lab, and went over to Mom's, where I got my mail (only USA Today). Teresa returned my call.
I surprised her by saying that Amira had visited me, and I'm sure she knows that Amira must have told me a lot of bad things about her. But if I wasn't honest with Teresa about this, I'd only regret it later.
It's clear she wants me to stay with her, if only because she needs someone with whom to share expenses. Teresa says I can have "a lot more freedom" now that she's seeing Victor and spending time away from the apartment.
Her parents are recuperating, Barbara's baby was christened, and she and her Grandma Marie have reservations to fly to Italy on June 27.
Teresa told me she can probably get me the apartment uptown, as her subtenant is leaving, but that's $550 a month.
As usual, she wants to control another's life: she's already got me working at the Board of Ed, with her mother getting me a job.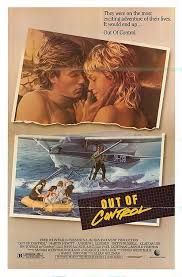 I know why she does it, but I don't have to put up with it. Still, I feel kindlier towards Teresa these days; she really doesn't mean any harm. Not that that's any comfort to the people she fucks over.
Anyway, I can play this all by ear. I'm not going to let anything get out of hand. (Apparently I like stale body metaphors, if not stale bodies.) If I have to, I can easily find another place to stay besides Teresa's apartment – at least temporarily.
Finding a permanent residence in New York is going to be a lot harder, but I'm not all that interested in permanence. The word doesn't mean much to me, except in terms of ideals, values, memories.
Do I sound pompous? (Don't answer that.)
I started an essay in Esquire by David Leavitt – he's ten years younger than I – about his generation, and how they felt they came in on the tail end of everything.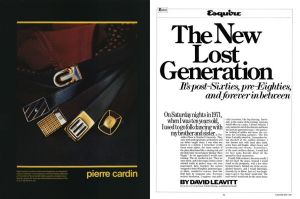 In reading the essay, I learned personal details about his life which helped explain why he took so easily and so successfully to literary life. His father was a Stanford professor and he grew up in academia before going to Yale.
My background is different. I was literally that first person in my family to graduate from college. I grew up in Brooklyn, went to New York City public schools and CUNY.
While we always had loads of books at home, three-quarters of them were mine. I don't think Dad reads more than a book a year, if that; Mom reads a little more, but not much. (Jonathan, though, is a big reader.)
My grandparents never graduated high school; Grandpa Herb got through eighth grade, he told me, and I can't imagine my other grandparents having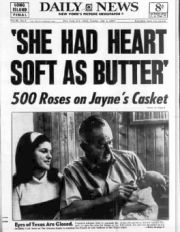 more of an education although all of them were literate enough to read the Daily News, the Post, TV Guide.
Basically, they were just functionally literate.
So I really had no models as far as writing or scholarly work. Yet it always was clear to me that I could be a writer or a professor; despite their backgrounds in the garment industry, my family encouraged me in school.
I had emotional problems which had to be worked out in late adolescence. Being agoraphobic, in 1968 it was impossible for me to go to Brooklyn College, much less Harvard or Brown.
Graduating from BC, being a good student, and even more, being so popular there: it all seemed like a miracle at the time.
Richard Yates called a novel of his past A Good School. Brooklyn College was a good school for me. I felt a part of things there. I began to become an adult; I had real friends for the first time in my life.
How much purer that time seems now. Every time I look, I read about "the now-discredited '60s" or some other term of derision, disgust or contempt to describe those years.
I think I'm more future-oriented than most people, and I don't say my college years were the best times in the world, but we could use a little of the less materialistic, more idealistic values of those days in today's crass and vulgar world.
I guess older people considered us pretty vulgar with our "tell-it-like-it-is" style, but our use of profanity now seems quaint and very innocent. Enough rambling for me . . .
I definitely blew the last Measurement test, but even if I got a C (I'm hoping I got a B), I already had three A's on the other tests.
I'd love to go 4.0 for the semester, but I'll be happy with anything more than an even split of A's and B's. If I can go 3.5, I'd consider that good.
Remember, it's what I've learned that counts – that and having fun. And I have had fun this winter: the schoolwork has been fun.
I'll always treasure this time in my life. It may have been somewhat lonely, but I had a chance to read and to learn and to spend lots of time alone, thinking about my life.
It may be a paradox, but even though I have no idea what I'm going to do in the next month or year, I feel more clear-headed and sure of myself than ever before.
At least I know what I don't want to do. It feels good to start something from scratch.
---
Wednesday, April 17, 1985
Noon. I didn't sleep much last night because I kept thinking about my life and my future. As much as I've loved life, I think I'd welcome death at any time.
Nothingness sounds wonderful. What I'm afraid of is pain.
I finally learned that Teachers College hasn't acted on my application because my GRE scores were too old. Jesus! You'd think they could have notified me!
Their failure to do that, and the bureaucratic rule itself has turned me off Columbia. Maybe it's irrational, but I feel they don't want me, that I'm not Ivy League material.
If their concern is any indication of the way their program is now, I'm better off not going. Sure, I could take the GREs now, but it's too late for financial aid, and I can't afford their tuition. Another door closed – but I was a fool to wait on Columbia's reply.
The National Endowment for the Arts, academia, Associated Writing Programs, the Florida Arts Council: I keep banging my head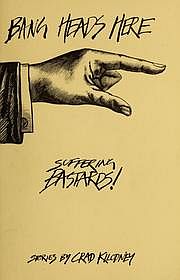 against their stone walls. Maybe they're telling me I'm not good enough. Maybe I'm not.
Almost everything I've achieved, I've had to do on my own, without a mentor, without the prestige of a university behind me, without anything but my brains and my persistence. I guess I'll have to go on, but I don't know how long I can outlast the bastards.
---
Saturday, April 20, 1985
8 PM. At least I slept pretty well, though I did have an anxiety dream about LOGO.
Last night I read the New York Times software columnist, who said that the millions of dollars schools have spent on computers is money down the drain that could have been better spent getting better teachers.
Also, he said that 98% of software isn't worth the cost of the floppy disk it's on. After studying computer education, I'm inclined to agree.
There are going to be legitimate uses of computers and videodisks in the classroom, but school boards around the country have been insanely charging ahead without proper planning.
The best uses seem to be LOGO (though it's probably being taught the wrong way), word processing for writing, and software to teach science and math in high school.
After I took Mary Alice's database final this morning, she again asked me if I wanted to teach other in-service courses, this time for Broward County.
I said that if I come back next winter, I'd love to do that. It will be interesting to see if there are jobs like this in New York.
At my parents', I worked out with Jonathan's weights for 90 minutes, but I didn't seem to have much energy.
Later, I tried to sit by the pool, but it was so crowded there wasn't a spare chaise longue, so instead I went to Liberty Tree Park in Plantation.
I figured I'd get at least a little color before I go back to New York – although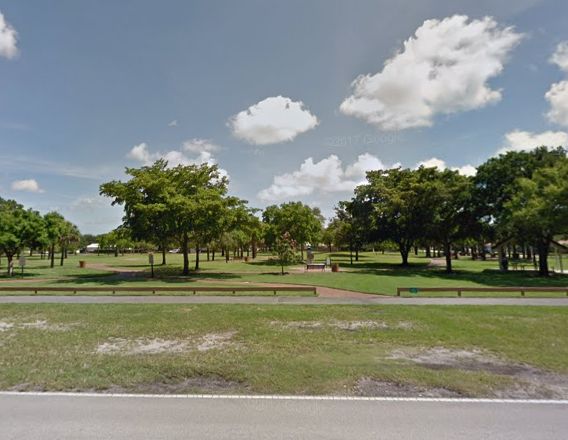 Grandma told me that it was 80° there yesterday.
I didn't do much today: read, took a nap, went grocery-shopping. It's hard to believe that in one week I'll be in New York again.
I can envision the Upper West Side and remember how happy I was last spring when I had Teresa's apartment to myself. I know this spring can't possibly be as good, but I'd still rather be there than here.
I think of Ronna a great deal. In the past few days I've tried to call her without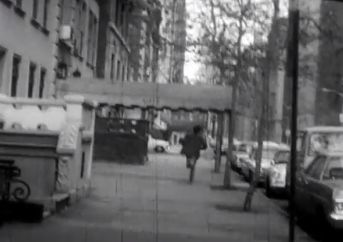 success. I hope she's doing well.
It's funny, but I care for her so much I actually don't mind her seeing other guys, and I'd be happy for her if she fell in love with one of them.
Of course, I'd be a hypocrite to feel any other way. When I read articles about marriage, I always think of me and Ronna. Could it work out? What about my being gay?
Well, I saw the Donahue show yesterday, and AIDS is such a problem, I can't see
having gay sex unless I was very, very cautious. (My reticence – or cowardice – has turned out to be healthy for me.) Now they feel AIDS can be spread by heterosexual contact, too.
I don't know how I visualize my future sex life. I get a lot of pleasure from masturbation, but it's nothing compared to the joy of intimacy with another person.