Tuesday, June 2, 1984
9 PM. It's going to be funny when Teresa returns home because I've grown so possessive of this apartment after living here without her for over a month.
When Juliana came up with Dion this morning, she was returning some stuff. "Is that ours?" I asked, and she said, "Well, it's Teresa's."
Juliana found a friend to stay with tonight now that Dion's taken over her apartment, so she won't stay here and I'll have my privacy for another night.
I feel pretty tired right now. I just came home after stopping off to get the Sunday Times and a delicious and healthy selection from the salad bar at the Korean store.
On the way in, I saw Dion leaving the building with some woman, and then I rang Judy's bell to give her the real estate section of the paper.
After five weeks here, I feel as though I've become part of the neighborhood. It's a great comfort to know that if I had to, I could adjust to living in New York again.
Last night, I really needed to sleep because my head was pounding terribly. I managed to get enough rest to make up for my crummy Thursday night.
Contrary to the forecasts of sunny and warm weather, it was raining out when I left the apartment at noon. Pete had scheduled our meeting for the Cedar Tavern, on 11th and University, near the old Village Voice offices where I worked ten years ago.
Yesterday, when he called to give me the time and place, Pete also said that Paul Fericano said to say hello to me when Pete phoned Paul to check out a place to stay in the Bay Area.
Sitting around the front table at the Cedar Tavern today were Pete; Michael Kasper; Allan Bealy of Benzene; Loris Essary, a big bear of a guy, the editor of Interstate, which accepted some of my early stuff, who works as a librarian in Austin.
Loris had just come up from D.C. from the American Booksellers Association convention, where he worked the COSMEP booth with his friend Henry Hubbell, who also joined us – as did a couple of other literary friends of Loris's.
As we chatted, I was struck by the connections: Michael's correspondence about Walser had led him to Tom Whalen, and Michael knows Crad via Opal Nations; as a D.C. resident, Henry of course knows Rick, "who's really doing well"; Loris is a co-editor, with George Myers, of Menu, which is due out in the fall; the only book of Michael's that got reviewed was done by George in Small Press Review, etc.
Everyone there is literary but not conventional. Pete and Allan are close to the
art world; Michael Kasper's work is also very visual; Loris is also a playwright and essayist; Michael and Loris are both librarians. And me? Well, in their birthday card, my parents referred to me as a "media personality."
For a couple of hours, we all sat around drinking various liquids (I had cola), and then we went for pizza and looked in at the Strand. We finally broke up around 3:30 PM, with everyone giving the others addresses and invitations.
I had a sort of brainstorm – if you could call it that – and took the PATH at West 9th Street to Hoboken and then rushed onto the New Jersey Transit train to
Morristown on the old Erie-Lackawanna line.
It took about an hour to get there, and once in town, I didn't find yesterday's paper and the article about my presidential candidacy wasn't in today's Daily Record, either. Maybe it will come out in the next few days.
Walking around Morristown, I felt the same wave of affection I've had for other small towns which look warm and homey: Middlebury, Vermont; Peterborough, New Hampshire; Hackettstown, New Jersey.
Luckily, there was a train going back to Hoboken in an hour. The view on the ride was spectacular: lots of lush scenery (the rain had to be good for something), quaint clapboard homes, the broken-down charm of the Oranges,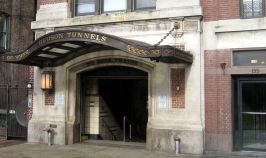 and that Newark skyline which by now has made an indelible impression on me.
I got off PATH at Christopher Street and walked past some cute guys – and some not-so-cute guys – to the IRT on Seventh Avenue.
---
Monday, June 4, 1984
It's just after midnight, and I'm just getting in after walking Ronna up to her apartment.
This was the sweetest birthday I've ever had: the day was totally perfect, and I feel, at 33, very lucky to have lived my life.
I was so excited last night, I couldn't really sleep. I just couldn't wait to start the day, and with the 5 AM morning light, I got out of bed and went out on the street.
Because I'd never been out that early since I got here, I forgot how exciting Manhattan can feel at that hour. It was as though the whole city couldn't wait to start its week. (Lots of people now manage to rush around with earplugs on, listening to a Sony Walkman.)
Buying a Times on Broadway, I returned home and woke up a sleepy Amira at 7 AM.
Obviously I was still tired, for I don't remember Amira leaving for work, and the next thing I knew it was 10 AM and I was awakening from a pleasant dream as Raiders of the Lost Ark was ending on the TV.
It was a gorgeous day, sunny and 85°, a perfect antidote to the recent foul weather. In short order, I did some errands: going to the video store, the cleaners and getting my birthday present to myself: a three-month CD at 10% interest from Chase Manhattan.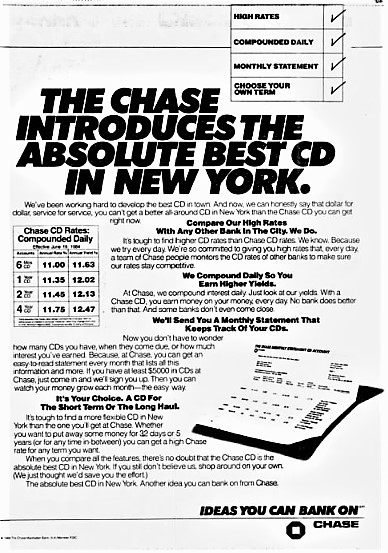 The Post's horoscope by Jeane Dixon said for us birthday boys: "The outlook is bright for both your career and finances. You are able to pay off a long-time debt. An employment problem sorts itself out." Could I ask for more?
I spoke with Alice, who sent a birthday card. I also got a card from Justin, whom I met for lunch at the Eddie Murphy Productions office on the East Side.
I think I really took advantage of him because I got him to use his Xerox electronic typewriter to write me up a gorgeous résumé, and he even ran off twenty copies.
Justin is incredibly sweet and so generous of himself. We went to a Hunan restaurant, where we dissected the Tonys, and Justin told me about his and Ari's newest roommate in Park Slope and other stuff.
It was 3:30 PM when I left the Eddie Murphy Productions carriage house and walked over to Hunter College's new library, where I was delighted to use their new touch-screen catalog, which made me feel as if I already was in the future.
Hopping a crosstown bus, I got to the post office just a minute before 5 PM (birthday luck) to buy stamps.
Back home, I read a great letter from Rick all about the ABA convention. Dutton may reprint Mavericks, and Rick said the Grove Press people were amazed at his youth.
I phoned Grandma Ethel, who'd gone to the doctor to see about her foot (he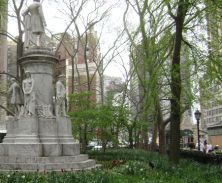 gave her medicine), and then I tried Mom but got a busy signal.
So I tried the other line, and it turned out that she had been trying to call me and getting a busy signal!
She and Dad said that I was born just at that time, 5:15 PM, on a warm, sunny day like today. "I love you," Mom said, and I said, "I love you both, too," and got off.
Ronna came over half an hour later, and as usual, she looked gorgeous. We talked about this and that, and then she took me out for a
fine dinner at Marvin Gardens. I feel so easy with her.
Back in the bedroom, I put on the TV set, but we didn't pay much attention to it. We hugged and kissed and fondled and tickled and wrestled and did everything but intercourse, and we stopped only because we both decided we didn't want to go that far.
Still, sex isn't just intercourse, it's intimacy, and I have no complaints at all about tonight.
Giving Amira a massage last night was a fine experience because I got to touch someone in a sensuous way, but of course the experience is so much better when there's love – yes, with Ronna, it's love, if not the usual kind – involved.
And I need to be held, too: I need to have my back rubbed, my chest touched, my nose kissed. I needed to feel a woman's breasts and thighs and long hair. I can smell Ronna on me, and I am still feeling really good right now.
You can't imagine how great it feels to be so free and open, to hear myself being called "sexy" and "hot" by an attractive, warm, intelligent woman.
Ronna said she was "floating on air" for a few days after our last time in bed together; then she felt bad about it, but only for a little while.
If I wasn't gay, I'd marry Ronna, or at least I'd pursue a serious relationship – but nothing is worth hurting someone I care so much about, and if our seeing each other like this hurts Ronna, I can go back to just being friends.
As Ronna said, "First and last, we're friends."
It was – it is – a gorgeous night. The twenty-block walk up and back on West End Avenue did me good, and somewhere between 85th and 95th Streets, my birthday ended.
For a moment, at least, all is perfect.
---
Tuesday, June 5, 1984
9: 30 PM. It's still perfect.
I just walked into Grandma Ethel's apartment in Rockaway. She's in the bathroom; she said her friend Mrs. Port just left.
I was across the street at the Surfside Twin seeing Mazursky's Moscow on the Hudson, which was just what I needed.
It was a sentimental film, a valentine to New York and America. Living here – and living in Miami as well – you can't help realizing how many people come here from all over the world.
The film may have presented too rosy a view of the immigrant's life in the Big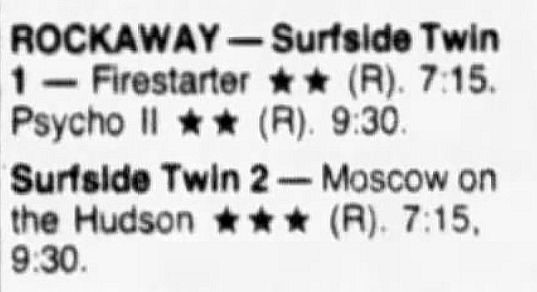 Apple, but I found it touching and I cried at the hokey patriotism – like at the citizenship swearing-in, which could have come right out of Capra.
Mazursky's humanism impresses me, as it always has; I would like to be able to work in the way he does and say similar things, only in my own way.
Coming out of the small mom-and-pop movie house, the theater owner said good night to me; I came face to face with a cute Puerto Rican kid, who smiled at me; crossed Rockaway Beach Boulevard with a blonde woman and her black toddler, to whom she said, "Stay with Mommy!"; found a pair of keys lying on
the ground by the back gate and gave them to the security guard, a black woman, when I got in the building.
I love life, and New York is filled with more life than any other place, and that means more beauty and sadness, more pain and joy.
But sometimes even the pain and sorrow are beautiful, because, as Robin Williams' character says in the film, "It's your pain and you can hold it in your hand."
Last night I contentedly fell asleep, feeling Ronna's arms still around me, smelling her on my body. Up at 9 AM, I got my shit together as quickly as I could, and I was out of the apartment an hour later.
I made fabulous connection, from the IRT local at 86th to the D at 59th (where an ABC cameraman shot footage of me and others getting on the train) to the E at Seventh Avenue; and when I got out in Jackson Heights (where everything is in Spanish), a truly saintly bus driver who'd already pulled out stopped in the
middle of the block as I ran to get the bus.
"You're wonderful!" I puffed, putting in my quarters.
Aunt Tillie and Uncle Morris were here when I arrived at 11:30 AM – record time – and it was good to see them looking well. I talked with them for a bit; Grandma Ethel was in pain, and still is, from where she hurt her leg.
Clearly, she's getting a bit senile, for she repeated five times that she'd thought my birthday was on Sunday, not yesterday, and she mislaid the hydrogen peroxide Jean brought her yesterday only minutes after putting it away.
It got up to 89°today, but here in Rockaway, with low humidity and the cool ocean breezes, it was perfectly pleasant. After an hour and a half on the beach, I've got just the slightest sunburn, a nice touch of color.
We had franks and beans for dinner, and incredibly sweet cantaloupe, and after the start of the 7 PM news – Mondale clinched the nomination with a New Jersey win on this final Tuesday primary day – I went out to the movies.
I feel blessed.
---
Thursday, June 7, 1984
5 PM. It's a record-breaking 95° today and humid like you wouldn't believe.
These hot and humid days in the 90°s are supposed to hang around until
Sunday, a far cry from the chilly weather we had the last few weeks. Don't they ever get days with 80° highs here? In Miami today, the expected high was 84°.
The heat and humidity conspire to make me cranky, of course, but I still remember that I'm living the good life. When one's biggest problem is getting to the next social engagement on time, we're not talking tragedy here.
Because of the noise of the mammals outside, I was unable to get to sleep, so at midnight I walked to Broadway to get the next day's Times. I read it, and then I read some magazines; I wrote letters to Rick and Crad; I even began working out with the dumbbells.
It was 4 AM when I finally dozed off, and Tom awakened me with a call at 9:30 AM. I told him to come over in an hour, and I managed to get myself ready.
Tom was impressed with Teresa's place and said that I should be happy
collecting unemployment, because those were the happiest days of his life ("You feel like you're getting what you deserve").
He had stories about the usual bullshit he has to put up with from the bureaucratic assholes at the Orleans Parish School Board, and he told me about more discouraging NOCCA auditions by would-be writers who read on a third-grade level.
When Tom suggested I apply for the job at Interlochen Arts Academy that Nick Bozanic quit, I told him that I didn't want the hassles Nick had and I didn't want to be isolated in the wintry wilds of Michigan.
As usual, Tom is writing a lot, so he assumes I am, too. Of course, I'm not: all I've been doing is socializing, reading (and not fiction), and wandering around the city.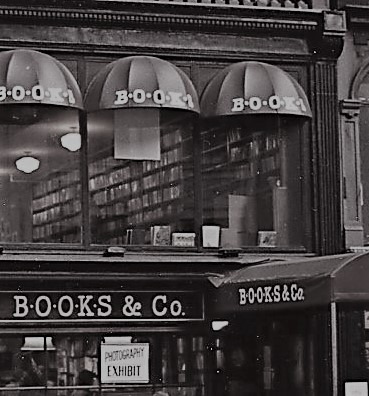 Pete called and invited us to join him and Mark Leyner for dinner; Tom agreed, so I'll pick him up in a couple of hours.
We took the crosstown bus to Madison Avenue and walked down to Books and Company. I left Tom there, where he was probably going to spend $300 on stuff he'll have shipped to New Orleans.
At Times Square, I went to Hotaling's and got the Sunday Florida papers and the June Miami/South Florida magazine, but Ann Prospero's column was not about me. At least Sunshine printed my letter.
But I feel shut out these days. Along with the Miami magazine column, the review of my books in American Book Review never appeared, nor did – as far
as I know – the Morristown paper's story. Paranoid, I keep thinking people are killing these articles because they don't like me.
Yesterday Dr. Grasso wrote me, enclosing a semi-literate letter from a student complaining about his grade of C. He was in that class I took over late and never gave a diagnostic to. Too late, I realized he was plagiarizing his papers.
I wrote a letter to Dr. Grasso, explaining the situation – maybe I was a bit too defensive – and at the end, I asked to be considered for a temporary spot in the fall.
It's silly to just wait and wonder: if I'm not going back to BCC-Central, I should know it as soon as possible so I can consider alternatives. Tom thinks I don't have a chance to be hired at BCC-South: I'm too controversial and eccentric.
Well, I want the satisfaction of being turned down, at least.
Last night I was at B. Dalton in the Village and caught the end of Jayne Anne Phillips' reading/party for her new acclaimed novel, Machine Dreams.
Later, I learned that Josh walked out ten minutes into her reading: "I kept saying to myself, 'This is pedestrian shit. Who cares? I can write better than she does,'" he told me on the phone after I got home.
I was glad to see that she had only half the crowd I did at my party last year, and I overheard a bookstore employee saying this had been a good turnout.
Again, over dinner at The Bagel, I felt upset because I'm ignored – or I would be, if I hadn't learned to toot my own horn. For example, I'd have never had any of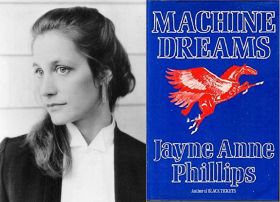 my books mentioned in the Times Book Review if I hadn't sent letters to Ed McDowell and my books to Ivan Gold.
Oh kiddo, you are beginning to kvetch like Grandma. Life's unfair, and you can't expect everything. Keep at it (whatever it is) and take satisfaction where you can get it. What's the alternative?
---
Friday, June 8, 1984
11 PM. It hit 99° today and it may stay like this for the next few days.
It's hard without air-conditioning, but my major problem is that it's too hot to exercise. I suppose I could start working out now, when it's about 85°, but I'm tired after another night of getting four hours' sleep.
Last evening proved to be very pleasant. Before I left the apartment, I called Susan Mernit at VCCA just at the time I knew the fellows would be getting ready to go in for dinner.
Yesterday I'd gotten another letter from her, and I felt so guilty for not writing that I had to call. Susan sounded good, and as in her letters, she said she'd been working steadily for seven or eight hours of total writing time each day.
Sterling Watson was there, and she's grown fond of him, and Peter and Jeanne Meinke came up last week. I told Susan I'd see her after she returns from Virginia on Sunday.
After picking Tom up at David Goodkind's, I guided us to the Mei restaurant on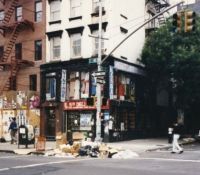 Second and 12th Street. Pete soon joined us, and Mark finally made it.
The dinner was good if not great – I had yakitori – but the conversation worked. Pete and Mark have very different literary sensibilities than Tom's, and I'd been worried they might clash, but everyone got on well.
Mark told Fiction Collective stories and spoke about his meeting with Walter Abish, who's too self-impressed to be believed.
Tom – as I told him today – is the most purely literary person I know, and just about the most well-read; certainly, he knows ten times as much about European fiction as anyone.
As with most people, his great strength is also a weakness, because he reads no nonfiction and often seems removed or at odds with everyday life. That's probably a virtue, I guess.
Anyway, in Florida there's no way I could listen in on, let alone participate in, such stimulating conversation. After Pete went home, Mark, Tom and I walked to the West Village, stopping off at the St. Marks Bookshop to browse for a bit.
I want to read the new books by Brad Gooch and Dennis Cooper, both published by Gay Presses of New York. Cooper's book was hailed in the Voice, though Pete said the reviewer was a buddy of Dennis's.
Tom got off the train at 79th, and I rode a stop further, to 86th, picking up the next day's Times. Again, I stayed up late reading, and it was 5 AM before I dropped off to sleep.
At 11 AM, Larry Gelbart called, asking if I wanted to go to a museum.
We chose to meet at the Whitney, where there was a fine Fairfield Porter exhibition, an anemic collection of work by "Five New York Painters" in their forties, and the usual delights of the Whitney's permanent stuff.
Larry is entertaining and funny – last night, at the Improv to catch his brother's act, he spoke to Rodney Dangerfield, to whom he's sold jokes in the past – and he's pretty knowledgeable about art (those years working in a frame store
helped).
At Central Park, we sat in the shade quenching our thirst on sodas and talking about the usual bullshit.
"There are only two places in the world," Larry said. "New York and everywhere else." He's going back to Florida in ten days to begin the second summer session at BCC.
Back home, I spoke with Teresa's mother to tell her that Teresa will be coming in on KLM on Monday night. Then Tom dropped by to pick me up for the movie.
He had been feverish and nauseated all day, and I was very hot, so we took the Broadway bus to 99th Street (none of the four buses I was on today were air-conditioned) for the 4:50 PM showing at the Metro.
The film was one that Tom saw after he'd read about it in Cult Films: Abel
Ferrara's Ms. 45, which opened as an exploitation film on 42nd Street but which actually proved to be a brilliant feminist statement, artfully done, about a shy garment center worker who, after being raped twice within one hour, evolves into vigilante killer preying on the men who prey on women. Terrific!
We had a bite at Four Brothers – Tom paid for both the film and the meal – and then we separated; he's got stuff to do and people to see for the next few days.
I spent a couple of hours on the phone, first with Marc, who said he's doing well in his FORTRAN course, that's it's been seasonably warm in Florida, and that he'll probably come up here during the break in August.
Next, I chatted with Gary, who related all his problems at work. Although he's now an assistant V.P. at Citicorp, the pressure hasn't let up and is, in fact, greater; he now has more weekend work.
I also phoned Elihu to thank him for his birthday call. His promotion also came through, so he'll be staying with Goldman Sachs.
Right now I'm going to relax with one of the movies I got at Video Vault: O Lucky Man! or The Road Warrior. There's a breeze coming in, so it's not dreadfully hot. I'm tired but happy.
---
Sunday, June 10, 1984
3 PM. Until the past few days, I'd forgotten how miserably uncomfortable heat and humidity could make me feel.
Except for the summer of '80, when I lived in Rockaway, this is the first experience I've had with 95°-plus temperatures and no air conditioning, not even a fan.
I've sweated more in the past three days than I had in the previous seven weeks. With the temperature at 97° and the humidity high, I merely sit or lie in one place and I sweat.
Exertion is nearly impossible, although with the aid of two showers, I managed to lift weights for half an hour late last night. But I was unable to get to sleep because it was just too hot.
At about 5 AM, I decided to open up the couch because the breeze from the
living room windows made it a bit cooler in the front, and I finally fell asleep.
What woke me up was the discomfort of the mattress (a year scrunched up had made it feel much less comfortable) and the light shining in my eyes at 8 AM.
I went back into the bedroom for a few hours and slept till about 10 AM.
I really feel cranky and out of sorts, though I recognize that's the function of the weather. It seems so unfair to get this heat wave on the heels of all that cold, rainy weather.
Anyway, I did have a good time last night. Andreas dropped Alice off on Broadway just as I got there – they'd spent the day together and were talking
about Andreas's newest love – and together we walked up to Hunan 94, avoiding other restaurants that weren't air-conditioned.
Our dinner of cold noodles in sesame paste and rainbow chicken was delicious, and our table was right by the air conditioner.
Alice was a good dinner companion; the extreme opposite of Tom, her sensibilities about literature and film are practical, if not totally dense.
I can't help using other people as a gauge, and it seems to me that Alice and Tom represent the extremes: the no-nonsense pragmatist and the literary romantic.
Of course, Alice does have a soul, and Tom has a heart, but I guess I exaggerate their qualities because these qualities are at war within myself: the intellectual versus the practical.
As always, Alice is refreshing. She looked very chic in a black Danskin top and slacks combo and big sunglasses against her graying hair, but then Alice said that I looked fashionable in black t-shirt and white elasticized-waist pants.
After dinner, we took the train to Lincoln Center and caught the 8 PM showing of Hitchcock's Rope at Cinema Studio. I loved the film: a delight for both the realist and the dreamer.
Well, Teresa will be home from Europe tomorrow night, and I've got to get things straightened out in the apartment. It will help that Paulette is coming in to clean tomorrow.
But it's going to be difficult because for the last seven weeks, this has been my apartment, with no one to tell me where to put things or what to do when.
Now, for the next three weeks, I become a guest. I hope I can adjust or I'll be in big trouble. This is not my home.
*
Midnight. Tonight it's somewhat more bearable here than it was last night, and I expect to find getting to sleep easier.
After a chilly bath, I relaxed and felt pretty good by the time I had to get to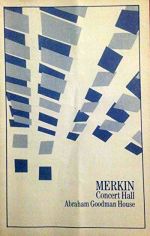 Ronna's. But I did feel, in my sleeveless shirt and white pants, very very fat – like a beached whale or something.
Making me even more self-conscious was that Ronna, Lori and Ronna's Pennsylvania friends Russ and Pat were all dressed up to attend a Merkin Hall concert after dinner.
But I tried to be nonchalant. Dinner was excellent, both in terms of the food and the company. We ate at At Our Place, a terrific Middle Eastern restaurant on Broadway and 95th. (The original restaurant had been Cleopatra, so the new owners only had to spring for a U for the sign.)
Russ and Pat are intelligent and charming, and Ronna looked radiant, even if she was pinkish-red from their stay at the beach with Jordan yesterday. (I get
the idea that Ronna wouldn't invite me and Jordan to the same get-together.)
I loved the mushroom-barley soup and the vegetarian strudel of mushrooms, eggplant, onions, carrots and other veggies in a flaky pastry-like shell.
As they had to hurry off, I stayed behind to pay the bill with my credit card (I was happy to take their cash) – but they told me to come over later to sleep at the air-conditioned apartment if I couldn't sleep here.
At 11 PM, Ronna phoned and again invited me over, but I was tired. Still, it made me feel good to know that I'm liked, and it made me feel great when Ronna said she couldn't tell me in front of everyone but she thought I "looked
terrific in your shirt and pants and everything in 'em."
"Time to see the eye doctor," I replied, but of course I was pleased.
There's actually a breeze now and I'm not drenched with sweat, so perhaps it's starting to cool off.
---
Monday, June 11, 1984
6 PM. Today was the fifth day of temperatures in the 90°s, something that's never happened before in New York this early in the season. With a weak cold front coming in now, I feel a little breeze – but the temperature and humidity are expected to climb back up in another day.
I wasn't able to sleep as well as I'd hoped, and after getting up at 9 AM, when Paulette got here to clean the apartment, I was kind of dazed and confused all morning.
Because I don't like to stay around while the maid is here, I went out for breakfast and then had to go somewhere, but it was one of those days when
everything went wrong.
Hunter's library was closed due to a broken air conditioner, and I didn't know where to go, so I walked down a few blocks and then further, stopping off for some much-needed cold soda at the McDonald's on 59th and Third. After a brief visit to the Citicorp Atrium, I ended up at the Donnell Library for an hour or so.
Home at 2 PM, I took off my lenses and most of my clothes and relaxed for the rest of the afternoon, reading, listening to soaps, speaking to Grandma, Justin, Amira and Ronna.
This apartment looks neat and clean, and I've got most of Teresa's mail in order.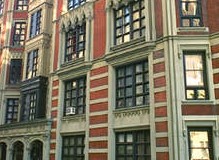 I have no idea how she'll take the news of her "removal" from her job.
I'm going to go out for some dinner and then come back here to await her arrival. I made a WELCOME HOME, TERESA sign for the door. She's already gotten a number of phone calls from her friends.
*
9 PM. Teresa should be home within the hour, and I'm sitting at the kitchen table, awaiting her arrival.
After writing the entry above, I went out and took $200 out of Teresa's Citibank account after depositing a $200 check of my own.
Then I went down to 72nd and Broadway and opened a $500 six-month CD at Manufacturers Hanover. They have an easy access "Ready Rate" feature to borrow against the CD if I need it, and I figure it can't hurt to make a relationship with another big New York bank like Manny Hanny.
On the way out of the bank, I ran into Ronna. It seemed so special, meeting her on the street like that. She was going to meet Jordan for dinner at a Japanese restaurant but had time to walk me as far as 80th Street.
"Suddenly he's gone all sentimental and nostalgic on me," Ronna said of Jordan. I felt a little awkward about that, and perhaps Ronna did, too.
I did always think that if I started seeing Ronna again, it would make Jordan jealous enough to realize what he was missing.
As I told Ronna, "He's no dummy. If I have a black eye the next time you see me, it means Jordan's gonna ask you to marry him."
She dismissed that with a laugh and wave of her hand, but I think she was blushing a little.
Even if it mean that I'd be the odd man out again, as in 1979, it would be a mitzvah if I got Ronna and Jordan back together again.
She said Russ and Pat found me "charming"; obviously they're easy to please.
So am I.
She left me with a kiss on the cheek.