Friday, April 13, 1984
8 PM. Last night Rick Peabody phoned. His contact at Doubleday, the editor (and former secretary to James Dickey) Shane Earhart, called him and said that Doubleday wants Rick to be one of three "book scouts" nationwide.
Rick wanted to know if I knew what a book scout was – beyond the obvious – but I'd never come across the term.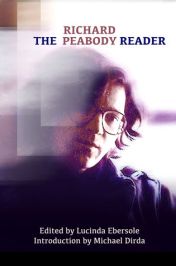 Doubleday is sending Rick a contract, and until he gets it, he won't know anything – but it sounds good for both Rick, who'll get a New York/publishing connection, and especially for Doubleday, who'll get the man who knows more young writers than anyone in the U.S.
Rick told me Liz Benedict, who did the Ted Mooney interview we both admired, was the one doing the article for Esquire on punk fiction, and she just sold a novel to Knopf.
I read Rick the Publishers Weekly reviews of Michael Blumenthal's poetry book ("ambitious but banal" – they got him on target, all right) and Rick's pal Michael Martone's story collection, Alive and Dead in Indiana.
After gossiping some more for a while, Rick told me he'd be in touch.
Next, I phoned Josh to find out how he was feeling, and he said he was in less pain. He told me that City Lights Bookstore in San Francisco took five copies of Grinning Idiot.
Josh thought I should have pressed Rick to get Doubleday to do a book of mine, but I told him I didn't really have one, and that, contrary to popular opinion, I'm not completely self-centered.
In fact, I now realize that I will never be a major fiction writer of the baby boom generation: I don't have the talent, energy or discipline of the young hotshots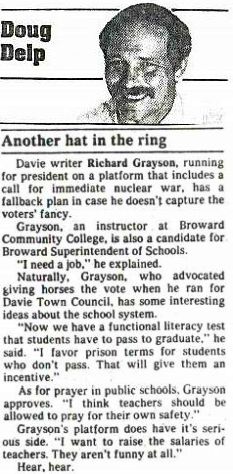 coming up.
But I am probably the funniest writer of my generation – as good as Fran Lebowitz, anyway.
This morning I found my name in Doug Delp's column in the Herald: a cute little item about my applying for school board superintendent.
The New York Times had a very sweet front-page feature by Mike Winerip on a senior romance between two Great Neck high school students. It was such a well-written and lovely piece, I used it in class and I wrote Mike a letter.
It was just two years ago that his big article about me came out in the Herald – it was one of the best ever done.
With my classes today, I went over poetry from Shakespeare to Yeats to Auden. That will be the last teaching I do for a while: on Monday and Tuesday, I'll just collect papers, and the following week is finals.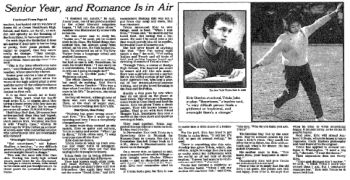 The one satisfying thing about teaching is that a sense of closure and completion occurs at the end of every term.
On my way home, I got the Miami News and saw a big page 3 story called "Thanks, But No: His $1,000 'Loan' to Meese Returns Without Interest."
The article had big photos of me (the Lincoln's Doctor's Dog publicity pictures) and Meese and a photo of my check, which reproduced very clearly.
Bob Joffee made me sound funny as he described me as Florida's failed "favorite grandson" presidential candidate and described my letter and Meese's response.
Last night, when I told Josh about this caper, he said, "You're really witty" – but I felt embarrassed. Still, I know I've got a real talent for this sort of thing.
In a PW ad, Workman Publishing announced a new non-book, Anybody for President, containing Federal Election Commission forms and a lot of stuff that I could have done a lot better.
Well, someday, perhaps, all of this will pay off in a big way. For now, the pleasure of it is enough. I feel towards these publicity stunts the way I used to when I would get stories accepted by little magazines: there's something very satisfying about it.
I love to keep getting publicity and I rush to xerox each article, just the way I used to xerox my letters of acceptance and the stories in little magazines when they would finally
appear.
It's clear that my goals as a writer have changed, and I'm not sure I'm just a writer anymore. Unfortunately, there's not even a name for what I've been doing.
I'm a satirist who's actively involving himself in the world, using the media as the final result of my "art" – if it is "art." One thing I do know: I'm doing something no one else in America is doing. Or if they are, I'm not aware of it.
A big thunderstorm knocked out our power for several hours, so there wasn't much to do but nap. For two hours earlier this evening, I went through my papers and letters and mementos, throwing some stuff out.
This is the fourth major move I've made in five years. In the fall of 1979, leaving my parents' house, when I went through this stuff for the first time, it broke my
heart to throw out letters and college memories like issues of The Ol' Spigot with articles I wrote and the minutes I took at Student Assembly meetings.
Leaving Rockaway in the winter of 1981, I felt more pragmatic, and out went the letters of acceptance of my stories which I'd saved for years and kept in a looseleaf binder.
Last July, I got rid of even more accumulated material: old birthday cards, Playbills, etc. I threw out some letters tonight but insisted on keeping all of Crad's, all of Sean's, and many others.
God, what memories: a love note from Shelli dated April 1971; the card from the balloons Teresa sent me on my last birthday; letters addressed to Brooklyn and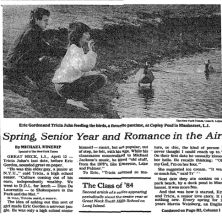 Rockaway and New Hampshire and Virginia and Davie and Sunrise and North Miami Beach.
One day – if I ever have the money and interest rates ever go down – it would be great to own a house and have a sense of permanence.
But even though my life has been more transient than that of anyone I know, right now I don't mind moving around.
For a minute tonight, I thought about throwing out Lambie Pie, but after a few
bars of "Mary Had a Little Lamb" on the stuffed animal's music box, I couldn't imagine it: it's my oldest companion.
They don't make toys like that anymore – one that lasts 33 years and still works! Ah, kiddo, you're getting really sentimental. . .
And why shouldn't I be?
---
Saturday, April 14, 1984
6 PM. I just came out of my third shower of the day, and already I feel sticky.
The humidity is awful, and we had more heavy rains today. This makes me glad that I'll be leaving Florida soon. The chilly May weather of New Hampshire will be
bracing after this.
I've decided to ship ahead to MacDowell my down jacket and books and magazines and other supplies I need. It makes so much more sense than schlepping everything there.
I've made inquiries, and my best bet looks like a plane to Boston and then an 11 AM bus from Logan Airport to Keene; if I call ahead, someone will meet me at the bus station and I can avoid a $30 cab fare.
Today I exercised, both at home and at the health club, and I got some more shit together.
Susan Mernit called for an hour's chat. She's been depressed about her jobs and about her writing.
The teaching is really getting her down, and she's spending so much time on it, she naturally has less time to devote to her writing, which she's getting discouraged about because of
the usual rejections.
Naturally, she's getting stuff published here and there, inch by inch, but it's as hard for her as it is for anybody.
It was great to have someone to commiserate with. Both Susan and I feel frustration and rage about the same things: academia and publishing.
She wonders if she "didn't take the wrong train somewhere" and sometimes imagines that if she had gone to a better college than Bard, she might be in a better position now.
Ragdale accepted Susan for July, and she wants to go because she loves Chicago and needs the chance to get away and write. Susan was also accepted at VCCA for
June, but she may not go because of the need to teach this summer to get extra income.
My own plans now, I told her – and realized it myself as I was speaking – are predicated on whether I find that I'm writing well at MacDowell.
If I'm not, and if I find I have the same empty, boring days I had on my second stay at VCCA in 1982, I may not go to Millay in July and instead take a job in the city. Teresa and I spoke on Friday, and once again she assured me that I'm welcome to stay with her as long as I want to.
On the other hand, if I am writing, I'll go to Millay and if I'm really doing well, I may stay at colonies for the rest of the year.
And, if I find I can't write, I'll load up on adjunct courses in New York City or come back to Florida and see if I can get a full-time job at Broward Community
College, any campus, or at Miami-Dade.
My biggest problem is to believe in myself as a writer again. I think what I have to do is begin to write for myself the way I used to and not worry about being published by Knopf or Farrar, Straus. For the last four years, I've felt that someone was looking over my shoulder when I wrote.
Remember how happy I was three years ago with A Version of Life, even though that was more editing than writing? I'm going to take that manuscript with me.
Teresa's got this idea she and I should start writing Harlequin romance novels, and who knows? Maybe it would be fun.
Let's face it, I did a pretty good job this past year: I salvaged what could have been a disaster after my Ph.D. program at the University of Miami turned out to be a total bust.
And as for being bitter about academia, I have to remember that I was the one who
turned down interviews at Missouri/K.C., Ithaca College, SUNY Farmingdale, and other places.
I needn't feel apologetic about that. I've moved around enough, and it's reasonable to wonder how happy I'd be in a strange city where I know no one.
There aren't many places I want to live: New York, Florida, D.C., Charlottesville, maybe Boston or California or Austin or Charlotte.
I no longer have to prove anything to myself or anyone else. I may still be an agoraphobic, if like an alcoholic, one only recovers but is never cured – but I've come a long way, even from five years ago.
Reading Sean's letters to me during the summer of '82, I was struck with their childishness. Sean was only a kid, and we had nothing in common except affection.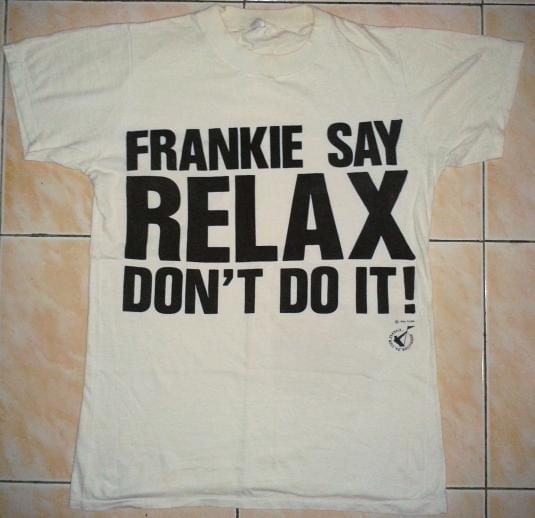 Still, when he wrote that he would never forget me, I'd like to feel that he was being accurate.
Maybe I'll meet someone this year; you never know. After nearly two years of celibacy – but definitely not asexuality, as I've felt more sexual than ever – I'm more than ready for a lover.
One thing MacDowell will do is allow me to see my life in more perspective.
---
Sunday, April 15, 1984
7 PM. There seems to be no end to what I have to do before I leave and such little time to do it in.
Well, today I did all I could. Dad came over this morning and we moved the couch into the warehouse. I also took over the table and a couple more cartons of stuff.
But I still have all my papers to get packed away and put in boxes. And I haven't even begun to sort out my clothes.
This evening I made some boxes of dishes, glasses, cups, pots and pans – most of which I never used here – and I'll take them over tomorrow. If I take over three or four boxes every day, that will make it seem a more manageable task.
I think: why do I always cut it so close? And then I remember that my deadlines are self-imposed. Anyway, getting anxious now will just assure that everything gets done.
If there's one thing about me, it's that I've always been well-organized and handled life's details well.
I'm nervous about getting all the papers graded – and I have a lot of work to do on my computer class project, but I have this Thursday and Friday off and so I should be able to accomplish something then.
A lot of it just seems worse than it is: for example, disconnecting the utilities (electric, phone, gas, cable TV) is only a matter of making phone calls. I'll do okay.
Last night, before I watched The Verdict on HBO and a funny George McGovern on Saturday Night Live, I read through my diaries for my last visit to MacDowell in June 1980.
That was really a terrible time for me; just as I left, Grandpa Herb had gotten sick and it began to sink in that he had cancer and was going to die.
I had almost no money and had just come off being sick with labyrinthitis; I was discouraged about my career and generally feeling hopeless.
This time, I'm in a lot better shape. What surprised me was how young everyone thought I was when I was turning 29: people were always remarking on it. I feel a lot older and wiser now.
At first, I was so unhappy at MacDowell, but now I see that was only natural, and everyone should expect to be out of sorts at the beginning of a stay at an artists' colony.
This time I'll feel less intimidated, and I don't intend to torture myself with expectations about being productive the way I did on previous colony stays, both at MacDowell and at VCCA.
It was interesting that while I constantly berated myself for laziness at
MacDowell, I actually was extraordinarily productive, writing half a dozen decent stories, including one that won The Berkeley Poets Cooperative fiction contest.
I also read my diary entries for May and June of 1982, when I was seeing Sean. What struck me was the easy quality of my writing.
How can perceive myself as not being a writer when I write every day? Even then, I remarked while re-reading old diaries, that my true talent may be as a diarist.
The lesson for today seems to be that I needn't be so hard on myself, for I can't help being not productive and creative.
But as the crossed-out not in the last sentence indicates, unconsciously I still see myself as
needing help – so maybe berating myself does some good!
Anyway, these diary entries come easily to me. If all writing could be like this – and there's no real reason why it can't – I would be a lot happier.
Some of my best stories seemed to come with ease of effort, and maybe that's the best way for me to write.
In today's Herald, there was an article on the plight of adjunct professors in South Florida, and another article on publishing in which Bob Greene said that while Mariel Hemingway's exercise book (and video cassette) Exercise the Hemingway (!) can become a bestseller today, her grandfather's The Sun Also Rises probably couldn't even get published by the big New York houses, who are too money-hungry to care about literature.
A Fort Lauderdale News article said that West Broward will boom with new
industry as the century ends and that new residents will move so far west that University Drive will be the new population center of the county.
Another piece said that the number of teenagers will begin to rise in the 1990s, so maybe there will be more college students to teach by then.
If I manage to survive and hang on, maybe I'll get to where I want to be. Demographics are relentless. The question is, can I hang on till 1995?
---
Thursday, April 19, 1984
9 PM. Last night's depression had a salutary effect in that it made me think seriously about what I want to do – both with my life and with the next couple of months.
I've decided not to go to MacDowell. Oh, it's heaven there, and I'm sure it would be another magical time and that I'd be happy – but I'm not sure I want a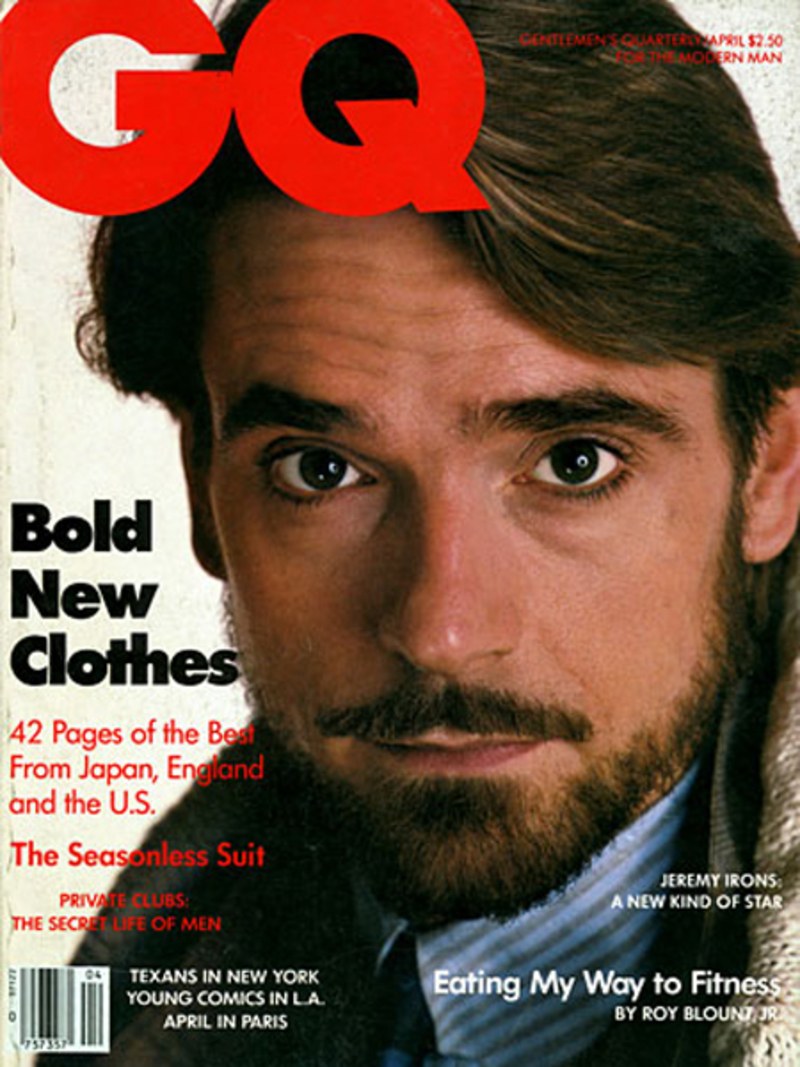 magical time now.
Perhaps it's just failure of nerve when it comes to writing. But there are practical considerations.
I agreed to pay MacDowell $150 in fees, and I'd have to spend money on air and bus fare to New Hampshire and back. In New York, I can collect the unemployment to which I'm still entitled. (My benefit year runs until August.)
After thinking about it all night and discussing it with Lisa, who attempted to dissuade me, I decided this morning that I'd just stay in New York for May and June.
First, I had to check it out with Teresa, and as it turned out, it's a good solution to her problem of finding someone to look after things while she's in Europe.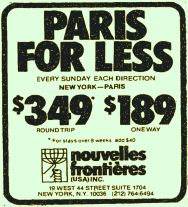 It's just too bad we can't see more of each other. However, how else could I have such a lovely and comfortable apartment in Manhattan all to myself?
She and Amira are leaving for Europe a week from Saturday, so I switched my flight to one that gets into LaGuardia on early Friday afternoon; that way I can see Teresa on her birthday, and she can fill me in on what I need to take care of.
Teresa had just learned that she can't take a leave of absence from her job, so she's simply quitting as of next week – and will worry about her future after she returns from Europe.
I told Teresa I was worried I'd goof up taking care of her place and that she'd end up hating me. But she said at the very
worst, I'd still be better than there being no one to apartment-sit.
So, in a little over a week, I'll be in Manhattan. If I have anything like the terrific time I had staying there last May, it will be great.
Today I lifted weights in the morning. Then I took one load of boxes to the warehouse, turned right around, drove back to North Miami Beach and picked up another load. I had to stack the boxes ceiling-high, but now I think I'll have room for my clothes.
As if I hadn't gotten sweaty enough at the warehouse, I went directly to the gym and worked out on the Nautilus machines. I showered at my parents' house and had dinner with my family.
I love Florida – it's so gorgeous here now – and I want to return, maybe as soon as August. But I'm excited about living on the Upper West Side for a few weeks. That is home, too.
---
Friday, April 20, 1984
9 PM. I've just returned home after spending over four hours in the computer lab, working on my final project for my graduate course in PILOT.
Since I'm not an elementary or secondary school teacher, I really don't know how to approach a computer lesson. Mine, on Florida demographics, is too "text-y" for most students, but I find the project creative.
I kept wanting to leave, yet I kept needing to fix up one more bug after another, and still the program is far from clean.
This kind of programming is every bit as creative as writing. In fact, the way I felt while working – the adrenaline high that makes me obsessive to the point of skipping meals and postponing trips to the bathroom – is the closest thing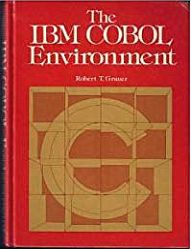 to the joy of writing that I've ever experienced.
Of course, if I had to do business programs like Josh, it would bore me silly.
But from this course, I've learned that I'm not lazy – and that I can do other things besides writing and teaching. It's always great to learn a new skill, and I'd love to know a lot more about computers.
Earlier in the day, I went to Davie and put two cartons in the warehouse and sat in the sun by my parents' pool.
Last night I spoke to Teresa again.
She feels that she came close to a breakdown this winter, and there's no way she can stay on at her job at the DOT. Going to work with state employees and looking at their downtrodden faces in the Sky Lobby of the 44th floor of the World Trade Center every morning was just too much for her.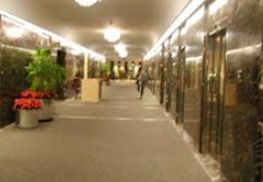 Other people think Teresa is crazy to give up a do-nothing job that pays $29,000, but she's got to do it. Again, it's a matter of growth.
I suppose we baby boomers can be faulted for our attitudes; after all, our grandparents never worried about growing when they had all they could do to just survive.
But times change (brilliant, no?), and none of us will settle for lives like our grandparents'.
Last night I spoke to Grandma Ethel. There's no more saintly person in the world, but God, what a victim she's been! She ended up missing out on so much – education, travel, independence – and now she regrets it.
I also phoned Ronna and asked if I could see her while I was her West Side "neighbor." She said it would be a pleasure. "I don't have that many friends in New York," I said, honestly.
Tom got the NEH grant for that seminar in Buffalo even though the German professor said Tom was way overqualified: the man was only slightly familiar with Walser while Tom is practically an expert.
Tom will be in New York City in mid-June, staying at David Goodkind's – on the West Side, too.
Last night I must have killed a score of flying insects – mosquitoes, perhaps – and I'm a little bitten up now.
I stayed up till 1:30 AM to watch Max Dugan Returns on HBO. I find Matthew Broderick so cute, probably because he reminds me of Sean.
Will there ever be another person in my life? (You know what I mean.) I'm certain of it, just as I always knew somebody like Sean would come along. But I may have a long wait. . .
It's already almost two years since I was last in a relationship. Luckily, my relatively short time with Sean was so great, it still manages to sustain me through rough and lonely times.
Everything will work out, as Teresa says. Meanwhile, I'm fine. If I was self-pitying the other day – well, I'm entitled once in a while, and I snap out of it
pretty quick.
Also, if I can put anger and frustration to work for me, rather than against me – like emotional jiu-jitsu – I can learn and grow.
(The theme for today, class, was. . . ?)
So Good Friday didn't turn out that bad. I've had worse. As I prepare to leave town, I fall more in love with Florida every day.