Tuesday, June 22, 1982
11 PM. So far I'm having a good time in New York.
It's good to be spending a little time with my grandparents, although I find I don't have as much patience with them as I used to.
They're so set in their ways; they live in the past and focus on the most trivial aspects of life. Grandma Ethel's idea of a meaningful question is "So what did you eat for lunch today?"
I listen to them debate the most inane questions and sometime I want to scream, but instead I just agree with everything they say.
(Example: Grandpa Herb just came in and saw my wallet lying on the table. "Better put it away," he advised. "You're right," I whispered. "I don't trust Grandma, either.")
Last night I slept magnificently, without one Triavil, for 12 hours and had interesting, vivid dreams. I dreamed my Sunrise apartment was in Lebanon and I got caught in the crossfire between Israel and the PLO.
This morning I got out soon after I awoke and cleaned up. In Brooklyn, I had the rear-view mirror glued onto the windshield (on New York's poorly-paved roads, it's obvious how it fell off), and then, at a First Nationwide Savings in Bensonhurst, I withdrew $200 and got traveler's cheques.
Brooklyn College was crowded because of graduation, so I drove up Flatbush Avenue to LIU. Parking in the Albee Square Mall's lot, I tried to have lunch at
the new Junior's, but the graduation crowd made it impossible.
At McDonald's, the girl behind the counter was New York-rude, but she was rude only because she expected me to be rude, too. (When I took out three dollars, she said, "I only have two hands," as if I expected her to give me change immediately.)
At LIU, I found the two people I most wanted to see: Margaret Rubel and Ken Bernard, and I chatted with them for an hour. LIU hasn't changed much; George Economou will be replacing Martin Tucker as chairman in the fall.
Ken will go on sabbatical, and he's been trying to make some extra money; he did an "It's My Turn" column for Newsweek which paid $1,000 and brought him 600 letters. He also did a reading with Pete Cherches which drew a crowd of six
people. He was astounded by my Times Book Review publicity and thought I had a pretty good deal at Broward Community College.
I then called Susan Mernit, who invited me over to her Sterling Place apartment. Susan has lost weight and looked good. The best news is that she'll be at VCCA for the entire month of July, so I'll have one good friend there, at least.
She's finished teaching in Harlem and is excited by all the good things happening in her life: her therapy is going well, the movie looks good, and she hopes to finish the jazz novel for her agent, Maxine Groffsky (who's also Scott Sommer's agent).
I got a copy of the teleplay of Bella and will get to see a screening (just for me) on Thursday. Mark Mannucci, the director, and Sally DeMay, the star, will be on
Joe Franklin tonight. Right now they've got a number of cable companies interested, including HBO, Cinemax, Showtime, and CBS Cable.
From Park Slope, I drove to the Heights and found a parking space right in front of Josh's; I also found Josh walking the dog.
Upstairs, I read an article he wrote on interviewing for a computer job and saw that Rick Peabody had sent Josh a check for Grinning Idiot. Josh has to call Bob Hershon at the Print Center soon to see if the magazine is ready yet.
Josh, due to his Nautilus workouts, has gotten really muscular and looks great, but he's upset, naturally, because of his deteriorating vision. He's back to wearing glasses now while they're making up a new pair of lenses for him.
We walked along the Promenade – it was a totally gorgeous day, about 75° and sunny – and Josh told me that his last relationship ended, as usual, after a month with the woman saying, "I get the feeling you don't really care." (And of course she was right.)
I couldn't tell Josh about Sean or my gayness; I just think he would feel that things would be different between us.
While we were having dinner at the sidewalk café on Montague, Elihu walked by – and he stopped to chat for 15 minutes.
Elihu didn't look well: he's too thin and drawn, and as Josh later said, "he walks like Nixon." Elihu is also a bit boring, but I like him; I'll call him soon.
I hung out at Josh's for an hour, listening to jazz and to Josh tell me he thinks he's just as
good a writer as Scott and how he felt bad he was just a computer programmer.
Back in Rockaway, I called Alice and we agreed to meet for lunch on Friday. She had dinner with Phillip Lopate, who, like me, enjoys his teaching job in Houston because he's a big fish in a small pond.
New York is so exciting; it's filled with people doing things.
---
Wednesday, June 23, 1982
Almost midnight. I'm at Teresa's, in her living room; she and little Suzie are watching M*A*S*H in the bedroom.
My visit to New York continues to be pleasant but also a starting point for some self-evaluation. Last night I stayed up till 3 AM, trying to sort out my life in relation to the lives of the people in New York.
While I am happy and feel secure, I wonder if I'm losing some of my ambition.
Alice was saying how money has become so important to her and how she wouldn't even come to a writing conference at BCC without a hefty fee.
When I told Alice that I couldn't imagine being happier if I had more money, she said she could. I've seen it coming, but I think Alice has become a total materialist.
The other night she had dinner with Phillip Lopate, who teaches in Houston, and he startled Alice by informing her that he'd turned down offers to write screenplays: "Just what Hollywood needs: another Jewish writer sitting by the pool and stuffing himself with Quaaludes."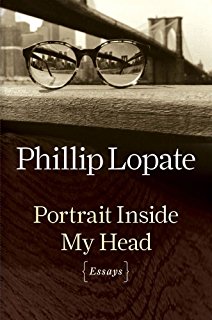 Alice couldn't believe that anyone would turn that down, even though I told her Lopate was too good to write for the movies.
And when I said I also would turn down writing screenplays, Alice chortled disbelievingly: "I bet! You'd love it – why else do you get your name in the paper?"
Alice doesn't understand that I do that for fun, that it would be joyless if I were doing it for financial reasons. I wondered, last night and now, if Alice and I are on opposite sides.
Then the thought came to me: I need to see Ronna: she has common sense and good values. So I called her this morning and made a luncheon date for 1 PM.
Then I called Teresa, who told me all about the Democratic state convention in Syracuse and how she's switched her allegiance in the gubernatorial race from Koch to Cuomo.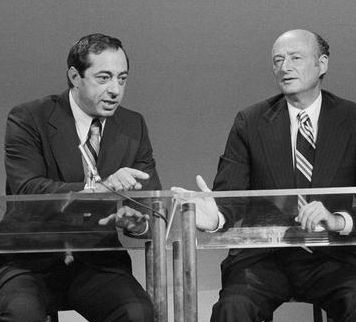 She told me to come here tonight, and I agreed, but I was unable to get a hold of Josh, whose 29th birthday was today. I'd made tentative plans to go to the gym with him.
Anyway, I also called Brad for the second time and got put off again; I might try once more, but I doubt it.
As always, Brad comes on like my great friend ("Make plans to see some Broadway shows with me," etc.) and then acts like a stranger. Which, in a sense, he is. I was wise a long time ago when I decided I could never count on Brad.
My grandparents didn't seem too hurt that I was leaving their apartment for a few days; I really needed to be with people my own age.
Which brings me to another thing I kept thinking last night: whether it's
inevitable that old people become mired in the past and in their own habits.
My grandparents don't understand much of the world and they can't understand me. When Grandma Ethel saw a letter I wrote to Sean, her first question was the inevitable: "What's his last name? Is that a Jewish name?"
I can't blame my grandparents who do, after all, come from a peasant, almost medieval culture. But I wondered if one day I'll be like them and not be able to stay in touch with young people.
I already find it hard to understand the conservative, conformist attitudes of my students in Florida.
It was a long, slow drive through Queens to midtown Manhattan, and I spent half an hour caught in traffic around Grand Central Station alone.
The parking lot ended up costing me $15, but the visit to midtown was worth it. I was both attracted and repelled by the astounding variety and number of people.
In an hour in midtown Manhattan you can see hundreds of people who you're attracted to, at least two dozen genuine nut cases, and thousands of faceless hordes.
Ronna was waiting on (or waiting for, as they say up North) me in the lobby of the Helmsley Building; she looked shorter and younger and even a little slimmer.
After taking out some money from Citibank's machine, she led me to A Whey With Curds, where we had a healthy lunch.
Redbook is in turmoil and will be until it's resolved that Hearst is actually taking them over; Ronna seems to be in a good position since her boss left, but it's iffy.
She and Jordan are seeing less of each other. He still wants to marry her while criticizing her lack of ambition and drive, her body, and her mind.
Neither of them are seeing anyone else, but she wishes Jordan would so that they could end the relationship. I'm sure she loves him, but I'm also certain that she'll never marry Jordan, whom she views as somewhat pompous.
(Strange: Ronna's the one person who can see through everyone with that trait.)
I told her about Sean and she said it was fun to see me blush when I talked of him. I loved seeing her; the time seemed to fly by.
Jordan is going to Israel in two weeks, so assuming that Ronna will have more free time, I said I'd see her again before I left.
After walking around in a daze and driving around in a stupor, I went to the Strand Bookstore, where I bought five half-price review copies of With Hitler in New York as well as Jane DeLynn's new In Thrall, which is great.
As I walked around the Village, I found a phone booth on Broadway and called Sean; it was a bad connection and a mistake, for our brief conversation only made me feel further away from him.
Uptown, I found a parking space in front of Teresa's and came up to see her. She
had me change into a tie and jacket and accompany her to a Bob Abrams fundraiser at the Park Avenue penthouse of Robin Farkas, liberal mogul and head of Alexander's.
Holding my glass of club soda as people milled around, I told Mr. Farkas that I'd worked at Alexander's in Kings Plaza. "An amazing number of people tell me their first job was at our store," he replied.
It was fun being with real people and eating good hors d'oeuvres and quiche and listening to Bob Abrams, who's very intelligent and incredibly articulate.
I learned from watching him – and from meeting less impressive candidates for City Council, like Carolyn Maloney, with whom we shared a cab ride home.
(When Carolyn left the taxi first, Teresa said, "A sure loser. She'll never get
elected anything.")
Then we picked up Suzie – Sharon is in Albany with Denny Farrell – and had dinner outdoors at Panelero's on Columbus Avenue. It was all very sweet, like we were a family.
For some reason, Suzie really likes me. I suggested she come back here for the night and she was glad to; she brought Captain, her dog, with her. I learned more from her than I want to know about Princess Di's new baby, but I do like Suzie, too.
Teresa said Renee is in Europe and I can stay in her apartment if I want.
---
Friday, June 25, 1982
9 PM. I'm sitting at Grandpa Herb's desk and looking out at the ocean. I just arrived in Rockaway about an hour ago.
My visit to New York continues to be pleasant, though it's stirring up memories of all kinds, as well as a desire to continue as a writer.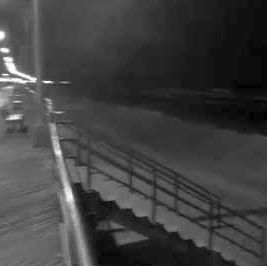 Zillions of ideas are racing around in my head, and if only I had a tape recorder to my brain, I might be able to catch some of them on paper.
I like being in New York in summer. I've missed the green of the trees and the smells of the city: the woodsy smells in Central Park, the salty air of Rockaway, even the bus fumes.
I haven't been sleeping well because my mind has been racing. It's as though confronting my past – memories seem to be everywhere – is making me reevaluate my life.
I decided that "success" and careerism are becoming less important to me. One thing I'd like to do is be more generous of my time and energy to help others;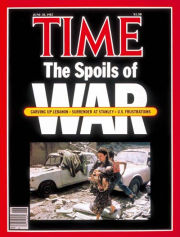 I've been so self-serving in the past.
The world is in a terrible state, what with the poor in America getting poorer, with Israel invading Lebanon (the Jewish state is being destroyed, not from without but from within, as it loses its ethical and moral senses), with the Falklands/Malvinas war, and with misery everywhere.
Yesterday I woke up as Suzie and Teresa were going off to school and work; I got out at 11 AM and went to Columbus Circle to take more money – I'm spending far too much – out of the bank.
I walked over to John Jay, where I ran into Prof. Crozier; we had a good chat about what's happening at the college and my own experiences at Broward.
After lunch, I finished Jane's In Thrall, a fabulous book. I called Jane and left a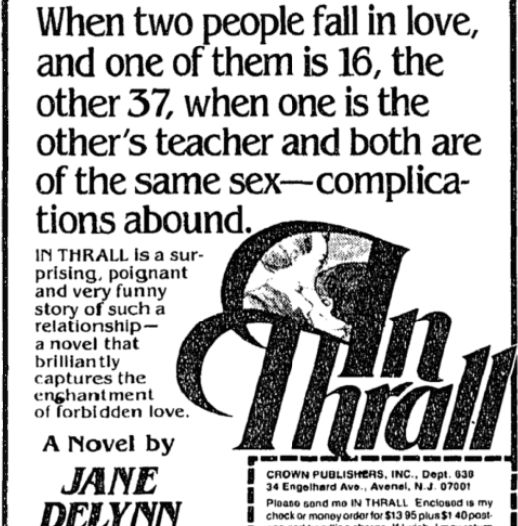 message to say how much I liked it.
I feel a lot like Jane's English teacher Miss Maxfield and I suppose that, like her, I'll go back to celibacy until another person comes along. But it never did happen before Sean, and I can't see there ever being anyone else like him.
At 4 PM, I subwayed to the Theater District to see Susan's film. I arrived early, and Mark Mannucci, the director/producer, let me into the screening room. I was glad to see Sybil, who arrived right after me; she'll be at VCCA during the tail end of my visit.
The movie wasn't bad at all; there were weak spots (as we discussed it afterwards with Susan and Adolfo, the Italian writer who's working with Mark), but the acting was good, the direction was very professional, and the theme was upbeat.
Afterwards, I went uptown to Sharon's. She'd come in from Albany for some
campaign strategy session at her home, so Teresa and I again took Suzie out to dinner – this time at Hunan Palace.
Teresa got an offer to run the campaign of Assemblyman Finneran for Controller – and she is considering whether she should leave a boring sure thing for the challenge of a probable loss.
Although Teresa's life is politics, she realizes it's all a ridiculous game – but she figures she might as well play to win.
After taking Suzie home (and passing her school – and my old school – which brought back memories), Teresa and I went home to bed.
I read until 4 AM. In this week's Voice, Arthur Bell says that in the gay scene,
promiscuity and S&M are out and romance are in. Sounds good to me.
Anyway, when I got up today, Teresa was gone. I went out to Broadway to do some errands, like picking up some stuff for Teresa at the cleaners.
Mikey called and said he'd see me Sunday at Larry's. Last night in court, he got a gag order against Curtis Sliwa of the Guardian Angels, the complainant in a case Mikey's working on.
Around noon, I met Alice at the Weight Watchers office, where she got a call from Jean Nidetch, the Weight Watchers founder, whom they've just hired as an organization spokeswoman.
For lunch, Alice took me to my favorite Japanese restaurant, Mr. Yakimoto, and
we had a pleasant talk.
She, her brother, and Andreas hope to buy a building so Andreas can expand his studio and so that Alice and Peter (as well as Alice's brother) can own property to live in in Manhattan.
Alice and I took a walk and we talked about love – a nice change from careers. She said she's gotten over her shock about Sean but still wonders how I could have a relationship with someone who doesn't know what Sichuan food is.
Yet, she admitted she was only a kid when she loved 32-year-old Andreas and she said she was very fond of a younger guy, Mark Bruner – and she still is good friends with both.
I hugged and tickled Alice and was physical with her in a way I never was before – that's how Sean liberated me.
Alice asked me what's next, and I told her I'd go on just as before; she finds it hard to believe I can.
I called Justin and left a message on his machine in the afternoon, and I also phoned Elihu, who was going to a gay dance at Columbia with Leon, who recently moved back to New York.
Leon is a D.J. and a shrink's assistant. I haven't seen him in eight years but it's odd: I still feel the need for his approval. That's why I pretended not to care about Leon to Elihu and said, "Say hello – though he probably won't remember me."
When I spoke to Josh late in the afternoon, he said he's still worried about his eyesight. Bob Hershon told him the magazine won't be ready until next week, and he can pick up the copies at the Print Center then.
After eating a burger at the counter of the newly-reopened Junior's, I walked
around Brooklyn Heights. Passing Grace Court, strolling Atlantic Avenue, and walking along the Promenade – suddenly it was 1969, 1972, 1975.
I don't know if I could live in New York again because the places I see are filled with so many memories that can't be contained.
Back at Rockaway, I found letters from Crad – he'll be home in early August – and from Sean, who closes his short, well-written letter: "I miss you a hell of a lot! (Pardon my French?) Amo te!! (Pardon my Latin)."
God.
I also got mail from Mom, who forwarded my bank statement, Stu Ross's book, and a nice note from Patrick Kelly.
---
Saturday, June 26, 1982
11 PM. This morning I got on my beach togs (in which I resemble a beached whale – I must lose weight) and took the bus to Belle Harbor, where I met Stacy on the beach.
As I trudged across the sand, I also saw Sharon Leavitt and her husband and stepdaughter; it was good to talk to them, too.
Spending the day at the beach with Stacy was great. After all these years and all the hassles we had, it's good to be friends now. To hear Stacy call me "kid" is a treat.
We talked about Florida, the corruption she uncovered in New York while working at the controller's office, her new job at the MTA (they have to figure out how to get transit money again), being gay, and our friends from college.
She told me I was one of the very few men – as opposed to women – she was
attracted to in college and that she never understood why it didn't work out.
Stacy, unlike me, is aggressive, and to use her word, "libidinal." She told me about her relationship with Ivan: all they did was fuck, and Stacy said Ivan was so passive, expecting her to initiate everything, so that finally it wasn't worth it.
Also, Ivan was boring – probably because he was so gorgeous that he never felt he had to develop his mind. I certainly was foolish to envy him.
Stacy told me that she liked Mason and that they were good together but that he was too slow for her – intellectually, that is.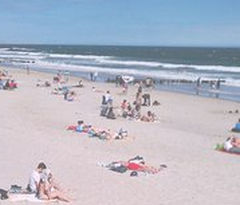 She's been with Carol for ages but is also seeing her ex-boss, the "naked civil servant" friend: Ada, a very nice therapist, who arrived shortly before I left.
I also met Stacy's stepsister Sandy, a sort of ex-lover of Stacy's, who arranged their parents' marriage together.
Stacy's sister Cynthia is due to give birth any day now and her stepbrother is a macho drug dealer in trouble with the Mafia. (I could relate.)
"My family makes the group in Interiors look placid," Stacy said. I love her.
Back home, I called Vito and we gabbed for an hour while his niece made nasty comments in the background.
Vito is just as witty as ever. When I referred to "my friend Sean" he rightly assumed 
"friend" was a code word for lover and ran with it through our whole conversation, making fun of me but in a nice way.
Being back in Brooklyn at his mother's after years in Manhattan and Fire Island was a real adjustment, Vito said, "especially since this neighborhood's been taken over by Puerto Ricans."
Vito still finds time to go to the discos, bars and gyms, but even a second-rate law school like Brooklyn is hard work ("bullshit, mostly").
Vito wonders what happened to college kids in the last eight years because he finds he's the campus radical at Brooklyn Law School.
(Which reminds me: Stacy told me that Scott Koestner was the only person ever fired from Legal Aid for fudging records about court appearances – this news via Phyllis).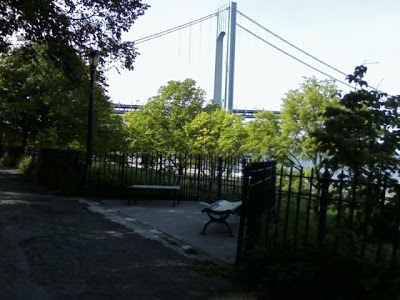 Anyway, Vito and I promised to meet soon, and then I made a lunch date Tuesday with Justin.
This evening I drove out to Staten Island, passing Bay Street up to St. George, where I thought about the year as a grad student at the now-gone Richmond College.
That part of Staten Island still has the look of a small New England town – and driving over the Verrazano Bridge still thrills me.
---
Sunday, June 27, 1982
10 PM. I slept late because my dizziness prevented me from going to sleep till 2 AM, and once again I had nightmares about Lebanon.
This afternoon I again went by bus to Belle Harbor, getting to Larry's "Bar-B-Q Extraordinaire" at 1 PM. I didn't know most of the people there, but they were all pleasant, if somewhat middle-class (though not as JAPpy as I expected).
Larry's friends had about 20 little kids ranging in age from 3 months to 6 years – all part of the new baby boomlet. I enjoy kids and I don't think I'm flattering myself to say I have a natural rapport with them.
Unlike Alice, who believes that a 17-year-old could teach me nothing, I think I could learn a hell of a lot from a 17-month-old. Anyway, I had a good time with them, though I'm no Steven Spielberg.
On the beach, I again found Sharon Leavitt and her husband and talked with them for an hour; they're very interesting.
Then Mikey came along. He had gone for a walk on the beach to see if any of his old friends were around, and he'd seen Carl Karpoff and Davey and his wife.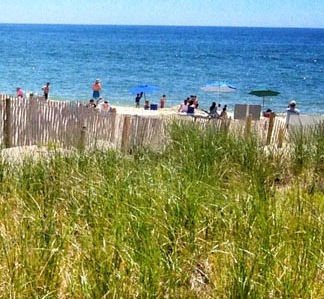 Mikey has taken a half share in a house on Fire Island – in Fair Harbor, not far from where both Teresa and Gary have houses. He needs the respite after being so busy with work.
Although Mikey would like to get out of his apartment on 23rd Street, he can't afford to, so he's signing a new lease.
Mike and Cindy couldn't make the party due to the death of Cindy's grandmother, but Mike's old girlfriend Riesa – pregnant and very overweight, but as funny as ever (I can see why she and Vito used to be friends) – was there with her husband, yet another Michael.
Larry did his damnedest with the barbeque and put out a nice hamishe spread – his brother, father and aunt helped.
His funny neighbor and fishing partner, Sydney, was there, and Syd's son Paul entertained the kids on his unicycle and with magic tricks.
I was entranced by Paul, who's 21 and just graduated from college (where he was known as the guy who rode his unicycle everywhere). He seemed like the kind of charming, easy-going, joyous clown I've always admired and used to envy a lot when I was younger.
Larry's annual party, probably because of the kids, always seems to symbolize the vitality of life.
---
Monday, June 28, 1982
It's 2 AM. I can't sleep. I'm coming down with what I suspect will be a terrible cold.
By now, I know how life rocks: good and bad alternate to teach you things.
This week will be the total opposite of last week: the weather will be bad; I'll be sick and miserable and alone instead of healthy, enjoying myself and running around seeing people; I expect to be quite depressed over the next few days.
But my cold and my depression will eventually end, and of course there will be compensations.
I won't be able to avoid thinking about my life. I will be able to relax and maybe I'll even gain some more compassion for sick people like my grandparents. Life can be beautiful, but that's only half the story. It ain't a simple one.
A week ago I was in Florida and now I'm here with a sore throat and post-nasal drip in Rockaway, listening to the ocean roll in and out.
Well, I can understand why I got a cold. The other day I was with Sybil and yesterday I was with Stacy, both of whom had bad colds; moreover, I caught a bad chill today when I spent the cool afternoon in shorts and a T-shirt.
If this was Florida and "normal" weather, I'd have been wearing long pants and a jacket.
So there's ample reason for me to have gotten ill, especially since I have not been getting enough sleep and since my routines have been all screwed up. But it's not cancer, it's just a cold.
Thoughts run through my brain – about my New York friends, about Sean, about my career.
I see that I do not want to become famous – not yet anyway. I want to teeter on the brink of success for a while, and I've been doing that, and I think I have enough brains and talent to continue doing that.
But I don't want the critical acclaim Tom McHale got or the money Scott Sommer's made. I can't handle it now; it would distort my whole view of life and
cut me off from much of life as well.
For example, I feel that to a certain extent Alice has become corrupt. She's forgotten what's really important. The most meaningful thing she ever wrote was the Times op-ed piece, "Owning Isn't Everything" – but now Alice would probably be embarrassed by the article she wrote when she was basically just a girl.
She'd be wrong.
Alice now thinks she can learn nothing from those who are ignorant of Sichuan food; she's been writing down to people for so long that she now has only contempt for the public.
She told me she's got a press junket to Haiti coming up and plans to extol the virtues of that squalid, corrupt island to readers of some travel section.
I'm not like my brother Jonathan, a pure-as-snow moralist, and certainly many times I've been less than ethical – but dammit, you have to draw the line
somewhere.
Another thought out of some congested left field of my brain: Sean is probably half-relieved I'm gone.
I don't doubt his love for me, but I think he found our sexual encounters boring. Of course it isn't entirely my fault, for I never told Sean that it was my first time with another guy.
I was too embarrassed to ask him to teach me how to perform the way he wanted me to; it was enough that he taught me how to love.
And my relationship with Sean proved to me that I wasn't impotent or incapable of affection – or of inspiring affection in someone else.
This morning, Grandma Ethel, complaining about her headache, told Grandpa Herb: "I want to die."
"No you don't," he replied.
I feel sick now and part of me wants to die but most of me just wants to be well.
But look at this diary entry: it has more life and more feeling than any of the catalogues of comings and goings over the past week. Pain does help.
"What is the Purpose of Suffering?" was an essay question I once asked a semi-literate LIU class who were mystified by Candide. But even they believed the answer was wisdom. I hope they were right.
Poor suffering me – imagine, I've got a head cold!
---
Wednesday, June 30, 1982
8 PM. Back at Grandma's, I'm good and sick. But by now I'm certain it's the virus that's been going around.
An hour ago I finally spoke to Gary, whom I've been unable to reach at the office. It turns out he's been home in bed with the exact same symptoms I have.
Last night my cold broke out in full force, with sneezing, a runny nose, and finally a terrible cough which has me spitting up phlegm at every opportunity.
Life seems sucky, but it's because I'm ill; things will look differently when I'm better. And the illness explains my feverish outbursts yesterday.
Actually, I felt better – psychologically, that is – after I went over to Dr. Eschen's to meet Josh after his appointment.
Burt Eschen told Josh that his vision loss is due to his doing such close work and that he'll never regain the vision he lost – but that everything should be okay if he wears reading glasses when he works on the computer.
I drove Josh back to Brooklyn Heights and we had tea and dessert at Henry's End. He kept telling me to cheer up, so I must have looked awful because Josh is rarely that solicitous.
I felt weird in the motel room last night, but I did sleep well – if not long enough. This morning, though I felt quite sick.
Still, I managed to drive up to Manhattan and meet Justin for lunch at McAnn's.
Justin's biggest news is that Davina Belling has decided to stop trying to get backing for Good Sports.
Because of the recession and other factors, it's been impossible to raise money to get it on Broadway. (Peter Filichia had told me the show was written by "people who know nothing about sports.")
Anyway, Justin will continue working until they close the office at the end of next month.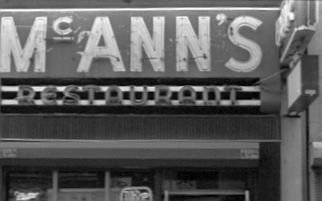 Davina is trying to help Justin find a job, and he's sending out résumés.
He's finished a screenplay based upon Peter Carey's novel Bliss, and Justin's play Bindings is going through one final tightening up before they begin production. The director and producers – young hotshots like Justin – are very enthusiastic, and they have a fine actress who's going to play the sister.
I will not at all be surprised when Justin becomes a successful playwright; it's going to happen as sure as shootin'.
Justin also was pleased with my small successes. He said he's glad I haven't vegetated in Florida (the way he probably expected I would).
He told me Ari's doing very well and will be directing plays at the Downingtown Inn this summer.
I drove home (quite quietly, over the Queensboro Bridge) to Rockaway and virtually collapsed after dinner.
Grandma Ethel seems a little better and nobody is holding grudges. Perhaps it was my fever talking yesterday.
I got another letter from Sean. He said it was the fifth draft because he wants to be witty and interesting but "the words won't flow."
His pregnant sister Barbara came in for a few days. When he and Jeff were on their way to the airport to pick her up, they stopped for a few drinks. Sean ended up passing out and not seeing Barbara until the next morning.
I'm worried that Sean might turn into an alcoholic, but then, being a teetotaler, I don't know enough about people's drinking habits to judge if it's part of an alcoholic pattern or if it's just adolescent fun.
When I called Teresa, she said Sharon is quite ill in Albany, apparently with what I and others in the city have. Naturally, Teresa would rather not see me until I'm well, and I don't want to get her or Suzie sick.
If I do give this virus to Grandma and/or Grandpa, it's my responsibility to take care of them while they're sick; I know that.
Gary said he's been ill for over a week and he's still very sick. Nevertheless, he
went to Fire Island for the weekend.
I think I will go back to Florida directly after my stay at VCCA rather than come back up here and get a return flight from New York. I've spent too much money already. And I really want to be home in Fort Lauderdale a month from now.