Saturday, January 23, 1982
10 PM. This has been a very good day.
I've just finished marking the essays from my noon 101 class; tomorrow I'll tackle the poorer 100 essays.
I first looked for the essay by Sean, a guy who smiles at me and whom I thought might be gay. His essay was on the "prominence" of homosexuality in Fort Lauderdale, and he wrote about the number of gay bars, hotels and businesses.
I'm certain the paper is his way of telling me he's gay. I do wish I could be open about my gayness so I could feel free talk with kids like Sean. I'm sure I have
other gay kids in my classes, though I can usually spot only a couple in a semester.
I don't think Sean is interested in me, and that's probably for the best – though he is quite cute. He never talks in class and doesn't speak to me afterwards.
I'm talking friendlily with Maxine again now that she doesn't push though I am still angry with the way she treated Jonathan.
At 10 AM today, I called Alice. Peter had just left for the airport, and Alice was worried about the bad weather.
Tomorrow is her public debut as a lyricist, but the combination of the Super Bowl and cold, snowy weather will keep people away; she thinks that, of her friends, only June, Cliff and Andreas will show up.
Alice told me that the celebrities she interviews for Young Miss are basically boring and that their most interesting quotes are not usable (like Cheryl Tiegs' most embarrassing moment: "When I was 15 I was fucking my boyfriend and my
father walked in on us").
Robby Benson, Dennis Christopher, Brooke Shields, Melissa Gilbert – all of them are basically workaholics, but Alice has to be upbeat and show them all to be unaffected (which they're not – Melissa Gilbert was a snotty bitch).
There's no word from St. Martin's on the Office Worker's Handbook, and Alice said she feels restless at Weight Watchers. (I told her how much I enjoyed Peter's article).
"At every stage of my career, whenever I've reached each goal, I've inevitably been disappointed," Alice said. "The only thing that's really satisfying is love."
I went over to my parents', where Mom and Dad were eating lunch after their morning run.
Marc's friend Alison came late last night and Jonathan is annoyed by the invasion of his privacy due to her visit. He's being hard on Marc, who was greatly upset because Bruce burned two big holes in the seat of the Camaro last night.
Bruce has promised to pay for the damage (he must have been stoned), but Marc was worried about Jonny's reaction.
When I was there, Jonny had gone off somewhere, and Marc and Alison had left for the beach. Mom and Dad both said Marc doesn't seem to be on drugs, but I know that he'll go back to them when he returns to New York.
I got a long letter from Elihu, who described a reunion with his old pals from Midwood High School, and who wrote about his feelings about leaving academia and about his two intelligent lovers, an actor and a writer, who "don't make the earth move, but who are a big improvement over the exterminator who drove up with a car with a bug on top or the kid from Indiana who moved to New York to find love in the South Bronx."
I called Elihu and we had a nice long chat.
Stacy's letter described her predicament: She lives with her lover Carol on weekends and with her family in Rockaway during the week. She's still jobless and unhappy and restless.
Of Ivan's second marriage, Stacy writes: "God, I can still remember the tiger print sheets on his water bed. He was the Gatsby of my youth."
God, I do love my friends in New York. I miss them a lot. I'm glad that Teresa's parents bought her a ticket to Florida for Easter.
Last night I thought of little Susie Landau and how she loves Dallas and Dynasty and how she told Dr. O'Hanlon about me; it's weird that he was my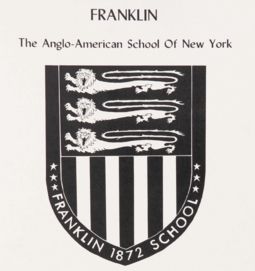 English teacher in 1965-66 and now he's Susie's.
When I spoke to Grandma Ethel and Grandpa Herb, Grandma said she had just been musing about how I would clean my contact lenses in the bathroom.
I called Kevin and told him how happy I am with the book. He thought it was a fine printing job and a great cover, but he felt the paper was cheap.
Kevin sent out all the review copies last Friday and hopes for an exciting spring with my book and John Elsberg's both coming out.
He asked me to consider giving him my next book of stories, but I said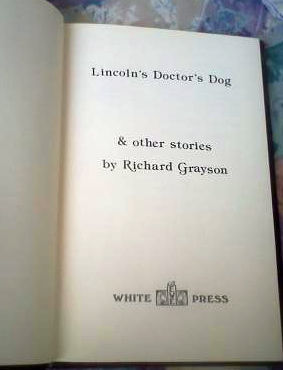 we'd better wait to see what Lincoln's Doctor's Dog does in the way of reviews and sales.
Kevin needs to sell only 500 to make a profit: that's his advantage over commercial publishers.
I wrote Saul Cohen asking if he wants to see A Version of Life and answered ads for jobs at Arkansas Tech and South Alabama. I feel good about things.
---
Sunday, January 24, 1982
8 PM. The 49ers just won Super Bowl XVI.
Tonight is my last night alone before Crad arrives. His visit may put our friendship to the test. I called him in Toronto last night, and though he promised not to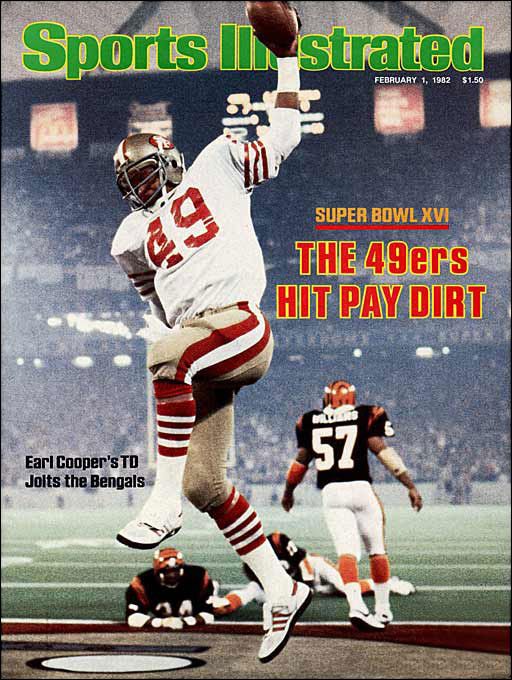 smoke cigars in the house, he did tell me to buy coffee, Sweet & Low, eggs, bacon and other things that he likes.
I don't mind that, but he wants to cook every night and I like eating out. Also, he seemed disturbed that I'd be getting up at 8 AM every day. I hope he's not going to be difficult; I know how compulsive writers can be.
Because Crad hasn't worked in years, I'm not sure he understands the responsibilities of a job. Probably we'll get along fine, but it's always hard for two people to live together. Teresa and I have always managed, but we're both pretty flexible.
This morning I read the papers early and then went over to my parents', where I sat out in the sun and graded about 45 paragraphs. It's dreary work, but I don't mind it all that much. It does give me a feeling of accomplishment every weekend when I finish marking another batch.
I exercised a little and shopped at Publix and then called Josh, who felt he and Scarlatina Lust (Judy) didn't have much to say to one another. She's definitely bright, talented and creative, but Josh has a hard time relating to her. She asked about me and said, "I know all about Richie Grayson."
It's just a year since I first taught the spring class at BCC; by now I feel like an old-timer. They've posted the notice about the English Department vacancies, but I will not apply for the job.
I want to go somewhere else; I feel it would be good to be away from, and less dependent upon, my parents. Very likely, on my own I shall fall flat on my face – but until I try, I won't really know.
Little by little, my fears about surviving are going away. In the past two years I've been forced to grow up quickly.
---
Tuesday, January 26, 1982
8 PM. Well, if I haven't killed Crad Kilodney so far, I guess things are okay. He's driving me crazy, though.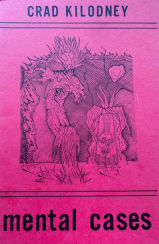 It's been years since he's stayed with anyone besides his grandparents, and his quirks are very disconcerting to me. Not that I don't have my own peculiarities, but I'm trying to bend and be flexible. Crad, like me, is obsessive/compulsive, and any break in his routine is extremely painful.
One thing I've learned in the past two years from staying at MacDowell and VCCA and from visiting with Teresa and others, is that I've got to be more flexible in my habits.
If I can't have cereal for breakfast, I've got to get used to it. If I don't watch my soaps, same thing. Crad seems to want everything the way he has it in Toronto: to watch TV until 4 AM (the "poor late night TV" here upsets him), to sleep into the afternoon, to eat bacon and eggs for breakfast, to read a newspaper, etc.
I don't have a chess set or ice cream or vodka or potato chips. Last night I thought I would kill him.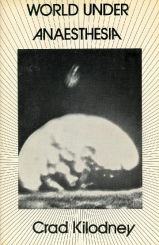 Granted, it's always disorienting to be in a new place, and I know the couch isn't the most comfortable bed in the world, nor are the surroundings the most genial. But he was so demanding and never once did he seem to think about my feelings.
I can see the funny side of it, as if it were a 1950s situation comedy where friends begin living together and become involved in petty games of annoying each other.
But I feel I've tried. I put the TV out in the living room because Crad must watch TV; this morning, so as not to make noise, I didn't blow dry my hair (it looked better, anyway); this afternoon I took him to buy vodka and cigarettes.
I guess what I'd like is a little appreciation – but all I seem to hear are complaints about how much better everything is in Canada.
I feel terrible knowing I can't wait for him to go home, but I also feel that his visit gives me another chance to learn to be flexible. If I can get along with Crad for the next two weeks, I'll have accomplished a lot. But it's only the first day
and perhaps he'll get into a better mood as he adjusts to Florida.
Last night I slept very little, but still I managed to have two very good classes today, one on Singer's "Gimpel the Fool" in the morning and one on paragraphing in the afternoon. And I marked papers and had lunch with Patrick and Jacqui – surprisingly, we've become friends – and attended an English Department meeting at which we had a farewell party for Alan Merickel.
Crad and I had dinner at Arby's – okay, he did do what I wanted to for dinner. So I guess it's hard to see just who's being selfish. Crad tells me he thinks I'm very peculiar.
We disagree about many things. He's more of a "misfit" than I am; I compromise more and try to be more "establishment." Crad is very fixed in his viewpoints. I doubt myself more than he does.
If I can learn not to place value judgments on our differences, I'll be ahead of the game. The next couple of weeks I view as a learning experience.
Tomorrow night we're going out to dinner with a woman he met on the plane.
---
Wednesday, January 27, 1982
5 PM. I did sleep very well last night, thanks to the two Triavils I took. I had exotic dreams, with both heterosexual and homosexual encounters, and I awoke with aching balls – the first time in my life that ever happened.
I felt very chipper and energetic and had two great grammar lessons in English 100; I covered what normally would take a week in one day. Apparently there's now a hiring freeze at BCC, even though there are five or six vacancies in the English Department and there are twice as many adjuncts as full-time faculty.
After seeing my 101 class to Bailey Hall and their library lecture, I went over to Mom's. Betty Wright of Rainbow Books, the Moore Haven printing firm, said she thinks she could do a good job with Eating at Arby's; I'd like to do it if it's not too expensive, for she seems to know what she's doing.
Jonny said that Morley Safer and a 60 Minutes camera crew came into his FAU Spanish class yesterday; they filmed the lesson – or part of it – but Jonathan did not know why they were there.
The new issue of Coda arrived, and they printed my letter praising their new format – which actually had been a personal note I sent to Debby Mayer. I wish it weren't there, because it makes me sound like an asslicker. But then again, it can't hurt to have people see my name.
There was also an announcement of our Florida grants (they put Judy Cofer's picture in the notice), along with the NEA fellowships and other prizes.
The Hollywood/South Broward Board of Realtors sent me a candidate questionnaire, which I answered in such as way as to make sure they won't give me an endorsement, and I turned down their invitation for an interview. However, I am going to see the Fort Lauderdale Board of Realtors next Monday at 2:30 PM.
Crad gave me the $200 for the airfare to New Orleans, which I deposited in the bank along with my $400 paycheck before I came back here to answer my mail. Crad was having breakfast when I arrived.
We took a drive out to Fort Lauderdale beach, but he seemed less impressed by it than I was although I've seen it so often. That green-blue ocean still gets to me.
It was a cool, windy day and no one was on the beach, but I saw some really cute young guys heading to the daily tea dance at the Marlin Beach Hotel. One guy was definitely cruising me, which flattered me no end.
Crad also made me feel good when he told me that no matter what my students say, I look like Keith Carradine, not Richard Dreyfuss. This evening we're going to take his plane-friend Linda to dinner. She lives in West Hollywood, so I figure we can go to the Sizzler on 441.
I feel a bit tense now, but last night I did get to relax and lift weights and read Crad's new book – which is as good as he ever was. I just hope this evening isn't a disaster.
Tomorrow Marc and Alison are leaving for New York, and I feel badly that I didn't get a chance to spend more time with them.
There isn't much pressure the rest of the week. Tomorrow I've got my 9:30 AM class, but the afternoon one will be going to library orientation, and on Friday I'll have the classes write. Next week will be more hectic, but I will have the weekend to relax.
I'm sure I'll have no trouble sleeping late while Crad is here. I'm a bit anxious about our trip to New Orleans next week; it's probably not going to be as successful as my previous trips there.
---
Thursday, January 28, 1982
10 PM. I didn't want to go out to dinner with Crad and Linda Quinton last evening, but neither of them had cars (Linda's will arrive this weekend), so I had no choice.
Besides, Crad seemed to think if they hit it off, she would spirit him away for a couple of days, and I was willing to help that come about.
She's living in Hollywood Hills with her 25-year-old brother Harry, who is in some sales training program. Their parents are managing a building at Turnberry, so they've left Linda and Harry the house.
Linda just left her second husband in Pittsburgh and seemed anxious about starting over in South Florida.
I was surprised that she didn't hesitate about accepting a dinner invitation from strangers, but she told her mother that Crad seemed quite normal and that I looked like Richard Dreyfuss. (In the past week not a day has gone by that somebody hasn't compared me to him.)
We went to the Banana Boat and I found myself having a great time, chatting, making jokes, talking seriously. But I'm afraid I hogged the conversation and didn't let Crad and Linda get to know one another better.
Of course, I seemed to have more in common with Linda – we're both teachers and even more than that, we have references that Crad doesn't have.
I see that his not working means that he isn't "socialized" (to use a term of Miriam's): he can't make small talk and can seem rigid and almost silly. I shouldn't have teased Crad, but I did, and I'm afraid that wasn't helpful to Linda's estimation of him.
See, I can pass for a young, with-it type that the bar was crawling with, but Crad is, as he says, a misfit. He dresses oddly, for example, and seems to have no sense of style. Of course I'm a bit superficial and I suppose I'm so bland I can
blend into any group.
We went back to Linda's house, and soon afterward, her brother and his old high school friend Doug arrived. Doug is a 23-year-old musician, a guitarist on the S.S. Norway, the luxury cruise ship that sails the Caribbean. (I remember back when I was a kid, it was the S.S. France and a big deal because it was the biggest passenger ship in the world.)
Harry got out some grass and rolled a joint; we all got very stoned except for Crad, who just took one puff to be sociable.
Harry replaced the classical music that Crad had put on with Frank Zappa, and Doug began a stoned soliloquy punctuated by you know's and like's. I was flying and felt so good and got into really good conversations; Linda said she
found me very funny.
It was one of the best nights I've had in Florida, making me realize how nice living here would be if I had friends. I hadn't been stoned in a long time, and I'd forgotten how pleasant that, too, could be.
When we left, Crad said he would call Linda, but once in the car, he told me he felt disappointed and discouraged and didn't feel she liked him. But he said that she did like me.
It's ironic but understandable: because I had no designs on Linda, I could relate to her in a relaxed way, and I also saw her more as a person than a sex object. I'd be lying if I didn't say this gave me great satisfaction.
Well, this morning I was up bright and early after only a few hours sleep.
At school, I saw Sean in the lobby when I walked in and we exchanged a few words. I feel shy with Sean because I am attracted to him and would like to know if he has a crush on me or if it's just a coincidence that I keep seeing him all the time.
Leaving campus this afternoon, I ran into Sean again as he was about to ride away on his bike, and when he smiled at me, I just melted. I love his cute smile, not in spite of his braces, but because of them. (Shelli had braces, too.)
With his slim build, blond angelic looks and graceful movements, he reminds me of Sebastian in Brideshead Revisited, even if he doesn't have a teddy bear. (Jonny has bought one which he's named Aloysius, after Sebastian's.)
Funny how many students, boys and girls, kept smiling at me today. I was dressed nicely, wearing a starched white shirt, preppy-tight khaki pants and a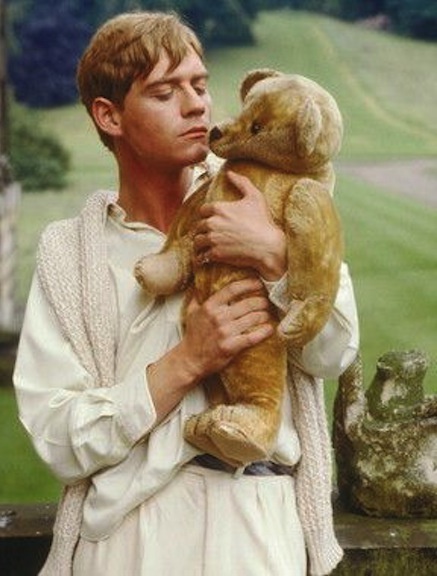 light vest. I felt amazingly attractive, as though my charisma level had risen 1000%.
My lesson on Hemingway went beautifully, and throughout the day, the students seemed bright and cheerful and worth teaching. If all days were like today, I would have no problem teaching at BCC for the rest of my life.
Dr. Grasso hired a new adjunct today: Jennifer Epstein, a Scot from upstate New York, who just walked in the door. "Another Richard Grayson," Dr. Grasso said.
I brought in the mail at my parents', who soon arrived from taking Marc and Alison to the airport, where they got on a flight with Art Garfunkel, who was going home after visiting his parents.
In the mail, I got George Myers's most recent column, and lots of letters. Saul Cohen asked to see A Version of Life, which I finally sent to him, along with a copy of
Crad's Lightning Struck My Dick.
Rick Peabody said that a friend of his died on the Air Florida crash. He's reading Crad's books now and speculated on whether Crad Kilodney was actually a woman.
Rick said that many people admired my interview in Gargoyle: "You're a star." And Gretchen wrote a note on classy Harriman house stationery forgiving me for yelling at her in my dream.
Susan Mernit wrote that she and Sybil were on a WBAI writers' show about artists' colonies. Her screenplay has been fixed up and is stronger, and Mark Mannucci, the director, is coming to West Palm Beach to interview and audition an old song-and-dance man for the part of Sally DeMay's vaudeville partner.
Susan is busy teaching in Great Neck and has learned to sleep all day on Saturday.
Bob Steinmetz of Future Printing, a Boynton Beach firm, phoned me at school, but by the time I got back to him, he was out for the day.
Carol Bergé sent me a kind, breathless note advising me to return to New York; she said she feels she made a mistake in being away for ten years. Nice lady.
When I got home, Crad was making breakfast. He told me about a disturbing dream that he had. In it, he had "taken a fancy" to this girl, but her husband came and took her away; then guests came into his house and he couldn't get them to leave.
He didn't say it, and I don't know if he realizes it, but his dream is obviously about what happened last night.
We hung out here for a a bit. I balanced my checkbook and watched Another World while Crad spent the time on the toilet, reading – something I have never done in my life and which I find a bit disgusting.
Later, I took him for a drive out to Alligator Alley and then to my parents', where Jonny told Crad how much he liked his work. After they played with the cable TV for an hour, I grew impatient and hustled Crad over to Danny's for a pleasant dinner.
By now, Crad is much easier to take and little trouble to have as a guest; I guess we've adjusted to each other.
Tonight I lifted weights (so did Crad) and called Josh (his job sucks, he's got a cold, and Scarlatina didn't call as promised) and then Mikey (who liked Club Med in Martinique, finding it very tame but relaxing – "and it was good to be out of New York for the worst week of the winter").
I feel so damned good, it's almost scary.