Monday, February 1, 1982
8 PM. Just a minute ago, while putting my contacts in their disinfecting machine, I had this awfully embarrassing thought: "Today was a gift from God."
It was a pleasant day; nothing extraordinarily good happened, but a lot of little pleasures added up to make the day a pure delight.
Last night I didn't sleep well but did have a nice narcissistic erotic dream of making love to my double. At school, I had two decent English 100 classes and a fairly good 101 class. I can't understand why, but all of a sudden I'm beginning to love my job.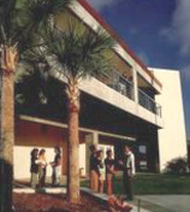 I feel fondness for the teachers I work with, and I'm awfully fond of many of my students. (I think about that kid Sean too much.) As Crad said, maybe the reason I don't mind getting up early in the morning is because I enjoy my work.
During my break, I went to the banks at 11 AM and juggled funds so I had the money for Kevin when his $500 check is cashed. At Mom's house, the mail was only good news.
First, I got accepted at Ragdale, the writers' colony in Lake Forest, outside of Chicago, for July 1-July 20. I think I may go there because I've never been to the Midwest before; anyway, I've sent them my $25 deposit.
I also got accepted for the whole summer at the Rhode Island Creative Arts Center at Roger Williams College. But Dan Meltzer told me "it's the pits."
Continental Drift, the new literary magazine at the University of Colorado at Boulder, accepted for their first issue "My Life as an Old Comic," probably my favorite much-rejected story.
Lola Szladits wrote a brief but wonderful note, thanking me for the dedication in Lincoln's Doctor's Dog. I love her so. And the Brooklyn College Alumni Association Bulletin arrived, bringing me good memories of old days.
My meeting with the political committee of the Fort Lauderdale Board of Realtors began when I entered their board room and found myself seated at the foot of a huge mahogany table surrounded by gray-haired WASPy businessmen.
I disarmed them right away by telling them about myself: "I'm thirty, a writer and college teacher who's lived in Davie for two years and I don't have a criminal record – not yet, anyway."
When I said I was for less government and then advocated a building moratorium on University Drive, one man asked if this was a contradiction.
No, I replied, I live on University Drive and feel it's too crowded already, but "I'm a hypocrite, like all politicians."
"When my principles conflict with my own interests, guess which wins out?" I asked them.
"But what about the people who own land on University Drive?" one board member asked.
"That's their tough luck."
"Don't you think it's unfair to the property owners to deprive them of the use of
their land?"
"Not at all," I said. "It happens in socialist countries all the time."
Jaws dropped. "You're a socialist, then?"
"I guess so – I belong the Marxist wing of the Republican party." Much laughter. I ended up advocating everything the realtors were against but charming them with my good humor and honesty. I was witty and never lost my cool; it was a performance worthy of Dudley Moore.
The last question, about campaign contributions, I answered this way: "I will not seek or accept funds. So you may all put away your checkbooks, gentlemen."
The chairman, Mr. Kett, said I was a breath of fresh air and their most enjoyable interview of the day.
---
Tuesday, February 2, 1982
4 PM. Today is not as good a day as yesterday, but then few days are.
After my triumph yesterday at the Board of Realtors, I came home and worked out with my weights for an hour; the exercise felt great.
Crad keeps telling me to smoke, drink, and eat lots of red meat, sugar and salt, but I think he'd like to be healthier; he's been making attempts to use my barbells.
We got along well yesterday. At 6:30 PM we went out to a Burger King, where I had surprisingly delicious veal parmigiana (it was probably all sugar); then we drove up University to Coral Springs and down 441 through Margate and Lauderdale Lakes.
I got a postcard from Brad, who'll be here from February 10-15, at his grandmother's in Miami Beach. It will be strange seeing Brad again – in Florida, of all places.
I called Grandpa Herb and we talked for a while; he sounded fairly strong and said it was over 50° in New York. After that, I watched Brideshead Revisited and got
into bed. Crad keeps the air conditioner on all night, so I sleep under my quilt.
Anyway, I had a good night and woke up feeling good. I had fairly decent classes today, taking a break to have lunch at Mom's.
Helmut wrote me another long, boring letter about politics. I dread replying to it. Why doesn't he want to discuss personal things? He thinks he's got Western society all figured out from his perch in Bremen, but he's become almost as boring as his ex-girlfriend.
I guess I'm a shallow fellow, but I never was one for abstract thinking. Helmut's letters depress me because they are so didactic; he's just like Avis/Sat Darshan in that respect.
Tomorrow Crad and I go to New Orleans. I'm definitely not looking forward to it, and I know Crad dreads teaching at NOCCA and the further upset to his routine.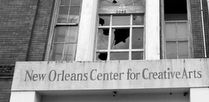 Last February I was so scared before I left, and when I arrived in New Orleans, I still felt terrified. And of course I was scared shitless when I went there last June. But since then I've learned that I'm stronger and more resilient than I thought.
A year ago I arrived in Florida, began my part-time job teaching at Broward Community College and tried to recover from those difficult final months in New York. Since that time, I've traveled more – to New Orleans; to New York, where I lived at Marc's and at Teresa's; back to New Orleans and then Florida; to Maryland and Virginia and back again to Florida; and to New York at Christmas.
I've lived in a number of places. I've gotten my first full-time job and learned I can handle hard work. I've advanced my career, gotten a lot of publicity, and actually became a candidate for political office. My performance style has improved with BCC teaching and forums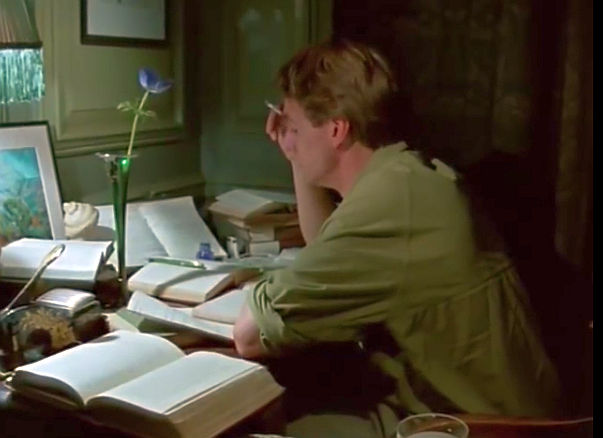 like yesterday's at the Realtors' Board.
I've failed in only one way: I have not yet found out, as Waugh has Charles Ryder say, that the essence of true wisdom is to love and to be loved by another human being. But that's coming. I don't understand why people like Crad and Josh and Alice don't see or understand that I'm gay. I feel open to new experiences now.
In ten days, Crad will be back in Canada and I'll have my routine back again. The election will be over in a month, and aside from my weekend in Cocoa Beach, the rest of the spring should be quiet.
I think I'll go back to New York in late June and then go to Ragdale for July. Chicago in the summer sounds so nice – I'd love to walk along Lake Michigan.
The Sun-Sentinel ran a letter by me about the crackdown on adult bookstores:
"The recent actions of the Fort Lauderdale City Commission are disappointing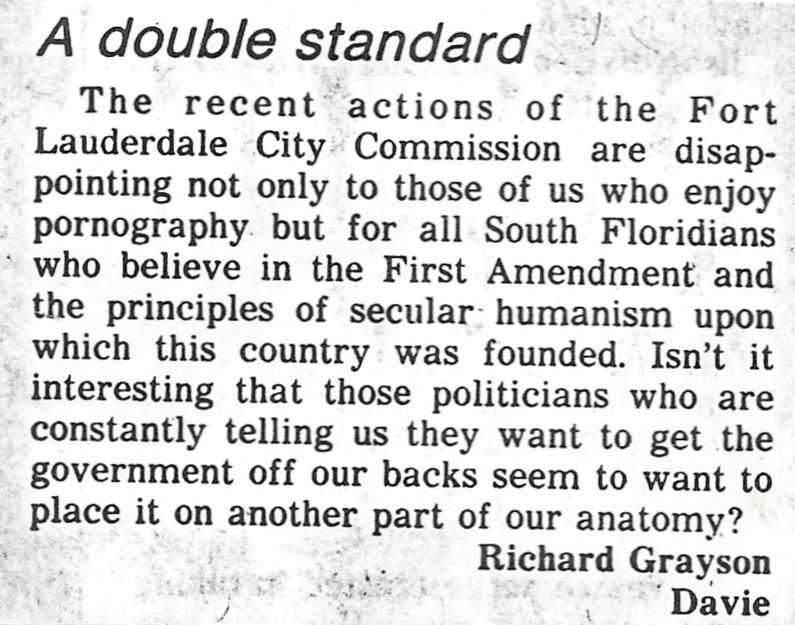 not only to those of us who enjoy pornography, but to all South Floridians who believe in the First Amendment and the principles of secular humanism upon which this nation was founded. Isn't it ironic that those who are trying to get the government off our backs are trying to place it on another part of our anatomy?"
A deliberate provocation, I suppose, but I weighed my words carefully and am on firm legal ground.
---
Thursday, February 4, 1982
8 PM. It's been a very stressful day, and all I can think about is how, exactly two years ago, I let myself get over-stressed and it resulted in an illness that incapacitated me.
Yesterday Crad and I left for the Miami airport at 4 PM and got there an hour
later. We boarded our Pan Am 727 to New Orleans at 6 PM and took off half an hour after that.
Crad insisted upon sitting in the back because he wanted to smoke and because in the case of a crash like the Air Florida disaster in D.C., only those in the rear usually survive.
I was very nervous during takeoff but felt better because I wasn't alone; I think that my fright made Crad feel calmer than usual and he tried to jolly me out of my trembling.
We landed in New Orleans (landings are not scary to me) half an hour ahead of time, and we had our luggage in no time – before Tom arrived, in fact. Tom drove us here in the old van.
I was surprised at how chilly it was; apparently it's been a very cold winter here, and one week it got so cold that most of the pipes in town, including Tom's, burst. This house has no heat except for the now-illegal gas space heaters, and I couldn't warm up all night.
To give Crad his privacy, I slept on a cot in Tom's room. Or I should say, I tried to sleep, but I don't think I got more than an hour. Tom heard me mumbling all night, but the only word he could make out was "trouble."
This morning I felt like shit while Crad, who had worried about how he would manage at that ungodly hour, looked and sounded chipper. All of a sudden I realized how Crad must have felt for the first few days at my place.
I felt exhausted and disoriented, and I didn't know how I would make it through the morning class.
Somehow I did it. I read four stories and talked with the students about writing. Valerie Martin was there, and I found her very sweet and intelligent. She also teaches at the University of New Orleans but gets paid even less than I do at Broward Community College.
Tom said I was very good and managed to bring out a class that is usually very quiet, so I felt I did okay. But I didn't enjoy our midday break because I felt so cold, tired and headachy.
Mike Presti, a local poet who just got his M.S.W. and who works with Tom on The Art of Film class, came along to watch Crad do his thing with the afternoon crew: Rachel, Alex, Grete, Celeste, Sean, Tonya and Liz.
He was absolutely terrific. There is no doubt that Crad is a one-of-a-kind genius; his work is hysterically funny, satirical, and also wise. The class broke up when he read "Jap Scientologists Ate My Grandfather."
Crad was exhausted after the two-hour and forty-minute class – and so was I, even though I did no work.
Back at Tom's, I collapsed on my mattress but felt no better after two hours' rest. A vile dinner at Steak 'n' Egg Kitchen didn't improve my mood, and I didn't enjoy the visit to the house of Tom's brother and sister-in-law.
The only part of the evening I enjoyed was when Tom told us he wanted us to hear a record. He shut the lights and put it on. It was this woman named Laurie Anderson, singing and talking a song called "O Superman," which was strange and hypnotic. We listened to it a few times.
One thing: I'm glad I didn't take the job at NOCCA last year. Dr. Tews asked me how things were going in Florida, and I honestly told him that everything could not have worked out any better.
David Vancil is in the doghouse with Tom, and it's obvious he knows he'll be fired at the end of the year. I feel I wouldn't have wanted to work as hard at NOCCA as Tom would have expected and he would have gotten upset with me the way he did with David.
Maybe I shouldn't leave South Florida for the sake of leaving. I am happy there, and it would be stupid to make myself miserable elsewhere. For now, I plan to stay.
---
Friday, February 5, 1982
5 PM, The Triavils did help me sleep, but I awoke with a horrible sinus headache which I still have. Of course, it may be the start of a cold, for Crad has caught cold here. The chilly, damp weather didn't help, nor did the stress we're under.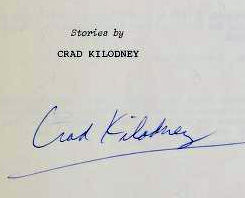 Still, Crad was cheerful this morning, and he was terrific with the morning class. They are a pretty quiet bunch and were much less receptive to him than the afternoon class.
Crad fielded my questions like a pro – Tom had to leave the room and so I tried to help out – and he really gave the kids a lot to think about. One thing this trip has given me is a renewed respect for Crad; he's truly a genius and I am certain that one day – probably too late – he will be recognized for the genius he is.
We walked along Magazine Street and got some food for lunch while Crad cashed a traveler's cheque.
The afternoon class went well, as I read from Disjointed Fictions and the new book and talked with the class about writing and other stuff, including my political campaign.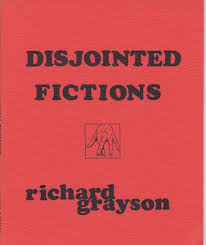 After a break, we had a workshop that I led, going over a piece by Liz. I really like the kids in the afternoon class, and I hope they enjoyed our visit.
Mike Presti came along, and he and Crad are playing chess now.
I'm still glad that I'm not living in New Orleans. The city seems grayer and colder than before. Anyway, I do like my sterile but warm and cheerful Florida environment and now I plan to stay there for another year if I don't get a better offer.
My throat is sore, but I'm not sure if that's from reading too much or because I'm becoming ill. I guess I'm not much of a traveler. Or maybe it's that I have so much doing at home now.
This week coming up will be so hectic, I can't wait to go home. I am relieved – as is Crad – that our teaching is over and that we didn't fuck up. For the next four months, though, I'd prefer to stick close to home.
---
Saturday, February 6, 1982
9 PM. On my last night in New Orleans, I'm feeling calm and pensive. I am certainly glad that I came here, even though this has been a difficult adjustment for all of us.
Crad remembered that the last time we were all together was at his grandmother's house in Jamaica in June of 1979. It's good to have writer friends and for us to be able to tolerate each other for extended periods together. Tom thought we were both excellent guests, so the NOCCA part of the trip worked out perfectly.
I suppose because the weather is so chilly and because Crad caught cold, the trip hasn't been a sightseeing spree, but I don't mind. Last evening Crad stayed in to nurse his cold while Mike, Tom and I went to the Audubon Tavern III for some burgers. We had a fine meal – the preppies hadn't arrived yet – and the conversation was lovely.
Back here at Tom's, under the influence of Jack Daniels and dope, our talk became cheaper but more eloquent; Mike got quite drunk and provocative, but I enjoyed his company. We waxed philosophical (read: idiotic) and Tom got my mortal words on tape.
I fell asleep early and slept like one of Tom's fictional babies, dreaming of dinner with John Travolta and John Simon.
I spent part of the day wandering around Tom's library, surely the finest personal collection I've seen; he's got almost every German novel of this century, I think, and just about everything else too.
Eustace popped by with his own Pepsi, and he apologized for not seeing me sooner but said Mary has been going through a midlife crisis since her father died; she's working on a lot of useless committees to do unimportant things.
Eustace and I always have a lot to talk about, whether it's politics (today's the New Orleans mayoral election, and the results should be in shortly), literature, or TV. We had lunch back at the old Audubon Terrace and again I enjoyed
myself.
Later in the afternoon, Tom took Crad and me to the Audubon Zoo. Crad spent most of the time in the bird house because it was too cold for him (after ten days in Fort Lauderdale, our Canadian boy can't take 40° weather) while Tom took me on the grand tour, with a special visit to his favorite animals, the Grand Canyon burros. domestic animals who became wild.
For dinner we went to a Burger King on Carrollton and then stopped by Sidney's Newsstand.
I like New Orleans and would not mind hanging around here longer, but it would have been a great adjustment if I had moved here last summer. Still, the old houses and big oak trees of Uptown New Orleans are like old friends from dreams to me.
The city seems obsessed with its past, though. I've also seen more "characters"
here than in any other place but Manhattan.
I love talking literature with Tom, but in a way, I'm glad I live in an unliterary place where even the English teachers think fiction ended with Hemingway. (At BCC, Dr. Pawlowski's idea of a major writer is Michener.)
I feel that both Crad and Tom have stimulated my desire to write. Tom tells me that I'll never be famous because I'm not serious enough for the literary crowd and too sophisticated for the masses.
I suppose he's right. I will probably end up as something other than a writer.
---
Tuesday, February 9, 1982
10 PM. I feel 100% better than I did yesterday. My dizziness faded in the evening, and I felt well enough to take Crad out for some delicious (and cheap) tacos at Taco Viva.
I managed to mark one class's papers and then do a light set of stomach exercises. After sleeping fairly well, I woke up feeling fine this morning.
The 9:30 AM lit class went well and I told them I would not have their papers until next Tuesday. During my break, I was pleased to discover that I'd gotten no mail at Mom's, so I managed to work on marking another class's papers.
The afternoon 101 also went fairly well. I'm getting lots of sympathy because of the band-aids on my arms where they took blood.
When I came home, I managed to get through four sets of exercises with the barbells. After that, Crad and I sat outside and he helped me grade the 100 classes' paragraphs; we went through them so quickly, it was almost a pleasure.
Following a dinner of fried chicken (brought in), I managed to bring my correspondence up to date by writing Stacy (who's nervous about her new job in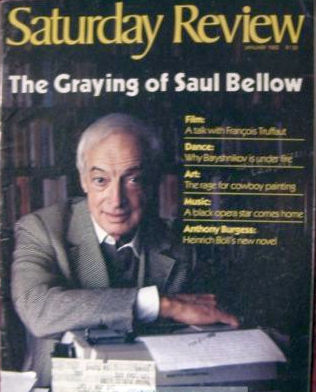 the Controller's office), Susan Mernit, Miriam (she's happy with zen, Robert, massage school and life), Lola (the new Saturday Review called her "a suave, ironic woman" in an article on the Virginia Woolf cult), and various other people.
Then I went over to my parents' house, where I gave Jonny his birthday present  – it's a book by Bruno Schulz – for the big 21 tomorrow, admired the new kitchen wallpaper, and spoke to Grandpa Herb, who got his copy of my new book.
After that, I stopped off at the bank cash machine and at J.C. Penney, where I used my credit card. (Yesterday in the mail I got one from Bloomingdale's – wow.)
Crad and I played Jotto until a few minutes ago. He leaves for Toronto on Thursday afternoon, and I suspect he's not looking forward to the cold and
snow.
Florida may be boring and bland – "a good place to kill time while you're waiting to die," as Crad said – but in the winter we've got the best weather in the nation. Especially this winter, when we've been so warm while the rest of the country is in a deep freeze.
I'm seriously considering Rainbow Books' price for doing the Arby's book. As Crad pointed out, they are not just manufacturing it, but they're typesetting it, designing the cover and the format, taking care of listing it with Bowker and H.W. Wilson, and giving me $100 worth of postage for mailings.
I'd be buying a complete package for which the price is not out of line. Now, the question becomes: Is it worth it to me? I'd have to take out a $1500 loan from my credit union, I suppose, if I had to pay for the book.
Right now I have little cash on hand. Kevin owes me $500, but all I've got left from my state grant money is $100 or so. I've got $450 in a savings and loan, $250 in my credit union, and about $400 in my Florida National account.
That makes, with tomorrow's paycheck, about $2100, or $1600 cash on hand. So we'll see.
Anyway, look what I've done lately: I went to New Orleans and back, making my own travel arrangements, paying my own fare, driving myself and Crad to and from Miami airport, and all the time I was in New Orleans, I didn't call my parents.
A year ago I couldn't have handled any of those things by myself. I've grown so much, and I shouldn't take that for granted. I can be proud of myself.
---
Wednesday, February 10, 1982
8 PM. Crad and I have just come back from the Broward Mall. I treated him to dinner at Danny's, where we were served by my lit student Lisa Levovic.
I felt incredibly fat as we walked around the mall; I've definitely neglected my health. When I said the other day that I felt fat, old, ugly and sick, I didn't mean
to compare myself with the superannuated diners at Danny's but to younger people.
At this point I can't wait for Crad to leave, not so much because of his peculiarities but because I very much need to be alone. For the past fifteen days I've rarely had time for myself except in my car or in my bedroom at night. I definitely need to think about things, about me and who I am and where I'm heading and all my adolescent problems.
Perhaps I've become the shallow, vain, pompous, name-dropping braggart that Jacqui and Patrick believe me to be. O Bobby Burns, you were so right!
When I compare myself to Tom with his amazing range of literary knowledge and his commitment to his students – or to Crad with his stubborn
independence and refusal to submit to convention, I feel like an ass.
The point is, do I want to change? Or is this the equivalent of me a decade ago wishing I was as handsome and rich and charming as Ivan?
Anyway, I need to be alone now, but it seems as though the world is pressing in on all sides. I've got students to teach, papers to grade, doctor's appointments (on Monday I must have another blood test after fasting because my triglyceride count hit the ceiling after the last one, which I did after eating a burger and fries; on Thursday I have to see the otolaryngologist).
And I have newspaper interviews (on Monday, the Herald editorial board; on Tuesday, The Western News; next Monday, the Fort Lauderdale papers' editorial board) and pressures of all kinds.
I was relieved when Teresa and Gary each called today and said that neither of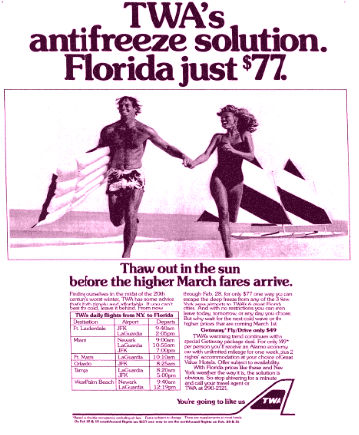 them could make it to South Florida this weekend.
Teresa will be here for Easter week (I'll pick her up at West Palm Beach, where she's coming in on People Express to save money), along with her family and also Deirdre, who'll be in Boca Raton.
Teresa mentioned that she spoke with Alice for an hour yesterday after she RSVPed for Alice's annual party.
Gary was wiped out by his Boston/Dallas/San Francisco/Los Angeles trip, both financially and physically; he's sending out résumés but is resigned to staying at AmEx for the winter and spring
Last night I wrote Betty Wright of Rainbow Books with some questions I have, but I'm inclined to think I should go ahead with the project. I can scrape u
p the money somehow, maybe without even resorting to a loan from the credit union.
I have $1700 in the bank now and I don't expect to have any bills due for the next week or so. Mom wants me to stay here in my condo an extra couple of months after my lease expires in April, and though it will be an added expense, it will probably be better all around for me not to live with my parents again.
At the very worst, I'll still have $2,000 left to get me through the summer.
I just wish life was less hectic. I remember with fondness how last spring, I'd often feel bored. I've spent too much time on my career and not enough on me, on improving my health, and on trying to find a lover.
But as fat and unattractive as I feel, the thought of anyone loving me sexually
seems like a joke. That's why I don't want to see Brad, because he's going to chastise me for not being thinner, for having a beard, for living in Florida, and most of all for not still being the 18-year-old I was when we met in the summer of 1969.
Jonny is 21 today, God bless him. I wonder how he'll find things during the next decade of his life.