Thursday, December 24, 1981
10 PM. Even though I'm staying at a different place every night, Santa Claus must have dropped off some Christmas cheer at my house, for I feel very good.
Tonight I'm at my grandparents' apartment on their 52nd anniversary; they're going to sleep in the bedroom, of course, while I'm out in the living room on the Castro convertible.
God, my life is so wonderful that it seems like every day is Christmas for me. I'm now very glad I came to New York. It took me a week to adjust, and I went through some rough times here, but in Teresa's words, I've gotten past it.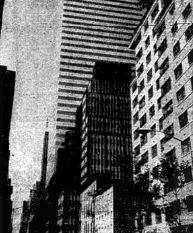 Last evening, I took a bus across town and then took the Lexington Avenue bus down to the Citicorp Center.
This time of year, Manhattan really can be very Christmas-y and very special: good memories are starting to replace the bad ones I first had when I got here, and I'm making new good memories for the future.
The building Alice works in was all but deserted, and she herself let me into the Weight Watchers magazine offices. I was again impressed seeing Alice at her office; my oldest friend is really important, the big boss there.
For dinner, she took me to the Peking Duck House, where we had a terrific meal. We talked about our plans for books; she let me read the outline for her and her partners' very funny Office Workers Handbook, which I'm certain will sell. (She's sure it will, too.)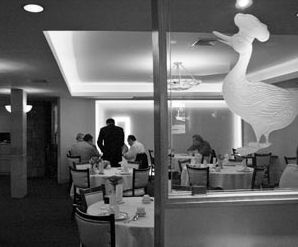 We spoke about our problem brothers (Alice's brother's old Icelandic teacher has finally decided to leave her family to move in with him), New York (I told her I'd probably come back someday – but not for a few years), Peter (they're still very, very happy) and everything under the winter solstice sun.
Outside, after strolling past Bloomingdale's, Alice returned to her office while, crafty subway-rider that I am, I managed to get back to the West Side using a few tricks.
Teresa was thrilled with my choice of goodies from Zabar's, and I told her the party supplies were on me.
It was a fine party. Renee and Barbara came up from downstairs, and Diana and
Charles arrived separately; they're having difficulties, Diana said.
Later in the evening, Diana told me that she wants me to immortalize her in fiction. She said that I'm one of the only friends of Teresa's that she can stand, that I'm so cheerful and sociable, and that unlike the other writer she knows, Charles' cousin Laurie Colwin, I don't have to take center stage and am content to remain a pleasant supporting player.
It was really sweet and I was embarrassed.
Soon after, Sharon and Susie arrived. Susie likes me a lot, and we went into the bedroom and watched Dynasty together and she urged me to come to the Berkshires with them. She's a great little girl.
Suzanne and her new husband, Jim, were there and so was David from Carol Bellamy's office, and Sam from the LIRR (he loves sailing and jazz, I discovered) and both of Kim's boyfriends, the policeman and the fireman, who glared at each other all night.
The dip was great and the cheese was good; I hated the paté I bought but loved the cream puffs.
One guy, Howard from Phoenix House, got really drunk and was on the make; he later passed out in Teresa's bedroom and didn't leave till morning.
But I went down to Barbara's and slept in Michael's room with its red lightbulb and photos of his lovers and the city of Gay, Colorado, and posters from the Gay
Men's Chorus and Nichiren Shoshu. I slept beautifully, dreaming about the first day of classes at Broward Community College.
It was 11 AM when I woke up and I didn't go up to Teresa's until after Richie Kessel had gone; he told her she'd almost definitely hear from Cuomo's office next week about a position in his likely campaign for governor.
Teresa made me French toast and told me Mom had called to say that Ruth Pine from the Sunrise JCC had phoned the house to ask if I'd teach a creative writing course. I told Ruth I would. It's on Tuesday nights from 8 PM till 10 PM, starting in February, and pays $200 a class.
I made my way to the IRT and got on trains that were delayed or put out of service or jammed with the early rush hour crowds – but I made it to the Junction and got a bus at 3 PM.
I had a burger at the counter of the Ram's Horn for old times' sake and flirted with the pretty waitress (as Artie said, "Waitresses are great – they're sweet, good-looking, and bring you nice things") and then, on Beach 116th Street, I bought my grandparents some Christmas cookies.
"The Sarretts don't believe in Christmas; they believe in Chanukah," their neighbor told me in the elevator after she saw the box of cookies.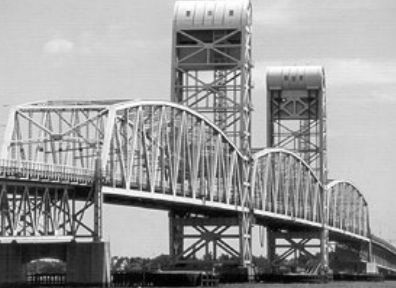 Whatever – I'm glad to be able to spend time with them. On the bus ride over the bridge, I thought about Grandma Sylvia and how I miss her and how it hurts, but in a lovely way.
When Grandpa Herb woke up, we all had Meals-on-Wheels dinners and watched Live at Five, with funny Liz Smith and a camera at Curtis Sliwa's wedding – no wonder he and his bride looked so happy the other night in the Village.
"They have only 52 years to catch up with you," I told Grandma Ethel and Grandpa Herb.
Mom called and sent them a plant for their anniversary; Marty and Arlyne called from their Vermont ski lodge; even Marc called – he sounded stoned, said he's been busy, and asked where he could buy a copy of my book for a friend.
I spoke to Gary, who I plan to see on Saturday, and then Brad called. Brad said he'd phoned Florida and Dad told him where I was. He's going to visit his grandmother in Miami in February and said he'll come visit me.
Aside from "preparing to become a guacamole dip in his next incarnation," Brad seems the same; he referred to my last letter but didn't say he was hurt by it.
After I said something about wanting to one day live in Europe, Brad told me: "You're just the same kid I knew 13 years ago."
Not really, I thought – but I let the comment pass.
It's Xmas. God bless us every one.
---
Friday, December 25, 1981
Midnight. I slept well at my grandparents' and left at noon, taking the bus to Rego Park and the subway to Jamaica.
Teresa met me at the LIRR station and we got on the train to Floral Park with her brother-in-law's brother, Calvin, and his lover Dan, who live in Cobble Hill.
We had a great Christmas dinner at the home of Teresa's Aunt Marie and Uncle Buddy, her father's sister and brother-in-law.
Teresa's father's parents were there – it was her grandfather's 89th birthday – and her cousin Joseph, 21, and of course her parents and Grandma Agnes, and her brother-in-law's parents.
But, of course, Teresa's little niece stole the show – she is really an adorable baby.
Teresa's sister seems harried but delighted to be a mother, and her husband seemed as unfriendly as ever.
I like Teresa's family, though, and I stuffed myself on her mother's fantastic manicotti.
The rest of the meal was good, too, and I like the raw fennel they served – I'd never had it before.
Opening all the Christmas gifts was fun; Teresa got me a belt (neat!) and I got some soap and cologne as "fairy godmother" presents. It was just a pleasant family day all around.
I got back home to Manhattan a couple of hours ago. Teresa's asleep now and I'm in the living room, as Kim is in New Jersey tonight, visiting her parents. (Teresa said Kim's father is "the most famous black architect in the country.")
It's been an interesting week and I am very glad I'm in New York.
---
Saturday, December 26, 1981
Midnight. I'm in Teresa's bedroom. She and Sharon and Susie are in her house in the country. Kim hasn't come home yet, so I'm alone in the apartment.
Gary just left after we had a great afternoon together. I've been in New York for ten days now, and yes, I am glad I came – even though it's been 80° all week in Fort Lauderdale.
For one thing, I got out of a rut. It's a great pleasure not to have to deal with lists of chores that must be done. I don't have to write letters or answer mail or worry about advancing my career.
Second, I've renewed my sense of myself as a New Yorker. Though I don't want to live here, I do love the tough, resilient, impersonal qualities of New Yorkers.
That song lyric is true: you can make it anywhere if you can make it in New York. It is really the only city on earth for me. I like walking the streets of Manhattan and knowing how to get around by subway and bus.
Third, I've gotten to spend time with Teresa, Alice, Josh and some other friends, as well as my grandparents. I'm storing up memories which will be useful for the next six months of teaching in Florida.
I've broken up my routine. I haven't slept two nights in a row in the same bed for 11 nights, and I've managed. Only a bad illness could spoil my trip, and I've already passed the point where I know I'm glad I came.
Last night, after Teresa conked out early, I went to the living room with visions of whatever dancing in my head. I didn't sleep much – but my dreams were as vivid as they have been since I arrived.
After breakfast and a shower, I helped Teresa get ready for the trip to the Berkshires; there are a few chores I have to do for her while she's gone.
I said goodbye to Sharon and Susie and made my way downtown to Union Square. At the Strand, I bought three review copies of Hitler (and learned that authors don't pay tax on their own books) for $12, and then I had an omelet at a University Place hangout.
The old Village Voice office down the block where I worked, Dad's old place on Fifth Avenue, Taplinger's former offices on Union Square North, Ronna's old job at Arco where I used to pick her up outside Max's Kansas City, my teaching days at the School of Visual Arts on Park Avenue South – they all came back to me in that neighborhood.
I was to meet Gary at B. Altman's at 3 PM, so I walked uptown and took in the Guinness Hall of Records in the Empire State concourse; I'd never been in the building before.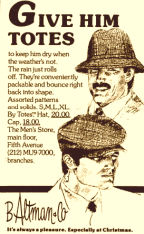 Gary and I went into Macy's – it was my first time in The Cellar – and Ohrbach's, and then, talking all the way, we walked up Fifth Avenue looking in the store windows, and got crushed at jam-packed Rockefeller Center.
At 57th Street we stopped for dinner at Thursday's; then we walked crosstown and down Park (through the Pan Am Building, Grand Central Station and the Grand Hyatt) and Madison to his car at 30th and Second.
Gary drove me back uptown and came into the apartment for more talk and some seltzer and WNEW. He definitely would like to leave New York for California and he's begun to seek out jobs there, both in L.A. and S.F.
He feels it's time for a positive change; he too, can't take winter and there is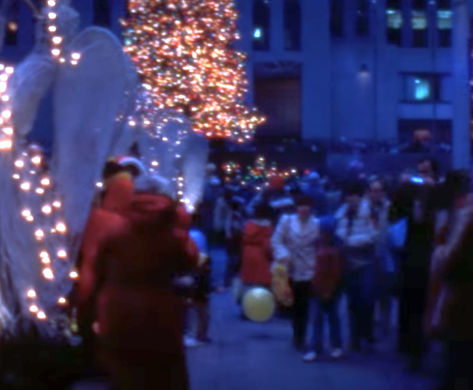 nothing keeping him here. Gary would do well to move to the West Coast, I feel, and I support his decision – though his family probably won't.
Gary is a good guy.
Hey, California just this minute called, in the person of Teresa's friend Deirdre.
---
Sunday, December 27, 1981
Midnight again.
Tomorrow I have my MLA interviews, though I'm not particularly crazy about any of the jobs. Frankly, I think I'd do better to get out of academia altogether. I don't think I want to get trapped in college teaching.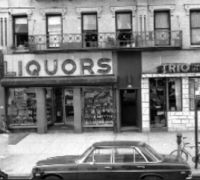 This morning I lazed in bed until nearly noon. Kim never returned, and it's been a pleasure having the place to myself: I've been able to let down my hair and relax.
How can I write such a cliché as "let down my hair"? Hey, I know that my writing sucks these days, but that's 'cause I'm too busy living. I'm storing up experiences and New York images and memories that will help me get through the lonely boring times in Florida.
Around 1 PM, I took the D train over the old Manhattan Bridge to DeKalb Avenue, intending to have a bite at Junior's before heading over to see Avis.
But I learned that Junior's burned down a couple of months ago and is not yet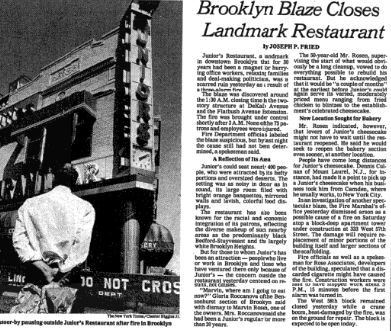 rebuilt. McDonald's was a poor substitute.
Avis wasn't wearing her turban when I arrived; without it, she looks better. She still plays with her split ends. But soon she had me on the opposite of the room, helping her shake the turban dry and then folding it very systematically before she put it on.
I learned there are only 17 Sikhs from 3HO in New York and that their health food restaurants are going under. I wonder if Avis and Anthony (whom she always calls by his Sikh name – something-something-Singh) got in on the tail end of the movement.
It is the '80s, not the '60s, and few people will want to get involved in a religion of this type – I can see only misfits joining 3HO now.
When Avis showed me her photos of the Summer Solstice in New Mexico, I noticed that everyone except Yogi Bhajan looked 25 to 35.
It all looked very silly to me, but of course I feigned interest and nodded at each of Avis's comments. ("This man is so spiritual that you feel his presence immediately.")
She was 28 today, and I reminded her of the day ten years ago, when she was 18 and I visited her at her parents' on Flatbush Avenue: I remember Scott had gotten her a rocking chair in the form of a bear and that I got upset when I saw a printed Xmas card from Shelli and Jerry.
But Avis doesn't want to talk about much besides her religion and its dicta on health and diet. She did tell me that people on the street shun her or call out to
her, "Are you holding your brains in?" or "Are you a giant Q-tip?"
Of course, Avis doesn't think this is funny, but I remember she used to make fun of Jews who work yarmulkes and chais.
Wade, Ellen and the baby arrived at 4 PM while I was eating some good walnut cake. The McAllisters seemed tired from the drive from Providence and they had a ton of stuff which I helped Wade carry up.
The baby got big and now he walks like crazy: at first he was scared of me, but then we began having fun as I put his stuffed lion on top of my head.
Wade said he'd had a lousy semester and didn't work on his dissertation. He seemed fed up with UVa. Wayne had given him an article from the Times about
VCCA for me – it was a really nice piece.
As usual, Avis was very rigid: despite her professed love for babies, she did not seem to want to play with her nephew; it was almost as if not being a Sikh child, Gabriel was unclean.
Avis seemed disturbed by the McAllisters' visit – the way an obsessive compulsive is. Gabriel threw up the Sikh crap she fed him and I decided not to stay for dinner, which was that inedible stuff she'd made for me in June.
I left in a downpour and met Josh for dinner at the Cadman Restaurant. The waitress told Josh that Patty had left Bob and was away, but nobody knew where.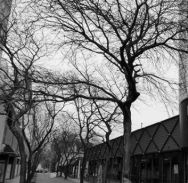 Josh talked about how horny he is, how he does nothing but read Raymond Chandler, how his vision is getting bad from the cathode-ray tube at work – he hopes to get on disability eventually.
Josh reported that Andy got a nose job and "looks like a Greek god." The other day, Andy came in from Vermont, still professing to be born-again but doing an awful lot of coke and Quaaludes.
Back home via the IRT, I called Mikey, who had a cold; we may have dinner with Larry on Wednesday. Susan Mernit phoned and we arranged to meet on Tuesday evening.
And I called Ronna, just back from her aunt's in Connecticut.
She told me she and Jordan will break up if she doesn't marry him, and I told her she probably should marry him.
She complains that not being intelligent is her problem, or the fact that Jordan doesn't "stroke" her for being smart. I told her she's smart – smarter than Alice or Avis – but that her problem was her unassertiveness.
I really do think Jordan would be a good man to marry, and that Ronna would be happy with him, but she's gun-shy about marriage. Not so Ivan, who's now married for a second time and is about to become a father. (Ronna learned this when her mother phoned Ivan when her grandfather died).
It's very weird to hook up with your past.
---
Monday, December 28, 1981
5 PM. I again called Ronna, who said she's coming over here after work so we can go out for dinner. Foolishly, I feel nervous. But I guess if someone is an old girlfriend, that's bound to be different than if you were just friends.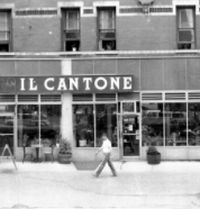 Tomorrow I meet Alice for lunch and Susan Mernit for dinner. I'm almost frightened because things here are going too well. I hope Teresa is all right in the country.
I decided to skip the Texas/El Paso interview at 8 AM; I couldn't get up and I don't want a job teaching remedial anyway.
I did go to the 11 AM Miami of Ohio interview and the 1:45 PM Denver interview.
The MLA scene struck me as laughable: all those academies walking around the hotel with their stupid badges, those schmucky PhDs scurrying around for job interviews.
I saw and spoke to Rosalind Depas of Kingsborough (they've got a full time opening), Regina Weinrich of SVA, Hobart Jarrett from Brooklyn, some of
Wade's friends from UVa, as well as the nutty Herb Srebnick.
I guess I am a part of that scene and that's what bothers me.
Robert Johnson and the other professor from Miami/Ohio were pleasant, as were Sy Epstein and Bill Zaranka from Denver.
As I'm sure I don't have a chance at either job, I took the interviews as learning sessions. I said what I thought, was very natural and talkative, and left both interviews feeling good about myself.
I wasn't nervous at all and I actually loved being interviewed; I'm such a ham.
During the break, I had lunch at the old Bun 'n' Burger (now The Bunnery) in
the MGM Building and took in all of the Museum of Modern Art, looking at my old favorites and mourning the lost Sculpture Garden.
It's been a productive day, but the end of the year always makes me edgy, as if time is really running out. I need to get to 1982.
---
Tuesday, December 29, 1981
10 PM. I really should have written this entry last night, after my evening with Ronna, when I felt exhilarated.
Tonight I feel a little edgy and a lot tired; Kim seems to not want to leave and I
feel my privacy is being invaded – and that makes me more guarded in writing this diary entry.
But I'll do my best:
Ronna got here late last evening because of a stalled IRT train. We went to The Front Porch, a cheap health-food restaurant on Broadway. Ronna looked quite good, and she thought I did, too.
I felt that we were closer than we've been in years, but then we always do have good times on the rare occasions that we see each other; after that, though, Ronna seems to close me out.
But I'm glad to be a part of her life, even in a small way.
Why did I spend so much time encouraging her to marry Jordan? I feel she's so unassertive and needs a change, and marrying Jordan might be what she needs.
Ronna does want to get married, but while she obviously loves Jordan, she worries "because in the last two years, I've made him into a mensch and then he turns around and tells me I haven't grown."
Of course, I can't help somehow feeling Jordan is a kind of competition, and part of the way I deal with that is to praise him and tout him as a husband for her.
Clever, huh? What else could prove how I don't care about Ronna romantically? Except I still do – in some way.
After all, I didn't put on my cologne (the one Teresa's parents gave me for Christmas) for anyone else, and I stupidly made sure to answer the door with my shirt unbuttoned two buttons.
So I guess that – though I told Ronna I hardly ever think about our "romance" (her word) and said, "Well, it wasn't all that great, anyway" – a part of me still remembers and feels.
When I told her that I'm basically celibate, she said she couldn't imagine me being that way.
After dinner, we came back here and talked for hours; then I walked her home up West End Avenue.
She's having a hard time accepting her grandfather's death. Billy (who's now 5' 9" at 15), her mother and grandmother are living in Florida now.
The night before, Ronna said, Jordan had gone over to Evan and Susan's to play cards with Evan and other old friends. Jordan told Ronna that Susan looked terrible, but Ronna doesn't want to get in touch with her again.
At this point, Ronna's best friends are Cara and Sid, whom I've always liked. Cara works at St. Martin's Press, Sid is a reporter for the Hartford Courant, and they live in a tiny apartment in the Flower District.
Ronna said that just before her grandfather died, Ivan had told him, "I've gotten rid of the shikse and got a nice Jewish girl" – who was pregnant at the wedding. Ronna was quite surprised at Ivan's remarriage.
Like me, Ronna doesn't hear from Shelli or know where she is.
Back here, I watched TV, read Mary Renault's The Persian Boy, which I found in the living room, and got a call from Mom about a letter from the agent Saul Cohen – but I told her I'd deal with the mail when I get back to Florida.
This morning I took a bus and a subway to Weight Watchers' magazine offices, and Alice took me to lunch at her favorite Japanese restaurant, which I also like – it's where she takes people to fire them.
We chatted about her brother's Icelandic teacher and Alice's co-authors, and inevitably, about success and ambition and New York.
After lunch, I walked Alice to 53rd and Fifth to get some Weight Watchers ice cream and then hugged her goodbye; she will come to Florida for a weekend, she promised me. I walked all the way to Columbus Circle, walking part of the way with Betty Friedan, then took a train up here.
I went out again at 4 PM, taking the bus on Riverside –New Jersey looks so close and so pretty – down Fifth Avenue. It was a long, traffic-mad ride, but I had a solo seat on one of those new GMC buses and I enjoyed the view.
This trip I've really seen Manhattan and I definitely feel like a native. Several times each day I've given people directions. I'm glad I renewed my New York feelings.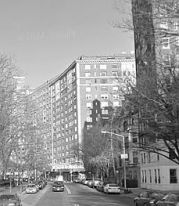 It's fun to be a New Yorker in Florida, where most people could not last a minute in Manhattan. I'm aggressive and tough enough to have withstood a lot of time here, and I could survive here again if I had to.
And, yes, I do love New York and want to come back next summer. Though the change scares me, I still feel I'm at home here.
I walked from 25th Street down Fifth Avenue past Dad's old building, to 84 Fifth, where I met Susan, who'd just come from a Teachers and Writers Collaborative seminar. (All her friends seem to be ambitious, talented people on the verge of fantastic careers in the arts.)
We walked over to LaLanterna on Macdougal, and over cappuccinos, she told me about her screenplay.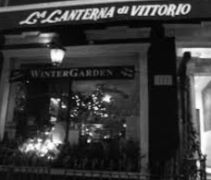 The old vaudeville star will be played by Sally DeMay, who's perfect but very bossy; back in 1979, I met Sally at the Susskind TV show audition and found her extremely talkative and fairly obnoxious.
Mark, the director, is a 25-year old video whiz kid who's done commercials for Sasson and others, and they've got a 10-day shooting schedule (exteriors in Brighton Beach) and an $80,000 budget. It all sounds great, even if Susan makes no money.
She told me that the poets Larry Fagin and Sam Kashner, who are our age, are now doing scripts for TV's Mork and Mindy. (Sam's no relation to Rita Kashner, whose novel Bed Rest Ronna's reading; Rita's husband works at Jordan's law firm.)
I think it's great that more and more young poets are going towards journalism
or TV or whatever – and I can't blame them. Rochelle Ratner, a pure literary/small press animal, disapproves of literary writers working for TV or the movies – but Rochelle, though Susan's best friend, is very insulated.
Susan will be a success, too, in a wider world than just the poetry/literary scene, I'm sure; I like her unpretentious style.
We headed for dinner at The Bagel and then parted (with a big hug) at the subway.
So many people in New York seem so successful, I feel like just one of the crowd. In Florida I'm special.
But unlike Kirt Dressler, I know I could be special in other places – even in New York.
Tomorrow it's Justin for lunch and Mikey for dinner.
---
Wednesday, December 30, 1981
Midnight. Today was a busy day. Up early, I got on the crosstown bus at 86th and went museum-hopping.
At the Cooper-Hewitt, there was an exhibit of puppets and one on "Writing and Reading"; the Guggenheim had shows on the Soviet avant-garde and children's art; and the Jewish Museum featured an exhibit on Kafka and Prague in addition to their usual displays.
I've seen MoMA and the Met on this trip, too, so I've done pretty well.
I met Justin at Davina Belling's office/apartment, a $2,000-a-month suite opposite the Citicorp Center.
Justin minds the store while she travels; Davina's now in England producing the new Lindsay Anderson movie. Today he was working on letters to potential
Good Sports investors.
We ate at the elegant English restaurant Richoux of London in the Citicorp Center – the shepherd's pie was good – and had a fine talk.
Justin's writing is going well; he is now revising his play for a workshop production this spring. He and Ari wanted me to come to their New Year's Eve party in Park Slope, but I promised my grandparents that I would spend the night with them.
Ironically, on Monday evening, Justin was here in the building, just next door at Karen's apartment.
He said he's happy: he's getting a raise, making contacts in show business, and enjoying New York, "where people don't laugh when I say I'm a writer."
Back at the office, we chatted – though not really about personal stuff – and I told him to come visit me, though I know he never gets time off.
I walked over to Bloomingdale's and had the ultimate department store experience; from there, I went to the Mid-Manhattan library for a while and took a bus to 23rd and Eighth.
Mikey arrived home from work a second after I got to his place. His desk has been a mess since his mother died; he hasn't been able to do all the necessary paperwork.
We went out for a quiet dinner at Donovan's; as with Justin, I took his share in cash and paid with my American Express card.
Afterwards, we hung out at his place for a while. I was sorry Larry could not make it, as I miss him; when I lived in Rockaway, I'd see Larry fairly often.
We exchanged some gossip. I told Mikey that Avis said that Mason and Irene stopped by her house for a visit (Avis is fond of Irene); he told me that Mike and Mandy sent him a birthday card, as did his old girlfriend Nina, who said she still thinks about him despite her marriage.
I'm getting so used to the subway that the #1 train home seemed almost quick.
Kim was here when I arrived and she's still here, though with a different man, not the fireman or the policeman who were at the party and almost had a fistfight over her.
Kim is a compulsive liar of the Rikki/Lance variety. After she's gone, Teresa will have to change the lock.
---
Thursday, December 31, 1981
10 PM. In a couple of hours 1981 will be over. I'm at my grandparents' apartment in Rockaway.
I thought of returning home tomorrow, but Teresa called and said I should meet her at Mayor Koch's inauguration at noon.
Because the airlines have lowered their fares as of next Wednesday, I probably won't have any trouble getting a flight if I want to leave before Monday.
This morning I straightened up the apartment and packed all my gear. The JFK Express was a little faster than the regular train and easier with my luggage, but I did have a long wait at Howard Beach.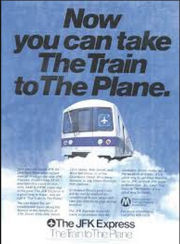 It was cold, but I seemed to smell spring in the air – odd on the last day of December. I had lunch here, and then at dinnertime I walked over to Beach 116th Street, where I had some pizza at my old stomping grounds.
Then I went to see the movie Arthur, which was good for a laugh.
Mom and Dad said it's still hot in Florida. Jonathan had bad chest pains and thought he hurt his heart jumping rope, so Dad took him to the doctor; naturally, the cardiogram showed all was well.
More likely, Jonny is reacting to having to go to a new school – he's not happy with the courses at FAU, Mom said – and she added, "Also, he broke up with that girl Maxine."
"Was it serious?" I asked.
"She called every hour on the hour," Dad replied, "but I'm glad it ended before it got even more serious."
Hmm – ten years ago, I held a girl for the first time when Shelli and I went into Mark Savage's brother's bedroom at Trump Village to watch the snow fall on the Coney Island el.
Grandma Ethel went out tonight, much to Grandpa Herb's chagrin; he practically keeps her a prisoner here, and it's no wonder she's so nervous.
Hey, I just realized that night of Mark's New Year's Eve party was 1970 – eleven, not ten, years ago.
Actually, ten years ago, in 1971, I was still forlorn about my own breakup with Shelli; I left Scott and Avis so they could be alone and spent midnight at a horrible party on East 54th Street where I knew only Consuelo and Mark, and I left soon after midnight because the whole scene depressed me.
Well, this year is better – it's been the best. I don't know how many more diaries I'll get to complete, but it's great fun while it lasts.