Friday, January 1, 1982
8 PM. "What the hell do you write in it? 'I got up this morning and had breakfast'?"
Grandpa Herb just asked me that when I explained I was beginning a new diary. We're in the living room and he's watching TV. Grandma Ethel is out playing cards.
After these weeks in a New York winter, I want to feel the warmth of Fort Lauderdale. Last night I made reservations for this afternoon and this afternoon I made reservations for this evening; in both cases, I was a "no-show."
Now I've made a reservation on a flight tomorrow at 10 AM, and I'm going to keep it.
Last night Grandma Ethel came in later than Grandpa Herb wanted; if it was up to him, she would be a prisoner here. Close to midnight, she couldn't sleep and came in to join me out here in watching the TV New Year festivities, with Donny Osmond replacing Guy Lombardo at the Waldorf.
Grandpa Herb was very ill with back pain and stomach cramps and Grandma Ethel had a severe headache all night.
I had a difficult time falling asleep, and at 8 AM, I knew I could not get up in time for Koch's inauguration, so I called Teresa and cancelled out; she said it was very nasty out anyway.
I slept until afternoon and woke up with a bad headache. The winds were howling as the rain swirled around. The waves looked like the beginning of the
old soap opera The Secret Storm.
Being with my grandparents is so depressing, and not being able to go out and not having a car made me feel helpless.
I wanted to go back to Florida, but I also feel scared about the immediate future. Nineteen eighty-one was such a good year for me, and I'm afraid this year will be another horrible year like 1980, when disaster after disaster struck. I'm frightened.
In the Voice, I read a letter from a rabbi who said that gay people deserve the death penalty, that gays are the enemy of the Jewish race, and that no homosexual can be a Jew.
Obviously, the man is an idiot, but I'm afraid a lot of people would agree with
him. Of course, the Nazis wouldn't make such fine distinctions.
It scares me that people would want me dead just because of who I am and I think of all the violence in the world, and I wonder if one day I'll be killed.
More and more I think I may die violently, especially if I do become a public person. Death isn't so bad, though.
Grandpa Herb is going to die soon – in fact, I almost hope he does. He looks terrible and is suffering and has no life now, and he's making Grandma Ethel's life miserable.
Rockaway depresses me because it reminds me of despair and death. At 6 PM, I walked over to the Ram's Horn for a burger, and that, too, reminded me of my old life.
If I ever move back to New York City, I can never live in Brooklyn or Queens because too many memories are there; I'd have to live in Manhattan.
See, there are two New Yorks: that of the losers, the poor and the elderly in the outer boroughs, and that of the winners, the young, rich, ambitious, successful Manhattanites.
Fifteen days in New York have been good for me. I've seen my old friends and relearned to cope and survive with winter weather, subways and the crowded city. I've moved around a lot and shaken up my life.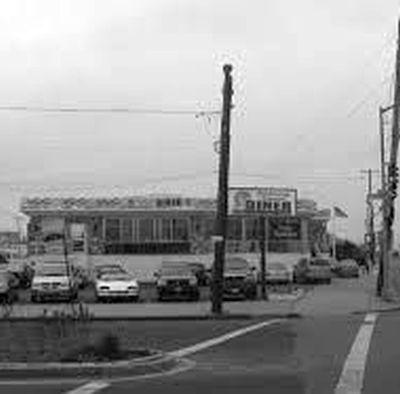 Except for my trip to New Orleans, the next six months will be fairly routine – although I'm sure God has interesting surprises in store. We'll take them as they come.
Yes, I'm frightened, but I think I'm going to keep fighting. In 1981 I took more risks than I ever did; I've got to keep taking risks. Bless us all in 1982.
---
Sunday, January 3, 1982
3 PM. I didn't get to sleep until 5 AM. I felt very dizzy, and also I was preoccupied with answering all my mail, balancing my checkbooks, paying my bills, doing my applications to schools and colonies.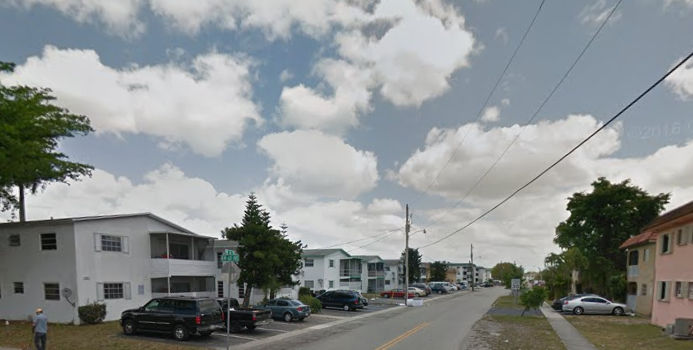 I don't like this obsessive side of me, but I seem to have made it a habit. Everything has to be done immediately. It's as though I'm punishing myself for 15 unstructured days in New York.
After all, the fall MacDowell application deadline and the NEA application deadline are a couple of months away. I always stock up on groceries and supplies, too.
It's not good: I've got to learn to pace myself in the new year. I can't take on too much, either.
That's why I've decided not to run for Davie Town Council. I have wonderful ideas and I'm certain I could get tons of publicity, but I think I'm going to stay out of the public eye for a while.
If I begin to need hype and media exposure, I'm no better than a junkie.
Now that I'm back home, this seems like a good time to figure out my goals for the next six months. I have to teach, of course, and I'll try to do a good job without making myself crazy.
Working at Broward Community College will be bringing me income, and I've got to live more cheaply. I should start by driving less – I'm going to pay for my own gas from now on and stop using Dad's credit card – and by cooking at home more.
I had thought of joining a health club, but now I've decided I'm just going to buy a set of weights for $30 and work out as best I can. I've also got to cut down on red meat, sugar and processed foods.
Notice, I'm trying to list my goals. I can't say I'll give up sugar or lose 20 pounds or get 15-inch biceps; I need to be flexible.
There'll be no trips except to New Orleans for the next half-year. I'll substitute and earn extra money whenever I can without driving myself crazy. I want to exercise every day, if possible.
Now that it's so warm, I long to rush out and get a deep tan – but I've got to watch that, too, since sunbathing can cause cancer and make me look older. (Yes, at 30, even I need to worry about that.)
I want to do my best to stop taking Triavil. Tomorrow I will make appointments with the doctor and dentist.
Professionally, I've set most of the wheels in motion for a job or a fellowship come September. Worse comes to worst, I can try my luck at a new job or a new place.
Miriam said her invitation to come live with her on Martha's Vineyard is serious, and I've got to consider it seriously.
Lincoln's Doctor's Dog is coming out, and I'll try every idea to publicize it, though I am certain it will receive little attention and sell about 50 copies for Kevin at most. (I'm glad I persuaded him to lower the print run.)
Saul Cohen is sending around a book manuscript containing Eating at Arby's and two dozen stories – but I'm sure he won't find a publisher for it.
Paul Fericano liked Arby's and said I could use his imprint if I wanted to self-publish it. I might, but I don't want to spend the $1,000 or so right now.
When A Version of Life is finally typed up, I'll slowly send it around myself, though again, I'm not optimistic, even though I feel it's an important book.
I want to concentrate less on my career and more on my personal life. I want very much to find a good friend or two in South Florida. I want to become financially independent of my parents. I want to live quietly, not publicly, for the first half of 1982. I want to live a routinized life.
The trip to New York filled my need for spontaneity for a while. I'm tired.
---
Tuesday, January 5, 1982
8 PM. I view the start of the spring term tomorrow as an unwanted intrusion on my life. Still, it's the BCC gig that pays the bills right now, and unfortunately, I have been spending money like H2O.
Last night I was writing letters, reading, getting frenzied ideas, and listening to New Wave music until 5 AM. I couldn't sleep, but I didn't want to sleep.
Oddly, I feel more creative than I have in years; I feel as though I could come up with a thousand good ideas a week. Is that mania?
I finally slept, but I was in a dream in which Jon Baumbach and I were again pals when the phone rang shrilly. I was stunned.
It was Susan the typist telling me my manuscript was ready and that I should sit down because it would cost $192. I didn't tell her that I thought it would be
twice that much.
Then Mom called, asking me to type up a list of jewelry that was supposedly stolen.
Jonny still was ill today, so Dad took him to register at Florida Atlantic University; he's taking three theater courses and Spanish.
Dr. Grasso, that bitch, gave him a C in the film course – after she told me how brilliant he was. Her petty-mindedness is just another reason I don't want to go back to BCC.
Mom said Jonny's cold was caused by emotional strain, as I figured. Jonny had been seeing Maxine hot and heavy for a couple of weeks, "running to take her to and from school," Mom said. "She would call a zillion times a day."
The Littmans, to Dad's dismay, invited Jonny to bring her along on Christmas Eve. Jonny and Maxine came to the house in Davie but never showed up at the party
in North Miami Beach – and when Mom and Dad returned home, Jonny was alone, sulking, saying he and Maxine weren't going to see each other anymore.
Apparently Maxine said she wanted to see other guys or something. Since that time, he hasn't spoken to her. Mom and Dad are relieved, as they didn't like her.
"Maybe she was trying to get an A in your class," Dad said. By having sex with my little brother? Too bad that woman is again in my class.
I picked up the manuscript at Susan's – she said she did a good job. I haven't looked at it yet, but I went to Susan's friends' shop in Pompano and got the manuscript xeroxed in record time.
I mailed out the NEA and MacDowell applications, made reservations on flights to and from New Orleans for me and Crad (and later called Tom, who was in heaven after an acceptance from North American Review), opened an account
at the new First Nationwide Savings and Loan (a merged Florida/New York/California bank), wrote to Paul and Miriam and several others, exercised, read Publishers Weekly, the Times, the Herald, the Wall Street Journal and People; gave Mom her typed list; and did a jillion other chores.
For someone who had only four hours of sleep, I did pretty well today.
Next Tuesday I'm going over to see Rosemary Jones at the offices of Gale Research/Council for Florida Libraries, and then on Thursday I'm getting a haircut.
How can I run my career when my job gets in the way?
Well, I now have a contract at BCC, and it gives me employment till June. They can't fire me in the middle of the term, so I've just got to remember I'm only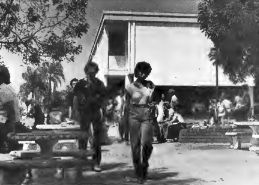 there temporarily and I don't have to be beholden to anyone. I can be relaxed.
I won't apply for the permanent positions; I can't stay at BCC. The job I have now will give me a nice record of full-time college teaching experience – plus a year and a half of continuous employment – and I can move on.
I realize now that I'm not going to be a failure now if Lincoln's Doctor's Dog sells only 20 copies, if I can't get A Version of Life or Eating at Arby's published, or if I get terrible reviews and wind up broke by October.
No, I've got so much energy and intelligence and drive that I can always bounce back.
---
Thursday, January 7, 1982
7:30 PM. If yesterday's course change at school was not particularly good, today's certainly was.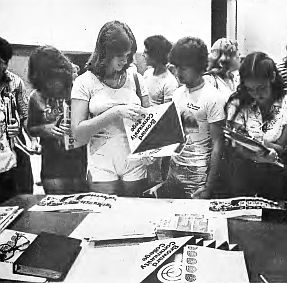 I had only eight students at 8 AM in the 100 class and Dr. Grasso decided to give them all to Rosa. She already had a 9:30-11 AM class, so I got her 102 class for that hour. Of course, I had only ten minutes to prepare, but I told the class that – and I mumbled for about half an hour.
Although it means a third preparation, I'll be delighted to teach lit again: poetry, drama and especially short fiction (I told the class I was a published writer) – plus there'll be only three papers and a term paper from them, not the numerous illegible and illiterate English 100 paragraphs.
My 12:30-2 PM 101 class consists of many students from my three 100 sections last term, some I knew when I subbed for Jacqui, and about ten strangers. I've already met with six classes, though I'm keeping only four of them.
Tomorrow at 9 AM, I have my first meeting with my new 100 section.
Anyway, my schedule is this: Mondays, Wednesdays and Fridays: 9 AM, 100; 10 AM, 100 (nice to have them back to back); 12 noon, 101 – so I'm free at 1 PM – and on Tuesdays and Thursdays: 9:30-11 AM, 102; 12:30-2 PM, 101.
This term I have no 8 AM classes, no night classes, and I'm out at 1 PM or 2 PM. It ain't a bad schedule.
Patrick and Maureen convinced me at lunch that I should file for Davie Town Council, and so after my haircut, I went to see Patti Cormier, the Town Clerk,
who gave me the candidate package of forms and leaflets.
I filled out the forms, but tomorrow I have to open an account at the Atlantic Bank in Davie. From that account, I will be able to pay the $24 filing fee.
Patti Cormier must give me the oath of loyalty and notarize my papers. I've appointed myself treasurer of the campaign. I will not, of course, need signs or posters, nor do I intend to write any press releases.
If the press contacts me, I'll talk to them – but I'll do no campaigning. Hey, I may never get another chance to have my name on a ballot in a real election in the U.S.
I'm bound to get a couple of votes, after all, just by being on the ballot. Of course, it's an ego trip, but why not?
I almost care more about being on the ballot than any publicity I'll get. It's a way to stand out in a crowd, and surely candidates for city offices shouldn't run unopposed.
Back home, I put 30 pounds of weights on my new – would you believe I can't think of the name for that thing? – and did four sets of 15 reps of each of the six basic exercises in the Gold's Gym book.
I also shaved off a lot of my beard; I'm sorry I did it because I look better with more facial hair, but it will grow back.
Dr. Grasso asked me if I flirt with the girls in my class because so many of them have been coming to her asking if there's another cute young instructor like me.
Barbara, Mom's neighbor, whose house had also been robbed, heard the two stoned kids in the house next door (across from Mom's) talking about the stolen booty they'd got and she called the Davie police, who arrested the young boy and girl and led them away, crying, handcuffed.
Right now the police are not letting anyone in or out of the house while they wait for a search warrant to be issued. Perhaps these two also perpetrated the burglary of Mom's house. Oh, well.
Marc is 27 today; when Mom called him to wish him a happy birthday, he said he was sick in bed.
---
Saturday, January 9, 1982
2 PM. I arrived at Arby's last night just as my parents and Jonny were pulling up. "We couldn't have planned it any better if we tried," Dad said.
So I got my dinner paid for. Jonny has an ear infection and doesn't look well; I think all the turmoil of the past few weeks has really gotten to him. He says FAU is "okay."
Back at home at 8 PM, I read until Ellen and Wade arrived. They said they had nearly gotten into half a dozen accidents on I-95.
Ellen told me that Avis was very angry with me for not staying for dinner two weeks ago. "Richie's probably going to eat some junk food," she complained. They said that Gabriel was not scared of my beard, but of Avis's turban.
Ellen and Wade think Avis looked better physically; obviously she's not fading
away. But Wade couldn't take her talk of "prejudice" and "discrimination" against Sikhs; after all, Avis does look absurd.
They were glad that Anthony – or Whatever-Singh, as Avis now calls him – wasn't there, because Anthony tries to keep Ellen away from Avis and he baits Ellen for her "feminist" positions.
Anthony is an incredible male chauvinist who believes women should stay at home and cook and have babies and who wants to make all the decisions.
Avis wants to quit working, but Anthony says her salary is too good. (Obviously he can change his beliefs when it suits him.) I told Ellen that I have little to say to Avis anymore and feel that she's trying to push me away.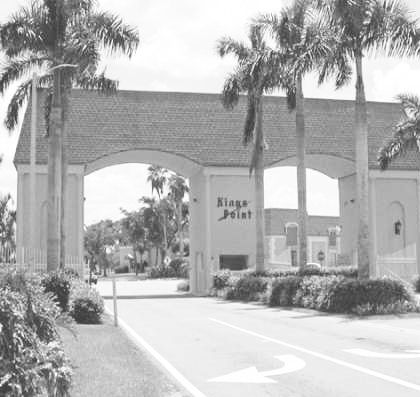 How will Avis's parents react when she and Anthony come down to Florida in April? "They'll throw them out of the condo," says Wade. I wonder.
Ellen and Wade are certain that Avis's involvement with Sikhism won't last and they don't think she's doing herself much harm.
We went out for a drive, and I pointed out some of the "sights" of Broward County, and then we all went for ice cream at Swensen's on Sunrise Boulevard.
I was tired and so were they, so we called it a night at 11:30 PM. Tonight we're meeting in Coral Springs at 8 PM. Ellen and Wade plan a trip to Key West for Monday and Tuesday. It was very good to see them.
I felt very, very dizzy last night but finally fell asleep at 2:30 AM.
I had a vast assortment of epic dreams with me in New York City, featuring Marc, my grandparents, Teresa, Renee (dressed as a monster), Diana and Ronna, Maxine and a host of other people; it was like my own personal 8½.
After sleeping until noon, I went over to my parents' in Davie and got my mail. Scott Sommer wrote that his Rolling Stone piece was "the first prose he's written that's been seen by more than 3,000 personages."
Scott's busy writing screenplay adaptations for Lifetime for Paramount and of the new novel, The Last Resort, for Fox. Wes told him I'm "working" on a second book: "Glad to hear it!" Scott wrote.
And he closed by asking if I'd recommend teaching. Scott, old buddy, sure, I'll recommend a year at BCC to show you how exciting life can be. I'll take your
place writing screenplays.
Well, it's a measure of my maturity that I don't feel like a total failure after reading Scott's letter about his own success. But, you know, it actually helps to remember that as far as the real world is concerned, I've gotten nowhere.
Still, at least I've got a full-time job during what may prove a very severe recession – 9% are unemployed – and I'm doing okay. Things even out in the end.
I haven't been able to bring myself to look at the typed manuscript of A Version of Life yet, but I know it's a good book and maybe an important one. Mostly it's what I want to leave behind here.
---
Sunday, January 10, 1982
10 PM. Today is supposed to be one of the coldest days of the century in North America.
Late last night, driving home from Coral Springs, I had the heater on – but of course it's steamy hot here compared to the weather forecast I picked up on WBBM, the Chicago radio station: lows of -15° to -25°.
Marc flew in this afternoon, telling us that yesterday in New York was unbearably cold and treacherously icy.
Last evening I met Ellen and Wade at the Coral Springs Mall, where we saw Pennies from Heaven with a noisy elderly audience who didn't understand the film at all. It was a curious movie but in some ways very daring and innovative.
Ellen and Wade and I went crazy looking for a non-sleazy, non-redneck bar to
have a few drinks and finally settled on the bar at Mr. Gumpp's.
We had a good talk about film and literature. To me, the McAllisters represent stability, common sense and intelligence; if my life were a novel, they'd be the raisonneurs.
I sometimes wonder how they became that way – Wade being completely gay before marriage and Ellen being somewhat flighty and pretentious.
Ellen told her father that he shouldn't have Avis and Anthony visit them in Delray Beach; I'm afraid their turbans would create chaos among all the old Jewish residents at Kings Point.
I stayed up late and spent most of today in bed (though dressed and on top of the covers). I got up at noon and went out to buy the Herald, the Times and the News/Sun-Sentinel, and then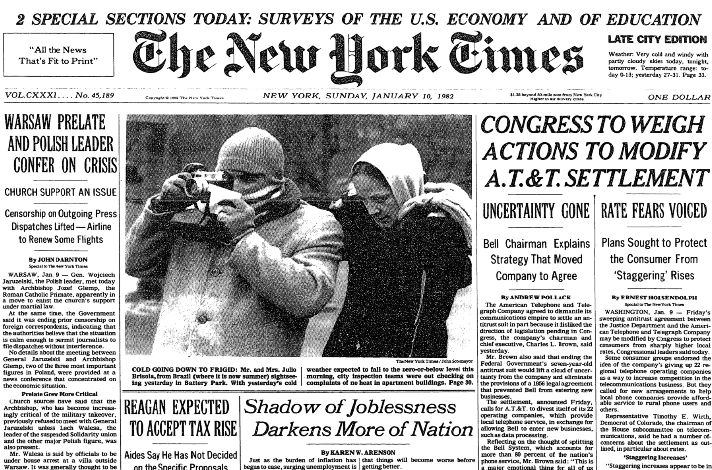 spent the better part of my afternoon reading the papers.
I know I probably should read more literature and less about current events, but I think that being as well-informed as possible will stand me in good stead as a writer.
Besides, I love these Sundays filled with reading newspapers and magazines. I pity some of my students who will never really know the joy of reading for pleasure as well as for information.
The Sunday papers serve as very cheap sources of education, and it's a shame they can't – or won't – take advantage of them.
I went out again at 7 PM to do some shopping at Pantry Pride – and today I also did my
stomach exercises and two sets of exercises with the weights. (My charley horse from Thursday is finally vanishing.)
I also listened to the radio and ate cheap meals (peanut butter, yogurt, fruit) and had a great old time.
Tomorrow begins the first full week of the new term and I haven't done a bit of preparation.
Yesterday I called Kevin, who said he's been going through a particularly traumatic breakup ("the worst since my wife left me") that caused him to be sick and miserable. Something about Kevin shouts schlemiel to the world.
McNaughton & Gunn said my book was shipped on Friday, so we should be getting it soon. Kevin's got all the promotional literature ready and I should have my copies within the next month.
He's had 17 orders for the book already, which is nice.
I've been back in Florida a week, and I've accomplished a great deal. I've begun teaching at BCC, filed to run for Town Council, answered all my mail, got back the A Version of Life manuscript, and started lifting weights again.
Although I still get very dizzy and sleep much less than I used to, I seem to have more energy than ever. Tonight it's supposed to get into the 30°s, but I've got my quilt on hand and am not worried. I feel surprisingly relaxed.