Sunday, August 23, 1981
8 PM. I just finished reading the final volume of The Diary of Anäis Nin. The diary was a monumental achievement, one I admire, and yet I can't stand her la-di-da passages, especially those in which she reports that someone tells her: "Anäis, you can see beauty" or something like that. For someone who made sensitivity a career, she could be very insensitive to others.
She must have been, in person, one of those arty types who wears unusual clothing and is too sensitive to watch TV or drive a car. I've met poets like her, even here in Florida. Of course, Nin did have talent and drive.
She worried about the publication of her diary, about hurting others. At least about that, I seem to be less sensitive than she was: my blind spot is that I can't really believe that some people – Avis, Ronna, my parents – prefer not to lead public lives.
Right now I don't know what to do with A Version of Life. Come October, I'll have enough money to be able to pay someone to type up the manuscript. Should I change all the names, or can that be done later?
I queried Dixie Lee Davidson, the agent that Alice recommended – but I'm certain she wouldn't know what to do with the manuscript. Nor would Russell Galen, who'd just laugh. Even someone literary like Georges Borchardt would never look at it. Sasha Newborn at Mudborn Press might be interested, but I can't think of any other small press that would be.
Maybe it's best that it remain unpublished for now. Just getting a grant and a job and books published doesn't make me a real writer in the eyes of the world. Still, I do have some credibility.
Jack Saunders writes that he's trying to end his screed and begin something new. He has determination but fears he's second-rate. Move over, Jack.
I haven't yet been able to look at the page proofs for Lincoln's Doctor's Dog that Kevin sent yesterday. And I haven't been able to look at the copies of the new edition of Disjointed Fictions, either. Somehow the books don't seem real.
No one will read either one. In the end they'll amount to a fart in a hurricane. Well, at least this time I won't be disappointed.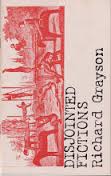 What do I expect from Disjointed Fictions? No new reviews. Maybe a sale of 50 copies. And I'll buy a batch for myself.
And from Lincoln's Doctor's Dog: A few reviews, mostly unfavorable. Kirkus will lampoon me. Publishers Weekly will be neutral and Library Journal either condescending or silent. Maybe some little magazines will review it, but I doubt it. Sales? Under a hundred copies, I imagine, and we may be lucky to get that.
So I'm like a literary Boy Scout: I'm prepared. Mostly for disappointment.
I'm also prepared for my first day of school tomorrow. It's a little scary, but I'll survive. Somehow everything in Florida seems less pressured than it does in New York. I have to get up early, but it's not like going to Manhattan to teach at the School of Visual Arts or John Jay – or even going to teach at LIU in downtown Brooklyn.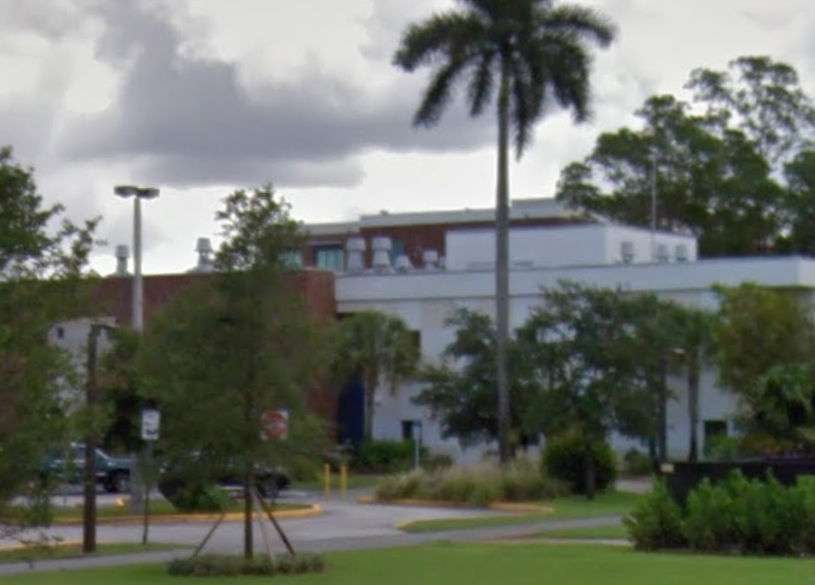 Broward Community College's Central Campus is open, light, airy, friendly, casual. I don't feel I have to be on my best behavior all the time. This week will be hectic, but I can take that.
Still, it doesn't really feel like the end of August. This weekend was glorious: sunny and hot but not humid. This will be my first fall in Florida, and I've got to get used to it being just another three months of summer.
Today I prepared for my classes, I exercised, read the Sunday papers (Miami Herald, New York Times, Fort Lauderdale News/Sun-Sentinel), wrote letters and overate.
---
Monday, August 24, 1981
4 PM. Well, I made it through my first day at BCC without too much stress.
Today was especially difficult because the air conditioners weren't working and the temperatures got to about 95°. I feel I have mildew growing on me. But all I had to do was administer the assessment paragraph to my classes – not that I'm using the results.
I woke up before 7 AM and got to school about fifteen minutes before my 8 AM class. Most of my students are entering freshmen and so I suppose I appear pretty knowledgeable. No one questioned my age, as has sometimes happened in the past. Basically I'm going to spend Wednesday introducing the course.
I went back to the English office after my first class and volunteered to substitute (for pay) for a class whose instructor hasn't been picked yet. During that time, I read over the papers from the first class and saw that there was no one I wanted to transfer; the system is really very stupid, as it's completely voluntary on the student's part to go into a remedial class.
Not much will be "done" in classes this first week as students come and go. I didn't like a couple of wiseguys in my 11 AM class, but most of the kids seem okay. At noon I gave the assessment test to another teacher's class as a substitute, and then at 1 PM and 2 PM I had my own sections of ENC 1101.
I didn't yet get a schedule form to write down my office hours, but I left campus after 3 PM. I don't think this term is going to be too much work.
The MDCC creative writing class didn't materialize, so I've just got the five BCC classes: fifteen hours a week. That's no more than I had last fall in New York, and then I had to spend all my time on subways and buses. At least in my office I can get some work done – or I can read or whatever.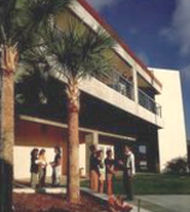 Jonny came to visit me, which was nice, and I saw Angela. Little by little, I'll get accustomed to BCC. Tomorrow I have only one class, so Tuesdays and Thursdays should be a snap. The main problem is getting through four classes three days a week; I figure I'll be subject to sore throats. But I feel little pressure so far, though it's probably too early to tell.
The kids at BCC are cute and open and remind me of the way my friends and I at Brooklyn College were a dozen years ago. I have only a couple of black students and older women, which is something I'm not used to.
The first-day verdict is that I'm going to be busy but not to the point of hysteria, that I can manage to get through the year.
Back home, I got a letter from George, who talked about Disjointed Fictions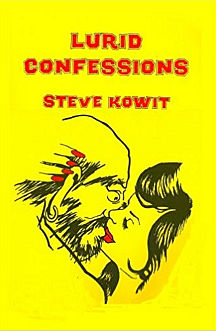 – Steve Kowit must have ordered 55 copies for his classes – and other bits of business. His last paragraph: "Never say that I told you this, but I'm not happy in marriage. There seems no way to talk about it. I feel sort of out of it now." Poor George – and his poor wife. Maybe they rushed into things too fast.
Dan Meltzer wrote from the Rhode Island Creative Arts Center, which he says is a hellhole: bad accommodations, dreadful food, very non-artistic atmosphere. Edwin Honig told him about it when Dan got rejected from MacDowell. Of last year's fellows, only Preston Trombly and the consummate literary politician Michael Blumenthal returned. Anyway, I won't apply for RICAC next summer; it sounds awful.
Hey, I can sleep till 9:30 AM tomorrow: now that seems great.
---
Tuesday, August 25, 1981
7 PM. I'm sleepy now. I haven't been getting enough sleep because my nocturnal dizziness has returned. As soon as my head hits the pillow, the room begins swimming. Last night I stayed up very late to watch movies on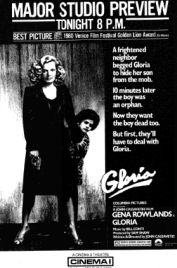 cable TV: Gloria and the superb The Tin Drum.
I woke up at 8 AM after a night of interesting dreams about New York; I always seem to be riding the subways in my dreams. I guess it shows that I still miss New York and feel cut off from the city and my friends there.
School today was a snap: just the ENC 1000 class from 11 AM to 12:15 PM. It seems like a friendly class, and it helped that it was in air-conditioned building 07.
If the other building doesn't have air conditioning tomorrow, I'm not going to keep the classes for the full time. When I saw Angela come out of her class today, she said she felt faint from the extreme heat.
In the office, I spoke with Alan Merickel about BCC; he's been here for three years and thinks the place is backward because Adams and Hamilton run it as if it were the same all-white little junior college it was back in 1968.
When I told Alan that Clinton Hamilton reminded me of a Southern Baptist preacher, he said, "That's because he is one." Maybe I'm wrong, but I seem to detect a slight, lingering anti-Semitism at BCC.
Dave Shaw told me that Greg Eisman "got on someone's shit list" and wasn't asked back this year; he had been in the department for three years on temporary appointments like the one I have now. It's possible that if I didn't offend anyone – I can see how Greg did because he wasn't the type to take shit – I might be asked back. But I'd prefer not to stay in Florida beyond next summer.
Alan says they pretty much leave you alone: no one checks up to see if you're keeping your office hours, and there are no formal observations. The part time-faculty seem not to be young academics, as in New York, but Broward high school teachers looking for release time and a chance to teach college. (Obviously, they aren't attracted by the pay.)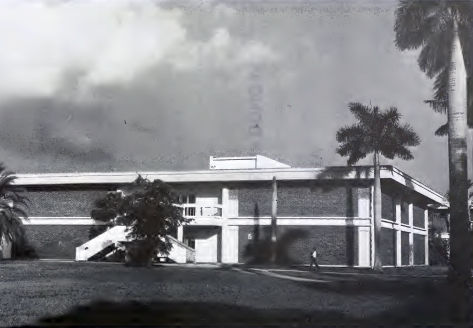 After my class ended, I hung around campus for only a couple of hours. Tomorrow I intend to gab about writing in general; also, the Writing Lab people are coming in to talk with the classes. So there really isn't much to do.
When I went back to campus tonight to use the library, I saw a 100-person line around the bookstore. I tried to do some research, but mostly I xeroxed articles and parts of Disjointed Fictions and Lincoln's Doctor's Dog.
I've read over about half of the latter in page proofs, and I think it's going to be a good book. Unlike With Hitler in New York, it doesn't contain cheap or easy stories. Kevin seems to like more complexity than Wesley did.
Although I don't expect a thing to come out of it besides the points I listed on Sunday, I am excited about the physical object, the book.
Jonny is taking a course in film and literature with Dr. Grasso, whom he says is a good teacher.
In a week, it will be September already, with two-thirds of 1981 gone. I don't regret my decision to come to Florida because I ended up with a grant and a full-time job for the first time in my career.
Today on Donahue, a shrink who wrote about competition said the three most important rules are to know everything about what you're up against, to know your own strengths and weaknesses, and to choose your own arenas and rules. I agree.
---
Thursday, August 27, 1981
9 PM. Last night I slept well for ten hours despite a booming electrical storm that knocked out our power – a common occurrence here during the summer, Mom said. I woke up feeling refreshed.
These hot days are harder to bear now that I'm working, but in a couple of months it will cool off – and there's nothing more beautiful than a Florida winter, particularly if it gets as "cool" as it did last January.
I think I'll go to New York for two weeks at Christmas. I'll have that time off, and I'd probably enjoy just a taste of cold weather. The MLA convention will be held in New York this year, and I can go to any interviews I might line up there.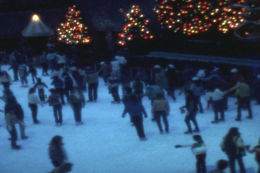 And of course I could see all my friends, meet them for lunch in Manhattan, go see the tree and skaters in Rockefeller Center, and wander around Brooklyn and Rockaway. The Christmas trip will give me something to look forward to.
I had a couple of career disappointments today, but they're minor ones. The People's Almanac 3 came out and they didn't use my article on Edward Stratemeyer but just listed him with "the most prolific American authors." I know I already got paid $125 for my piece, but I worked hard on it and would have liked to have it in print.
And I realized that I'm not the winner of the Tropic short story contest. I checked out an old issue from last year and discovered they call the winner ahead of time. Very likely the winning story will be printed this Sunday or the week after, and my only hope is to be listed among the finalists.
I did the best I could, but maybe I tried too much on trying to psych out Evelyn Mayerson, the judge. My story should have been rewritten: it didn't have enough action and it was too novelistic and foreshortened.
I sent out review copies of Disjointed Fictions to the Fort Lauderdale papers and to William K. Robertson, the book editor of the Miami Herald, who seems determined to ignore me. (He never answered either of my letters offering to write book reviews.) Well, I can't complain, as the local papers have given me extensive coverage so far.
Time's cover story this week was on John Irving, who's all over the news lately as the publication date of Hotel New Hampshire nears – the Time cover will assure its success – and as the film version of Garp finishes production. There are photos of the muscular author jogging, wrestling with his son Colin, and sitting on the porch of the Bread Loaf Inn chatting with
Stanley Elkin.
I remember Irving reading from Garp four years ago at Bread Loaf and the tremendous excitement we all felt; I knew it would be a success. Of course, the Time story makes it seem as though Irving never struggled and was never bitter about the failure of his early books to sell.
Although I figure I might as well try for the top, I certainly can never expect to be a superstar like John Irving, who has more talent and ten times the discipline of a lazybones like me. But he's 39 and still considered the "young writer." That means I've got till 1990 to get on the cover of Time. (I could sign my own name and add it to my collection of autographed covers.)
Dixie Lee Davidson, the agent in Omaha, wrote that she'd like to see my autobiographical work. She seems like a fine lady, but I don't expect her to like my book.
Sookie wrote from VCCA, where she and everyone else are preparing to leave as they make the transition to the new building. Our lectures at the Governor's School for the Gifted at Randolph-Macon Women's College were in the Lynchburg paper on July 11 and will be in the VCCA Bulletin.
Sookie didn't have a single O.T.O. ("one time only") all summer, but she did make a great gay friend, Michael Boodrie, who's writing a punk novel. She said Diane got a week's extension and drove everyone there nuts.
My Thursday class went well; since it's the only one of the day, I'm less weary teaching it than I am for my other classes.
Maureen, the English Department secretary, is very nice; she and her husband live in Davie – she used to work at Nova University – and she gave me tips about looking for an apartment.
Later in the day, at the Fort Lauderdale library and in the Broward Mall, I ran into several students: it's fun seeing people who know me from school. And I managed to get in an hour of exercise today, which always improves my spirits.
Selma called to tell me that her daughter gave birth and she has a healthy granddaughter. Selma and Alex are moving this week, and if I have time, I'll try to lend a hand. Selma also needs my help with her article.
Today was so good that I don't expect much from tomorrow. Well, they can't all be great days.
---
Friday, August 28, 1981
7 PM. Today wasn't a bad day for me, but Dad's car was broken into in a Miami garage and again they got all his samples. They also broke his window. Crime in Miami is so bad.
Dad should be very upset when he comes home tonight, and for that reason, I don't plan on eating dinner out with the family. I miss living on my own; for one thing, I'm not around the moods of other people. I am beginning to – –
Here, the phone just rang and it was Dad on the line; Mom had to come back in and take the call, for there's only one Dade line upstairs. They're talking about how to get the samples and the style book from Sasson and how bad the body damage on the car was.
God, I wish I had my own place. At least when I'm depressed, I can handle it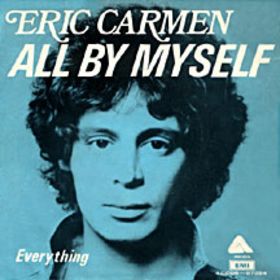 by myself.
As I was saying, I'm beginning to realize that there's no way I'm going to get rich here, or even save up much money. A decent apartment in Davie, Maureen says, will cost me at least $330 a month, and my electric and phone bills could run to $200 a month.
Assuming I take home $800 a month, that doesn't leave me with much to live on. The grant will help, but I'm sure the money will get spent.
Anyway, I had a decent day at the college. All four of my classes were good ones; I was funny and insightful and not too boring. I taught for four hours, full 50-minute periods – the air conditioning is back on – and it didn't seem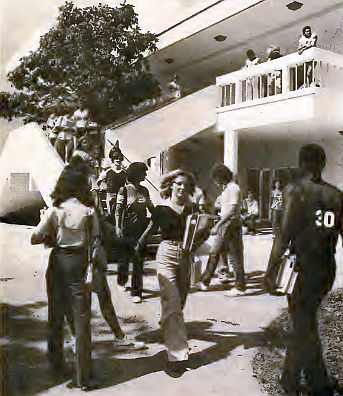 a strain. I chatted with fellow instructors, and Jonny came by for a visit, and I proofread about half of Lincoln's Doctor's Dog.
Miriam writes that she's feeling better emotionally and is beginning to like San Francisco again. She had lunch with Pete Cherches while he was in town and enjoyed the small press shop-talk. Miriam said she has to come East this winter and may take me up on my invitation to visit Florida.
My skin has broken out because of the heat and the stress, but I survived my first week on the job at BCC. Only fifteen more weeks to the term.
---
Sunday, August 30, 1981
2 PM. Dinner last night wasn't that bad. The Littmans are weird but usually interesting; I just wish they wouldn't interrupt each other so much. There was talk about the Mafia and their old friend Meyer Lansky and the usual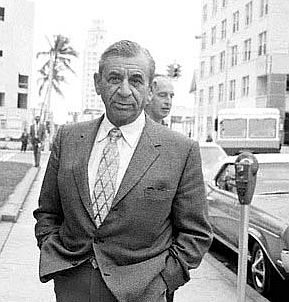 stuff about real estate, jewelry, and crime.
As expected, they seemed a bit shocked that I was planning to get my own apartment. My parents understand my need for privacy, however, and my desire to live my own life. It will be a big expense, living on my own, but it's important. Given my income and money outflow, though, the more I think about it, the more it looks as though I'll end up next summer as broke as I am now.
Again, I figure I'll have to pay more than $500 on rent, phone and utilities. I should be taking home $800 a month. There is the grant, of course, but I wonder how I'll be able to use that money for non-related-to-writing expenses.
It just seems obvious that I'm not going to be able to save much money when unexpected expenses, like car repairs, keep popping up.
I've hit upon an idea for a chapbook about South Florida. It will consist of completely banal minimalist fiction featuring two characters, Manny and Zelda, and touching on all aspects of life here: Cubans, drugs, refugees, crime, condos, malls, tourism, etc. Everything will be positive and "nice" – but so bland and childish (like John Kordosh's Pleasant Days . . . With Joe and Sam) – that the style itself will be a criticism of life here.
The funny thing is that I could probably sell this book: it would be very easy to read, for one thing. I could print it myself under my own small press input, have it typeset by Kevin, and manufactured by someone for under $500 of my grant money.
Pete Cherches would like it. Really, if I did write an intellectual collection of realistic stories, could I do better? This project seems exciting. I'll call it South Florida Stories and make the whole chapbook a subtle gag: get an
illustrator to do a banal cover, maybe have a photo of me dressed like a typical Floridian.
Obviously, I shouldn't release this until late spring, as the grant period nears its end, so I don't offend the powers-that-be while I'm still accountable for the money. I can just see the press's reaction: "They gave $3,000 to a guy to produce a book a second-grader could have written!"
Most of all, this project will be fun and easy to do, and it will give me something to look forward to besides Lincoln's Doctor's Dog. The more projects I've got going, the more likely it is that one of them will take off.