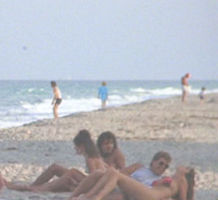 Monday, April 20, 1981
11 PM. I'm in a much better frame of mind tonight. Last night's dreams were a great help, as they nourished me with happy moments in New York. Waking up refreshed, I have remained energetic all day.
Marc is back in New York now. He had a 5 PM flight and called from Grandma Ethel's several hours ago. So I have my privacy again; I've locked my door, I've got classical music on the radio, and I don't have to worry about the sound of snoring. Although I really didn't mind sharing a room with Marc, after a month I'm happy to have a room of my own.
Of late, my horoscopes have been very optimistic. Here's one from today's Fort Lauderdale Sun-Sentinel: "Job interviews, phone calls and letters bring you financial benefits. . . People in the arts seek you out." And today's Miami Herald said: "You'll be free of numerous doubts, especially in employment area. Slate is wiped clean. . . Romance replaces bitterness and you'll feel revitalized."
I xeroxed Prof. Crozier's recommendation and then went off to school, where I had a pleasant class. Tomorrow Peter Meinke, the poet who runs the Writing Workshop at Eckerd College, will be on campus to lecture on "the craft of writing," and I think I'll attend.
We had toilet floods all day until the plumber finally came and fixed it for $1000. Mom and Dad were both feeling better, and Marc spent the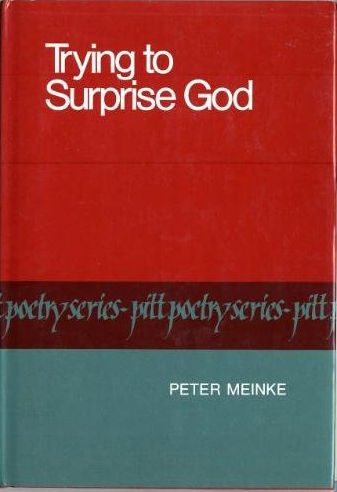 afternoon preparing for his flight.
I got the AWP Job List and wrote cover letters and put together résumés, recommendations and reviews for openings in Illinois, Iowa, Connecticut, Ohio and Kansas. Whatever my horoscope says, I doubt I'll get a job, but I think I'd be stupid if I didn't try my darnedest.
It's getting very hot, almost too hot to sit in the sun. This evening I finished typing up my 1969 and 1970 diary entries. That leaves only four years – '71 through 74 – to type up, and I'll have a completed first draft.
I called Ellen McAllister this evening to get her reaction to Avis's visit to Charlottesville. She was very upset because her sister looked so gaunt and had circles under her eyes.
Ellen hadn't seen Avis and Anthony since their wedding, and although she was prepared for this Sikh business, she was still shocked.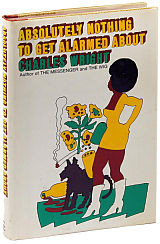 "Avis has always been stiff for the first few hours together," Ellen said, "but usually I'll jolly her out of it. Not this time." Not even seeing the baby – "an amazingly good-tempered child," Ellen said – loosened up Avis.
Ellen felt Avis was more uptight and doctrinaire than Anthony, who seemed more relaxed. They looked bizarre in their turbans and leggings, and Ellen thinks their marriage is "very sexist, with Anthony entirely controlling her."
Avis gave her sister all the clothes she will no longer wear: "Today, when I gave them to a friend, I cried because I felt Avis was dead." Ellen still sees Avis's personality in Avis, though, and she admitted that she "could see something like this coming."
Avis shocked Ellen when she talked of Yogi Bhajan's visions of an apocalypse in New York, and when Ellen argued with her, "all I got back
was tract." It all upset Wade so much that he lied and said he had work at the university so he could get away. (He's been organizing for the Citizens' Party and not doing much on his dissertation.)
Ellen, Wade and the baby will be coming down to Florida to see her parents next month and then go with them on a free trip her father won in a GE sweepstakes.
I told Ellen that when I get to New York, I'd try to do something to help Avis – but I don't know what I can do.
---
Thursday, April 23, 1981
2 PM. In the hot light of day, things appear to be less awful than they did last night.
No one would accuse me of cowardice if I didn't accept the job in Saudi Arabia. If I could pick the harshest, most judgmental person I know – perhaps Aunt Arlyne – I couldn't see her berating me for not taking the job.
After all, it would mean totally cutting myself off from friends and family and all the pleasures of America.
I went to New Orleans, and I wouldn't be afraid to take a job there or anywhere in the United States, but Saudi Arabia is something else again. It's not even England or West Germany or Israel, foreign countries where I'd feel more at home.
No, I'll just do as Dad says and look at this interview as a free trip to
Houston, another chance to get used to flying and have a new experience.
I expected to have dreams of Arabs flogging me, so I slept with the light on. But actually I slept well and had a pleasant dream of a happy reunion with Shelli in Greenwich Village.
Last night I had called Alice, but Peter answered the phone and said she was still at work: "She's working very hard at Weight Watchers, but it's good for her – and for me, too."
Peter thought it would be great for me to move to Riyadh and said I could get a great book out of my experiences there. He's probably right.
A few nights ago I spoke to Mikey, who was unhappy because he's been assigned to the Manhattan office of Legal Aid. I really miss my friends like Mikey and Alice a great deal.
These Florida people don't seem to be the same. Kirt Dressler is a pompous windbag; if he were in New York, he'd really be small-time, but here he's a star. He judges poetry contests without having the slightest knowledge of poetry.
At last night's poetry reading, Kirt read his obituary, which was embarrassing in that it had him winning "the Nobel Prizes for Poetry [sic] and Peace," writing innumerable books, garnering worldwide honors, and siring five pretentiously-named children.
Denis O'Donovan is a psychology professor at FAU, but he seems too comfortable; "an overage hippie," by his own admission, he reminds me of so many academics who have written "a book which is the only one of its kind." He actually believes in horoscopes because all his girlfriends were Aquariuses.
Debbie Grayson is a poetry therapist, a nice lady, but she seems like a bit of a typical married Jewish-American princess. I don't know, maybe I'm just too picky, but I feel I've had the best friends in the world and I can't help comparing new people unfavorably to them.
After my car was fixed today, I went to Danny's for lunch. The counter waitress, noting my New York Times, asked where I was from; she's from Greenpoint and introduced me to Jimmy, an old man who told me he was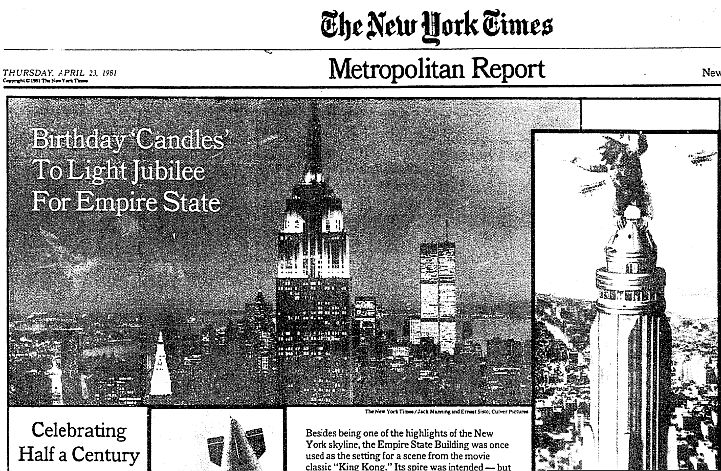 born "on East 86th Street on Manhattan Island" and marched in a band up Pennsylvania Avenue at Woodrow Wilson's second inauguration.
There hasn't been much mail this week, just rejections, and there have been few of those. Yesterday, though, the new Oyez Review arrived. They printed my "Q & A," a long and not very successful story using a split-page approach.
It's one of the few stories I've written in the past two years, yet my publication record is still good: about a dozen new stories will ap
pear in magazines this year.
Yesterday it went down to 33° in New York. When I called Grandma Ethel, she said they were freezing. I suppose I'm scared not only of going to Houston but of going to New York as well.
I don't know how I'll feel there and I will probably want to see Dr. Pasquale if he's available. I've been in Florida nearly 100 days now. Weird.
---
Saturday, April 25, 1981
8 PM. My parents and Jonny are out for the evening, and I've just come back from the Broward Mall. I bought my first new pair of shoes in about four years; Mom had been bugging me to get rid of my old shoes and tonight she gave me money for new ones.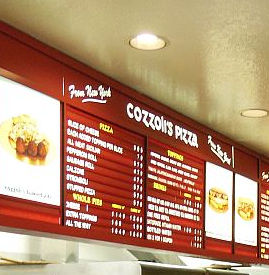 I had an eggplant hero at Cozzoli's and sat by myself at the corner table by the Saul Steinberg map of New York which shows the rest of the country as mere way-stations.
Teresa has that print, of course; I called her last night, interrupting a party she was giving for Craig and Cynthia. Teresa said things were bad in the office again, as Frank has been very cold to her and the others have been sharpening their knives.
She told me she could use her pull in the Borough President's office to get me an apartment in Manhattan Plaza, the building for artist and writers which is government-subsidized.
The other night at a Broadway preview, Teresa ran into Alice and Peter. Gosh, that made me homesick for New York! It will be only a few days now.
I've decided not to go to Houston. There's no sense laying out the money and waiting to be compensated if I don't want the Saudi job – and now I'm sure I don't. In one hectic day, I wouldn't get to see much of Houston anyway.
Although I slept very well last night, I was sleepy all day, I had little energy, and things were slipping out of my hands. If I believed in biorhythms, I'd say today was a low cycle for me.
In the mail I got the Florida Fine Arts Council Newsletter (surprisingly, grant applications were down 20% this year, which might be good news for me), one rejection, and a surprise check for my op-ed column from the
Miami News for $15, which I cashed right away. I'm down to $900 in the bank right now.
After sunning myself out at the pool for 45 minutes, I came in and wasted the afternoon, though I did manage to mark a couple of term papers and type up the first six entries for 1973, which are the weakest ones in the diary book.
I see now that in the second half, I'm going to have to smooth out the entries, both stylistically and for coherence. This book may turn out to be more fiction than fact after all.
Tonight in the bookstore, I caught a glimpse of tomorrow's Times Book Review: James Atlas has an article on more recent autobiographers like Frank Conroy, whose Stop-Time is a masterpiece.
Also, I noticed that Joel Agee's Twelve Years got a bad review. I must keep remembering to take the long view and that, though its editors may wish it were, the Times Book Review is not the ultimate place from which we all take our literary values.

In the past couple of days I've been horny, mostly for boys, but yesterday there was a gorgeous girl – not classically beautiful – out by the pool. She was wearing a one-piece bathing suit and had small, high breasts and wavy brown hair, and she moved with an effortless grace.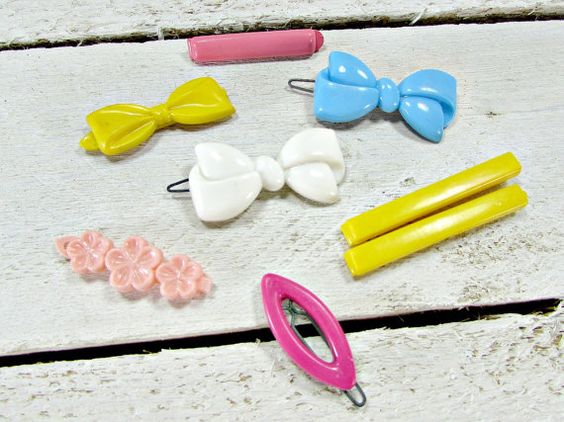 It was a pleasure just to watch her to put her barrettes in her hair; I liked the way she held one in her mouth as she put on the other one. I've always found barrettes enormously sexy; that goes back to the days of Shelli and Ronna. (That's also where I get my preference for brunettes.)
Last night in the Camaro, Jonny was playing a tape of Charles Aznavour, whom he and my parents worship. I've always put down Aznavour as a pseudo-romantic, but last night I heard him sing this amazing song about a gay man. "The lyrics are superb," Mom said, and they did seem meaningful.
In another week or ten days, I'll be back in New York. How will I react to being back, I wonder? Part of me dreads leaving Florida – these gorgeous nights, especially – but it should be fun to see old friends again.
---
Monday, April 27, 1981
10 PM. I'm going to miss Florida. There are times when I feel I don't want to go back to New York. Part of that, of course, is that I've settled into a comfortable routine here.
It's been easy for me: Mom has been doing the laundry and the shopping, and mostly we eat out. I've got my car, I had a class to teach; I had time to write and to lie in the sun; and I didn't have money worries.
It wouldn't be going too far to say that the past hundred days have been idyllic. Sure, I didn't have much privacy, and in the beginning it was hard to adjust to living with my parents again, but there were compensations. As Emerson says, there are always compensations.
Today was cloudy, but that was almost a welcome change, as all that great sunny weather gets boring.
This morning I went to school and stayed in my classroom from 10 AM until noon, during the period scheduled for our final. One by one, my students came in to hand in their papers.
One of the older women – who got an A+ on her paper – told me I was a good teacher, and that meant a lot. Another student shook my hand and said, "Good luck, sir."
These polite Florida kids are so sweet. I had the most trouble with t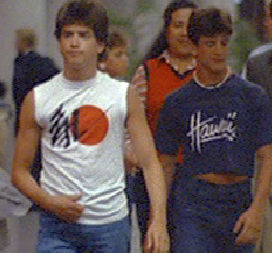 he three Jewish boys from New York, who were obnoxious and unhappy; the class despised them. I suppose the old Floridians resent the newcomers.
Actually, I think I would have preferred South Florida twenty years ago when it was sleepy, Southern, and small-town.
In today's Herald there was an article about a town called Weston, to be built west of Davie right around here and stretching out to the Everglades. Weston has no population today, but in twenty years 50,000 people will be living there.
If unchecked growth doesn't kill Florida, it could be a very comfortable place to live. I know the past few months have given me a respect for the people in Florida, especially the old-timers.
In New York we tend to think of everyone else as hicks, but that just isn't true. I genuinely enjoyed my class at Broward Community College; in New York, I taught similar classes at Kingsborough Community College which had obnoxious, rowdy, smart-alecky white kids whom I despised.
I came home to five letters – all rejecting me for teaching jobs – from SUNY Farmingdale, Fordham, South Carolina, St. Cloud, and Rockland Community College, plus a postcard from Brooklyn College stating that they'd sent my transcripts to BCC, so maybe I'll get paid for this term soon.
Marc called and said he's been picking up and cleaning up the apartment for me. I could go to New York any time now, but I'd like to stay on through the weekend.
As you can see, I didn't go to Houston for an interview; since I'd never take a job in Saudi Arabia, there was no point. Before I go back to New York, I want to spend all my time here in Florida.
For the next two months I'll be living a strange life – in Marc's old apartment, not sure where I'll be staying in the fall.
Alice called from work, where she was, as usual, swamped; she said she's really excited about seeing me. I want to see her and my grandparents and Avis and Josh and Teresa and Mrs. Judson and Simon and Stacy and Crad and Bill-Dale.
Jonny had a final tonight, so my parents took me out to Sgt. Pepper's American Café and Bar, where we had a leisurely dinner.
But I can't wait to eat a "chizborger" in a Greek diner and see how Brooklyn has changed. Will it be as dirty as I remember? Last night I dreamed of coming into the Rockaway Park station on the subway, but everything was clean, pleasant and magical.
---
Thursday, April 30, 1981
4 PM. Another month is over. I'm still feeling pretty shitty. Last night I couldn't reach any of my friends in New York, so I decided to down two Triavils and sleep my problems away.
I slept eleven hours and had vivid dreams of Sheepshead Bay, New Orleans and new apartments. When the light flooded the room at daybreak, I dreamed of harsh daylight and sought refuge in a darkened corner.
Again, since there seemed no reason to get up, I stayed in bed until noon.
The mail brought me a bill and a "no such address" letter returned. Fuck – I can't remember a week like this when I haven't gotten a single personal letter, a magazine, or any kind of interesting mail. I've been debating whether to forward my mail to Brooklyn, but it hardly seems to matter.
At BCC, I handed in my grades. There was no paycheck for me, so it looks as though I'm going to have to wait another month. Can you imagine working a whole term and not getting paid?
I should be used to it, considering all the crooks in academia. I'm still owed $192 from Brooklyn College. Shit. Everything seems out of control – like Marc's not having called in days. He has no phone, of course, and God knows what happened to him.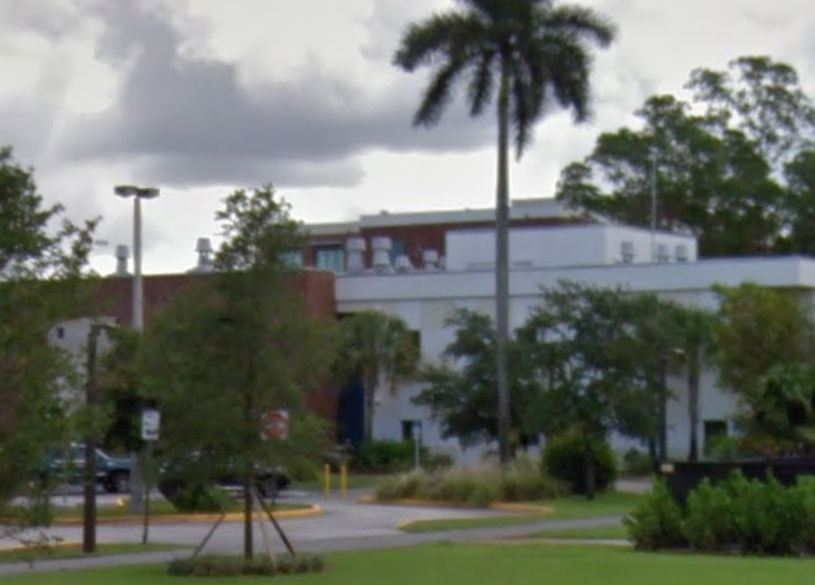 It all makes me want to lie down and die. Remember how I used to think of life as an endless cycle of false expectations, dashed hopes and deep despair? It seems exactly like that now.
The call I got from Tom about applying for the job as his assistant director, is something that I place in the "false expectations" category. Even if I got a half-time teaching job at NOCCA, where would that leave me? I couldn't survive on $8,500 a year. And if they want me to come down for an interview, that'll be another $300 or $400 down the tubes.
I'm just so furious I could spit. I'm sure as shit not going to get a full-time teaching job next year. And I won't get any grants, either. Crap.
I had to escape the intolerable hot sun, so I went to a movie matinee at Mercede. For a dollar I got to see Melvin and Howard, a pretty good movie. But for a buck, you get only a couple of hours' escape.
I hate being this way, but right now the past fifteen weeks seem like a silly illusion. Welcome back to the real world, Richie. Maybe I should go back to my original plan of committing suicide on my thirtieth birthday.
Except Jeffrey's bar mitzvah is two days later and that would really put a damper on that. I mean, that's a lousy present to give your godson for his bar mitzvah; the family would never forgive me.
Boy, it's easy to be optimistic when things are going well. Right now I feel more empty and useless than ever.
*
Midnight and I'm feeling better. After moping for a couple of hours, I went to a show at the Buehler Planetarium. It was called Springtime of the Universe and was basically a watered-down version of that lecture on stellar evolution I heard last month.
Still, it made me aware of how petty my problems are in the general run of things. When I came home, I phoned Josh, who seemed annoyed that Lauren was still with him and not back home in L.A., but he couldn't say that because she was in the room.
Josh may have a job at United Artists for $18,000. He said he'd like to get rid of his dog, but no one will take him.
Then Avis called, sounding good. I agreed to stay at her apartment for the week that she and Anthony will be in New Mexico for the Sikh summer solstice ceremony.
Marc phoned next, and Mom said she'd try to get me on a flight out for Sunday and get Marc a flight to Florida for the following day. So everything is going to be settled.
Keep cool, Richie, and just relax. Life will take care of you if you don't try to control Life. – What the hell does that mean? – I don't know, but it sounds good.