Sunday, December 21, 1980
8 PM. Winter and the shortest day of the year. I wasn't feeling very well when I got up this morning, so I decided to skip Teresa's open house. When I called her this afternoon, she was very annoyed, for I'd been about the seventh person to cancel because of illness.
I think I'm coming down with a cold or the flu. I have a bad sore throat and a stuffy nose and I'm also dizzy (so much so that it was very hard to sleep last night). Maybe I'll call in sick tomorrow; unfortunately I have to teach at Brooklyn College in the morning. It's so cold out and the below-20° temperatures are supposed to last all week.
Yesterday I had a busy day and I was out too long in the cold. I went out at 11 AM and got my mail. Mark Alan Stamaty, to thank me for the letters I wrote him "during a non-cheerful period of my life," sent me a copy of his book MacDoodle Street, a compilation of the Voice cartoons.
I was delighted with his kind gesture and felt such a kinship with Mark, who will one day be one of the great cartoonists of the century. It made me feel as though I, like him (and Crad Kilodney and Bill-Dale) am part of the creative world. I'll never be able to thank Mark enough, for he brightened up my whole weekend.
I took the train into Manhattan, and as I was early, I decided to go to the Strand and see if I could find any review copies of Hitler on sale; there was only one.
At the St. Mark's Bookshop, I overheard a salesperson mention my name to a phone caller, and I took the call. It was Roger, sounding very ill, apologizing for not making it. I told him not to worry, although I'd come into the city specifically to see him.
I bought the new Poets & Writers Directory and had lunch at The Cookery, treating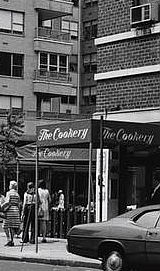 myself to a last meal in a place that had some great memories for me going back to Yom Kippur 1969, when I ate there with Daniel Schwartz.
Then I called Alice, who told me to meet her and Richard Rothstein at Andreas's gallery-workshop in Soho. He rented an enormous storefront where his huge, whimsical sculptures have room to breathe.
I was impressed by the lightness of such large, heavy sculptures; Andreas doesn't want to sell any, just to let the public enjoy them. But he will accept commissions.
Andreas told me going to Florida is a "crazy" idea, but then Andreas has always tried to run everyone's life. He said he never gets depressed, and I believe that – but as Richard later said to me, "Someone who doesn't get depressed in these times just isn't paying attention."
Richard, Alice and I went to some pretentious café for cappuccino, and Richard mentioned he was going to Kennedy Airport to pick up Liliane, who was in L.A. on some French consulate business.
Impulsively, I said I'd go with him, and after Linda went back to Andreas – she treats him as if he's an infant – Richard and I walked all the way to his apartment in the East Village.
It was a little cold and too far for me. Their apartment was expensively furnished and very cozy; they pay only $280 because it's rent-controlled.
We had a hard time getting out of Manhattan because of the holiday traffic and were really stuck to a standstill on the LIE, but I (ta-da) saved the day
by showing Richard how to take Woodhaven Boulevard and the Nassau Expressway to the airport.
On the way, we had a nice talk – the gangster Arnold Rothstein was his uncle, and I told him about the Littmans knowing Meyer Lansky in Miami – and I enjoyed the serendipity of the car trip. The airport was jammed, but Liliane was ready when we got there.
They dropped me off at the subway at Cross Bay and Rockaway Boulevards; it was a twenty-minute wait at the freezing Broad Channel station which helped me get this cold.
---
Monday, December 22, 1980
8 PM. I have a bad sinus condition and am very dizzy, but tomorrow I'll try to get some medicine for it.
Tomorrow I have two classes at Brooklyn College, and then I have the rest of this week and all next week free. The CUNY exam will be given again at
John Jay on Monday, January 5, and on the following day I'll give it at BC.
I was a little upset because I learned that at BC we're supposed to have post-exam meetings with our classes to discuss the test results (my Veterans Outreach class was scheduled to meet on Friday, January 16), but I've decided I'll handle that by mail and phone.
The John Jay exams will be graded on the Friday after they're given, and I can hand in all my grades then. At BC the test scores will be available on January 12, and hopefully I'll be able to hand in grades right after that.
So basically I've got all my work cleared up. I did teach at BC this morning and then went to John Jay. Livia and Doris gave me Christmas cards;
they're both so sweet.
Mrs. Brody said I could pick up my paycheck at the Research Foundation office, which freed me from coming into the city tomorrow just to get paid. At John Jay, I had few students and I left early.
On the subway, I witnessed yet another fistfight, and as usual, several trains broke down or were delayed. Riding home, I talked with one of my students, Lacita – she asked if I was Irish or Italian; when I said I was Jewish, she was very surprised – who said she's moving to Florida, too.
Lacita is a nurse, and a little older than I, and last August she was stabbed in the stomach by a man who was trying to rape her right in the hallway of
her own building in Brownsville.
The doctors at Brookdale said she was very lucky just to have survived, and Lacita said she can't take New York anymore. Teresa's Christmas card said, "Please stay: New York needs you!" – but I don't feel I need New York.
Last night Linda Lerner called and we talked for two hours. She told me she can't imagine living anywhere other than the city and doing anything other than being an adjunct.
Although she's had dozens of poems, and some stories, printed in good little magazines, Linda can't deal with people in publishing; she didn't even want to submit an NEA application until I convinced her to.
Susan, she said, is pulling out all the stops to promote Love and is planning
a big literary party soon. Linda, who is teaching this term at BMCC and Poly Tech, also mentioned that David Gershator, a fortyish Ph.D. who adjuncts at Poly and LIU (that's pathetic) is a great admirer of my fiction.
These days I feel a little lost, and not having a car makes it worse: I feel so isolated here at the beach. But more than that, I'm in the middle of a big life-switch. Yesterday I threw out dozens of books, but I still have so many that I'm planning to take with me to Florida.
I've still got lots to do: see about renting a truck, selling my car, putting my belongings in cartons, selling my bed. But I suppose it will all get done.
Once again, I've gotten fat. I weigh over 150 now and I feel uncomfortable.
Libby sent a Christmas card wishing me a good move; I'll probably speak to her before I go. Mom sent the title to the car so I can sell it. It was cold again today, but the temperatures are moderating and the winds are from the south, so my apartment is comfortable.
Late last night I read the diary entries I wrote in Florida last spring. They reminded me of how beautiful I felt Florida was.
---
Tuesday, December 23, 1980
11 PM. Finally: Christmas vacation. I slept very well last night and no trouble getting up this morning. Outside, it had just started to snow lightly, and a dusting of the white stuff was on the streets.
As the bus made its way into Brooklyn, the snow kept coming down harder, and by the time I got to the college, it was snowing furiously. No one showed up for my 8 AM veterans' class. At least no one showed up after I waited half an hour before getting the bus back to Rockaway and returning to bed.
By then the snow had turned to hail and freezing rain. I fell into a half-sleep, read the papers, and listened to the radio. Then I called Alice, who said when she called up Teresa to cancel out because she, too, didn't feel well, Teresa was as furious with her as she was with me.
Out of the 25 people she invited, only a dozen showed up. She was understandably upset, but people couldn't help being ill – although Teresa told me I could – and, as Alice said, there was no reason to get abusive.
We didn't know it was a sit-down dinner; I thought it was a casual open house. I'll wait a few days to see if Teresa cools down. But if that was enough for her to want to end our friendship, I guess it wasn't worth as much as I thought it was.
I've been feeling slightly hostile to all my friends, but I haven't expressed it, and I know it's probably just that I want to cushion the blow of leaving them.
At 2 PM, I went out again. It had stopped hailing, but the ground was mushy and slippery with ice, water and slush. There was nothing at the post office, so I went back to BC to pick up my paycheck.
I had a feeling I would see Baumbach there, and I did, but I'm not sure he noticed or recognized me; we didn't make eye contact. He was on line with his young son; he looked cold and angry.
I decided to drop in to see Susan Schaeffer and caught her before a class. She had, it turned out, given a reading two weeks ago at Broward Community College, and she said she was impressed with the school.
Her mother had also arranged a Great Books reading which drew 300 people. I wish I had known so I could have told Jonny to go. Susan said she'll be sorry to see me leave, "but it's probably for the best."
She would like to take a leave of absence in the fall to write her next novel, but that all depends on how well Love is reviewed. Susan autographed a copy of The Queen of Egypt for me: "To Richard Grayson, my favorite ex-non-pupil and friend." She's a very good person, Susan is.
I cashed my check and had a dizzy dinner at Jentz; then I tried to get my classroom door opened, which took a while. I had my evening students write and I corrected their papers in class after they finished.
One woman came in late; she was obviously tipsy and called me "Richard, old boy" and said, "I predict you will be a success."
Arriving at the Junction minutes early for the 9 PM bus to Rockaway, I found a very long line. People told me the 7:15 PM bus had not come, nor had the 7:35 PM. The 8:10 PM bus was half an hour late, too.
It was awful waiting on that line in the cold night air. The city is so desolate in winter after dark, with snow on the ground. I didn't get in until after 10 PM, and that didn't improve my mood. However, I was comforted by the
thought that in a few weeks I won't have to put up with the winter.
Mrs. Calman met me today and said she felt bad I was moving, but that she understood I wanted to be closer to my family. With Marc in Rhode Island and my grandparents going to Florida next week, I really won't have anyone here.
---
Thursday, December 25, 1980
11 PM. What a Christmas. I awoke today to a freezing apartment; it was like being outdoors. My breath was wispy. When I turned on the radio, I discovered the temperature was one degree below zero.
It got as cold as -4°F today and it's +4°F now. I can't remember being so cold. I flashed back to those horrible days last winter when I was frigid and miserable.
When I called my parents – who had been at the Littmans' Christmas Eve party last night – they said it was cool in Florida, but still, it was sixty degrees warmer than here. I could only wish I was with them this Christmas as I was last year, and solace is that I'll be there – for good – in just three weeks.
If I had any misgivings about moving, the events of recent days have dispelled them. If I weren't moving, I'd be suicidal now, with nothing to look forward to but more of the same.
I was debating how I could manage to get through the day when Mikey phoned and said I should come over early. He knew the wind was coming off the bay in 45-mile-per-hour gusts, and he said I would be warmer at his mother's place.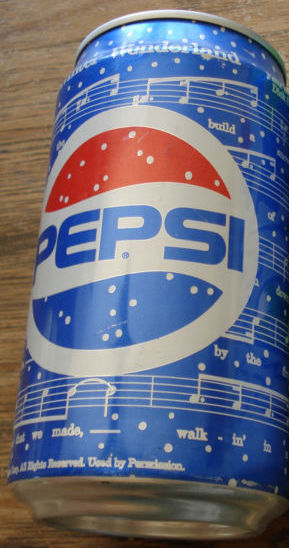 Warming the bathroom with running hot water first, I took a shower and then bundled up with a t-shirt, long underwear, a flannel shirt, a sweater, a scarf, a winter coat and gloves.
The glass in the door downstairs had cracked from the cold. I managed to walk the ten blocks on the boardwalk and beach, but it was difficult; I felt numb and under incredible stress.
But I got to Mikey's mother's house all right. She looked fairly well, though her face is all puffy from the steroids she's taking. It took a while before I warmed up although some hot tea helped.
We chatted and watched soap operas all afternoon as she cooked. We had to go pick up Larry. His car wouldn't start, and he was having too much trouble breathing for him to be able to walk.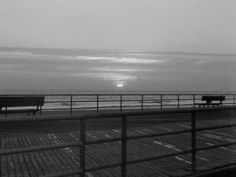 Mikey had a hard time starting up his car, too, and it was his mother who finally did it, telling us it was because she held the gas pedal down for sixty seconds before starting the engine.
At 4:30 PM we sat down to dinner: four Cornish hens coated with crushed-up potato chips; french fries; cole slaw; pickles; and other goodies.
We talked about old times, New York and Florida (Mrs. M's sister also lives in Davie), the hostages (still in Iran after 418 days), sex education and other topics. Larry said he'll be coming to Florida to do some fishing in February, so maybe I'll see him there.
We had delicious brownies, apple pie and ice cream for dessert, and finally Mikey drove me and Larry home after we thanked his mother for such a great spread.
When I got home, I got out the heating pad to warm up my bed, and I heated water on all four gas burners. Then I called my grandparents to find how they fared today.
As I expected, they had some trouble, but it wasn't with the car. At Susan's house, they were walking, holding hands, when they fell on the ice. Grandpa Herb hit his head on the sidewalk and began bleeding profusely; they found it hard to stop the flow of blood, which soaked his shirt and suit.
But finally they had it under control and they went to the bar mitzvah after all. However, as you'd imagine, they are both a little worse for the wear.
I called Jonny – Mom and Dad were out – and we chatted for an hour. He said he loves Florida, that he feels so peaceful there. He stopped lifting weights, because "it's boring and time-consuming" and is now doing hatha yoga.
Jonny said everyone there is from New York, Pennsylvania and Canada, with a large contingent of Brooklynites. He told me he'd take me places and introduce me to people. I can't wait to begin my new life.
---
Saturday, December 27, 1980
9 PM. It's the last weekend of 1980. In so many ways, this has been the most difficult year of my life, but now that it's over and I'm on the verge of the biggest change of my life, I feel it was all worth it.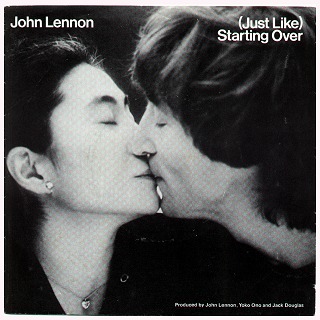 I'm happy to be moving to Florida. Although I have no idea what I'll be doing a month from now or three months from now, I feel like I'm starting fresh, as on the John Lennon song being played all the time now: "It'll be just like starting over." It feels clean.
Reading What Color Is Your Parachute? and doing some of some of Bolles' life/work exercises made me realize that I have dozens of marketable skills. As a writer and a teacher, I've had to work with people, ideas, things in many capacities.
Although I didn't really work until I was 23, I've done a variety of things: I was a delivery boy (for the laundry and the florist), a sales clerk (at Alexander's), a messenger (at the Village Voice) and an all-around office person at the Fiction Collective.
Everything I've done – including my publicity campaigns – has taught me
something. Luck is the place where preparation and opportunity meet; I've got the preparation, and I'm hoping Florida will provide the opportunities.
Today's Times had a front-page article about a presidential commission saying the government should encourage, not impede, the migration to the Sun Belt as part of a change to a "post-industrial economy." I feel like I'm going to where the action is.
This morning I got a call from Mason, whom I haven't seen in two years. He called Mikey last night, and Mikey told him I was leaving town. Mason was in Brooklyn Heights, preparing to go back upstate; he loves it in Fallsburg, where he's got a new job, teaching adults, preparing them for their high school equivalency diploma.
Mason said he's been going through "various stages of craziness" and is okay now, "though I may go berserk again next month." I was thrilled to hear from Mason and I wished him a good future.
It was too late for the post office, so I walked over to Grandpa Herb's and found he had been calling me, wanting me to take him to the eye doctor. When he fell, his glasses got out of line, and it was making him dizzy.
His car was riding terribly, so I told him I'd have Bob check it while I was in Brooklyn to get a prescription for Drixoral for my poor congested sinuses.
After the eye doctor appointment, I took Grandpa Herb home and began the drive into Brooklyn when suddenly the brakes went and the car started smoking.
I felt helpless and angry that the world seemed out of control, but I went to the drugstore, took the car into Bob, went to eat and see a movie (First Family, mildly amusing) at Kings Plaza.
By 5 PM, the car was ready, so I walked from the mall to Avenue O – it wasn't too cold today, around 30° – and picked it up.
Stopping by the old block, I honked when I saw Jerry Bisogno, who said he didn't recognize me with the beard. Jerry told me everything was fine and that Joe next door got married again on Sunday. So life goes on.
Back in Rockaway, I did some shopping and came home to do the laundry, eat french toast and yogurt, lift weights, and watch Breaking Away, by far the best show on commercial TV.
I do hope that I'll be able to write again in Florida because I feel I still have a lot to say. I want to tell stories about people, but I don't think I want to do it in short story form anymore. Although I don't know what genre I'll be working in, for now I'm content to dream.
---
Sunday, December 28, 1980
Midnight and I'm feeling good. Last night I got out all my diaries, twelve solid red books going back to 1969. They are my life, and they are probably a finer writing achievement than the stories.
I turned to various days: the day I met Shelli in 1970; a day in which mourned the breakup of our relationship in 1971; the opening of the 1972 Democratic Convention in Miami Beach; graduation in June 1973; December 27, 1975, five years ago, also a Saturday night, when I celebrated Avis's birthday with her, Teresa and Libby; my twenty-fifth birthday in 1976; the night I met Wesley Strick on Rosh Hashona 1978 and he told me my book would be published; the tenth anniversary of my diary, August 1, 1979, the day my parents sold our old house.
It is all there and most of it brings such good memories. Looking at it in perspective, I had to agree that I've been a very lucky fellow. Being alive is interesting fun. I may be silly and pompous and narcissistic, but I do enjoy life. And I can't wait to get down to Florida and start living there.
I went out for the Times at 11 PM last night; a light snow was falling, and it was pretty rather than annoying. I drove down to Neponsit, to Beach 144th Street, by Ivan's family's old house. Once I fantasized about owning that house myself one day, but that dream is long dead.
I didn't sleep much, listening to classical music all night. I woke up at 11 AM on a grey day. Avis called and invited me over later in the afternoon. I phoned Ronna, who said my manuscript was almost ready and that she would mail it to me this week.
We had a nice talk, but we don't bring out the best in each other anymore. I often wish Ronna and I had never gone out; if that hadn't happened, I bet we could have been really close friends.
I do hope she and Jordan come to Florida this winter, although she says she has no desire to see the place other than to visit her grandparents. I detest those who put down Florida as a place only for old people; they don't really know what it's like.
I went to pick up Marc's mail, but his landlords weren't home. Then I dropped in on Avis and Anthony, who shared some fantastic cinnamon tea that Libby sent from California.
It was a pleasant afternoon, just lying around the living room and bullshitting with them. As I was leaving at 3:30 PM, Avis ran downstairs to get me and invite me to the movies with them.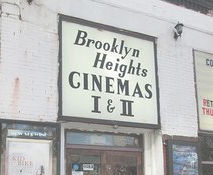 We finally settled on Ordinary People in Brooklyn Heights, and Grandpa Herb's car got there in a snap. I loved the movie a second time (Anthony generously paid), and they liked it, too.
We had dinner at the Cadman afterwards, as Anthony told me I eat too many hamburgers. We laughed a lot and had a nice time; I tried to etch it into my memory to save it for lonely days in Florida. I will miss Avis, and I've grown fond of Anthony, too.
Back home, I was feeling deliciously happy when Kevin Urick called and made me happier by telling me his White Ewe Press will definitely do my next book, the short story collection rejected by the University of Illinois Press.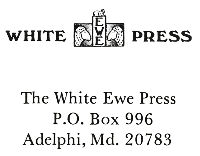 Kevin hopes for a fall 1981 or winter 1982 release. I told him to do whatever is best for him, to use whatever stories he wanted. He said he'd be going over the manuscript for the next three months but doubted he'd do any but minor editing.
The book will be published in hardcover and will probably sell mostly to libraries. He's got a new Albert Drake book and one of his own coming up before then. Kevin said he'd send me a contract although he can't afford to do royalties as yet.
He suggested we call it Richard Grayson's Book, which I think is a little too fey. (Even I am not that narcissistic.) But I hung up feeling good. I again have a new book to look forward to: something to stick around for.
This has been a red-letter day.
---
Tuesday, December 30, 1980
7 PM. "Penultimate" is the word for today on my Word-a-Day Calendar, the one that Alice gave me back in January. Every day I've peeled off a day and here we are.
I didn't sleep as well as I hoped I would last night; it was all right, but not the big, beautiful sleep that I need. I always become uneasy at the end of the year and usually imagine some disaster taking place.
I just wish it was already was a month from now and I was settled in Florida. I remember feeling the same way when I moved to Rockaway.
Mom called last night and told me my new issue of Small Press Review was
delivered there. She said that "your friend George Myers" had an article on Ted Berrigan, and when I told Mom who Ted Berrigan was, she said it jibed exactly with George's article: "You're so smart."
The weather has been cool in Florida and all the tourists are complaining. Mom gave me a million instructions about moving, most of which I've already forgotten.
I worry about getting the flu, which I am 98% certain I shall contract before I get to Florida. I felt achy again today. I bought masking tape and mothballs and packed away some linens and towels, and I threw out more stuff.
Dad will be here on January 9 and will be staying at the Sheraton Centre. It's been over two months since I've seen him, nearly two months since I've seen Marc, six months since I've seen Mom, and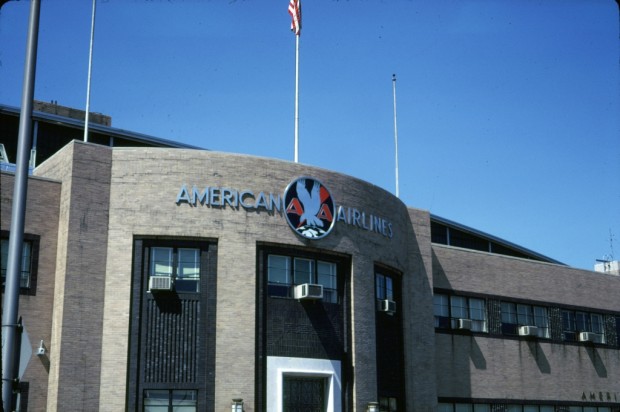 almost nine months since I've seen Jonny.
In the last eight months, there have been only about fifteen days when I've seen any of the members of my immediate family. What a change from when I used to see all of them every day.
Ronna called this afternoon to ask if I knew where the MLA convention was being held, as she was trying to locate one of Redbook's authors. I told her it was in Houston. She said she mailed out my manuscript this morning and wished me a happy new year.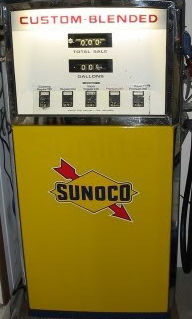 I couldn't find that black guy at the Sunoco station and I'm getting nervous about selling my car. I'll deal with it tomorrow or Friday. But time is running out.
In some bizarre way I feel that I am going to die. Leaving New York is like finalizing a long and bitter divorce. This last week I've been free and my unhappiness has had time to make itself felt.
But mostly I feel anxious. What if things don't work out in Florida? What then? What's going to happen to me? I'm scared shitless. I've always dreaded change, and this is probably the biggest change of my life.
I know I need a change and I can't let my fear rule my life; if I stayed in New York, I'd be staying only out of fear and complacency. I can't do that to myself.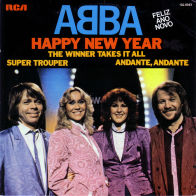 There was no mail again today, and I'm beginning to feel panicked. Suddenly my life seems so empty. Maybe I have the flu already and I'm feverish and that's why I'm so depressed this evening.
All I want to do is sleep. Perhaps I should call Dr. Pasquale for an appointment. I'll see how I feel.
Gary invited me to spend New Year's Eve with him, and I probably will – if I'm feeling okay. I'm very dizzy again. I miss having things to read, even those horrible remedial papers from my students.
Not working, I feel I don't have a purpose to my life. I feel so fat and creepy-looking. I wonder if things will ever work out or even if they're supposed to. I hope I'll feel better tomorrow.
I suppose I've gotten through 365 days this year and I can handle whatever happens. On Another World, a character took a nap and didn't wake up; sometimes I wish I could do that.
But most of the time I know that I have a lot to look forward to: my new home in Florida, being with my family, a new career, new friends, maybe a love affair, the White Ewe Press book, 1981 and beyond . . .