Wednesday, October 22, 1980
9 PM. Yesterday went fairly well. I had a good class at Brooklyn College last night and got home around this time. Then I called Mikey, who sounded very upset. His mother is still in the hospital and refusing to have any more tests done, saying that she felt better.
I can understand how Mikey's mother feels; those tests can make you feel like an object, and doctors don't help matters. The four pulmonary men at Peninsula who were anxious to operate on Grandpa Herb are also pushing Mrs. Morris into a variety of biopsies and other tortures.
Living in Rockaway instead of his place in Chelsea has ground Mikey's
social life to a halt, and he is fed up with commuting to and from work. I hope I helped by allowing him to blow off some steam. That's the most I can do: say things like, "It must be very frustrating."
Avis phoned. Nothing was new with her and Anthony except maybe that they plan to look for a used car this weekend. I told her she could have my Comet, but for some reason she declined the honor.
Dad also called from his hotel; he had another good day at the menswear show, which ended this afternoon.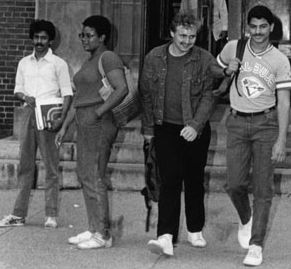 This morning I decided I wouldn't go into John Jay tomorrow, so today I told my students I was canceling class then. This will spare me just one of my hysterical Thursdays and give me a chance to catch up on marking papers; perhaps I can also see Dad before he leaves.
All my checks cleared, and as of this morning I have $575 in Citibank – but I wrote out checks for the rent, the phone bill and the druggist which totaled $360.
Still, a week from tomorrow I'll have another $600 – possibly more if the Kingsborough check comes through – and I should be able to begin straighte
ning myself out.
My classes went smoothly today, and commuting wasn't bad. It's been chilly lately, but I've been adjusting to it; I'm now wearing my pea coat.
The letter from Clark University finally arrived, and it was a personal letter, complimenting me on my "excellent qualifications" and urging me to reapply in the future.
I've begun to get some rejections of the stories I've been sending out lately; at least a little feedback, even negative feedback, is better than none.
I had dinner at the Ram's Horn and came home to read, watch th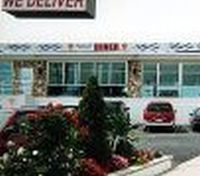 e news, and lift weights; I'm making progress with my exercises.
Marc called to give me his new phone number and to ask if I wanted to go out with him and Dad for dinner, but I declined. Dad will probably sleep over at Marc's tonight although I was hoping he could come here.
Marc told me Rikki came around again, but he went outside rather than let her back in the apartment. She promised to reform and quit taking drugs and dealing and drinking and lying and generally fucking up; Marc said he'll believe it when he sees it.
I don't think Rikki can change without professional help. Mom thinks Marc
is worried that everyone thinks he was a schmuck. Well, he was – but being a schmuck is forgivable.
I've been looking at myself in the mirror and not liking the result. My complexion is sallow and blotchy, my face is puffy and fleshy, my hair is lifeless and drab. Generally, I look tired.
I've been feeling quite dizzy again lately, and though I haven't really lacked energy, I've been feeling a bit washed-out. Maybe it's just The October Blahs.
Tomorrow I'm having the BC veterans write, so it should be a fairly easy day. I just wish I had more time to read and to write, as I've been getting ideas for stories.
---
Thursday, October 23, 1980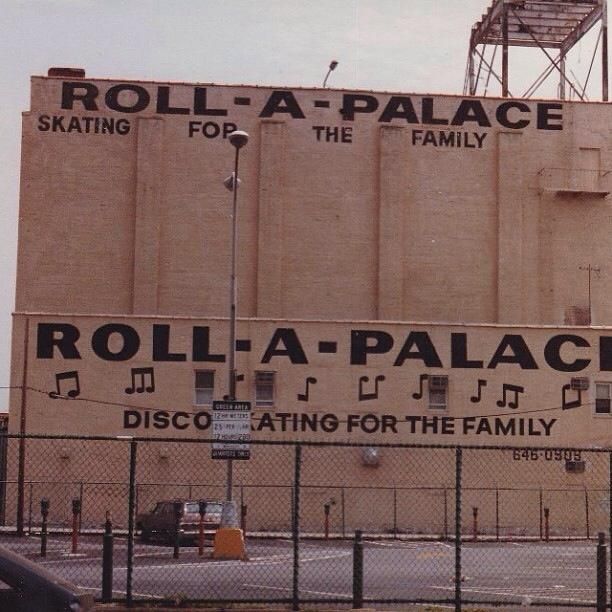 9 PM. Another work week is over. Not going to John Jay really made my day easier, but even if I had gone there, this week wouldn't have been so bad. I didn't get depressed or feel defeated all week.
I attribute this to my plans to move to Florida. One by one, I've been telling my friends the news, and most have taken it fairly well, not arguing that I should stay in New York. Even Alice seemed to understand when I told her about it today.
After my veterans' class at Brooklyn this morning, I met Dad for breakfast at Campus Corner. Odd how I spent so much time in that dinky little restaurant, but I've never been there before with Dad – not in all the years I was a student.
He had a good closing day at the show, and then Marc picked him up and they had dinner in Brooklyn. Dad spent the night at Marc's, which he said is a "pigsty." Dad worries that Marc may end up getting sick because of his weak constitution and that he may already have walking pneumonia.
What I fear most is Marc's getting in trouble with either the law or with crooks like Fredo. But he's an adult, and if he chooses to live his life this way, there's not much we can do to help him if he doesn't want any help.
I gave Dad a big hug and said I'd see him at Christmas; then he went into the subway to go to appointments with Flyers and Sasson. (Dad says the Sasson people don't know what they're doing. They're shocked he's doing as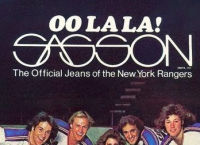 well as he is because most of their other salesmen are lazy young fuckups.)
Dad is such an admirable man. He related how he met a guy at the show, remembered the guy's name, the name of a store the guy had in the Bronx fifteen years ago, and the exact address of the store – which even the owner had forgotten! I see now where I get my good memory and thoroughness.
Back in Rockaway, I picked up my mail. My check for the contact lens insurance bounced; inadvertently I withdrew the money before the check went through. Oh well.
Bill-Dale wrote that my letter, in which I said I didn't want to be friends with my students, depressed him because I had sounded so "nice" on the phone. Huh? He said he would still like to meet me, but I'm not anxious for it to happen. I like Bill-Dale's craziness, but only from a distance.
Crad writes that all is going well: Lightning's sales are so good that Virgo Press is doing a second printing, some student TV reporters were doing a story on him selling in the street, and he enclosed a glowing article/review from Quill & Quire, Canada's leading book review journal.
Crad's career is really taking off, and I'm happy for him. Maybe someday it will be my turn. But I don't think I need that kind of success as much as I used to.
Perhaps I've lowered my expectations or changed my values; perhaps I just no longer think I'm that good a writer – but I could be content with a lot less.
I don't believe I'll ever regret not becoming an instant success with the publication of Hitler. I also have realized that I'm far from being a failure, even in what I've accomplished so far. But my worth does not depend on my accomplishments.
This afternoon I relaxed, lifted weights, caught up on my soap operas and generally futzed around.
I had a good class at BC tonight; for the second time in a row, I ran overtime while giving a lecture on grammar. Talking about language – even grammar – is exhilarating, and I know I can be an enthusiastic teacher. It's academia's loss that I can't get a full-time job.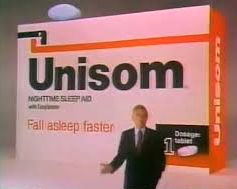 All week I haven't had a good night's sleep, but since I don't have to work or do anything else tomorrow, I plan on snoozing my little heart out tonight.
I've been reading Merritt Clifton's Samisdat essays. He's surprisingly well-read, and his writing has real intellectual vigor; I admire his spirit and the breadth and range of his interests. He may be a wild man, but he's very much in the American tradition.
---
Sunday, October 26, 1980
5 PM. This weekend hasn't been too unpleasant. I'm beginning to wonder, though, whether I'll be doing the right thing in moving to Florida. Will I be lonely there? Will my relationship with my parents deteriorate at close range?
But despite these fears, I'm still intent on moving . . . mostly because I don't really have an alternative. I can't use my car much longer and I don't want to adjunct this spring – and even if I did, there might not even be any courses for me in New York anyway.
I don't want to go through another winter like last winter, and I don't see this coming winter being any better if I stay here.
I've always admired people like Avis or Harvey (whom I wrote yesterday), people who could pick up and go across the country or across an ocean to start a new life elsewhere.
With the gale winds, it was impossible to get out of the house. Stuck indoors, I cleaned up the apartment, wrote letters, and caught up on a lot of
back business.
At 6 PM, I called Mikey, and we went out for dinner at the Ram's Horn. By that time, the storm had subsided, and it was good to be out with someone.
They've finally diagnosed his mother's illness as an infection in her heart valve; it will be treated with intravenous antibiotics for the next three weeks.
Mikey looked under a strain; I know how hard it must be for him. After dinner, we came back to my place and chatted until he got tired. When he left, I began working, and at 11 PM I went out for the Times.
There was a story on David Del Tredici in the Lively Arts sections, and ironically, the Book Review recommended the paperback of Jacob Epstein's Wild Oats. Hell, he will probably have an even better career now because of the publicity surrounding the plagiarism.
I went to bed late, but because Daylight Savings Time ended, I got an extra hour's sleep and was up at 9 AM. I spent the morning lifting weights and answering job ads.
On Friday at Grandpa Herb's, I got a call from the Continuing Education division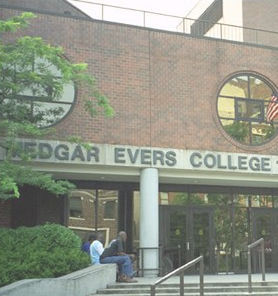 at Medgar Evers College; tomorrow I'm supposed to be interviewed for a Monday and Wednesday evening English as a Second Language course.
But I've decided not to go. I don't know how to teach ESL and it would be dangerous to go into that neighborhood at night.
At noon today, I met Josh at Kings Plaza; after not seeing him for the past few weeks, I had missed him. He had to come to the mall to exchange a pair of jeans Simon had bought at Macy's. (Simon had to take his cat to the animal hospital again today.) In Macy's, we also looked at shirts and boots for Josh.
It was fun to be with Josh again, and I had a good time. We had lunch in Zum Zum, for which Josh kindly paid, and parted at about 3 PM. Then I brought Grandpa Herb's car back and returned home.
This week I'm being observed at John Jay, but I don't really care too much.
I hope this week will be as good as last week was. After this coming week, the following two weeks should be easier because of the Election Day and Veterans Day holidays.
I haven't shaved since Wednesday, and I look like a bum, but I want to see if my beard will grow in nicely before I shave it off like I did before. After five weeks of weight-lifting, I'm more muscular than I've ever been.
I should call Dr. Pasquale for a session, but I'm not anxious to see him.
---
Tuesday, October 28, 1980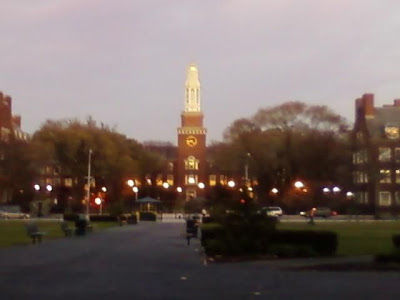 9 PM. I just got home from Brooklyn College. Because my car is running so badly, I've been relying on the bus, and I really don't mind taking it. I look at these familiar places carefully now because I'm going to be moving.
There are hundreds of memories that come back to me as I go over the bridge or past Kings Plaza or Kings Highway. But, as I was thinking before, maybe I can achieve the artistic distance from New York that I've always been looking for when I move to Florida.
When I'm lonely there – and I expect to be lonely much of the time – I will call on my memories, and I hope that will lead to good writing. With each passing day, I am more and more certain that moving is exactly what I want
to do.
Suddenly this fall seems not something to be merely endured, but my last season in this city and therefore a time to savor. I know I'm leaving, so I can just put up with the horrors of New York a little more easily.
Everywhere I go, I keep hearing Frank Sinatra or Liza Minelli singing "New York, New York.'' A line from the song goes, "If I can make it there / I'll make it anywhere," and it's a line I believe in.
I came pretty close to making it in the Apple; after this, everywhere else should be a cinch. Last night I called Elihu and Vito and told them both I was moving; I haven't been close to either in years, so they weren't surprised.
Elihu says his job at Goldman Sachs is an okay way of making money, but there's no creativity in what he does and he's very bored. He still hopes that if he writes a great dissertation, he'll get a job in academia; of course he knows that isn't going to happen. The faculty at LIU is still on strike and they may cancel the semester, Elihu said.
Vito was busy running the newsstand at the Abbey-Victoria, where he's earning good money: $20,000 a year. But he's embarrassed to tell anybody what he does and there's no future in his job, so he's preparing for the LSAT and applying to Fordham, Brooklyn and other law schools.
I called Marc last night. Conversing with him is harder than getting a response out of my most silent student. We talked about banal subjects and I was relieved to end our "conversation." I heard Rikki in the background, but I was afraid to ask if it were she. It's hard to believe he would take her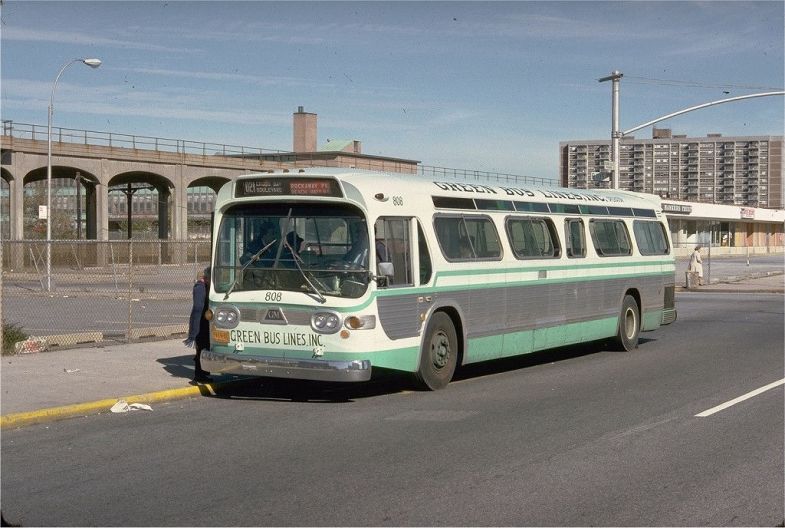 back.
I felt so dizzy last night, I couldn't sleep. This morning I was early and caught the 7:25 AM bus, which Mikey also got on. He said his mother was getting antibiotics and feeling nauseated.
I taught my veterans' class and told them not to come in on Thursday (I'm alternating taking off my one allowed sick day at the two schools, and this week I want to give myself extra time to prepare for the observation at John Jay).
Then I came home and got into bed and actually slept for an hour or so. It was a dark, rainy day: a perfect day to sleep. In the afternoon, I exercised,
shopped and did my laundry.
Avis called to say that on Sunday, two weeks before her due date, her sister had a boy, a seven-pounder they've named Daniel. Avis's parents have gone to Virginia to help them get the baby settled.
I had my evening students at BC do an essay, so I didn't have to give a big lesson tonight. The Carter/Reagan debate will be coming up in a few minutes, though I'm sure it will be more of a press conference than a real debate.
---
Wednesday, October 29, 1980
8 PM. Last evening Teresa called. She got a cold last week but managed to get to the dinner for Carter. On the receiving line, Teresa got nervous and said, "He's the President! Oh my god, what can I say to him?"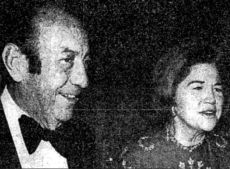 Bob and Phyllis Cerf Wagner, standing next to her, told Teresa to say, "Good luck in November, Mr. President," and she did just that when she shook his hand.
Her job at the Borough President's office is quieter than the job at the railroad, and she's learning the ropes.
Teresa plans to go to California next month and she sounds pretty happy. I know that because we got through the whole conversation without her mentioning Paul once.
I called Pete Cherches, who, like Teresa, wasn't feeling too well. On Tuesday, he's reading with Tuli Kupferberg and others at the Mudd Club, a hot new disco. But it starts too late for me to go.
When I told Pete I was moving to Florida and giving up academia and the literary life, he said, "Oh, I suspect you'll be writing there." I guess he's right. It's in the blood and all that.
I just got a call from Carter/Mondale HQ. It's amazing that I can't turn anyone down on the phone, even though I know I won't be working for their campaign as I agreed to. I didn't even vote for Carter, after all.
Last night I slept well and was awakened at 8 AM by Josh, who wanted to know if he could wear his tan sport jacket with a brown-and-white striped
shirt. I said he could and went back to sleep for an hour.
My only mail today came from Bill-Dale. He said that while we differed on many things, our attitude towards life was basically the same and that he was going to come into New York sometime in November. I suppose we will meet after all.
I arrived early at John Jay and typed up some stencils of sample essays, which we went over in class. The earlier class is so immature, it's hard to keep them quiet.
I just hope they don't come crying to me when they fail the CUNY exam. The exam will be given on December 10 or 11, so there's really not much
time left. Of course, those who fail can take it again after Christmas.
It strikes me that I'm not going to be in New York much longer. It's eight weeks until Christmas vacation, and then I'll be in Florida. I'll come home after New Year's Day and hang around another two weeks, winding up my responsibilities at John Jay and Brooklyn College and preparing to move.
Last night I reread my diary for this time last year. I was in the papers and on the radio all the time and seemed well on my way to becoming a celebrity. I was feeling strange in my new apartment and I missed my parents, Jonny and the house on East 56th Street.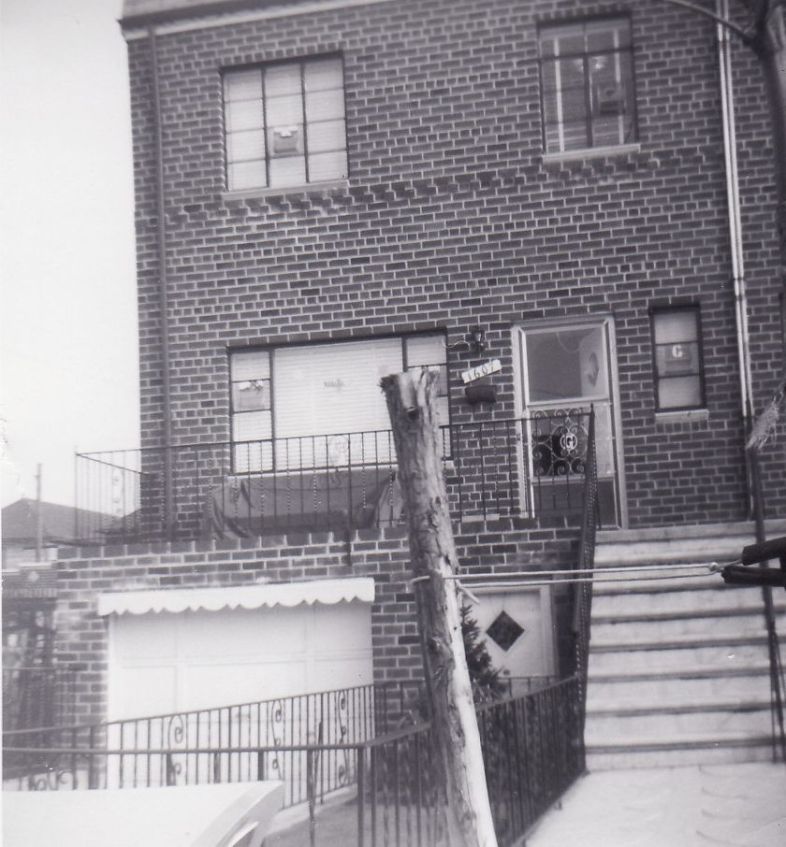 I remember I used to think, when coming home from the city at night, "If only I still lived on East 56th Street, I'd be home already" and I'd regret the longer ride over the bridge to Rockaway.
But I haven't thought that in months, and last week, when I went to Deutsch Pharmacy, I passed the old block and didn't even think to look at our former house.
On his way to teach at Pratt, Denis gave me a ride from John Jay to Brooklyn, as he wanted my opinion on the novel he wrote. I told him I hadn't finished it yet, but I did give him some suggestions on tightening it.
Denis is falling apart because of his hectic schedule. I don't know how he manages teaching at John Jay and Pratt and taking his Fordham law classes at night.
It turns out that there are two different stations called Clinton/Washington. I got on the wrong subway, the GG, only noticing it when the signs of the subway stations were shades of green, so I had to backtrack all the way to downtown Brooklyn to get the CC.
Because of that, I didn't get back to Beach 116th Street until after 5 PM, when it was already dark. I had dinner at the Ram's Horn and then went to the cleaners, Citibank, and Waldbaum's before coming back to my apartment to lift weights, mark papers, and prepare for tomorrow's classes.
I haven't shaved since Wednesday and this beard seems to be coming in nicely. I'll probably again get disgusted and shave it off, but I'd like to let it
grow in more than the one I had in May.
(I just realized I wrote the same exact thing yesterday. That shows how hectic things have been and what it's done to my brain. But at least I'm basically feeling happy.)
---
Friday, October 31, 1980
7 PM. Today I had an experience which has left me so shaken, I'm ready for bed. Even now it seems like a dream.
The day started off well: I was up early, marked a bunch of papers, and lifted weights. Then I picked up my mail and went to my grandparents to borrow their car.
Earlier, I had called Kingsborough, and they said that my check was probably in today's payroll and that I should pick it up. But when I went to payroll distribution, there was no check. They directed to me the payroll office, where I was told they had no file on me. They told me to go to the English Department.
I was hesitant about it, but I thought: What do I care what they think of me? I have nothing to feel guilty about.
So I saw Evalin, who told me that she had submitted a form to Dean Somebody's office but she had heard that they weren't going to pay me – and the other adjuncts who quit – because we had broken our contracts.
I felt myself become enraged. Even at this moment I am still so full of fury that I can barely control my hand on the pen. I've always been unable to stand injustice, but when it's directed against me, I get near the edge of violence.
Evalin told me to call the Dean's office, and of course they told me he was out today. Mrs. Del Bate was the one to see, they said, but she was out to lunch.
I could feel my blood pressure rising and I stormed into that office, asking for some help. I know I must have looked slightly deranged, and my week's growth of beard must have contributed to that effect.
A secretary got out my file and said that I wasn't listed on the original English faculty list, that they didn't have a personnel form for me, and the only notation that I was hired was in a letter from Nimchinsky.
The secretary, Mrs. Singer, said I seemed to have a good case although she added that they weren't paying adjuncts who had quit. I told her I wouldn't have agreed to finish the week as a favor if I knew I wasn't going to be paid.
She mentioned that this was her last day before a month's vacation and said she was going down to her condo in West Palm Beach where she and her husband plan to retire next year.
We chatted about Florida, our families, and other subjects until she began to see me as a person and not as some cog in the bureaucratic wheel.
When Mrs. Singer went to lunch, I waited outside for Mrs. Del Bate, who was taking her sweet time coming back from lunch.
I waited and waited and looked pathetic enough for another secretary to try to see if someone could help me; of course, everyone said that it was someone else's job.
My stomach was in knots, my head was pounding and I was feeling more stress than I've felt in weeks. Finally I decided to go out for a walk and a
snack, but that didn't calm me down.
I called Mom and she thought it was an outrage. "I can't take this exploitation anymore!" I told her. "I'm going to kill someone."
And to Avis, I said I couldn't believe this treatment (I still can't): not being paid for honest labor. This kind of injustice happened in sweatshops, in migrant worker camps, on antebellum plantations, but not in academia in 1980.
Wrong again. When I returned to the office, Mrs. Del Bate was there, a chubby fortyish woman who was cutting ribbons with a scissor. She said it wasn't her responsibility, it was Dean Zibrin's, that he had decided that we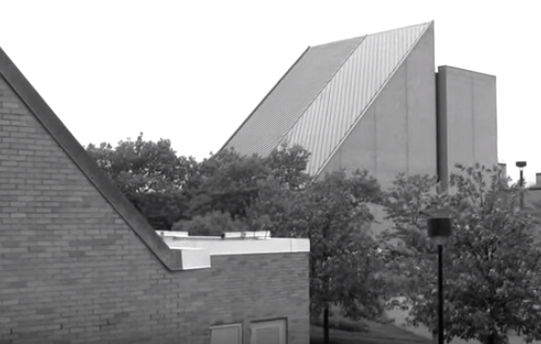 hadn't lived up to our contracts and wouldn't be paid.
"Would you work without getting paid?" I asked.
She shrugged.
"I want to see Dean Zibrin."
"He just left for somewhere – lunch, maybe, or something."
"Could you get him? I'm not leaving here until I get paid."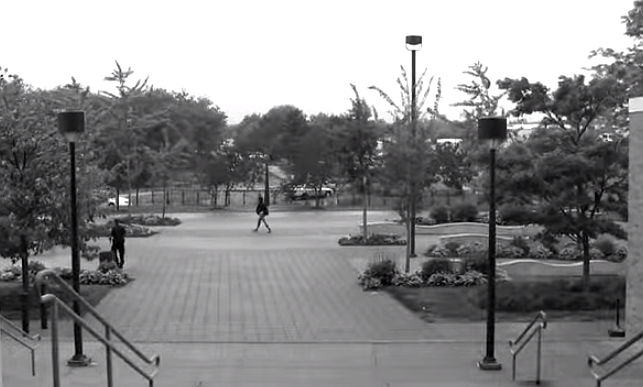 She smiled condescendingly and went on measuring the lengths of the ribbons.
"The way you people exploit adjuncts is incredible," I said, and I could feel myself losing control. It was a classic case of being utterly helpless to control my own destiny.
There was a porcelain frog on her desk next to me, and I started for it, about to fling it across the room, when suddenly, without thinking consciously, I began to get dizzy and sweaty and I started to shake.
My eyes and face started twitching and I could feel myself losing control of
my body's movement.
"What's wrong?" I heard her say, as if from a distance.
"I'm an epileptic, I'm not supposed to get excited," I cried between convulsions that were half-feigned and half-real.
She ran to get me a cup of water, but my hands shook so badly that I spilled the water all over myself and the carpet.
In the outer office, the secretaries seemed to be going wild: "Should we get a nurse? Should we call an ambulance?"
"I can control it," I said breathlessly. "I've got to calm down," I said, but then I began crying very real tears and I wailed: "Look what you made me do by not paying me!"
"Think positive," said Mrs. Del Bate and she ran and managed to find Dean Zibrin in seconds flat. She came back with the news that "the Dean said he'll pay you" and she hurriedly began typing up a form.
"That's for 11⅔ hours," she said as she typed. Behind her back, I was breathing deeply and had my eyes closed. "You'll get paid, Richard," she said, calling me by name for the first time.
By then I'd calmed down and she said, "Call in two weeks – is that all right?"
I said it was, and walked out of the office, giving one of the secretaries a big wink as I opened the door. Outside I burst into fits of laughter.
I had succeeded, I hadn't been frustrated – but look at the price I had to pay. Feigning an epileptic seizure to get paid for classes I taught in good faith: it worked, but I felt totally without dignity.
I probably seized on (no pun intended) the only strategy available; violence would have been self-destructive and counterproductive. Obviously I'm clever and a hell of an actor, but God, is this any way to earn a living?
This settles it. Academia is only a dead end; it's completely heartless. I'd rather work for Exxon or IBM. Adjuncts are not people, the colleges say. Now I'm sure I'm doing the right thing in moving to Florida. Goodbye, academia.