Sunday, August 24, 1980
11 PM. Another beautiful Sunday night and I'm ending the week the same way I did last week, by feeling happy and counting my blessings.
I've learned so much about life – this sounds corny, I know – but I feel that God has allowed me to see both sides of life, to learn what it's like to be a loser as well as a winner.
Compared to most poor and working class people, my own suffering has been minimal – yet I am of the working class now and I feel more comfortable in it than I ever did.
In some ways, I'm so glad I haven't experienced the New Elite lifestyle of the brilliant young urbanites with their Disposable Income that allows them co-ops in the Heights or the West Side; summer shares in the Hamptons or Fire Island; designer jeans, suits, shirts and ties; Zabar's delicacies and Bloomingdale's wares; jogging suits and gym membership; brunches at Feathers and suppers at the Russian Tea Room; and all that needless shit.
I've been exposed to that lifestyle through my friends, and it can be fun and very enticing, but it's not for me. I want to live in a neighborhood where there are old people and little kids. I still dream about owning my own house.
Being gay makes being working class more difficult. Take my brunch with Fred tomorrow: it will be a waste of time. Fred is too into the gay lifestyle – one branch of The New Elite – for me.
Last night I went to the movies with Mikey and Larry, two middle-class people if there ever were any, and we saw a lowbrow movie, Smokey and the Bandit 2. And I thought it was pretty funny.
Mikey and Larry are pretty dull, though: things I say that strike me as perfectly ordinary apparently sound like insane ravings to them. That's where I'm not middle class: I like to be blunt and say things playfully and for shock value.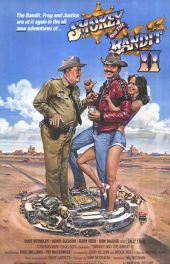 Standing on line outside the Nostrand Theater last evening, I was very much attracted to the guy behind us. He was about 24, nicely built, with medium-length dark hair and close-cropped beard. Wearing Adidas and a fraternity t-shirt, he looked like everything I would like in a lover.
Maybe what attracted me most to him was that he and his friends were with two little kids. I could see from the way that he played with the kids that he was a decent person. The kind of guy I'm looking for may not exist: someone masculine, good-looking, straight-looking but not straight-acting, intelligent, stable, sexy, very down-to-earth (hamishe) and unpretentious with an offbeat sense of humor and a lot of kindness.
But maybe someday such a guy will come along and I'll know him the minute I see him.
Anyway, last night was a fun evening at the movies and at Carvel's afterwards. Larry's mother is in Brookdale following a hysterectomy so he met me and Mikey at the theater.
The new judge Mikey is working for is nicer than the old one, and Mikey's dating a new girl. He told me Cara found out what happened to Bobby: Bobby made "megabucks" with the PR firm he established and is now retired from active business and taking acting lessons with Uta Hagen.
This morning I got a call from Scott. Just the other day, Avis was talking about him and wondering when I'd hear from him again.
He called me a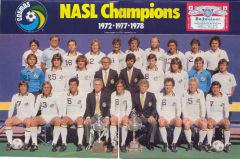 bastard for not calling him and said I could make up for it by going with him to a Cosmos soccer game this evening; I told him I would.
I left Rockaway early to avoid beach traffic – I was out on the beach myself for an hour – and went to cool Kings Plaza, where I found the new fifth Pushcart Prize Anthology. This year I made honorable mention and was listed in Outstanding Writers for "What About Us Grils?" nominated by Rick Peabody and Gargoyle.
Then I drove through Brooklyn, remembering something at every block: the shortcut Dad used to take to avoid the long light at Kings Highway and Avenue K; the Mercury dealer where I picked up the brand-new Comet in May 1973; the tennis courts where Shelli and I took lessons; her old house, now owned by blacks; the basement office on Remsen Street in the Heights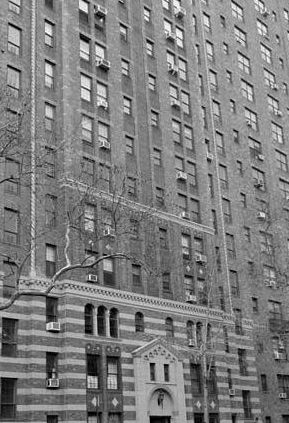 where I went to see Rochelle Wouk for therapy.
At 6 PM, I got to Scott's at the fairly exclusive London Towers. He answered the door after coming out of the shower. He looks as lean and handsome as ever; his hair is getting gray, but he doesn't appear older.
Scott insisted that I'd been to his apartment before with Avis and immediately turned from me to talk to – or yell at – Reggie Jackson at bat on TV. Typical Scott Koestner.
When he remembered I was there, he quizzed me about Avis's marriage, my career and love life (not much to tell about either), and chastised me for not sending him a free copy of my book.
Scott is still working for Chief Judge Cooke as counsel for labor relations and is obviously doing well financially. He interrupted my queries about his life with questions about Teresa and Alice, then told me, "I may be getting married in the spring" – to Danielle, that French doctor he met in Israel years ago. (I met Danielle when Scott and Sheila went cross-country with her and her friend Yves.)
Scott spent three weeks with Danielle on Cape Cod and asked her to come live with him. She wanted a commitment before she moved to the U.S. and Scott gave it to her.
Danielle's Frenchness is exotic enough for him, I guess
, because she's also Jewish and middle-class. Usually Scott's women are not white; he told me that lately he's been seeing a Moslem woman from Mongolia.
After Scott's friend Mark (a lawyer for the government) and Stu (who works for his father in Jersey) arrived, we drove to Giants Stadium in the Meadowlands in Stu's luxury car.
I enjoyed the soccer game, especially because the seats Scott had been given were up close. The Cosmos have already won their championship, and the
Rochester Lancers were no match for them. The game moved fast and was exciting.
I'm glad I went; it was a good night.
---
Wednesday, August 27, 1980
2 PM. Generally I like to write at night on these hot, oppressive days, but with an empty afternoon before me, writing this is a way of making time pass. It's 95° now and I can barely tolerate the humidity.
Today I had to be home while they were installing the intercom system. As I said, I really don't come alive until the sun goes down.
The past two nights I've fallen asleep with the windows open before me while I was listening to classical music on WQXR. I know nothing about classical music, but lately I've begun to play it all the time.
I've been having resonant dreams. On Monday night I had a collection of dreams fearing my whole family – parents, grandparents, brothers, Rikki and her kids – that culminated in a morning dream that astounds me:
I was on a subway platform, about to get into a train that had stopped. The doors wouldn't open, so I forced them apart and managed to get in. As the train pulled out of the station, I was looking out the window and saw myself standing back on the platform, waiting patiently.
It scared me: I wondered which of us was the real me. Maybe it was
something like "I'm leaving my old self behind" or something like that.
Last night I dreamed that I was at Touro College, sleeping on cots with a number of other teachers, waiting for messages to be placed on a bulletin board.
I was talking to a woman in the next cot – she was small, dark, and very beautiful – and we came closer and finally she gave me the sweetest little kiss in the world. Then I kissed her and she kissed me and when I woke up I was in heaven. Nice.
This morning I went into Brooklyn and straightened out the problems with my Dime account. The next Touro check – the July 31 one – should come soon, I hope. I have only about $120 to get me through till then, and even with that, I'll probably have to borrow more money from Dad or Josh or
Avis.
I got the transcript of the Voice of America taping in today's mail. I have to correct it and send it on to Richard Kostelanetz. I hope the $100 check for that will come soon, too.
Bill-Dale finally wrote me. He's going back to Rutgers for graduate school and will be teaching two sections of comp. Right now he's busy with the next issue of his zine, AFTA #4, and I'm sure for a while we'll both be too busy to get together. Such is life.
Josh phoned and asked if I could accompany him to the landlord again tonight. Josh had phoned them yesterday and said he wouldn't sign a subletting lease, and after a couple of hours, they came up with a lease that has his n
ame on it.
I just hope Josh doesn't get his hopes up because the landlord may have more tricks up his sleeve. Although I dread driving into Brooklyn in this heat with my sinus headache, I like helping out a friend.
Pete Cherches called and said his Florida mission failed: his parents won't support him. When I spoke to Marc briefly, he was as mysterious as ever.
---
Thursday, August 28, 1980
4 PM. What the fuck is life all about? After all this time and all these melodramatic, pretentious words, I still don't know.
Life is like this oppressive heat which tears away at your spirit until you think you can't take it anymore and then finally there comes a hint of relief so you get your hopes up until the next day, when the heat is still as bad as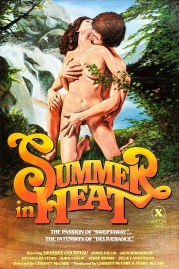 ever – if not worse than before.
Last night I pontificated to Josh: "Life is a series of crises punctuated by boredom and despair." That's not it, either, but I don't know what it is.
Yesterday I went into Brooklyn to meet Josh. Our cars came to a halt on the Gowanus as all lanes were blocked after two drivers decided to total their cars. The temperature was 97° and we stood outside on the elevated roadway until the police finally cleared the wreckage.
I was hot and headachy and nauseated – as I am now. Josh and I walked from his house to the real estate office on Court Street, where they gave him a new lease in his name.
He forgot to bring his checks for the first month's rent and security, so we had to trudge back to his place. I became ill from the heat, so we drove back, and the car kept stalling.
I sat on the car on Court and State, drinking from a can of Coke, putting a towel up to my face so I wouldn't smell the stench of urine and car fumes. I watched a miserable bum do a dance and the rest of the scum of downtown Brooklyn pass by.
Finally Josh came out with a new lease, the keys, and a $1,000 certified check, which we went to Citibank to deposit. His new Hicks Street apartment is three flights up in a building which smells like a menagerie.
The place was big and ugly, but you could see the Watchtower time-and-temperature sign from his kitchen. After Josh set off a bug bomb, we went to say hello to his super, a nasty old woman named Mamie who reminded me of Grendel's mother.
Then we ate at a restaurant – air-conditioned, thank God – on Henry Street, though all I could get down was a fruit salad. Josh kept saying how weird he felt and asking me if I thought the landlord would show up on Tuesday with the $3,000 remaining that Josh is getting in return for leaving the old place.
I realized that I was once again feeling rage inside because I was being called on to help solve someone else's problems when no one seems to help
me with mine.
All of the money Josh is getting will go to pay off his debts, so he'll be no better off than before: "Just a little higher out of hole."
When I came home to Rockaway, Grandpa Herb called, giving me a message to call Oscar Miller at Kingsborough today at 2 PM. I felt elated by this news and got my spirits up.
Then I made long-delayed calls to Justin and to Dan Meltzer, inviting them both out to the beach this weekend. I called Dad, who said he'd be in New York for the day next Wednesday.
I was too excited to get to bed early, and I didn't get up until 11 AM today.

At the post office box, I found a first proof of my entry in next year's Who's
Who in the East – and a final notice from LILCO saying that if I didn't pay my $61 electric bill, they'd shut off my service.
I went to my grandparents' again – I'd been there yesterday before I went to see Josh; although I'd hoped to use their air-conditioned car, I didn't have the nerve to ask – and they could see how bad I felt.
Without saying a word, Grandpa Herb made out a check for LILCO. "I'll pay you back someday," I stammered, feeling embarrassed. Grandma Ethel saw my Who's Who entry, and even she managed to find irony in the situation: "You're
in Who's Who but you don't know what's what."
I also got applications for food stamps in today's mail, so I filled them out and went to the food stamp center, where they gave me an appointment for next week.
After trying to escape the heat in the diner and the library, I called Oscar. He said he'll give me eight credits of classes, probably starting at 8 AM. Oscar will call me Tuesday with my schedule. So I'll have about $2800 income at least; I have to be grateful for getting that much higher out of the hole.
Then I got a call from the English Department at Clark University, telling me I'm one of the finalists for a Writer-in-Residence position next spring.
The position was just funded and they want to make a decision in the next few weeks, so they asked me to send them my writing samples as soon as
possible.
I felt excited by this news. (More false hopes?) Getting the Clark job would solve many of my problems. So I called Mom to tell her, but she was upset by a phone call that Marc made last night.
Marc said that Rikki was ripped off when she did some business deal for her father in California last week. Mom said she didn't think Marc was telling her the whole story, but that Marc and Rikki were planning to come to Florida on Friday.
I phoned Marc, who sounded very low. He said Rikki tried to kill herself on Tuesday night. She slashed her arm with a razor, and it took sixty stitches to
fix it up.
"She didn't know what she was doing," Marc said. "She was drugged out on Quaaludes and booze."
He put Rikki on, and she started crying to me. "Suicide isn't the answer," I told Rikki. "You have children who need you, and we all love you." Whatever else Rikki is, she's a human being and needs help, and I offered to do everything I could. I told her that drugs and liquor are a lethal combination and ended by saying, "Okay, take it easy."
"I know I hate doing this to Marc," she sobbed. Marc said they needed to get away and so will go to Florida.
After I hung up with them, I wanted to talk with someone. Avis sounded busy at her office. Alice is in Mexico. So I called Aunt Arlyne, hoping to get to her before Grandpa Herb and Grandma Ethel got to Oceanside to say goodbye to Wendy before she leaves for college tomorrow.
Arlyne said it's always been obvious to her that Marc had serious problems – ones that didn't manifest themselves in the same ways as mine and Jonny's did. Why has Marc never been able to hold down a job? Why is he so lazy? "Laziness is an escape," Arlyne said. (But I think she's wrong and that Marc actually works hard, just not at doing stuff she or I approve of.)
She s
aid Marc has to be mixed-up because otherwise he'd never get involved with someone like Rikki. Arlyne said that in Florida, Mom should get Marc alone and have a talk with him. And she said that Rikki must get therapy.
I agreed with Arlyne, who then asked me for some help with editorial work on the paper, which I said I would do.
So I called Mom, but by then she was out somewhere, and I spoke with Jonny, who was less than thrilled to hear that Marc and Rikki would be visiting.
"Just when things are starting to go good here," Jonny said. "I like school, and Dad's very happy since he got the Sasson jeans line; he doesn't complain anymore."
I told Jonny to live for himself.
---
Saturday, August 30, 1980
7 PM. Last evening I stayed in and did the laundry, cleaned the bathroom and read through my diaries for this time a year ago.
Back then, Avis had just come back from Germany and was seeing Josh and disparaging everything New York City and everything American. Mom and
Dad were in Florida, buying their house in Davie. I was trying to avoid thinking about looking for an apartment and going crazy trying to decide which adjunct courses to take.
Last fall, I sprained my neck, had my battery stolen, and ripped my contact lens. I was also getting into the papers with reviews of my book and news about my campaign. I also had grave doubts about my ability to take care of myself.
Does it now seem like a better time than it actually was? Nobody could have predicted what has happened in the past year, but I think I've come out of it much stronger, and in some ways, a happier person.
I spoke to Teresa, who spent the week gallivanting all over Manhattan with Deirdre. She's going to Fire Island this weekend but says she's sick of summer and sick of the beach.
This morning I was up early and walked to the post office to pick up my mail (nothing of interest), buy groceries at Waldbaum's, and came home to read the papers.
When I called Dad in Florida, he said Marc and Rikki arrived late last night after a delayed flight and they were still sleeping.
Dad will be coming into New York on Wednesday morning and leaving that night. I wish he were staying longer; as it is, I'm going to have to catch him on the run. He'll be coming back in mid-October for the menswear show, but this time they're putting him up in a Manhattan hotel.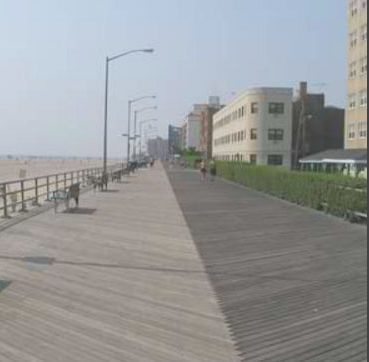 At noon I walked over on the boardwalk and beach to see Mikey, and we hung out on the beach for about three hours. It was a hazy, humid day and the sun was obscured by clouds, so there weren't as many beachgoers as is usual for a Labor Day weekend.
Mikey told me he's now making $21,500 a year. I can't imagine earning that much, but Mikey says he manages to spend most of his paychecks. He told me he saw Alan Karpoff on the beach last weekend when Alan was in from his teaching job in Vermont.
On the beach today, Mikey pointed out Vicky, Ivan's old girlfriend, who seems to have gotten plainer with the years.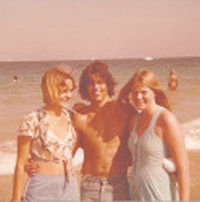 Mikey seemed surprised that Avis would marry and stay in the States, given how she felt about this country. He was also under the misapprehension that her parents were "filthy rich." Funny how others perceive you.
Scott called this morning and said he was staying over at his parents' in Brooklyn tonight and would call me early tomorrow to see about coming out to the beach.
I spoke to Avis, and she may come out, too. Today she and Anthony went to Cold Spring, but tomorrow Anthony has to work. Another person I invited out was Justin, so Avis said she'd get in touch with him about possibly coming to Rockaway together.
In an hour, Mikey will be coming to pick me up for an evening at the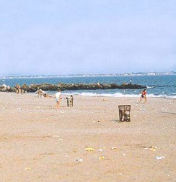 movies. What else is happening? Not much. Everyone seems to be ready to let the summer go.
I know I am beginning to get anxious about starting school again. Last night I had my first anxiety dream about teaching. But generally I'm raring to go; I want to keep busy this fall, and I'd like to have more money in the bank.
What really worries me is a disaster that I can't foresee: my getting sick again, or my grandparents getting worse, or my car dying. Recently life has thrown me so many curves that I tend to flinch with each new pitch.
But it's odd: I don't wish that I were somewhere else or that I were someone else. I'll take whatever comes. After ten months in this apartment, I've made a home for myself here. I've only recently grown attached to the place.
Looking back, I see that I could have made much worse choices than I did, and when I compare my life to my brother Marc's, I know I'm much better off.
Yet I'm still scared. Janice's penciled note on that tissue – I'M SCARED – keeps coming back at me. Will I always feel scared?
---
Sunday, August 31, 1980
9 PM. Life can't be all bad. Here it is, another Sunday night and I'm feeling happy. The past week has been another learning experience and there's some hope in the air.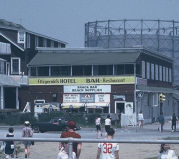 I think the part of life that I've been luckiest in has been friendship. It strikes me that I have gotten more delight out of my friends than anything else, including my career as a writer.
Generally my friends have remained my friends: Alice, Avis, Teresa, Josh, Mikey and the others. I invest a lot in my friendships and I hate to see one end. My friends, more than anything (except maybe my family) have gotten me through this difficult year.
It sounds corny, but without them, I couldn't have made it. They've been so generous to me. I know I'm a good friend, too.
The saddest disappointment is that Ronna threw away our years of friendship. I will never call her again, as I've decided there's no sense in wasting my energies on someone who doesn't give a damn when there are more giving people to be friends with.
Last night Mikey picked me up. I had been standing in the lobby talking with a lonely old lady whose relatives all live out of town; she just needed someone to talk to, and when I left, she said, "You're a delight."
Obviously I have ulterior motives when I'm nice to people: it makes me feel good and I like
to be liked. But I've decided that people should be judged on their actions and not their motivations. Don't tell me that a 14-year-old rapist has "a good heart"; give me the louse who donates to charity out of a sense of guilt.
Mikey and I drove to Woodmere, to that shopping center where Dad once had a store. Unfortunately, the New York Post had given us the wrong time for the show, and neither of us was in the mood to wait an hour.
So we drove back to Rockaway, Mikey taking me home a new way. The
Five Towns looked so gorgeous at night. I bought the Times and Philip Roth's The Ghost Writer at the newsstand on Beach 116th Street and came home to a long snooze.
This morning I began reading Roth's book. Naturally I loved it. Roth is so masterful; I would be happy if I had one-tenth his talent. I identified like mad with the 23-year-old short story writer (obviously the young Roth) who visits the older, established Jewish literary figure, an amalgam of Singer and Malamud.
(In May at the Donnell Library, Malamud said he and his wife had been invited out to dinner in London with Roth and Claire Bloom. "He was taking notes on me, I later realized," Malamud said. "Roth's problem is he
thinks I'm his father.")
Scott called from his parents' house and said he was going to Neponsit with a friend and his family and would walk over to my block from there.
Avis phoned just after she and Anthony got back from Cold Spring. I told her the B-9 bus, which stops at her corner in Bay Ridge, now goes to Riis Park on weekends and she should come out that way.
While I was eating lunch, Josh called from his parents' house: Yesterday's move was a headache, and the super gave him such tsuris that he didn't even want to tell me the story.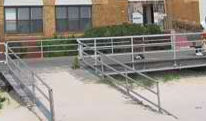 Josh asked what I was doing today, and when I told him that Avis and Scott were both coming over, he said, "You planned it – up to your old tricks." Josh meant that I like to put people together and observe what goes on.
Actually, if I had tried, I couldn't have planned it any better. I was outside on my beach blanket when Avis and Scott came toward me from different directions at precisely the same instant.
I watched their faces as they said hello to each other and to me; it was the
smallest bit awkward. Mostly Scott and Avis talked to each other rather than to me: about his job, her life in Germany, her marriage, his forthcoming marriage.
I was reminded of all the times, years ago, when the three of us did things together: a summer Sunday at the Botanic Gardens, a stoned drive on the night of Shelli and Jerry's wedding; Avis and I seeing Scott off to Europe and trying to calm him down.
I thought how novelistic or cinematic the scene on the beach seemed. Scott was calm and didn't talk only about himself, and he told jokes that were very funny.
A delightful bit of God's irony occurred when a seagull shitted right on Scott's back. As he went to the ocean to wash himself off, Avis smiled and said, "He's not as bad as he used to be."
Scott left after about an hour, and then Avis began telling me about how badly she and Anthony were treated upstate by his supposed friends. Anthony, she says, used to play the fool with his friends – which is a role I can't see him in at all.
Avis and I soaked up some sun, jogged by the water, and had a good old time. Her marriage may change some things, but our friendship is stronger than ever.
We went upstairs to change and then walked over to the Ram's Horn for dinner, for which Avis generously paid. We spoke about Josh and Simon, who Avis said are "interesting characters"; as the ex-lover of both, she would know, I guess.
Both Simon and Josh are insecure, have poor self-images, and basically treat women as sex objects. Avis said that Josh sees himself as a failure and that Simon is the laziest person she's ever met.
She said that after three weeks of marriage, she and Anthony are getting along fabulously. The worst fights are over food; he keeps telling her what's not good for her (eggs, beef, etc.).
As I drove her back to Bay Ridge, she told me her mother treats her with more respect now that she's married, a hypocrisy which infuriates Avis. Anthony came home just as we pulled up.
Today was his last day of work before his classes at NYU begin, and I went up and joined them for a drink – they had beer and I had lemonade – to celebrate. I do like Anthony a lot; he's solid, dependable, calm, strong.
Today was a nice day.