Thursday, May 22, 1980
4 PM. Yesterday's good mood carried into today. Last night I saw Back Wards to Back Streets and I thought I looked like a fat idiot. I've got to lose some weight. Maybe at MacDowell. And maybe I'll grow a beard there, too.
My parents called after the show; they said that Marc and Rikki came over to watch me
and that Grandma Sylvia was excited to see me. Marty and Arlyne, also in Florida at Arlyne's mother's – Grandpa Herb and Grandma Ethel are in Oceanside watching Jeffrey – were flicking around the TV dial and were stunned to see me on the tube.
Soon after the program ended, Josh called and said I looked "nervous as hell." That's Josh for you. Since it was about the twentieth take on the show, I had nothing to be nervous about, just tired.
I spoke to Mikey and we made plans to meet at the beach this weekend. A guy whose Voice ad I answered called me at 11 PM. His name's Joseph Silver, he's a writer for The Soho Weekly News, and he sounds pretty nice. He's very busy next week, so I said I'd call him when I return from MacDowell.
This morning I took my SVA class out to breakfast at McDonald's. We had a lot of fun. They were a nice group of kids and I enjoyed the year (nine months, anyway) I spent with them. I got to know some of them – Laurel,
Daryl, Liza, Dean – pretty well, and I will miss them. It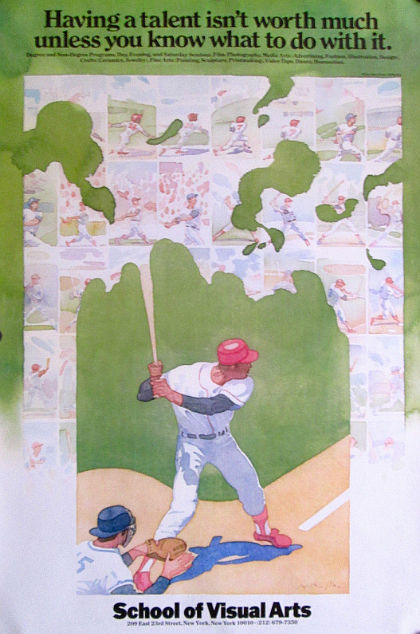 was sad to see them go.
I walked down Park Avenue South the few blocks to the Taplinger offices to say hello. Mary is very sweet and always has a nice word for me.
She said that they're awaiting the return of the fall catalog from the printers; then they'll have a sales conference, the ABA convention in Chicago, and the ALA in New York. After June, things will slack off.
Mary showed me a great cover Jim designed for Elaine Suss's A Money Marriage, the book Wes was editing last summer. Jim and Beth are now on their honeymoon.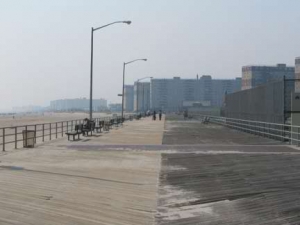 At the Junction, I had a quiche at Circles Café, then came home to lie on the beach for an hour; it's great to live right on the boardwalk this time of year.
I was rejected for jobs at Queens College, Wesleyan and Brevard Community College.
Thank goodness for MacDowell: I got accepted somewhere. Funny: Joan Schenker at SVA told me that on Tuesday she was also asked to go up to MacDowell, but she couldn't make it, and apparently I got the spot she was offered first.
---
Sunday, May 25, 1980
7 PM. Today wasn't such a bad day, either. I've just come back from dinner at the Ram's Horn; with all the holiday business, the place was a madhouse.
I feel a bit uncomfortable walking in this neighborhood – just now and last night at 11 PM, when I went to get the newspaper. There are a lot of Irish toughs who hang out on the boardwalk, and I'm a little afraid of them. Not that I really fear physical violence: most of them seem fairly harmless.
What it is, is a throwback to my very young years. I'm afraid of being harassed or ridiculed – maybe because I'm Jewish and maybe because I'm effeminate, though I can't tell if I appear to be either of those things. (The other day on the boardwalk, someone waved to me and said, "Hi, Seamus.")
God knows why it should matter to me what some street punks think. They're going nowhere, have menial jobs, and live with their parents, while I have been a writer and a college teacher for five years and live on my own.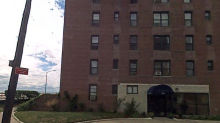 A lot of it stems from my refusal to see myself as an important, responsible adult. Both the Irish kids and the old people in my building don't know my credentials, so unlike my students or my friends, they see me as just a kid.
I'm not exactly the sissy kid or the bookworm – half the time I actually liked to fight – but I often still feel that way. It will be interesting to see how I react to the way I'm treated at MacDowell.
Last night I prepared my manuscript for the CAPS application – yes, I'll try to get a grant this year – and read the Sunday Times, answering five ads for teaching jobs. I slept fitfully but tried not to stay in bed all morning.
At 11 AM, I put my laundry in the washing machine and then walked to Ark Drugs, using Dad's visa card to buy $35 worth of supplies I'll have to take to MacDowell.
Back home, I transferred my laundry to the dryer and cleared up some loose ends. I'd like to have a clean desk before I go to New Hampshire. I marked the SVA term papers and gave out final grades, although I don't have to hand them in until Friday.
After lunch, I went out on the beach, but only for an hour because the sun was strong and I don't want to carry this tanning business to a ridiculous (and dangerous) extreme.
Back upstairs, I began to sift through the research material The People's Almanac gave me. Edward Stratemeyer was an interesting man: not as a person, but because of the remarkable determination and business sense he had as a writer and head of his own writing syndicate.
How did Stratemeyer turn out so many series books? I bet I could get a full-blown biography out of this if I wanted to.
Reading about Tom Swift, the Rover Boys, the Bobbsey Twins, the Hardy Boys, Nancy Drew and other heroes gave me an idea for a parody of those books. It's only the germ of an idea so far, but I'm sure that eventually it will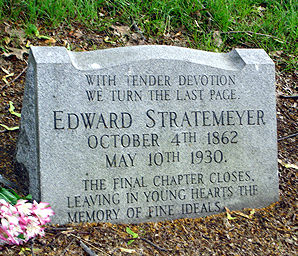 get written.
On the boardwalk I saw Steve Katz from the old Brooklyn College days; although he's changed, I recognized him immediately. He and Paula are visiting his parents.
Steve got his Ph.D. in biostatistics from North Carolina and is now working for the government and living in Silver Spring, Maryland; he starts a teaching job at GWU in the fall.
Steve had heard that I'd "written a book about Brooklyn College," and I didn't correct his impression that I was doing well as an author.
We played "Whatever happened to. . .?" and I learned that Casey and Sharon got married again (to each other!) and had a baby, that Leon is living with Donald in San Francisco, that Bob and Estelle are parents.
Steve and I hadn't seen each other in seven years; I can't believe it's that long.
---
Monday, May 26, 1980
4 PM on a sunny, cool Memorial Day. All in all, this has been a pleasant weekend; I'm surprised how well it turned out.
Last evening I wrote letters to Crad and Bill-Dale and I made a few phone calls. Elihu told me his father is having prostate surgery tomorrow. I didn't ask whether it was cancer; hopefully it's just routine. I worry about my own parents getting cancer – they're at that dangerous age.
Well, I keep looking at myself in the mirror to watch the slow progress of my beard. Surprisingly, I think it looks very good. It's grown in faster than I thought it would, and it's a nice mixture of blond and brown.
If I can keep the itching from driving me crazy, I just may have something by the time I go to New Hampshire. It covers my weak chin and makes my face thinn
er and less round.
Mikey came over this morning, bringing an affidavit I have to fill out which attests to his moral character. I'll get it notarized and send it to the Bar Association.
We walked to 116th Street to get some orange juice and soda, and then I went back with him to his mother's block. After spending about an hour on the beach, we decided to walk over to Larry's.
Larry and his father were working on the sun deck he's building in th
e backyard. We hung around for a while and then went back to 128th Street via the beach.
On the way we saw Anna, who was quite friendly; she kissed both of us like we were her long-lost brothers. She hasn't gotten a positive response from any of the literary agents I recommended, but I told her to keep trying and to call on me for further help.
She introduced Mikey and me to Colin, the guy she's living with, and his young daughter, who's spending the week with them. Anna said she's looking forward to writing this summer and said I should come by whenever I want.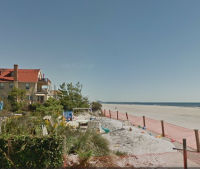 At Beach 131st Street we looked for Carl, who lives there with a woman in their own house. Back at Mikey's mother's place, we got the splinters from the boardwalk out of our feet and had juice.
Mikey has a cold but he seemed pretty cheerful. He's still waiting to hear about the pool job at the Supreme Court before he goes on an extensive job search. I walked home via the streets, but Mikey will be picking me up in another hour.
He and his mother were invited to a holiday barbecue at Larry's and I was also included. I'm glad to have the chance to be with people. This wasn't a lonely, isolated weekend after all.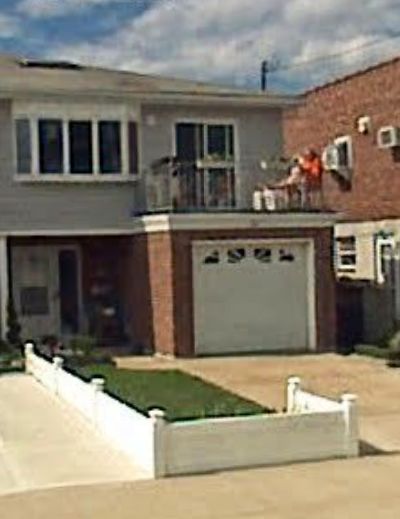 This coming week, however, is going to be very hectic. I have to take the car in tomorrow, and I have to sign over those checks to Grandpa Herb. (Luckily I didn't spend much money this weekend.)
I need a haircut and I have to hand in my SVA grades. I've got to teach on Wednesday night and also get my CAPS grant forms ready to be sent out. I have to buy stationery supplies for MacDowell.
And there'll be the usual shopping, cleaning, and running around. There'll be no time to lie on the beach, but at this point I don't think I can get much more tan. I suppose it will work out.
The car is what worries me the most – I just hope it doesn't run me any more money. I have to pay Dr. Pasquale $40 for two sessions on Friday.
I don't know when I'll get time to do The People's Almanac article, and I must have that completed before I go away. I feel a lot of pressure now, and of course I'm a little apprehensive about MacDowell – though I'm more receptive to change now than I've ever been before.
---
Wednesday, May 28, 1980
10 PM. Last night I went over to Josh's. He had just come back from his last class at computer school. Simon, Audrey and the other students were going out for a drink to celebrate, but Josh was disgusted and didn't want to go along.
We played the campaign record someone sent us – it was awful –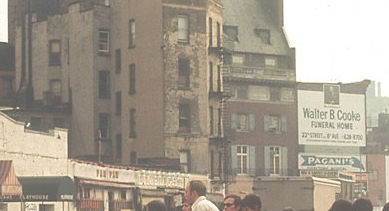 and then Josh drove us to the Village, where we had dinner at The Bagel and afterwards ran into Alice, who invited us up to her apartment.
She and Peter had a great holiday weekend in Montreal, all expenses paid, and Alice was looking forward to being sent to Washington next weekend to cover an abortion conference.
She's staying at the Hyatt, and while she's in D.C., Alice hopes to see her brother, who's about to take on a new State Department assignment: heading the Norway/Denmark/Iceland desk.
Peter was away in Maryland, judging a high school talent contest for boys; the students had read his columns in Seventeen and asked him to come down.
I am so proud of Alice and Peter that I felt like a stage mother showing off her kids' accomplishments to Josh. Alice had a brochure from the University of Wisconsin Writers' Conference, where she'll be teaching next month; she'll also be doing a weeklong conference in Minneapolis.
Alice was working on the cancer booklet today, but she took time out to show us some hospitality: we had iced tea and chatted for quite a while. Josh was very impressed with Alice's apartment and her lifestyle.
Alice, in turn, gave Josh one of her lectures, a combination pep talk à la Dale Carnegie and a little bit of psychological advice. She showed us a book filled with clippings of every want ad she'd answered in the last few years, and Alice kept telling Josh (and me) that a person can't give up, that action is the cure for depression, and that believing in yourself is the most important thing.
Unfortunately, none of this took on Josh. Walking around the Village afterwards – God, this time of year everyone looks so beautiful there – I spoke with Josh about his future. Nothing makes him happy. Women love him, yet after a few weeks he feels nothing but boredom and contempt for them.
Josh feels that computers are the ultimate sellout and that if he gets a job in the field, he'll be a miserable hypocrite. He said his faith in his writing ability was destroyed by the MFA program.
When I tell Josh his attitude has always been negative, he agrees and says, "That's how I am." His parents' unhappy marriage, his sister's death, the way his brother turned out, all influenced him to the point where he is now: he can see no reason to go on living.
Compared to Josh, I am a raving optimist looking at life through rose-colored glasses. When I left him, I felt bad for Josh and wish there was something I could do for him besides get his name in the papers.
It was a nice drive home, and I felt very happy to be alive. It was one of those times when my life seemed to be working, to be making sense. (Was Josh's despair part of what made me happy? No, it was the realization of
how much I have – internally and externally – by comparison.)
Before going to bed last night, I read Emerson's "Self-Reliance": it's the piece of writing which speaks to me louder than any other.
The Times printed my letter about the resignation of Ronald Reagan's field direction Anderson Carter: I said with a name like that, he could only prove an embarrassment to the GOP in the fall campaign.
Boy, I've been getting tons of publicity lately. I will put the xeroxes I made of this letter in my file with all my other political stuff. Maybe someday I can show off this stuff to someone who wants to hire a satire columnist, an
Art Buchwald or Russell Baker type.
This morning Marc woke me up; he and Rikki got in last night. I called Mom to wish her and Dad a happy anniversary and to tell her to buy the Times. She said they miss me. I miss them too, but it's almost a sweet kind of pain. I'm not desperate to see my parents; I know they're there.
Avis called this afternoon. She registered for an anatomy course for the first summer session at LIU, her first step toward her vague goal of becoming a nurse/midwife.
Today I went to Kings Plaza to go to the bank, xeroxed the Times letter at the Junction, got my CAPS application out, and sent out some stories to
new little magazines.
At 6 PM I taught at Touro, a pretty good next-to-last class. There were moments back in February when I didn't think I'd ever get through this term. But I did it, and I'm a stronger person for it.
I realize that I may have to struggle on for years. I think I'm willing to do that, that the end result will be worth it.
After coming back from teaching an hour ago, I called Vito at the hotel newsstand, and as always, the months we weren't in contact just melted away as if they never existed. Vito has decided to give up his acting career –
not that it was ever started – and apply to law school like everyone else.
Life is funny. In a week I will be 29 years old and on my way to MacDowell. It's weird how life ends up neater than any novel. Next Wednesday I end a phase of my life, as the Touro class meets for the last time, and on Thursday I begin a retreat in New Hampshire. I can't wait.
Or I can wait. See, now I accept life and what it has to offer. I'm feeling good about myself, having recovered a lot of my self-confidence.
My beard is growing in brown and blond and red, and I love it. I keep looking at myself in the mirror, watching new developments on my face and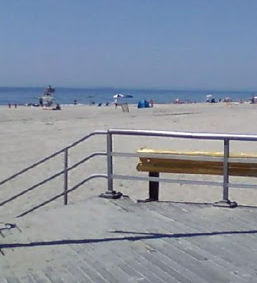 chin. I feel older, sexier, more worldly.
I think seeing myself fat-faced on TV a week ago made me want to change my appearance, just as seeing myself in photos of Wendy's Sweet Sixteen made me decide to get contact lenses.
Having a beard is not as traumatic as I'd imagined; I have no desire to shave and return to the way I used to look. I think growing a beard is a healthy sign for me.
Go to bed, Grayson.
---
Thursday, May 29, 1980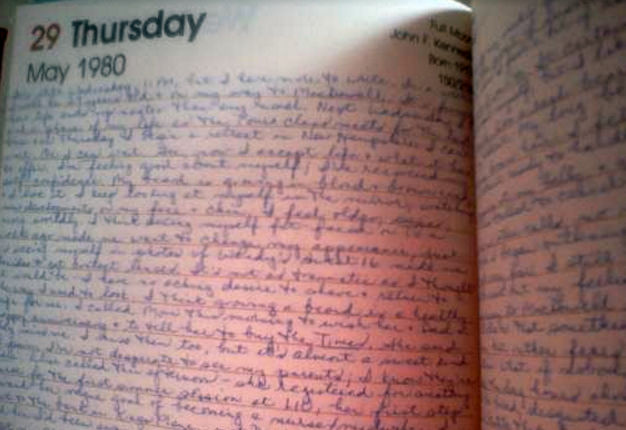 7:30 PM. I slept well and woke up late. Today I took care of most of the things I had to do: I got my prescriptions for the next month, bought stationery supplies, took a haircut, and got Mikey's affidavit notarized.
I went to visit Marc and Rikki, who were busy wallpapering the apartment. They offered me orange juice and cocaine – I sniffed a little and had little reaction, as far as I could tell – and showed me all the objects they'd bought in Florida: anklets, jewelry boxes, pill boxes, expensive knickknacks.
Marc can't put all his money in the bank because it will look suspicious, so he has to buy all these geegaws. Rikki said that she liked Florida – they both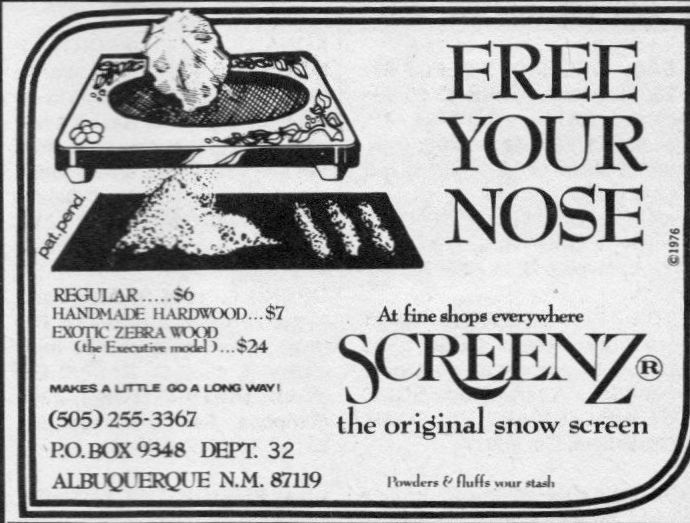 got tan and gained weight – and that she liked Mom and Dad. Mom called while I was there.
Marc was unnerved when I told him a police car was parked across the street watching me go into the house. I hope Rikki is a good influence on Marc, but she seems much too confused to exert much influence over anyone.
Rikki confessed that she'd like to move to a larger apartment, and I told Marc that I'd take his place in Sheepshead Bay if and when they move out.
Marc said he'd drive me to the Port Authority next week.
---
Saturday, May 31, 1980
5 PM on a cloudy and humid Saturday. Last night I ended up staying home.
Josh had wanted to see Wise Blood at the Quad, but I wasn't up to going into Manhattan, even though I had wanted to hear Dennis Cooper read at The Glines at midnight. Dennis is a fine poet; I read some of his latest in the new Beyond Baroque, which arrived yesterday.
I spent much of last evening looking through my twelve-year-old AIA Architectural Guide to New York City. It reminded me of incidents from my childhood.
There are places that I used to go to which no longer exist like Ebbets Field and Freedomland.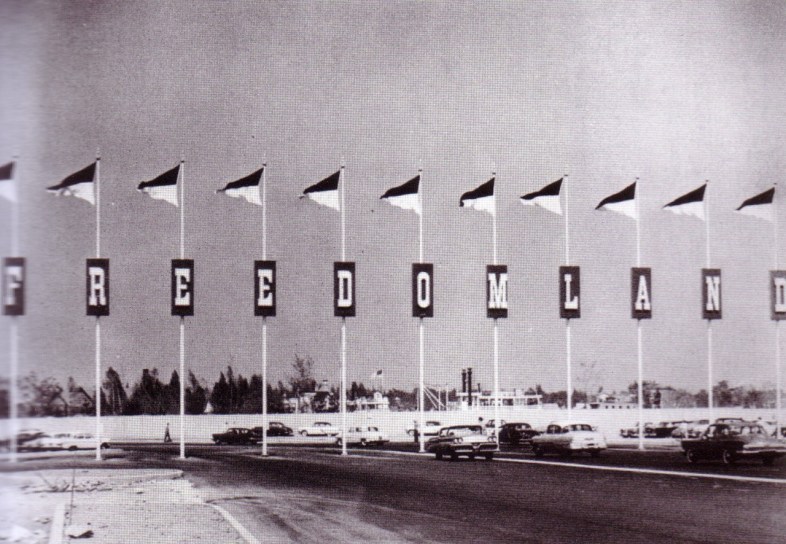 Co-op City is now on the land where Freedomland was. I remember the day Grandpa Herb and Grandma Ethel took me, Marc, Michael and Edward there and we rode on the rides and saw Chubby Checker perform.
The AIA Guide also reminded me of the day in December 1960 when that plane crashed on Seventh Avenue in Park Slope. Mom had fallen down the stairs that day, in her seventh month of pregnancy, so we went to Dr. Levine's office on Plaza Street and people kept coming in with news of people's injuries and of the fire that the crash had caused. I remember being devastated when that one little boy my age who survived the crash died in the hospital a day or two later.
The Myrtle Avenue el is gone. So are all the trolleys. I remember riding the Church Avenue line with Bubbe Ita between our house on East 54th Street and hers on East 42nd Street; she let me ring the bell to get off.
I remember "mountain climbing" with Dad in Prospect Park and how, when Mom was in the hospital for her varicose vein operation, we lost the keys and were unable to get into the house.
The New Yo
rk of 1960 doesn't exist any longer. Hell, when I used to walk home from the Ralph Avenue bus, the sidewalks on Avenue O weren't even paved; there were just wooden planks.
A woman named Barbara ran a shack-like general store on our corner; it even had a potbellied stove which we'd run in to warm ourselves after playing in the snow.
Planes took off every day at Floyd Bennett Field and we could hear them. There was no Kings Plaza mall, and on narrow Flatbush Avenue from the Airport Lounge to Ben Maksik's Town and Country restaurant a
nd the Floyd Bennett farmers' market, there were cobblestones.
Gee, this sounds like one of those "I Remember Old Brooklyn" letters that they used to have in the Daily News. Were the good old days really that good?
I stayed in bed till noon, when Mikey called and asked if I wanted to go for a ride to Inwood with him. I hurriedly showered and dressed.
Mikey's car, like Grandpa Nat's once did, has become very rusted because of the salt air by the ocean, so he wanted to see if he could get an estimate on a complete body job.
We drove in the rain, went to the place, and got an estimate; then we had franks at Nathan's in Woodmere, shopped at TSS there, and talked a blue streak.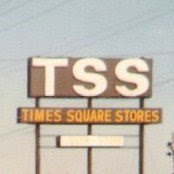 Back home, I got my mail from the P.O. box. Iron arrived from England with my two stories illustrated with terrific drawings by Tim Thackeray, who thanked me for encouraging him.
George wrote that "like Erma Bombeck says, the grass is always greener." Of course he wishes he had "a real book" like mine. But George pointed out an important contradiction: I say I don't want to get locked into the role of writer, yet I complain that I don't get asked to read my work in New York. He's right.
George sometimes feels trapped at the Patriot-News, in the boondocks, with his magazine continuing to lose money year after year. He said he
couldn't live like Rick, off others, with no home or work of his own: "I could forgive him if he wrote the Great American Novel, but he's too comfortable to do that yet."
Count your blasphemies, Grayson.