Friday, February 22, 1980
4 PM on a dreary, rainy, snowy day. I'm going to see Dr. Gentile in an hour. I need to talk to someone, but I'm afraid it won't help. This winter – since I've gotten back from Florida – has been one of the worst times of my life: illness, money problems, loneliness.
Few things make me want to go on. I wonder if I'll have this labyrinthitis for the rest of my life. Alice tells me to cheer up, but she doesn't realize how severely depressed I am. Can something good come out of this? I wonder.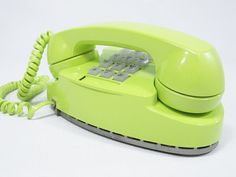 I called Ronna last evening and we had a wonderful talk. I told her I liked Jordan.
"He's very young," she said.
"He's earnest," I said.
"Arrogant," she countered.
"Hey, Ronna," I said, "it's obvious you're crazy about him."
"I know, isn't it awful?"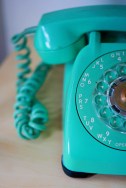 "No, it's not awful, it's very nice."
She said Jordan liked me, too – he thought I was clever and funny – and that pleased me very much.
"I'm glad we're friends," I told Ronna. "It was hard work, but I think we made it."
She said it was mostly because I persisted, because she was willing to let it drop. "But I trust you," she said, "and you're one of the few people I do trust."
Ronna's friendship makes me very happy. I hope she and Jordan make it. Ronna says she thinks Jordan thinks he's "settling," that he could get something better; I hope that's not true.
It was Ronna who called me today, and that was a sign that we really are friends. She asked if I know about any job openings at Seventeen, and I just happened to learn from Alice that there was one.
Ronna said Jordan just got his first job offer – for "only" $20,000. "I just hope I don't marry him out of fear and desperation," Ronna said. I don't know: at this point, knowing how important security can be, I'd probably tell her to do it.
Justin called. He was feeling a bit down. On Tuesday night he and the guy he had sex with last week went to the theater, and Justin felt he was with a stranger. "I struggled to keep him interested in the conversation," Justin said, "and when we said good night, there was no affection."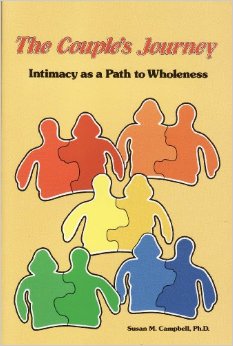 Justin thinks he's going to let this relationship drop. The smartest thing Hilary Cosell ever said to me was that sleeping together right away creates a false sense of intimacy. Justin and I are now close confidantes, and I'm just sorry his first sexual experience with a guy wasn't part of the good relationship he wanted.
Justin put Avis and Simon on the phone; both of them had bad colds.
After reading the first chapter of his novel, which had a lot of raw feeling and energy, I tried to call Bill-Dale. He wasn't in the dorm, so I wrote him a letter in which I told him that he's become important to me – which he has.
Today I got a letter from Crad, who sent along an endorsement of my Vice Presidential candidacy that he used in his Rustler column. He says I'm doing a therapeutic service by my publicity, that it takes people's mind off
tragedies.
"Yes, move to Florida . . . relax . . . write . . . and leave that pig New York," Crad writes.
Lightning Struck My Dick will be published by Virgo Press in April; Crad got only a $150 advance, but he believes in his publisher, Thad McIlroy. And his Charnel House book, Gainfully Employed in Limbo, will be out in May.
Crad's FLAC (Film Lovers Against Censorship) work seems to be getting somewhere. But he writes:
My new writing is minimal. I have very little urge to write fiction. Sometimes I think I'll never again write stuff that was as good as some of my old stories. . . I have fantasies about writing a very grim novelette, then giving up writing indefinitely. . .
Would you believe me if I told you I'm basically a very serious person? I don't want to have a literary reputation as a guy who writes humorous stories. Even in my satirical stories I feel so much grimness and melancholy. I wonder why people don't pick it out. Maybe a few do.
I certainly never for a minute thought of Crad as "not serious." His humor (like mine?) is very bleak. We both have a dark view of life. God, I love Crad's letters.
---
Saturday, February 23, 1980
4 PM. "Life," I once heard Aunt Sydelle say. "We'll never get out of it alive."
Crad Kilodney thinks he has to tell me that he's really a serious person. I suppose people think I'm a funny guy and nothing else, too.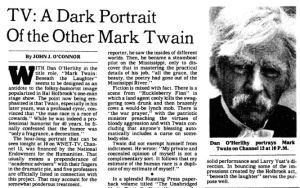 I'm reminded of a TV program I saw in Florida: Mark Twain: Beneath the Laughter. It presented the grim and desolate view that Twain had of the world. All real humorists know that life is such a serious business that we can't take it seriously.
Take my neighbor, John, a 45-ish balding guy. He caught me as I was coming in last night and invited me in for a drink.
John knew I was an English teacher and wanted to know if his grammar was all right because he planned to switch professions and become a psychotherapist. He now drives a truck for the city Housing Authority.
Do you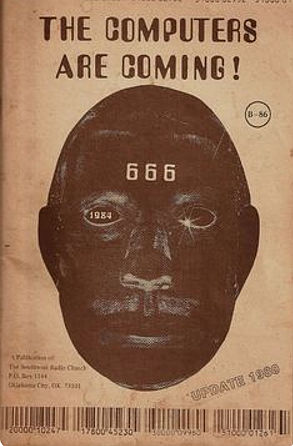 know the sick feeling that you get when it suddenly dawns on you that you've been interacting normally with a crazy person? John is mad – or
at least he's very stupid in the ways of the world.
He plans to take the fifty days off he has coming to him and during that time become a therapist. John thinks he can help people with their psychological problems.
He told me he plans to rent an office on Park Avenue and wear silk shirts and gold chains to impress people and charge the highest rate of any real shrink. "I'll tell each person I have a degree from a different school so no one will find out I don't," John said.
He even has his office hours figured out: 9 AM until 4 PM every day, and he won't practice during the summer. John asked if I wanted to work with him as his receptionist. That poor deluded guy.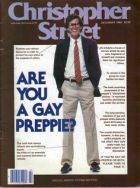 He asked me if I was gay and I said no, of course, because I want to stay as far away as possible from him. "Oh, I thought you were gay," John said, "because you have kind of a fruity voice."
At 11 PM, John knocked on my door, but I pretended I was asleep.
A real therapist, Dr. Pasquale, and I discussed my health problems yesterday. He said that my feeling that this condition may be permanent is related to other feelings I have: I'll never be able to make money, love someone, get a good job, etc.
I do tend to become overwhelmed by the present. Sometimes I think the best therapy for me is to just read my diary. Look: for over a decade, life has been changing for me; the bad times don't last and nothing is permanent.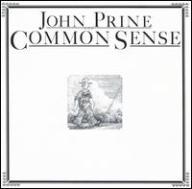 Dr. Pasquale has so much common sense. When I tell him my fears that I'm going to become an invalid or that maybe this suffering is good for me, it all sounds so silly that I have to laugh.
It's a different situation from my condition eleven years ago: then I was psychologically ill and housebound. Believe it or not, I'm pretty together psychologically now, and I've been coping with this situation fairly well.
I haven't fallen apart. Of course, I've been depressed and upset, but that's only natural. I just wish I didn't hate myself so. I have this very strong desire to punish myself for imagined failings.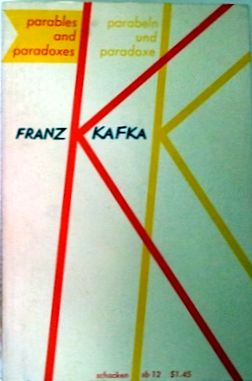 A lot of it comes from my parents. When I spoke to Dad and told him how I had to borrow money, I interpreted his silence as condemnation – like the father's command to his son to drown himself in Kafka's "The Judgement."
Why do I feel I have to be perfect? Unless I get over that, no matter what I accomplish, I'm always going to feel like a failure.
---
Sunday, February 24, 1980
8 PM. My dizziness seems to be going away. I can only hope that this ordeal is finally ending. But I do feel I've turned a corner and am now fully able to function. I enjoyed myself at Alice's party last night, slept over at Teresa's, went to the screening at WNET/13 today, and was able to get through everything feeling only a little uncomfortable.
Alice's party was one of her best: the people, the food, and the mood were all a welcome tonic for me. Peter was in his usual good humor, and it turns out that I have a job interview Tuesday at One Minute Productions, the
place where he works to produce The Big Apple Report.
We dialed the number last night, and the recording began: "Hello, New Yorkers! Don't feel bad if you weren't invited to Alice's party. There are many other things going on. . ."
I didn't recognize Richard Rothenstein, who's lost weight and grown a beard and looks terrific; he's left Zebra Books and is freelancing.
June was concerned about my health and my career. She told me that because of intense curiosity about the rest of America, I'm probably restless here in New York. From living with Cliff, June has visited Oklahoma twice and is very intrigued with Middle America.
Robert and Judy greeted me warmly and asked if I'd seen the "Talk of the Town" piece in The New Yorker about Stanley handing out "Stanleys," film awards, at some bar. I was delighted to hear about that, and I must find the magazine.
Robert is teaching at Baruch and writing labor union histories for the ILGWU and other unions. We swapped adjunct horror stories, the latest being one Elihu that related to me on the phone.
Elihu was hired to teach an American history course at LIU (at the last moment, of course). Then some professor decided he wanted to switch his evening Ancient History course with Elihu's.
Elihu protested that ancient history wasn't his field and said he couldn't be "one chapter ahead of the class," as the professor advised him – and Elihu was fired.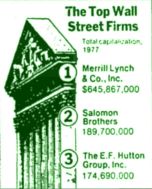 Elihu then went back to his temporary office job at Salomon Brothers and was hired permanently with a healthy raise, so the story has a happy ending – and a moral: Get out of academia.
Anita and Keith told me they're moving into a co-op in Tribeca. Anita, another academia dropout, told me how her career as a literary agent is going and we gossiped about publishing. Naturally, Alice had told everyone at the party about my book – many people had read it – and about my publicity exploits.
Alice's brother took time off from his position at the State Department's Crisis Desk (Afghanistan, Iran, the Olympics) in Washington to join the party, and he regaled Teresa and me with stories of his successes as a diplomat – such as the time when he and Cyrus Vance went to Bolivia to show support for Bolivian democracy and two days after they left, there was a military coup.
Teresa and Mario got into an argument over whether New York was becoming more or less livable. I'm afraid I have to agree with Mario, who's selling his Flatlands house and moving down to Broward: New York is a fantasyland for young up-and-coming professionals, but it's hell on children, old people, and the middle class in the outer boroughs.
People like Teresa, Keith and Anita, Peter and Alice, June and Cliff: they have it made in chic Manhattan. But what about older people, poor people, the minorities, people like my neighbors in Brooklyn and Rockaway?
The more I think about it, the surer I am that I'm going to move to Florida after the summer. Jeanne told me that she's moved back into Brooklyn with her mother and is finding it pleasant. Jeanne's mother contributed to the

party the best sponge cake I've ever eaten. I did tend to go a little overboard stuffing my face, but I figured I was entitled.
Martha (who didn't remember my name) told me she was getting used to living alone, and Mark the photographer told me he's been sending out his short stories and is working on a novel.
The other Mark, from Lehman Engel's BMI class, is still writing his songs, and Judy is enrolling in the American Academy of Dramatic Arts.
Everyone at the party seems on the verge of making it big: all lively, talented, intelligent people. Their company stimulated me, but I still think there's a world beyond Manhattan.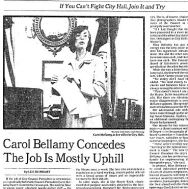 As Teresa and I drove uptown, she told me that she's begun to get over Paul. She said people keep mistaking her for Carol Bellamy at the MTA hearings.
Back in her apartment, we read the Sunday Times and then, after Teresa declined my offer – made in jest, of course – that we make love, she made up the couch for me.
I was dizzy and restless, and it took hours for me to fall asleep; I wandered around my brain and Teresa's living room (there was a Valentine from Lance, who's now in California), but finally I did manage to snooze.
In the morning, I showered and dressed and helped Teresa clean up before I left for the morning screening at WNET/13. It was refreshing to be in Manh
attan early on a Sunday morning; the weather was sunny and mild. I parked on West 57th Street and had breakfast at the Blue Jay Diner, where I used to eat when I was a messenger for the Village Voice.
Roger Weisberg greeted me warmly at WNET, and I signed a release for the program. The screening room was filled with mental health professionals, ex-patients, community activists (especially from the West Side, which is saturated with SRO hotels filled with the dumped institutionalized), Carol Bellamy and other politicians, psychiatrists, lawyers, etc.
Back Wards to Back Streets was very effective, very moving, very pro-patient. I thought I looked fat and sounded fruity, but I didn't cringe; it's
always weird to see yourself on TV and you tend to be hyper-critical.
Afterwards we went into the studio and taped a panel discussion. I sat in the audience, listening and wondering if maybe there's a book or an article I could write on the plight of deinstitutionalized mental patients.
I drove back into Brooklyn and stopped off at Marc's; it was good to see him. He's no longer seeing Deanna, and there were pounds of grass in his kitchen.
Marc looks tanned and said he might consider moving to Florida someday. I borrowed $60 and took his tax returns, which I'll prepare.
---
Monday, February 25, 1980
8 PM. This morning I went to see Dr. Brownstein, who said my sinuses were very badly infected. He thinks that's where the dizziness is coming from, as the symptoms I'm getting, getting especially the dizziness when I cough or belch, are not typical of real labyrinthitis.
Dr. Brownstein drained my sinuses for about half an hour by placing some medicated gauze in my nostrils. He told me to come back in two weeks and suggested that I might have allergies like Marc's.
I slept most of the afternoon, then went over to my grandparents' for dinner. Grandpa Herb took me aside and wrote out a check for $400; I promised to pay him back soon.
Grandma Ethel made me some lamb chops and lectured me on my "extravagance." She means well, of course, but by 1980 standards, I'm living pretty modestly.
---
Thursday, February 28, 1980
8 PM. It's been a bizarre evening. This afternoon I was contacted by a 12-year-old boy who said he was a guest writer on the Soho Weekly News. He
was interested in the Fred Silverman for President "campaign" and took me very seriously.
In the course of the conversation, he asked me whether I'd considered supporting Gov. Cliff Finch of Mississippi. Anyway, I went out and forgot about it.
When I returned home, I got a call from someone who said he was on Gov. Finch's staff. He said the Governor (whose term has just expired) would be very interested in getting my support. I didn't quite understand.
The campaign staffer told me they were in Georgia, where Gov. Finch was fixing somebody's roof as a publicity stunt. He told me that Fred Silverman wasn't going to run (big surprise!) and that he wanted me and the Governor to get together for a meeting.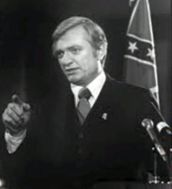 Finch will call me tonight, he said, when returns home to Jackson.
I was bowled over. The Governor of Mississippi calling me to ask my support for his Presidential candidacy? Is he off his nut or what? The call sounded legit, but again, I didn't think about it until the kid from the Soho Weekly News called again and said he learned I was now supporting Finch. I told him yes, I was.
This was unbelievable, but then Josh suggested that someone was pulling my leg. I'm not sure. It's like something out of Good as Gold. Apparently Gov. Finch is coming to New York and needs bodies at a press conference. Or something.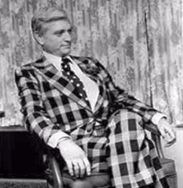 Frankly, it's wackier than anything I could possibly dream up as one of my publicity stunts. It's surrealistic. Anyway, onto saner matters:
I had only three students show up for the Touro class at the high school last night, but I had a good class nonetheless.
David Wolfe from One Minute Productions didn't get back to me until midnight when he told me to cool my heels for a few weeks. Peter's talking me up to both David and Don (Peter just read my book and was surprised that it was that good) and I guess something will come of it.
I had my SVA class write this morning – they complained my topics were boring – and Pete Cherches met me for coffee near Union Square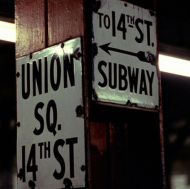 afterwards. He too finds it hard to write when he's working – and he's at Baruch or Brooklyn College every day.
I showed Pete the "perfect poem" issue of The Fault in which we both appeared, and we chatted about literary politics and the poetry scene. He's rushing to get the crime issue of Zone out by April, when the Book Fair will be held (at NYU's Loeb Student Center this year).
I decided to walk over to the New York Eye and Ear Infirmary after lunch because I was feeling quite dizzy. I paid $17 to get a clinic card, and I was lucky enough to be randomly assigned #1 in a large crowd of people waiting to see a doctor. (There's always a first time…)
The Chinese doctor I saw questioned and examined me and said I didn't have labyrinthitis because I didn't show the standard symptoms: rapid eye movement, ringing in the ears, loss of hearing.
He didn't think it was sinuses either, and he ruled out any psychosomatic factors. The doctor said it was probably a virus, in which case it would slowly go away by itself. He told me not to worry about the dizziness, as the body will adjust to compensate for it.
He did say there was a possibility it was vestibular neuronitis, with the nerve pressing against the inner ear. But my ear looked clean to him, and I obviously didn't have a brain problem. I'll go back to the clinic next week.
Part of me wonders whether I've got M.S. or some degenerative nerve disease; I'm more than a little scared. Yet doesn't some part of me want to die?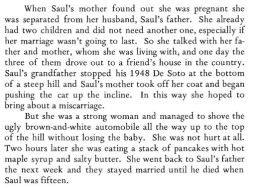 I got The Madison Review with my story "That's Saul, Folks." Remember how happy a story coming out would make me feel? Now I hardly take notice; it's just another piece to xerox and file away.
I got a cruel rejection ("Who cares?") and nothing else of interest in the mail, unless you count a newsletter addressed to Rocjard Grauspm. Obviously somebody had their right hand on the wrong typewriter keys.