Thursday, November 22, 1979
11 PM. I've just driven home from Brooklyn in an incredibly thick fog which got worse as I neared Rockaway.
But instead of being scared, I felt challenged by the experience of not being able to see more than a couple of feet ahead of me. Negotiating the bridge was tricky, and when I got out of the car here at the beach, it felt as though I were walking through a cloud or had stepped onto a strange planet.
I have music playing on the radio now, my lenses are in their Aseptron, and I'm lying on my bed in my underwear. I like this moment. I like my life. I think I love life most when it has the texture of a novel.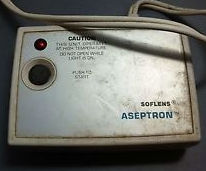 Things seem to be happening in my life now. Maybe what I mean is that I like my life when it's like a nineteenth-century novel, full of characters and happenings. What I hate about my life is that twentieth-century modernist boredom and angst.
I love the feeling that there are many possibilities. Meeting that kid Jay on the subway was a rich experience because it was so unexpected. It's best that Jay and I never meet again, but I'm glad we did meet.
The fiction writer in me imagines what might have happened had things gone further. Maybe there might be a commercial novel in a relationship between a man and a 14-year-old boy: sort of a gay Lolita.
But I'm not Humbert Humbert, and however smart and cute a kid like Jay is and however flattered I was that he was coming on to me, I'm not going to get involved with someone who's a child and disturbed enough to go over to a guy my age and flirt with me to the point of making me dizzy.
My first Thanksgiving alone was pleasant and not lonely, though I did find myself tearing up when I turned on TV this morning and saw that fat William Conrad singing the corny "Home for the Holidays."
Last evening was fine. I enjoyed the plush surroundings of the Time-Life Building and my interview with the Susskind producers.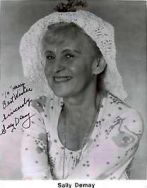 Other short people there were Sally Demay, an old vaudevillian who's currently filming the new Woody Allen movie (she kept calling him "a power in the industry"), an Israeli businessman who has many celebrity friends, and a porn star and producer.
I'm positive they won't call me back from the show – I don't think the people at the Eileen Prescott agency realize I'm not short enough so that I have a lot of stories to tell about it – but I enjoyed being interviewed; it's ego-boosting when people ask you questions about yourself.
After the interview, I went to Josh's place. He had been writing all day. We went to Montague Street, where he took out $30 at a Citibank machine to lend me, and then we had dinner at Picadeli, where we had another interminable and inconclusive discussion about our futures.
Should Josh go into computers? Or what? He told me that he stopped seeing Avis because she was so dependent, so clingy, and not attuned to his weird sense of humor. "We really don't have much in common," Josh said.
I spent the morning cleaning up and loafing, and then Mikey stopped by; he thought my apartment was quite nice. He'll be taking the bar exam again in February, and he's not happy about it.
After I walked Mikey to his car, I took a walk on the boardwalk. It was a mild day and I only needed a light jacket. Under it, I wore a black turtleneck that I rarely wear but should because I looked good in it.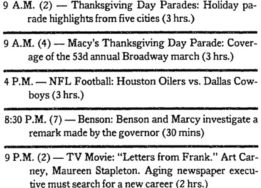 Dropping by Marc's in Sheepshead Bay, I found him in bed, watching the football game. He was sniffling and said it was from dusting, but I wonder if he hasn't been snorting a lot of cocaine.
Marc seems depressed. Even though she was coming over later, I think his relationship with Deanna is ending. There's now ill-feeling between Marc and her parents, and I think that Marc now knows he can never marry Deanna.
Although Deanna doesn't always seem like such a treasure, I guess Marc will miss her a lot. Since we've found ourselves alone in New York, my relationship with Marc has improved: we talk in ways we never used to, and I almost consider him my friend now.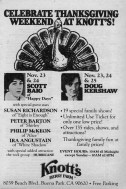 Mom and Dad called while I was there. They were spending Thanksgiving at the Littmans', but Jonny refused to go, as he doesn't get along with them. The Littmans are so immature and crazy, I don't blame Jonny for feeling hostile toward them.
It was a short drive to Avis's parents' co-op, and I was glad to see Ellen and Wade again. The McAllisters have always been my idea of a perfect couple; they seem to have such a satisfactory life in Charlottesville.
Ellen and Wade believe in all the right things, and I admire them, though I suspect they disapprove of my ambition and attempts to get publicity. Wade is working on his dissertation now. He doesn't like teaching comp at U.Va.; his students are literate but banal: "like white bread," he said.
"I wish my students were good enough writers so that I could worry about their banality," I told him. How is Wade ever going to find a teaching job? He'll try, but I'm afraid the numbers are against him or any English Ph.D.
Ellen said that I could get a part-time job teaching at U.Va. and that in Charlottesville, I could probably live okay on it. She invited me down for a visit, and I just might surprise her.
Mrs. P warned me not to use Thanksgiving dinner in a story; all of them had read my book, and I guess I felt quite at home there. The other guests, Jean and Irving and their daughter Laura, were very pleasant company.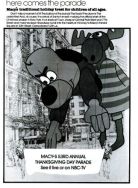 We had turkey, stuffed cabbage, sweet potatoes, cranberry sauce, bread with Avis's herb butter, and fruit salad. I ate a little of everything.
The time passed quickly and the conversation was stimulating even if it was the usual stuff: trips to Europe, inflation, bad weather, cars, should Israel deal with the PLO (a clear generation gap there), will the Iranian hostage situation lead to a real war?
---
Friday, November 23, 1979
1 AM Saturday. Today was a fairly pleasant day. This morning I went to the cleaners, Chinese laundry and Waldbaum's, where I ran into Larry, who also had the day off.
As usual, it was burning hot in my apartment last night and all day today. David Susskind never called, but because I wasn't short enough, I didn't expect to get picked for the show. Dr. Pasquale expressed surprise that I would even be considered for a panel of shorties and said he assumed I was about 5'7" or 5'8". Honestly, I don't feel that short anyway.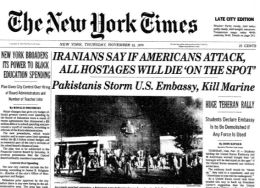 The mail brought two AWP Job Lists, and I spent an hour applying for jobs at the University of Alaska, Western Washington University, the University of Idaho, and four other colleges. Pittsburgh asked me for my dossier; I now assume my credentials are fairly impressive.
As I told Dr. Pasquale, I may not want all of these jobs, but I do want to have as many options as possible. I need to increase my earnings, and I may not be able to do that here in New York.
Dr. Pasquale thought I was so affected by meeting Jay because it brought back memories of what I was like at 14. I identified so much with Jay's telling me about his agoraphobia, anxiety and sexual identity problems that it was like looking at myself at his age; I wanted to spare him all the pain I suffered in my teens and to tell him that everything was going to be all right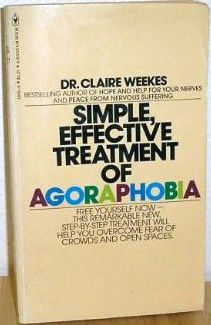 eventually.
I thought about Jay last night, wondering if a relationship would be possible between us and if it would be "sick." But mostly, this is going into my fictional grist mill. Watch for future developments as I get more time to write.
I need love – not in the desperate way Avis seems to need it – but I miss the feelings and experiences of being with someone.
My post office box was empty today, so there were no responses to my Voice ad. I know you don't really meet people through ads, and I only expect a couple of responses, probably all rejects.
---
Sunday, November 25, 1979
10 PM. I just got home and need to write in so many different directions at once. I can't be satisfied with linear sentences.
On my way home from the party at Avis's house, I had a mild anxiety attack. It never got very bad, but I felt a hint of the old, hellish feelings. Being home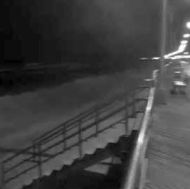 makes me feel secure. After a month, this place is home. I love it, and yet I resent it, too.
But the ocean: I stepped up on the boardwalk and watched the waves, foaming white against blue-blackness and the blinking dot of Ambrose lighthouse (which made me want to be Virginia Woolf). If I didn't have the ocean, I don't know what I'd do.
Last night at 11:30 PM, I couldn't sleep and got out of bed, put on jeans and sneakers and my contacts, and slipped out to buy the Sunday paper. This unearthly 70° weather makes it impossible to believe that December is five days away.
I found Lola Szladits's name in the "Book Ends" column, in an item about the Berg Collection's new exhibit in which Lola said there wasn't anything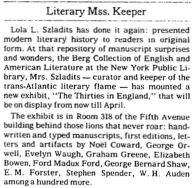 about Virginia Woolf she didn't know.
I had to write Lola a letter, and I did so, in longhand (I write more now in longhand, on the bed, looking out towards Manhattan), telling her how I feel.
Despite all the bullshit and publicity and nonsense, I still see myself trying to do something of what Virginia Woolf wanted to do even as I fall short of my ideal.
That's what caused tonight's anxiety. I felt very alone, knowing Marc is somewhere on I-95, on his way to Florida.
This morning Dad called, saying that Grandma Sylvia is in the hospital with a heart condition; I think that she's going to die now because she can't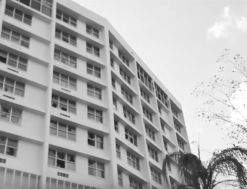 possibly cheat death another time.
I'm not sure I'll even feel so bad if Grandma Sylvia dies: she's lived a long life and there's not much ahead of her and I had many good times with her. But I feel guilty about thinking that if Dad sells the condominium, he and Aunt Sydelle will have more money.
I miss my parents and I miss Jonny a lot, so much so that last night I took out Beyond Baroque and read my interview with him. I miss Jonny's sulking and his peculiarities, and I miss the sound of the bathroom door locking shut and salsa music coming from the basement and the view from my bedroom window.
Have I changed at all from that neurotic adolescent who came into Dr. Lipton's office on the Friday after Thanksgiving thirteen years ago? (No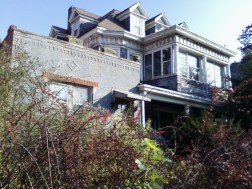 wonder I identified with young Jay, on his way to see a new psychiatrist.)
Tonight I talked with Justin in his room, and he showed me clippings and photos of his college productions at Brown. Was I ever as young as Justin is, at 22?
Today Alice came by and said my apartment was quite nice, and she brought presents from herself and Peter. God love Alice. God love all my friends.
This might sound sentimental – maybe Dickens or John Irving will approve – but there are times when I think I've had the luckiest life, known the best
people, experienced more pleasure and fun than anyone who has ever lived.
For the last several nights, I've been having insomnia, and I've been itching to write, getting ideas for novels and stories. Jonny's interview made me wonder if a book of interviews with young New Yorkers – like Alice, Teresa, Avis, Josh, Wes – might not be a great idea.
Late last night I answered five want ads in the Times and some personal ads in the Voice. I try too hard.
At tonight's party I was funny, and Ari and his theater friends and Victoria and Avis, Josh and Simon and Lynn found me amusing and obnoxious. But I wasn't really feeling like me.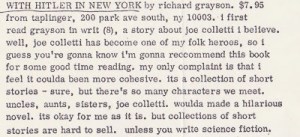 Hell, I'm already Richard Grayson, a public personality, and I don't know who me is anymore. This identity crisis is getting boring. I'm 28, for goodness sake.
I feel a mixture of so many things. Sometimes I want to die, but maybe all I know how to do is write. (Pure melodrama, this ending.)
---
Tuesday, November 27, 1979
10 PM. Last night Avis convinced me to brave the elements and take her to see Wes perform at The Other End. I figured it was worth it: I didn't have anything pressing, and I did want to see him. Avis invited Roberta, a friend from her office, and we enjoyed ourselves.
I got a parking spot right in front of the club, and Avis and I walked in on the audition: some pathetic Japanese comedian, Mike Moto, was trying desperately to get laughs. I didn't think he was funny, but I laughed anyway.
We sat through a few dreadful acts, and Roberta told me about Arizona, where she'd been living until recently, and we sipped our drinks until 9 PM when Wes and Marla came in.
They were glad to see me and said I should come by for dinner some night. Wes said he's been doing some editing for Taplinger and writing some rock group press releases at $100 a throw, so he's surviving although his bank account is dwindling.

He told me he's decided his next move is to find a manager; all autumn, he's been playing all over town, and now some people seem to be interested.
Marla is waitressing these days. Bubbly as ever, she told me that one of her customers was a British producer who told her she'd be perfect for a remake of some film classic. She has an audition with the William Morris Agency coming up.
Wes was as good as ever. He began with two of my favorite songs, that "Family" number and the one about chewing on women with his baby teeth. Avis and Roberta both thought he was very good, especially admiring his lyrics; Avis said Wes reminded her of Elvis Costello.
I said hi to Wes's friend from Vassar, the Time magazine writer Ed Adler (who's also a friend of Alice's), and what's-her-name from Taplinger told me that she's leaving for Stockton, California, where she'll be a playwright-in-residence.
When I drove Avis home to Park Slope, we had a long talk. She said she needs to get out more. At the party, she said, both Justin and Victoria thought I was funny but they also said that I seemed insecure.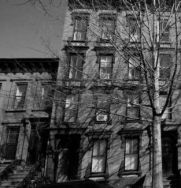 "They're right," I told Avis.
Avis still isn't over Josh; she sighs over him like a freshman. The situation with Jacob and Rita has become intolerable to her. It seems Jacob is having an affair and is telling Rita that he's spending time at Avis's as a cover.
(I am not supposed to know this because Jacob feels I might put it in a story and ruin his marriage and his life.)
Last night I couldn't sleep at all, so I called in sick at SVA this morning. After doing some errands – bank, grocery, drugstore – I went to Kingsborough, where I had my students write.
Back home in Rockaway, I was disturbed by three responses to my ad that I found in my post office box. One was from an illiterate 18-year-old black boy; another was from this Greek guy, a computer programmer who looked like every disco king in Bensonhurst; and the third was from a guy who lives in Belle Harbor.
He sounded the most my type, but I think he's a hitter. I may call him anyway.
Actually, all the guys who responded to my ad were basically very sweet, decent people; none was a weirdo or a sex maniac. But I need someone who's a college graduate, someone I can relate to.
However, tonight I got a call from a guy whose ad I answered. His name is Marcus, he's 31, Jewish, a Baruch grad and a CPA who's involved in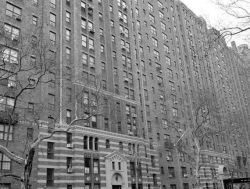 executive education.
Marcus lives in Chelsea, in the same London Terrace complex as Scott, and he has a house in East Hampton, a car he keeps in Forest Hills, and a dog he got custody of when he broke up with his last lover five years ago. ("It was Bernie's idea to get a dog," Marcus said, "and I couldn't refuse his big brown eyes anything.")
We spoke for an hour, got on very well, and we're meeting in the city on Sunday. I probably won't find him attractive, so I'm not going to get my hopes up.
I had dinner with my grandparents tonight.
---
Wednesday, November 28, 1979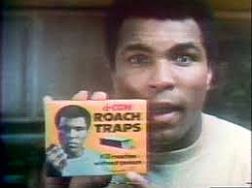 7 PM. I just killed my first cockroach. Living by myself has proven to be an education in the boring details of life. Formerly I don't think I could have killed a cockroach, but now who else am I going to get to do it for me?
If I don't buy milk, there's no milk; if I don't cook dinner, I have to go out or go without eating.
I defrosted my refrigerator overnight, and I've been doing my laundry, and I was just vacuuming. I don't have the time necessary to keep my apartment in sparkling-clean Marilyn Grayson order, but my place is cleaner than those of my friends. Living alone ain't great – except, I guess, when it is.
When I spoke to Marcus last night about living alone, he said there's something terrific about waking up with someone. He is definitely "a good catch." I wouldn't mind spending time with someone who could afford a lot more than I can, someone with an apartment in Manhattan and a house on Long Island.
Avis would say I was being mercenary, but Teresa would understand. I've been looking high and low for someone for years, and I'm not sure I want to settle. Marcus seems like a great guy, but that doesn't mean we'll hit it off in person.
This morning there were two more responses in my P.O. box, both from black guys named David. One is 20, very good-looking (he claims; he didn't send a photo) and a student at Stony Brook. I'll call him, but I don't expect much.
The other David is only 15 years old, living in Jamaica with his mother. He sounds halfway intelligent, but the only thing I can do is write him back to thank him for responding and tell him he needs to find someone closer to his own age.
Alice called to tell me about Martha Robinson, an actress she and Peter met at a party. They told her about me, and her response was, "I want to have his children." I told Alice to arrange a dinner with her next weekend.
Deanna called, telling me how much she misses my brother and how much she wants to marry him. Is that love? Is it neurosis?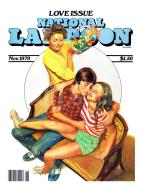 After I hung up with Deanna, I got the other side of relationships when Gary phoned. Betty is putting him through the wringer with their divorce negotiations. She's demanding a "more equitable" property settlement, and now she and Gary are reduced to squabbling about who owns which piece of dining room furniture.
Gary is a nervous wreck, diving his time between his parents' apartment in Brooklyn and Martin's house in Bethpage. He's not sleeping despite taking tranquilizers and is unable to work.
Is that what happens when you love someone? Avis says that love helps solve all your problems. Doesn't it just solve some (loneliness, lack of sex) and create new ones?
The theme of today's diary entry, boys and girls, is relationships and commitment: a change from the usual stuff about identity and ambition. Maybe I'll write about my friends in a novel called Singles: five New Yorkers unhappily waltzing through the '70s.
I've applied to MacDowell, Yaddo and Millay for the summer. Maybe then I'll write. In the meantime, I'll hibernate this winter and store up material for fiction writing.
"Richard, you are a fiction," Carolyn Bennett said to me last night. She called to tell me she included me in an article on Brooklyn writers she's doing for that slick new magazine Brooklyn Today.
I love Carolyn: thankfully not in any other way but only in the uncomplicated way you can love friends who are not even close friends but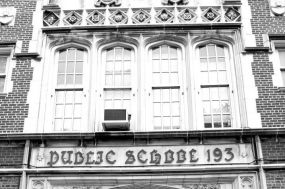 who are wonderful people.
Carolyn is subbing as a teacher in some grant-funded project at P.S. 193 in Brooklyn, and she said she may ask me to be a consultant at $60 a day. I'll call her next week, definitely.
I'm still living on peanut butter, telephone calls and hope.
---
Thursday, November 29, 1979
10 PM. The long spell of mild weather made today's 30° feel even colder. Winter is here. This has been a strange fall, what with the warm temperatures, adjusting to my apartment, and the Iranian crisis which seems to get worse with each passing day.
Now Mexico refuses to let the Shah back in, and Ayatollah Khomeini demands that Carter, too, be put on trial. The fifty hostages have been held for nearly four weeks, and I wonder how it will all end.
Avis called this evening after seeing a gynecologist recommended by Rita. A few weeks ago, Avis had mentioned seeing a cyst on her breast; this afternoon, the doctor told Avis it might be eczema – or a growth – and she phoned a specialist on Park Avenue and made an appointment for Avis for tomorrow.
Avis said she cried on the subway home, that she wanted to tell someone and could think only of me because Rita's too upset about her separation from Jacob – she still doesn't know that he has a girlfriend – and Teresa's too busy, as usual.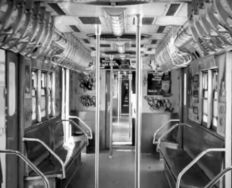 Well, I'm glad Avis thought enough of me to share her pain; I really didn't know what to say except to be hopeful and tell her that it sounded like eczema to me. Avis's medical coverage doesn't start until she's worked for a month, and she worries about the expense. God!
I told her to call me tomorrow and we'd have something to celebrate. Avis's situation seems to make all my news seem trivial. But it does go on, life.
Today was a long, cold day. I parked my car (Dad's Cadillac) at the Junction and had a miserable rush-hour. After having my SVA students write, I had over four hours to kill in Manhattan.
I thought of going to see some employment agencies that specialize in publishing, but I walked into one and chickened out after seeing an empty waiting room.
In the Mid-Manhattan Library, I found my name in The New York Times Index. The cross-reference was to "Pres Election 1980" and there was I, in the middle of articles about Carter, Kennedy and Reagan:
"Richard Grayson of NY qualifies with Federal Election Commission to run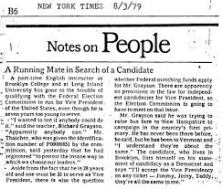 for Vice President as a Democrat (S) Ag 3 II, 6:1."
That made me feel special. I had lunch and marked some papers at the CUNY Graduate Center. There was an Association of American Publishers conference on publishing for newcomers that I tried to crash by putting on someone's discarded nametag.
I sat down in the back of the room and picked up a program and discovered that the guy whose nametag I had on was scheduled to speak at 2 PM on "Marketing Ideas."
What if someone came over and asked me to give the speech? It had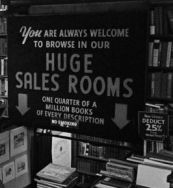 the makings of a comedy, but I made sure to get out of there quickly.
At the Gotham Book Mart, I browsed for an hour, looking at little magazines and poetry books in the back room. I bought an autographed copy of Jayne Anne Phillips's Black Tickets, the short story collection everybody's raving about.
Phillips is younger than I, but she has Seymour Lawrence, Dell, Iowa, an NEA fellowship, and dozens of big-name writers behind her. Compared to her, I feel like some pushy, gutsy underdog. I think I'm as good as she is, but I have to try harder.
My interview with Dr. Perkal of Touro College went well. I got in that I was Jewish, which helped, and he gave me two courses that meet in the spring term at Beach Channel High School from 6:45 PM till 10 PM.
It's only a few blocks away from here, and not spending money on carfare will compensate for the relatively low salary: $1,026 per course. Still, the extra $120 a week will help.
I don't know what I'll be doing this spring, but I'll keep those courses as insurance. Dr. Perkal kept me waiting for half an hour while he talked on the phone, so I feel no obligation to him or to Touro.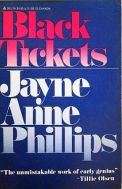 On the subway going home, I ran into the elderly playwright Bruce Mulholland, whom I remembered from the Authors Guild meeting. He took my number and said we should have lunch someday.
Mom said that Grandma Sylvia definitely had a gall bladder attack and not a coronary, but the doctors can't find any stones in her gall bladder. She feels better and will be released from the hospital tomorrow.