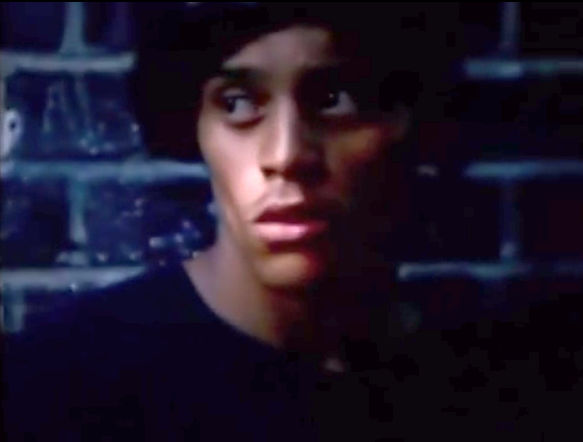 Thursday, November 1, 1979
3 PM. This morning I took the subway from Rockaway. Naturally, I got a seat, but it was a terribly long ride: about eighty minutes. It seemed dreamlike, going over the marshland of Jamaica Bay and into subway stations I never knew existed.
It's not a very convenient way to get to Manhattan. Coming back, it took an hour and fifteen minutes. Mom and Dad said they're going to give me the Cadillac, which is a real gas guzzler, but it should prove more reliable than my old Comet. And I do have Grandpa Herb's car as a backup.
If only the Green Bus Lines weren't on strike. But the strike's lasted four months already, and no end is in sight. Today at SVA, we had a real free-form period as I had the kids write résumés and crazy letters.
I've got to exert more discipline, I suppose. While the SVA students were writing, I was marking Kingsborough papers that were so horrendous, I began reading them aloud.
Before class, Darryl told me that yesterday he and Johanna found an old trunk in the street. It contained top secret Army documents from the First World War, an autographed photo of Gene Tunney, an invitation to Grover Cleveland's 70th birthday party, and other astounding memorabilia.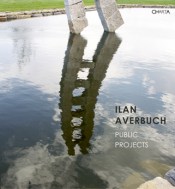 My SVA students have really become my friends. Ilan Averbuch, the Israeli guy, took me to the 21st Street gallery to look at his sculpture, and I was very impressed.
One piece had incredible energy, and the other was kind of a formalist paradox: a cube with stones on the bottom and pieces of chairs floating on top.
Ilan's father is a professor of literature at Tel Aviv University. Ilan served in the army during the 1973 war and later studied at the London School of Sculpture. He works at the Bagel Buffet on Sixth Avenue and West 8th, and he said that everyone else working there has a Ph.D.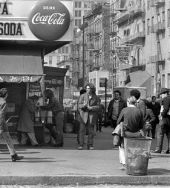 Ilan's been having trouble finding a decent place to live; he put a $65 deposit down on an apartment and was having second thoughts because it was on one of the worst blocks in the East Village.
It's a shame that Ilan can't devote himself full-time to his art. He's certain, and I am, that he's going to be a renowned sculptor. Some SVA teachers have suggested that he quit school and set up a studio.
Spending time with Ilan only made me realize how much I'm missing by not living in Manhattan, but there's no way I could afford it; I'm not sure I can even afford my studio in Rockaway.
Thinking about this just made me fantasize again about the $10,000 NEA fellowship. I just wish the damn rejection could come so I could quit fantasizi
ng.
Josh and I made page 2 of Variety, a little article entitled "Stand Aside, Jimmy a
nd Teddy":
Two New York Democrats have started a 'committee to draft Fred Silverman' – and they've even registered the committee with the Federal Election Commission.
Of the NBC president, the pair say in a flyer to select Democrats, 'Are you disgusted with the choices for President in 1980? Have we got a candidate for you!'

Joshua Landsman,
president, and Richard Grayson, treasurer,  say they recognize 'the need for a prime-time President,' and they point out various things that Silverman could do as the nation's chief executive, including
– 'Cancel programs that were unsuccessful after only a couple of weeks'
– 'Allocate gasoline fairly – by means of a new show called "Bowling for Dollars"'
Grayson said that Silverman so far has not indicated any interest in the new job, which would entail a considerable pay cut.
It's not much, but I got Josh's name in, and combined with the US article, the Fred Silverman campaign should begin attracting wide notice.
My briefcase fell apart on my way home, and I'll have to see about getting a new one.
When I got home, I found my royalty statement from Taplinger. They sold 58 copies at 10% list price, 591 at 8%. (I don't understand this; I'll have to get my contract out.)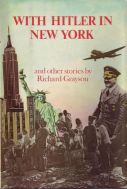 That makes $422.39 in royalties on 650 books. But they withheld 15% of that against returns, so my deficit total is $140.97. Hey – I may eventually get a royalty check.
George Myers sent me a card, and it reminded me that I miss him.
In an hour or so, I'll go to Brooklyn, where Mom is frantically trying to get everything ready for the move. Tomorrow is the closing, and on Saturday the moving men are coming. I don't even know where my parents are going to stay until they leave.
Life seems brand-new these days. Everything has changed. I am no longer on the verge of a new life: this is a new life. There are so many new things to remember. Last night I gave Gary and Mikey my new phone number.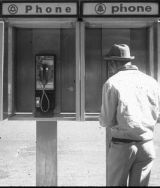 I hardly feel like myself anymore; I can feel myself evolving, but into what, I do not yet know. But I've managed to survive this far, and I've learned that I can handle more than I imagined I could.
I hope Avis and I have a good time this evening. Her being back makes things easier. I need support now, and so does she.
---
Friday, November 2, 1979
10 PM. The weekend – yay! This first week in my own apartment, I've managed to thrive: I realized that when I saw Dr. Pasquale in his new office (in his house) this afternoon. Forget about the reality details: laundry,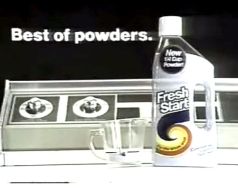 cleaning, whatever. Instead, look at how well I've done emotionally.
Dr. Pasquale reminded me that just a few months ago, I was seeing this move as highly traumatic, as making me feel lost, alone, adrift (my Skylab metaphor). Yet this week I've felt little or no anxiety.
I have felt a sense of loss, a separation, some depression – but I'm certainly not quivering in my sneakers. It embarrasses me to pat myself on the back, but Dr. Pasquale thinks it's important to see how well I've handled this.
I've learned – and even more important, I've incorporated the knowledg
e – that I am not the emotional cripple I once thought I was. I'm an adult. Yes, I am. I've been functioning very well. Although I do feel a separation from my family and my old house, that's natural.
Moreover, I enjoy being in my own place. Right now I'm alone in my apartment and it feels great. Suddenly I feel sexier. Maybe I'll put an ad in the Voice now; I already have a post office box.
Last evening I had dinner with Avis, who made delicious chicken cacciatore. We had one of our great old-fashioned talks.
She and Josh thrashed things out when they were together Monday night. It's obvious their relationship is not working out the way they once thought it would, but Avis is hopeful they can remain friends.
Avis has been doing cleaning and laundry for Josh and for Jacob and Rita for money. She told me that the other day when she was sitting in the laundromat on Montague Street, she had this thought: that if anyone had told her a year ago that she would one day be in a Brooklyn Heights laundromat folding Josh
Landsman's underwear, she would have laughed herself silly.
Avis has made up a new résumé and is feeling more confident now that she's got some interviews lined up.
Justin came in at 7 PM and shared some pistachio pudding with me. I like Justin; as Avis says, he's so boyishly enthusiastic that he's not cynical. He seems fresh.
Meanwhile, Ari's been busy putting together a show of Steve Allen songs which Home Box Office is interested in: that could be Ari's big break. It's pretty weird, I think, that I first knew Ari when he was Lance's roommate
next door to Teresa, and now he's Avis's and Justin's roommate.
I got home at 10 PM, stayed up late, and slept till about 9 AM. They put too much steam on here; I sweated all night. After having breakfast out, I spent $30 on groceries at Waldbaum's; now I can eat at home and save some money.
My classes at Kingsborough went smoothly, so there's another week gone. There's not much to do this weekend in terms of schoolwork.
After seeing Dr. Pasquale at 4 PM, I went to the old house, where Mom was preparing for the movers. There's still so much to be done.
The closing went fine, but the lawyer for the Soviets said they could have backed out of the deal because of "moral turpitude" and he showed them the copy of the "John Hour" article in the Post with my name and address underlined.
He was serious, too, although his clients were laughing about it. I bet I'll always be known as "that guy who goes to prostitutes."
I called Margaret at LIU to wish her a happy 60th birthday. Terry Malley brought in the Post story, and Margaret said she thought it was for real until Dr. Tucker explained it was just for publicity.
I feel relaxed tonight, and happy. The Green Bus Lines strike may be over soon.
---
Monday, November 5, 1979
8 PM. I had a bad night last night. I had to wait up till really late, 2 AM, to get on the Alan Combs Show on WPIX-FM, and the interview did not go well. Combs hadn't realized the article was a put-on and he was geared up for a serious discussion about prostitution.
He seemed really pissed, especially when I sneaked in a plug for my book, and the conversation didn't last long. It's his own fault.
His producer, "Joyce the Voice," asked me why I hadn't told them I didn't really go to prostitutes. I said it was because I'd assumed any reasonably hip person would get the joke. She seemed offended.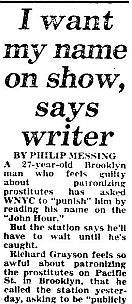 It's amazing how many intelligent people believe what they read in the papers. Still, I felt badly about the interview.
I'm aware that all this publicity is an egotrip, but I'm also aware, as Michael Lally said, that I'm doing it as an experiment. I want to write about the media and how it feels to be a celebrity and how meaningless it all is.
I think my friends, family and psychologist will keep me down to earth. Anyway, this morning I felt lousy enough to call in sick at Kingsborough although I felt like a criminal doing it.
I didn't do much all day: I moped a lot, answered my mail, spent an hour in the bank. Today, when everything slowed down, it hit me: our old house is gone.
This evening I went by to help the others clear out the rest of the things before Grigory came by to take over the house. My bare room looked so small that I wondered how I could have lived in it for so many years.
When I went into Marc and Jonny's empty old room, I flashed back 22 years to that summer when I first spent the night there in the just-completed house: back then, the smell of the wood was so new.
I went through all the bare rooms of the house, each corner – this is going to sound sappy – filled with so many memories for me. Going out to the backyard, I stared up at the giant blue spruce, now taller than the three-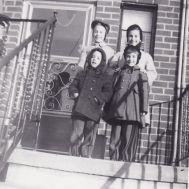 story house: It was one-third its present size when we moved in.
I remembered fights, lovemaking in the basement, Mom falling downstairs when she was pregnant with Jonny on the day the plane crashed in Park Slope, Jonny being small enough to crawl out the window when we were snowed in one year and couldn't get out of the house.
How many thousands of breakfasts did I have in that kitchen? How many hundreds of dinners did we have, family dinners in which we argued and laughed and oh shit, this sounds really sentimental . . . But the sadness is genuine, the feelings are real. Clichés are clichés because they're so true.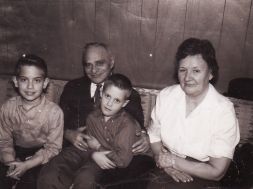 "It's the end of an era," our neighbor Jerry Bisogno said, and he was right.
"It's hard to believe you really did it," said Evie Wagner when we went next door to say goodbye.
Marc, Jonny and I stood outside on the porch as Mom gave Grigory the keys to his new house and showed him how to operate the boiler and dishwasher.
No more summer mornings sunning myself on the pool deck; no more sitting by my little window and watching the cars go by. No more sneaking downstairs for cookies in the middle of the night and finding Mom had beaten me to them.
I suppose I'm lucky: the memories of that house are very good. But that makes giving it up very hard. This apartment, or any apartment, will never be my house the way that house that I grew up in was; my parents' house in Florida won't be my home at all. That old song about it taking "a heap o' living" to make a house a home is true.
Tomorrow Mom and Jonny fly to Florida to join Dad there; Wednesday the movers will arrive with their stuff and they take title of the house on South University Drive in Davie.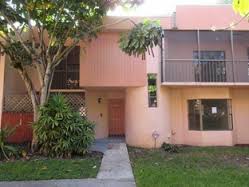 I feel mildly depressed. Something has gone out of my life which can never be replaced. I know I should be moving on, but I think I need to dwell on my loss for a little while. I've got to work it out in order to move on.
Early day tomorrow. Sigh.
---
Tuesday, November 6, 1979
8 PM. Today, I think, was the most difficult day of all. I feel emotionally exhausted and drained.
Getting up early, I made it to Manhattan in no time because of the light Election Day rush hour, and I taught my SVA class – a good lesson
comparing part of Annie Dillard's Holy the Firm with Virginia Woolf's "The Death of the Moth."
Then I made it to Kingsborough, where I found my evaluation: only "satisfactory." Dr. Schwartz put in a lot of suggestions and said, "With time, Mr. Grayson should become a good teacher." He said I needed "preperation" [sic] and I was glad to see he spelled the word wrong. It was all so condescending that it made me angry.
I had my first class write and used an essay in the second class. Today I also gave them the final exam schedule: English 11 is Tuesday, December 11, from 4 PM to 6 PM. Five weeks from tonight I'll be free. With only 16 more classes left, it feels as if the term is almost over.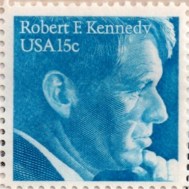 Anyway, I went home and read my mail: a letter from Tom Whalen and a copy of Bill-Dale's In-Between, his newsletter between issues of AFTA. In the acknowledgements, Bill-Dale thanks me, among numerous others, for emotional support.
I gather his relationship with Chip is over; he said it was "unproductive" and that his lover kept telling him that he "demanded too much." Bill-Dale's graduating Rutgers in May, and he may move to the Big Apple.
I have the feeling our lives are going to mesh somewhere along the line. Bill-Dale is a genius and I expect him to be famous. (Like me?)
Tom sent his regards; he's "tired tired tired" of teaching, but at least at NOCCA, Tom has great creative writing students who stimulate him.
At 3:30 PM, my limbs beginning to ache, I left for the airport. I found Marc and Mom sitting in the Eastern terminal, with Jonny ghost-white, sitting and tearing up a muscle magazine.
Poor kid, he was in a terrible state. Not only was he afraid of flying, but he was miserable about moving. I imagined myself at 18 and having my whole life upset like that.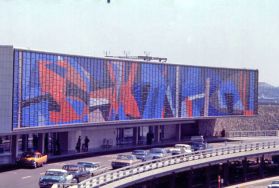 "I'm having a breakdown," Jonny said, and when the time came to board the plane, Jonny bolted. I told Marc to go after him while I took Mom and their luggage to the point beyond which only passengers could go.
Marc, visibly shaken, came back without Jonny. He asked me to go over and talk to Jonny. Me? Jonny and I have never been able to talk.
I found him on the edge of the terminal. "I'm not getting on that plane," he said. "I can't. I'm scared shitless."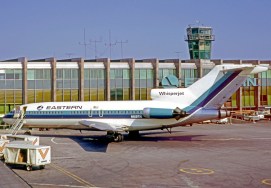 "I know," I said. I'm sure he couldn't realize how much I meant it. He was in such great pain – and I couldn't help him. I rested my hand on his shoulder as we walked towards Mom, Jonny repeating that he wasn't going.
Mom started crying and she said, "Jonathan, don't do this to me." Jonny picked up the bags, and Marc and I kissed Mom hurriedly and ran off quickly so Jonny couldn't follow us.
In the parking lot, Marc told me that Jonny had been a wreck all afternoon at his apartment. I said that he should have given Jonny a Quaalude, but Marc tried that and failed, although he did get him to drink some wine.
I told Marc to call me if Mom phoned him tonight, and then we drove off separately. It really is very sad: the family breaking up. On Sunday, Aunt Arlyne said that the ending of my story "Wednesday Night at Our House" had come true.
I feel traumatized by it all; I've got to beware of accidents and psychosomatic illness now that I'm under such stress.
They must be in Florida by now.
---
Thursday, November 8, 1979
1:30 PM. For a change, I feel relaxed. What I would like is to always feel like this and yet not be deadened by a routine I hate. This morning I was talking to Dorothy Wolfberg, who loves her job at SVA and can't wait for the next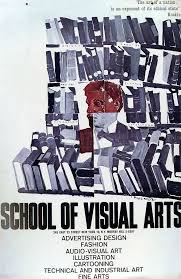 day to begin.
I guess if I had Dorothy's job, I'd be pretty happy too. Teaching at SVA actually is very satisfying, and it's a pleasure to work there. Kingsborough, however, is mostly drudgery.
I can't believe how obsessed I am with the end of the term. I just wish it were already a month from now. Because I loved going to college and graduate school so much, I want to know why my work can't be as satisfying as being a student was.
Maybe I should have gone to SUNY/Albany. Josh, Denis and Simon are driving up to Albany this weekend to check the place out. Baumbac
h told Simon that he'd be better off going to Iowa or someplace with well-known teachers. Ah, well.
I am not getting my mail. The post office may have screwed things up because on Monday my mail was sent to the house in Brooklyn. On Monday, here, though, I did get my mail with the yellow stickers changing the address. If there's no mail tomorrow, I'm going to the post office to complain.
Last night, after seeing my photo in the Kings Courier, Mark Savage called. That was my first inkling that they finally printed the Vice-Presidential candidate story.
Mark is working for $150 a week as a proofreader at Shearman & Sterling, the Wall Street law firm where Deanna is a secretary. He and Consuelo almost moved to Los Angeles when Consuelo was offered a teaching job there this summer, but they changed their minds at the last minute. They do plan to give up the house because they can't keep up the two mortgages.
Mark said both the boys have head lice now. He and I chatted for an hour or so, and then Consuelo, who had been at Open School Night, got on and invited me to come over one weekend soon. I said I'd give them a call next week.
Last night I slept very well and had extraordinarily exhilarating dreams, so when I woke up at 6 AM, I was feeling fine. I decided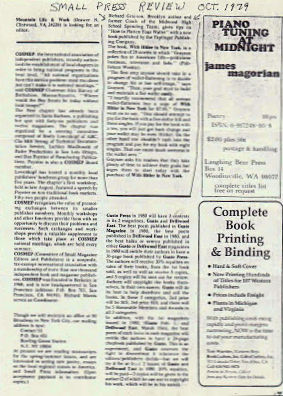 to drive into Manhattan today: a luxury I can't really afford, but I wanted to treat myself. I had my SVA students write while I marked Kingsborough papers.
In the next few days I plan to catch up with my life as much as possible. At Brooklyn College, I xeroxed the Small Press Review article and the Kings Courier story; I'm going to send them to Mom and to Taplinger. I bet Taplinger never had an author work harder than I did on publicity.
I'm really broke now, and much as I hate to do it, I may have to borrow money from my grandparents to pay my bills. This inflation is so out of hand.
Everyone thinks the '80s may bring a war in the Middle East. It enrages me to see the U.S. pushed around by Iran, but we seem to be helpless as the Iranians and Arabs have us over a barrel – an oil barrel.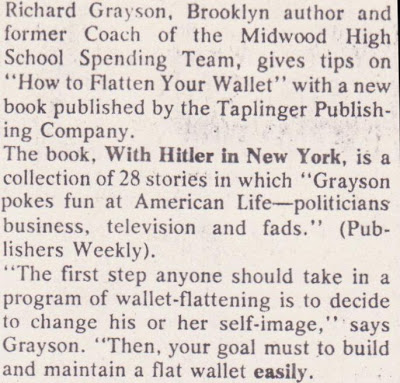 I'm still feeling strange about my parents being gone. It's not an all-pervasive feeling; rather, at random moments, I become conscious of a painful sense of loss.
Kathie Berlin wrote me that there are no openings at Rogers & Cowan; I'll keep trying other places. I've got to hang on just a little longer, for I know my ship will eventually come in.
It's odd how seeing my name and photo in print have become commonplace; I'm no longer awed by it. But that just shows how far I've come in several months and how easy it is to adjust to publicity.
---
Friday, November 9, 1979
10 PM. A three-day weekend is upon me. Now that those four full weeks of school are over, now that I'm settled in my apartment, now that my parents and Jonny should be settled in Florida – I haven't heard a word from them – I should be able to relax somewhat.
I spent last night talking with Alice and Avis. Alice had a wonderful time with Peter in Chicago. She wanted to see me this weekend, but I don't think I can arrange it.
Tomorrow I'm going to pick up Avis, who may spend the night here. Avis got the job at the Switzerland Cheese Association, and though she's not happy about working in midtown Manhattan – on Madison at 49th – she figures she's lucky to have gotten a job this quickly. She begins work on
Monday.
Josh, Avis thinks, will never call her again. I don't know exactly what happened and I didn't want to ask Josh about it yesterday.
This morning I changed the sheets and scrubbed the bathroom floor before I went to Kingsborough. On Fridays the campus is so empty, the atmosphere is more relaxed; my classes went well today.
I decided to visit Pete Cherches at Brooklyn College, but his news upset me: Peter Spielberg got an NEA fellowship, and so I figured that meant I didn't get one. There was no mail when I got home, and I haven't received my mail
from the old address yet. The post office says it takes a week, so I expect to get the letter from the NEA soon.
But this afternoon, right after Pete told me the news, I became terrifically agitated. All of a sudden everything seemed crappy. My fantasies of getting $10,000 were over, dead.
Not that Spielberg doesn't deserve the grant – but does that mean I'll have to wait twenty years until I'm his age to be recognized?
With Dr. Pasquale, I discussed the mechanism which caused me to get so upset. As usual, it was a feeling of lack of control over the NEA, the post office, my future. I felt angry, too, about being ignored. It only made me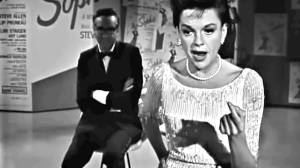 want to "show them."
Dr. Pasquale pointed out that I didn't blame myself for any deficiency – I didn't do that with the Kingsborough observation, either – and he said that a year ago I probably would have gotten more upset about the NEA rejection.
Dr. Pasquale is right: even while it was happening, I was conscious of the "everything is crappy" mechanism. If only knowing things cognitively could immediately lead to my accepting the things emotionally. It will, in time.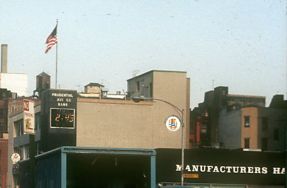 This was a difficult week for me, and I've had low-level anxiety since Mom and Jonny left. Alice told me that she found it hard to adjust to her new apartment and neighborhood and routine, too, and that my adjustment is more difficult because, unlike her, I don't have a family home to go back to.
At odd moments I feel a sense of emptiness, of loss. But most of the time I'm okay. I do like my apartment. The Green Bus strike was finally settled, and just knowing that now I can get into Brooklyn without a car makes me feel a bit more at ease.
I've begun to establish a routine for myself. I spent $30 at Waldbaum's yesterday, so I've got quite a bit of food in the house.
I guess Dr. Pasquale is right when he says I can easily handle the routine details. I love therapy and I'm glad I found Joseph Pasquale; seeing him was one of the smartest moves I made in 1979.
Well, I finally decided to put a personal ad in ad in the Village Voice
, though it turned out rather banal. I described myself as a cute, intelligent, creative BiWM, 26 (I changed my age because I didn't want anyone to know I placed the ad) seeking "a younger very special person." I probably won't get many responses, but we'll see what develops.
I found my first bug today.