Wednesday, March 14, 1979
2 PM. I feel extraordinarily relaxed. Wednesdays are so much different than Mondays. Maybe I feel I have earned Wednesday off.
For the last few hours, I've felt as though I'd taken ten milligrams of Valium; though I have never swallowed Valium, I imagine this is what it must feel like. I am floating through the day, and it's better than Valium because it's natural, and the wonderful thing is there's no external reason for me to feel this good.
I feel magnificent, and I can't attribute it to anything. If I were making love now, I would have the best orgasm of my life. I feel as though my brain's pleasure center is being stimulated every couple of seconds.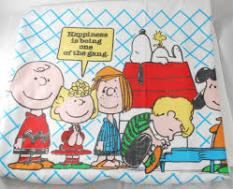 Still a logical man, I try to attribute my happiness to something. Is it that I wrote a story yesterday? Is it that I went to the dentist this morning? Is it that it's 65° and I can smell spring? (No, it can't be that: it's raining very hard.)
Maybe it's that there's only one more week left in winter. Or that I'm wearing fluffy white athletic socks and Pumas sneakers. Or that my refund check from the IRS came and that I now have, for the first time in my life, more than $1,200 in the bank (actually, in two banks) and that in a week I get my first check from Brooklyn College.
I don't really believe that any of these things have caused my mood. I only know that today's gum treatment felt wonderful, that the cheeseburger I had at The Floridian an hour ago was delicious, that I have just read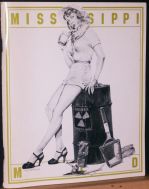 Mississippi Mud's latest issue and was stunned by the incredible stuff in their magazine.
(I didn't even mind that there was no story by me in it. In fact, that made it better.)
I write so often when I'm depressed, and I try to find the reasons why I'm feeling so low. Maybe there are no reasons, and life just is, and some days are unbelievably good and others are unimaginably bad.
Last night at 8 PM, I met Dorothy in the teachers' lounge and we went to the meeting of Small College English 0.2 instructors, chaired by the very correct Dr. Dix, although Lou Asekoff seems to know more about the courses than anyone since he's been teaching Small College for years, as has Mr. Barrett, a handsome thirtyish guy.
But I seem to be doing better than Dorothy or that awful Mr. Scheer, that unkempt, filthy perennial graduate student who must love literature because otherwise he'd look more like a human being. And I've already had experience preparing students for the CUNY assessment exam at Kingsborough.
My class went well even though we started late and ended early. I hope my students trust me; I feel most of them do. (I'm not doing as well with the veterans; tomorrow there'll be a Veterans Outreach Program meeting.)
I love the feeling I have when I get out of class and drive home at 11 PM; I really feel as though I've accomplished something. In bed, I read until 1 AM and had happy-making dreams in which a very respectable-looking genial man fell in love with my body, which was much better in the dream than it is in reality.
Mark Savage called to thank me for sending him the birthday card and we had a long chat. We still have a lot in common: our experiences in school and in therapy, and our conversation made me feel as though we've begun to renew our friendship. I need friends now.
---
Friday, March 16, 1979
6 PM. Another week gone. I'm hoping this weekend will be better than the past few weekends, but I'm keeping my expectations low.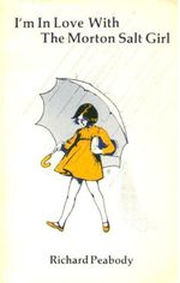 This week I've received little in the way of good mail, but today brought a letter from Rick Peabody, someone I'd like to be better friends with. We're the same age, have similar tastes, seem to be in the same predicaments. In his First Person Intense piece, he mentioned being afraid of ending up like Kerouac and still living with Mom at 45.
Rick has reviewed a lot of books and is in the middle of the Washington scene; they've got a lively group there, with him and Gargoyle, Eric and MOTA, Kevin Urick and White Ewe Press, the Writers Center, Washington Review of the Arts, and a lot going on. He asked me if I know Richard Price or Pete Cherches. I must write Rick back soon.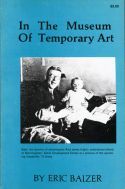 The Gale Research Company sent me "a bio-bibliographic form" to fill out for their Contemporary Authors. I wasn't sure it was reputable, but I found it in the public library and I'm pretty flattered to be in it.
I just hope I didn't make a fool of myself in my "Sidelights" comments; those statements tend to make one sound pompous and pontificating. But I'm grateful for the recognition.
Yesterday, at a meeting of the Veterans Outreach English instructors – I was the only one who showed up – Bill Browne told me he'd heard I was "quite a prolific writer." I asked him who told him that, and he said, "Roberta."
"Roberta?"
"Roberta Ventsias," he said. She teaches English at BC, and though I've never met her, she sent me the acceptance notice for Junction. I guess more people at Brooklyn College know me than I had imagined.
Last evening I dropped in to Lou Asekoff's office to bullshit for a while. He's very nice, and I liked talking to him. Before this week, I felt very isolated; I've just been running in and out of my classes this term.
Jules Gelernt, I've learned, is not running for reelection as chairman of the department, and the undeclared candidates are Steve Jervis, the CLAS deputy chairman, and Neil Schaeffer, deputy chairman for SGS. Mike Murphy might also run.
The inter-departmental politics tends to hinge on personalities. Of course, if Neil wins, I'll have a job at BC in the fall; maybe he'd even give me a creative writing course.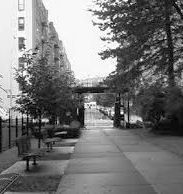 But I'm not stupid enough to get involved in this. They're having the candidates speak at a meeting in two weeks, and while I'm as curious as hell, I think I'll avoid it.
Lou, who thinks everyone is pretty bad, suggested to me that they settle the election by tossing Jules up in the air: if he lands on his ass, Jervis wins, and if he lands on his face, Neil does.
My classes, yesterday and today, have been going well; I've been picking up steam and now have a clearer direction in which to proceed.
If only it wasn't so cold: it's 30° now. I guess I was spoiled by the generally mild weather we've had lately. I can't wait until the first day I can get rid of the winter coats and take the humidifier out of the room.
This spring I'll have mornings to sunbathe. Maybe in two months, I can lie on the beach in Rockaway; by then, I'll probably take it for granted.
---
Sunday, March 18, 1979
4 PM. This has been a good weekend mostly because I've been out doing things among people.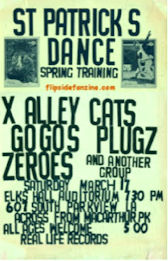 Last night I had a fine time at Terry Malley's St. Patrick's Day party; there was a nice group there. I arrived early and got to talk with Margaret and her daughter Jennifer, who are still as sweet as ever.
Terry's wife Kathy is a big shot at Warner Communications, and they seem to have good life: a large house in Park Slope, with an enormous collection of books; many friends; money and time to travel, especially to Ireland.
Terry is the kind of academic I would like to be: caring, oblivious to all the bullshit, eclectic in his interests, funny, and very intelligent. If I were a drinking man, I'd want him for a drinking companion.
Ken Bernard arrived with his wife and their son Judd; Dr. Small arrived with some woman (he's been married three times already); and there were a couple of adjuncts, like Alan Brafman, whose poetry book Terry has published under his own imprint.
Tina and Al Orsini – married three weeks and looking incredibly happy – arrived late; I especially enjoyed seeing them, as they have a pleasant style.
We talked about Europe and the racket that is academia. I wonder where Tina and Al will be able to go with their doctorates. They love literature so, and I guess they're not thinking about the job market now but about Yeats and Shelley and their comprehensive exams.
There was talk of Hal Jaffe, who's having a book published with the Fiction Collective. Earlier in the week I saw him teaching at BC, and Bill Browne (who went to LIU and knows Terry and Ken) told me that Jaffee gave up tenure at LIU to become a full-time writer. Ken said that was an incredibly stupid thing to do, and it's difficult for me to disagree.
Dr. Small, Terry, Ken: all seem to sympathize with the plight of adjuncts like myself – but there's not much they can do about it. In fact, they themselves are being hurt; they can't ask for higher salaries because the administration knows that they're stuck at LIU.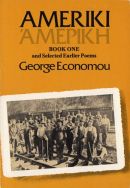 Very few full-professor positions are available elsewhere. Ken said George Economou has been applying for jobs in medieval studies but gets passed over in favor of women and blacks.
I spoke for a long time with Evan Greenberg, one of Terry's old students who's my age; I had met him once before. With a B.A. in English, Evan headed for Oregon in 1972 and found the only jobs open to him were working in the fields picking apples for $1.97 an hour. Three of his crew had doctorates.
When Evan got back to New York a few years ago, he worked in the garment center, and through family connections, he got a well-paying job as an accounts investigator with the ILGWU. It's a job, similar to that of a private eye, which offers him some freedom and the chance to meet many interesting people.
Right now he's going through a divorce. Except for the dark lines under his eyes, Evan looks very young – as I do, I suppose. Although he is much more adventurous than I, we have same background and references, and I liked him.
Margaret got very silly by the evening's end and began to sing old songs with Terry's lively sister. Earlier, she told me that Dr. Tucker was reelected chairman over Esther Hyneman, but his continued insecurities are driving Margaret crazy.
Martin's now living on Long Island, with a lady friend who is the widow of a crippled C.W. Post professor. ("She must be attracted to poor souls," Margaret said.)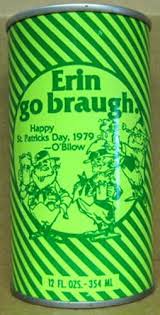 Terry taught me how to fix a few drinks as I stood behind the bar. Everyone seemed excited to hear about my book; Kathy Malley said it was "a real triumph." (Terry told me that Brian Robertson's publisher, Manor Books, is "very schlocky" and that they have poor distribution; of course, I'm not going to tell Brian that.)
After stuffing myself on corned beef and cabbage and pastries, I left the party at 2 AM. Today I woke up at 1:30 PM and have been potchkeying around ever since.
---
Monday, March 19, 1979
7 PM. Today was the best Monday I've had in a long while.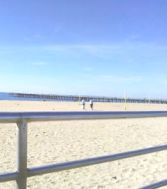 Late this morning I took a drive out to Rockaway and sat on the boardwalk at Beach 126th Street. I was looking out at the glistening ocean and wondering what the hell is going to become of my life: How long can I go on as I am, working as an adjunct, living in my parents' house, being a boy at age 27?
Then, at 3 PM, the answer came. Donald Stauffer, the Director of Graduate Studies at SUNY-Albany, called to tell me that I'd been awarded at $5,000 University Fellowship for the next academic year.
I got very excited and told him I'd come up to Albany sometime this spring to visit and see what's what. I think this is the answer for me. I won't have to teach; there'll be ten hours a week of work, but nothing more. I will be getting the $5,000 in addition to a tuition waiver, and that should be
enough for me to live on in Albany. (If I got that NEA fellowship, I'd have no worries at all.)
And it will get me out of this house and Brooklyn, and I can make a fresh start after ten years of this diary, the decade since my breakdown.
Maybe I'll go back to Mrs. Ehrlich for some sessions this spring to help me adjust to the big move. But by now I'm more than ready. It still hasn't completely sunk in yet, but I'm happy; at least I know what I'll be doing for the next year.
Albany's D.A. program seems flexible and innovative. Prof. Stauffer said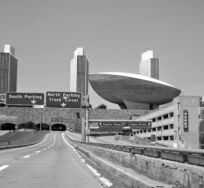 he's going to send me personnel forms to fill out.
My parents were happy to hear about this; Mom, especially, has always wanted me to go on for a doctorate. It won't get me a better job, but I want learning for learning's sake: I just want to learn more.
When I spoke to Wes today, he said he got very tanned in Florida. They thought my photo was too baby-faced and young-looking for the back cover, so it's not being used – which is just as well with me. Wes told me the flap copy is by me – from Disjointed Fictions – and said it looked good in typescript.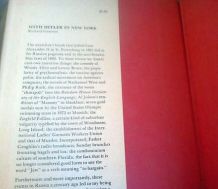 I asked him if he would nominate me for a Bread Loaf Fellowship; if I got it, I might not go to Virginia this summer. Bread Loaf fellowships seem to lead to staff assistantships, and they carry a bit of prestige.
Now that I know I'll be going to Albany in the fall – unless by some fluke, I get the job at Rutgers – my summer plans are more uncertain. I have time to figure out what I'm going to do.
Hey, big shot, how'd you like this rejection you got today: "We prefer quality over quantity, and since you don't take your writing seriously, we don't, either." I wrote them back: "Fuck you."
A year ago I got the "prolific lightweight" rejection, and that really bothered me. Today's note just angered me. But I should remember that however famous or rich I become, there'll always be people who will see no value in what I'm doing.
Crad Kilodney asked me for an endorsement of his new book; I gave it to him gladly, of course. I also got a nice letter from Gary Glover in response to a note about his work that I sent him. And my refund from the state and city came: $169, more than I expected.
I have over $1,200 in the bank now, and my paycheck is coming on Thursday. Today was cool but not cold, and I was able to enjoy the beach for the first time this year.
---
Wednesday, March 21, 1979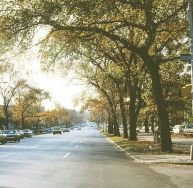 4 PM. The first day of spring turned out to be the most beautiful day of the year thus far. It's 63° and cloudless, and not only was my winter jacket too warm for today, but so was my peacoat; I could wear a zippered sweatshirt over a t-shirt.
A couple of hours ago, I went driving around the neighborhood and spotted the first shirtless boys of spring: Italian bodybuilders, two of them, strolling down Avenue L with their muscles tensed. They're obviously peabrains, but they do have good bodies.
Of course my own body isn't all that bad. Anyway, this was the first Wednesday in five weeks that I didn't have to go to the dentist, so I slept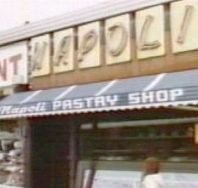 late.
I'd sent Roy a copy of the quote from Norman Rosten, and Wes said that Lou – I had to ask Wes who "Lou" was, forgetting he meant Mr. Strick – was thinking of approaching Norman Rosten with an eye toward doing a book by him.
Also, Wes said that the Times Book Review people occasionally let a writer do a review of a book that the writer thinks is outstanding, and Mr. Strick suggested asking Rosten to review my book. Wes said they've had meetings on how to "maximize the potential" of the book.
They feel that with the right reviews in the right places, they can generate enough interest in the book so the book can take off. I tend to doubt it, but I'm excited that they think the book has potential because that means they're at least going to try to push it.
Before class last evening, I went to the library and read the latest Library Journal and Publishers Weekly. LJ finally had a review of Ivy's Scot Free: it wasn't quite a bad review, but it wasn't quite a good one, either.
Actually, it was mostly a summary of the plot; then the reviewer suggested if Ivy meant the main character (probably based on Ivy herself) to be portrayed as shallow and pretentious, she succeeded; if not, she failed.
PW had good reviews of two other Taplinger novels for May. So now I do expect to get a review, and now I'm worried about a devastating one. So many people seem to think my work is immature or "not fiction."
I just hope the reviewers go gentle on me because I'm young. And I pray that Anatole Broyard does not review it for the Times: he'll destroy me utterly, I know it. (If Broyard liked my book, I'd know I was doing something wrong.)
Lately – for the past two weeks or so – I've gotten no acceptances, so I was very pleased today when I learned that Calliope is taking "Fourteen Ways of Looking at My Brother." Actually, that made me happier than any of the nonsense with the book.
Yesterday I wrote a bit, and that's good too.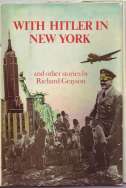 In a way I'm definitely afraid that Hitler will change things. But it won't. I'll still be unknown, and I'll still write for little magazines, and I'll take myself away from the world and study in Albany and try to become a mensch.
Last evening I had my students write, but I can't look at the papers today. Tomorrow I'm giving lessons on the library.
Wes said that the mechanicals are due this week, so soon I'll have a tangible object – my book – in my hand.