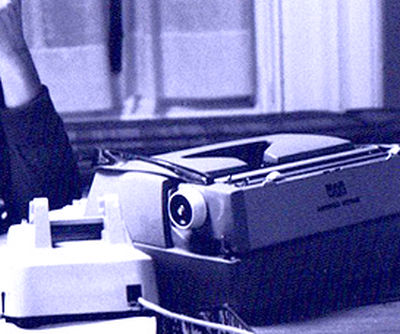 Saturday, October 21, 1978
9 PM. Very unlike myself, I feel happy just to be alive.
The past 24 hours have been almost perfect – and I wouldn't want them to be perfect, anyway, because that wouldn't be real life. Everything seems to be going my way for a change. I look forward to the future.
My relationship with Ronna is better than ever; she's an oasis in my life.
Last evening was idyllic. I went over to her house at 7 PM, and while she showered, I watched TV and talked to her sister, who soon left for a friend's house.
When Ronna came out, she started kissing and hugging me and I didn't want to go out to dinner or to the movies or do anything but kiss and hug her back.
She made us hamburgers for dinner and we had a salad and grapefruit juice, and it was so good, just the two of us in the apartment. We watched some TV and then retired to the bedroom, where we simultaneously undressed each other and got into bed.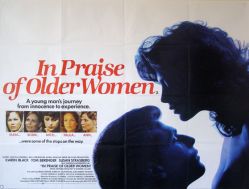 It was lovely – a word I get from Ronna. I am very attracted to her, and being with her like that was heaven. I was able to let go, to be completely free, and she did the same. The intimacy is actually better than the physical release.
We play like children, we discuss our lives like friends, and we touch each other like lovers – or maybe like an old married couple. For now, for each of us, our relationship is all we want it to be.
I wish I could have slept overnight with Ronna, but I wanted to prepare for my meeting with Wes today. Her mother and Billy came home from the wrestling matches at Nassau Coliseum just as we were getting dressed. I wasn't embarrassed, nor was Mrs. C.
We all sat around the kitchen table talking. Mrs. C thinks that when Alison's parents come for a visit next week, they should get her out of that apartment. It's dirty and depressing and too big, and Alison doesn't know how to handle her landlord: when the bathroom sink fell out, she was afraid to yell at them to get it fixed, and as of yet, they haven't.
I awoke with a bad sinus headache today, but I cleaned my sinuses out and got up to Wes's by 12:30 PM.
He was sleepy-eyed, wearing an undershirt and painter's pants. God, I'd give anything if I could manage that lithe, casual, rock-star attitude and appearance he has.
We discussed his rock criticism (he's doing a review of Heart, the group Ronna and Phil are seeing at the Palladium tonight), and his father came by to drop off a Canadian book that may be best-seller material. Mr. Strick didn't stay very long, and afterwards we began editing the book.
We bullshitted a lot, and drank coffee, and Wes's friend who designs sets (for, among o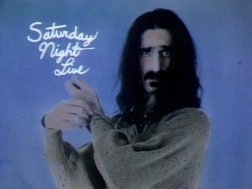 thers, NBC soap operas and Saturday Night Live) dropped by.
Wes is seeing this girl Marla, and they're spending more time together because the guy she lives with, a musician, is out of town on a three-month gig. It sounds like a typical New York affair.
Wes was a bit afraid about how I'd react to hearing about his shooting heroin last weekend, but I was more amused than shocked. He likes needles, he says; I think he enjoys the forbidden nature of it.
We worked very hard on all the stories and I was there for over five hours. (I had a Pop-Tart for lunch). Many of my last lines are weak and had to be cut – and we switched things around. There's still about ten more sections that
need editing, and I'm going to work on them during this week.
And when everything is finished, we can go into production, hard as that is to believe. I came home exhausted, starved and quite happy.
---
Sunday, October 22, 1978
7 PM. Another weekend over, and another Monday-through-Friday about to begin. Today was summerlike, 70°, sunny, light breezes; the only problem was that there wasn't enough of it.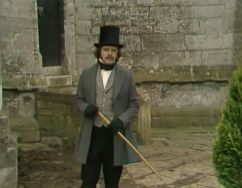 Last night I saw the last episode of The Mayor of Casterbridge. Butchered Hardy though it was, it got me wondering about the "happiness" I was feeling. Is happiness an illusion in a universe conspiring against us? And Other Questions. Alistair Cooke quoted King Lear, that line about the gods playing with us and destroying us on a whim.
I went out to Rockaway this afternoon. Feeling out of shape, I walked up the ten flights to Grandma Ethel's apartment. Grandpa Herb and I sat on the terrace and I read Grandma Ethel's diet; it's so complicated I had trouble explaining it to her.
Basically, she's forbidden all canned and frozen goods, most milk products, anything with sugar, refined sugar or refined wheat. She's supposed to eat a lot of raw fruits and vegetables (eating the "whole" of the food, even seeds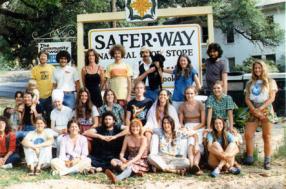 and skin), legumes, herbs, bran, wheat germ, nuts and fresh juices.
There are ten bottles of food supplements on the table: a total of 34 pills Grandma Ethel must take every day, all at different times.
This revolution in her body – "detoxifying," her doctor calls it – is making her into a nervous wreck and giving her headaches, stomachaches and aggravation. But she's probably eating more wisely than any of us. I think I would go mad trying that kind of diet.
Grandpa Herb showed me all the money he's making as a tailor for people in the building, and he insisted on pushing a five-dollar bill on me – "for carfare." I ended up taking the money and feeling a bit guilty.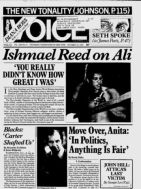 (No, I'm not really guilty. That was a lie. I like the idea that my grandfather gives me money almost as much as he does.)
Avis wrote me a wonderful letter in which she apologized for criticizing my book and telling me she would knit me a sweater to assuage whatever pain she caused. Oh, Avis!
She's disappointed she didn't get to see Teresa while Teresa was in Europe, and she's anxious to see us when she comes to New York on December 16. I can't wait to see her.
Helmut has tonsillitis again, and he's going to have them removed soon. They've got a houseguest and a new cat, and Avis overdrew her bank account for the first time. Her father is being taken off chemotherapy next month, and that's good news.
I wrote her back a long, breezy letter last night, though I wish I could have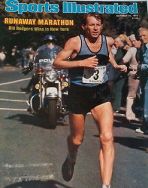 phoned her and chatted.
Today was the New York Marathon: 10,000+ people ran, and Mom and Dad went to Downtown Brooklyn to watch the runners pass by (and pass out).
The new Polish Pope, John Paul II, was inaugurated today; he seems brilliant and his fluency in in many languages astounds monolingual me.
I just came across a favorable review of a couple of pieces of mine in a literary magazine, The Smudge – well, maybe not that favorable; they said "a decent duo of stories."
There is a conflict in me between my small press loyalties and my New York-publisher dreams. Obviously some small press people will see me as a sell-out.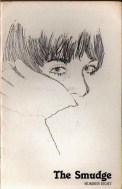 But I refuse to look at it that way. Mr. Strick contacted me; I didn't go, hat in hand, begging to be published. As A.D. Winans said, "We all make compromises, whether we want to admit it or not."
And certainly if Taplinger does publish my book, it will do me more good than anything else has. I'm beginning to feel more confident about my work again. I'm young, after all – young for a fiction writer, that is.
---
Monday, October 23, 1978
8 PM. Today was about the best day I've ever had at Kingsborough. I guess it's because I've finally adjusted to the place. My students are now used to me, the freshmen are used to college, they seem to like me, and I've discovered I like them. And people at the college are familiar to me; I can walk through the campus and hear people call my name.
Today, for example, some girls said, "Oh there's Ivy and Kelly's English teacher." Rosa Cordero invited me to her birthday party on Thursday, and since it seems to mean a lot to her, I told her I'd drop by. My lessons went well today, and I felt I was really getting through to my classes. Teaching can be very satisfying on days like today.
It was eerily warm – 76° – and very sunny; it won't be like this again for another six months. Right now a storm is brewing and the temperatures are plummeting.
I went to Kings Plaza at 11:30 AM and had lunch at Bun 'n' Burger; it was a nice change of pace, and it also gave me time to go to the bank. The day went so quickly, and I had so much energy I can hardly believe it.
During my break today, I typed up a new vita on the English Department IBM typewriter, and at about 5 PM I went over the Junction to xerox it. I ran into Angelina, who's now a Brooklyn College student, and she waited while I had my résumé run off so I could drive her home to the Slope.
She enjoys college, she says, but it's very hard work; she spends every night studying. Angelina's in a special program and goes from 9 AM to 4 PM almost every day, taking all of her courses in one room in Whitehead.
Despite limited financial aid, she's having money problems and she hasn't been getting along with her mother. Angelina said she'd like to move out; maybe if she could get welfare, she could swing it.
She also doesn't like running into Wayne. The last time they saw each other, he smacked her; Wayne's just too angry to be friends. His mother, however, spoke with Angelina and says she understands how she feels. I dropped Angelina off and wished her luck with her studies. I think she'll make it.
Last evening I spoke with Ronna. She and Phil had a good time at the Heart concert; yesterday she spent with Alison, who was sick with her period. Alison is "very frail": apparently, that's what Midwesterners call a kvetch.
I like this time of year, for some reason. It reminds me of being young. Today, talking to my students and to Angelina, I remembered so clearly the fall of 1969, when I was an entering freshman at Brooklyn College. The neurotic in me tells me things are going too well and that there'll be hell to pay tomorrow.
---
Tuesday, October 24, 1978
7 PM. Today was not the day yesterday was – obviously. For one thing, the temperature dropped into the 40°s. For another, my classes did not go all that well, especially the 3 PM class, who were so rowdy, I ended my lesson in mid-period and made them do a series of busy-work exercises.
I didn't like them very much today. They're so immature. One girl in particular angered me by talking throughout my lesson, calling out irrelevant remarks and then mumbling "Bastard!" and tearing up the C paper I handed back to her.
White teenage students are such a pain in the ass. At LIU, I was spoiled by having mostly black and Puerto Rican and older white students who behave like adults.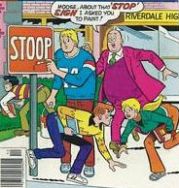 Kingsborough was an annoyance today, an interruption in my real life. Last evening was real life; it was terrific. I wrote 18 poems, most of them better than anything I've ever written before. It started when I began leafing through my diary from last fall. I found some passages that sounded very good and decided to put them in poem form.
I used all lower-case letters and a conversational tone. I guess reading a great deal of poetry finally paid off. Today I bought envelopes and stamps, xeroxed the poems and submitted them to about 20 magazines: my first real assault on the poetry market. If I get three acceptances, I'll know I've got something and that I really am a poet.
I seem to have found my voice all at once. Of course, it remains to be seen whether I'm considered a real poet, but for now, I'm excited by this new development. For months I've been leading toward this; there are some things which never worked in fiction which might work in poetry.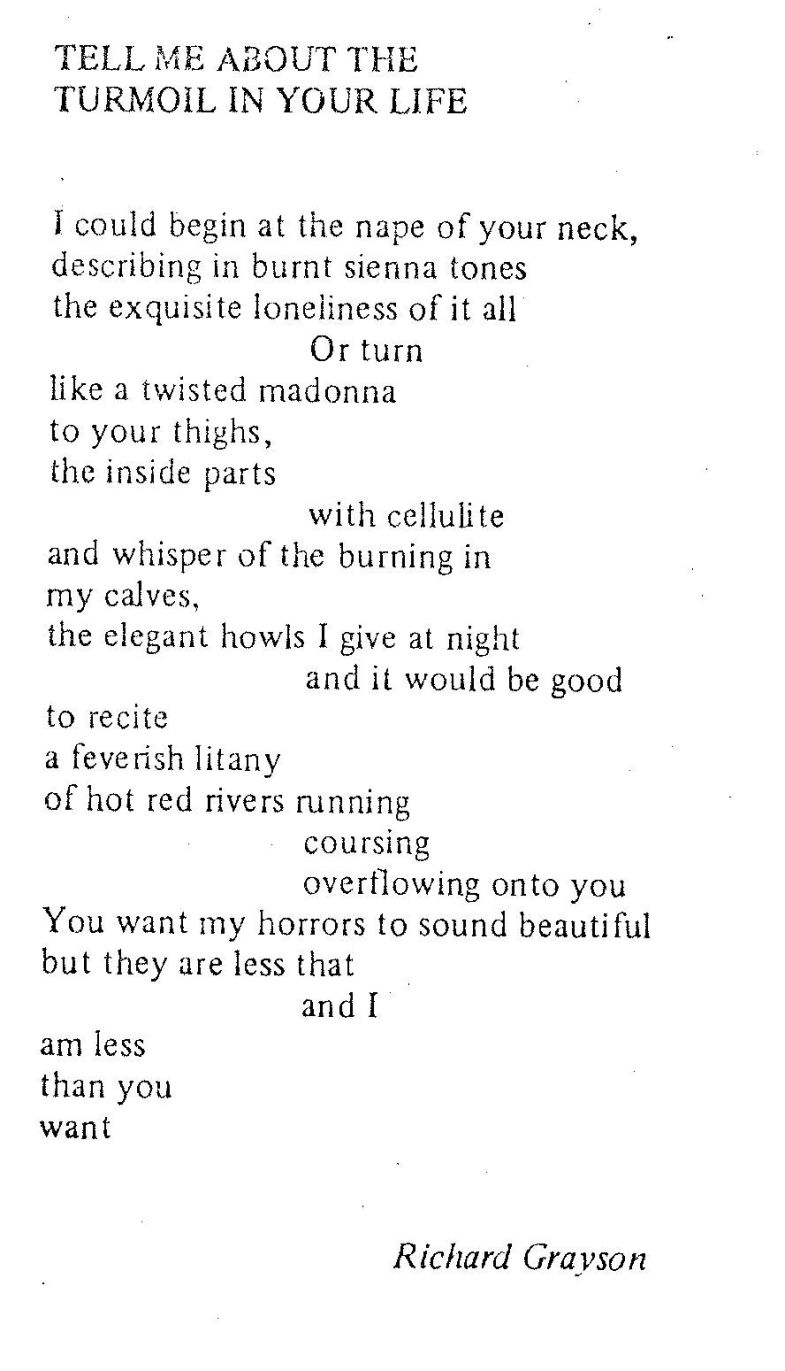 I've had half a dozen poems published so far, but I've never really worked on my poetry. Maybe I should take a workshop. Why am I interested in writing poems now? Maybe it's just a whim, or maybe I need a break from fiction, or maybe I've accomplished everything I want to in fiction – at least for now.
With my book probably being published, I feel the need to prove myself in another area.
Teresa phoned last night; she'd just received the copy of Disjointed Fictions I'd sent her. She and Mary had a lovely time in London, and they traveled all over England and Scotland; Paris was a mistake, for they found it dirty, dismal and unfriendly.
As others have told me, Europe is crawling with rich Arabs; in some parts of London, the Rolls-Royces are parked four abreast, Teresa said, "and the
y're all dressed like the characters in a grade-school Christmas play."
Teresa's unemployment (and Mary's) runs out in February because they shortened the period to 26 weeks (from 39: when I collected two years ago, the period was a whole year).
I told Teresa I'd come by late Friday afternoon; my weekend is going to be crowded, what with Janice's Halloween party on Saturday night, but I can't spend my whole life working.
---
Wednesday, October 25, 1978
11 PM. Today was very hectic. Wesley phoned this morning to say they had a meeting at Taplinger yesterday and they've decided to publish my book in the spring. "That means we've got to move fast," he told me.
I can barely believe it. When Wes first mentioned them having a meeting, I thought surely they'd decide not to do the book at all. The cynic in me can't understand why the Stricks are so interested in my work.
Anyway, this made my whole day – and the days to come – into nervous times. I wish I could take off a few days from Kingsborough to get myself and my manuscript together.
The less said about my classes today, the better. I resent having to spend time trying to teach kids who aren't interested in learning. Of course, about half of them are really nice, but the other 50% seems to overwhelm the good kids.
I also resent being treated as less than human by the full-time tenured professors. I just wish people recognized me as a writer there. I constantly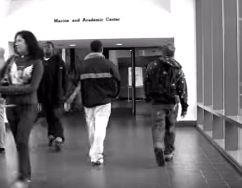 get mistaken for a student by the professors.
Do I sound obnoxious with all these complaints? Anyway, when I got home from school, I sat down at my typewriter and began revising some of the stories, and I noticed that my letters were fading away.
Immediately I decided to buy a new typewriter. I had my eye on the baby-blue Smith-Corona Coronet XL with its cartridge ribbon, IBM-style keys, wide carriage and power return. Catching Mom in a good mood, I persuaded her to come to Ciro's with me and pay for it with her MasterCharge.
I'm a cheapskate, of course, and having to shell out $250 to pay Mom back doesn't thrill me, but I need a typewriter more than I need a car or my own apartment or new shoes. I'm sure to get use out of it.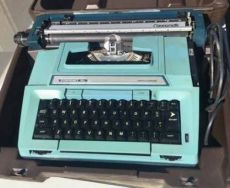 When I opened up the typewriter at home, I found they'd given me one with artistic type, and I had to return it for one with pica type. While I was there, I ran into Ronna's mother and Billy, who were buying a toaster, a smoke alarm, and a Water-Pic.
I've been working steadily since 7 PM or so and I really like my new machine. It's no IBM Selectric, but it's good enough for my purposes.
In any case, I have to retype two stories that I don't seem to have in typescript, and I'm still waiting for the two stories I don't have at all; Wes sent them out on Monday. He wanted me to come in tomorrow or Friday and I told him I'd be at his office at 2:30 PM on Friday.
So, things are happening fast, and there's no time for reflection or poetry.
It's chilly now, but it's almost November, after all. Today I sat by the beach at Kingsborough between classes; it was relaxing, but very windy. I didn't get a chance to exercise today, and I worry that I'm going to become "un-addicted."
But this is a special time in my life. If Taplinger does publish my book, it will be the most important of my achievements.
I'll finally be a real writer; then I can start worrying about whether I'm all that good. I want other people to know I'm 27 and to get envious the way I did when I saw books by Ann Beattie and Fran Lebowitz. I just wish there was more time in which to figure out what the hell is going on.
---
Thursday, October 26, 1978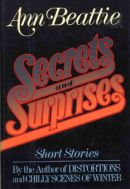 7 PM. I'm feeling rather chipper after a decent supper. Maybe I feel more energetic because I had no meat. They now say it's best to have your lightest meal late in the day, and I think that's probably true.
Or perhaps I feel good because I don't have all that much to do. I rewrote and revised all day today and seem to have most of the manuscript in shape. I feel very loving toward it; it's as though it's my child.
I still do not believe it's actually going to be a book, and I don't know what it will take for that to happen. My name on a contract won't do it; maybe seeing it in the Taplinger catalog will. Certainly getting the galleys will.
I want not to think of it, not to write about it – because I'm desperately afraid of a kinahora.
My class at 3 PM was small and they were tolerable – which is to say that I came away not hating them all that much, possibly because I won't have to look at them for three days.
Pete Cherches asked me if I wanted to contribute to a reading they're doing at the West End Bar on December 10. Maybe I will. Paul JJ Payack sent me a "What's happening?" card. Months ago I promised to a critical article on him.
I feel smug now that I've got a commercial publisher. I do want all the small press people to know about it – which is horrible of me. Some of them will probabl
y say I'm selling out, but deep down I know of few of them who would turn down this chance.
But I promised myself I wouldn't write about it! It's hard not to write about the main thing on your mind.
Ah, I'll write about trees instead. The trees in Brooklyn are glorious now; this is the prettiest week of autumn. I especially love the leaves that turn fiery gold and wine-red. I sat on the porch this afternoon and admired the trees on our block.
Our own sycamore looks good from a distance, but it's infected with that blight that affects many of the sycamores in New York. Its bark is peeling off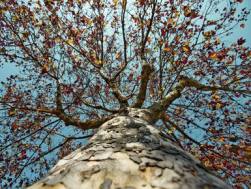 and the leaves are tattered and shot through with holes.
I like – maybe I love – my new typewriter; I've begun to get used to it. I promise to take good care of it. I wish I'd taken better care of my car, which is now a sputtering heap and looks and acts the part. I don't even know if it will get me through the winter.
Tomorrow I see Wes, and why do I feel impending doom? The book isn't going to happen, a part of me keeps saying. Tomorrow night I'll feel dreadful and angry and pour my frustrations onto the next page. (Kinahora?)
---
Friday, October 27, 1978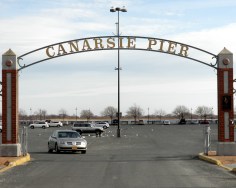 7 PM. I'll be going over to Ronna's in a little while, just to hang out and watch TV.
This morning I surprised myself by marking eight papers; that was more than I expected I could. I had an easy day at Kingsborough, meeting with my English 23 students individually to get their term paper topics.
Then I drove into Manhattan to meet with Wes. The secretary was expecting me, and Wes was having a meeting with some executive when I arrived. He introduced me as "one of our spring authors"; he also did that with another person, who said, "Hitler in New York, right?"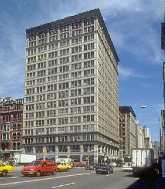 Wes said, "Yes, he's the man who brought Der Führer to the Big Apple."
He showed me the copy he'd written for the spring catalog; it was embarrassingly fulsome hype. But God – these are all dreams of mine come true. The book is listed for May, and in his father's office, Wes assured me we have plenty of time.
He wants to read the manuscript over again and make any new changes he thinks necessary. It doesn't have to be at the typesetter until the end of the year. Then we get the galleys back "and the fun begins."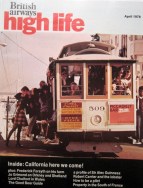 When Mr. Strick returns from London in late November, he'll want me to sign a contract; Wes left all that to his father. I keep thinking something's going to happen: Mr. Strick dying in a plane crash, Wes having a falling out with him and leaving the firm, the whole company being taken over by a conglomerate. I'm not going to believe it until I see the book.
Oh, this is torture: exquisite torture, but I can't help feeling it's not going to happen. I'm going to wake up and there will be no Louis Strick, no Wes, no Taplinger, no With Hitler in New York (even underlining the title makes me feel creepy).
When I called Teresa yesterday to cancel our plans for this afternoon, and I mentioned how I felt about the book, she said, "I know; you don't want to give it a kinahora." You'd think Italians would have their own word for it, but there's no word like kinahora.
I loved just talking to Wes – about John Irving (he just finished The World According to Garp) and George Braziller (Mr. Strick is negotiating to possibly buy Braziller out because they've taken tremendous losses lately) and just plain gossip.
I love Wesley Strick for what he's done for me; it's not just that he's cute. Without him, his father never would have done the book.
I was shaky when I left the office – Wes said not to expect to hear from him for a few weeks – so I went to Brownie's and had orange cake and rose hips tea. Then, at the Eighth Street Bookshop, I noticed that they'd sold another copy of Disjointed Fictions.
Back home, I found two neat pieces of mail: an acceptance of "Headline History" by Nit & Wit, and a wonderfully friendly note from Mary Stuart, thanking me for sending her a copy of the Joanne Vincente article. She's doing a book for Doubleday this spring and she's excited about it, too.
---
Saturday, October 28, 1978
5 PM. Tonight is the night we turn our clocks back. It will get dark very early tomorrow, but at least we get an extra hour's sleep. I, for one, can use it. I didn't get to sleep until 3 AM last night because my mind was racing.
I couldn't stop thinking about my book and what it means. Strange thoughts kept popping up. For about half an hour I decided I was in love with Wes – really in love – and I became frightened I would make a fool of myself.
In the brisk light of afternoon I realize that I'm confusing a lot of different feelings with love. But Wes and I have worked so closely on the book, I've come to know him very intimately. And he's read just about everything I've ever written except my diaries, so he knows me better than just about anyone else.
(Interruption: there was just a terrible car crash on our block by the Fillmore corner, and I called an ambulance because someone yelled for one. They'd gotten a call already and said they're on their way. A little girl is hurt. God, there have been about 40 accidents on that corner – including mine.)
Where was I? Wes. He's charming, literary, witty, so it's natural I'd be attracted to him. But I'm not in love with him, thank God. Maybe it's easier for me to think of that than to comprehend the reality of my book.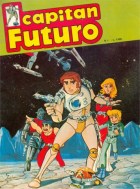 It changes a lot of things for me. It gives me a reason to live through the winter. It gives me hope that I won't have to spend another four years teaching remedial English.
Yesterday I read in the Post that the CUNY community colleges have to lay off faculty in the spring because of the tremendous budget cuts caused by low registration, so I might be out of a job anyway.
And in May, when it becomes warm again, my book will be out. I can't complain that I'm going nowhere. It's obvious, anyway, even without the book, that I'm coming up in the world.
Today's mail brought a letter from Rick Peabody of Gargoyle, asking me to submit something else for his special Fiction issue if I want to; an
acceptance of "The First Annual James V. Forrestal Memorial Lecture" by Chouteau Review (the story will be in the book anyway); a copy of Another Chicago Magazine with my "More Fragments" and a contributor's note saying that I "play lead guitar with A Small Band of Zionist Hoodlums, which recently played CBGB."
Now in my contributor's notes, I can mention With Hitler in New York. I have 120 stories accepted by now, not including about six or seven which will appear in Hitler for the first time. And today, in response to Coda's announcements, I sent out another eight submissions of poetry and fiction.
Last night when I went over to Ronna's, her mother was in bed with the flu. We watched the movie Obsession on TV. Ronna was very affectionate, but I really wasn't in the proper mood, as I was too keyed-up. I hope to make it
up to Ronna tonight, when we go to Janice's party.
Alice is coming in costume; she's meeting Peter, who's reviewing the River Café and refuses to take Alice there in her lion-tamer costume. Last night Janice had an opening at some gallery in Soho; I'd forgotten all about it.
I spoke with Elihu yesterday: mostly talk about being teachers and the gulf between us and our students. And I called Mason, who had a dreadful cold that sounded more like the flu; he's been under a lot of stress and it's no wonder he's gotten ill. At least he doesn't have to face those rotten Rockaway junior high school kids while he's sick.
---
Sunday, October 29, 1978
3 PM. I'm definitely coming down with a cold or flu, and I must say I've been expecting it. Perhaps I'm even bringing it on subconsciously.
When I spoke to Mason last night, I realized I was feeling a trace of envy that he was sick. And last night and Friday night, seeing Ronna's mother being pampered and waited on may have also contributed to my wanting to get sick.
I've been under a great deal of stress for the past couple of months: getting used to working five days a week at Kingsborough; then Dad's surgery and hospitalization; then the book for Taplinger. Now that the term is half over, Dad is well and the book is going to be published.
Jonny just came up with a chipped front tooth. He was gritting his teeth while lifting weights. I am from the teeth-gritters myself, and my teeth are also very soft.
Last night I picked up Ronna at 9 PM and I can honestly say I never saw her looking more beautiful.
She was wearing a white pullover over a man's shirt, chino pants and high boots. I couldn't get over how well she looked. Her hair was kind of frizzy, and I like it that way.
Janice's party was in the basement, and when we arrived, Dolores and her friend had arrived, dressed as Tweety and Sylvester, Dolores in yellow crepe-feathers and tights and headgear. Janice was dressed as Fritzi Ritz, and someone else was Mickey Mouse.
It was a small party, and I didn't know too many people there, and some of them I did know – like Harry Steinberg the dreary pornographer – I avoided.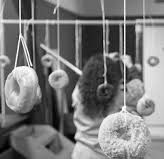 Janice roped me into a contest eating donuts from a string and trying not to let the pieces fall to the floor. I lost. I danced with Janice and Dolores, who was on roller skates.
Alice wore tights, a top hat, a bow tie and velvet jacket; she gave me an Icelandic comic book (Anders And: Donald Duck) and a book of Icelandic short stories.
At Seventeen, Alice said, everyone's leaving, and she would like to as well. Macmillan wants to do her modeling book, but only if Seventeen puts its name on it. Ray Robinson gave his okay, but now it's got to go through 100 other people.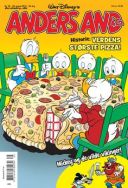 I got a bit upset when Janice told me what a bad businessman Louis Strick is. She said he doesn't know which direction he wants to go in.
Peter, fresh from the River Café, looked very well. He found Ronna enchanting – that's a Peter word – and told me not to let her "slip away." Peter's show is going to open in January, he sold a children's musical to Boston TV, and he will be on The $20,000 Pyramid.
After Ronna and I drove Peter and Alice to the Newkirk station, we came to my room and made love. It was silent and very slow; the feel of Ronna's ass muscles moving under me nearly drove me crazy.
---
Monday, October 30, 1978
5 PM. Last evening, as I began to feel better physically, I also began to sink into a depression. I was feeling very high while reading Kenneth Tynan's portrait of Mel Brooks in The New Yorker.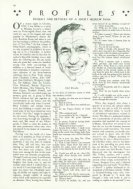 I identified like mad with Brooks' outrageous humor, his struggles, his deep suicidal depressions. It surprised me that as late as 1970, Brooks was, by his own admission, a failure who earned less than $10,000 a year. Now he can do anything.
Tynan thinks that the 2,000-Year-Old Man is Brooks' finest creation, and I'm inclined to agree with him. I've heard those records a dozen times and some of those lines are so resonant: "We mock what we are going to become" and the classic "Tragedy is if I cut my finger. Comedy is if you walk into an open sewer and die." (That would make a great epigraph for a book.)
Anyway, I was feeling pretty good until I got a call from Pete Cherches, who wanted to confirm if I'd donate my time for the Zone reading at the West End Bar on December 2. I said I would, and we talked for an hour, and when I got off the phone with him, I wanted to die.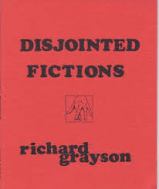 For one thing, Pete said Disjointed Fictions was very hard to read and shabbily produced. I know it now, and it's mostly my fault; I was so proud of it when it came out and now I'm a bit ashamed of its homemade look.
What bothered me also was Pete telling me about the MFA Columbia program (Hilma Wolitzer teaches his workshop and she can't deal with Pete's stuff, which is similar to mine: she thinks he's just a comedy writer) and small press gossip (how what he called bad poets like Lyn Lifshin, Guy Beining and Susan Fromberg Schaeffer get oodles of credits) and his own acceptances (the same Aspect issue I'm in, Fiction, etc.)
It made me feel that my work is unimportant, that I'm just one among thousands, and that I may be just another widely-published bad writer. And the Taplinger book probably won't get noticed unless I push it hard.

Let's face it: it's no great shakes and I'll be lucky to get a couple of decent reviews and sales of 300 copies. But I'm going to do my damnedest no matter what. I just hope that I won't have to be ashamed of the work.
I lay inert in bed for hours, not able to sleep. No matter how well I do, it will never be enough, and there will always be people who'll knock me and times when I'll consider myself a failure. I'm a regular manic-depressive, going from fear of superstardom to despair over super-failure.
Why did I choose a job where I'm constantly putting myself on the line? Because, like Mel Brooks, I want to shout, "Look at me!" and "Love me!" and "Don't let me die!"?
I didn't want to get out of bed this morning, and just before I left for school, I had a terrible attack of diarrhea. Somehow I managed to get through my classes, but my mind was elsewhere and my stomach was rocky. (Remember the old days when my stomach was usually rocky?)
I got an acceptance of "The Unexamined Life" by Scholia Satyrica that should be coming out next month. Three acceptances in the last three mail deliveries: I can't expect to do better than that, and yet it doesn't satisfy me.
I got responses from Oregon State and Arizona State, and I'll have to send them new dossiers once I have them made up. (More typing, more xeroxing. God.)
I've got 25 papers to grade, but I think I'm going to let it go for tonight. I don't understand it. I'm doing very well, I've never felt more loved (especially by Ronna) or more loving (ditto Ronna), yet something's missing.
And it's turning cold.
---
Tuesday, October 31, 1978
7 PM. Another month gone. Five-sixths of 1978 over. And six weeks from tonight, the term will be over, thank God.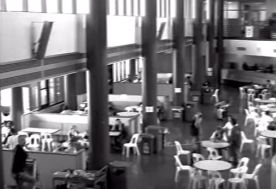 My students are unbelievably immature. Today two groups got into a name-calling match that ended with one student stalking out in the middle of the class.
I can't blame him. There are loudmouth girls there whom I can't handle. I just wish I could forget about this term.
I don't enjoy teaching at Kingsborough and I don't enjoy teaching every day. My students probably don't belong in college at all, or else they need someone with more patience as a teacher.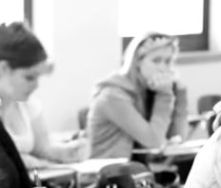 I'm throwing away all my intellectual gifts and my knowledge teaching idiots third-grade grammar. Ah, well. Tomorrow I don't have to teach. I've canceled my early class, and at 3 PM Carolyn Eckhaus, the counselor, will talk to the students.
I intend to be absent a couple of more times before the term ends. Tomorrow I have to go down to fight my traffic summons. I'm going with the idea of playing a game; I view it not as a nuisance but as a learning experience. The worst that can happen is that the fine stands at $25.
Last evening Harvey phoned. He'd run into Pete Cherches and heard I was having a book published. Harvey's stomach problem was diagnosed as an ulcer, and he's had to take it easy. But he's still working for that correspondence school, grading and commenting upon the stories of 200 no-talent suckers.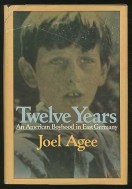 Joel Agee's book is due out in August, Harvey said, and Farrar, Straus is sending Joel to a writers' colony in Virginia to finish it up. I told Harvey I'd do something with him on Friday night.
Last evening I typed up a new bibliography, and today I xeroxed that and my dossier and sent it out to Oregon State and Arizona State. But I don't want to live in Corvallis or Tempe.
New York City, it's clear to me, is going through a renaissance. Despite the financial crisis, or very likely because of it, there's a new pride in the city. It's become the international capital, with many Europeans, Japanese and Arabs living here. In the words of the TV commercial, I do love New York.
What I think I'm going to have to do to live here, though, is to get out of academia and into publishing. I took out some books on publishing from the library. I think I'd enjoy a job like Wesley's, or even like Alison's at
Oxford University Press.
In January and February I'm going to attempt to find a job in publishing or in a related field. After nearly four years of college teaching, I think I've had it.
I've been worrying about signing a contract, and I wrote to the Authors Guild to see if I can join. Maybe they can help me; I don't think I need to get an agent at this point in my career – not if I learn everything I need to know.
I've always been ready to totally immerse myself in learning about a field. I did that with politics, and I did that with little magazines. I can also do it with any field I'm truly interested in.
Tonight at dinner at Bun 'n' Burger, I saw Avis's father, who looked terrific for someone getting over cancer treatments.