Saturday, December 2, 1978
11 AM. It's so quiet in the house this morning. Jonny is asleep and the others are out running. I've just shaved (cutting myself three times), showered, washed and dried my hair, made my bed, dusted, and put in my contact lenses. And, of course, I dressed – all except my sneakers.
My cold has broken out, but I slept exceedingly well last night. Actually, I think I almost enjoy having a cold because it gives me the opportunity to rest and pamper myself.
I remember how Mom used to baby me when I got ill as a kid. Dad would bring me home a book, and during the day my grandparents would stop by with games and puzzles.
Being mildly ill, as I am now, makes for some nice childhood memories. Not going to school was a plus, naturally; those days absent seemed sweeter than any holiday.
Right now I have a very stuffy nose – poor Richard – but I don't feel the usual despair that has often accompanied my colds for the past decade. I remember that having a cold wasn't always so bad.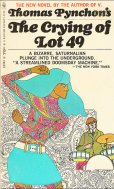 I had one during my finals at the end of my fall term as a junior in Midwood. After my session with Dr. Lipton, I bought Pynchon's Crying of Lot 49 on Church Avenue at The Bookworm and began reading it on the Flatbush Avenue bus home.
In the spring of my senior year – it was May – I had a beauty of a cold, and I associate that one with getting the paperback of Franny and Zooey by Salinger at the stationery store at the shopping center on Avenue U and East 64th Street and reading it in bed, wearing shorts, with the windows wide open, the blinds up, and the warm breezes coming through.
There were colds in the summer in Rockaway, and I never seemed to mind them. But when I got about 18, I became a terrible hypochondriac – along with being highly phobic and compulsive – and each cold became a small death.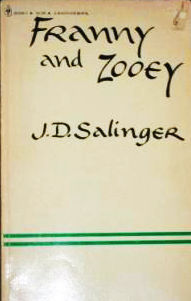 I'm so embarrassed by the whining lines I wrote in my diary in 1969, 1970, 1971. Colds used to depress me greatly, and the start of them still does: I felt very low on Thursday night, when there seemed nothing I could do to stop the inevitable.
That may be the key: the powerlessness. I feel the inability to control my body. But now that the cold is here, I don't really mind it all that much. Getting ill is much worse than being ill.
I might as well just try to make myself as comfortable as possible. Isn't that right?
*
7 PM. I'm feeling ill but fine. My cold is in its middle stage now and I'm very congested, but I have a great deal of energy and no headache or pains. I'll just be patient and let the cold pass. It will, you know.
This morning, in addition to a couple of rejections, I got some nice mail. Wesley sent me the proposed cover for the book. "You ought to see this in color," Wesley wrote. "(You will, you will.)"
The cover features a collage of New York City landmarks like the Empire State Building, Radio City and the Statue of Liberty, a smiling Führer, a landing airplane, and in the foreground a montage of people gawking, staring.
Above the title, With Hitler in New York, and in the center, and other stories by / Richard Grayson. Wesley also enclosed the page from the Taplinger spring catalog:
Thirty astonishing stories by an exciting new writer – Hitler and Mike get stoned and go for eggcreams in Brighton Beach. Buddy's grandfather secretly knows that Farrah Fawcett-Majors has a foreign accent. A famous weight-lifter realizes that he's got to live inside the body he's built for himself. A teenage fan magazine tells 'How to Make Chief Justice Burger Love You.' A woman dutifully lies under the bed while her son has sex with Sarah Lawrence of Arabia. Cambodian insurgents auction off centaurs, gorgons, satyrs and griffins. A short story on a low-cholesterol diet gets arrested for solicitation. . .
Welcome to the world of Richard Grayson, a gifted young writer whose short fiction, published in dozens of literary magazines, has been startling lucky readers for years. With Hitler in New York is a collection of Grayson's finest, freshest, funniest work – thirty original visions of the way we live now.
160 pp. 5¼x8 $7.95 8406-X May Fiction
So you can forgive me if I feel a little proud. The catalog page is 14, so it's not one of Taplinger's Big Books, but who cares? The book will be a nice compact size.

Also in today's mail was a review of Disjointed Fictions in the Long Island Poetry Collective Newsletter. George William Fisher wrote:
So what's a person who mostly reads poetry and non-fiction doing with a book of stories? Fact is that lots of modern fiction is innovative, defiant of form, and often less self-conscious, more daring than most poetry we read.
We see an evolving open form, assimilating poetic advances and rapidly transcending category. Read aloud, it even sounds great. In D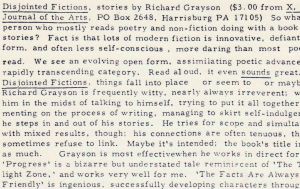 isjointed Fictions, things fall into place . . . or seem to . . . or maybe not.
Richard Grayson is frequently witty, nearly always irreverent; we catch him in the midst of talking to himself, trying to put it all together, commenting on the process of writing, managing to skirt self-indulgence as he steps and out of his stories.
He tries for scope and simultaneity with mixed results, though; his connections are often tenuous, the parts sometimes refuse to link. Maybe it's intended; the book's title implies as much. Grayson is most effective when he works in direct forms.
"Progress" is a bizarre but understated tale reminiscent of "The Twilight Zone" and works very well for me. "The Facts Are Always Friendly" is ingenious, successfully developing characters through news briefs covering all the days of Winter 1972-73.
Disjointed Fictions appears as Issue #5 of X, A Journal of the Arts, and is perfectbound with endpapers. Unfortunately the entire thirty-eight pages of text are set in an italic typewriter face, without leading, a poor design choice resulting in marginal legibility. The $3.00 price tag seems steep and is sure to discourage many who would enjoy the book.
The italic type was a terrible mistake on my part, and the high price was Susan Lawton's mistake.
Lou Mathews of Quarry West wrote that he hopes his latest rejection doesn't "discourage" me. Hell, I need discouragement, or else I'm going to become an egomaniac. It's a great danger, one I don't expect to avoid.
Michael Lally's letter to me was on the back of a self-promotion leaflet with quotes like "The François Villon of the 70s" – John Ashbery and a list of Michael's many titles.
Libby sent me a letter saying she and Grant are moving to Southern California in a couple of weeks. She'll miss the cabin in the woods, but I'd take Tarzana over the wilds of La Center, Washington, any day. Of course, Libby loves chopping wood, baking bread and all that country-living jazz.
Mason phoned and said he's thinking of flying out to the West Coast to visit Libby. I tried to tell him it would cost too much money and that it wouldn't be worth it; I think I convinced him. I don't like lying to Mason and covering up for Libby, but it's not my place to tell him she's living with Grant.
Teresa called and told me her new job is fairly boring: she has to write press releases for the branch libraries. She invited me and Ronna to a party at her house in two weeks; it sounds like fun.
Teresa also reported that Don has been fired as president of Cambridge Books. Apparently he has been embezzling from the firm and was about to be discovered when he just disappeared.
The FBI was called in, and Don didn't turn up until two weeks later when he was found, incoherent, in a Richmond, Virginia, hospital, where he'd gone after a nervous breakdown. What a strange story.
---
Tuesday, December 5, 1978
7 PM. Returning to school today, at first I felt a bit peculiar, as if I were a kid going back to public school after being absent a week. I talked to Evalin, who said I didn't have to be docked pay because it was only my second absence. (She doesn't know about the class cancellations that I initiated.)
In my English 23 class, I went over a long list of vocabulary words that I'll continue with tomorrow. In English 11, I tried to go over definition, but the class was incredibly rowdy. Oh well: one week left.
Next Tuesday I won't really be holding classes, so that means I've got three periods left for each class. And tomorrow I'm having the English 11 students write.
Jacob called me last night, saying we never should have gotten out of touch, so I'm going over to his apartment on Friday night.
The problem after a long time not seeing someone is that you're always embarrassed to phone them, so I'm glad Jacob had more courage than I did, for I always liked him.
A great deal has happened to Jacob in the last year and a half. He's living with Rita, his girlfriend, and is working for Price Waterhouse (Con Edison is one of his accounts) while trying to finish his M.B.A. thesis.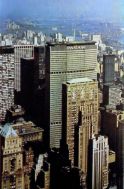 The job is making him a little crazy, and unlike his old position with the state, his workload now is heavy and he has mixed feelings about having to wear a suit every day. Anyway, it will certainly be nice to see Jacob again.
While I was at school today, Brian Robertson called from Edinburg, Texas; Jonny spoke to him and said he sounded like a great guy. Last week I wrote Brian congratulating him on his hilarious parody in Contact II and apparently he called just to chat.
Brian told Jonny that were he lives is "just like Florida – but without the old people" and that this time of year they have to put up with Northerners and their Winnebagos.
I got a cheery letter from Bob Pack and Stanley Bates (who's replaced Sandy Martin), thanking me for my $3 donation to Bread Loaf's endowment fund. They congratulated me on my book and told me to keep in touch. I remember Bread Loaf with genuine fondness, and maybe someday I can get a fellowship or be a staff assistant.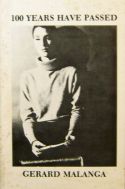 Dennis Cooper sent me the book of Gerard Malanga's that I ordered and wrote a nice letter: all is fine with him except he's a little broke. Dennis has got some poems coming out in Gaysweek and is doing a series of teen idol cards with pornographic vignettes on the back, all packaged up with gum in a special wrapper.
He just broke up with his "sort of semi-boyfriend who looked like a vaguely distorted (but not in a bad way) Leif Garrett." Dennis said he plans to come East in the spring and find JFK Jr., show him his poems about him, and try to get to know him.
Isn't it wonderful to have writer-friends like Dennis Cooper, Brian Robertson, Opal L. Nations, George Myers, Michael Lally? I get the best letters in the world. One of the joys of being a writer is knowing other
writers, and because they're my friends, I don't feel in competition with them.
When I called Wesley to thank him for sending me the cover, he said he was nervous about presenting my book at a sales conference. I can't blame him for that.
---
Thursday, December 7, 1978
4 PM on a dark, mild afternoon. I've just come back from Kingsborough, and you can't imagine the relief I feel knowing that in a week, I won't have to see my students again.
Of course I do like some of them, perhaps even the majority. Maria Martinez, the Cuban girl in my English 11 class, came to see me. She's been doing some extra work in the class, and from the composition she wrote about her religion, I guessed she was a Jehovah's Witness.
I was hesitant to talk about religion with her, but she seemed to want to. "It's very hard to follow all their rules," Maria said, and I could sense she feels she hasn't quite found the answer yet. She's a sensitive and lively girl: very pretty, quiet, and interested in learning.
I was glad she was with me so I could say I was busy when Rosa popped her head in. Rosa actually said, quite sarcastically, "Okay, I see you're with your girlfriend!" – embarrassing both me and Maria.
Well, I guess even the obnoxious students at Kingsborough are not all that bad. They're immature because they're young and mixed-up. My God, next to most of them, I feel like Mr. Perfectly Adjusted, and I guess that's gratifyin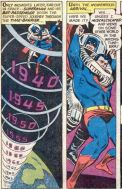 g.
I should be more sympathetic: ten years ago I was more confused than any of them. I almost wish I could break the time barrier the way comic book superheroes used to and tell my counterpart in 1968 that everything will turn out all right.
That's a strange conception of time, that we exist at all moments simultaneously: my comic-book intuition tells me my 17-year-old self is still trapped in 1968, lying on this bed, feeling empty, useless, desperate and very scared.
Crad Kilodney described his own depressions so starkly; he wrote that he could barely remember them, that months of his life were now a blank to him. It's that way with me, too.
Before August 1969, when I started writing a diary, the days seem so elusive. Pete Cherches says the idea of a diary or any documentation of his life frightens him; I just don't understand that attitude. For me, like for Crad, writing has always been an escape from pain, from the ordinary, from neglect.
Yesterday on TV, Joan Rivers said that the best thing about success is that you can go into a bakery and the lady will pick up the donut with the tissue paper instead of her dirty hand. If my problem is that I've always viewed the world as a hostile place, success and recognition are the antidotes.
Today, for example, I went into the English office to look at copies of the finals. Dom Caruso and two other professors were discussing some manuscript and whether a or an precede "historical."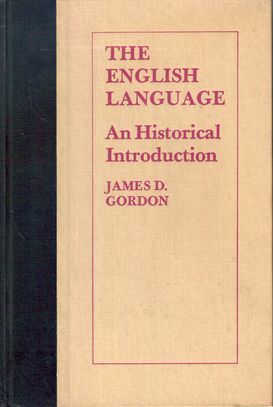 I said something about a book's subtitle being "An Historical Introduction," but they paid no more attention to me than they would have had a cockroach; I felt like Dostoevsky's Underground Man.
Yet I wasn't humiliated because I know that I am so superior to them and that eventually they'll know it, too. "Richard Grayson used to work at Kingsborough as an adjunct?" they'll say. "If only I'd gotten to know him."
This sounds stupid, I know, but it's one of the reasons that people like Crad Kilodney, Susan Fromberg Schaeffer and I became writers.
Last night I went to see Ronna, who didn't look very well. She was disgusted with her job and her inability to get a position as a reporter. Today she went to State College for an interview at the placement office and to visit Pat and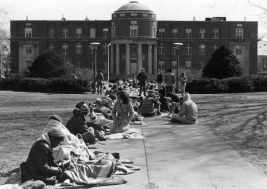 other friends.
Ronna said her dinner party didn't go that well: Billy carried on about them throwing him out of the kitchen, Susan got mad because Evan got drunk, John and Brad didn't show up.
Giving Ronna what I hope was a supportive hug, I left Ronna's house at 8:30 PM, when Felicia called from Mobile.
Wesley said the sales conference went well and the salesmen seemed enthusiastic after his presentation of my book. Wes asked me for the names of more literary magazines: "I'm going to try to find more people like you."
---
Friday, December 8, 1978
4 PM on a rainy Friday afternoon. The last full week of classes has ended, and I'm glad. Today Rosa showed what a violent person she is when she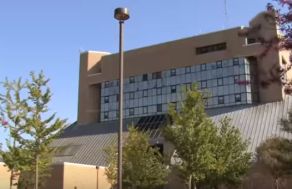 attacked John Petrowski for taunting her. She actually hit him on the top of his head with her fist. I never want to see her again because she's such a sick person. I am disgusted and feel defiled by the very idea of her being in love with me.
My cold has almost completely cleared up although I'm still slightly congested.
Last evening I read the stories David from Bread Loaf sent me; they're really awful. David's writing is filled with comma splices and misplaced modifiers, just like my students' work. He's no writer – but how can I tell him that?
Everyone from Jacob to Josh to Susan Miller thinks he or she is a writer. Ronna always gets annoyed when I say that I'm a writer and these other people aren't – although lately she's been more silent on that score.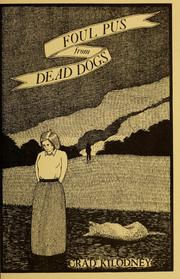 What Ronna thinks of as my pomposity is really justifiable pride.
People like Brian Robertson (who sent me a wonderful letter today) and Crad Kilodney and I have struggled for years, faced endless rejections and false starts, and we know things about writing that dilettantes do not.
There's no reason to pretend otherwise and say that all writers, published or not, are "equal." Even some published writers sometimes amaze me with their awkward phrasing and structural errors: Opal Nations uses the apostrophe on plurals and Kurt Nimmo (of The Smudge) spelled the possessive somebody's as "somebodies" in a card I got from him today.
I'm shocked by that, although lately I've seen the same mistake in New
Times and Mother Jones. (And I can't count the number of times I've see the word weird spelled as "wierd.")
I got a letter from a guy whose personals ad in the Voice I answered; he said mine was the only response he was considering. His name is Ed, he's 24, 5'11", 150 pounds, and he works for Alexander H. Cohen, the producer, in "a nothing job . . . but it's a foot in the door."
He seems very likable and very normal: Ed lives on West 82nd Street with a roommate; he's a St. John's graduate who doesn't drink or smoke or take drugs, and he's a budding playwright who's published a pornographic novel for money. I intend to give him a call.
I finished Carolyn Heilbrun's Toward a Recognition of Androgyny and was pleased to see how outdated the book seems. She praises the Bloomsbury group for their androgyny and she despairs they are so maligned – especially Virginia Woolf.
Well, since 1973 or so, Woolf and Bloomsbury have been venerated, and also a series of intelligent novels by American women have supplemented the postwar male novelists like Bellow, Mailer, Roth and Malamud, who have no conception of women at all. I've always treated women as people and as the people who are my best friends.
I can discuss feelings with Avis and Alice in a way I never could with Gary or Mikey. At Kingsborough, all the guys are macho, and the women (they're girls) passive and "feminine."
The androgyny of the early 70s has given way to a sharp division between the sexes: This is where I came in, folks. For the current macho stereotype,
the biggest blame goes to gay people, who should know better.
Heilbrun pities Lawrence for his inability to admit his homosexuality, and I agree. Prof. Ebel loved the Lawrence of Lady Chatterley's Lover and put down the Bloomsbury group, but he really doesn't know very much.
---
Sunday, December 10, 1978
3 PM. A cold Sunday afternoon. The weather has finally turned winterish, and last night, with no steam in my room, I was quite cold indeed.
After just finishing the Times Book Review, I've come away with my usual nagging doubts. I'm not certain I want to be a part of the Literary Wars. When faced with reviews of books by Updike, Kenner and Burgess, I feel so
inadequate and immature.
My work may stand out in the small presses, but I have to admit that my work is callow, easy, sensationalistic, and often slipshod.
Alice sent me her review copy of Ann Beattie's new collection, Secrets and Surprises, and I read (or re-read) some of the stories last night. Beattie is so much more sophisticated than I; unlike her, I have no conception of detail.
Of course this raises the old argument: Do I want to be a third-rate Ann Beattie or a first-rate me? Nevertheless, last night I began to outline a Beattie-like story about Jacob and Rita, based on the stuff I heard and observed when I was with them on Friday night.
There's a part of me that would almost rather see my book ignored than totally misunderstood. I can see Hitler being savagely attacked, and I want to prepare myself for that.
Doesn't publish come from a word meaning "to proclaim"? Who am I to proclaim anything to the world? I am ignorant, mostly. In comparison to my students and relatives and neighbors, I'm an oddball genius, but how do I stack up in the world of real geniuses?
I need to learn more. I don't read half of what I should read (replace should with want to), and my experience of life is incredibly limited. I don't have the necessary tools to be the critic I'd like to become.
For Kostelanetz's A Critical Assembling, I'm trying to do an essay about young writers I admire: George, Brian, Crad Kilodney, Dennis Cooper, Brad
Gooch, Barbara Baracks.
And I sent in an announcement to Coda calling for fiction manuscripts about coming of age in the 70s by writers born after December 31, 1949. I'm sure people will think that's pompous, but it might make for a nice anthology, though there probably isn't enough good material.
This whole question is: What Will People Think? But does it matter? I'd be insanely well-adjusted to say that it didn't.
Yet I also know how much I crave attention. I sent a self-serving letter (but then all my letters are self-serving) to Claudia Cohen at the Post, enclosing my book catalog copy and thanking her for the article last summer, lying and saying Page Six
was directly responsible for my finding a publisher.
An example of how people react differently when they perceive you differently: There's a cute kid, slim and brown-haired, about 19, who works at the Avenue T drugstore.
He's an acquaintance of Tony's from next door, and over the years he's been quite friendly to me. Once he asked me if I used to play softball at the playground at P.S. 236.
Then, a couple of months ago, I met him in the Kingsborough library. After I realized where I knew him from, I asked, "Is this your first term here?"
"No," he said, smiling, and I could see he thought I was a freshman and he could give me some tips. "This is your first time, though?"
"Sort of," I said. "But I'm a teacher. In the English Department."
He was amazed. And now when I go into the drugstore, as I did today, he still says hello but is not as familiar as he used to be. Part of me likes this and another part of me hates it. We'll see which part wins.
---
Tuesday, December 12, 1978
6 PM. I've waited three months for tonight; the term has ended. There were parties all over campus today, but my classes didn't have any. From the English 23 class, I received most of their term papers.
Rosa gave me a Christmas card that said, "I hope you understands my feelings about you." Today she told some ridiculous lies: that she gets postage stamps for free, that her grandfather is 114 years old; she's more pathetic than dangerous, I suspect.
"Perhaps we will meet again," she said. "I hope so."
I hope not – but I have the feeling Rosa will turn up again. At least she was well-behaved today and even talked civilly with John in front of me.
Most of my 3 PM class didn't show up, but I had a good discussion with those who did. Some of them like Kingsborough; one girl is going only because her parents are forcing her to; Ivy Siegel is will transfer to Boston next year, to be with her boyfriend; Bruce Kress, who'll undoubtedly have to repeat English 11 (he sometimes writes his own name as "Burce"), seems
confused and out of place.
I like talking to the kids as I did today, when I can see them as individuals. They're young, and that's their only real problem. I should understand that and not judge them any more harshly than I would judge my 17-year-old self.
Tonight I spoke to Teresa, who was babysitting Carol and Perry's kids. Her job at the public library is a bore, and she's still looking for something else.
B. Dalton, which just opened a Fifth Avenue bookstore, gave a grant to the library, and yesterday they had a big party, but they were having such
trouble lining up celebrities. In the end, Norman Mailer, now white-haired, came, as did Jack Gilford and Joan Fontaine.
Teresa says Lola Szladits, of the Berg Collection, is a frequent visitor to her office; I told her to see if Lola remembers me.
Teresa's party on Saturday night should be fun. About forty people are coming, and Teresa told me to invite Mikey: "We have a shortage of straight single men."
Speaking of gay single men, I called Ed last night. We spoke for half an hour, and he seems like a nice guy, but I didn't get a definite impression of him. His parents live in Ridgewood and he went to St. John's, so I guess he's Catholic (German? Irish?). He said he'll call me next week.
Libby mailed me an intricate wicker basket that she made herself – I'm in awe of people who can make things – as a Christmas present. That was terribly sweet and very typical.
Brad sent me his usual Christmas card and signed it "Love."