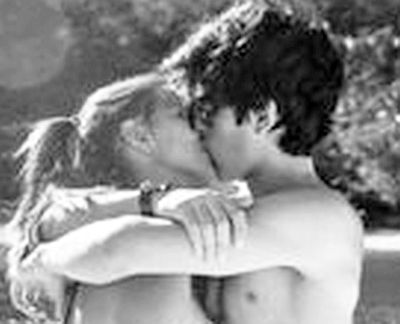 Thursday, August 10, 1978
5 PM. Last night I did cancel this evening's class. I'm sure my students were delighted. And I did manage to write a story this morning. Although my typewriter's space bar conked out in the middle of it, I kept going.
So at least I have the satisfaction of having written something half-decent; it's a relief. I took the typewriter to Ralph to get it fixed, but he won't have it till a week from tomorrow.
Maybe I can borrow Ronna's, as I need to type out my class's midterm, although I suppose I can do that at LIU. It's nice not to have to teach tonight; I'm sure that pressure being off – my not having to think about LIU – was responsible for my being able to write the story.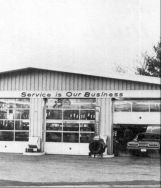 After that, I took the car into Bob; I haven't heard from him yet, so I'm not sure he can even fix it. Oh, hell – it seems like nothing is working anymore. I need a new typewriter and a new car and I have no money.
The doctor Dad saw, an oncologist, said Dad has what I expected (I saw it on Marcus Welby years ago): a tumor of the parotid salivary gland. Eighty percent of them are benign, and Dad's probably is because he's had it for so long. Of course Dad is scared of the surgery, and there's always the chance he might have a malignancy.
He wants another doctor's opinion, of course, just to make sure, but he'll probably have the surgery at the end of the month. It means about a week in the hospital.
Last night, when I returned home from teaching, Dad was at the racetrack, the first time he's gone there in years. I guess he wanted to pamper himself, which is a good idea.
My wisdom tooth feels better today, but I suppose I should have it extracted. It's just that now, with Dad undergoing surgery and Grandma Ethel going into the hospital and who-knows-what-else happening (I'm sure we're due for more traumas), I can't think about it. A year ago Uncle Abe died: I was in pain then, but this August I think I'm in even worse shape.
There hasn't been a scrap of mail for me in days; I'm beginning to get a little paranoid. I wish I'd get more junk mail or rejections or anything.
Last night's class on The Secret Sharer went fairly well. Half the term is over, and I have only three weeks of classes left. I'm looking forward to the two weeks' recess at the start of September. And I'm tired of the summer,
anyway.
Last night I spoke with Vito, who told me of some of his incredible sexual adventures, and I said how I envy him. I think everyone should be promiscuous sometime in his/her life. Of course, I don't practice what I preach.
There's a newspaper strike on now; the last one was so long ago, in 1962-63. I remember in seventh grade, I came to school on a Friday and found it empty because of a boycott by white students (or their parents, I guess) over some integration policy. As usual, I had been absent and missed the news of it.
There were only about seven students in Mr. Neiman's Spanish class, and a reporter and photographer from a strike paper, The Brooklyn Daily, came to our class. We'd all been sitting up front in a bunch, but they made the few of us there spread out in scattered seats so the classroom would look very empty.
The next day, our photo was on the front page of the tabloid under the headline WHITE PARENTS START BOYCOTT. My hands were partly covering my face, which I think is very significant.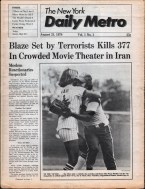 That was the last time I had my photo in a newspaper since this week. It was also my first experience in how the media alter reality (by moving us kids) to make it fit the story they wanted to tell.
Irony: Today Meyer Levin Junior High probably doesn't have seven white kids in the entire school. Or maybe that's not ironic after all.
I'm still getting reaction to the Flatbush Life story. Mom went into the drugstore today, and Joel Deutsch said, "I didn't know Richard was a writer. He should do a story about Mussolini next. . ."
And Dad spoke to Grandma Sylvia, who was thrilled to see the article I mailed her. It made her think I'm rich and famous: "It's about time something good happened to someone in our family."
Tomorrow the new Courier-Life papers come out and "my" issue leaves the stands. I guess more people are reading these papers because the regular newspapers are on strike.
---
Saturday, August 12, 1978
4 PM. About an hour ago I was in a car accident. It happened right on my
block, on the corner of Fillmore and East 56th, and I believe it was my fault.
I was making a left turn and a car seemed to come out of nowhere. Perhaps it came "out of nowhere" because I was thinking too much.
I was coming from the copy center and I was curling the copy center owner's words around in my head: "You're a celebrity now." He had seen the Flatbush Life article. And then we crashed.
My car's side went into his car's front. Neither of us was hurt. The guy was in a hurry, we exchanged names and phone numbers, he said he'd call (he doesn't have collision), and that was that.
He'd thought I was going to go through the intersection; I'd assumed he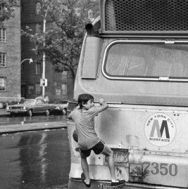 was; and over-polite, we both stopped and smashed into one another.
At home I told Dad, who immediately started screaming, screaming and stamping his feet like a madman. It seemed he'd just had a big problem with a pipe bursting by the pool. The more he raged, the calmer I became.
Mom came up to scream at me: "You're making Daddy sick; he might have a heart attack." I assured Mom that if he wanted to rant and rave and make himself ill, it was his own choice.
So, without Dad's advice, I settled with this guy on my own, giving him $40. I was probably at fault – although I believe it was a mistake I am entitled to.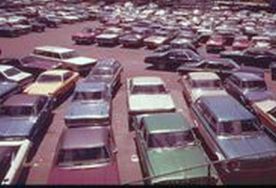 We can say I was sideswiped in a parking lot or whatever, and we'll collect, though my insurance rates will probably go up.
I don't care if I've done something foolish and irresponsible. Dad didn't want to help me, and I did it by myself and I'm willing to take the consequences.
I don't really need that car anyway. I really don't. Strangely enough, instead of feeling depressed, I feel quietly confident. I feel like an adult. The other driver was very nice and calm about the whole thing and so was I.
Mom and Dad will rant and rave, as they are now, about my being "an imbecile," "a moron," "stupid," and "a jerk," but I'll try not to let their words affect me. I am going to Albany in the winter and I don't need a car up there.
I can manage here without a car until then if I have to. I can handle anything, any crisis, anybody's death but my own. I see that I've handled this accident well. It hasn't really upset me; it's only a piece of bent, twisted metal, and I'll be damned if I'm going to let a piece of bent, twisted metal make me ill.
It's also shown me that dreaming about being a celebrity can be, quite literally, dangerous. I see now, also, that while I get furious with Ronna for being so low-key, she is right to act so unruffled all the time.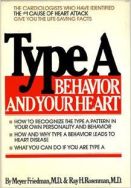 I've been mimicking my father's Type-A behavior, the Type-A behavior that effectively, if not totally, ended Grandpa Nat's life. If I don't learn this lesson, it will cost me much more dearly than a ruined fender and bumper.
Does my accident a year and a half ago matter now? Not one bit. And there's no sense engaging in that useless exercise of "If only's."
I got a letter from Avis today, and she's definitely going to be home for Christmas. She doesn't think any drug charges will be brought against her, either. And though she hates her job and her boss, she'll stick with it. Avis would love to get pregnant, "but now is not the time."
I also got a letter from the president of some New York publishing firm, Taplinger. He read my story in Epoch and asked if I've got a book for him.
---
Tuesday, August 15, 1978
2 PM on a hot, hazy day. I decided yesterday's sunburn was enough for a while, so I'm staying in my air-conditioned room. The drive downtown at 4 PM is bad enough; yesterday I had to take a towel along to mop up my sweat.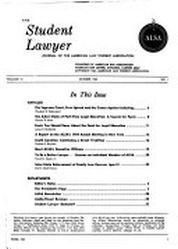 The only things I accomplished today were depositing my $125 check from the Bar Association for the Student Lawyer piece and marking the midterms my students took last night.
Tonight we're doing Kafka's Metamorphosis, a story I admire by an author I – along with practically everyone else – feel a strong sense of kinship with.
After yesterday's drive downtown in the heat and humidity, I felt quite enervated, and even a good dinner at Junior's didn't help.
Elihu left a note in my mailbox saying that he'd come by for a visit but missed me. He also wrote: "'Go Not to Lethe' is turning out to be your most popular story yet." Among whom, I wonder.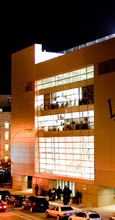 The guard at the LIU parking lot warned me to lock my car doors: "Otherwise it might get stolen when I'm not around." I didn't tell him that this point I want the car to be stolen.
After class, I drove up to Manhattan in record time, and I was lucky enough to find a parking space across First Avenue from NYU Hospital. It was after visiting hours, but I've found that if you walk in with enough confidence, nobody stops you.
Grandma Ethel was out getting a chest x-ray, her roommate told me, but she returned shortly, telling me "it was like a slaughterhouse . . . so many people on line . . ."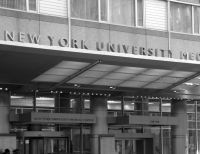 This is the second chest x-ray she's had in five months, and I warned her against letting them take any more. X-rays are very dangerous; the doctors do it only to make money.
They haven't begun any treatments yet, and Grandma Ethel isn't sure what they're going to do. She still has that bad cold she caught last week. I left her room at 9 PM, when a nurse came in to give Grandma a salve.
Downstairs, in the lobby, as I was walking out, I overheard a doctor phoning for "Harris Burstein" – whom I knew from college: he was a good friend of Bobby's who I heard had gone to medical school in Guadalajara. I suppose he's a real doctor now.
Coincidences like that always make me feel good, as though the world were an ordered place – like a novel.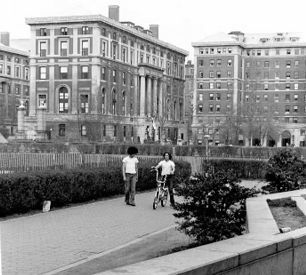 This morning Carolyn called and we had a nice chat; she told me she'd like to go to Columbia School of Journalism. Carolyn thanked me for the flowers and we talked about the reaction to the article; Greg Napoleon seems to be pleased.
This week she's doing a story on Bob Hershon, the poet and editor of Hanging Loose; I told her I'm a great fan of Bob's.
One reason Carolyn called me was that Greg had shown her the Page Six article and wanted to find out what it was about. When I told her, she thought it was outrageous. I'm going to be friends with Carolyn, I think, and that's nice.
No mail for me today, but I've got my hopes up. It's been over four weeks since the last story of mine came out. (In that one week, four stories came out, and since then, zilch.) But as September comes, the pace should pick up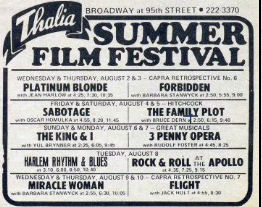 again.
Student Lawyer will feature the Burger piece in September – I hope they send me a copy – and maybe even the Chief Justice himself will see it. Also, "I, Eliza Custis" should be out in Texas Quarterly soon; it's been two months since I got the galleys. And I'm expecting stories in Sou'wester and a few other places.
I just wish I was currently writing more, but this nighttime teaching seems to stifle my creativity. Right now I feel so weak and tired anyway; maybe it's the humidity – or maybe I'm just gearing up to be terribly energetic in class later today despite the THI being so high.
---
Thursday, August 17, 1978
10 PM. A good deal has happened in the two days since my pen has last met these pages. (Pompous opening?) I'm tired now, but it's a triumphant weariness because I've been busy and life is going on.
Yesterday morning I was awakened by a call from Louis Strick, president of Taplinger Publishing. He'd received my letter ("your diffident letter," he called it) and the newspaper article and a few stories that I'd sent him.
He explained that he took over Taplinger a year ago and is changing it from a house dependent upon library sales into a trade publisher. He asked me to come to his office at Union Square; I met him today at 2 PM.
Louis Strick is a handsome, instantly likable man of 53 (though he looks much younger). He said he responded to the Brooklyn Jewish themes in my work; he grew up on Avenue D and East 46th Street, went to P.S. 208 and was in the second graduating class at Midwood.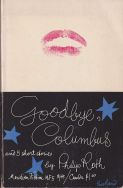 He got involved in publishing because he's always been interested in writing. He and Arthur Cohen were the first to publish Goodbye, Columbus and Gaddis's The Recognitions in paperback.
He's married for the second time and has a five-year-old daughter; from his first marriage he has a son, Wesley, who writes for Rolling Stone (who will be joining him as an editor) and a daughter, Ivy, my age (whose first novel he's publishing this fall).
He's friends with people like John Ashbery and Ted Solotaroff. He explained that Taplinger has always operated in the black, and now that he's in the driver's seat, he intends to turn it into a major independent publisher – in the face of the concentration of conglomerate takeovers and "bottom-line" decisions.
"I take risks – calculated ones," he said, "and I can afford to publish books that I like." He showed me his fall/winter catalog, which seems fine; it's obvious he cares a great deal about the books he publishes, like an old-time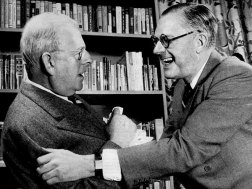 Alfred Knopf or Bennett Cerf.
Mr. Strick told me I was "very talented" and that I shouldn't worry about not writing a novel: "If you write good stories, that's fine." I guess he thinks my work is saleable; he's more optimistic than I am.
I gave him all my published stories in my binder, and he's going to read them over the weekend in Fire Island. If he likes them, he'll get in touch with me next week.
Being with Louis Strick was an interesting and pleasant experience even if nothing comes of it – which is what I have to believe will happen.
I've got to be complacent about this because real life isn't supposed to work out this way. I never expected a New York trade publisher would ever want to touch me – not, at least, until I was more established in the small presses.
And you're supposed to go through a zillion rejections; the head of a publishing firm isn't supposed to contact you about a book. It's very dreamlike. I can't believe he thinks I'm that good.
Secretly, you see, I feel that if I had a book published with Taplinger I'd be a real writer. I mean, I'm beginning to feel disdainful toward the small presses already. No, not disdainful – if it weren't for little magazines, I'd be nowhere.
But I can't help feeling This is the real world, a business, not something subsidized by the government or a university or an art-loving individual.
Oh, I can't think about it anymore at all – not one more word.
I had two brilliant classes on The Metamorphosis and The Fox last night and tonight; I've been very pleased with my class (which is now two-thirds of the way through the term).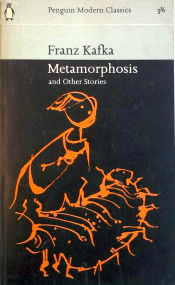 Grandma Ethel may have to stay in the hospital beyond next week, and that's making it rough on Grandpa Herb, who's not taking care of himself well.
Dad went to see the chief of neck surgery at Brookdale, and I think this doctor will do the operation, but he's going on vacation next week.
I've been writing, oddly enough, and it's been 95° each day. I feel a bit like a stranger towards myself.
---
Saturday, August 19, 1978
8 PM. Last night I went over to Ronna's. Jordan, the law student friend of Evan's who Ronna's been seeing, had called her just before I arrived.
I know Ronna had been disappointed because Jordan didn't call her for the last couple of weeks, and her mother thought it was rude of him to call at 8 PM on a Friday night.
I find I can take the whole thing really well, even to the point of defending Jordan. I don't care who else Ronna sees. Perhaps it's arrogance, but it's probably more confidence about our relationship. Her seeing other guys won't affect it; if she meets someone and falls in love and wants to marry him, I'll be happy for her.
Certainly I can't expect Ronna to see only me: not when I'm interested in seeing other people myself and when I've told her that our relationship will not end in marriage.
We sat around the kitchen table for a while. Billy didn't want us to leave because then only his mother would be home with him and he doesn't like to be with just one person (a childhood neurosis I can understand).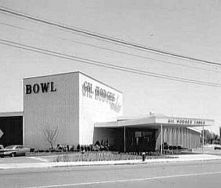 I wouldn't have minded all that much if we stayed home – or took Billy somewhere – but Ronna didn't feel like it. In the end, her mother's friend Ellen saved the day by taking Billy bowling.
Just before we left, Alison called from Bay City to tell Ronna she got the job with Oxford University Press and she starts the day after Labor Day. She's going to stay with Ronna's family in Canarsie for a while – "until I get my bearings," she said.
Ronna's mother is afraid they may be "stuck with" Alison for a long time, and I told Ronna that Alison has to contribute something to the household.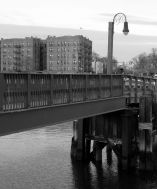 Ronna and I got stuck in a Belt Parkway traffic jam and finally ended up in Sheepshead Bay, parking near Manhattan Beach and walking over the Ocean Avenue Bridge with all the kids fishing from it.
We walked around a bit, but it was too much like Saturday Night Fever for me, so we ended up at a diner where we had iced tea and rice pudding. Ronna said she thinks I've become pompous about being a writer, and I suppose I have. How do I correct that? I'm not sure I want to.
She was annoyed because I told her my publications will be a problem at school in Albany and asked whether I should really be taking a writing workshop when I know I could be teaching the course and that I'll be above the level of the other students there. Ronna can't seem to realize that it might prove difficult for me.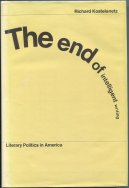 Anyway, back at her house, I returned her typewriter and lent her Kostelanetz's The End of Intelligent Writing although she already disdains the book's thesis. Sometimes she annoys me so – and vice versa – but then again, we do love each other, as old friends and as more.
We made love at 1 AM on her living room couch. I love holding her, hugging her, her legs, her smell, her wisps of hair where a man's sideburns would be, the beauty mark – so discreet – on her left breast. Last night's sex was cool and steady and kind of enveloping. I felt completely free – all feelings and no thoughts – and it didn't frighten me.
Ronna started telling me about the surprise she felt when she bled the time she lost her virginity. She never mentioned that before.
I don't know who the guy was, but it doesn't really matter and she should keep that memory for herself; I don't want to question her about it because it feels too private.
By the same token, I don't care if she's also seeing a 21-year-old law student now. I want her to be happy.
I left Ronna's very late and today I slept till noon, having wonderful elaborate dreams of maze-like landscapes.
At 4:30 PM, I went to visit Grandma Ethel; it was very hot driving into the city. Grandma Ethel is bored and lonely – Grandpa Herb and Irene had just left an hour before I arrived – and I tried to keep her occupied.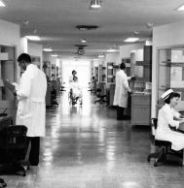 We walked around the floor and talked and I sat with her as she ate her salt-free roast beef dinner. They're still taking tests, and as of now, she doesn't know what she's got.
Grandma Ethel is amazed that other people use the phrase "skin cancer" so easily around the hospital, just like she was always shocked when Uncle Abe would tell her, "Cancer, I have cancer: you can say it, I know it, so let's be honest. . . "
Why does cancer have to be such a closeted thing?
---
Sunday, August 20, 1978
8 PM. Today was dark and cool, although it's clearing now, just as the sun is being lost. I look out my window and see only a few wispy dark clouds. The street lights are already on.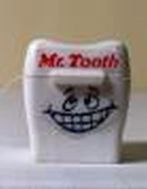 I spent all day today indoors, reading when I wasn't exercising, eating, or flossing my teeth. (I have to go to the dentist tomorrow and I don't want to hear a lecture about how bad my gums are.)
The summer is ending; my tan is fading; already kids like my cousins Wendy and Jeffrey are returning from camp. Night falls earlier now.
I was just imagining how it must be on Bread Loaf Mountain now. In some respects I wish I was back there again this year. It's a very pure kind of life, there in the woods. I regret having not gotten away all this summer.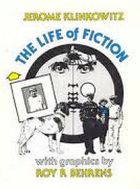 As I mentioned, I've been reading an awful lot: criticism of Katherine Anne Porter, Richard Wright and Carson McCullers for teaching the last three short novels in class, and Jerry Klinkowitz's criticism in The Life of Fiction.
The more I read, the less well-read I discover I am. I'd love to read more Porter and Wright (I've read all of McCullers' books) and I need to read for myself the books of Ishmael Reed, Hunter S. Thompson, Michael Stephens and others.
With no Sunday newspapers to distract me, I've gotten a great deal done. I've been making notes for my teaching, too. And I've even been writing a bit: nothing great, but the mind is flowing smoothly.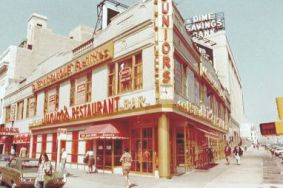 I've been so absent-minded with everyday things, however. I've been giving $2 to pay $3 checks at Junior's; I let the elevator pass my floor at LIU without getting off; last night I left the freezer door open and all the ice cream melted.
I am beginning to express to myself my doubts about going to Albany, and I need to resolve them. In a way, I almost hope that Louis Strick reluctantly decides he can't get enough good material for Taplinger to publish my book, for that would make it so much easier to go to Albany.
I made the decision to move because there was nothing else for me to do; it looked as though I was just going to continue to publish in little magazines for no money and little recognition, with LIU a dead end, and living with my parents getting intolerable.
I can't, of course, say how I'll feel when Mr. Strick turns me down, but I hope I will take it very philosophically: easy come, easy go. And it does seem too easy to be really worthwhile.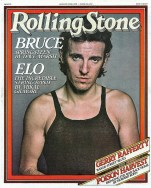 This is known as "preparing yourself to get bad news" – or maybe it's sour grapes in advance. I do, really, want to keep myself honest. Bruce Springsteen keeps himself honest by playing Buddy Holly just before he goes on at a concert.
I should read more work by writers I admire, like Kafka. Maybe in graduate school in Albany, I can get it together; personally and career-wise, being away might give me enough distance to begin a novel.
I could very easily see myself becoming jaded and shrill and unbearable if fame and/or fortune came too quickly. Or is Albany a cop-out, a way to hide from the world and my place in it?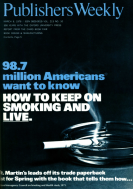 Yes, I do have mixed feelings about having a book published; it would complicate an already too-complicated situation. I'd have to start being a real adult.
Which reminds me: it's just about ten years ago that my breakdown began. I remember that skinny little 17-year-old kid from 1968: he was so fucked-up and he was a coward, but I don't blame him for retreating from the world.
I'm hardly in touch with what he/I felt ten years ago. I didn't begin my diary until August 1969, remember? When I finally complete a whole decade of these pages, when I come to the diary page marked August 1, 1979, where will I be then?