Monday, May 22, 1978
7 PM. It's changed from winter to summer overnight: everyone is wearing shorts, people are sunburned, sensuality seems more noticeable. Even though I've longed for this weather. I feel a bit disoriented because it makes it difficult for me to work.
I resisted the temptation of the sun for all but half an hour today. This is the first full week I have off, and it's still a little peculiar. Sleeping late – in this case, till 9 AM – is nice, but I also feel a touch guilty about it.
Last evening I had intended to go to a reading by Dorothy Friedman in Park Slope; politically, it would have been wise of me to show up, but I just couldn't face it.
Instead, after a junk-food dinner, I headed over to Grandpa Herb's to keep
him company while Grandma Ethel was out playing cards.
Grandpa Herb says he has a recurring dream in which he drives a car but is terribly sleepy and afraid he will drop off; still, he can't stop driving. He also dreams about his parents: in the dreams, he goes to visit them but they are always beyond his reach and he can't make contact with them.
Aunt Claire and Uncle Sidney are returning to New York after they just came back to Florida. Apparently Susan has had another breakdown and is being hospitalized again and may again have to have shock treatments. Grandpa Herb says she's unable to urinate: a strange symptom, no?
Last night Ronna phoned and we chatted for a few minutes about nothing earth-shattering. I have to admit I'm worried about her feelings for me. I think she may be really serious about marriage and that's the next-to-last thing on my mind.
Marriage wouldn't be good for either of us at this point, and I don't want to drift into it for lack of other alternatives. I don't know; I think at this point I'm very messed up.
My homosexual impulses have never seemed healthier or stronger – yesterday I passed Brad's grandmother and sister working in their front yard and I thought about what I felt for him in the summer of 1969 – and it would be cowardice on my part to reject these feelings in favor in something else, something that would give me the approval of everyone.
My feelings deserve more respect. Maybe Ronna will force me to face something, a choice I've avoided since the last Punic War, as Brad would say.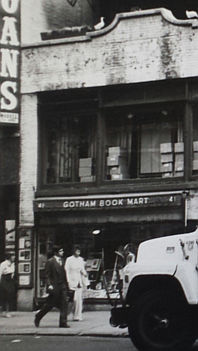 This morning I went to the Gotham Book Mart and bought a batch of little magazines and a book George wanted. I hunger to possess books almost as much as I hunger to write. And all those words make me feel so inadequate.
On the train coming home, I watched with fascination as this punk girl sat across from me, acting out her stereotyped role. She had chopped-off hair under a black beret, the standard razor blade around her neck, baggy jeans that ended in rubber bands around her calves, black shirt and stockings.
She carried a rock magazine and some albums – one was Patti Smith's – and she kept taking out makeup from a small crocheted bag. Very methodically, she applied deep purple lipstick, exaggerated eyeliner, white pancake makeup. In the end, she achieved the desired effect and looked like a ghoul.
Looking at her made me feel very old. I thought, "I'd like to scrub her face clean," and that thought immediately bothered me. Am I an old fogy at 27? Wasn't I thinking just like the people who scorned long hair, jeans and beards in the 60s?
Or is it that I've now got the perspective of age and know that one day this girl will look back and be amused by her days as a punk?
Nothing of interest came in today's mail except a $48 check from Carleton Miscellany. I guess I must be in the writing business for the pleasure of it because I didn't get – and am not now – very excited.
I don't really feel I've earned the money, I guess, and I feel somewhat guilty about taking it. But it will help shore up a dwindling bank account until my LIU check arrives.
---
Wednesday, May 24, 1978
6 PM. Little by little, I see, I'm getting used to getting up later. Today I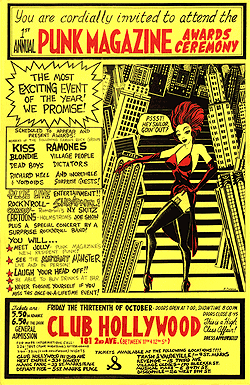 didn't arise until 10 AM. It's been raining steadily all day, and I've accomplished little, but I do feel very relaxed.
Last evening I began the process of going through the scores of notebooks I've kept for the past ten years, trying to find salvageable nuggets: good lines, memories, jokes that I might want to use someday.
Some of my notations make absolutely no sense. For example, "Fred – talk G.R.": I have no idea who Fred is or who or what G.R. is.
Funny: as much as I worry about Ronna becoming too attached to me, I was the one who was ever so slightly disappointed when she didn't call last night. Maybe that's not funny.
I read the Voice, Times, Post, Newsweek; I sent Scotty Wagner a $15 check as a bar mitzvah present; I ate out at Kings Plaza; I exercised; I got a call from Margaret, telling me I have to come in to make out a grade card for some student – I'll do that tomorrow; I got three rejections and a note from Sou'wester asking for my approval of their edited version of "Rite of Passage," now titled "Cross in the Water."
And I got postcard from Susan Fromberg Schaeffer (on the back of a Fireweed Press poem-postcard by Lyn Lifshin):
Dear Richard,
Don't worry about your letter of recommendation, I finally got together with your form and a pen and envelope and even a stamp.
This time before publication of Time and Its Flight is driving me bananas – Doubleday alternates between promoting it as a Gothic romance or Anya in Old Time Vermont. Also, they have a bad habit of not sending out books.
And Clifton Fadiman just said reviewers will be of no use, will not understand the book, will be incapable of so doing, etc. Quite cheering. He
wrote the review in the Book-of-the-Month Club booklet since he didn't trust anyone else.
I think, therefore, you are quite right to get a Ph.D. and hopefully will find a school which is not suffering from this disease called writers. They are the measles of the academic world.
I keep seeing (and reading) your stories. You will be famous and I can only say I told you so. . .
Love,
Susan
Famous, huh? That's a sweet letter: Susan really does like me. And Peter does, too. God knows how I balance that combination of Brooklyn College English professors.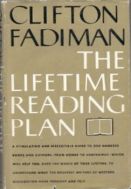 Look, Rich, no one's going to do anything for you, but it's nice to have friends in high(er) places. Notice how messed-up she still feels as she awaits the publication of her third novel, a Book-of-the-Month club selection, after two previous successes and God knows how many poems and stories published.
I think my recommendations will serve me well with the admissions committee at SUNY-Albany. I probably have much better qualifications than their average applicant, and so I think I should get some kind of financial aid.
After all, a famous person has said I'm going to be famous. Don't run away with yourself, kiddo, you are not fay-moose yet.
This afternoon when I called Josh, he said his car was stolen from in front of his house on Sunday night. If he arranged it (and he probably did), he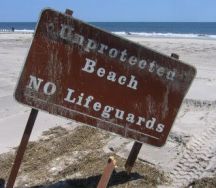 didn't tell me. But the Gateway National Park police found it burned to a crisp in Breezy Point.
"It's a funny world," Dad said at dinner tonight. It seems that Lennie Schindler is everybody's big man, the guy who keeps people waiting in his outer offices for weeks, couldn't get started on his vacation at the Raleigh till late tonight because that's when his young "friend" gets off from work at Alexander's.
"Imagine," said Dad. "That big man waiting for a little kid."
I just hope the little kid is cute.
---
Friday, May 26, 1978
8 PM. I just thought of Rilke's poem again, and that admonition: ". . . there is no place / that cannot see you. You must change your life." Yes.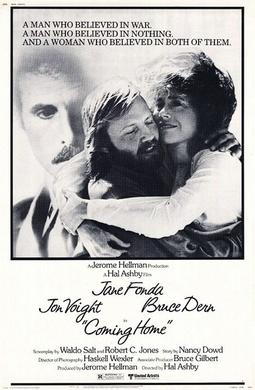 I've just come from the movies at Kings Plaza, where I saw Coming Home, an excellent film. I wish I could make statements like that. God, 1968 – the year the movie was set in – seems so far away.
Yet last night I had a bad flashback to that year: a terrible nausea/anxiety attack I had in freshman orientation at Brooklyn College. We were in 1310 Boylan, I remember, and I was so terribly sick I could only think of vomiting.
Everything was so strange. I remember Dean Mary Stapleton, an old witch who was soon going to retire, and the familiar people around me: familiar from high school, yes, but not friends. It might have been ten years to this day. I came home so exhausted from the anxiety that I took off my pants and socks and ate dinner in bed: a turkey sandwich from the Mill Basin Deli.
This is paradoxical, of course, but I wish I had been there in 1968 to comfort that boy. I'd hug the daylights out of him and tell him that it was all going to be all right.
I didn't even let me know myself, and that makes me so sad. I tried so hard to be aloof, cold, cranky: I was strange and not likable.
What's the use of this? Perhaps the fantasy is of a more grown up 1988 version myself telling me in the present that I am going to make it, too. My 27th birthday is coming up. Jesus. (Who, by the way, did not live much beyond 27 himself.)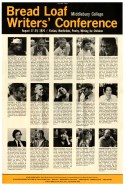 I don't like the way this summer is going. Attention must be paid and I have to get moving. Last summer was saved by Bread Loaf and by Avis and Helmut's visit. I need something this summer, too: something more than my writing.
I have to take some sort of risk: go on a trip, get involved with someone or something, take a job. It's too easy to fall into the trap of too much sleep and too much sun and too many soap operas. I've got to give this thought.
God, I wish I could be going to Albany in the fall. Listen to me: I'm not even admitted for next spring yet, so I'm being presumptuous. But I have a feeling about it, that Albany sounds right for me.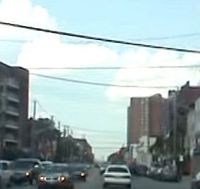 Dad and Marc had an accident with the car this afternoon. Some looney, probably drunk, on Flatbush Avenue plowed into them from behind. His car was wrecked and there's a lot of damage to the back of the Cadillac, but nothing like what happened to my car last year.
Marc was hurt slightly: whiplash, I guess, but he seems less shook up now. I was ready to take Marc to the doctor, but he didn't want to sit in the waiting room for an hour. At least Deanna is here for him now.
---
Monday, May 29, 1978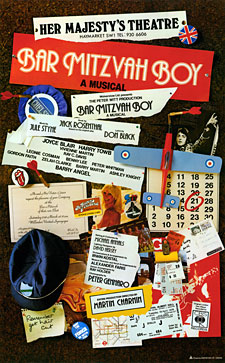 Reflecting upon last night's bar mitzvah, I can see that it's not so simple anymore to dismiss such things as nonsense. Rituals like bar mitzvahs seem necessary and even important; they affirm ourselves and our values in some way. The world may change dizzyingly, but bar mitzvahs, weddings, brises, funerals, graduations all go on.
Speaking on a less intellectual level, I enjoyed myself last night.
This afternoon I wrote a little story about the bar mitzvah called "Like a Scene from a Great Russian Novel." At one point in the evening, I looked around at all the people dancing, joking, gossiping, and it all seemed out of War and Peace or something.
At my table were Marc and Deanna; Ronnie and his girlfriend Lynn; Robin and her boyfriend; Rita and her fiancé Kevin; Ricky Marshel. I saw Jonny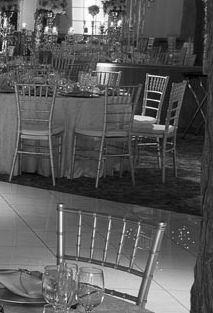 sitting with Sammy Berger and his sister and brother-in-law Fran and Matt.
Suddenly I felt very old, as though I'd seen so much of life passing. I remembered – no, I saw – Robin at two, running naked; Ronnie having to take his daily nap; Marc and Rita having one of their first-love fights.
And Scotty, whom I've known since I was born, who sleeps just a few inches from me on the other side of this wall – he was a bar mitzvah, thanking his guests, promising to live up to the ideals of manhood in the Jewish tradition.
Not that I didn't make fun: "There are too many kikes here," I told Dad, and to Marc, about the candle-lighting ceremony, I joked: "Assholes on parade."
But it all seemed meaningful to me; it was an event – not a media event, but an event in all our lives. I watched my parents dance at the smorgasbord;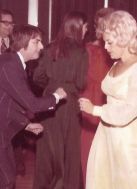 Dad asked Mom to be the first, to try to get others out on the dance floor.
They were as graceful and golden as usual: their perfectly-executed steps seemed magical, and suddenly they were not my squabbling parents but a kind of glamorous ideal couple. I was proud of them, proud to be their son, and proud that they look so young that no one would believe it was their 29th anniversary.
It was Dorothy and Arnold's too, of course, and Dorothy seemed like a clone of my mother – blonde, buxom, beautiful in a silky black gown – as she crossed the dance floor to urge me to get married.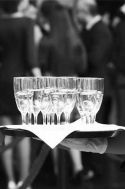 I protested that there were no happy marriages, but she pooh-poohed that by saying her daughters had said that, too. I wished Rita and Brad well and inquired after Susan and Al, who are moving to Ohio and were in for the wedding of Al's sister – another wedding of someone I once thought of as a kid.
And I joked with Deanna, and Irving's bluster seemed comforting and familiar, and Lou's speech was touching in its homemade (hamishe) sincerity. Scotty was aglow all evening, dressed in white like the rest of his family.
The food was good and I overate, and if the crowd wasn't so lively, well, it
was all right with me. I liked Ricky, Dorothy and Arnold's son: living in Burlington, going to school there, he has the long hair of a '60s freak.
He's 20 and so much younger than me, but he's an adult now, too. I told him things about his grandparents he didn't know; very clearly I can see Jack Luria in Grandma Ethel's bungalow, making us howl with laughter over some silly joke – he reminded me of Ed Wynn – and the card-playing. . .
But I sound like some garrulous old man. When Fran said goodnight (she had to get back to her nine-year-old daughter), I told Ricky that Fran and I were in second grade together, and he looked momentarily confused: "Was
she your teacher?" he asked.
Being at the bar mitzvah was like seeing life in its complexity – this sounds absurd, I know, and very pompous, but I could see novels, old 19th century novels, TV mini-series in that affair.
I stayed till the end when Mom took the centerpiece home and the helium balloon attached to it got separated and floated up to the ceiling. We all laughed so. Finally Mario Perrini got it down. It was very foggy outside at midnight, the same fog that's rolling in now.
---
Wednesday, May 31, 1978
6 PM. I had the beginnings of an anxiety attack in Greenwich Village last night. It had been a bad, sweaty ride up. Alice wasn't home, Laurie wasn't in the booksto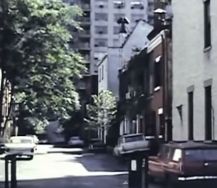 re, and suddenly I started to feel my old free-floating friend, a kind of dissociation, weakness, dizziness, nausea.
My car wouldn't start up right away. People seemed to be uncaring and too flippant. But I said to myself I wouldn't fight the attack, that it was my own doing, and if so, I'd welcome it – and then it dissipated almost immediately. That is the one thing I've learned: to plunge into anxiety head-on when I feel it coming on.
After that, I was okay, and I went to Park Slope to visit the Judsons. Mrs. Judson, Angelina and Wayne were in front of the TV, as usual, eating ice cream and strawberries, and I was happy to plunk myself down and join
them.
Wayne was napping before getting ready for his night porter job at Pace College. It's from 11 PM to 7 AM; he makes $220 a week and may get the job permanently. Angelina was pleasant and sexy in her nascent earth-mother way, and Mrs. Judson and I had a long, involved conversation.
She tells such good stories: Mrs. Judson is really the born storyteller, not I. Most of her stories have to do with money and death: if she could write, she could be a best-selling novelist.
At 11 PM, David came over, bringing eggplant parmigiana. He's devoted to Mrs. Judson and calls her "Mom" with an ease that embarrasses me. David quit his job as furniture salesman and is now not sure what to do next, but he doesn't seem worried.
Libby may not come back from Oregon in September as she'd originally planned; the last her mother heard, Libby was doing volunteer work in the hospital or swimming every day at the Y. She still loves her life with Grant at the commune.
Sometimes I wonder what will become of Libby. Twenty years from now, will she be a fortyish hippie, a relic of the 60s? Most of us, it seems – me, Libby, Mason, Avis, Teresa – don't seem to be on solid ground yet.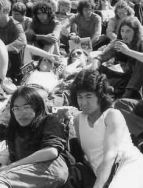 Even those people our age who don't have any doubts – people like Alice, who know exactly what they want and are going after it fiercely – don't really appear to be content.
After I came home from the Judsons', I didn't get to sleep until 5 AM; my mind was whirling like a carousel, and I had brilliant ideas which now seem totally bland and uninspired. I awoke at 9 AM, yet the lack of a night's sleep didn't faze me today; I doubt I'll sleep much tonight, either.
Maybe Ronna will call tonight. I hope so. Maybe I'll do some work tonight, but I think the chances of Ronna calling are better than the chances of my doing work.
I did send out about ten submissions today in response to announcements I found in the issue of Small Press Review that came in today's mail. Special Fourth Class Rate for books and
manuscripts has now gone up to 36¢ for the first pound; that's double what it was when I first started sending out my stories.
Tomorrow is June and Sunday is my birthday; I think I'll try not to make a big megillah out of it this year. Since I don't seem to have many friends anymore, I doubt I'll get many cards.