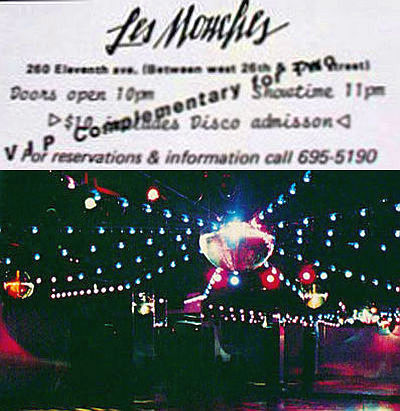 Friday, March 24, 1978
8 PM. My cold has finally ended. That old saying is right: a cold lasts a week if you take care of it and seven days if you don't. I feel good tonight. It turned cooler, but it's no longer cold. Also, it doesn't get dark till 6 PM.
I haven't written a story, but when I do, it will be a good one.
My paycheck from LIU arrived today, and so did an acceptance of two poems, and even better, my story "18/X/1969" was taken by Mississippi Mud, a magazine in Portland. Maybe Libby will see it.
Last night Libby's mother called and said she was pleased to get my invitation to the reading and she said she'd like to come. Mom and Dad and Grandma Ethel and Grandpa Herb want to come too, and Arlyne told me I should let them "kvell" over me a little.
God, I didn't think so many people would be coming to the reading. Alice will be there, and June, and probably Richard. Teresa and Mikey also want to come, and maybe Elihu will, too.
I also invited a lot of people I didn't expect to come: Gary and Betty, Ms. Ehrlich, Brad, Mrs. Sanjour from junior high, Mark and Consuelo, Janice. But since I've never had a wedding, a reading gives me the opportunity to send out invitations to old friends.
I've learned that I have more friends than I thought I did, and I feel myself very lucky – probably undeservedly so – in that regard.
Mrs. Judson was worried about Angelina's mother, who may have to have a radical mastectomy; Wayne and Angelina were at the hospital as we were speaking last night.
Earlier this week I got a letter from Libby in Portland. She likes life out there and she likes Grant, who sounds like a laid-back, mellow West Coast person.
Aunt Arlyne and I also spoke on the phone. She and her friend are tired of doing their health-food catering and want to do a natural foods cookbook. They have the recipes and the knowhow, but neither of them can write and they have no idea how to go about getting a publisher.
Arlyne thought Alice might be interested in helping them, but when I spoke to Alice, she wasn't enthusiastic. "What makes them think that publishers are after yet another health-food cookbook?" Alice asked, saying she doesn't have the time or energy to interest publishers for them.
As usual, Arlyne asked me, "So when are you going to write something commercial?" She and Marty and their kids are so mercenary.
I met Cousin Wendy and her friend Mitch at Marty's office this morning. Mitch is a nice, gangly, pimply, very intelligent boy. When we got into the cab, the first question he asked me was, "Why do you think Hamlet waited so long before killing the King?"
"He was an indecisive person," I said. "Very indecisive."
After being questioned about Hedda Gabler's suicide, the ending of Brave New World, and O'Neill's dialogue, I think they realized that I wasn't very interested in playing English Teacher.
We went to the Museum of Broadcasting, which was what Wendy only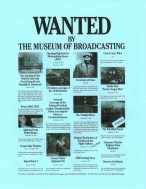 wanted to do. Since I took her there last time, you'd think she'd want to go somewhere else in Manhattan, but no, she wanted to see old TV tapes.
All the people lining up were 18 and under: the TV generation vid-kids come to see I Love Lucy, Monty Python and the Beatles on Ed Sullivan. We had to wait until 3 PM to get a console.
If you're a member of the museum, like Alice's friend Judy from Seventeen (remember how I liked her at Richard and June's party?), you can call ahead and make a reservation; otherwise, you're in trouble.
We walked through the Good Friday crowds at Rockefeller Center. I thought I would give them some culture by taking the kids to the Gotham Book Mart, but Wendy just ended up buying The TV Book there.
After lunch at Bun 'n' Burger, we went back to see Edward R. Murrow interview Harpo Marx and Ernie Kovacs at their homes and the first Nixon-Kennedy debate. (I actually remembered seeing those shows, as well as the Beatles' American debut; I told Wendy that Tessie O'Shea would come out
and sing "Two-Ton Tessie from Tennessee.")
Finally, a cab dropped the kids off at 1407 Broadway, and I got on the subway. I did not enjoy the day with them: I must say I don't much like dull suburban kids. Give me a city hood or a wiseass or a punk rock kid or an interesting oddball like my brother Jonny any day.
I just spoke to Ronna and I feel good. She said she's not going back to Pennsylvania without seeing me. Ronna has finished all her coursework, but she's lacking some credits and so is doing a videotape or maybe a slide show to supplement her thesis.
She thinks she can be finished with the thesis in a month, at which time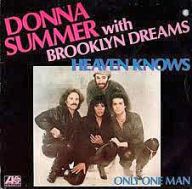 she'd like to move back to Brooklyn. Then what? She's not sure. She may go cross-country with her British powerlifting friend Phil and his brother, but to do that, she needs money and a driver's license, so it doesn't sound likely.
As for the job situation, I think Ronna's got a difficult time in store. Actually, I don't believe she can get a job on a paper, even a small-town paper. But she'll find out for herself. Ronna said she was beginning to understand why some women want to get married and avoid the hard choices and difficulties of a career.
She let me talk about my frustrations, too – the ones relating to my career, anyway – and it's good to be able to share things with Ronna again.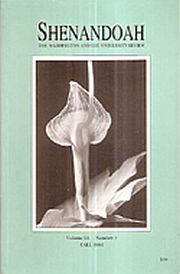 This week has brought no rejections, acceptances of two stories and two poems, and two new stories published in magazines, "With Hitler in New York" in Shenandoah and "Real People" in Willmore City.
That makes 54 stories published, 89 accepted. Although I haven't written all month and my reserve of unpublished stories is dwindling, I don't care. I'm trying to relearn the process of writing fiction, and to do that, for a while I have to learn not to write. The pressure is off now, and that feels good.
Look, I don't have to prove that I can get my stories published – not anymore. And if this attempt at changing and growing fails, I can always go back to my old one-story-a-week, come-hell-or-high-water schedule.
In the meantime, I have this diary, God love it: we'll see this through together.
---
Sunday, March 26, 1978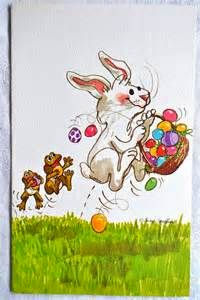 7 PM. It's been a rather lazy Easter Sunday. A hard, cold rain has been falling since the morning. I had dreams of comic book heroes and couldn't quite rouse myself. Not that I'm ill – no, I feel fine. Having that cold last week made me appreciate my health more.
I've returned to exercising, both with the Bullworker and my stomach-flattening exercises. I may start running soon; Dad seems to enjoy it a lot. He and Mom have not smoked for 16 days now, and Dad keeps running further each morning.
I've just been watching the premiere of a new PBS series, The Originals: The Writer in America. The first episode focused on Janet Flanner, who as "Genêt" wrote all those letters from Paris in The New Yorker.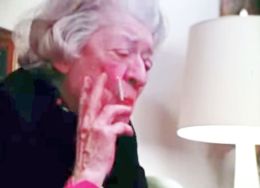 See, I may never be a novelist or and I even may not be much of a fiction writer, but I know one thing: I am a writer. Most of my stories are disguised memoirs or journals, and it is really in the memoir or journal (or this diary) that I feel most at home.
I'm certain that in the end I will probably be thought of as a writer rather than a novelist. I like loose, informal essays; I like recording things in my diary. I don't know that the novel is quite the form for our age. I think my "little antidotes," as Grandpa Herb calls them, fit better.
Does this sound pompous? Holler if it does and I'll stop. At least I write what suits me best. Look, can one really write an Anna Karenina or a
Madame Bovary today?
The only woman I know who gave up career and family and everything for an adulterous love – the only one who comes close – is Danielle Robertson from the Student Activities office at Brooklyn College.
And Danielle fell in love with Sean, a student who was editor of Kingsman and a pompous ass. (I didn't realize I felt that way about Sean until several years later when I ran into his ex-girlfriend Spring one night at Columbia. She said, "I now think Sean's an asshole . . . but you thought he was all along, didn't you?")
And really, Danielle Robertson didn't lose anything. Any day now, she'll probably write a long article in the Voice about loving a much younger man and it will start a fashionable trend – that is, if it hasn't happened already.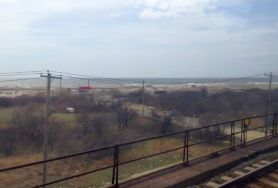 Early this afternoon, I went out to Rockaway, catching Grandpa Herb in the middle of a nap. Grandma Ethel had been watching the Easter Mass on TV, which she thought was beautiful.
Grandma Ethel has always been attracted to Catholic ritual since she was deathly ill years ago and in her delirium saw a priest blessing her. At first she didn't want to look, because it wasn't her religion, but she did and then slowly got better, eventually learning that on that day her neighbors had gone to church and lit candles for her.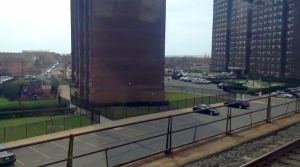 My grandparents told me Uncle Jack is in a very bad way now; apparently the cancer is all over his body and his mind is going rapidly.
One night this week Aunt Betty called them up, crying because Uncle Jack insisted on being taken to visit his mother and father. All of a sudden he talks about his parents all the time.
Grandpa Herb got on the phone with his brother and said, "Jack, don't you remember? Mother and Dad died a long time ago. I have proof in my house if you don't believe me."
"No, Herbert, I guess if you say they're dead, I believe you." And then Jack started to cry.
Yesterday they went to visit him, and Jack took Grandma Ethel out on the terrace – he didn't know who she was but he talked to her anyway – and pointed to a boat passing by and said, "Look, that boat's on fire!"
"No," Grandma said. "It's just painted red."
He insisted that it was on fire. Jack no longer recognizes Chuck or his grandchildren, and he gets strange ideas, such as appointments he has in Canarsie to deliver pills.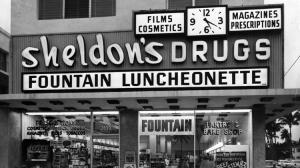 What a pathetic way to end one's life. Grandpa Nat in Florida must be the same way. Grandma Sylvia is now applying for SSI, and I promised I'd help Dad fill out the application.
Grandma Ethel says she worries about Great-Grandma Bessie, who doesn't go out much anymore and who has gotten so frail. "It's terrible to live alone when you're old and sick," Grandma Ethel said. "Who would find out?"
My grandparents were going to the movies to see The Goodbye Girl, and I refused to let them change their plans for me. Grandpa Herb insisted on giving me $5, and though it made me feel guilty – I have plenty of money now and he's no longer getting unemployment – I took it.
I may go over to visit Ronna tonight.
---
Monday, March 27, 1978
Midnight. I feel tee-riffic. I've just left Ronna's house, and it was hell to drag myself away from her. I still feel this ghost kind of reflex movement, a hug, an embrace, a kiss, as though she were still with me.
Last night I couldn't leave her until 3 AM.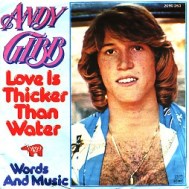 It's wonderful outside: it's spring, it's midnight, it's 50°, and I feel like 19 years old again. Wow. This is going to sound corny, but who cares? I'm feeling too good.
You know how sometimes you can hope and hope and fantasize about something happening for years, and then when it finally does happen, it's a letdown, a disappointment?
Well, being with Ronna, loving Ronna, is better than I ever imagined it could be. I'm actually tingling. And I feel that I'm not dead inside anymore and that instead it is the long winter that is dead.
I am capable of love; I am worthy of being loved. God, the times I've wasted. Dear Ronna, I have no idea why I love you, but I do. You're fun. You're intelligent. You're pretty and very sexy and easy to talk to.
I know I sound like a sophomore, but my sophomore year, seven years ago, was an exciting time. I feel renewed, as though I've discovered myself again. Ronna, if I make you feel one-tenth as good as you make me feel . . . I don't know what.
Late last night we were alone together in the living room for hours, and it wasn't enough. I don't know if it was the best lovemaking of my life, but God, if it wasn't . . .
What's wrong with me? I can't finish sentences. Calm down, Richie. How can you be a writer if you can't finish sentences? What's right with me? I want to record things here and yet I go on like this. I don't even know if this is reality. But it doesn't really matter. God, what a high.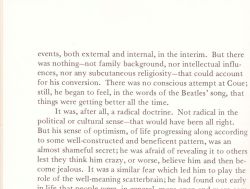 My story, "The Smile in the Closet," came out in RiverSedge today, and I couldn't bear to read it, couldn't bear to think that others have read it (even though they have: a rejection letter from another magazine today made reference to my "fine" story and said the editors of RiverSedge "were fortunate to have it").
Because it is so personal and because it's so damn optimistic, euphoric, Pollyannaish – is there such a word? – I don't like to think about others reading the story.
Undoubtedly tonight, like last night, I'll have insomnia, and undoubtedly tomorrow morning, like this morning, I'll wake up with a terrible dull headache, and there'll be no epiphany then.
But right now who cares, right? The beauty of it all is that epiphanies weren't meant to last. I almost thank God that Ronna goes back to Pennsylvania soon; I don't think I could take seeing her much more, and yet it would be impossible not to see her if she was here.
Last night I went over to her house. Her grandfather was there and questioned me about my career, Dad's business, my grandparents: Poppy Sam thought Grandma Sylvia had been dead for years, and when he heard about Grandpa Nat, he said, "Well, he's an old man."
(Last April, Grandpa Nat said to me of Ronna's grandfather, "That old man, is he still alive?")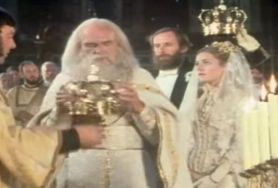 Ronna and I excused ourselves to go watch Anna Karenina; Poppy Sam said he liked the parts of the book with Levin best.
The two of us talked about Ronna's thesis, Middletown, academia, writing, about Susan and her Toronto boyfriend Colin, about Ivan's wedding coming up in two weeks, about our families and our friends and movies we had seen.
And then, very naturally, we came together: a Victorian phrase, but it does describe what happened. Our bodies seemed to fit. The sex was incredible.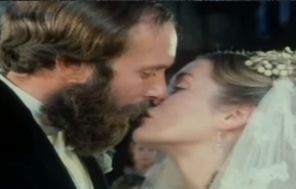 Tonight I went over there again: we took a walk, took a drive, watched TV with Billy and her mother – I feel completely at ease, at home there – and we kissed and hugged and laughed and tickled and God this must sound sickening to you, whoever you are.
But I'm smiling now and I feel as good as I felt bad last week, last month, during the worst of the winter. Ronna makes me happy. I make her happy. I feel myself changing, and that makes me happy, too.
---
Thursday, March 30, 1978
3 PM. Life is almost unbearably exciting. A week ago my life s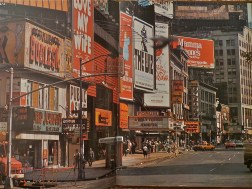 eemed empty and I was even thinking of suicide. Well, there's no future in suicide.
This week's vacation has been just that: a real vacation. I've managed to turn my life around from the depression of the winter. Instead of crawling into bed at 9 PM every night, I've been going out every evening and staying out late and sleeping till 11 AM every morning.
Teresa asked me to be her escort to tonight's Gotham concert at Carnegie Hall; her friend Barbara is their road manager, remember?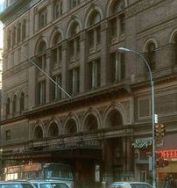 We're going to have box seats – the last time I went to Carnegie Hall, I could only afford the last row of the balcony – and afterwards Melba Moore is hosting a disco party at Les Mouches: the Post says Carol Channing and other Broadway stars will be there.
Sometimes I think there's nothing better than being young and creative and in New York City.
Sunday is the reading at the National Arts Club, and today I saw it listed in the April NYC Poetry Calendar. I hope it goes well, but curiously, I'm not worried about it. I'm actually amazed that many friends are coming; I didn't know I had that many friends.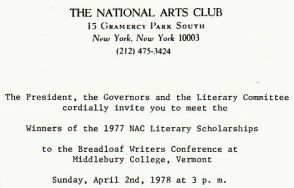 Mrs. Judson and her friend will be there, and both June and Richard, and Alice reports (unhappily, to her mind) that Scott will be there.
Last night Vito phoned, leaving me his new number; this morning I got his service, but maybe that means he will be coming, too. I did speak last night to Mikey, who wanted to know what to wear.
I wonder who else will come. Brad? Mrs. Sanjour? Prof. Merritt? It's very exciting. But it will be strange, me being the center of attention. I haven't known that ever, except maybe at my bar mitzvah.

Actually, I can't believe it. I've always been the observer, the person off to one side of the room, and so I'm not sure I'll relish this.
Last night I visited at the Judsons'. God, I love those times I spend there in the kitchen, talking with Mrs. Judson. She's so wise and so caring, I can talk to her about almost anything.
I guess ours is a strange friendship: she's an older Ukrainian woman, so unlike my own mother. She cares nothing for clothes (last night she had on a filthy, torn dress) or neatness (her house is a disaster area), but Mrs.
Judson has warmth and compassion.
She gave me a few interesting "real people" stories I may use someday. We had tea and cornbread that Angelina made. After a while, she and Wayne came downstairs – I suppose they had been making love – and we all talked some more.
Angelina's very worried about her mother, who had the mastectomy; the doctors say that the cancer has probably spread.
Whenever I feel I'm getting too immersed in the neurotic, intellectual, ambitious world, I can always relax at the Judsons', or at my grandparents': a world completely different from that of the literary scene or tonight's star-
studded disco party.
I flatter myself that it's a strength that I can be at home in different worlds, yet I'll probably be nervous tonight even though I know that Melba Moore isn't worth a fraction of Mrs. Judson or Grandma Ethel.
Last night Mikey said he got good grades last term and may have a summer job with the Attorney General; it pays only $5 a day, though. He said Mike is working at Brooklyn College as Scacalossi's assistant in charge of campus security.
I noticed Richard Pontone's name in the paper. He and his parents have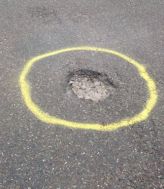 set up the Bay Ridge Pothole Alert Committee. They paint yellow circles around potholes; it's so like Pontone, civic-minded and idealistic even in his frustration with the city.
I've gotten wonderful letters from George Myers and Tom Whalen; I wish I had more room in the diary to tell you (who's you?) about them. I feel like writing to George, to Tom, to Avis, and most of all to Ronna, but I have no time.
I haven't written a story in such a long time, but I don't care. My 90th story, "Introductions," was accepted by Calvert, the literary magazine at the
University of Maryland.
Teresa has a bad cold and she's been upset because her car was impounded (her friend Perry has been parking it illegally). I'm to meet her at Carnegie Hall at 7:45 PM.
---
Friday, March 31, 1978
9 PM. This is the first night in nearly a week that I've been home. I've been coming home late and sleeping late, but I've got to get my biorhythms back to an earlier schedule.
A week ago at this time, I was speaking to Ronna – and she made this a wonderful week. I remember dreading this vacation, but it's been one of the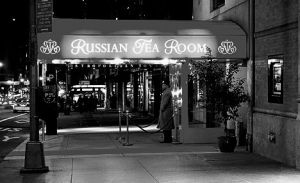 best times I've ever had. I feel renewed, the way I did last summer with Avis and Helmut's visit and with Bread Loaf. My perspectives have changed slightly. I'm very happy.
Last night was so pleasant. I found a parking space right on 57th Street, in front of the Russian Tea Room. Waiting for Teresa in front of Carnegie Hall, I realized right away that Gotham draws a mostly gay crowd; everyone looked so well-groomed and carefully dressed even when they were wearing flannels and jeans.
Teresa's cold was pretty bad, but she looked terrific in basic black and pearls. She's through with Don at this point. Last week he called her to say he never wanted to see her again. "I look at Ted and Don as a closed book," Teresa said. "Ted got me out to California and Don got me back to New York."
There's still a matter of $4,000 in bills Don has left her with: too bad she can't collect alimony. She realizes now that Don had too many problems for her – a sick wife, two out of four kids very ill – and caused her to lose some of the craziness of youth: she was acting like a 40-year-old woman.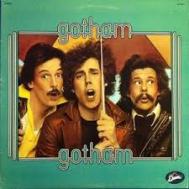 Of course, had Don married her – if he would have – Teresa could have been a very rich woman. But she's not sure that's what she wanted. I do think Teresa would like to marry, though perhaps now she'll look for someone closer to her own age.
Why is it, we asked, that once you have a solid commitment to someone, you immediately resent them and feel guilty about being attracted to other people?
What I fear, with Ronna, is that I'll be forbidden – by my own values – from having sex with other people: that, in spite of the fact that I've had no other sexual partners in the past two years. Oh well.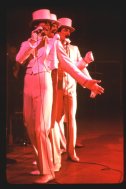 Teresa and I had box seats on the first tier. Gotham was (were?) terrific. They're a kind of gay Manhattan Transfer, singing ballads and lyric-conscious songs: stuff like "A Foggy Day in London Town" and "Georgia on My Mind." They're energetic, very funny, slick and likable.
I wonder if there is a gay consciousness; last night there were in-jokes, like "as dull as a gay party with no mirrors." But of course, most gay people are just people: the more homosexuals come out, the more everyone discovers they're the same as straight people.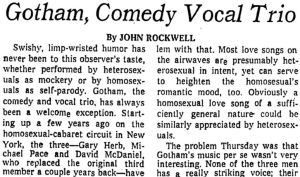 It's only recently I've discovered that most gay people are not any more interested in sex than straight people are; love is what counts, as with the majority of us.
During intermission Barbara introduced me to Melba Moore, a beautiful woman; they say she killed her voice with too much cocaine. At the

concert's end, during the tremendous ovation Gotham got – the concert was being recorded for the album – Teresa and I high-tailed it out of Carnegie Hall.
On our way to Les Mouches downtown, we talked about how hard Gotham must have worked to get this far and what a high this success must be for them.
My first time in a disco, I ended up liking it a lot. Les Mouches is on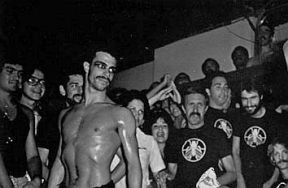 Eleventh Avenue, a cavernous space: very dark, the dance floor all colored lights and mirrors, people dressed in anything they felt like, and sometimes very little.
Teresa and I ate chicken and egg rolls and got drinks to carry around the party – mine was just Perrier water and lime – as we mingled.
I chatted a lot with Gretchen Wyler and Stephanie Mills and Linda Blair, who is breathtakingly gorgeous, as well as a cute boy in a sailor suit who looked like a 20-year-old Tadzio. A drunken man mistook me for a woman named Rachel.
Teresa and I danced a little: it's very easy to do and I didn't feel fo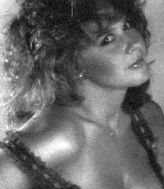 olish at all.
Still, I couldn't work up the nerve to go back over to Linda Blair and ask her to dance with me even though Teresa and Stephanie Mills said I should.
I enjoyed every minute of the party at the disco, if only because it was so far removed from the rest of my experience. Well, back to reality now.