Friday, February 24, 1978
6 PM. I want to record the events of last night, but first let me get today out of the way. My eyes are sore now. An hour and a half ago, I fell asleep with my contact lenses in, and getting them out was very difficult because my dry eyes caused them to stick.
There's a sunset at my window now: not a spectacular one, but nice for late February. I do think winter is on its way out. The snow is still around in those horrible grey mounds, and some side streets remain coated with a center of snow (so that your car becomes a trolley moving along the tracks of ice melted by other cars before you).
But some woman in Queens spotted a robin the other day. And another sign of spring: a Mill Basin man bludgeoned his wife and three kids to death. Well, maybe not. Aren't we gloomy today?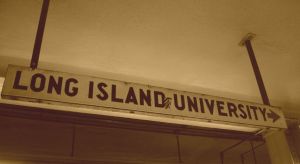 I didn't get enough sleep last night, but I managed to have two good classes this morning; I'm always better when I lecture off the cuff, as I did today, on beginning the research paper.
Andrew Grey came up to me at the end of the hour saying he couldn't hand in his theme: "Things have been happening this week. I don't even want to talk about it, but it's been bad." Of course I told him to hand in the paper on Monday. He looked so forlorn.
I had lunch at Junior's, where I met Morris Miller, and then, on the spur of the moment, I did what now appears to be a dumb thing: I went to the Dime Savings Bank and took out a $100 loan.
I had heard that was a good way to establish credit. But I didn't realize that they were going to keep my bankbook as collateral. Now it's going to be a hassle withdrawing and depositing money.
So I put some money in a new savings account at the Anchor Bank on Ralph Avenue and Avenue N. I don't know why I played around with money like that; it was a whim.
Now the weekend is here and I have fifty themes to mark. But enough of that dreariness. Let me now describe the glamour of last evening: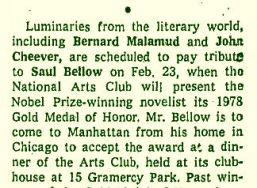 I picked Alice up in the Village at 6 PM and we managed to find a parking space not too far from Gramercy Park about 35 minutes later. Alice was of course impressed with the National Arts Club building.
When we walked in, at first I was apprehensive because I saw so many men in black tie, but then I found guys wearing suits, too. At the door we were greeted by Tony Zwicker and Dr. Carl Hiller, to whom I introduced Alice, and then we saw her regal presidency herself, the diminutive Mrs. Adriana de Mezzi Rocca Zahn.
There was a cash bar, so Alice avoided drinks and we tried our best to mingle – but it was a crowd not even Alice could mingle in: plenty of the dinosaurs of Old New York.
Saul Bellow was being besieged by fans and photographers. Sitting on the couch, he was nattily dressed in a tan suit, blue Oxford shirt, and navy bow tie. He looked nice and feisty, kind of reminding me of Grandpa Nat years ago.
Alice and I forced our way through the crowd and paid our respects. When I shook Bellow's hand, I told him how much I enjoyed his books and said I'd recently read a self-interview of his (in Vagabond). In it, he was amused seeing a Parisian waiter addressing a French novelist as maître.
So I said: "Should I call you maître?"
"Oh, no," he said.
"Do you think," I asked, "this is literary society?"
He looked around. "I don't think so."
After that, a man started politely shooing me away and I got to say (fadingly), "I'm attempting to be a fiction writer, too…"
Alice got Bellow's autograph on a program – I have it now – and he told her that the crowds were beginning to get to him.
I assumed I'd had my audience, but later in the evening, Bellow came over to me and asked me my name. Since I swallow my words, he said, "Grace?"
"No," I said, "Grayson. Né Ginsberg."
We chatted about nothing for a minute. I told him I had taken a course at Richmond College called "Mailer and Bellow" and he said he remembered Daniel Fuchs from the University of Chicago. And then he went off, saying he had to rescue his wife Alexandra from a throng of strangers. I was touched by his gesture of asking me my name.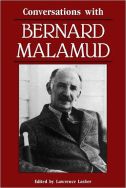 Oh, I did the most awful thing and mistook Bernard Malamud for John Cheever! I felt so foolish, but Malamud seemed like such a jealous, nasty man anyway. He looks like a quack physician and I'm sure he felt the dinner should have been honoring him, not Bellow.
Anyway, thinking he was Cheever, I told him I had taught "Torch Song" (Cheever's short story) recently, and he thought I meant Anne Roiphe's new memoir and snapped, "Why would you think I care about this?"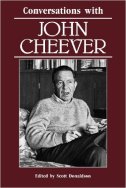 Cheever was not very friendly either, but then, who could blame him? He was with his daughter, who told me she was an editor at Newsweek: no wonder he made their cover last year.
Alice and I went over to Dick Cavett and chatted briefly with him. But soon this fat photographer came over and started bragging about his publishing a hundred books and being very rich and living with Hemingway and Helen Keller (presumably not at the same time).
The man showed us Polaroids he took of Lee Radziwell and others. Then he took a Polaroid of Cavett, asking him to write something significant on the white part of the photo.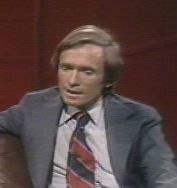 Alice and I watched as Cavett took the man's pen and wrote, "Something significant."
"Sign your name!" the photographer demanded.
"Whew," Cavett said to me and Alice after the man left. "Somebody should do a study of the personality of photographers. What a pompous oaf!"
Alice and I were chuckling, but Cavett seemed so annoyed that he wanted to vent some more. "Have you ever met anyone so obnoxious?" he asked us.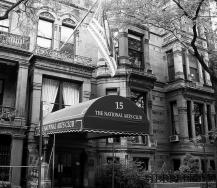 We agreed that we hadn't, and we probably weren't lying.
At dinner, Alice and I were seated with Lillian Hodes, a member of the literary committee, and her two weird daughters Phoebe and Esmé (I think she must have named them after characters in Salinger); an old friend of Hilary Cosell's from prep school who works as a Newsweek researcher; and Tony Zwicker's bearded son Tom and his roommate and fellow anthropology major at Penn, Ace Blotnick (now there's a name for you; his real first name is Antoine).
We chatted about this and that, but we were all starving and impatient for dinner. The food, when it finally arrived, was good for what it was: "bar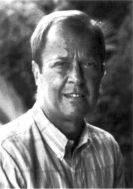 mitzvah fare," Alice called it.
After dessert and coffee, Walter Clemons of Newsweek got up and said, "On page 235 of Humboldt's Gift, Charlie Citrine says, 'Glad you're here.' Well, now I quote that to you all: 'Glad you're here.'"
He introduced Cultural Affairs Commissioner Henry Geldzahler, who made opening remarks. Then Malamud made a little speech, going into an old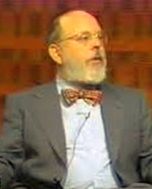 short story of Bellow's (probably one Bellow himself hates – and probably Malamud picked it for that reason).
Finally Cheever spoke about his lifelong jealousy of Bellow (at least he was honest), saying that The Adventures of Augie March has always "stayed with me."
Then Mrs. Zahn got up and did her usual spiel. She pointed out some celebrities in the audience: the architecture critic Ada Louise Huxtable and
Viking Press's Tom Guinzburg (whose chair was back to back with mine on the crowded floor; we kept having to say "Excuse me" to each other every time the chairs hit).
Bellow was presented with his medal, and he said he saw from the program that he was to make "remarks of acceptance." Reminding us of Gertrude Stein's assertion that "Remarks are not literature," Bellow talked about New York and moving here in the 60s and then going back to Chicago because, he said, New York had gotten too crazy and because he felt he needed "a second education," one that Chicago provided.

That struck a chord with me: I feel I must leave New York to get "a second education," too.
Bellow closed with a joke, the old one about the opera singer who keeps getting interrupted with applause at La Scala: he does several reprises of the aria and finally says, "Thank you, my friends, but how long can I keep singing the same aria?" And a voice from the audience shouts out, "Till you get it right!"
It was a good night.
---
Saturday, February 25, 1978
3 PM. Although there was an inch of snow on the ground this morning, it quickly melted and now the sky is a cloudless blue. You can unbutton your jacket today – but it is still better be a winter jacket, as it's supposed to be unseasonably cold for the next week.
Even so, there's a hint of spring in the air. The mounds of snow get smaller each day, and if we're lucky we can avoid another major snowfall.
Gary called me while I was at the National Arts Club on Thursday night, so last night I returned the call. He didn't even know who Saul Bellow was! What an asshole. His and Betty's big news was that their refrigerator had
finally arrived.
One of the major mysteries of my life is why I continue to keep up my "friendship" with Gary. Sometimes I think it's only because I can feel so superior to him.
Last night he and Betty were having an honest-to-goodness humdinger of a fight – while I was on the phone with him. It was so embarrassing. Gary and Betty lead such deadly dull lives, working all day, never going anywhere, and living only for their stupid possessions.
It wouldn't be so terrible if they at least got along with each other. I won't be surprised if their marriage doesn't last past 1981: I bet Betty will find someone who can provide for her "needs" better than Gary can.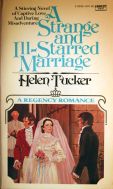 Certainly contact with the two of them makes me very wary of the institution of marriage; last night's conversation quickly cured me of any notions I've had of getting married myself.
I'll take loneliness any day of the week over what Gary and Betty have – and that goes for the dismal lives of other married couples my age: Mark and Consuelo, June and Richard, Mike and Cindy.
This week I sent out ten résumés to colleges listed in the AWP Newsletter who are looking for creative writing teachers. But I'm not sure I even want to go to teach in Murray, Kentucky, or Westerville, Ohio, or Salisbury, Maryland.
I know, I know: there's New York and then there's the sticks. But surely I'd find life more to my liking in another big city than in the middle of nowhere. I continue to have (unjustified?) faith that I'll get a job somewhere.
Even if I never achieve half of what I want to, I'm still pretty sure that the assistant professorships, the NEA fellowships, the Guggenheims, the books will all come. I'm bound to be moderately successful in everyone's eyes but my own.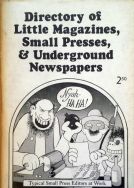 My gloom about my writing today was caused not by a rejection but by the delivery of the magazine Syncline, which contained my story, "A Hard Woman." Granted, the story may not be a modern masterpiece, but when I saw it, my heart sank.
Syncline is a mimeographed, stapled-together magazine. The story was printed so poorly as to be nearly illegible; the xerox copies I made of it just didn't come out. I'd rather they hadn't printed the story at all.
I know I'm better than that, and seeing that the magazine isn't copyrighted, I'm going to send "A Hard Woman" out to other places. As it is, I'm ashamed of the story and could not show it to friends or put it in my scrapbook.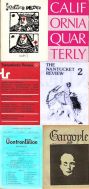 I look now at my shelves filled with little magazines and wonder what value they are. Of course it's my own fault: in my rush to get publishing credits, I've sent out everywhere, and of course some of the places that accept my stories are bound to look crappy.
I'm truly proud of only a few places my work has appeared in: Statements 2, of course, and the Transatlantic, Epoch, Zone, California Quarterly, Writ, City, Confrontation, Westbere, Bachy. I have a prejudice in favor of magazines that look classy and are aesthetically pleasing.
Some of my current acceptances will no doubt appear in shoddy magazines, but I have high hopes for Texas Quarterly, Sou'wester, Student Lawyer, Carleton Miscellany, Shenandoah – at least I know they look nice – and probably so do Seems, Nantucket Review and Hudson River Anthology.
Hopefully, seeing my work in those magazines will make me feel better than today's publication of a story did.
---
Tuesday, February 28, 1978
2 PM. Tomorrow is the day I move into Alice's mother's apartment. It's going to happen gradually, of course, and it shouldn't be a trauma.
I was supposed to go over there last night for the keys and final instructions, but Alice had a fight with her mother – over money – and told me to come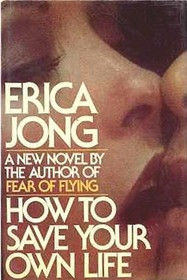 tonight, after she comes home from seeing her mother off at the airport.
In the past two days, I read Erica Jong's second novel, How to Save Your Own Life, which I loved despite the fact that I was prepared to hate it. Of course she's been criticized for being so frank, but I think she's very brave in that she risks being thought of as a fool.
It was wonderful to know that Erica Jong had doubts about her own talent, wondering if she was one of those pompous boors who go to Writer's Digest, to the Famous Writers' School, to vanity presses.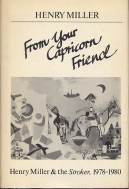 She has characters in the book representing Henry Miller and Anne Sexton, and they talk of the idiocy of ego in writing. Writing is a communal process, and the byline doesn't matter, sales don't matter, and neither do awards.
Also, I can see from Jong's writing that some of the things I most want – a book, fame, money – don't solve any problems: they just create new ones. I don't want to be famous.
Celebrity makes you a prisoner. You cannot lead a normal life, go to McDonald's, wait in line at the bank, appear at a party without an entourage as a buffer. I think of the way Saul Bellow was harassed at that party and how much freer I am than he is.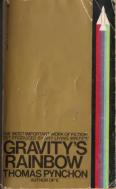 Does this mean that I really don't want fame? I'm not certain. I think I'd like for people to know my name but not my face – à la Thomas Pynchon – and I'm not sure how much I want people to know about my personal life.
Yesterday, for example, I found my name in four different places – in a leaflet for the Blue Crow poetry postcards series, in an ad for George Myers's X, A Journal of the Arts in Small Press Review, and twice in an index to previous issues in the new Apalachee Quarterly.
But I find it hard to relate the "Grayson" in type on the page to me here in Brooklyn, New York. My scrapbook clippings seem to be about someone else, another Richard Grayson.
One thing I liked in Jong's book was a line about a poem being a one-night stand, a story being an affair, and a novel being a marriage. Is that why I'm afraid of writing a novel as much as I am of getting married? Because I fear the commitment?
Last night in bed, I was thinking of Great-Grandpa Max and how unpleasant and unkind a man he was despite being religious. I like most everyone, but I really didn't like him. Just at that moment, the telephone rang, and before I could say hello, an old man poured out a string of incomprehensible Yiddish words.
Finally I interrupted him, saying, "I think you have the wrong number."
"Sorry," he said, in a heavily accented voice, and he hung up. But it was bizarre.
This morning I had what I thought was a great idea for a story, "The Pope With Mass Appeal," similar in some ways to "Chief Justice Burger, Teen Idol." The idea ran out of gas before I could get started, though.
Just when I thought I wasn't going to hear from him, Rob Widensky wrote me a letter. He says he's not ready for the phone yet. Rob liked my photo ("You have a cute, boyish face") and he wrote that he thought I had "courage."
Oh, he's so wrong. If there's anything I do not have, it's courage.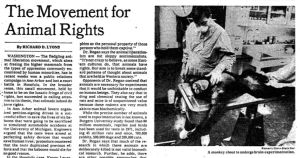 Rob, who works for the United Action for Animals, says he liked my stories but he's generally not much of a reader: "I'm a picture-person, not a word-person."
His photographs have just won a prize and are being exhibited at the Hall of Science, and he wrote a fantasy about going there and being lionized.
Rob writes that he's from a middle-class Jewish family like me: "I would like to be in touch with you and perhaps we can have some importance in each other's lives. Friends? Who knows. I need feedback and reaction to you in response to what I say about myself. I do need to communicate and exchange ideas and try to avoid recitations of me, myself and I."