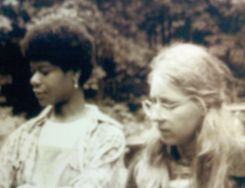 Friday, July 22, 1977
It's just after midnight, so it's actually very early on Saturday morning, and I've spent the evening with my friends. If Grandpa Nat weren't so desperately ill, this would be the happiest time of my life. As it is, I think his illness only makes these days feel that much moreprecious.
Lately I can't write a thing although I've tried. But this does not bother me because living is so much more precious. These are "moments of being" and in quieter, lonelier times, I'll have a chance to use these events and feelings in fiction.
Last evening we had a birthday cake for Dad despite the situation. Marc and
Deanna were away at the Alice Cooper concert, but Mom, Jonny and I gave Dad cards and the cake. He waited a long time before blowing out the candles – we didn't have 51 of them, of course – and I bet he was wishing for his father's recovery.
Dad has been torn apart this week. Mom said he had been so rested from his vacation, and then he had only one day back before Grandpa Nat got sick. "What could be worse than this?" Dad says. "My father has been a part of me for so long. . ."
They were not just a father and son; Dad was Grandpa Nat's only son and his partner. For years they spent every day together in "the place" – arguing a lot, yes, but also working together, sharing business success and failure.
Dad feels some guilt about not being down there, but he knows it will displease Mom if he goes to Miami. She says there's nothing he can do there, that Aunt Sydelle can manage things better than she says she can.
Grandma Sylvia is a mess; she cries all the time. Great-Uncle Harry accused Dad and Sydelle of not wanting to spend the money for the proper care – God, how being rich can create arrogance in men! –and Mom really told Harry off on the phone.
Robin and Michael have been calling regularly, as has Joel, as well as a few others. Grandma Ethel tells me not to worry, that Grandpa Nat will be all right.
The last I heard – this was at dinnertime this evening – was that he seemed to be coming out of the coma and that it appeared he could recognize faces. I guess that's the best we can hope for; it's a slim hope, but yesterday the doctors didn't think even this was possible.
Last night we had a family talk, and Jonny and I were discussing Deanna and Marc with our parents, who agreed that Deanna is very naïve, maybe even dumb, but they feel she's what Marc needs.
I notice the way Deanna looks at him, as if he were a god; she follows Marc around everywhere with unlimited adoration, and she sends him cards every day. Marc's never felt that important to anyone before, and Dad pointed out that after seeing Deanna, Marc always comes home in a good mood.
With Bunny, he often used to come home in one of his black raging moods. Mom said that we have to admit that however unsophisticated Deanna is, she's so good-natured as to be almost saintly.
Then we discussed Jonny. Mom and Dad told him that if there's ever anything that bothers him, they will gladly pay for him to see a psychiatrist.
Jonny scares me because he can be so stubborn and violent in his reactions; in his single-mindedness, he can behave like a Nazi. He has to be perfect; he has to be the world's greatest bodybuilder or else he'll be a failure.
At the end of our talk I urged him just to examine why he chose bodybuilding, why he needs perfection, why he observes the Sabbath, and I hope he will do that.
He countered by saying that I was obsessed with being a great writer, and I admitted that, yes, that's true to some extent. But in the middle of the night I realized that I would rather be a good man, a mensch, than a great writer.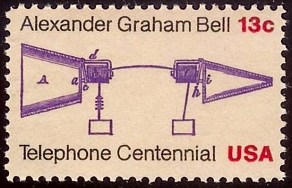 I've been trying to stay in touch with other friends. I spoke to Mikey, who's staying in Rockaway, and to Gary, who's been going on a lot of interviews, and to Alice, who's been depressed because of the heat and because Andreas is going away. Alice will be at Teresa's party tonight with June and Cliff; I'm not sure how they'll fit in, but who knows?
Friday broke the heat wave, at least, and it got up only to 88° in the afternoon. This morning I paid my Bread Loaf room and board fee and mailed it off. The Writers' Conference is only three weeks away.
Hanging Loose #29 arrived in the mail. It contained my "Scenes from a Mirage: Atlantic City," a fairly good prose poem.
This week I received about ten rejections, but almost all of them have been of the "send more, you write well" variety. One editor, Curt Johnson of December, said he read "Joe Colletti" in Writ and it was "really good." I feel certain that something will break through soon.
On Thursday, Avis and Helmut went to the World Trade Center (her mother works there now); then they went to the Wall Street Journal office
to see Teresa at work. Don joined them and took them out for dinner,  paying for everything, even the cab.
Both Teresa and Avis said they'd had a good time. Teresa said she agreed with me that she hadn't remembered Helmut being so witty and intelligent.
"Helmut likes you as much as you like him," Avis told me, and I've come around to really loving him the way I love her. Tonight we were crossing Atlantic Avenue and he protectively put one arm around Avis and another arm around me, and it felt so nice to be connected to both of them.
At the
Brooklyn Heights Promenade, while they weren't looking, I snapped a photo of Helmut and Avis hugging against the railing in the breeze; they looked so beautiful.
I had picked them up earlier, at 7 PM, and we went to Libby's house to fetch her and Thomas. Thomas is so polite and decent; he's now working in a hospital for the elderly run by nuns. At Stony Brook he's a comp lit major, and tonight he was carrying a copy of The Brothers Karamazov.
While Libby was in the ladies' room during dinner, Thomas confided that he planned to surprise her on Saturday night with tickets to the Judy Collins concert in Central Park.
The five of us had dinner in Chuan Yuan, a Szechuan place upstairs on the corner of Montague and Henry; we ordered five different entries and shared with ea
ch other, eating with chopsticks.
The food was good – I watched Avis and Thomas turn red after eating spicy peppers – and we laughed a whole lot. We lingered over tea and oranges and fortune cookies (mine said I should be more affectionate, so I grabbed Avis).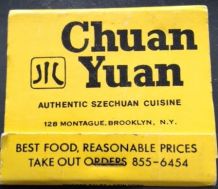 Then we walked to the Promenade: that night view of lower Manhattan's skyline has to be the world's most beautiful cliché. It had turned so breezy that we actually almost needed sweaters.
For a while, we walked along Hicks and Remsen Streets, admiring the brownstones, chatting, holding hands. Avis and Helmut told us they'd spent the afternoon at Manhattan Beach with Jacob, who's going to try to rent them a car because he's got a credit card.
Jacob's a good guy. The other night at Brighton Beach, he endeared himself to me forever by telling me I looked "a lot stronger" than when we'd last met. He also told me an interesting story about attending a weekend retreat at Swami Muktananda's Catskills resort: "You know, the old DeVille Hotel," Jacob said. I told him my parents had owned it.
As the night wore on, the five of us wanted dessert, so we went to The Seeds of the Future, a delightful Atlantic Avenue natural foods café run by a couple of black women. Libby often frequents it after she leaves work at the YWCA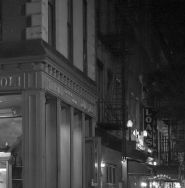 . There we had cake and milk or whatever. (I had Asantiwa's Carrot Cake and peppermint tea.)
It was such a great night that I didn't want it to end. I don't think I've had such a good time in years.
---
Sunday, July 24, 1977
2 PM. Last night's party left me feeling a little down. Oh, I suppose it was a success in that people seemed to be having a good time. All of my good friends seemed to be present.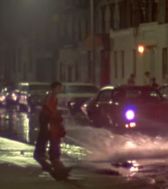 But here was no need, finally, for me to drive anyone home, and driving back to Brooklyn alone at 2 AM made me feel out of it and useless.
Why couldn't I feel at home in the presence of my friends? And if I couldn't feel at home there, will I ever be able to feel at home anywhere?
When Lance, one of Teresa's gay neighbors, found out I lived with my parents, he looked astonished, in the manner of one who'd just heard a confession of murder.
"Why?"
"Because I'm peculiar," I snapped, and he nodded his head in agreement.

Then Don came over to me with a bottle of beer, pinching my paunch and announcing that he and I were both "fatties," unlike Helmut, who could put away kegs of beer without putting on a gram.
Mikey mentioned that he'd been with Mike and Cindy the night before and that they were preparing for their wedding, which he will attend. Even though I'll be at Bread Loaf then, I still feel bad I wasn't invited. (Of course, I didn't invite them to last night's party, either.)
Do people wonder about my living at home, about my dubious sexuality, about whether I'm capable of love? Well, let me dwell on some of the nicer aspects of the evening: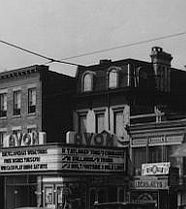 I picked up Avis and Helmut in Park Slope at 6 PM; they were having coffee with Libby's mother when I arrived. We drove up to Teresa's, stopping on the way to buy Beck's Beer, brewed in Bremen.
Helmut worked in the brewery once, and later in the evening he would be drinking out of a bottle and musing that perhaps he'd once seen that very bottle pass by him on the assembly line in Germany.
A couple of people had called to say they were sorry but couldn't make the party. Scott gave his apologies but he was just too busy with the bar exa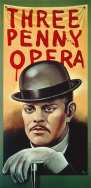 m coming up in a few days to make it. Vito said he had tickets to The Threepenny Opera in Central Park, and that he might walk over if it weren't too late. Vito also sent Nancy's regrets: she went away for the weekend.
Along with Teresa, Avis and Helmut and I got stoned before the others arrived, and I got giggly, which made my stomach feel better. Teresa's neighbors were pretty nice, and it was good to have Alice and June there; I hope they enjoyed themselves. They brought a watermelon.
Elspeth and Elihu came, riding up in the elevator with Mikey. Libby arrived later; David was there; and even Mason showed up, a pleasant surprise. Helmut charmed everyone, I'm sure. If I were capable of being jealous of him, I would be, but he is too nice.
We decided that he's going to win the Nobel Prize in Biology the same year I win it in Literature and we're going to wear tuxedos, top hats, and canes and shock the Swedish Academy by singing and dancing to "There's No Business Like Show Business."
Alice spoke to him for a long time, about her visits to Germany and his previous trips to America. Helmut told Alice how he used to wiggle his ass and let his long blond hair fly in the breeze so men would stop and give him lifts; a tattooed sailor in New Orleans offered to give him money to live on for a year.
Teresa was a
n excellent hostess, and the bagels went over well. When Don arrived, I noticed Elspeth say, through clenched teeth, to Elihu: "It reminds me of Network" – meaning Faye Dunaway's affair with the older, married William Holden, whom Don, oddly enough, does resemble.
Mason said he's enjoying working at the camp for the blind and deaf; Libby had indeed been surprised that Thomas had taken her to see Ju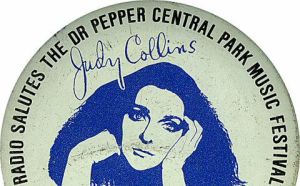 dy Collins on their date earlier tonight; Mikey said he's going to give up job-hunting for the summer if he doesn't find something soon.
June told us of having lunch with Terry, who's now an editor of a trade publication. She confirmed my suspicion that Terry turned a bit strange after graduation. I was sorry that Vito never did show up after the play.
At about 10 PM Teresa and I looked at each other and expressed surprise that the party was going so well. People didn't start leaving until 12:30 AM, and I was among the last to leave.
Nobody needed a lift (Mason, with a car, and Helmut and Avis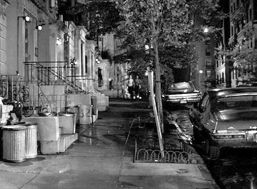 and of course Libby were all staying with the Judsons in the Slope; Alice got a ride back to Brooklyn with Elspeth and Elihu), and although everyone probably felt I was glad not to have to chauffeur people around for a change, it only made me feel superfluous.
I took photos of everyone (did I need proof I have friends?) and lent Teresa my camera so she and Don could use it on their vacation trip to Canada.
Grandpa Nat is not responding. Now they think he had a stroke as well as a heart attack.
---
Wednesday, July 27, 1977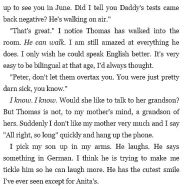 10 PM. I'm exhausted after working on a story for the last three hours. It's another attempt to work Avis and Helmut into my fiction. Called "What Guillain-Barré Syndrome Means to Me," it ran 13 pages and didn't go where I expected it to. I believe it's a failure, but perhaps the next attempt will be better.
I miss Avis and Helmut fiercely. Today was all right, but horrid in some ways, going back to my penitentiary of self-absorption. The last two weeks I've been so alive: with Avis, Helmut, Libby and her family, Teresa and Don and the others. . . I don't think I can ever be satisfied with loneliness again.
I know I need solitude in order to create, but the creations are so inferior to real life that I want to give up trying. How can I express in words the things I've shared with my friends?
I can't get Avis and Helmut on paper. I believe "capture on paper" is the phrase, but I don't want to capture them; that's the last thing I want. They need to be free. I'd like to be camping out with them now.
What happened was that I fell in love with the both of them, and it wasn't at all sexual but it was sensual – or sensuous, anyway. (I mix up those words all the time.) They opened me up to life's possibilities again. Now I see that there are many, many things I can do with my life.
My parents are in Florida now. This evening, I spoke to Mom, who said Grandpa Nat is about the same. He's trying to come out of it, and he throws himself all over the bed, as if he's gone wild.
I think his brain must be sending him all kinds of contradictory messages. One minute he recognizes Dad and the next he's talking about events that happened in the past as if they're happening now.
He speaks in Yiddish and Russian, talking about his childhood as if he were still a boy riding horses on that huge farm in White Russia. Grandma Sylvia is terribly frightened by it, but at least he doesn't seem to have totally lost his powers of speech or of movement.
In the la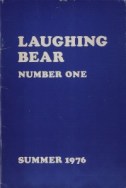 st two days I've been getting a lot of small press material. Oyez Review finally arrived, and Tom Person sent me Laughing Bear #2/3, which features "Gratuitous Lies." It's a surprisingly nice magazine, with Kostelanetz and others in the avant-garde/concrete poetry/visual fiction school.
Tom's own poem appeared in a broadside, Daimon, sent to me by the Atlantic Poetry Collective. Tom said he liked Baumbach's Babble better than any other book in 1976; I sent him the copy, so Jon can thank me for the good review.
T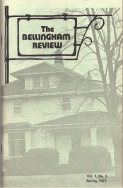 here is so much vitality in the small press world, and more good writing than one would expect. I noticed in the Bellingham Review, another mag I subscribe to, that they listed Writ #8 and Uroboros #1, which both contained my stories, under "Magazines Received."
Little by little, my name is going to come up in people's heads when they remember seeing it. I wrote letters to writers I've always admired: Lyn Lifshin, Michael Lally, Renata Adler. Someday I'll get letters like that, too.
The Texas Quarterly has definitely scheduled "I, Eliza Custis" for their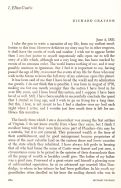 Spring 1978 issue: a long way off, but it will be worth it. I can't help but believe I'll be successful in some small way as a writer.
Remember Miss Louise T. Reynolds of The New Renaissance with her nasty rejections? I did a devilish thing and wrote her a letter as Mom, thanking her for her "kind comments" on my work and noting sadly that "my son Richard passed away in April."
Miss Reynolds replied:
Our comments on his stories were meant to strike a chord within him, probably not immediately, so that when generating some new piece, he might eschew the tendency to write in a 'fashionable' literary style. Since we thought he had such ability, we were harder on him than we would be on someone of a much lesser talent, and of course, less technical skill.
I am glad you realized his stories have worth. It is very sad that Richard Grayson's very real talent will not be developed to its fullest because, frankly, we had looked forward to hearing from him again.
Sincerely,
Louise T. Reynolds (Miss)
Cruel, but oh so funny.
---
Friday, July 29, 1977
5 PM. It's almost August already. Time seems to be picking up speed and going faster with each moment.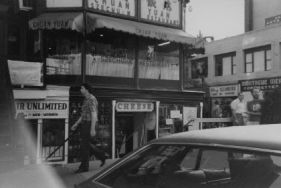 Last Friday night – going out to have Chinese food; being with Helmut and Avis and Libby and Thomas; looking at the night skyline from the Promenade – seems like it took place months ago.
And the Friday before that – Avis and I having dinner with Teresa and Don – now feels like it happened in another century.
I feel peculiar. My limbs ache, my throat is sore, I have little energy – but the feelings are all so vague. I'm not really sick, yet I don't feel quite well.
This weekend looms large and empty, and I dread it. Yet I wouldn't want to be active and with friends, either. Oh, I know I'll never be satisfied.
No matter how successful I become, it will never be enough for me.
What is this terrible compulsion to be the best? I see Jonny futilely trying to be "the best bodybuilder in the world," and I can recognize the pathos of his situation, so why can't I see it in mine?
My mother has told me throughout all my life that my problem is I "think too much." I wish my mind could take a vacation, but no, it's constantly scheming, analyzing, prevaricating, exploiting. . .
What is the brain's function, after all? I feel curiously dead despite all that brain activity. I had dreaded seeing myself in the photos of the party. But it turned out I was someone I can barely recognize – I didn't know I looked like that – tanned, bluff, chubby, so cheerful-looking.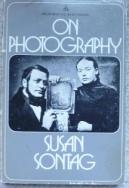 The camera does lie – or else I'm not looking at the photos in the right way. The pictures were a disappointment, as usual. No one – not Alice or Avis or Helmut or Teresa – looked as good as they do in real life.
For me, it's a waste to take photos. I'd rather have my memories, which serve me better.
I called Teresa, and she said she's not going to Canada with Don after all. He'll be busy with Times business for five days out of seven, and Teresa decided last night that a weekend in Banff just wasn't worth it.
She told me she ran into Slade at a downtown bank yesterday – it was a shock for both of them – and she told him that he missed the party with me and Elspeth and June. He was astonished when Teresa gave him her business card with Wall Street Journal under her name.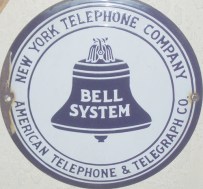 Slade is still at the same old job with the phone company, and he'll probably be there for a long time. He was my idol in college. The first thing I ever had the nerve to say to him was how much I admired his columns in Kingsman. "Are you a fan?" he asked me.
Slade was the first person to mention Ron Sukenick's work to me, and other writers as well. I thought he'd be a great writer for sure. About three years ago, I said as much to Sid, and he replied, "I don't think so; I think he burned himself out quickly."
Sid was right, and I don't understand how I got to be doing what Slade should be doing. Is it his fear of success? I have it, too, God knows, but my ambitions are limitless, and they scare me more.
In the past week, I've written over thirty pages of new work, seen three new stories in print, gotten one acceptance – and still I am not satisfied. How can I ever be happy with that attitude?
One day my bookshelves will be filled with magazines and books containing my work, and it won't make me one bit happier. So I might as well learn it now: success will not make my life any better.
Hadn't I better take that into consideration and plan accordingly? Let's say I was at the top of my field. What then? Then, the answer is, I'd really be in a pickle.

So forget about counting credits, totaling up rejections and xeroxing everything I type. Avis and Helmut and Libby and her family have taught me that life is meant to be lived, that it doesn't happen on the pages of books.
Yet I can't quite believe that. I know I'll never be happy until I do – but look how happy I already look in the photographs.