Friday, May 13, 1977
9 PM. After dinner tonight, I felt restless and a little depressed. I know what it was: the semester is ending, and although I'm pretty sure I'll be back at LIU in the fall, I do have four months of summer ahead of me.
It's always an adjustment, getting used to not going to work. I wonder how I'll survive without the rejuvenating, invigorating effects of being in front of a classroom. I've grown to love teaching, and I treasure the time I've been able to spend doing it. Still, I am feeling somewhat stale, and I think if used properly, the summer will do me good.
At 7 PM, I drove into Manhattan and parked on West 8th Street. It was still light out, and I went walking around the bookstores and the streets of the Village, something I haven't done in a while.
I felt very left out of things. Here it is, a Friday night, and everyone is with their friends, and I'm still on the outside, an observer, a spectator.
Laurie wasn't in the bookstore. At the cash register, Sean Wilentz asked me how I was, but it was plain that while he knew he knew me, he couldn't quite place my face.
I drove up to 23rd Street and rang Mikey's doorbell, but no one was home.
Driving back to Brooklyn, I began thinking of all the things I've missed because of my hesitancy and aloofness and my damned overpowering ambition to be a writer.
I've worked so hard that I must be the proverbial "dull Jack." I had hoped to change some of that this summer, but I realize now it may be too late: now I am happiest when I am working, and it seems I'm constantly working.
I have trouble enjoying things because I'm always trying to figure out how to exploit them in my fiction. There may be a good writer here, but maybe I'm a not-so-hot person. Yet I can't – won't – believe it's too late to change. I can still listen to Rilke's admonition.
Yes, people, it's true: Richie Grayson would like a lover, his own apartment, evenings out, money, fun, excitement.
Last evening I spent several hours at the Judsons', and being there is always a tonic. When I called Libby, Angelina answered the phone and she said they were making eggplant parmigiana and that I should come over right away.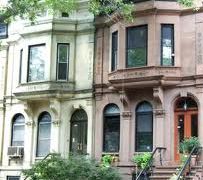 I drove to Park Slope in record time. Libby looked as though she's recovering from surgery well; she and Angelina and Libby's friend Thomas were eating the eggplant and watching Libby's favorite show, The Waltons. (Everyone kids her about it.)
After Thomas left – a cute boy, he's obviously got a big crush on Libby – and the show ended, I managed to get down some food. It was delicious, but I'd had dinner before I got there and was already stuffed.
Angelina washed Libby's hair for the first time in a week. Libby had to lie on the bathroom floor with her head over the side of the tub while Angelina soaped it down and rinsed it.
Mason called, but he was too tired and it would take too long for him to get to Brooklyn, so he decided to go out to eat with his friends on the Upper West Side and then go off to bed. I thanked Mason for his kind letter about the book and told him I'd send him a new batch of stories.
Angelina, Libby and I watched TV, and I tried to fill Angelina in on the plot of The Sun Also Rises, which she has to read for school.
Wayne and Mrs. Judson came home around 10 PM from a wake for the Russian woman down the block.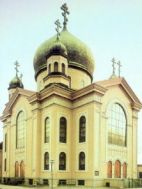 Mrs. Judson said that some of the old-fashioned Russian Orthodox funerals last four hours and they bolt the doors of the church so no one can leave.
We sat around for a while and I helped Libby fill out her form applying for disability benefits. Then I left, dropping Angelina off at her house; she's such a sweet kid, just like Libby and Wayne.
This morning I kibitzed with Abe and Beverly and Margaret, and I typed up my finals for both classes. In class today, I went over Cheever's "Torch Song," a terrific story.
At home, I found an acceptance: from the Washington Review of the Arts, of my "funny and very real" story about me and Shelli called "Understanding Human Sexual Inadequacy." Pat Griffith, the fiction editor, said she wants to make a few changes.
---
Saturday, May 14, 1977
9 PM. It's Saturday night and again I'm alone, but there's a difference. Tonight I feel vital, alive, necessary. I regret nothing. I love my life and look forward to the best that is to come.
Everything seems sweet: not sweet like a Coke, but like an orange, if you know what I mean. I'm not bored and I'm not lonely. There are a hundred things to do. I don't feel I'm missing out on anything.
Yesterday's acceptance was a much-needed tonic. "Understanding Human Sexual Inadequacy" is such a personal story, taken out of my diary pages of six years ago. Is it cruel to mock my earlier self? I don't think so, because it's done with kindness.
It's the quintessential story about my relationship with Shelli; now I treasure the memories of her, even the horrible times (most of which I myself was responsible for), and I'm glad to know that it's going to be down on paper.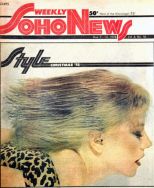 Speaking of "down on paper," last night I picked up the Soho Weekly News and found they had a mini-review of Statements 2, describing it as a collection of stories by "two dozen New York (generally poor) fiction writers." (They did single out Abish and Baumbach as the best of the lot.)
May 18 is the publication date for the book, and it's possible there'll be a review of it in tonight's Times Book Review. I'm scared. What if they say something like, "Richard Grayson has absolutely no future as a writer"?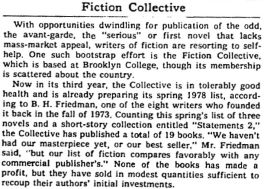 Well, I guess I just say that's one person's opinion and I go on doing my thing – or I try to discover what I'm doing wrong and try to correct it. But after all, P.V. LeForge of the Apalachee Quarterly said of "Sexual Inadequacy": "This story is silly and ridiculous. Why did you write it? "
Today a check for $25 came from the CUNY Research Foundation, reimbursement for the typesetting fees I laid out. I cashed it at the bank in Kings Plaza and went to Waldenbooks to buy Gabriel García Márquez's One Hundred Years of Solitude.
I had heard so many good things about the book, but I wasn't prepared for the sheer brilliance I found when I opened it up tonight. I'm only on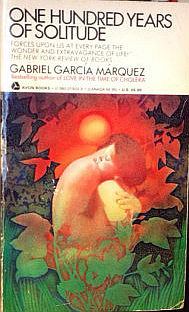 page 50, and I want to read it slowly because there's a delight on every page. I want the novel to last long; it's a book I'm sure I'll want to read again.
To describe the pleasure of discovering a book like this, I'd need a new vocabulary. Although One Hundred Years of Solitude has been around for a decade, it's brand new to me. And the joy I'm feeling is why I want to be a writer.
Last night I spoke to Josh, who's just about given up hope. He doesn't have the slightest idea how he's going to find a job. Can the situation really be that bad? Josh has borrowed a lot of money, and he spends it on entertainment, like the jazz concert he went to the night before.
Talk about pleasant dreams – to segway clumsily here: last night every one of my dreams involved pleasure. I was wrestling in one dream, enjoying a
conversation with Winston Churchill in another, visiting Chicago in the next dream, and in a couple of other dreams I was happily caring for babies.
Dana Neugent wrote me that he's getting thawed out, is cancerizing his skin (like me, who just loves to hear people say, "Oh, how'd you get that lovely tan?": it's the one thing you can do for your appearance merely by sitting still), gulping down gin and tonics, and preparing for a cross-country excursion in July.
After lunch today, I went out to Rockaway and took a walk along the boardwalk to Beach 116th Street with Grandma Ethel and Grandpa Herb.
They went on Marty's boat last week and said it's docked next to the yacht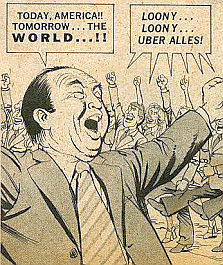 of Reverend Moon, who has a giant black limousine parked by it.
It made me feel funny to walk past Grandma Sylvia and Grandpa Nat's old building and to know their apartment is now occupied by strangers. But another relative, Great-Grandma Bessie, is moving to Rockaway in two weeks.
---
Sunday, May 15, 1977
8 PM. I feel so anguished. Grandpa Nat had a heart attack last evening. Even as I write the words, I can't really believe it. "Heart attack": it's something I knew was going to happen someday, yet when it finally did happen, it's so shocking.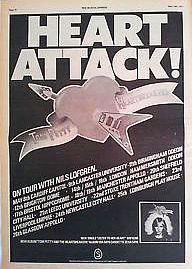 Grandpa Nat is nearing 80, but he's never been sick a day in his life. And now this. Grandma Sylvia called at noon today, and I overheard Dad telling her he'd be flying out tomorrow, so I went in to see what the matter was.
Grandpa Nat was fine yesterday; he was playing cards all day, and then Grandma Sylvia was sitting by the pool when he came out and said he felt sick, that he had pains in his chest; he was a yellow color.
They took him to the hospital in an ambulance and placed him in Intensive Care. The doctors say that the next 72 hours are critical. The EKG revealed that it was a coronary, but we don't know how serious it is, and of course there's the immediate danger of another, massive, heart attack. (I know so much of life from watching soap operas.)
Dad's taking an 8 AM flight to Miami tomorrow. He's always dreaded this: there's nothing he can do even there (except take care of Grandma Sylvia), but we feel so helpless, being so far away.
It's like I felt yesterday, creepy when I passed their old house. Normally they'd be back up North by now. If anything should happen to Grandpa Nat, if he should die – then at least I have the consolation of his visit here last month and the nice talk we had: he had never told me about his parents or his childhood before.
I pray he doesn't die. It's so hard on Grandma Sylvia: all their lives, it's always been she who has been ill and Grandpa Nat who has taken care of her. God, he looked so good when I saw him last, you would have thought he was in the best of health.
We can't tell Aunt Sydelle because she'd go crazy, but Dad did call Great-Uncle Harry, who said he also might fly down to Florida.
As it stands now, Grandma Sylvia has no one – except her very helpful neighbors – to be with her through this crisis. At least Dad will be there tomorrow. I wish I could be there, too, but I have the damned finals to give.
They did allow Grandma Sylvia to visit him today, and they took away the oxygen and Grandpa Nat was able to talk with her a little bit.
Last night I was up till after 5 AM, suffering with those very bad stomach pains again, and they're still with me. I suppose it's just "gas," but why do I get this every so often? The pains were excruciating, and today I was good for nothing except to lie in bed. I feel headachy and sickish, and I know it's a combination of the bad news and a lot of other things.
To change the subject and keep my mind on something else, I'll write about a surprising phone call I got yesterday. Mike called; I was flabbergasted to hear his voice.
He and Cindy were going to the Alumni Homecoming and they were wondering if I was going to be there; also, Mike said, he just wanted to chat. Lately he's been so aloof from all of us, but I guess now he wants to make up for it.
Mike's been very busy, of course. He works at a children's psychological clinic at Maimonides Hospital, and he's been writing his thesis and doing his schoolwork. This June he gets his Certificate in School Psychologist, and in the summer he will start on his Ph.D. work at Fordham.
Mike and Cindy have rented a walk-in apartment on his parents' block, and they're putting in a lot of work on it. Mike asked me how Mikey and Mason and Larry and Leon and Elihu and all the others are, and we reminisced about the old days in LaGuardia.
I've known Mike for over six years already, and I find myself still liking him. He's working on a directory of School Psychologist programs and a paper related to that. We spoke for over an hour, and I was very glad to hear from him.
Oh, but I feel so sick now, sick with worry and fear. I just want to make myself inert.
---
Tuesday, May 17, 1977
8 PM. I'm feeling kinda tired. Not "kind of tired," but "kinda tired." There's a distinction there, a distinction that makes me grin.
It's been a week since I last wrote a story, but it seems like forever. When I get like this, I think I'll never write another story. Curiously, I don't feel the need to write now. I've been too involved in real life. (Yes, this is real life.) And that's what I wanted for myself. Besides, it's better if the stories aren't forced.
Toby Simon of Pratt sent me copies of Snakeroots #7, containing two of my stories, "Reluctance" and "The Second Person." They're not bad, but they were forced efforts and thus somehow lesser efforts; even Toby wrote that he thought "Roman Buildings" was much stronger.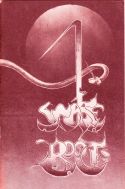 It seems to me that my older stories were sharper. In applying for the CAPS grant, my manuscript will be heavily weighted with stories from two and three years ago: "Rosh Hashona 1969," "Roman Buildings," "Talking to a Stranger," "Alice Keppel," "Au Milieu Intérieur."
It strikes me that my MFA-days stories were more complete, less diluted. I've sacrificed something to be as prolific as I have been. Well, I don't have to worry about being prolific anymore. With today's stories included, I have 28 pieces in print already, and they've been coming out faster than I have a right to expect them to.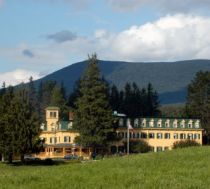 Today I got a brochure from Bread Loaf; the place looks so nice, it would be wonderful if I got a scholarship to the Writers' Conference.
Mom spoke to Dad tonight, and he said Grandpa Nat has been sleeping all day under Valium, so I guess there's no change in his condition. As long as he doesn't have another heart attack. . .
Somehow it seems that these things always lead to multiple tragedies, and I have a terrible (neurotic?) premonition about worse things yet to come. But I can't let myself think about them.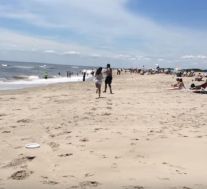 It hit 90° today and I went to the beach, reading One Hundred Years of Solitude for a while, and then lying on my back. Two girls passed me, and one of them said, "Look at his tan, it's beautiful." That made me feel delicious, as it's rare for me to hear someone say something nice about my body.
About bodies: I definitely prefer male ones. The hot weather gives me a chance to see all those chests and shoulders and muscles.
Yet weirdly, when I was lying in the sun, I started fantasizing about Ronna's body. I love her body – I was going to say "because I love her," but is that still true? All I know is it's a year since I've seen her and I want to see her again. Probably she doesn't want to see me.
I want to tumble into bed with someone or wrestle and cuddle on the hot sand. I want to be kissed on the ear. I want to exchange secret looks and giggle again. I want to touch someone's lips with my index finger. I want to get high and stay hard.
Halt! You still have to conduct your classes tomorrow, Herr Professor, and give and grade the final exams and term papers. Later there will be plenty of time for this hootchy-kootchy.
This afternoon, when I got back from the beach, I went to see Libby, bringing carrot cake with me. She had just washed her hair, and she was alone in the house, which was very cool.
We talked about dieting and food. If I didn't know better, I'd think I'd developed a crush on Libby after all these years. But it wasn't Libby; it was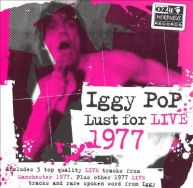 just my mood. Luckily I know who I am and luckily she's recovering from the removal of an ovarian cyst, or I might have made a fool of myself. With Libby, for God's sake!
Anyway, she was combing her hair and she looked very pretty. I always feel so relaxed in the Judsons' house, and I stayed until 6 PM.
Soon after I got home, Gary phoned from his parents'. He took a Federal exam in Jamaica today and did miserably. Then he had to rush back to Princeton to pick up Betty at work.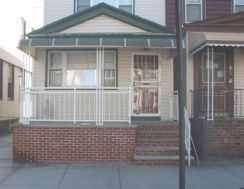 Then Alice called to say that Janice invited us over to her house tomorrow night for fun and games. Sounds nice: I'm so fond of Janice, and I've missed her.
Alice said she and Andreas went away last weekend and that she's having second thoughts about becoming a California screenwriter, so things must be good between her and Andreas again.
---
Thursday, May 19, 1977
2 PM on a cloudy, muggy day. When I got home from Janice's last night, Mom told me that Grandpa Nat was very critical. He didn't respond the way the doctors had hoped; his heartbeat was faint and irregular.
The doctors give him a 50-50 chance to survive, and they said the only thing left to do is pray. His age is against him. They're giving him morphine, and apparently that's doing a lot of damage to his heart.
Dad sent for Aunt Sydelle because the doctors said it might be the end. When Mom told her, Sydelle became hysterical, of course, screaming and throwing herself on the floor.
Great-Uncle Harry went over, but as he told me, he "had to run away from her; she was banging her head against the wall" and he couldn't take it. Harry would have flown down with Sydelle, but he said she's so impossible that he couldn't stand to be with her.
Mom told Sydelle not to go if she's only going to make things worse for Dad. Mom and I are both very worried about Dad. How awful this must be for him; I hope he's taking care of himself.
Grandpa Herb says he would never more to Florida because of something like this: "It's so difficult when your whole family is a thousand miles away."
Last night I had a hard time getting to sleep. I kept thinking of Grandpa Nat and how horrible it will be to go through the ordeal of his funeral. I'm so lucky, to be almost 26 and so unfamiliar with death.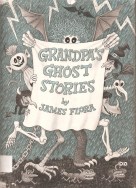 For ten years I've dreaded the deaths of my grandparents even while knowing it would be something I'd have to face eventually. I'm trying to prepare myself for Grandpa Nat's death even while praying for his recovery.
I don't want him to die, but after all, he is 78 or so, and he's lived a full life. He was always such a do-er, a man of action; that's why his retirement, as I always knew it could, brought about his heart attack.
He constantly bickered with Grandma Sylvia; Uncle Harry told me about a terrible quarrel he'd witnessed at Helen's at which Grandpa Nat
"turned black with rage," telling Grandma Sylvia he never wanted to see her again.
It wasn't good for him to be so cooped up in Florida with her; she resented his card-playing, which was his only release.
When he had his work, he was happy. I used to go to "the place" and see him cutting patterns, looking so energetic; I don't ever recall seeing anyone get such satisfaction from his job.
God forbid, if he does die, I think he'd want us to go on with the business of our lives. Dad said last night was awful: Grandpa Nat was struggling to get out of his bed in Intensive Care, not understanding why he couldn't get up.
Dad just called, after picking up Sydelle at the airport. He reported that Grandpa Nat was a little better today; he was talking, and Dad could see that his heartbeat on the monitor wasn't as crazy as it had been. So there's a little more hope now: he's not as close to the other side as he was yesterday.
Scott called yesterday from his parents' house. On Sunday he graduated from law school, got an apartment on Eighth Avenue and West 24th Street, and will begin his bar exam training, having accepted a job with the Legal Aid Society or the Legal Defense Fund, I forget which.
He told me that in D.C. he was in contact with Phyllis and Mara, and that Sharon has "freaked out" following her annulment from Casey. "She's having a
breakdown," Scott said. He sees her at her brother's house in Maryland, and it's there that she told him how she's fucking every man in sight and seeing a shrink. Sharon told him that Casey only wanted a mommy, not a wife.
Last evening Alice and I had a very nice time in Canarsie at Janice and Jay's. She served us a delicious dinner (pasta and salad) and we had a good conversation, played word games and sat on the porch during a thunderstorm.
The four of us laughed at a lot of bad puns and gossip. I always feel really relaxed at Janice's house, as I do at Libby's. Janice and Jay seem to really have it together, and I couldn't be happier for them because they are people who deserve good fortune after their hard times.