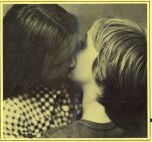 Tuesday, October 12, 1976
7 PM. Yesterday morning, tired from Gary and Betty's surprisingly enjoyable wedding, I awoke at 10 AM and rushed off to LIU.
Although I felt a bit guilty for canceling my 9 AM class, no one discovered that I did cancel it. Even my noon class was mostly empty because people took off for Columbus Day, which is, after all, a federal holiday.
I'm already worried that I'm getting behind in my lessons, but I probably will not become any more dedicated than I have been this far.
Yesterday afternoon Mom gave me a message to call a Gene Chatsworth; I could tell from the exchange that he lived in Staten Island and immediately figured out that he was the guy whose ad in the Voice I answered.
It turned out he was, although I thought I had worded my response so obnoxiously ("Don't call me if you're not intelligent, if you're into drugs or booze, or if you just want sex") that no one would bother to reply.
But Gene said he liked that I was straightforward and said he feels the same way I do. We spoke for over an hour, and he sounds very nice. He's 25, an ex-high school dropout who's now a college junior majoring in accounting, a field he's very much into.
Gene lives in Staten Island with his parents and goes to St. John's. In passing, he mentioned an ex-girlfriend, which is nice. A Vietnam veteran and notary public, he's six feet tall, 170 pounds, with brown hair and blue eyes. I'm going to meet him tomorrow night.
Last night I spoke to Elihu, who sounded fine; like everyone else, he was complaining about the cold weather. Elihu said he bumped into Robert Sean Wilentz at the library and would be visiting him at his place over the bookstore. Sean and Elihu were good friends in Midwood.
Today I cleared up some loose ends. I woke up late, listening to the TV as I drifted in and out of sleep. I did manage to hear (not see) an acquaintance from college, Jeannie Rubbo, impersonate a lady football player on To Tell the Truth.
After getting a haircut, I went down to the Board of Health to get my free swine flu shot in the federally-sponsored program that started today.
As I parked on Avenue S, I heard over the radio that the Pittsburgh inoculation program was halted when three elderly people died after getting vaccinated. This news did not deter me. Quite the contrary: I was thrilled to have a chance to cheat death.
Even though I received the same Parke-Davis shot that the dead people got, I'm not worried. It wasn't at all painful: they used a pneumatic gun instead of a needle and it bled only slightly afterwards.
Mostly elderly people were there, and I had to lie and say I had asthma so they'd give me the bivalent vaccine which offers protection against Victoria flu as well as the swine flu.
After lunch, I went to the Alumni office, where Mary gave me the latest batch of Class Notes, which I typed up later in the day. From there, I walked over to the Fiction Collective office, where Lethe and Sharon were drinking coffee. Jack Gelber came in, and Anna had a tutorial with him.
There wasn't very much to do: I wrote a rejection letter, sent out fact sheets and a couple of manuscripts, gave Sharon a manuscript to read, and looked
over the designs for the dust jackets of George Chambers' Null Set and Andree Connors' Amateur People. Lethe said Gloria and her baby son are doing fine, and she should be back to work by November.
Back home, I looked over three rejections and sent out four submissions to stay ahead of the game. I haven't been writing fiction as much as I had been in the su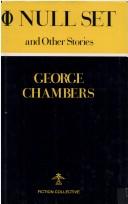 mmer and early fall, but perhaps that's for the best. Reading over some of my recent stories, I detect a lot of repetition, which is only natural when one writes a story a week. I want to strive for quality rather than quantity now.
I'm prepared for tomorrow's classes, but I want to get to bed early; I don't know if this flu shot will affect me. Right now, seven hours after being vaccinated, I have a sore arm but no fever.
---
Wednesday, October 13, 1976
3 PM. I'm feeling pretty chipper this afternoon. For one thing, it's perfectly beautiful outside. For another, I feel as though I've cheated death.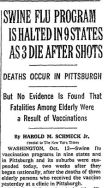 Although the bivalent Parke-Davis vaccine has been held to be related to the deaths of nine people around the nation, and although seven states have stopped giving vaccinations, I've survived my injection with no discernible side effects, not even an ache or a slight fever. And now my chances of getting the swine flu are greatly reduced.
After sleeping exceedingly well last night, I was in fine fettle all day. During my English 11 class, I went over lessons in wordiness and on the omission of necessary words. I collected the class's paragraphs describing a person and graded them in my office.
Peter Dembach came by and said he'd fallen asleep on the N train, noticing it only when he went over the Manhattan Bridge. Though he was late, his paper was practically flawless: a description of a perfect-looking, handsome, muscular guy who picked him up hitchhiking. I wondered if Peter was gay, but I don't think so.
Funny: the other white boy in the class, Robert Dugan, told me he wrote about his friend, but he didn't want to hand it in "because it sounded like a girl wrote it"; I told him to hand it in anyway.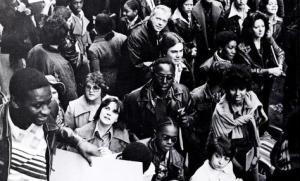 Maura O'Brian wrote a beautiful description, very novelistic. Claudette Feron profiled her grandfather in eloquent if not always colloquial English, which must be her second language.
Joe Camacho described his girlfriend Carmen: "her breasts are like mountaintops covered with snowy peaks." And Daisy Delgado spent a few sentences describing her boyfriend's chest hair.
All in all, most of the descriptions were fairly good, and the lowest mark I gave was a C- for a piece that was only eighty words.
In my English 10 course, I plowed ahead, and I was very pleased with the way it went. Tomorrow I have a meeting of all the English 10 instructors, and on Friday afternoon there will be a party for all the adjuncts in the department.
Driving home from LIU, I passed Shelli's old house on Kings Highway and Church Avenue and looked at the open window in what was her parents' apartment.
It was five years ago this week that I was on the other side of that window looking out, in total turmoil because I had just found out that Shelli had betrayed me with Jerry. I remember the moments of that Sunday so clearly, yet it now seems like a scene out of a movie rather than something I experienced firsthand.
Tonight I'm meeting Gene at the Holiday Inn on Staten Island. He sounds like an easygoing, regular guy, but I have the feeling he's really ugly.
Yesterday I passed a tall guy in Army fatigues who had a crew-cut, a pot belly and pimples, and I thought, "What if Gene looks like that?" That's what I more or less expect him to look like.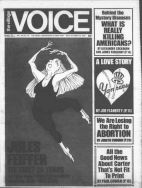 Last night I phoned Brad and told him I'd taken his advice and answered a Voice ad. Brad said that hadn't been his advice: he wanted me to place my own ad in the paper so I'd have more control.
Anyway, he told me to try to enjoy the evening ("Even ugly people are often very interesting"), and if I don't like the guy, I should make sure to explain tactfully that I don't think we're right for one another.
Of course by this point, I may have become too insulated, too unwilling to reach out to the world of other people unless it is coterminous with mine.
Alice called, very upset because Noel is obviously ignoring her. She said she opens up too easily and reveals all her craziness right away and that she
turned off Noel, Jim, Jerry Nachman and others by being too pushy.
I've been telling her that for months, and now she finally knows it. Still, Alice claims "that's how I am" and that she can't repress her irrepressible nature.
---
Saturday, October 16, 1976
3 PM. I went to both the LIU party and the poetry reading yesterday, and getting out into the world was a smart move. I was with people, I enjoyed myself, and I began to once again see life as an exciting adventure.
Arriving at LIU at 3:30 PM yesterday, I found the party already in progress. There was wine and hors d'oeuvres and cake and coffee and other goodies. (One result of all this partying is that I am ballooning up over 140 pounds again. Watch it, Grayson!)
I met the other adjuncts, like Abe Goldstein, and talked with George Economou, Terry Malley, Dr. Tucker, Dr. Farber and the others. The professors are only people, after all.
It was comforting to hear Dr. Farber talk about his insecurities when he started teaching at my age. He told me that whenever he's upset, he goes to the Strand Bookstore and buys himself a load of books, though while there he has to put up with the ridiculously self-important Dick Cuffini.
"I don't think either of my sons will ever work," Dr. Farber said, and he told me it took him eleven years to complete his own dissertation. He's now the director of humanities and at work on a program in Communication Arts, which he knows nothing about.
George told me about his summers on Wellfleet with the Spielbergs and gave me an offprint of an article on Chaucer that he'd just published.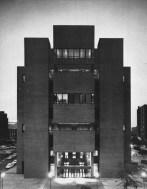 He told me that the English Department at LIU is a very tight group; everyone is tenured, and he's been there for fifteen years. When Open Admissions at CUNY came, enrollment at LIU plunged and they had to fire all non-tenured faculty and fill in with us adjuncts. Now that things seem to be on the rise again, they might be hiring in a few years, but as of now there are only about 45 English majors.
As she got a bit drunk, Margaret told me her life story: She met her first husband, the father of her children, back in her native England during the War. Since he was a soldier in uniform, she didn't realize he was an Orthodox Jew until she got off the ship in America: "But I'd made my bed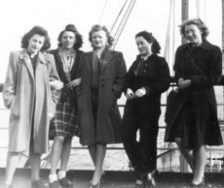 and now I had to lie in it."
After he died, she married his cousin, a handsome artist who left her for a young kindergarten teacher after two years. That was three years ago, and Margaret is now 57 and wants to marry again.
She said she can't get over how old she has become; she's very scared of dying and sometimes lies awake nights because she's afraid to die. I really love Margaret.
Dr. Tucker and I discussed the Fiction Collective and he gave me directions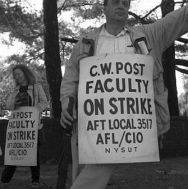 for next week's COSMEP Book Fair at C.W. Post, where he's having someone man a table for Confrontation.
I chatted with everyone, ate too much, drank too little and felt amazed to be accepted as a fellow member of the faculty. Leaving at 6 PM, I drove into the city over the Manhattan Bridge, going the opposite way from the commuters.
After I had dinner at Bun 'n' Burger, I went to visit Mikey, who was glad to see me. He congratulated me on being the first person to visit him three times.
Mikey said the law school professors at Cardozo are really starting to pile on the work now, and he's spending a great deal of time in the library. He inquired about various people and told me that Larry is fine and that Mike has buried himself in his books for his psych counseling program.
Leaving Mikey to his studying, I walked over to Sixth Avenue and 25th Street to go to the poetry reading I had read about in the Times. Robert Hershon, who accepted "Scenes from a Mirage" for Hanging Loose, read from his work, as did Suzanne Zavrian, who's in charge of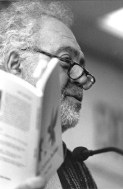 CCLM's distribution program.
The atmosphere was Chelsea/loft/artsy-craftsy, but there was good poetry. Bob Hershon's a genial, Jackie Gleason type, and when I introduced myself to him, he said he really liked my work and hoped I'd submit more stories in the future. I told him he didn't look like what I'd expected, and he said the same thing about me.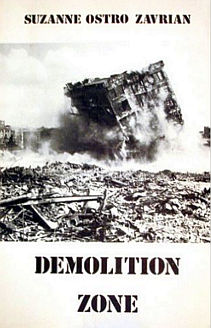 I told Suzanne to give my regards to the people at CCLM; perhaps I'll be seeing them next week at the COSMEP Book Fair. Both poets signed their books, which I bought for $2.50 each. As I left Manhattan at 10:30 PM, I listened to the Dole-Mondale vice presidential debate on the car radio.
Today I wrote a story ("Small Potatoes"), got another story accepted ("A Wake in One Zone" by Three Sisters, a magazine at Georgetown University), and saw a third story in print ("The Autobiography of William Henry Harrison's Cold" in Yellow Brick Road). A good day for a writer.
---
Sunday, October 17, 1976
4 PM. Today is the fifth anniversary of the end of my world, and I'm still here. I sat in my car outside what was Shelli's parents' house before, and I looked up into that same window I looked out of five years ago, on another dark, chilly Sunday in October.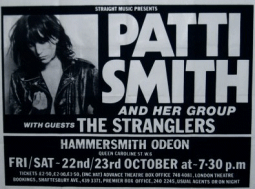 What do I feel? I don't know. Last night I dreamed that Shelli sent me a package of money orders by mistake; they were all for other people and there was none for me, so in the dream I assumed that subconsciously, she had wanted to get in touch with me and so had addressed the package to me by mistake.
Also in the day's mail in that dream was a letter from Ronna.
I have not yet accepted their rejections of me. But I think I would enjoy falling in love once more. The memory of those feelings is still warm somewhere on the fringes of my consciousness.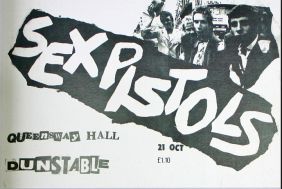 I remember Leon writing someone, "The only way a person can be swept off his feet is if he's a double amputee." I don't think I shall ever be swept off my feet again, but who knows?
It was a dark, wintry day, and I was glad I told Alice that I could not join her and Cliff and June and Richard upstate. What I needed to do was to treat myself to a Sunday movie in Manhattan and a lunch out and a long drive with the radio on.
Thank goodness every autumn brings a Truffaut film. His latest, Small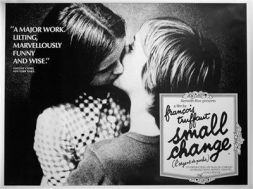 Change, is about children and their wonder, and of course it was very good. I wish I could live between the frames of a Truffaut film.
After watching the movie at Cinema II, I had a cheeseburger and a Tab at Shield's with the same ironical waiter serving the counter.
Today was so cold I got my winter jacket out of the basement, and you know, it was good to feel the fluffiness of it; it made me feel secure.
Last evening I had dinner with Grandpa Herb and Grandma Ethel, and I brought them my stories and looked at the surf darken as the evening wore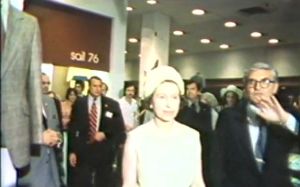 on. Grandpa Herb gave me five beautiful shirts from Bloomingdale's that no longer fit Uncle Marty, and I shall certainly wear them.
Back at home last night, I drank tea and read and felt drowsy and slept for ten hours with those marvelous nightmares. I like being a writer and being alone in New York with winter coming on. This year winter is not something to fear but a security blanket descending from the skies.
I look forward to Halloween, to Thanksgiving, to Christmas and New Year's Day. I suppose what I'm feeling is mellowness, if there is such a word. (No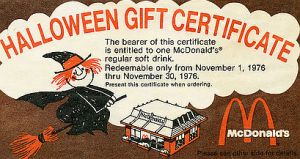 doubt they use it in California.)
Today I decided that I cannot forever be adamant about not getting married and not having children. If the right woman came along, I might be very willing to marry her, for I now realize that one does not have to live in solitude to grow.
I'd like a wife, someone like the Ronna or the Shelli whom I fell in love with, someone I could call "Dushka" and "Ma petite soeur." I would like to have a daughter one day, too. There seems to be an endless number of possibilities open to me, and I shall not close any doors.
My life has been wonderful and I have been enormously lucky; the last couple of days were a joy from start to finish. Oh, it's all worth it to have
weekends like this.
I thought I would write a prose poem, but I want to feel the feelings rather than worry about writing them down for anyone else but me. I'd like to kick off my sneakers and sprawl on my bed and fall asleep and dream about something wonderful, and I think I'm going to do just that.
Yesterday I was in Barchas Bookstore, talking to Mark Cohen when he asked me how "the Indiana group" is doing.
"I don't hear from them."
"No?" Mark looked surprised, knowing my relationship with Ronna. I smiled and shrugged my shoulders as if to say "That's life."
I think he understood. I'd like to hold onto that gesture.
---
Wednesday, October 20, 1976
10 PM. I'm totally exhausted and my throat is very sore, but I don't believe I am coming down with the cold that everyone in New York City seems to have.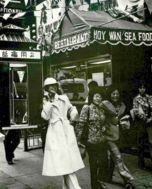 It's probably just the result of a long and busy day: three hours of teaching, three hours of writing, and a whole lot in between. I've got to learn how to conserve my voice, though, or I'll spend every Monday and Wednesday this term living on lozenges.
Tonight, by working frantically, I finished my story about my relationship with Brad, "Inexhaustible Needs, Undefinable Aches." God knows how I managed to write eighteen pages in two days, but it's complete. I don't know if it's any good yet, of course, but it is honest.
Yesterday Gary called from work, telling me that he had a wonderful honeymoon, that it was just too short, that he was glad I enjoyed the wedding, that he received my gift and thanked me for it, and that Betty was looking for a job in New Jersey.
At 6:30 PM last evening, I met Alice at the Courier-Life office, where she had gone after work to drop off her article on Saturday's ball at Prospect Park's Boathouse. Alice loves the glamorous life, so she enjoyed herself in her soon-to-be-returned A&S gown, getting drunk, and meeting such Brooklyn demi-celebrities as Norman Rosten and Sonny Fox.
We went to dinner at the Pisa Italian Restaurant in Mill Basin, where we had a good meal. Alice said she had a great time on Sunday at June's parents' house in the country; she said it was a very Jewish-family thing and that I would have enjoyed it.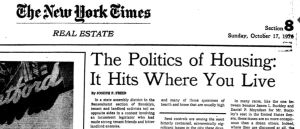 Alice is becoming very friendly with Cliff, June's friend who writes for the Times Real Estate section, but he's so obsessively cheap that a relationship between them is impossible. The stories I've heard about Cliff sound so extreme that he must make me look like a spendthrift.
Chatting on about work and the new friends she seems to continuously make, Alice did tell me that Friday night with Andreas was a disaster.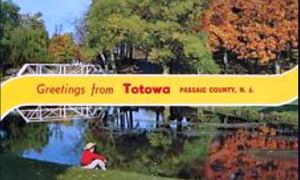 They went to a motel in scenic Totowa and "Andreas gave up after two minutes of sex" and later complained that Alice's being in the same bed with him prevented him from getting any sleep.
Given all her frustrations, I don't think that Alice is going to be able to stick by Andreas, much as she loves him. After I took Alice home at 9 PM, I watched disgustedly as the Yanks dropped the third straight Series game and went to bed.
Today it rained buckets. As I climbed into my car heading off for LIU in the morning, this little kid Ralphie across the street was waving frantically at me and shouting "Hiya, Richie!" I like having neighbors.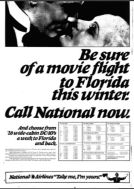 Apparently, Dad and Marc are going to Florida tomorrow, but the switch is that they're the ones taking the plane because Grandpa Nat insists on driving his car down. That's so stupid, but I don't say a word.
I want to keep my distance from the rest of my family. Dad and Mom are at each other's throats constantly, and I realize now that Dad has absolutely no business sense whatsoever.
The other night he came home wildly enthusiastic about some ridiculous scheme of Lennie's to franchise an operation that would sell suits and other men's clothing door to door. Now who in his right mind would buy a suit from a door-to-door salesman? And what idiot salesman would pay $10,000 for such a franchise?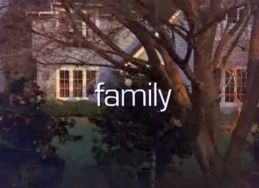 Now I see that where all these years I had blamed Mom for making herself the arbiter of the family, she really is smarter and emotionally stronger than Dad – at least in some ways.
I can no longer blame Mom for taking charge; someone's got to. If Dad had been listening to Mom all this time, he'd probably be in a lot better shape financially today.
My classes went very well today: I was relaxed, interesting, and interested in my students. And I feel I accomplished a good deal with them.