Thursday, January 1, 1976
4 PM on New Year's Day. When I start these diaries, with all the blank pages ahead of me, I usually try to imagine with what they'll be filled. I wonder what 1976 holds for me, but it's fruitless to guess.
This afternoon I went out for a walk on the boardwalk in Rockaway. The sky was a clear blue, and the little bit of snow that fell last night was melting, both on the beach and on the boardwalk. It seems I always come back to Rockaway and the ocean at difficult moments in my life.
If I have any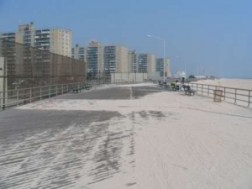 New Year's resolution, it is to take risks. After I get my MFA in June, seven long and happy years of schooling will have come to an end. It will be difficult, I'm sure, not having the security of college. And I will leave the comfortable security of this room, my womb, in my parents' house.
But I think the satisfactions and advantages of being on my own will outweigh the stresses involved. Maybe I'll write less, or less well, but even writing has to play second fiddle to my growth as a person.
I am aware of the tremendous frustrations that may be awaiting me, and I have neither a therapist nor a girlfriend to offer me security. But I'll manage – I'll cope and take one day at a time, and perhaps I'll become a better person for having lived in 1976.
As I walked along the boardwalk watching the tide roll in, I could hardly believe that it is 1976. I seem to live in a psychic time lag; 1976, even now, seems like it should be part of the future.
Life goes by very quickly. I think of my parents getting older and of my four grandparents and the time I've had with them; if any of them die, I hope I can remember how lucky I've been to have had them so long rather than concentrate on bitterness and pessimism.
The other day Aunt Arlyne said I shouldn't try to remember the past, the days of my mental illness; she told me to do what she does and block out that part of my life.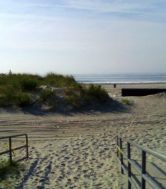 I really can't remember it that clearly anyway, but I think it's important to recognize that I have been pretty low, unable to function, unable even to leave my room; remembering it makes so much of my life since then seem like a miracle, a gift.
In so many ways I've led an easy, very lucky life. I feel secure now, but it's easy to, for I've never been tested. And I think the possibility of another breakdown has been in the back of my mind all these last six years.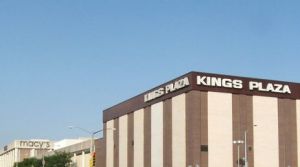 Last evening Josh called to find out if I wanted to have some eggplant parmigiana at his house; they made too much of it. I had already eaten, but I made sure Josh knew how glad I was that he thought of me, and I wished him a happy new year.
At 7 PM, I picked up Avis and we drove over to Kings Plaza to see The Romantic Englishwoman. It was an odd film, but I found it very interesting. We were out of the theater at 9:30 PM and stopped for a bottle of champagne on the way to Avis's apartment.
I knew she was lonely for Helmut and Germany. She's concerned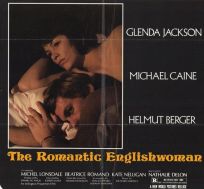 that Helmut didn't write her to wish her a happy birthday or new year; I told her that she should know by now that that's just Helmut's way. The more I see Avis, the more I am convinced that she belongs in Bremen with Helmut.
Avis said Scott called while she was out the night before, and her mother said that Scott sounded angry. Avis saw her first boyfriend, Steve, on Monday; he's getting an M.A. in counseling at Buffalo.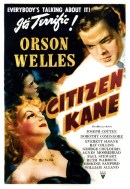 We had bagels and orange juice and tea and champagne, and we watched Citizen Kane, interrupting it to watch the Times Square/Guy Lombardo nonsense at midnight. Avis's tonsils were bothering her, and she began not to feel well, so I left just after 1 AM.
Today Alice called. Her brother is home from Europe and will be posted in Norfolk for the next six months; her mother is back in her social whirl, getting back from a New Year's Eve party with other deaf people at 7 AM. Alice and Andreas spent the night getting drunk on champagne.
I had an early dinner or late lunch out by myself; that, and the walk at the beach sort of cleared my head of cobwebs.
---
Saturday, January 3, 1976
4 PM on a rainy Saturday afternoon. While eating lunch today at the counter of the Arch (many wise things are said at the counters of diners), the thought struck me: If you don't drink Coke, then Tab doesn't taste so bad.
I've gotten used to sugar-free sodas; they seem to taste natural to me now, and the real thing seems sickeningly sweet. That seems to apply to my life in general, and maybe that's a good thing: if I can accustom myself to be satisfied with less, I might be able to lead a happy life. I'm fairly happy now; it's been a productive and satisfying day.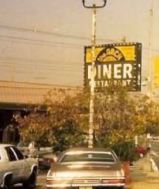 At the diner, the waitress told me that she took the job because with her children grown, she just had to get out of the house. Working makes a person feel useful; it's a pity I resisted working for so long, but after all, I am America's number one case of retarded development.
Last night my sinuses cleared up and I was feeling much better; I read two chapters in my linguistics text. At 11 PM, Dad came into my room, sat down and said, "I need your advice."
I was so flattered that he was treating me like a fellow adult that I decided I would do my best to help him. Lennie has been running that close-out store in Manhattan, and it's been doing well. (On New Year's Eve, when we went
out for bagels, Dad sounded regretful that he didn't put the $25,000 investment in that store.)
Lennie has now offered Dad another chance to invest, plus he wants Dad to manage the store at a salary of $1,000 a week. It would mean getting out of his business, of course, but 1975 was the worst year Art Pants ever had (and that includes the Depression, when Grandpa Nat did well).
Dad has been anxious and under a lot of pressure this past year. Grandpa Nat is coming back from Florida tomorrow, and Dad feels his father would just like to run away from the aggravation of the business and spend the time he has left in Miami with Grandma Sylvia.
Dad's been looking to get out for some time; the only way he can run the business properly now is to invest the $25,000 into Art Pants. But of course, there's no guarantee the business will get that much better, what with the economy and all the cheaper goods from abroad.
Managing the close-out store, Dad would be under less pressure (although winding up his own business is a big hassle). It would mean working from 10 AM to 6 PM six days a week, including Saturdays, but apart from spending less time with his family, Dad isn't concerned about the longer retail hours. After all, he now gets up at 6 AM and doesn't get home until 6 PM.
The store managing job would be for six months because that's how long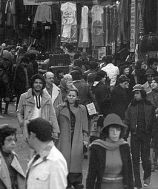 their lease is; after that, if the store is good, they have the option to sign a ten-year lease.
I can understand how this represents a risk for Dad, and that's frightening. He looked so vulnerable last night, in his sweater, rocking in my rocking chair. I can't believe that the man is 50; he's lived a quarter of the life of this country.
When Dad and I went downstairs to have tea, I asked Mom what she thought of the dead, and she just gave me one of her pouting looks. It came out that she feels that Dad will have to spend a lot of time with Lennie, going over the business, making deals, and "kissing Lennie's ass."
Dad admitted it's like "selling my soul to the devil," but he said that Lennie could never alienate him from his family. When he acknowledged that Lennie is very demanding, Mom said, "It would be like another woman."
But then Mom said to him, "You should make up your own mind." She said it with that very hard look of hers, a look that has terrified me since early childhood. She really can be totally unsympathetic and uncaring at times.
Mom is a very rigid woman. When I mentioned that I feel she's too involved with her house and with Dad to reason logically about the store deal, Mom just silently left the kitchen and walked upstairs.
"She's not aware of her own obsessions," Dad said. The other day Arlyne said she's given up trying to get Mom interested in anything but housecleaning. It's a pity my mother will die without ever learning what life was all about; her battle to keep order in the house is a quotidian, losing proposition.
I told Dad that it's unfortunate that Mom has this attitude but that he should decide selfishly. He shouldn't have to take Librax every Sunday night to keep himself going. I think if he takes the plunge and gets rid of the family business, he'll be relieved of an albatross.
Today was a rainy day, a perfect day for writing. I finished the rewrite of "The Peacock Room," and all that remains is the typing of the manuscript.
---
Sunday, January 4, 1976
7 PM.  Marc should be coming home within a couple of hours; no doubt he'll be exhausted from his 30-hour bus trip from Miami.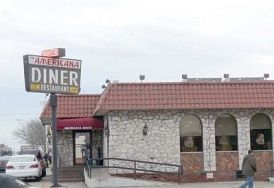 Last night Avis and her first boyfriend Steve picked me up and we went out to eat at a diner on Avenue U. They had spent the day at the Met, and we were to visit Teresa later in the evening.
Steve has grown paunchy, bearded, and somewhat stuffy in the manner of a Buffalonian running a dorm and going for his masters in counseling; he wears a tweed cap and talks about people's "moms" and "dads" rather than their mothers and fathers. Be that as it may, it was nice to be with a new person for an evening.
Avis's parents have zapped her, she said, for $20 a week room and board. That's a lot of money for someone in Avis's position, and it's obviously blackmail, but there's not much that Avis can do; after their jobs with Sidney's theaters ended, her sister and Wade are unemployed and struggling, and as Avis said, "I'm not neat enough to stay at your house." At least her tonsils were all better.
Steve drove us to Teresa's house on Conselyea Street in Greenpoint, and it was pleasant for me to have someone else do the
driving for a change. We stayed upstairs, in Teresa's bedroom, with her and Carolyn, who's another favorite friend of a friend of mine. It's just too bad that Nancy could not be there.
Obviously, Teresa does not really want to go back to California; I think the only thing keeping her in Palo Alto is that her job with the March of Dimes is interesting and challenging.
It's certainly not Ted who's keeping her out there. He called her and said that they have to do some "heavy talking" and "working things out" when she returns. Teresa feels she's been doing nothing but that for ten months and at this point, she's too tired to try to make the relationship work any longer.
Ted doesn't sound like the ideal man: he'd rather not work, preferring to just smoke grass and rap with people all day. And the wheelchair is a problem: Teresa said her sex life in California was practically nonexistent – although she remedied that with Carolyn's scholarly next-door neighbor, who brought her to orgasm eight times in one night.
Also, she says it's hard to adjust to being with someone whom she always has to look down to; that may sound cruel, but it's honest.
We all sat around the bed and bullshitted for hours; luckily, Teresa's sister, a Fordham law student who now has the bedroom, didn't come home last night.
Teresa told a really shocking story: Sean had a very long affair with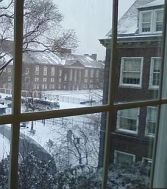 Danielle Robertson, the 34-year-old student services counselor at Brooklyn College. I remember how pretty we all thought Danielle was back in the old LaGuardia days; Teresa's seen Sean's nude photos of her and says she's just beautiful naked.
Paul Robertson, Danielle's husband, apparently put out a contract on Sean's life and Sean had to hire a bodyguard for a while. Now Danielle has gone back to Paul, mostly because of their child, but Sean still loves her. Teresa's sure that Sean's love for Danielle is genuine because "Sean didn't try anything with me on New Year's Eve."
At first I was repelled by the story, but on reflection, I think it's kind of poignant.
Avis told us her Bremen stories, and I always enjoy them, even after hearing them for the third time. I feel I know Helmut pretty well just from listening to Avis's stories about him.
Steve kept making sexual references to Avis all night, and every time he did, Teresa and I exchanged knowing glances, because we'd heard from Avis what a poor lover Steve was.
From what Teresa says, all the Californians seem to be into Rolfing, meditation, astral projection and yoga these days.  "Someday the earthquake will get them," Avis said.
Carolyn and I discussed Weight Watchers, and we all talked about such characters from college as Leroy and Scott.
It's so good to have friends like Teresa and Avis; it was sad when I had to say goodbye to Teresa when we left at 2 AM. She said she'd had a wonderful trip and will always be a New Yorker at heart.
Today I called Elihu and learned that he and Elspeth are planning a party in March to which they hope to invite a whole bunch of old LaGuardia people, even – "especially," Elihu said – people who aren't speaking to either of them.
Of course they don't really expect people like Leon, Greg, Jerry and Shelli or Allan to show up. Elihu said he'll be getting his tutoring paycheck at LIU tomorrow and that he really needs it; I know how he feels and can't wait to get mine.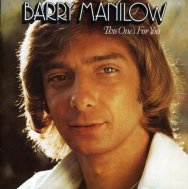 On New Year's Eve, Elihu said, Elspeth went to see Barry Manilow at the Beacon Theater. Elihu didn't say what he did that night.
Gary finally called me back, saying he'd been consulting people about an important decision. He was offered a teaching post at St. Vincent's College, the two-year division of St. John's, in the Criminal Justice Department.
They wanted him to teach two courses on Race and Ethnicity this coming term, but the working conditions sounded terrible: there would be no office space, no parking permit, and there would be a three-hour break between the 8 AM and 12 noon classes three days a week.
In the end Gary decided to turn down the job, feeling that the time and hassles involved wouldn't be worth the financial benefits and the personal rewards. He's already started job-hunting; this term he's taking only one course while he prepares for his orals next November.
Gary wants to be financially independent of his parents, and so he hopes to get a job in research. He's already begun going to agencies and sending out résumés.
I can understand how Gary feels. It seems unlikely that I will get a teaching post next fall, and if I do want to be on my own, I will have to get some kind of job in a field I'm not too crazy about. But I can do my best to write when I can.
---
Wednesday, January 7, 1976
4 PM.  I'm feeling slightly feverish; I've been lying down for the past hour or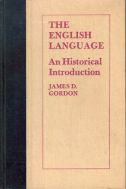 so. It's probably nothing, just a case of midweek, rainy day, end-of-semester blues. Tonight is my Linguistics final, and there's a Junction meeting before that, although I may skip the latter if I'm not feeling well.
Last night Mom and Dad and I had a long and loud discussion about Dad's business plans. Yesterday Lennie told him that Dad's weekly salary would be $500, not $1,000, excluding profits.
Dad explained that he had a family and could not work every day, as Lennie does. Lennie replied that he couldn't understand that but said, "Okay, so you'll work only six days a week." When Dad told him he couldn't live on $500 a week, Lennie said they'd divide the store profits at the end of the week.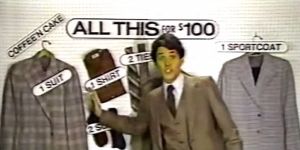 Despite this and other things, Dad seems ready to get rid of his Art Pants business and hand over $25,000 to Lennie for a quarter-interest in the store. Of course there would be no piece of paper; Dad said, "Lennie doesn't operate like that."
I am now, like Mom, against the deal. Lennie is an erratic individual who could change his mind at the drop of a thousand-dollar bill. Dad would be obligated to him constantly – but as of now, Dad does not see it that way.
"Why would he want to take care of me like this?" Dad asked last night. I know why: Lennie likes to control people and have them obligated to him. I remember how he just discarded that kid who I think had been his boyfriend, and I don't trust him.
Dad is convinced that Lennie has in mind taking Dad in as a partner in the Male Shop to replace Artie, who would like to retire to Florida. But this is just Dad's perception; Lennie has never said a word about it.
Dad will be putting himself in the position of a child, a supplicant. But after all, it is his decision. He realizes he'll be "prostituting [myself] for a few years" to make a lot of money.
Speaking for myself, I don't want any of the money that Dad says he'll share with me and my brothers, and I don't think Mom would want to see so much less of Dad.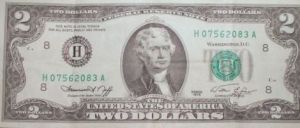 Grandpa Nat told Dad, "For some reason Lennie likes to take your money," and I don't think he's far off the mark.  But it's all been said already, and now the decision rests with Dad.
I know he's been very unhappy in his business, but he may be even unhappier with Lennie. I just hope I'm totally, 100% wrong.
Also last night, Avis called, "just to say hello." She said Teresa phoned her on Sunday to say, among other things, that if I'm ever not doing anything, I "should consider spending time with Carolyn."
"I don't understand," I told Avis.
"You're so dense," she said. "Apparently Carolyn likes you."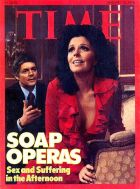 It had never occurred to me. I'm very flattered, of course. Carolyn probably thinks I'm witty and fun and would make a good companion. Little does she know!
Avis said Mason had called her about getting a job in the place where she has been working. Avis has already gotten her sister a position at the office; Ellen is going under her married name, McAllister, so that the manager of that confidential "sweatshop of the intelligentsia" won't know they're sisters.
I got a card from Kieran and Sindy today, thanking me for the Christmas card I sent them. Sindy says she misses school already and asks what I've been up to. I guess I can write her back and brag a little.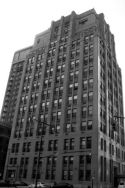 This morning I was in the Fiction Collective office. Jon had said Peggy's new assistant would be there, but she wasn't. Apparently this woman is the blonde from the Eighth Street Bookshop who lives with Mark Strand, or used to.
As usual, Peggy was so nice; she even remembered to bring her copy of Zen and the Art of Motorcycle Maintenance to lend me.
We've accepted a novel by Thomas Glynn, which got the requisite four "Yes" votes, so he, Alonso and Baumbach will be the authors of the Series V books coming out in the fall.
The spring books have already come back from the printer; Jon told me I could take copies as payment. We've gotten some good reviews and favorable publicity lately; the Collective is doing quite well.
I enjoy working in the office and hearing stories about the literary world and the publishing business. Before I went home at 1 PM, I had to deal with quite a number of manuscripts that had come in the mail.
I guess after tomorrow I'm going to feel a letdown; my teaching will be over, and I have the uncertainties of looking for a new part-time job.