Tuesday, December 11, 1973
At Brooklyn College this morning, I realized that the people and events there still have a strong hold upon me; they probably always will.
I wandered into 142 LaGuardia to find Sid, Mike and Debbie sitting around, shooting the breeze. I hadn't seen Debbie in such a long time, and I'd forgotten how fond I am of her.
She read me the first story she wrote for Spigot and was pleased to receive my admiration and approval. We talked about our families; her sister is very happily married.
While Peter was doing the books, I approached him on the subject of Mike's attendance at classes. Peter said Mike hasn't gone to one class since the first week of school in September. I know by now that it's utterly useless to reason with Mike on that subject, but I still worry about him.
Stefanie asked me to go over a paper she'd written for a TV class, and I was so flattered that I did a good job in turning it into something like recognizable English.
The new Mugwump buttons came in, and some guy I don't know handed me one, saying, "Wear it; you're an old Mugwump, Grayson." It does wonders for my ego when I return to LaGuardia.

Mason and I were sitting outside in the lobby to escape a bad scene in 142 – Ron accusing someone of scalping Beach Boys tickets – when Elspeth came by; I gave her an affectionate kiss.
She's now working as a secretary for the Police Department. Elspeth mentioned seeing Larry, whose M.A. in Communications led to his job as a cabdriver, and Jon Z, who's dropped out of grad school and is working in the Harvard bookstore.
Then Elspeth said, "I have big news." She and Robin had been to the Gay People's birthday party for Pablo and they saw Stacy there – and she came and left with a girl with whom she danced.
I didn't like Elspeth's gossipy tone, and Mason merely shrugged; he'd known it all the time and said that weeks ago Stacy moved out of her house to move in with her lover.
I said, truly, that I wish Stacy well and felt that Stacy and I could have been really good friends had we not gotten involved romantically.
Mason said that in the past few months he felt himself falling in love with Stacy, but he knew it couldn't work out because of her lesbianism and so backed away.
"She's still one of my favorite women," Mason said, "after Libby and Cathy." He said Cathy is now living with a guy.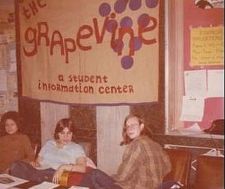 It's such a small world. Elspeth told us she's really happy seeing this guy – who turns out to be Josh's crazy best friend from junior high, Andy.
I had a pleasant lunch with Carl, who's decided to become a Dance major. He reported that his brother Alan is visiting Phil in Arizona and will be home for Christmas.
Back in LaGuardia, Carl and I met up with Avis, who said she's given up her plans to fly to Germany and stay with Helmut during intersession; the problems were just insurmountable and while she's disappointed, she seems to be taking it well.
Avis has learned something important, she said: "One doesn't have to receive instant gratification because it seldom comes."
When Ronna came out of class, I had tea with her and Susan, who's very involved in
applying to grad schools in English; I'm sure she'll make something Ivy League.
Ronna seemed in good spirits; her mother agreed that she can quit working for Mr. Fishman.
I left BC to go to Richmond, where Prof. Ebel had another one of his fantastic classes, this time on Lawrence's St. Mawr. I ran into John in the elevator, and he was quite friendly.
---
Sunday, December 16, 1973
There are times when I wonder if I won't be happy until I destroy myself. I behaved so badly today and am ashamed of myself; my relationship with Ronna may be jeopardized beyond repair.
And the awful part is – or maybe it's the saving grace – I understand it all now: my actions today. But now it's too late.
Ronna brought Billy here this afternoon. I didn't really want him to come, but he's been making such a pest of himself these past few weeks, I wanted to quiet him down and look like a good guy to Ronna besides.
I had been in a black mood all day, blaming it on a bad night's sleep and the wet, freezing snow that was falling all day. But everything was going fine: we all played pool, and Ronna and Billy were playing with Jonny's hockey game as I watched TV.
Ronna was saying how it was time for them to go, and Billy began to whine as children do about how he wanted to play more pool. He picked up the cue stick and something came over me – I suppose that's as good as phrase as any to relieve oneself of responsibilities for one's actions – and I started to yell, almost shriek, "I said you're going home!"
Instantly, I regretted it as Billy began to whimper and Ronna looked coldly shocked. I apologized immediately, but the damage was done. As I drove them home, we were all silent and I felt very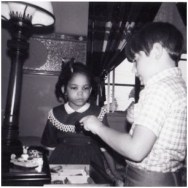 ashamed.
Ronna took Billy upstairs, and I tried to scrape the ice from my car window. After a while, I went up and asked Ronna if she would speak to me in the hallway; I wanted to find out if she hated me.
"I don't hate you," she said, "but I hope I don't feel sorry for you."
She said it wasn't that traumatic – so I couldn't cope with children; then I shouldn't have them – but she said she had never seen me act that way, as if I were out of control.
She said she still wanted to see me, and when she said she still loved me, I had to turn away, as I was crying, ashamed.
Ronna shook my hand, and I left, knowing that it would be a long time before she could feel close to me again. But I understood it only too well, for my self-laceration afterwards was the point of the whole emotional exercise.
The whole week emerged in a clear pattern: Stacy's coming out, stirring up my own feelings of helplessness about my bisexuality; Ivan's call, which exacerbated everything as at once I saw him as the straight-as-an-arrow male who'd be much better for Ronna than I am, and also as an attractive guy whose looks I once liked.
Last evening Marc's friends were over, and I noticed one guy, Kyle, had his name tattooed on his muscular arm and he unzipped his shirt to reveal a soft, hairy chest. I had fantasies about him all night – maybe that contributed to my poor sleep – and for the first time I masturbated while fantasizing about sucking a guy's penis.
So today's dark mood was caused not by a snowy Sunday or a pesky little boy but by my guilt feelings – despite today's page one New York Times story the American Psychiatric Association voting yesterday to take homosexuality off their list of mental illnesses.
When I yelled at Billy, I was very much in control, accomplishing several things at once: blowing off anger at someone who couldn't defend himself; doing something to drive Ronna to break up with me and find a "normal" guy to be her boyfriend; and above all, to make my guilt feelings more concrete.
It's too late now, but maybe I can avoid this next time. I hope so; it's really not worth it.
---
Tuesday, December 18, 1973
It's 2 PM and I find myself unable to shake off this deep depression that's been haunting me these past few days.
I feel as though I am going through a time of crisis and I keep waiting for the fever to
break, for the pimple to come to a head. I can't work on my term papers, I have an undying headache, and somehow I want to rage at the world.
Tonight is the Beach Boys concert. Once I really looked forward to it, but now I can't wait until it is over. I dread the idea of sitting there in that crowd – counterfeit tickets were sold, and there are rumors of a riot – with Ronna, Felicia and her boyfriend.
In a little while I'm going to attempt to drive to Staten Island and pick up Jochnowitz's final and attend Ebel's class, and I'm not looking forward to that, either.
It's so sloppy outside, and hard to get around, and the trees look so sad, broken and covered with ice; it makes me want to throw up my hands in frustration.
But although no doubt it's a contributing factor, I can't blame my depression on all the snow and ice outside.
Last night when Dad came home, we went over to the Male Shop, where Lennie's tailor fitted my sport jacket and pants for Jonny's bar mitzvah in February.
In my plaid flannel shirts and jeans, I feel so out of place in the Male Shop; next to Dad and his stylish friends, I feel like a mess.
Finally last night, our phones were fixed, and I called Ronna. We talked for a long time about the incident on Sunday; I know it's changed her opinion of me.
But she says it doesn't have to change things between us: "Now I just know that you can have temper tantrums."
Ronna is seeing Ivan today, to give him the Beach Boys tickets she's getting from Leroy, and I suppose that fact contributed to my masochistic misery.
I went to BC this morning, hoping that seeing people would cheer me up. It was good to see Avis, whom I hugged – I got her Christmas card today – and Mikey and Mike.
Meyer told me he went to a screening and met Rex Reed; Meyer's becoming a big shot reviewer now.
Helen and Sid made me laugh, and this 12-year-old kid, a sophomore who's a math genius, came in to see Sid. Everyone was looking at each other as the kid talked, almost as if he were a freak, which I suppose he is.
I had lunch at the Pub with Mara, who was such good company. I told her about my yelling at Billy on Sunday, and she said it wasn't important; she feels that I'll marry Ronna someday.
Mara is still seeing Eric, but I got the idea that she'd like to break off with him to go with this dental student she met, only she doesn't have the guts to hurt Eric.
Mara and I didn't do much gossiping but instead talked about important things, like what we want out of life.
She also mentioned that she was opening the mail for Mrs. Javits yesterday and reported that Nixon sent out an ugly Christmas card this year.
I love Mara so much; I've got to get her something for her birthday on Thursday. We agreed that we'll continue to be friends even if we're married: you need a person of the opposite sex to talk to, one besides your spouse or boyfriend or girlfriend.
On my way off campus, I ran into Scott, who had an extra ticket to the concert tonight but was unsure who to give it to.
---
Wednesday, December 19, 1973
I'm feeling much better tonight. I don't know whether the holiday spirit has finally gotten to me or what, but I'm no longer depressed.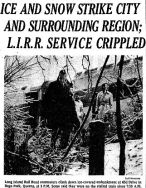 The drive to Richmond yesterday was hazardous, but I made my way safely. I went to George Jochnowitz's office to pick up the final; the school had closed down on Monday night because of the storm, after all, so I couldn't have gotten it then.
In the cafeteria to get a cup of tea, I sat down at a table with Dorothy, Andrea and Freema, and we chatted about school business.
The Board of Higher Ed named Edmond Volpe the new President of Richmond College, so that's over with, and now holiday time is coming up.
Andrea said she can't take the hassles from every new student government each year, and she wants to quit as secretary and go to FIT.
Dorothy expressed concern about her leaving – because Richmond, and the people there, are Andrea's whole life – but Freema thought she'd get along fine. I think Dorothy, as Dean of Students, depends on Andrea a lot.
Prof. Ebel left a note on our door that he was canceling class. A woman in the class was dismayed, because she had no way of getting back to Brooklyn, so I offered to drive her home.
But once in the parking lot, I was stuck – literally – on the ice. For over an hour, I tried everything – shoveling, putting dirt and mats under my tires, pushing – until finally, when I was about to give up, six strong boys from McKee High School pushed me out.
Somehow it was there and then that my mood turned to one of optimism: if I could cope with a frustrating situation like that without losing my cool, and actually getting out of the jam, I felt I could cope with all my other problems.
I dropped off the woman in my class in Bay Ridge and drove to BC, stopping off to have a quick dinner at a deli on the way. In LaGuardia, I found Vito, Helen and Alex working in the office, and finally Ronna met me at 7 PM as we'd planned.
She said Ivan had called her that morning to say he'd thought it over and decided that $15 for the ticket was too much – so I guess that's the last of Ivan until he pops up again.
Fifteen dollars is a lot of money for a concert, but I don't understand why someone with a trust fund and a millionaire father would think so.
We stood on line in the cold in front of Whitman with Avis and Carl and finally got into the well-policed auditorium (many guards and all the deans were out in force, patrolling the place).
Before the show, Ronna and I talked; there's some resentment between us, but we'll try to work it out. I just want to put Sunday in the past, and I hope Ronna can do that, too.
Felicia joined us and introduced us to her tall, friendly boyfriend Spencer just before the
show.
The Beach Boys gave a pretty good concert, starting with "Happy Birthday" and "Wouldn't It Be Nice" and then going through all their hits: "California Girl," "Surfer Girl," "Surfing U.S.A.," "I Get Around," etc., ending with "Fun Fun Fun."
The music was perhaps a little loud for me, but we had a good time. Felicia, Spencer, Ronna and I had a lot of fun when we got to my car, as we smashed the caked-on ice and watched it fall off: wonderful for relieving hostility, seeing the ice shatter.
We went to Fulton's for coffee and cake, and I had a surprisingly good time, very much enjoying Felicia and Spencer's company.
This morning I awoke late, decided not to bother going to class, and instead attended to various things I had to take care of. I went to Kings Plaza and picked out cards and presents for Mara, Susan, Melvin, Mikey, Grandpa Herb, and Avis: late December is a big time for birthdays for me.
I also mailed out the last of my Christmas cards. In Sam Goody's, Mason helped me select an album for Mara and told me that Stacy moved back home, so I can send her Christmas card there. She and Mason went to the concert together last night.
When I returned home, I found Grandpa Herb and Grandma Ethel visiting, so I gave Grandpa his birthday card and he presented me with Chanukah money.
I received Christmas cards today from Alice and from Congressman Brasco.