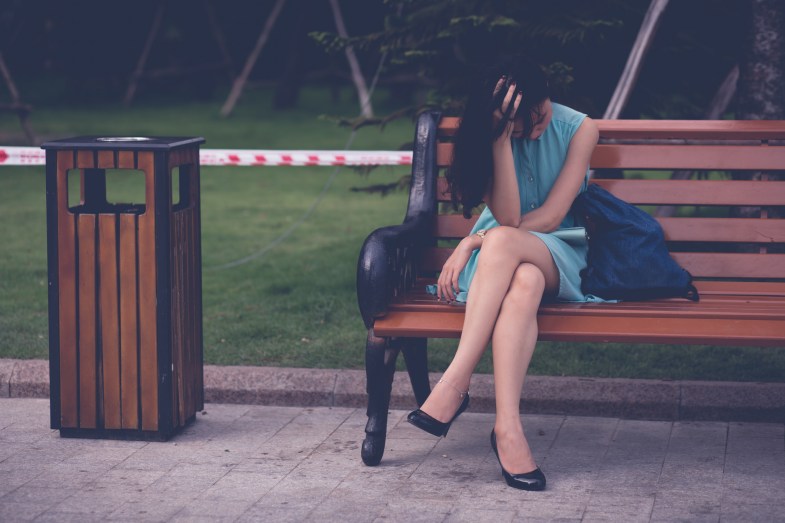 Because it's so much more than swipe left, swipe right.
5pm: picks up smart phone. Let me order a double bacon cheeseburger from Seamless tonight, an Uber to pick me up at 8, a pair of Jack Rogers sandals that are ridiculously overpriced, and oh, while I'm at it, let me order, a boyfriend.
How convenient is it to have billions and billions of apps at our fingertips that allow us to do basically, whatever we want? Well, who knew that one day we would even have the power to order up what so many of us are chasing after… a significant other.
Yes, we're talking dating apps and the common thoughts that race through every girl's mind as she attempts to find true love on sites that scream, "Booty call!"
1. Those abs, those eyes, that body.
I mean, did I just find People's Sexiest Man Alive on Tinder? Who knew someone this attractive could still be single… ALL HAIL DATING APPS.
2. He better message me first.
It's been three days – a sufficient amount of time for him to look through my outdated, photo shopped profile pictures and build up the confidence to type an ever so meaningful, "Hey." So, why hasn't he? I guess I'll just message him first in 3, 2, 1… whatever.
3. Yay! He asked me to get drinks!
Brb while I do a serial killer check.
4. Your bio, though.
If you think the term, "Full-Blown Stud Muff" will make me swipe right, you can think again.
5. Wait. Didn't I see him on another dating app, too?
Bumble, Tinder, Hinge, Coffee Meets Bagel – I feel like your profile should be verified, or something. Any guy who appears on multiple dating apps is expressing an underlying message that says not, "I want to find a girl" but instead, "I want to find multiple girls on multiple apps so I can choose which girls to hang out with on which nights I want." Next!
6. Aw, he's in every photo with a puppy and/or a baby.
Tell me who you really are.
7. What was the point of saying, "Hey" if you're not going to continue the conversation?
Yes, it's the typical "lure in" tactic that so many of us fall into. Hot guy says, "Hey," you get excited, you answer back, and then nothing… for days, months, years, etc, etc. Good talk.
8. Oh look, there's my ex.
Awkward. Swipe left.
9. This guy is totally, 'The One,' I can't find a single thing wrong with him. *comes across last picture* Oh, wait, he's… (Insert serious turn-off attribute here)
Woop there it is.
10. He's SO cute. Oh, wait… that's his friend.
Can I match with him?
11. This conversation is going nowhere fast and nowhere good.
Any guy who messages you to, "Come over" before asking for your number is definitely not worth your time and probably not even worth you keeping him in your recent matches. Additionally, any guy who starts a conversation with, "Hey sexy" should be a sign for you to press 'Block this user' faster than the girls cry on Bachelor in Paradise.
12. Your face isn't visible in any of these pictures.
Ah yes, there's the back of your head, your football helmet, your hockey mask, your Halloween costume. But what do you actually look like?
13. We get it, you work out.
Continuous pictures of you showing off your muscular physique in your mother's bathroom are actually turning me off.
14. I could go out tonight, or sit here on this dating app and probably accomplish the same outcome.
Often times, girls turn to dating apps to find, "Mr. Right." They continually swipe through pictures of strangers in hopes to come across the perfectly perfect tall dark and handsome man that they've endlessly envisioned. However, the guys we discover on dating apps are after one thing and one thing only (and it's not a marriage proposal).
15. Swipe left, swipe left, swipe left, damn my thumb's exhausted.
But really, where have all the good men gone and where are all the gods?