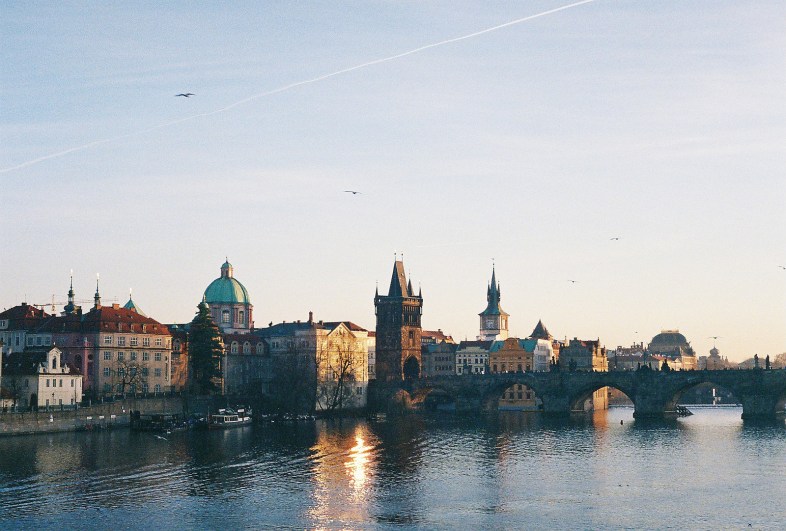 I spent three months studying in Austria and there were so many things I saw worth sharing. From missing trains, missing buses, getting on the wrong buses, meeting crazy people, meeting nice people, and finding a way to enjoy the little things, I wanted to share all of the adventures I had while trying to make memories.
1. Oslo
My friends and I had a connecting train from Oslo to Göteborg and our time between trains was about three hours. We sat in the train station for a while until it was time to go get on the train and when we got there the train was not there yet. So we waited, thinking that the train was just late, but no. What actually happened was that the train would not be coming at all, because all of the signaling system for the trains stopped working and the trains couldn't go anywhere. So, we had to herd together in a line, while the train station was shut down, and get on a bus or in a taxi to get to another station to get to where we needed to go. So we got in a random taxi with people who did not speak English and they drove us to the next train station. When we got there we had just missed the train and there were no more trains coming that night. So this nice taxi driver drove us two hours to Göteborg for free so we could get to where we needed to go.
2. Poland
When I came to Europe, we were given Eurail passes to use to travel. Our group decided to go to Poland because nobody ever goes there and I've always wanted to go to Auschwitz-Birkenau. We had to take a sleeper train since the ride was overnight and as soon as we got onto the train they took our Eurail passes and the carts were so small! I'm not a tall person, about 5'2", and I could lie across, width and length, and my feet and head could touch the walls. And everyone else was much taller than I am. So we cram into this tiny cart and try to sleep. By the time I actually fell asleep (around 3:00 am) this man comes barging into our cart and turns on the light. He told us our Eurail passes didn't work in Poland so we needed to buy tickets. I asked him how much and he said "200." 200 Euro!? Oh no, not going to happen. Turns out it was in zloty, not Euro, so it equaled out to about 10 euro. I also found out my debit card didn't work in Poland and we also got lost on the way to the hostel. All in all, I loved Poland.
3. Switzerland
This story isn't as crazy as the others. Two of my friends and I went to Switzerland for the weekend, we stayed in Interlaken, and I was really excited to go to the mountains and hike around for a few days. We got to our hostel and on the bottom floor there was a bar. There was live music playing, so my friend and I decided to go down, have a drink, and listen. The musician looked like an old English teacher of mine, so I decided to get a picture with him and he was actually really nice! And his music wasn't too bad either. The next day we went to Mürren to go hiking and it was the most beautiful thing I've ever seen in my life. Like, if I could recommend a place to go see the Swiss Alps, it would definitely have to be Mürren. It was the most beautiful place in all of the places I've been to in Europe and I still dream about being back there.
4. Berlin
I spent two hours walking around Berlin with a random guy I met from Brazil at 3:00 in the morning because I didn't want to go to bed. We drank and walked through the city talking about random things that came to mind. I remember trying to climb a tree while slightly tipsy and I ended up causing a fence to crash down. After that, we kept walking around and it was nearing about 5:00 in the morning and I realized I should probably go to sleep because I needed to get up early to go watch the Berlin Marathon. I went back to the hostel and I got about 45 minutes of sleep. I woke up, got ready, and my friend and I left to get to the marathon. Somehow, we got into the restricted area of the marathon where runners only were allowed. We ended up walking around this section and my friend took one of the blankets for runners only and gave it to me. We were trying to get to the start line and everyone spoke German and kept pointing us in random directions and we somehow ended up in the wrong place. We never got the start line, though.
5. Prague
I spent about a day and a half in Prague and it really wasn't a lot of time to get everything in. But, what I did do was take a free walking tour, which was one of the best ideas to do to see as much of Prague as you can in one day. The guy leading the tour was from California and he was one of the most laid back people I've met. He talked to us about his story and how we moved to Prague for a woman and now they are married and have kids. One of the highlights of the tour was we were able to go to this Monastery on the top of a really big hill and the monks that lived there brewed their own beer. We bought some of the beer and walked around on the tour drinking beer and learning about Prague. We went to the Parliament house and someone broke their beer bottle against a wall and we almost got kicked out of there. It was pretty exhilarating.
6. Venice
My friends and I decided to take a day trip to Verona from Venice and there were so many crazy things that happened. We caught the train and got off at the wrong stop. In Verona, my friend thought she lost her phone but it ended up being in her back pocket. When we left, around 5pm, we tried to catch the bus (bus 10) from the train station in Venice to the hotel we were staying in. Turns out, the bus wasn't running anymore. So we waited for two hours for another bus that went to the same area. Also turns out that bus didn't go to the same area it went to the opposite area. So they dropped us off at the center location to catch bus 10. We thought he was crazy because bus 10 wasn't running anymore. So we started walking (which it would have been at least 3 miles) and then guess what zooms on by? Bus 10. So we ran back to the bus stop and danced to Beyoncé and Taylor Swift until the next bus came. And then we got off the bus at the wrong stop.
Somehow we made it back.
7. Copenhagen
Two of my friends and I spent ten days traveling through Scandinavia and our first stop was in Copenhagen. We got off the train and started walking through the city looking for our hostel. It was raining outside and we had several bags between the three of us. We were getting close to what we thought was our hostel and it turned out, it wasn't our hostel at all. It was actually a branch of the hostel company and ours was on the other side of the city. So we took bus 5A down to the edge of the town and when we looked around, we were in the emptiest part of Copenhagen (if you couldn't tell, we have bad luck with buses). We walked around looking for something to resemble where our hostel was near, but there was nothing. Where we were wasn't even on the map. We tried to ask people but nobody spoke a lick of English, so we wondered around aimlessly in the rain with all of our bags for two hours until we finally found it! We practically ran to it and we sat inside the rest of the night too exhausted to move or explore the city. We ended up back in Copenhagen nine days later and spent the entire day at the amusement park. It was a great time.
8. Rome
To me, Italy is way too romanticized and it wasn't anything like I was expecting it to be. Of all the places we went to in Italy, Rome was by far my favorite. It wasn't because of the Coliseum, the museums, or any of that. It was the countryside, the residential areas, and the quiet parts. Everyone always goes to the busiest places and I can't handle that. So I decided to explore Rome by running. And one of my favorite places was going down Appian Way. It's one of Rome's oldest roads made of cobblestone and surrounded by trees. It was gorgeous. I ran about nine miles on that road and I didn't want to stop. The residential areas were filled with trees and leaves all over the ground, there was so much to see that you don't get in the hustle and bustle of tourist-y Rome. If you're a runner and you ever go to Rome, I recommend going there to get away from all the people (maybe not in the summer time, I went in the fall) and enjoy all the nature and beauty Rome has to offer.
I loved my travels through Europe and even through all the craziness there was so much that I learned from everything that went wrong. Even when things go right, it may not be in the way you expect it to. Europe opened my eyes to appreciating the little things and teaching me that even when worse comes to worse, dancing to Beyoncé will always make things better.