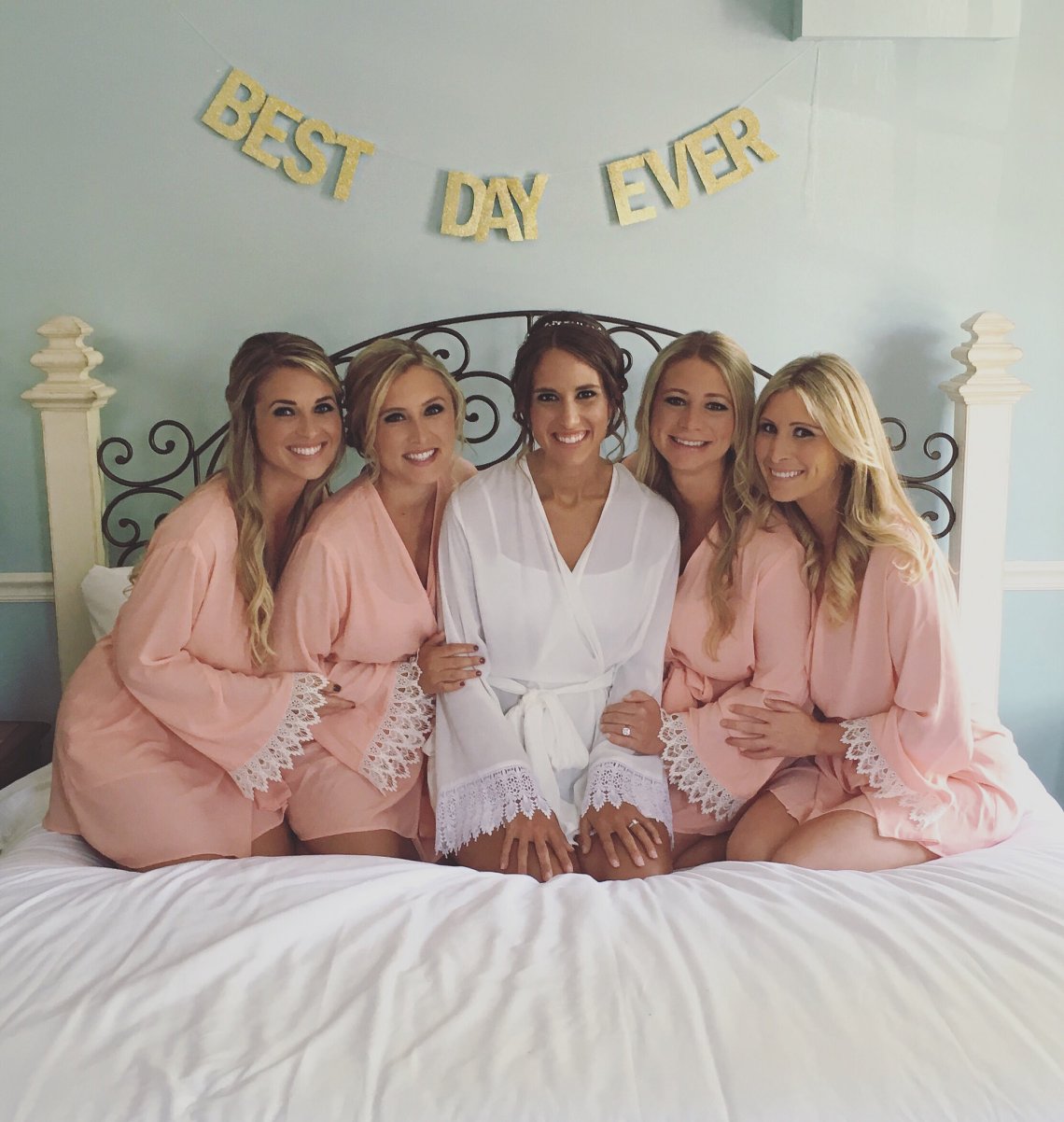 When one of your best friends get engaged, it's just the best. The most exciting. And when she lists off the names of "her people", the girls she couldn't imagine not having standing by her side on her special day, you notice a few names that you don't know. Or don't know well, at least.
You show up to the engagement party or the first few showers and there they are, the 6-10 other girls who are equally as excited to watch their friend live out her dream of marrying her prince charming.
And for one weekend, you spent an absurd amount of time bustling dresses and sipping on mimosas until you've convinced yourself that your shoes don't hurt, and the only thing you're left with is following each other on social media and hearing little bits and pieces about each other's lives from our mutual friend.
And you know, that's just not enough. We went through a weekend-long affair together and it doesn't feel right that it just ends with a hug after a sparkler brigade as our friend leaves.
So here's to you, random friends of my friend.
Here's to the moments we shared on bathroom stools while an overpriced makeup artist glued our eyelashes on.
Here's to that tiny sofa couch we slept on together the night before the wedding because all the beds were taken.
Here's to the dirty looks we swapped with each other when the bride told us to be ready at 7 a.m.
Here's to a fellow, thick-haired friend as we sat for what seemed like 15 years while someone did our hair. ("Your hair is so thick" WHAT THIS IS NEW NEWS TO ME. Hadn't noticed.)
Here's to the tears we shed as our best friend walked out looking beautiful in her white satin dress.
Here's to the tears we shed when she left, promising that we were in no way jealous. (Seriously, not jealous at all. Just happy. I mean maybe like 98% happy, and like 2% jealous.)
Here's to the 100+ fake laughs we did so the photographer could get the perfect shot. And praying it looks cute because you really need a new profile picture.
Here's to programs we tied ribbons on, the chairs we laid them in, and the spelling error we noticed and collectively decided it was wise not to tell the bride.
Here's to all the matching shoes we wore… and here's to the mud that ruined them when we walked down the aisle.
Here's to the pump up speeches we gave each other throughout the day ( "Girl no, your spray tan looks fine, not orange at all").
Here's to the look we shared when we were both aware you got the cuter groomsman.
And here's to us, begrudgingly walking out to Single Ladies so our friend will have someone to throw her bouquet to, all the while being complete envious of the other single ladies who conveniently went to the bathroom.
Congrats on that job we talked about in a room upstairs while we waited 5 hours for our friend to have her "first look".
Sure, I can give you the link to those shoes I was telling you about. Yeah! You should totally get them!
I'm so excited to see that you're dating someone now! Because 3 years ago, on the floor of the make-shift conference room salon, you weren't completely sure you'd ever get over your last one.
Thanks for commenting on my new profile picture! I do look tan, don't I?
I'm happy you made the move to Texas! You told me while we were standing in the 100 degree heat that you always thought you'd end up back there.
Congrats on getting engaged/married/pregnant! I know I haven't talked to you in years at this point, but just know, I really am happy for you.
Here's to you guys… well, girls! I hope that concert Facebook creepily just let me know you went to was the best one yet. I hope the dog our friend told me you just bought wasn't just a comfort thing to get over your ex. I hope that new job I saw you got really is everything you dreamed of.
But most of all, here's to our beautiful best friend — thanks for loving her in the ways that I can't. Thanks for being there on days I wish I could. Because she loves you, I love you.
I promise to always root for you from states away and always give you that extra like on social media.