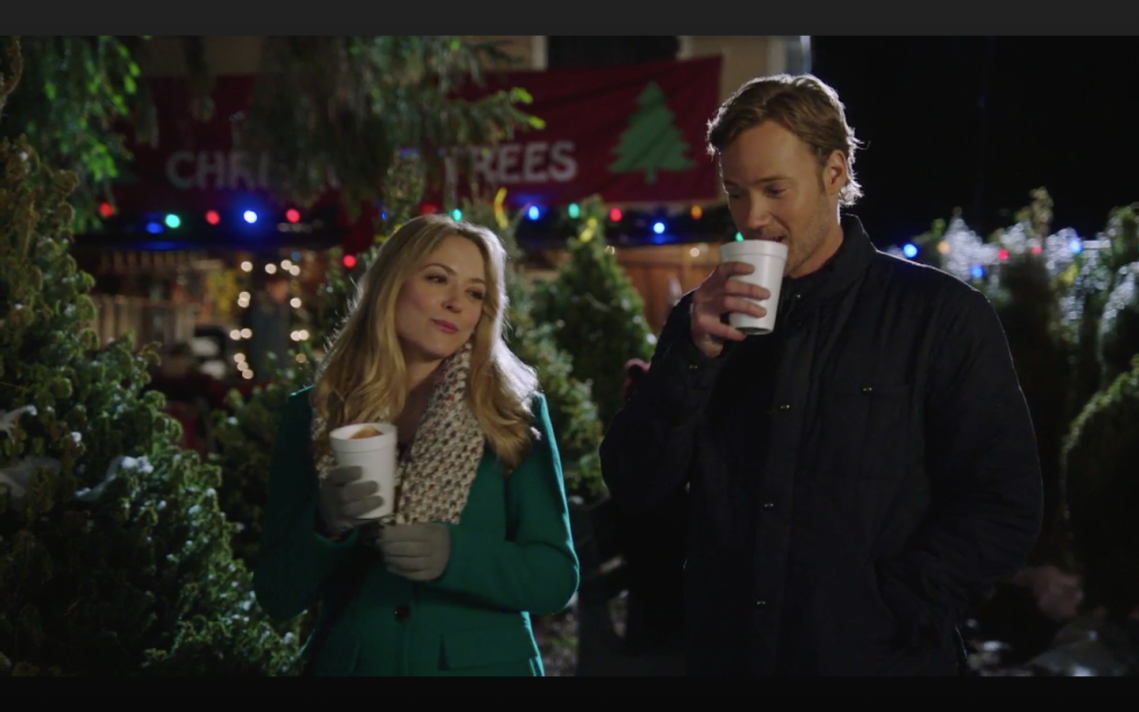 Say what you want, but these movies are full of tidings of comfort and cheer. Yes, they might be a tad cheesy, but oh my goodness they're amazing. Every single show's set is decorated to the nines for Christmas, and no matter the movie, you know it's going to end well. (Because who wants a sad Christmas movie? No one.)
Here are a few of the movies you desperately need to catch because Christmas time's a'comin.
1. The Christmas Cure (2017)
Vanessa followed in her dad's footsteps of becoming a doctor. While she's up for head of trauma at a big city hospital, her dad is planning to close his practice in her small hometown. On her trip home for Christmas, she must decide whether to pursue her big city career or practice in a town she knows and loves. And of course, her high school sweetheart helps tilt the scales, too. (Added bonus: Patrick Duffy is the dad!)
2. Marry Me at Christmas (2017)
Madeline owns a boutique, and Ginger, a newcomer in town, asks Madeline to help plan her December wedding. Little does Madeline know that Ginger's brother is the famous movie star Johnny Blake. With so much wedding planning time spent together, Madeline and Johnny are surprised by their interest in each other. (Madeline looks identical to Queen Elizabeth in Reign.)
3. With Love, Christmas (2017)
Melanie and Donovan are paired together by their boss to plan the Christmas commercial of the year. What Donovan doesn't know is that Melanie is also his secret Santa for this year's company party. Between spending time together to work on the commercial and sending secret emails back and forth, the two find that they have more in common than they knew.
4. A Bride for Christmas (2012)
Jessie has been engaged three times, but she's broken off each one. Respect for this girl; she just hasn't found the person she wants to be with forever, and she hasn't settled. Aiden is single, and he makes a bet with his friends that he can get engaged by Christmas. When Jessie and Aiden meet, she's sworn off love for the time being, but Aiden's charms break down her walls. And what Aiden comes to figure out is that he's not trying to win a bet anymore, so he calls it off with his friends. He knows Jessie is the girl for him. I love the ending on this one!
5. The Mistletoe Promise (2016)
Elise co-owns her company with her ex-husband, Dan. Yikes! Nick is a divorce lawyer who is up for a promotion this year. Both Elise and Nick have ghosts of Christmases past that cause them not to enjoy Christmas anymore. The two accidentally meet and pledge to help each other get through the Christmas season and then part ways thereafter. Of course, this is easier said than done once they're invested in each other's lives.
6. My Christmas Love (2016)
Cynthia returns home for Christmas, escorted by her friend, Liam, to attend her sister's wedding. Prior to the wedding, Cynthia begins receiving gifts that align with "The 12 Days of Christmas" song. She's on a mission to discover the sender, and in the process of, revisits some guys she's dated in the past. Meanwhile, Liam's over here like, "Um. Hello?" Cynthia pulls it together in the end, and you'll be surprised by the sender of the gifts.
7. Just in Time for Christmas (2015)
Lindsay Rogers gets the gift of Christmas when her long-time boyfriend Jason proposes on a romantic evening. The only problem is that Lindsay has just been offered a position at an Ivy League school as a full-time professor and a chance at getting published. (Wowzers!) Not knowing what to do, she happens upon a magical chance to experience a future without Jason. This Christmas, Lindsay not only decides what she wants, she knows with her whole heart.
8. Miss Christmas (2017)
Holly's job is to find the Christmas tree for Chicago's Radcliff Tree Lighting. She receives a note from a child named Joey who promises her the perfect tree at his family's farm. Once Holly arrives, she quickly discovers that Sam, Joey's father, does not want the tree to leave the farm. Holly spends time with Sam and his family while they make their decision, but the clock is racing as she awaits their decision. Let's just say that both Holly and the tree find a happy home.
9. A December Bride (2016)
Layla must suffer through her cousin's wedding – the cousin who is marrying her ex-fiance. To get through it, she asks Seth to be her date to the wedding. But at the wedding, Seth announces their engagement, so Layla decides to just go with it. It doesn't hurt that Layla is aspiring interior decorator, and Seth's home is going to be featured on the Christmas Home Tour this year. But with all this time spent on Christmas decor, well, you see where this is going.
10. The Mistletoe Inn (2017)
After Kim gets dumped right before Christmas, she decides to go to a writer's conference for a chance to be published and an opportunity to meet her favorite author, who has never revealed his identity until this retreat. While there, she runs into Garth, her ex, and meets Zeke, her partner for the week. While she struggles to like Zeke at first, you will not have this problem. Everyone is Team Zeke. And of course, there ends up being more than just ink flying at this conference. Richard Paul Evans wrote the book this movie was based on, and I can't wait to dive into it, too.
11. Switched for Christmas (2017)
Twin sisters meet for lunch one day and catch up on their lives. Neither is happy with her life, so the two decide to switch places. (If I were a twin, I would do this daily.) The two aren't close, but the opportunity of switching lives is just too appealing for them to pass up. Ultimately, the switching leads them to see the gifts they had in their own lives and to appreciate their old, original lives instead. Candace Cameron Bure is a hit in this one; she plays the twins!
12. A Wish for Christmas
Sara doesn't make too much of a fuss at work. Her ideas have been stolen and presented as someone else's before, but this year, it's just too much. She confronts her boss about it, and prepares to leave her job. But Peter, the boss of the bosses, asks for her help with a big project before Christmas. Sara agrees after making a wish to Santa that she have more courage to speak her mind. Sara gets her wish, but it will only last 48 hours. Meanwhile, she meets Peter's family and gets to know him much better. (Also, for all the Mean Girls fans out there, Sara is Gretchen Weiners.)
There's more where that came from over on Hallmark, but that's all for now. Shout out to Hallmark for making all our Christmases a bit more merry. Merry Christmas, folks!