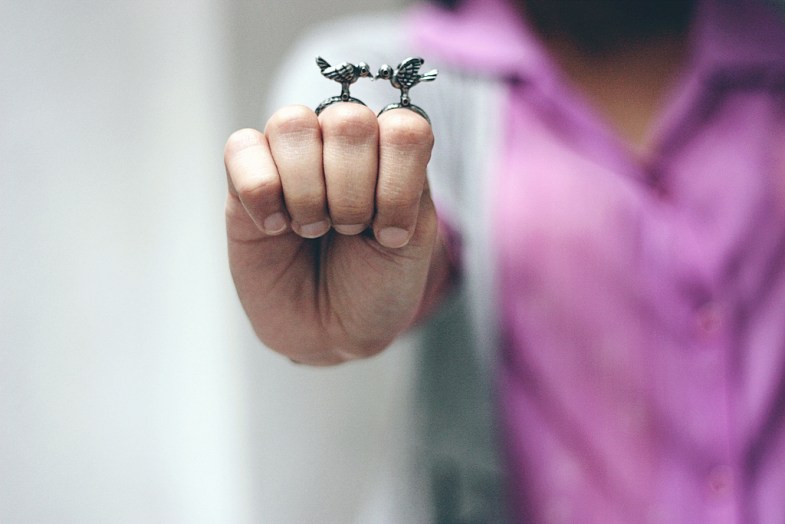 She met me at an English pub in Toronto.
It had been almost two years since I'd laid my eyes on her.
She walked through the door, saw me, hugged me, and sat at the bar.
She was as pretty as I remembered.
Pale skin, petite frame, curly hair, freckles about her face.
My ex-girlfriend.
We talked awkwardly at first,
My legs were shaking, my hands flailing in conversation,
I was stuttering and mumbling.
It was tough to resist the urge to kiss her right away.
I deeply wanted her.
We slowly grew comfortable with each other again.
Talked, teased, and flirted like we used to.
I went in for a gentle kiss,
I looked into her eyes,
Then I pulled her close for another.
Her lips had a calming effect on me.
We ate dinner and though she was hesitant,
She agreed to go back to my place.
The next morning I awoke to her by my side.
She was wearing my T-shirt, work-out shorts,
Her hair a mess, reading glasses, and no makeup.
Beautiful.
She was watching a TV show on her laptop,
I scooted closer and lost myself in her.
It's as if the past two years never happened.
I was back in her room in Jerusalem.
Where the winter cold would cause her to seek my body for warmth.
Where the summer heat would have us waking up in sweat.
Where her cat would attack my feet in the middle of the night.
Where we would take long walks exploring the streets, bars, restaurants, sites, and parks.
Where she grew to understand me more deeply than any woman has.
Where Orthodox Jews, Muslims, soldiers, tourists, pilgrims, merchants, and stray cats appeared on all corners.
Where she was mine.
We got ready and headed out for the day.
I felt it in my chest,
A dam of repressed emotions,
Finally allowed to be free,
I would win her back.
We will have new memories, new inside jokes,
New adventures, new fights, a new life.
She'll be mine again, and I'll never let go.
It hurt her to say,
That she no longer felt the same way.
It hurt her to say,
That she could no longer see herself with me.
It hurt her to say,
That she was sorry but needed to make the best choice for herself.
It hurt her to say,
That she didn't love me anymore.
I walked her to the subway station,
Held her close, kissing her forehead.
"Are you sure?" I asked.
She nodded.
"I really do love you," I said.
She looked up at me.
"You don't have to say it back," I told her.
She boarded the subway,
I saw her through the window,
Never taking my eyes off her,
I waved at her and she waved back,
As the cart left
I blew her a kiss.
As I walked, tears I'd held back started rolling down my face.
For this one day,
I possessed the happiness I once had,
For this one day,
Life seemed full of possibilities,
For this one day,
I had felt whole again,
For this one day,
I had forgotten I was alone.