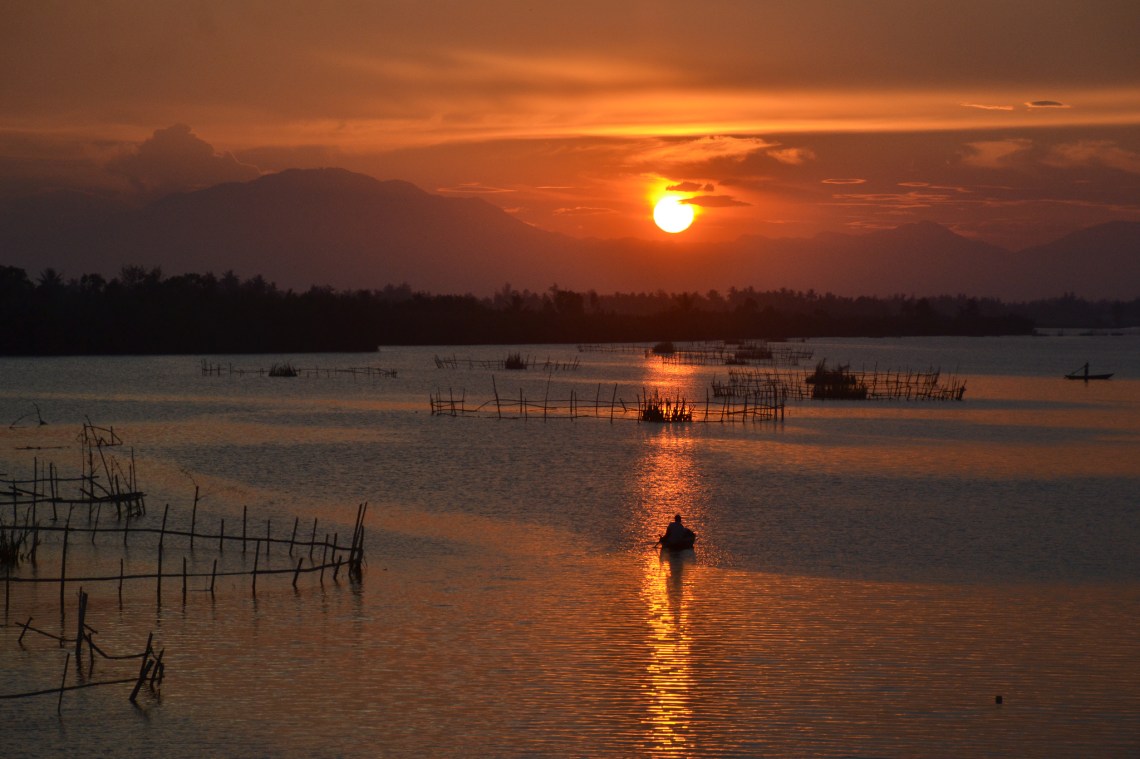 The plan was simple: travel through Indochina for 18 days, female and solo. It was the niche all phenomenal travel blogs were made of. Would-be travel articles formed bodies in my head: introspective and whimsical; the kind that would call for blockbusters or bestsellers, whichever comes first.
But 18 days became 29 and the "solo" traveling never happened. The niche, the hope of churning out sellable travelogues crumbled in the wake of many drunken nights, and my travel memoir fell into limbo – then as my blood alcohol level stabilised to a decent percentage – into a class of its own.
Even now as I write this, my recollection is mangled. By residual hangover, post travel depression or perpetual high? I am unsure. But I have a map in my head, each stop pinned with a story within stories. Those are what I shall attempt to gather today.
THAILAND
In Bangkok, I slipped on a stranger's vomit at breakfast. But having overdosed on Chang beer the night prior, I was forgiving to those who were in the same plight.
In Ayutthaya, I burnt alive. Cycling at high noon around temple ruins looked easy on the free tourist map I have since crumpled unrecognisable. In 3 hours, I have at least downed 5 litres of liquid without peeing. It didn't help that the people I was with seemed to pay no mind to heatstroke. FML.
In Chiang Mai, a boy and I conquered all of the town's five gates on foot. We found a place that sold the yummiest mango and sticky rice in all of Thailand, got wasted over Mug-a-ritas from a Mexican restaurant, attempted whitewater rafting on a dry river and watched elephants paint among others. The boy, ladies and gentlemen, murdered my solo travel dreams.
In Chiang Rai, pop culture figured in an avant-garde Buddhist temple. Doraemon and Michael Jackson stood out. I prayed fervently, with faith as pure as the white temple and as precious as the gold toilet, that Sheldon Cooper be included in the very near future.
In Chiang Kong, a Belgian bar owner and his Thai wife gave me and my friends free tequila shots after a night of pool, poker and SanMig Light. To this day, I still couldn't work out how I got home unscathed on a bicycle.
LAOS
In Luang Namtha, a village of weavers welcomed me home. In the afternoon, we bathed at a nearby stream and built a bonfire at night. I taught the parents how to play Temple Run on iPad while the children learned Wiz Khalifa's Young Wild and Free acapella.
In Nong Khiaw, I slept on a cottage with a hammock by an old French bridge. The town was tucked between boulders– limestone mountains with caves as armpits. I was the wee flea that cycled around and guzzled Beer Lao in between.
In Luang Prabang, breakfast meant Lao coffee on an outdoor cafe while writing postcards for the boylove half a world away. Lunch was kayaking for 3 hours under an ever angry sun or shooting kid monks with water guns. Dinner, love, was almost always in the Mekong or by the Mekong.
In Vang Vieng, I went tubing with a dude I wasn't in a relationship with. A lady bartender gave us each a bracelet for good luck and good love, convinced that we were on honeymoon no matter how we denied we weren't. A couple of local kids hitched a ride in our tube a second later and together, we looked like a family. Again, FML.
In Vientiane, there wasn't a dry moment. Where else would Songkran be best celebrated than in the capital? But not even endless water parties, a golden stupa and a victory gate reminiscent of the French came close to what transpired over Lemon vodka that night. And no, I'm not telling.
In Tad Leuk, the night was spent in a museum in the middle of a National Park beside a dry basin that was supposedly a waterfall in the wet season. The part of the ceiling directly opposite to where I slept had a gaping hole in it. I imagined extra large mice or small monkeys, but in the darkness, I only heard geckos.  But they sounded like they're as big as alligators.
In Kong Loh, wonderlands were seven kilometers long and underground. My transient dwelling had big windows that opened to a field of tobacco that kissed the feet of the distant rock formations. It was one of the few places I didn't wanna leave.
In Tha Kek, I feasted on pork intestines and beer while basking in sunset from the side of Laos overlooking Thailand.  For breakfast the next day, I pretended I wasn't a backpacker and dined in a posh hotel. All in the name of free wifi.
In Xe Champhone, a forest of monkeys graced my arrival. In return, I hand fed them bagsful of bananas. That was my last memory, the rest have been clouded by the cases of Beer Lao we downed in between water fights and interpretative dances in the tune of Whistle Baby.
In Pak Se, I had laolao whiskey on the Pak Se hotel's rooftop bar. It was the first time in three weeks that I dressed up and the strap of my dress snapped. A gentleman in a flaming lycra bodysuit was kind enough to make some last minute repairs and managed to plaster the whole hullabaloo into the elastic of my bra strap. Until then, I never knew men were capable of the opposite of undressing.
In Don Det, I found Boca Del Cielo. Finding a beach in a landlocked country was like Alice finding the rabbit hole that led to wonderland. It happened at twilight, my favorite time of the day, and after an afternoon of spotting dolphins and chasing waterfalls.
CAMBODIA
In Preah Rumkel, I ticked off a bucket list: cross a border illegally and succeed. There was a village fair going on and I easily camouflaged as a local. Lukewarm cans of Angkor beer were sold on dust-laden pop up stores tended by teenagers wearing jackets under the noontime sun. For the first time in the entire trip, I said no to beer.
In Siem Reap, I nursed the worst hangovers on the mornings after the best nights of my life. Happiness came in the forms of alcohol buckets with half a dozen straws and buy one take one cocktails. In Pub Street, I've mastered the very useful art of photobombing and the equally essential science of c*ckblocking.
In Poipet, famished from the previous night's pub crawl, I ACCIDENTALLY ate dog meat. Enough said.