The red carpet at the annual AVN porn awards is in full swing, even though it looks like a stage still being set. For some reason I'd imagined such an event would take place outdoors: porno-queens gliding by in glittering dresses waving as trade journalists snap photos amidst some palm tree studded backdrop. But in 2015, in reality, the red carpet spans two back rooms in the Hard Rock hotel with all the ambiance of an affordable gym. Security workers in black T-shirts push dollies full of unidentifiable electrical equipment through the crowd, complaining that the hotel should have already cleared the area.
A blonde starlet is nearly run over as she steps off the red carpet, caught up in her own clutter, calling out to fellow porn stars: "Stay classy! Eat pussy!"
Off to the side there's a makeshift bar and those of us with press badges have been encouraged to mingle with the stars before the awards begin. Almost immediately, an aging actress in an orange gown is advising me: "Honey, there's one lesson to learn in this life, and it's this: Sex is about business not love."
She can tell me this, she says, because she "sees me." She "gets it." She knows what kind of girl I am.
Sex is about business — not love. It sticks in your head, a psalm, a mantra, what happens here, etc. "Vegas: Remember Nothing," commanded the ads at the airport, selling us Las Vegas after we'd already landed there.
AVN, the Adult Video News, is the industry trade publication that sponsors the awards show every year. This is the 32nd show. "Mingling with the stars," I thought it might be interesting to ask how many more years they thought the AVN would last.
But then, hanging around the bar, all of us women dressed up, it was hard not to make small talk, to feed off the anticipatory high for the coming event.
"We have an an eight-ball we're trying to get rid of," said one star, perched next to me on a tiny table, "Do you want it?"
I went to ask my boyfriend, who I'd managed to get a press pass for, about the coke, and found him talking to the gay male blogger from Jezebel.
"Oh my God, please buy the coke so I can write that Thought Catalog bought coke from pornstars," said Jezebel, recorder in hand.
I was determined to stay up for these supposed sex parties that happened after the awards show, but we were beginning to unravel, which seemed to be the hand Vegas deals everyone. "Just expel all of the money; expel all of it," my boyfriend joked as we winded through casino after casino. Oxygen pumped through the filtration system to make us all high, and the lack of natural light coaxed us into a constant nocturnal state.
The PR branch of AVN did a fair job of drumming up media invites for the ceremony; there were reporters from Buzzfeed, Fox Sports, Vice, and a journalist from the Independent — all of them men. I chatted them up as we watched the glittery parade on the red carpet.
The last few girls were being rushed off. "And here are the girls we don't know and will never see or hear from again," said one press bro, talking to Jezebel who had gone into full reporter mode, asking a starlet with puffy new lip fillers, "Do you identify as a feminist?"
"Totally," she said and when he followed-up, feeding her an easy question about how porn stars "own their bodies" she sort of shrugged, waved to a friend, and walked away.
I like these girls. I like being around them.
---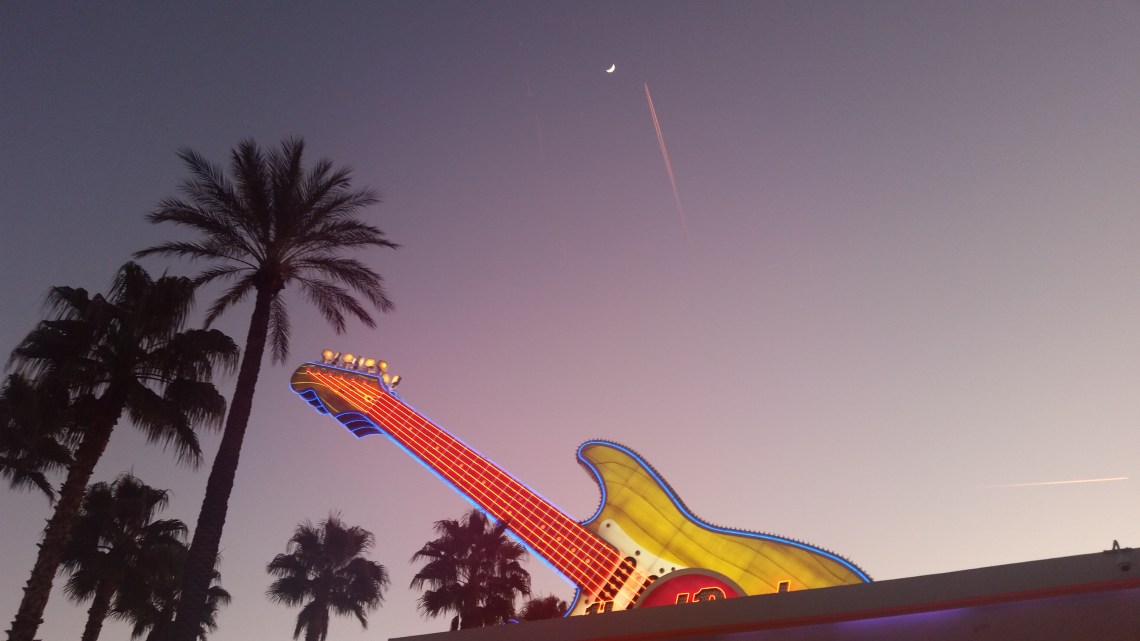 In the three days leading up to the awards ceremony, the stars work long hours at the AVN Adult Entertainment expo, an annual convention/trade show currently located in two warehouse-like rooms at the Hard Rock. A decade before, the expo filled multiple levels of the Sands with fans packed shoulder-to-shoulder.
In one booth, a starlet lets a man with a ponytail give her a foot massage and I hear him speak nostalgically about the golden era of the 90s: "The ceremony used to be at Caesars Palace ballroom."
For the most part, the stars look how you'd expect: tiny, uniform in their choice of plastic surgery, hair extensions, and open-toed six-inch heels.
The fans seemed to adhere to their own clichés as well, fanny packs wrapped beneath sagging bellies, and sandals over socks. Every man hid behind his digital SLR camera, with all the charisma of a dead hippopotamus.
There were stray packs of younger, post-frat professionals, guys with iPhones set to record, snickering all the while. "Dude," he was like, "But I just can't wait to see the stars in real life," said one of them, goading a more enthusiastic member of the group. Eavesdropping a moment longer, I learn that they are here for a tech conference that just so happens to coincide every year with the AVN, surely a longstanding tradition.
More rare were the dutiful wives and girlfriends who stood holding coats and collectibles so their partners could pose for a photo. I watched, nervously, as an old woman with gray hair and thin, tremorous arms waited a few feet behind her husband, a fellow octogenarian in a western snap shirt and high waisted jeans, as he talked for upwards of fifteen minutes to a bubbly adolescent blonde at the Evil Angel productions booth.
Then there were the women looking for a big break, the ones dressed in sex shop fishnet, dragging their male partners by the hand as they scanned the room for deep pockets. A girl in a pink tank top that read "$pending his money" flashed a smile, which I returned in earnest.
Large tarps printed with glamour shots of the girls and their names hung above each booth, I guess so fans could recognize them "in real life." Near the entrance, veteran pornstar Jesse Jane sat beneath her image, checking her phone.
I flash my press pass and some assistant brings me over to the star, whose warm demeanor makes me like her immediately.
She is beautiful in that inoffensive way — mouth puffy, nose upturned and tiny — her body, "naturally" aligns with the industry type: tan, thin, and blonde with titanic fake breasts. In her 12 years in the industry, Jesse has enjoyed the type of A-list porn success that now seems dated: magazine covers for Maxim, FHM, Playboy; appearances in HBO's Entourage and Baywatch: The Movie; and roles in music videos for Drowning Pool and Robbie Williams.
She's here promoting a new contract with Jules Jordan, after she took a break from the industry. She explains how this career shift reflects a change in porn that can be so hard to describe to those outside the industry. She's getting rare work: porn shot in "4d?" wearing lingerie from La Perla — but the days are much shorter, the films have no dialogue, no characters, only brief scenes focused solely on the sex act.
Jesse explains the changes in more detail: we are all watching more porn than ever, but none of us are paying. Studios have had to downsize, less films are being shot, and performers are getting less work, making less money and having to hustle more fiercely.
There won't be another Jesse Jane, agrees Jesse. "It's the free tube sites that killed it," she says.
At the expo, it's hard to tell who's in charge. There aren't any booths for the dispensaries of pirated content like Pornhub, XTube, and YouPorn, even though many of these sites have bought out the established porn studios and cam-sites. Sorting out the whole thing is a bit like trying to surf for porn itself, arriving at a specific site only to be bombarded by a multitudinous dimension of pop-ups: side-bars listing sex acts in increasingly extreme order, and the sudden babble of a "live" cam girl advertised as a girl who is single, dripping wet, and, miraculously, in your area. It's all a strange web of traffic-swapping and revenue sharing. There are people getting very rich in this industry — but it likely isn't the girl in the booth; and yet, there doesn't seem to be any stilling the flow of new girls.
There are always pretty girls, says Jesse. "There are some girls right now who, if they would have started when I did, man, they could have had it. They could have had names. It's sad to see the potential and know that they are never gonna get there… but it's just the industry, baby. It isn't gonna happen."
We talk about the social assumptions, the expected swag one affects to overcompensate for the pariah status of being a Porn Star, a pressure to upkeep a certain lifestyle, to buy the cliched Louboutins or Chanel bag after getting a few of those big and, most likely, inevitably, unreliable paychecks.
A skinny girl, taking a break from a nearby booth, with bee-stung implants high on her chest, waves at Jesse who stands and helps pull her onto the high platform.
"Ugh, I hate camming," says the girl, presumably continuing a prior conversation or else just reacting to the many cam girl booths streaming live from the event.
"Why do you hate it?" I ask.
"It takes too much energy," she says, "And obviously, I prefer shooting because I like having sex!"
The three of us sit together, watching the men move frantically from booth to booth, like hamsters or some other small nervous mammal, their attention spans cracked.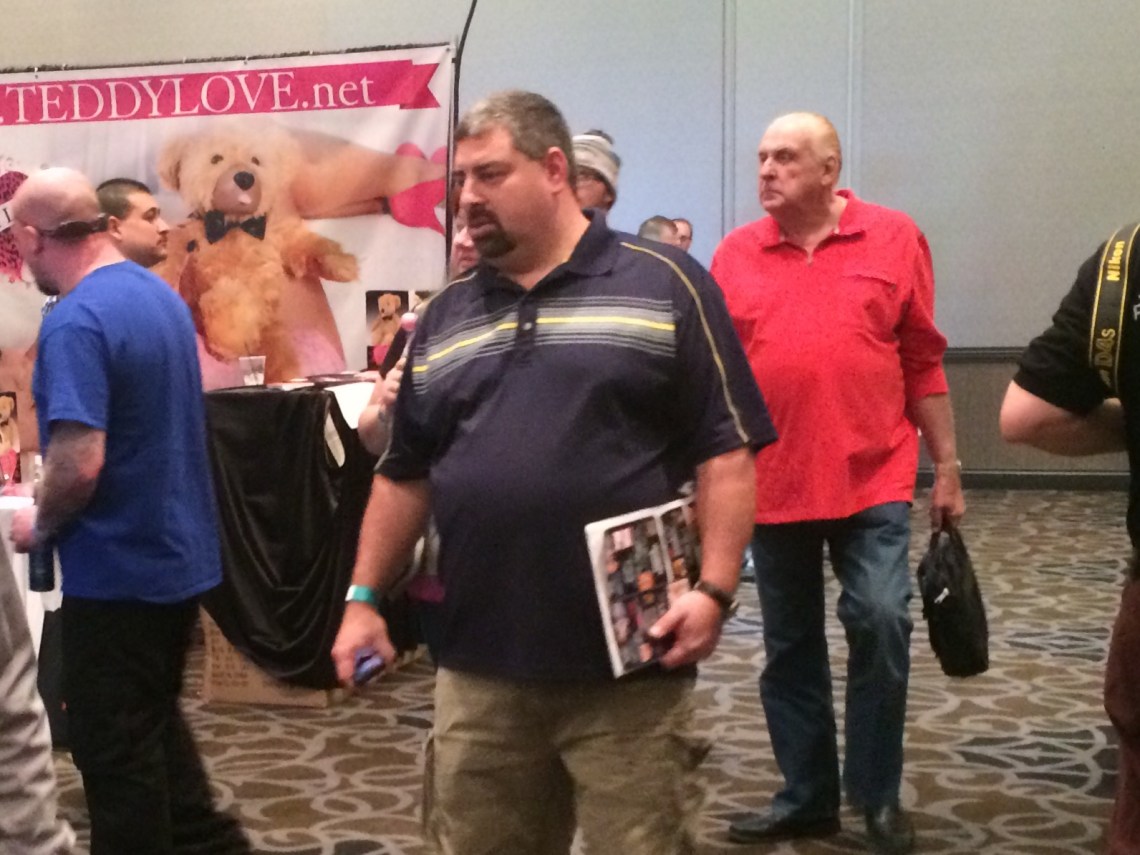 I had an urge to log onto my recently neglected accounts on What's Your Price and SeekingArrangement, "Sugar Daddy" dating sites, to scope out the Vegas scene. Probably, it was bleak. In New York, these sorts of apps have become so popular they are almost unusable, flooded with beautiful 19-year-olds who earn $200 for dinner dates, too shy or drunk to ask for additional cash when they end up having sex after dinner. The Internet has made the passageway to sex work so wide — how are any of us supposed to get our rent?
I tell Jesse Jane and her friend that, before arriving in Vegas, I had stumbled across a porn-star escort site called the Luxury Companion which listed the girls still available to "work" during the AVN weekend.
Jesse nods. "You know, they make a lot of fucking money, but that's not for me. Don't get me wrong, it can be tempting when, say, a prince from Turkey offers to fly you out to his palace for $250,000," she says, eyebrow raised, "But I'm scared. I would be too scared and I'm working and booked so far ahead of time."
"My friends all do it," says the other girl. "And sometimes the guys are cute… I'm like, hell, I probably would've fucked him anyway!"
I nod and say that it's sort of like the Seeking Arangement thing.
"Everybody wants a daddy," says the girl, adjusting her fluffy bikini top.
"Oh, I'm single. I want a daddy," says Jesse.
The other girl is repeating herself, saying that if you want to have sex with him anyways and then he wants to pay you… we are talking, excited, just three girls, our sentences circling in that orbit of expression and gesture, psychic and unfinished.
I hear myself say that it is confusing, the sense of agency one has in this repetitive reality where sexuality and relationships are so intermingled with money and livelihood, with obtaining a desired life of desired objects; "I mean, talking as someone who is really only willing to date men with, you know, some money," I add, aware of crossing that imaginary line of journalistic integrity… though I do revel in being bad.
"Where are the drugs here?" I ask.
"I can smell the coke in this place," says the girl, "It's in the air."
Walking through the expo, I think maybe she's right. The place has an antiseptic air to it, the acetone of a dentist office, something plastic-y, cheap, all of it devoid of sex in its uniformity, everything explicit, mechanical, overdone. It wafts through the casino, the smell of coke and dick.
At the exit, I bump into a guy I sort of know from New York City, a party photographer who still wears punk patches and gives off an aura of what I would call a sort of gum-chewing boredom. "Hey," he says and flips over the camera to show me the photos he's taken so far, all of them were of tattooed porn stars, naked in various hotel beds. How many of them did a guy like this sleep with?
"Your tits need to be on the Internet," he says, flatly. "When are you going to let me shoot you?"
I laugh and say something about my story, lighting another cigarette even though I've just put one out, but in Vegas you can smoke anywhere so why stop the spiral now.
"Well, for what I'm working on, I need to shoot as many regular naked people, as many non-porn-star boobs as possible," he says, almost business-like. Then, as he's walking off, he tugs my hair without making eye contact, grabbing it from the root just behind the ear.
---
I am fucking my boyfriend when we are interrupted by room service. I answer the door, my robe half on, attempting to play a good submissive. I return to the bathtub trying to keep the momentum going as the bellhop sets up the dining cart. "Hit me harder Daddy," I whine, "Make me regret asking."
"Baby-girl," he scolds, getting out of the tub, playful, "You're out of control… your mother and I are very worried about you."
I eat greedily, quickly, because I want to get drunk tonight and because the flattering scale at the Wynn had weighed me in at 92 pounds — though maybe it would be a better anecdote if I only picked at my food…in Vegas, it seemed, people might appreciate that an eating disorder is a lifestyle choice.
"Ugh, 'lifestyle choice'… Are you seriously using that phrase?" says my boyfriend in an attempt to shame me — not that he can, I am too far gone.
The official AVN post-expo party is held at the Hustler Club, a 1980s labyrinth of stripper poles, neon and staircases which lead to more of the same; in some uncharted area of the club, there is rumored to be a lingerie shop and a 24-hour adult superstore. Vegas only contains more Vegas.
A small group of us find seats in VIP among representatives from Fleshlight whose bottle service we drink from greedily, a transgression we feel only slightly guilty about, having muttered "Hi," once, over the music.
This night Hustler Club is holding a promotional party for AVN, several starlets are scheduled to perform on the main floor. I sit at the tip-rail to get a better view of the first star, Kayden Kross who, lying in the blue light of the stage, is all soft and slender, running her hands over her perfect rib cage and fake breasts slowly, protectively, as if she were made from delicate cashmere silk and, in that moment, I felt the stirring of that strange bisexual quandary: Do I want you — or do I want to be you?
I dropped all of my singles onto the the stage and as Kayden slid toward me, eyes blinking, slowly, deliberately, like those of a cat who inspires both awe and submission when letting itself be caressed, I made up my mind.
"I'm getting a boob job," I announce as I sit back down at the table. "It's decided."
My sleep-deprived boyfriend perks up, animated by the news. "You know they make these new gummy bear implants that are supposed to feel," he says, "…like a bag of gummy bears."
"So is this the kind of thing like birth control, where the feminist choice is to go halfsies on the cost?" asks Gaby, a writer who is reporting on the awards, and, mainly, attending the event as James Deen's date.
At the expo earlier, I interviewed James Deen, male mega porn star, and found him to be a bit obstinate. I tried to ask about piracy and the long-gone era of new girls making 30 grand a month, about seven-figure porn contracts, and he asked what I meant, and did anyone really think those days were going to last forever, and then he went back to what he wanted to talk about, his many new ventures, "You know I'm more than just a dick," he said, gesturing toward a wall of James Deen dildos. "Yeah," said my boyfriend, when I told him this afterward. "You should have said…you're not just dick, you're also an asshole.'"
We make Gaby go get us more vodka from Fleshlight's bottle service and my boyfriend turns toward me, gleaming, trying to ask me nonchalantly about this boob-job development. "You're paying for it," I say, and he opens his mouth, shocked, but only slightly.
Joanna Angel takes the stage and we watch, mesmerized, as she manages to seductively slide up and down the pole to a Slayer song. Then there is Tori Black, who we only see for half a song, as one of us gets kicked out for taking video on an iPhone.
Strange, because no one cared when we recorded the entirety of the "midget" stripper's set, a true professional who, from where I stood making us drinks in Fleshlight's VIP, looked like an athletic toddler, "perspicaciously" climbing that pole from floor to ceiling.
Afterward, as she walked the floor to give lap-dances, I figured she was about two-and-a-half feet tall. I had wanted to tip her, to talk to her, but then some man found her and then kept her in his lap, petting her continually, not for one second giving her up.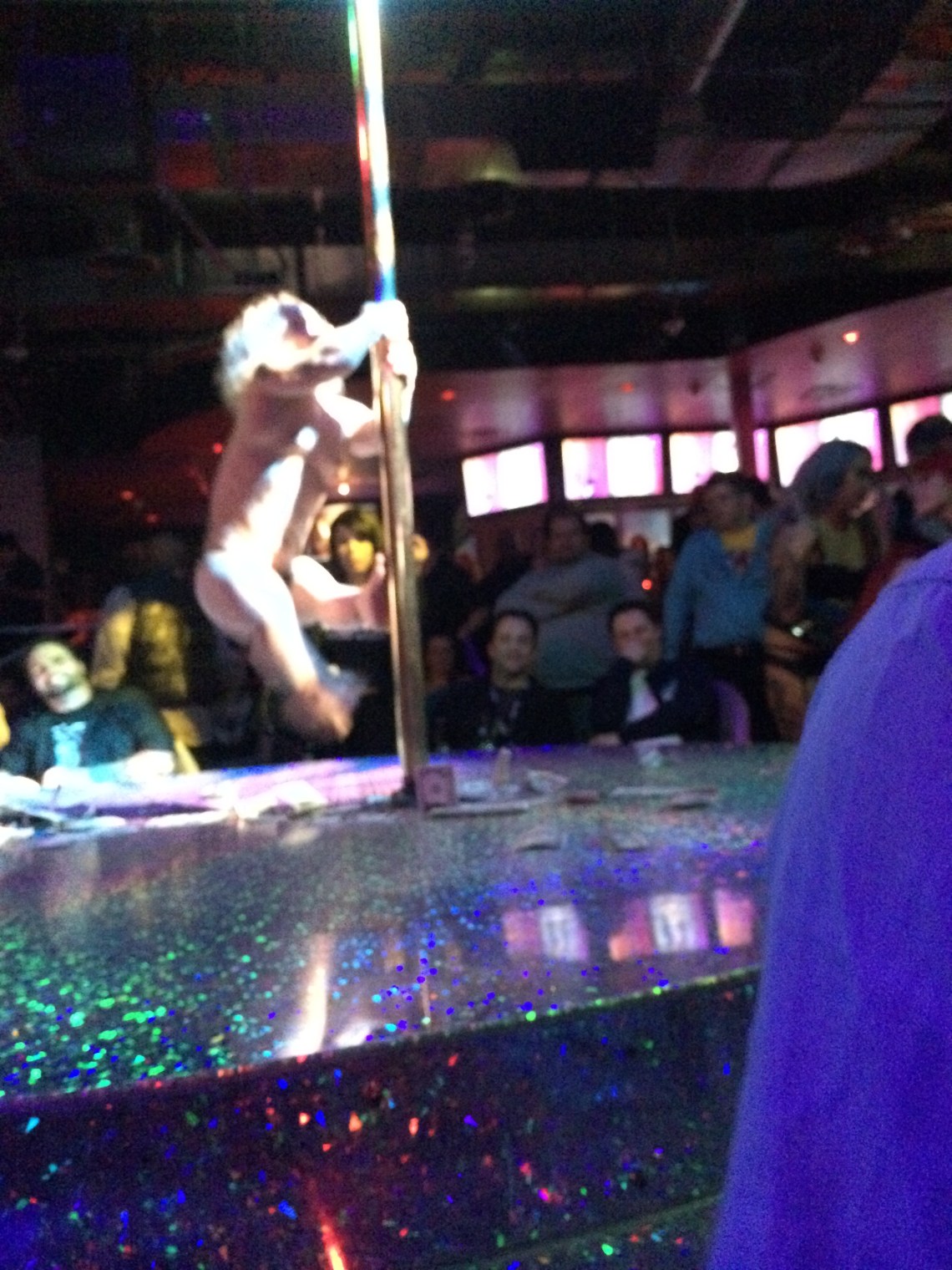 If only one could hold onto that brief moment of amnesia upon waking, that initial calm, but, blah blah, the previous night surfaces, all at once, a dry storm in the mouth.
"Baby," the boyfriend said in the dark stretch of the hotel bed, "Baby. You're just using me for a boob-job."
"It's an investment," I murmur.
"Yeah…an investment for you!"
"But it's an investment for you too."
"Baby, don't talk like that."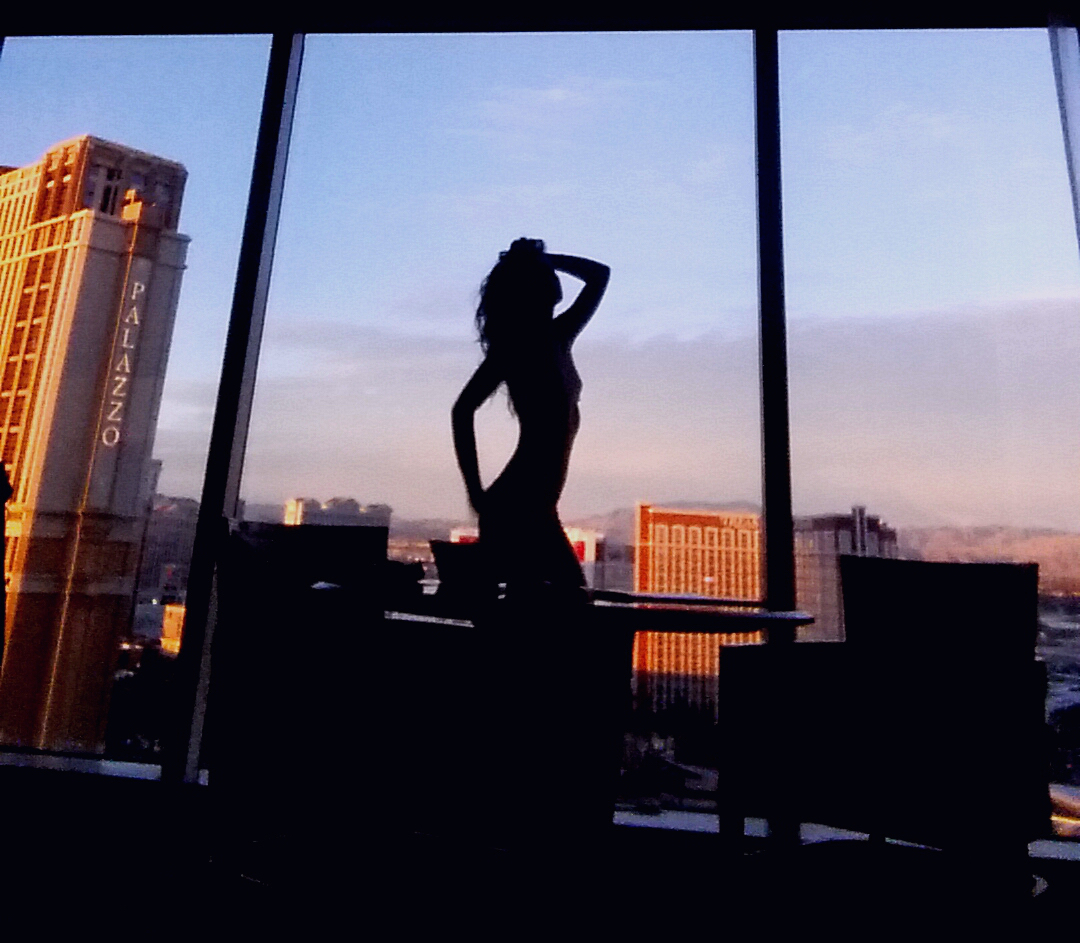 He clicked the thing and the curtains opened so we could see the other luxury hotels visible from ours.
The end of the night was vague, a series of egregious phone memos could be pieced together to read: "Told stripper sorry couldn't do lapdance because was trying to find a stripper," "Shoe store that serves jello shots?" and "XY and xx shot specials, says male is for stamina, female is blood…"
We ordered Advil from the front desk and had brunch, then went for massages at a spa in the neighboring hotel, walking through a strange glass hallway, never once having to step outside.
Lying in the sauna, I tried to gather some point of intention, focus. The boob job. It would be good for our relationship. It was certainly better than an engagement ring. I closed my eyes and sensed something building internally, something tumbling forth, feral and perfect.
Checking my phone in the changing room, I google image Kayden Kross and then click back to "web," and find a press announcement from the AVN, reporting that Kayden Kross was named the president and "face" of Arrangement Finders, a new sugar daddy dating site.
In the article, Kross explained that "sugar" dating had long been a part of the adult world but was now becoming a "lifestyle choice" in major American cities.
I clicked the link for the site and shook my head as I read, "With a high female to male ratio, you don't have to be wealthy to find the arrangement of a lifetime!"
---
Exiting a cab, outside of the AVN awards. The sun is beginning to set and the moon hangs high in the sky. I take a photo for Instagram and, in the lower frame, capture the glittering, enormous, tacky guitar protruding from the Hard Rock entranceway. I was beginning to like this city and all its droning intensity, its mechanistic obsession with desire, hunger, and whimsy, its palm trees, flown in and planted in perfect rows.
Outside the hotel entrance, men without tickets stand in a long line around the block. The line continued to circle through the large casino, where more men stood, fully charged, for hours.
I am wearing a floor-length gray sheer dress, nipples out, visible, in a peek-a-boo bra. My boyfriend wears a gray suit and gold tie and I can't stop thinking about how he fucked me over the hotel sink, my face turning violent in the mirror. "You make me crazy," I had complained, my mouth liquid, something seeping from my throat to my eyes.
And here is where you and I, blogger and reader, circle around as well, nearly touching the tail of where we began: I kiss the boyfriend goodbye so he can gamble away his money, and begin my reporting gig in that dismal backroom where the red carpet lets out.
I stand next to the other bloggers and watch as a cameraman directs two brunettes for some sort of pre-recorded red carpet material. The cameraman tells the stars to walk slowly toward him while overdramatizing their lines, which is proving difficult. In multiple takes, the women must explain, over and over, that we are here at the 2015 AVN awards in Las Vegas.
I meet again with the Jezebel reporter and we circle the party together. "Rachel is a writer for Thought Catalog," he says introducing me to a photo journalist. "You can tell because she's white."
Perched at the bar, beginning the vodka cycle again, I overhear one reporter explaining to another the mechanics of faking orgasms and squirting, "All you need is some water and strong kegel muscles," he explains.
"Porn used to be a party," say two blonds sitting at the bar, "The actors were beautiful and there was plenty of time to leisure between scenes, to enjoy a cocktail, snort some drugs and have sex in the bathroom. Now you better get it right in one shot because that's all the studio is going to take. Be there, on time, clear-eyed, with hair and makeup done. Big Daddy Mainframe is watching the clock."
I ask what advice they would give to a porn newbie, some girl who has maybe put nude photos online, maybe done some camming, dipped a little into paid sex.
They look at each other. There is talk of having an education, another job to fall back on… but then there is the real issue of girls getting fired from jobs for having a porn past. One of them says something about not bending your morals. There is no good answer.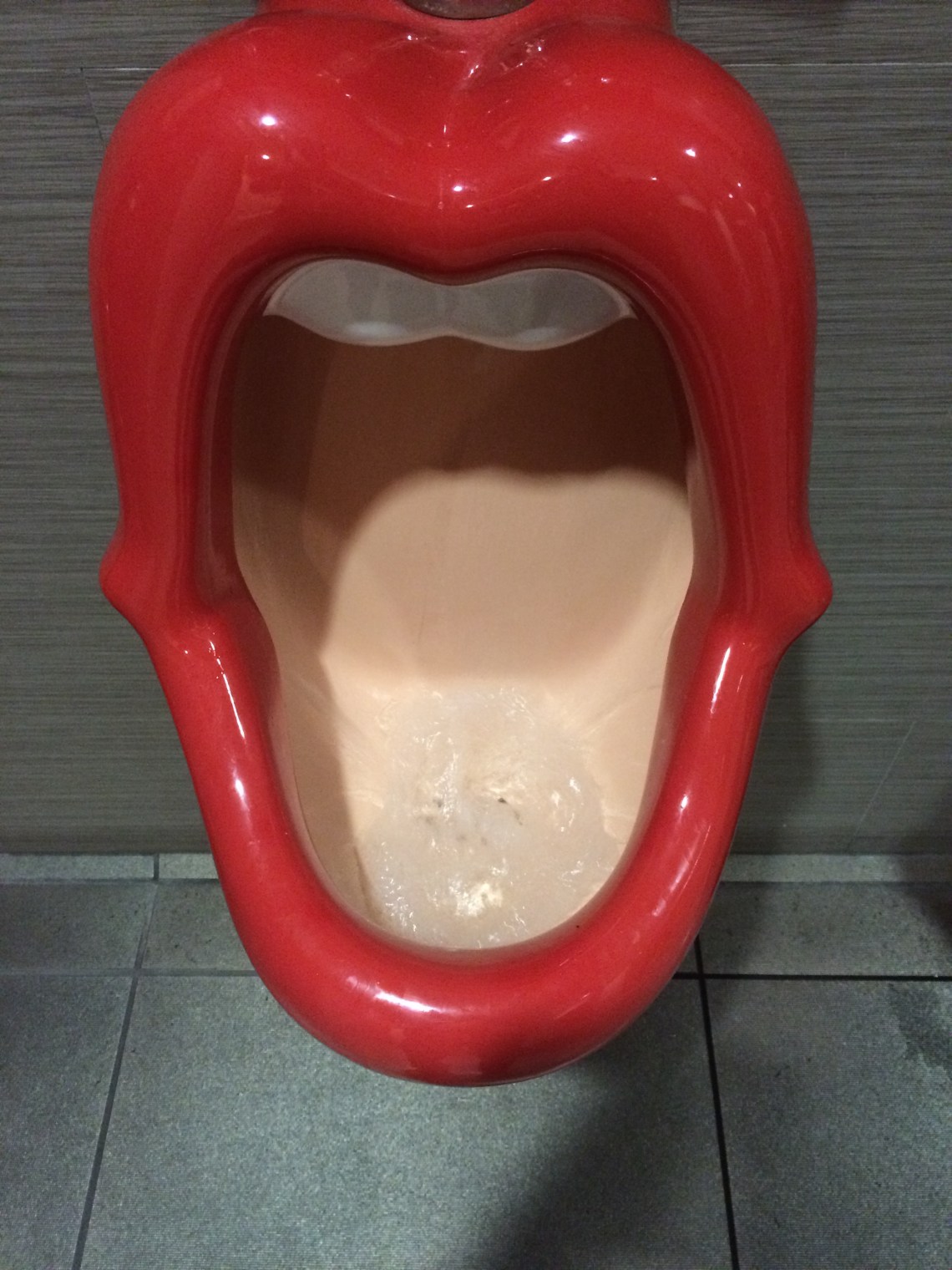 ---
For a show celebrating porn, there is something sobering about the awards ceremony, the whole spectacle is held inside the Hard Rock's grand theater with table service. On the red carpet, a trite "It's like our Oscars!" kept clumsily surfacing and, like a real Hollywood awards show, the AVN felt very rehearsed, full of awkward dance numbers and pre-written jokes read from a teleprompter.
"How much do you think Tommy Pistol is getting paid for this?" I ask my boyfriend, about the male co-host.
"I don't know… maybe like $15,000"
"I was thinking like… $10,000. What about Alexis Texas?"
"The female host is definitely getting more. I don't know… 30,000?"
"I feel like they could both be getting less…I have no idea anymore what people are making."
None of the actresses seemed to have prepared a speech as they hopped on stage, angel-headed and ecstatic to accept awards for Best Anal Sex or Best Young Girl Release, thanking their co-stars and mothers, radiating an amphetamine luminescence.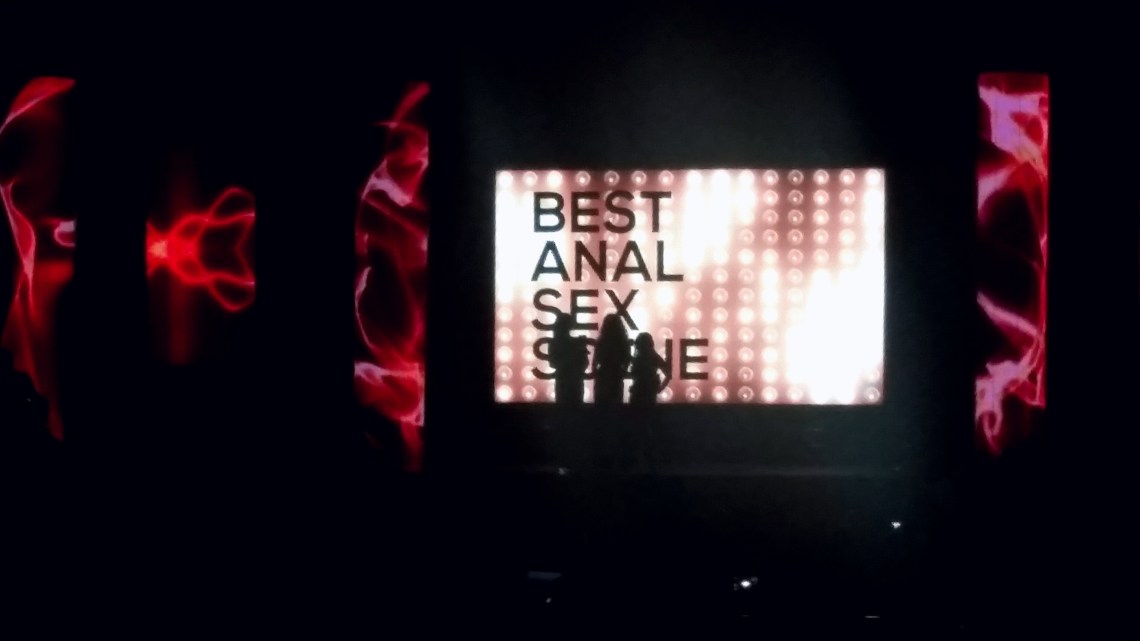 There seem to be hundreds of categories and the video clips shown for each are edited, surprisingly, to be as non-explicit as possible. Despite winning titles like Butthole Barrio 2, Slutty & Sluttier 18, American Cock Sucking Sluts 3, not a single hard cock appeared on the large screen.
It was, though, easy to spot the male porn stars at the ceremony. "It's something about their gait," says the boyfriend. "They look like they're just walking around with hard cocks…even their faces look like cocks."
---
I stumbled down the carpet, exiting the awards ceremony, and am momentarily sobered by the crowd. Men, more of them. Men packed tightly around the red carpet, men all throughout the casino, staring desperately at each woman passing by.
My boyfriend lumbered toward the blackjack tables and I roamed through the crowd of men seemingly full of energy though they had been standing, staring, all night. Unable to help myself, I gazed back, oddly pleased by the glances down my see-through dress then back to my face.
At the bar, two men were offering to buy me a drink I didn't need when I felt someone grip my arm, and turned to see the party photographer from the expo.
"Come with me," he said, making eye contact not with me, but with the two men flanking me.
Quickly, he led me through the casino, through a second bar, and into an abandoned single person bathroom.
I was conscious enough to check myself in the mirror and see, in the greenish light, that I did not look good, my eyes seemed sickly, small on my face, flushed and dry with alcohol.
"Here, like this, put your arms up he said," and flashed the camera.
"That's hot. You are sexy. Put your arms down," he said, moving my body to pin it against the tile.
"Here," he said and adjusted my hair, "like this."
He shuffled through the photos, his free thumb rested on his zipper, and he said I should pull my top down, something about the sheer of the dress, the nipples: flash.
I am arguing something about party photography, how I know what you guys are like, something about regretting what comes when you google my name.
"I'm not Bronques," he protested, "Come on, I won't put anything online that you don't like. I promise, really promise."
I pull down the top of my dress and smile stupidly.
---
I text Tara Holiday, a "cougar" porn star I interviewed the day before, who started doing porn in order to escape men, "I wasted my twenties and thirties being in relationships," she had said. "I feel sorry for the women who marry the millionaire and then get stuck with him. I don't feel that. I feel energetically pristine."
I check my phone for a response every few seconds but there isn't one, and anyway, I can't properly type my passcode.
There are only men. More and more men in the casino, some of them are already paired up, tiny porn girls with their tiny arms around these vacant hippopotami.
"Hi, hi," say the men as we pass, "Are you available?"
At the black-jack table, I find my boyfriend in a gambling trance, "Baby," I say. "Baby, I am experiencing some real female glory… I'm, like, getting offers for money."
"That's great honey…" he says, "It seems like it's good for the story… now get away from my table, okay. You're bad luck!"
Gathering some intention, a point of focus, the story, the story, I decide to engage.
I circle them, men and more men. "Hello," I say, trying to make my voice purposeful, my heart an alligator.
I sit at a table with a local who lives outside of Vegas, he offers to buy me a drink, but I already have one.
We make a little awkward conversation about the awards ceremony, which he didn't attend, and I soon admit that I am a journalist, covering AVN.
We watch the crowd, unable to look away from the blonde who is dangling a maraschino cherry into the mouth of a disabled man with an oxygen tube.
"I mean…" I begin, "It seems like the guys are all here, you know, looking for sex…. to buy…"
"Yeah, that's what's up," says the local, taking a swig of beer.
"So, that's what you're hoping for tonight?"
He nods. "You know, the right girl, a porn girl, the right price."
"The right price," he tells me, "Would be a standard $2500. That's standard. But then it depends, for girls who've proven themselves in porn, who've shown in a myriad of scenes what they can do, that's when you get to more like 5k, 10k, or whatever." For the girls who escort, porn is a calling card.
"I mean if you're a girl who has really done some scenes, who has learned how to give a blowjob, I mean really do a blowjob, if you have those ridiculous skills, you know, if you've learned how to ride dick, that's a lot, that's a skill. That's worth something," he adds.
"Right," I agree.
"You have to know how to really get railed, I mean that's what I am looking for, a girl who can take it and just keep taking it."
I nod.
"I mean, a small girl like you… do you think you can really get railed?"
---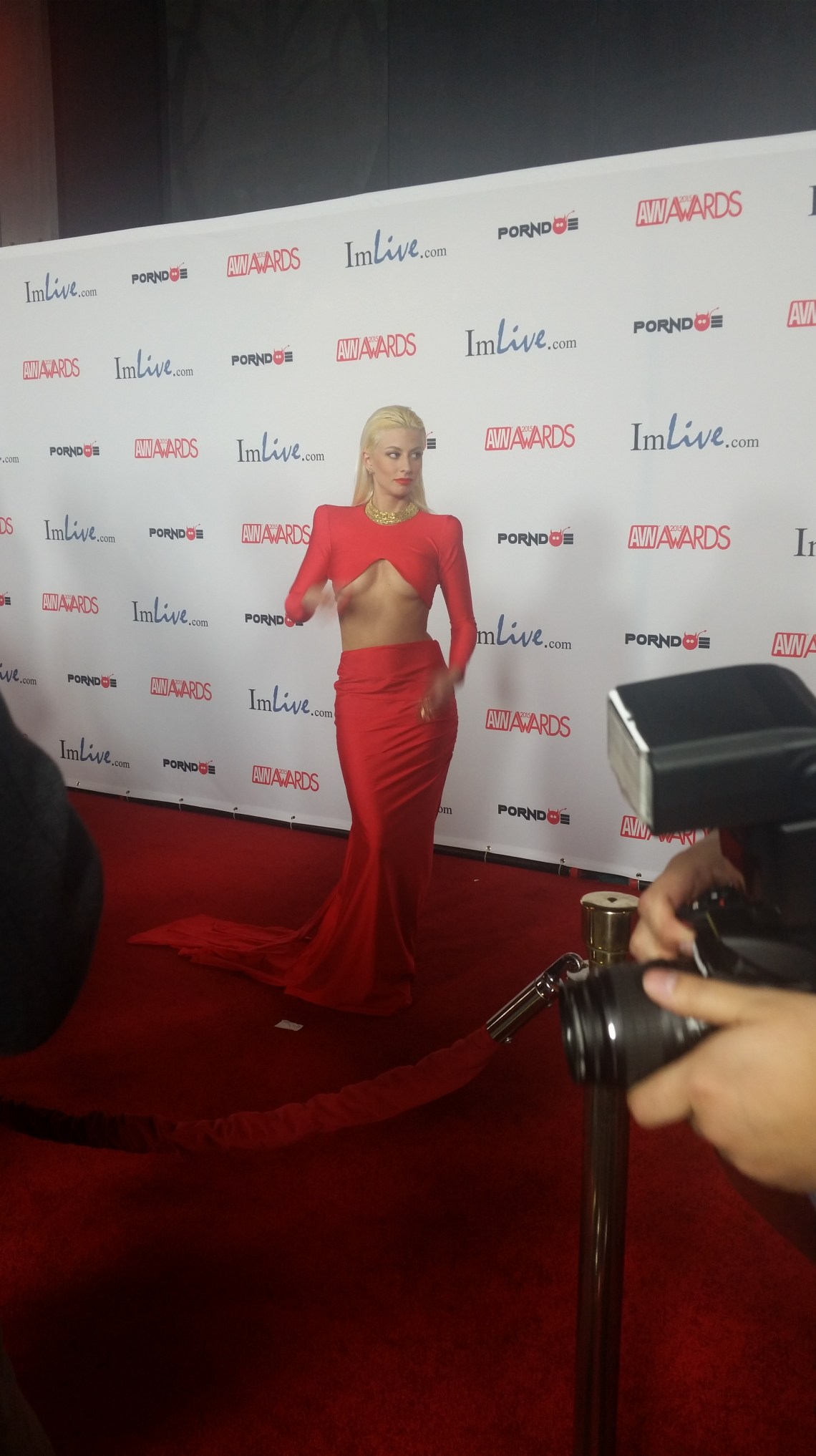 I am circling and circling the hotel, checking my texts, greedy for the story, the orgy. I needed my money-shot, the final scene of a sex party.
There had been only one response, which I didn't respond to because it wasn't right, not what I was looking for, or maybe, not what I was into:
"Queerella Fistalot is having a thing. Do you know her? It's going to be like a feminist, gender-queer, very sex positive gathering."
Squinting, I respond to the text, hours late, where are you, and quickly receive one back: "We are stuck at the official AVN after-party, it's in this nightclub, it is crowded and there is no sex!!"
---
I get fucked once more before leaving Las Vegas and when I come, it's not in the orgasm I have while masturbating, that moment of shivering alone with a vibrator, but the one with my legs wide, opening and opening, drinking in an entire extravagance, unable to stop myself from moaning louder, electric, trying to reach a more perfect height.
We pack our things, and, doing a double-check, I realize that the hotel sheets are stained, that in my orgasm, I had squirted blood; the white comforter, the pillows, the whole of it gruesome with come.
Littering the floor is some of the AVN swag: several business cards, pens and mirrors embossed with website names, a free porn DVD. "Do people even have DVD players anymore?" I ask, as we leave, "Do laptops even come with them?"