I thought I was a big Hello Kitty fan—until I arrived in Los Angeles for Hello Kitty Con, the first of its kind celebration of the famous Sanrio character held to honor her 40th anniversary. I knew a few things, like that Hello Kitty was a Scorpio, like me (I'm one year and nine days younger than her), that she wears a bow in her hair, has no mouth, and that she is an emblem of all things cute.
But I soon found out so much more. First, that I am not a superfan, even though I flew out from New Jersey to be part of this celebration I simply couldn't miss. This was brought home to me when I attended a panel of superfans, who've done things like flown the Eva Airlines Hello Kitty plane to Taiwan, visited theme park Puroland in Japan, met significant others by bonding over Hello Kitty and have strong opinions (on both sides) over whether Hello Kitty is a cat. They have tattoos of Hello Kitty, such as this one on porn star Tera Patrick:
and wear dresses like hers: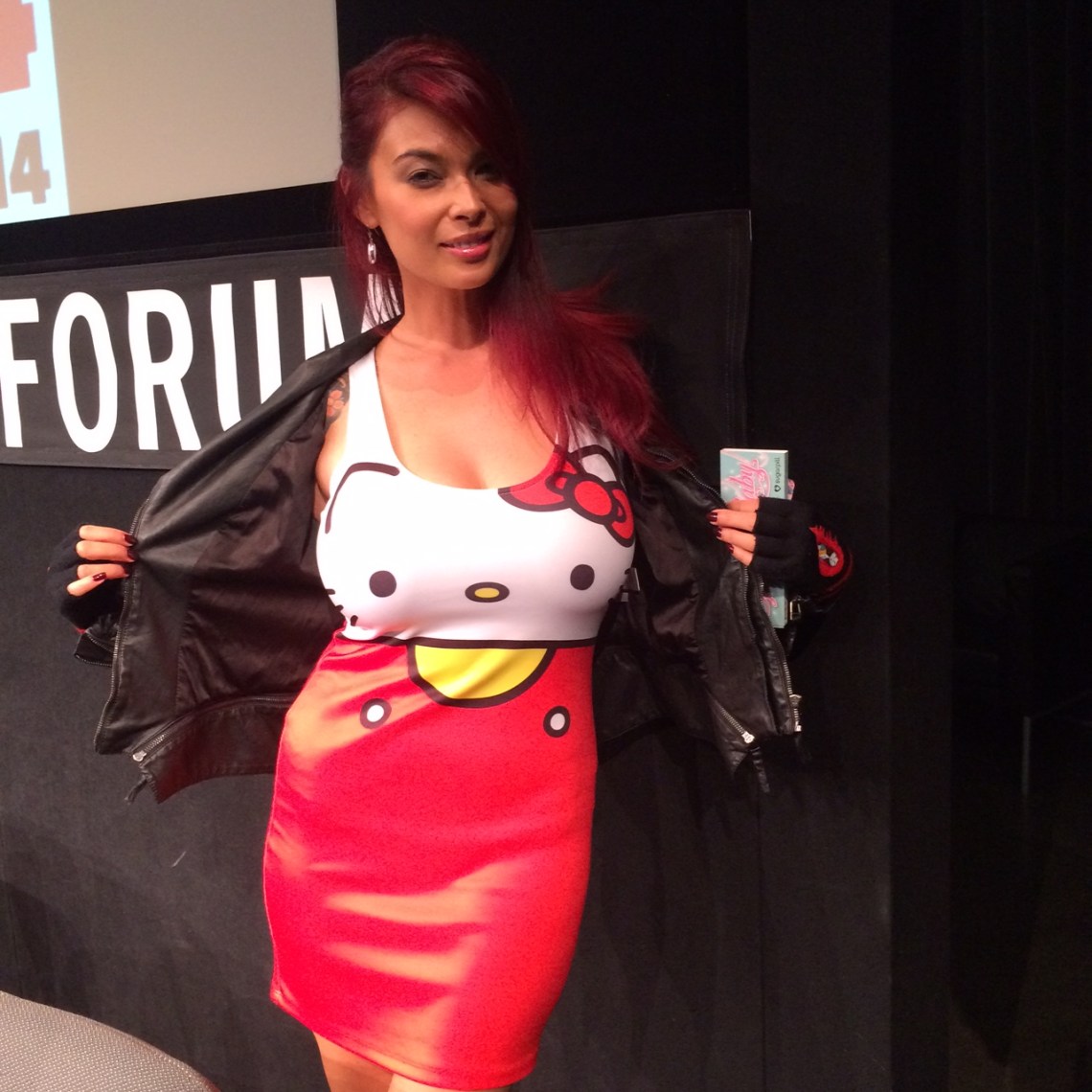 Or they dress like this: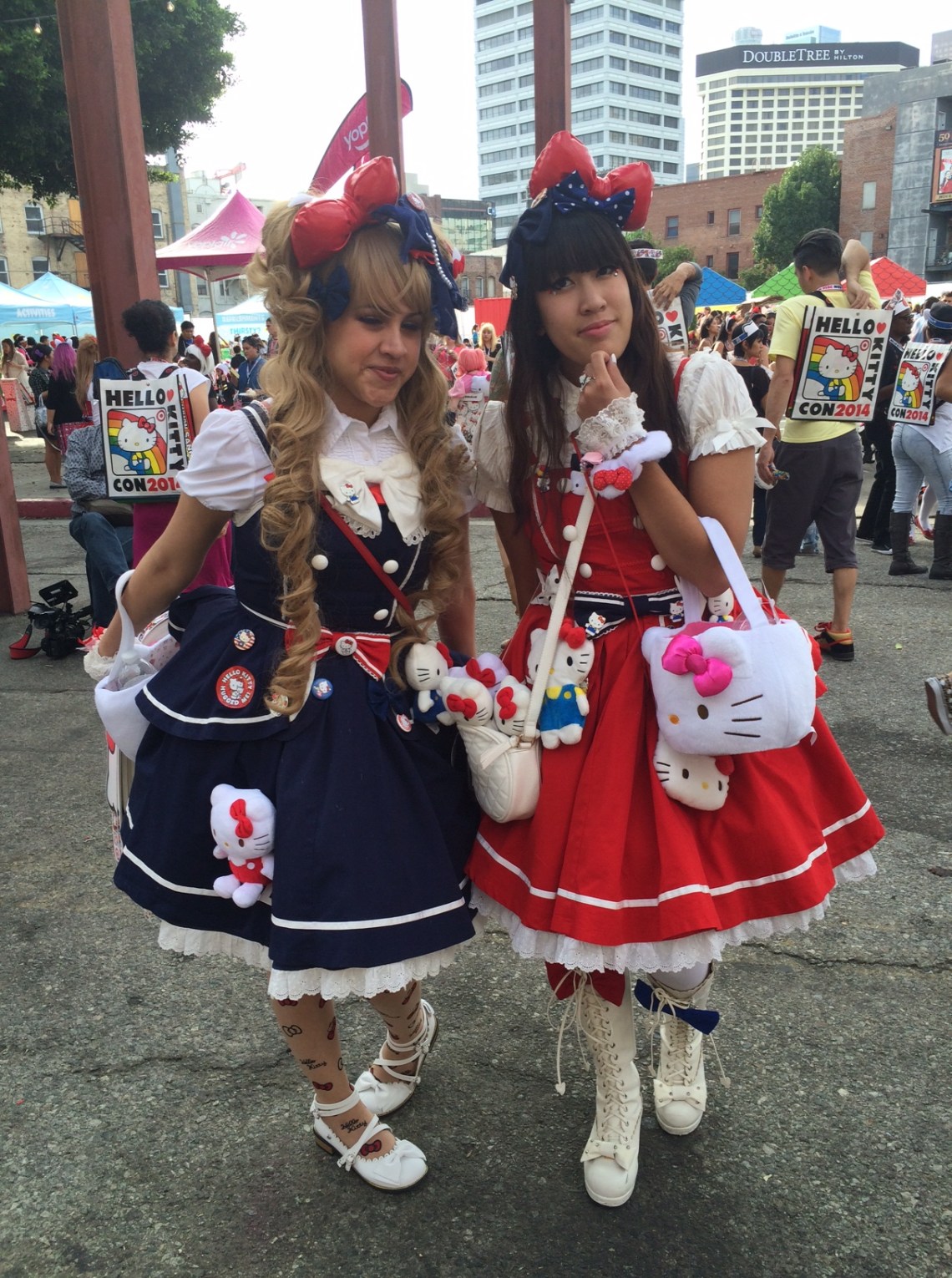 And this latex dress by Abigail Greydanus was one of a very impressive set of fashion collaborations: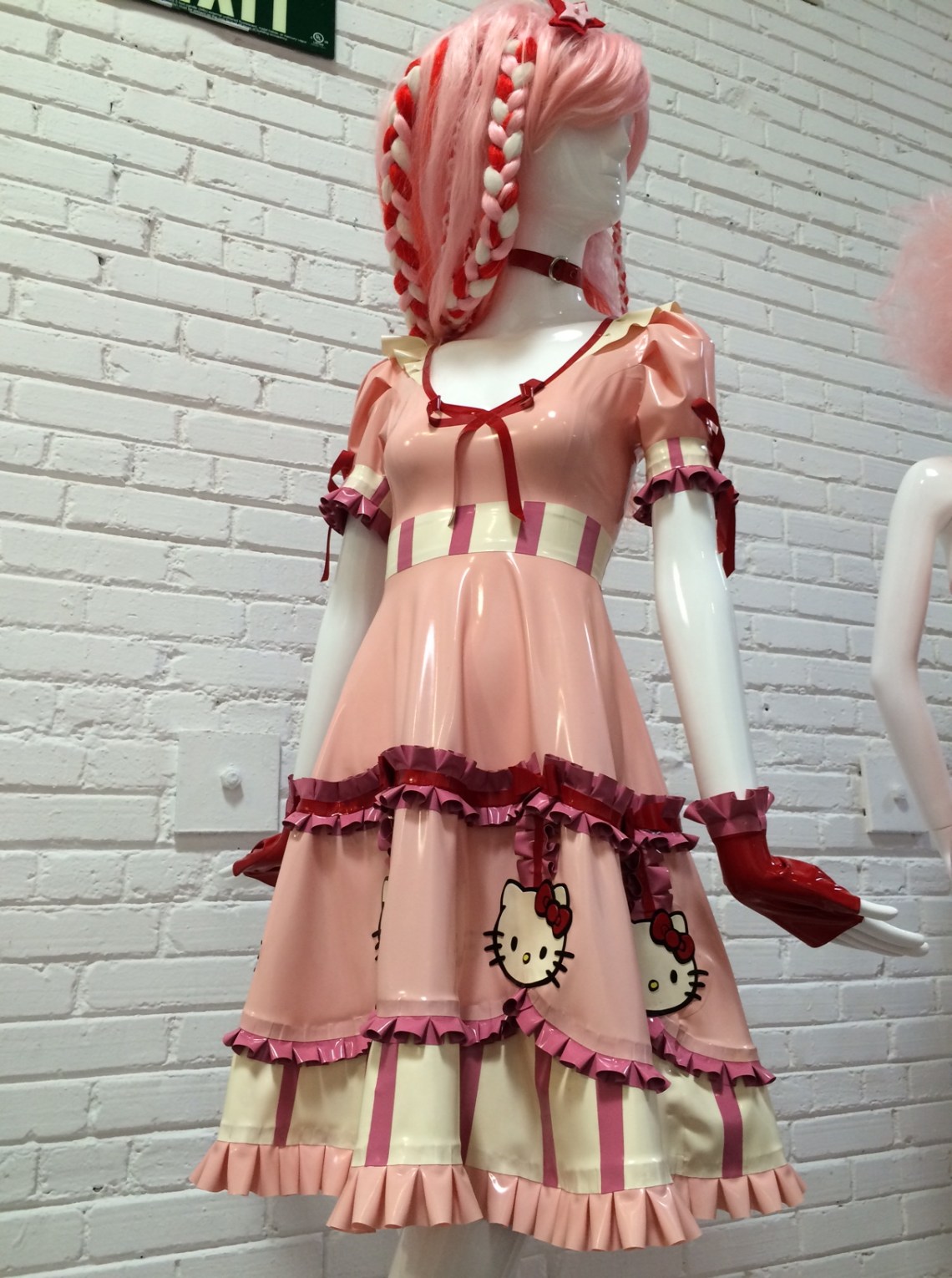 Me? I wore a regular dress over jeans and hunted for the perfect Hello Kitty outfit, but while I admired some, like JapanLA's Hello Kitty/The Simpsons collaborations, the t-shirt I most wanted was this one emblazoned with You Had Me At Hello: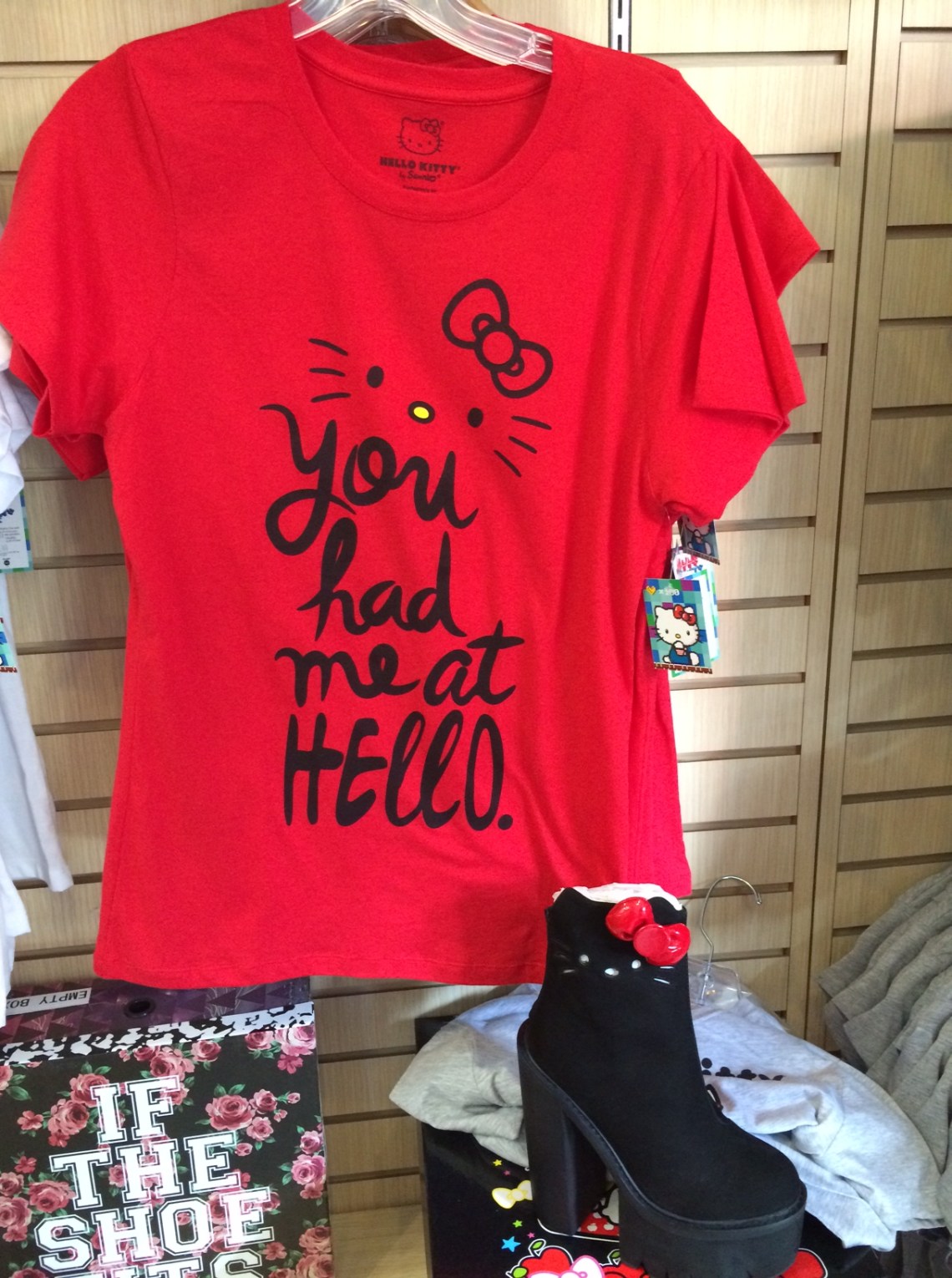 I do still consider myself a fan, but not a superfan. I'm ashamed to say I didn't even know Hello Kitty was a twin! Nor that she has a "special friend" named Dear Daniel, or that her favorite food is her mama's apple pie. I learned a seemingly infinite number of things at the exhibit Hello! Exploring the Supercute World of Hello Kitty at the Japanese American National Museum, one of the highlights for me of my trip and something I recommend you check out if you're in LA (it's on through April 26th). I found out that Hello Kitty's product range has included everything from motor oil to braces to KISS figures to vibrators (okay, I knew that) to a Hooters pin!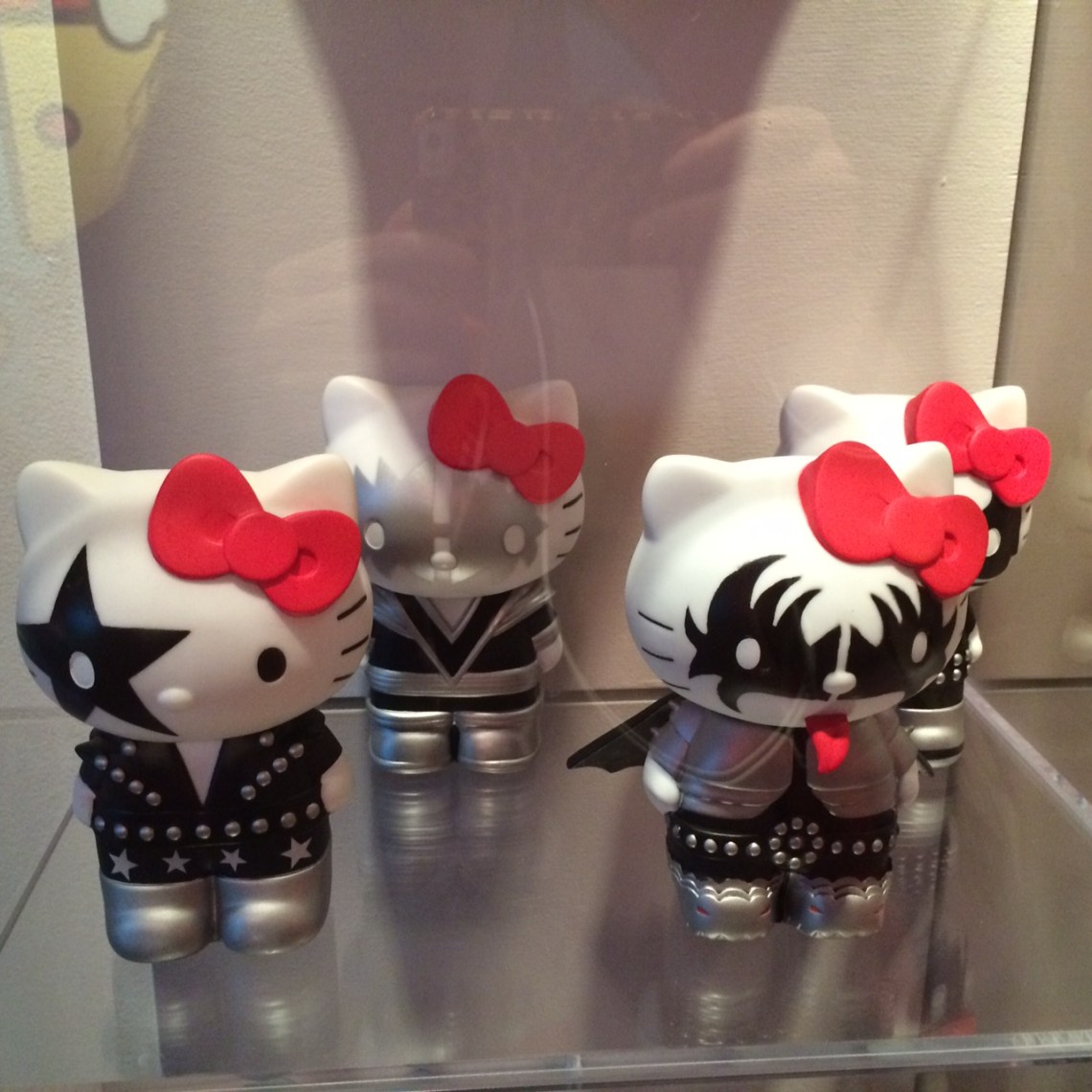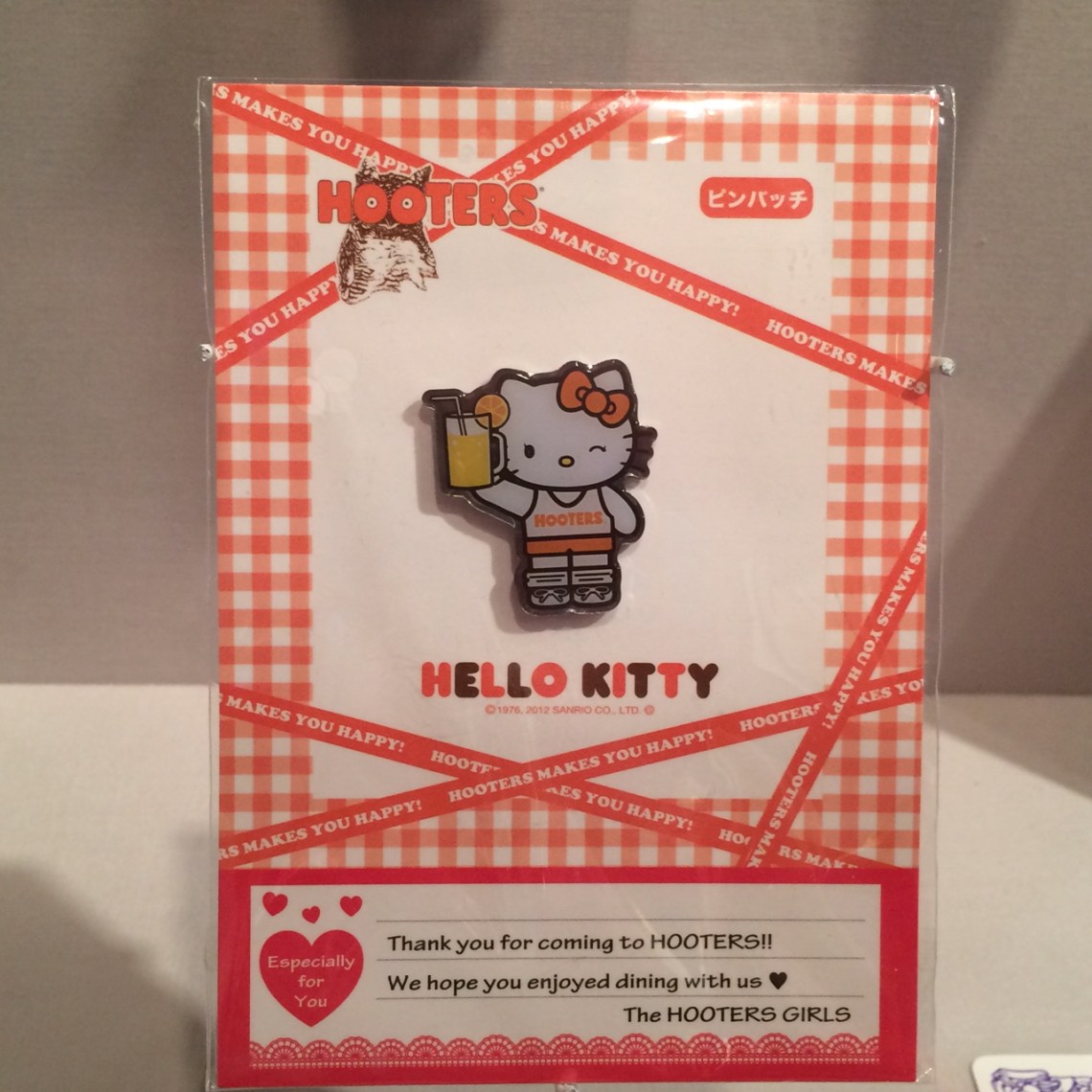 Also, at the risk of heresy, I disagree with Hello Kitty: I think you can have too many friends. Not that friends are a bad thing to have, and I made a few new ones at the con, but as I approach 40 myself, I have started to focus on spending more quality one on one time with my friends, on not spreading myself so thin and saying yes to every social engagement that comes along. Just as there was spirited debate over whether Hello Kitty is a cat and what purpose her mouthless face serves, it's okay to agree to disagree.
I didn't buy anything at all at Hello Kitty Con; I wasn't really there to shop, though I definitely admired a few items and would proudly hang Hello Kitty art on my wall. That being said, I'm eagerly awaiting the time when I have kids who are old enough to buy them this (though secretly I want it):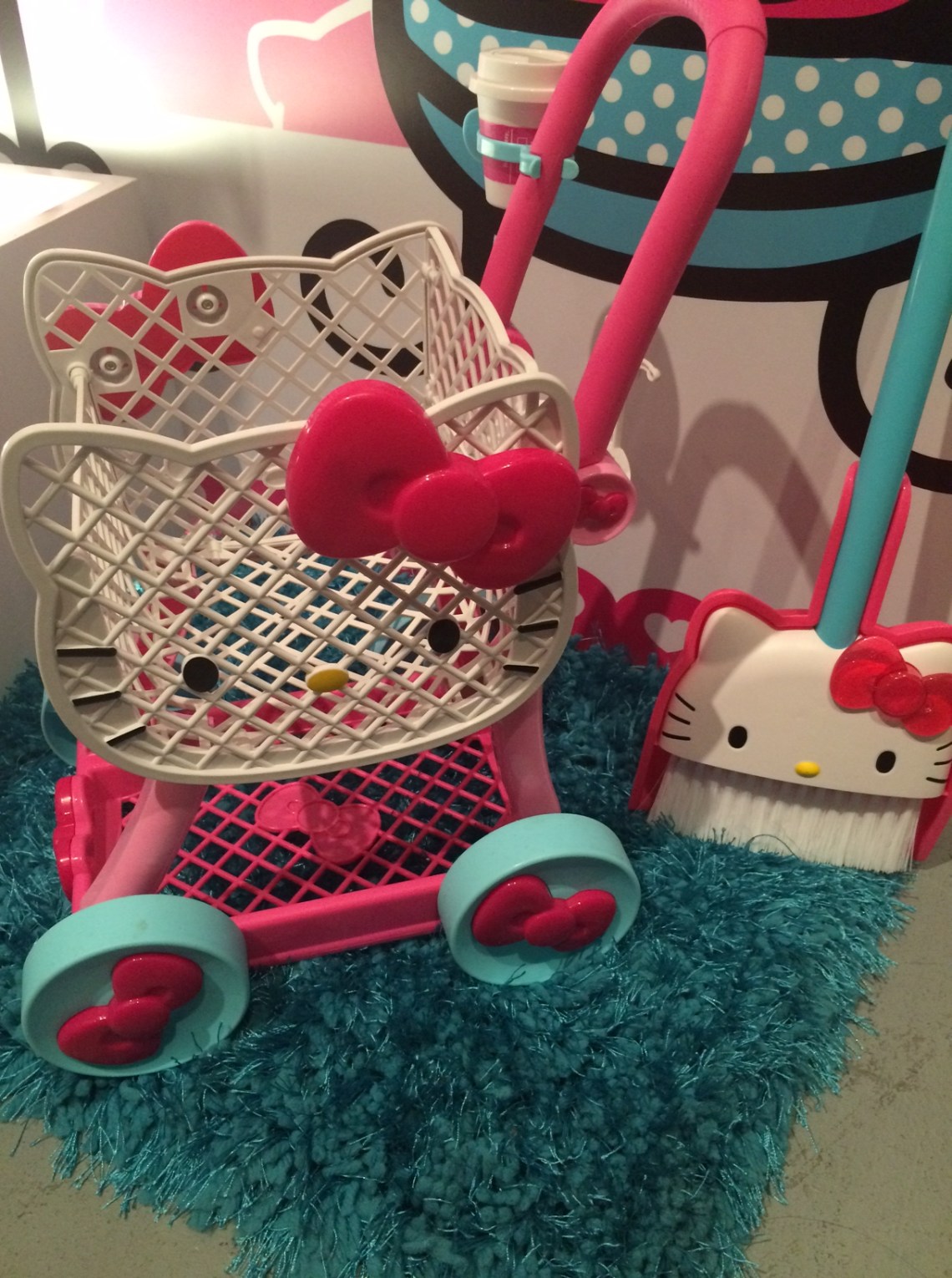 Here's the thing: I don't need to own a Hello Kitty toilet seat cover for the fact that one exists to make me smile. I loved seeing a whole model house full of Hello Kitty stuff, not because I want to pretend I live in Hello Kitty land 24/7, but because escaping into that world once in a while is the perfect antidote to the pressures of real life. How can a Hello Kitty toilet seat not make you smile? In other words, I don't want to live at Hello Kitty Con, but I'm so glad I visited.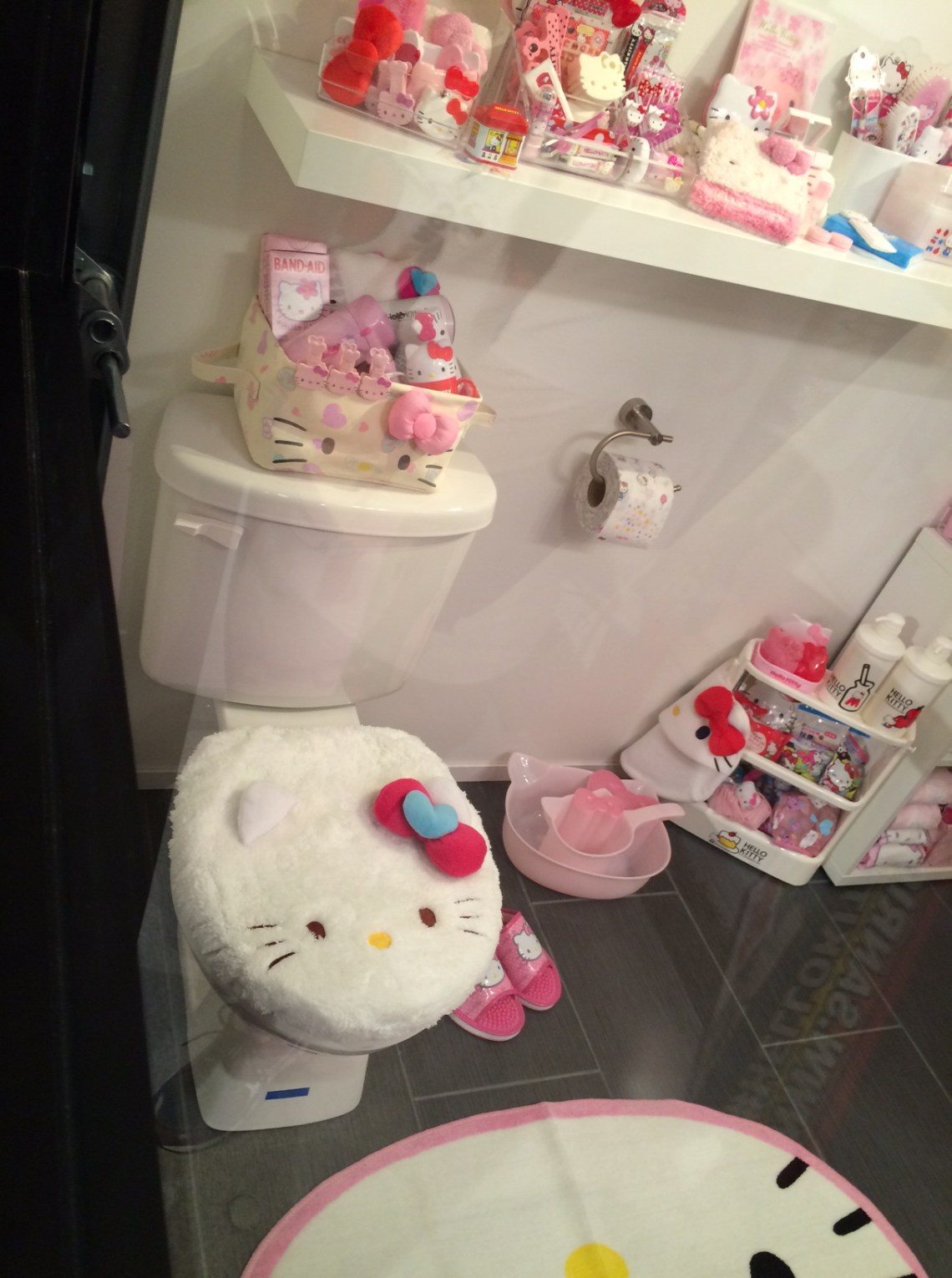 I just like her. I don't have a deep, impassioned reason and have become more of a Hello Kitty fan as an adult than I ever was as a child. I am less interested in her official story than the simple joy being a Hello Kitty fan brings me. When I'm indulging in Hello Kitty, I am not thinking about all the awful things going on in the world, or the stress that wakes me up in the middle of the night and has me biting my nails until they bleed. I'll stop in Times Square and take a photo with Hello Kitty and use that as my Instagram image because as sappy as it sounds, I want to be as happy as Hello Kitty. I want my life to have more moments that are based simply on smiling and friendship than on cold calculations.
Hello Kitty connects me to other people. I have a friend who I assumed was a Hello Kitty fan because she's always posting stuff on Facebook about her and tagging me; it turns out, she is just doing it for me! I had enjoyed the writing of MariNaomi and followed her via email, but we bonded over being Hello Kitty fans (though she is an even bigger Tuxedo Sam fan) and attended Hello Kitty Con together, though she was disappointed that the Hello Kitty bandages at the first aid station were only for kids. A stranger showed off her tattoo (yes, there were real tattoo artists giving out free tattoos) that she arrived at 6:30 a.m. to get; I don't know if there's anything I'd get up that early for except a flight!
I get the argument that Hello Kitty is just a brand and those of us who like her are simply cogs in the capitalist consumerist wheel, albeit a kawaii-themed one. One one level, yes, it's true. Hello Kitty is big business. But she's also a source of artistic inspiration who invites others into her world (because she, unlike me, can never have too many friends). Just look at Block Hello Kitty by Yarns & Noble and Hello Lincoln by Scott Scheidly, part of the JANM exhibit: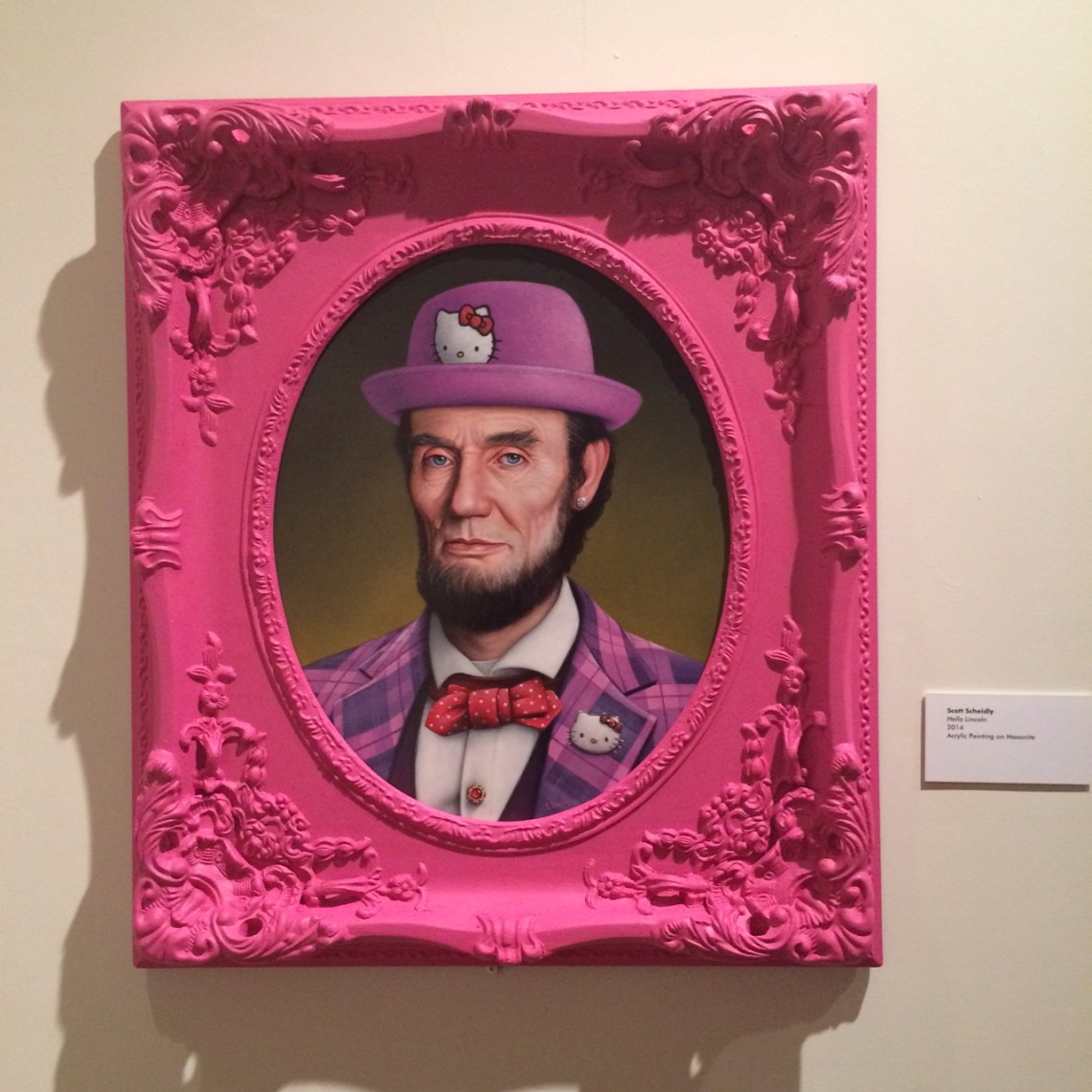 When I commented on Twitter that this piece of children's art reminds me of my favorite children's graphic novel series Babymouse, co-creator Matt Holm told me that in fact Babymouse is part of the new book Hello Kitty, Hello 40: A 40th Anniversary Tribute.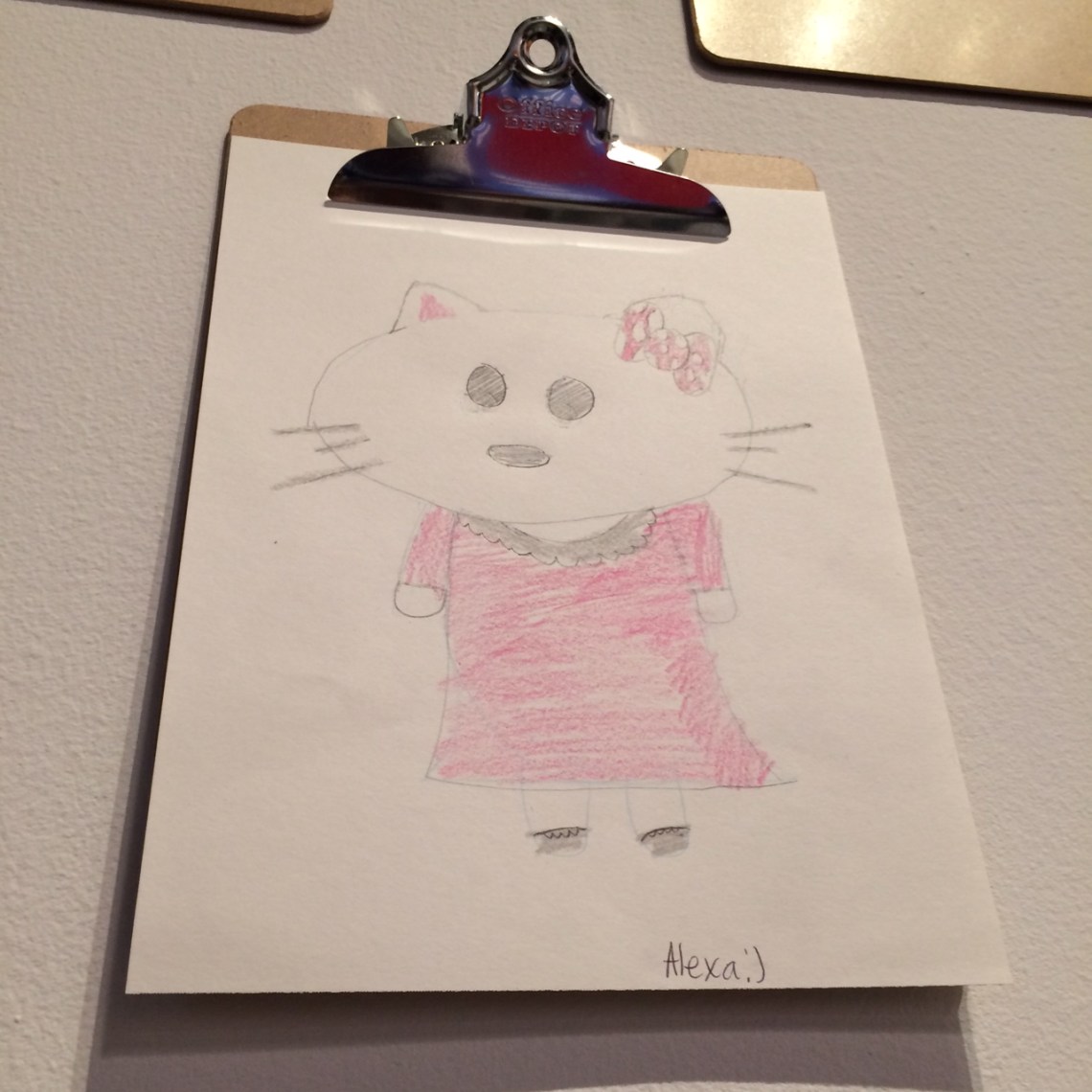 Hello Kitty helps me access my childlike side without having to be an actual child, and why I was willing to spend my hard-earned adult money on accessing that pleasure. I felt giddy about getting to ride on a Hello Kitty bus. I shelled out for The Line's Hello Kitty hotel room (though mine, the second tier level, mainly amounted to Hello Kitty swag) for the sheer pleasure of spending a little more time amongst this ultra cute, which I needed all the more this week after bouts of panic so bad I almost canceled my trip. Even though my feet hurt, I waited to see Hello Kitty at her birthday party, because there's something infectious about that much positive, happy energy, as there was about pretty much everything I saw the last three days.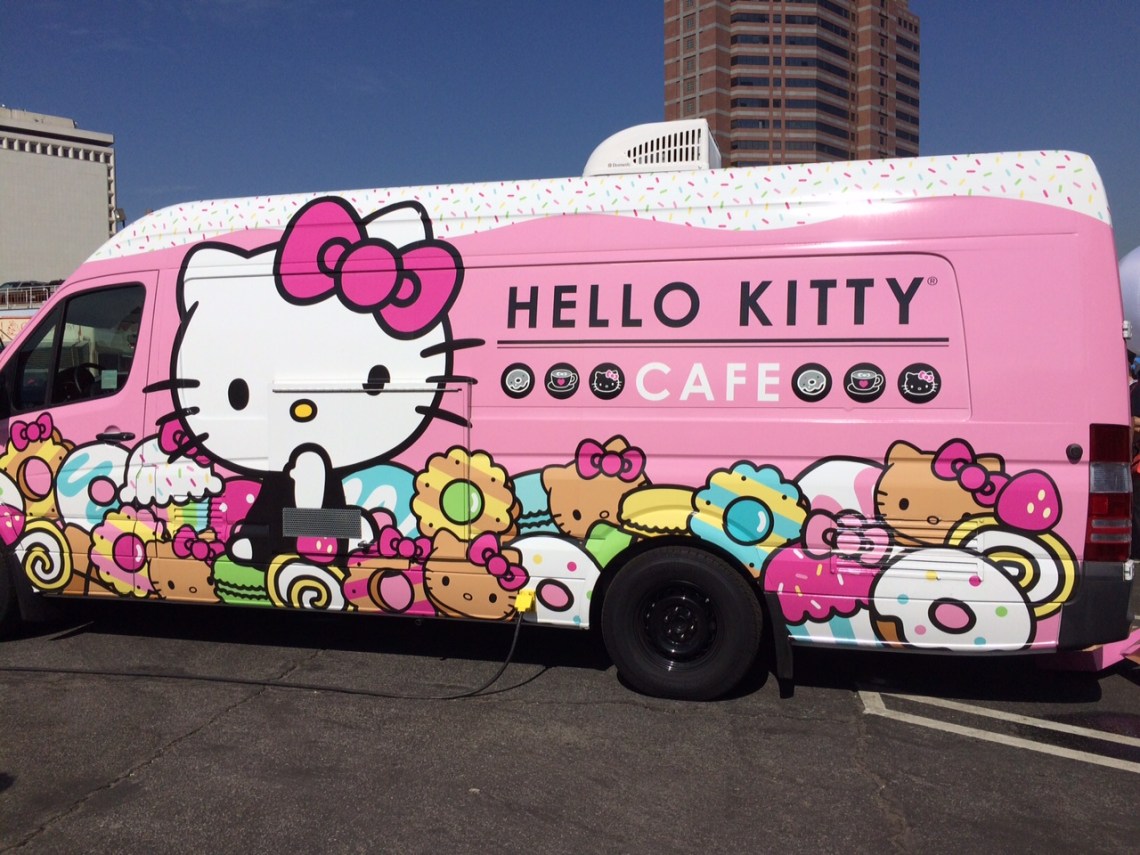 I've heard the argument that women liking Hello Kitty is part of an infantilization process, a desire to be quiet (because she has no mouth), a fetishization, if you will, of cuteness. But I don't buy that. The women at Hello Kitty's 40th birthday party were not meek or quiet. They were laughing and talking and squealing when Hello Kitty herself entered the room. Yes, maybe they were more polite than if we'd been fans of some huge celebrity. Nobody tried to tackle Hello Kitty and there was a minimum of photobombing, but what's wrong with that?
After the party, in the elevator of my hotel, laden with The Line's gift bag items I knew wouldn't fit in my luggage, I handed the plush toy set to a little girl in a Hello Kitty t-shirt who looked like she was up past her bedtime. "Do you want this?" I asked her (I got permission from her mom first). She took it and smiled shyly. That to me is the spirit of Hello Kitty, an instant bonding, a crossing of generations, something that you either get or you don't.
Maybe the ultimate question of how big a Hello Kitty fan I am comes down to a question posed by my boyfriend after I told him about the exhibit: Do I want a Hello Kitty tombstone when I die? I'm still pondering that one.