So – boxing is officially a thing. Which would honestly be fine if it were kept within the safe confines of Manny Pacquiao and far-off, unreachable celebs like Angelina and Gwyneth. But now models everywhere are suddenly taken with the sport as well – in particular, video snippets of them playing the sport and then uploaded to Instagram. So? you're probably wondering, What's wrong with a little fitspo? To which I say, nothing at all! It's merely this ilk of fitspo that I find unsettling – the one that challenges us to no only lead an audaciously active lifestyle, but to look impeccably good while doing so too. For someone who has always considered working out and looking like a middle aged man on day three of Bonnaroo to be an unavoidable, necessary evil of life, I'd be lying if I said this fitspo doesn't make me a wee-bit anxious.
http://instagram.com/p/yICBafxvMF/?modal=true
It took me awhile to give in to this "exercising." When I used to see bouncy, be-spandexed girls bopping through the streets, I'd feel an urge to stop them and say, "Let's be honest. You look FANTASTIC, but it's 8am – the only thing you could've possibly worked out is how to snooze an extra 20 minutes without being unacceptably late to work. I won't tell." It was only after I actually witnessed some of them leaving the gym at that hour that I began to think: maybe they're not feigning an active lifestyle after all. It was only after I realized – and much to my chagrin – that exercising isn't just a fleeting fad that will soon go out of style, that I finally gave in.
And gave in I did – to the best, laziest, most gratifying workout of all: Pilates. My first Pilates lesson felt like a dream come true. So what you're telling me is: I can be horizontal, lying fully down, for a whole hour, and still strengthen my core? My future was looking as bright as an orange medicine ball.
But now, with all of these videos of models boxing cramming up my feed, I'm not so sure.
http://instagram.com/p/vYdlmOmjTO/?modal=true
Don't misunderstand me: I'd love to upload an Instagram video of me serving a ravishing male a weak upper right hook, but given my reality, the prospect of this happening is looking less and less likely. When I'm not doing Pilates, I'm squatting to the beat of commercial breaks during a steamy episode of Scandal, and who wants to see a video of that? And when I am doing Pilates, I look something like this:
Once, I tried wearing some makeup to Pilates and that was fun for no one – not me, certainly not my pores or my burning cornea, and not for anyone else in the studio either who, to their credit, didn't ask for their Pilates lesson to come with a side order of a crying Cleopatra.
But still, given the frequency of these boxing videos, a change is definitely in order. And I can think of no better accessory to accompany my workout – to be the change I need – than a designer sneaker. They might not inject retinol into our cheeks, but they will probably help us gain access to an elite boxing gym. And they'll certainly look good on camera – so good, in fact, that wearing them might just be enough. Then you can cut boxing out of the equation altogether.
1. Valentino.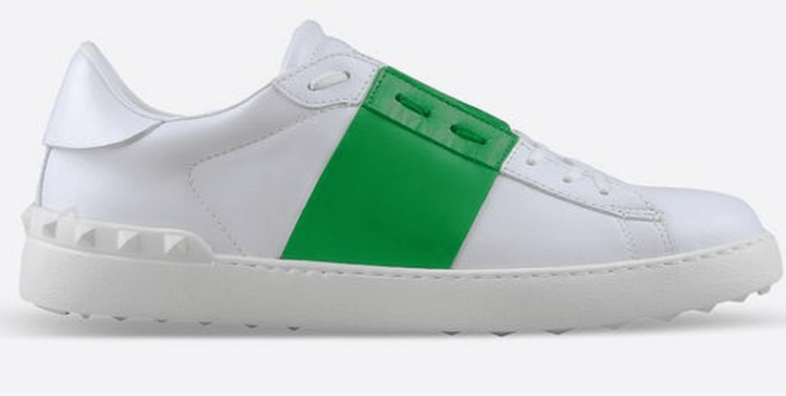 If Stan Smiths started dressing in Valentino, I imagine they'd look something like this. The Maison Valentino sneakers have the appeal of the everyday sneaker, but with minor, unmistakably Valentino embellishments, including a subtle swath of their signature pointy studs.
2. Pierre Hardy.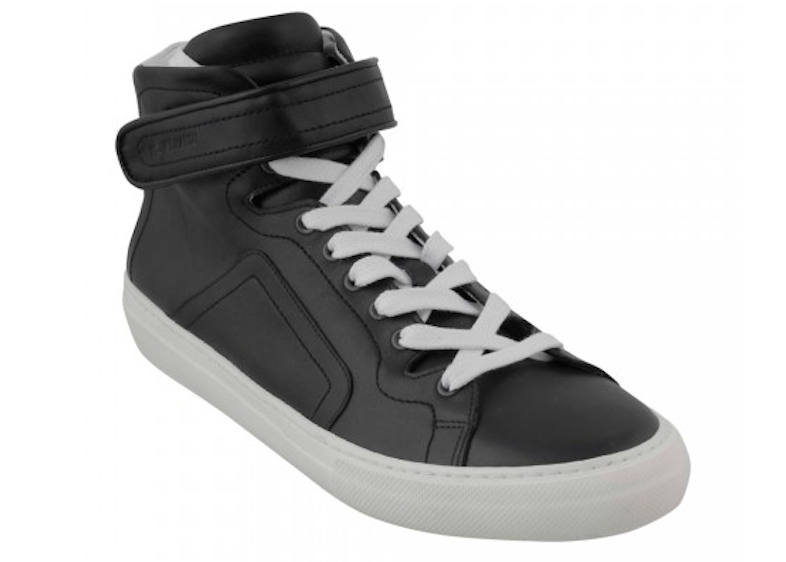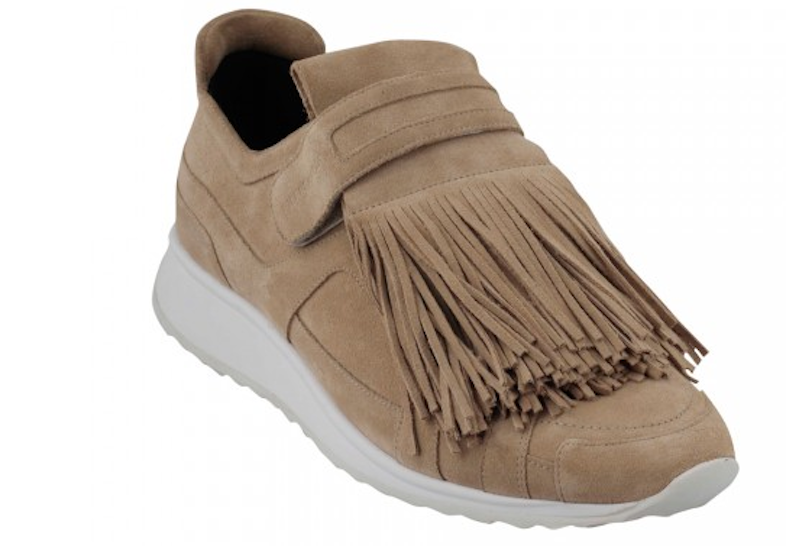 Pierre Hardy has quite a few sneaker options to choose from, but ultimately win with their more simplistic designs. Specifically the black leather high tops that resemble high top Vans with a single velcro strap, and the suede running sneaker that features a cute fringe appendage.
3. Burberry.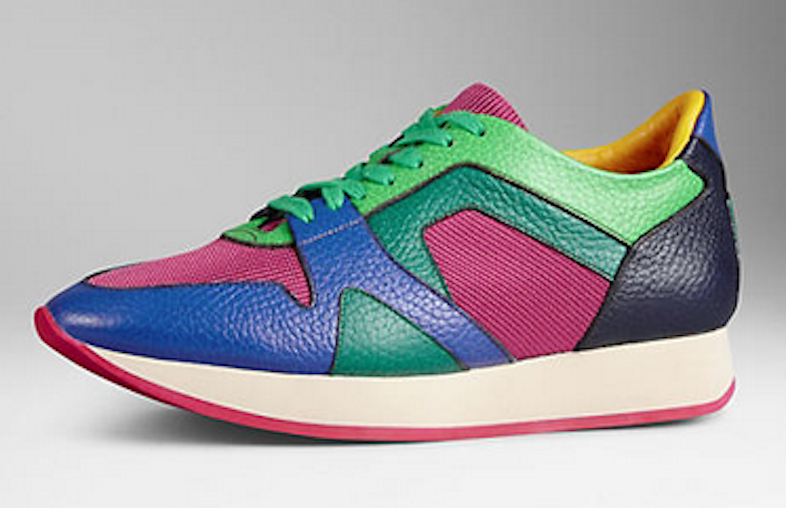 Burberry's spring season is colorful in all the ways you probably wouldn't expect of the well-established brand. But if their colorful sneakers are any indication, the palette is clearly working for them.
4. Mother of Pearl.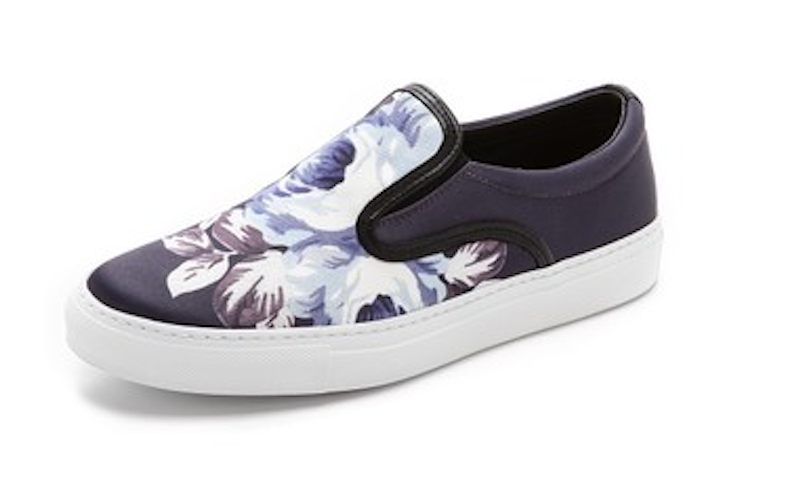 In a wonderful marriage of aesthetics, Mother of Pearl takes their distinctly ethereal prints to Vans-like slip-on sneakers.
5. Marc by Marc Jacobs.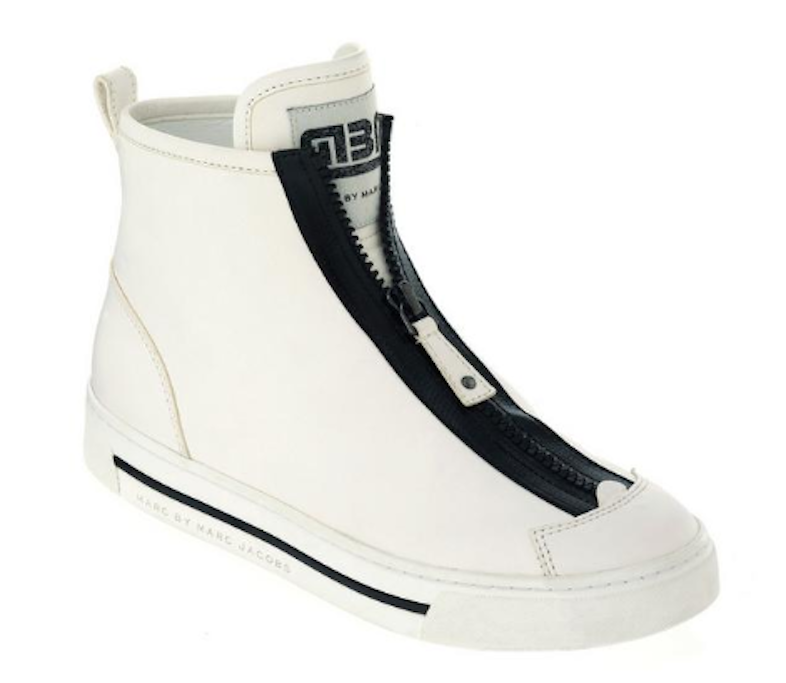 If there ever were a cool kid's club in fashion it would be the current team behind Marc by Marc Jacobs. And in an unsurprising turn of events, they've done it yet again; case in point: these slick-ass high tops.
6. Miu Miu.
Miu Miu's crystal fetish takes on sneakers, reminding us just how lucky we are to be cohabiting a planet with this brand. WE'RE NOT WORTHY!
7. Dior.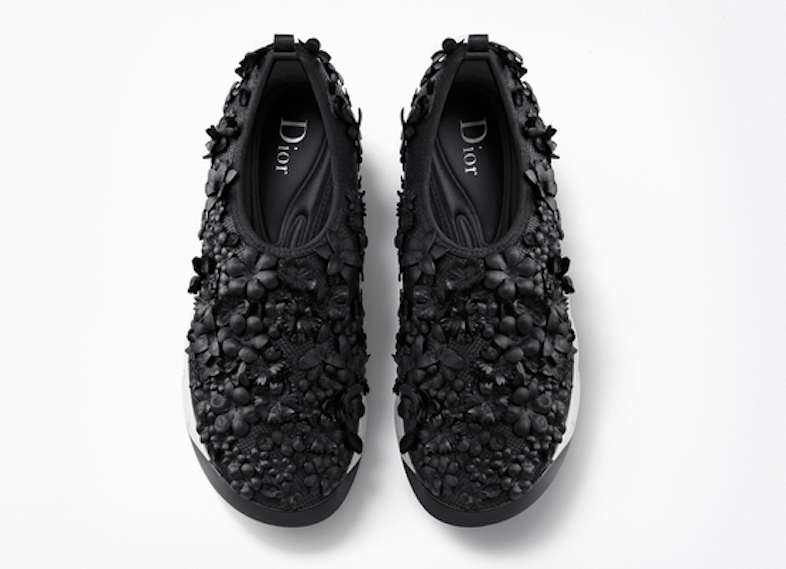 And if you're having trouble deciding between the above options — allow me. These Dior sneakers still exist and will do just fine.