Belts have never struck me as an oversized dress or tunic quick-fix. Perhaps it has something to do with the overabundance of belt-cinched waists at Coachella and other similarly boho-chic-slanted events. It's equally plausible, however, that my aversion to belts (and their cinching tendencies) stems from my utter shameful history with the fashion accessory. Hi my name is Rachel, and I used to own this disc leather concho chain belt in two different colors.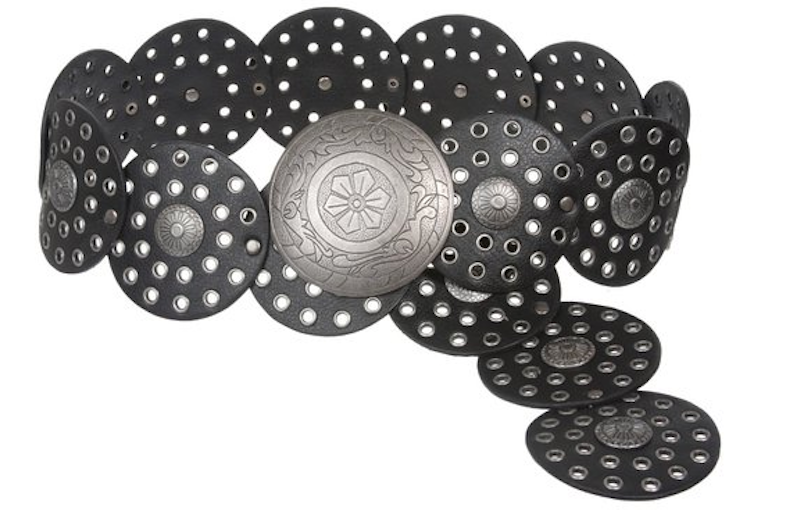 Whew! Can't tell you how long I've been waiting to get that off my chest. In fact, while I'm here in confessional, I may as well also mention my former penchant for rhinestone chain belts, which I occasionally referred to as stomach jewelry!
It was only this year that I finally started warming up to belts, and only because of their recent iterations. Belts, as Nicolas Ghesquière and Jonathan Anderson (of J.W. Anderson) recently taught us, need not be an outfit's statement piece. In fact, belts look remarkably better with an outfit if they remain low-key, blending in with the outfits colors and materials. Think of the bathrobe belt; just an extension of the bathrobe itself, the bathrobe belt serves no purpose aside from its originally intended one: to hold the bathrobe together.
Alexander McQueen once said, "It's a new era in fashion — there are no rules." And we've no doubt heard interpretations of this same message before. Michael Kors once said, "I know what women look good in. I don't think the rules ever change." And in the words of Anna Wintour, "You either know fashion or you don't." It's a common theme among fashion's elite, this denial of any rules in fashion. But it's the undertones here — the implications — that are almost more flagrant than the utterance itself. It's like when a mother tells her daughter that she doesn't have to go to her grandma's birthday party in Jersey City, but that it would mean so much to grandma. And, for a final punch to the gut, she'll add, "I know you'll make the right decision."
Of course there's no fashion handbook or list of rules, McQueen seemed to imply, just be sure not to fuck up and wear the wrong thing.
I'm going to play the devil's advocate here and say there are, in fact, quite an array of clothing and fashion rules; it's just up to us to figure out what they are. And the unspoken rule that's currently dictating and dominating the fashion scene? The correct way to tie a belt.
Nicolas Ghesquière first hinted at correct belt-tying etiquette when he released his Fall 2014 campaign for Louis Vuitton.
And then again in his ads for his special edition Louis Vuitton monogram collection in early September, as New York Fashion Week was just getting under way.
Any doubts we may have had as to the message he was trying to impart were immediately squashed as a flood of similarly-knotted belts washed in during the spring 2015 shows. First in Loewe's show (its first show since Jonathan Anderson was named creative director):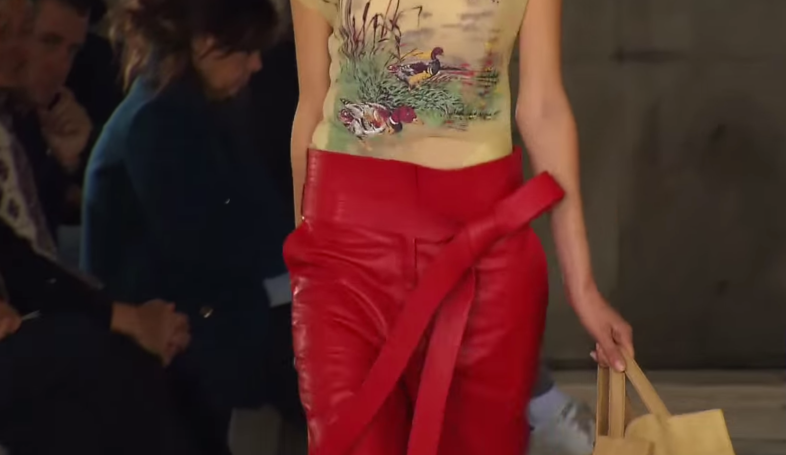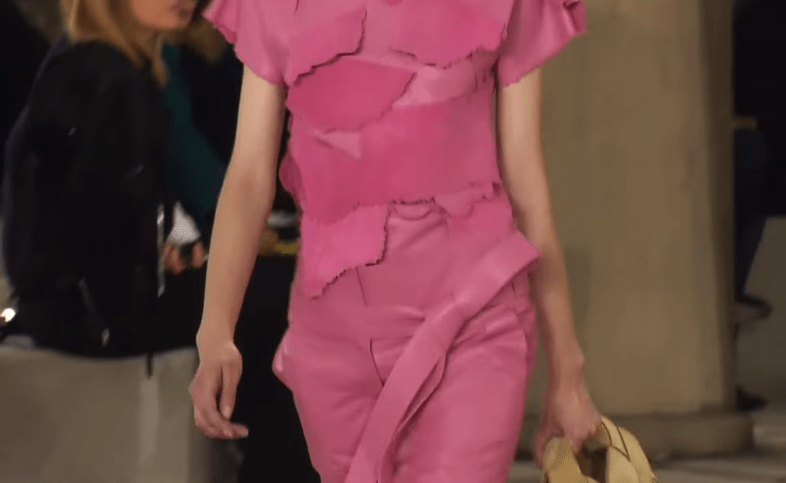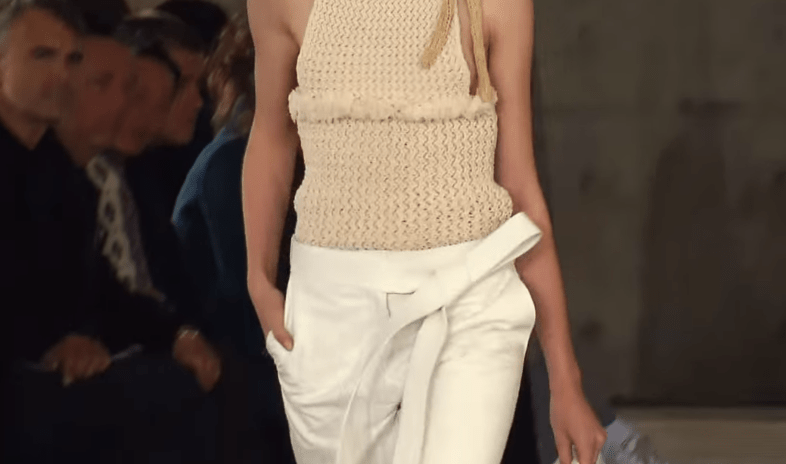 And then in the Juergen-Teller-lensed portfolio of Nicolas Ghesquière's spring 2015 collection for Louis Vuitton entitled "A Dozen Girls." And ever since, as stylists have incessantly sworn by the lack of rules in fashion, they've simultaneously and unrelentingly used this exact method of tying and knotting to style belts.
http://instagram.com/p/v4HjWgw7qu/?modal=true
http://instagram.com/p/v4HhXiQ7qk/?modal=true
http://instagram.com/p/wH1vjmQ7vK/?modal=true
http://instagram.com/p/wC9EbdS354/?modal=true
It's important to note that not all of the belt moments documented above depict the exact same knot. Some of the knots have a loop-d-loop thing going on with the extra slack of the belt. Others have no loop at all because the belts are shorter. But throughout all of these belt instances, the general gist remains the same: a minimal, clean, almost origami-like knot. A tutorial, of sorts:
Step 1:
The first step is the overhand knot — the fancy term for how one starts off tying a shoe. Just make sure that one end is significantly longer than the other.

Step 2:
Take the longer end and begin wrapping it around the shorter end of the belt like so:

Step 3:
Wrap it around only once, until it looks like this:

Step 4:
Then take the same longer end of the belt used to wrap around the shorter end, and tuck it into the loop you just unknowingly made.

Step 5:
Pull both ends of the belt until the knot is secure.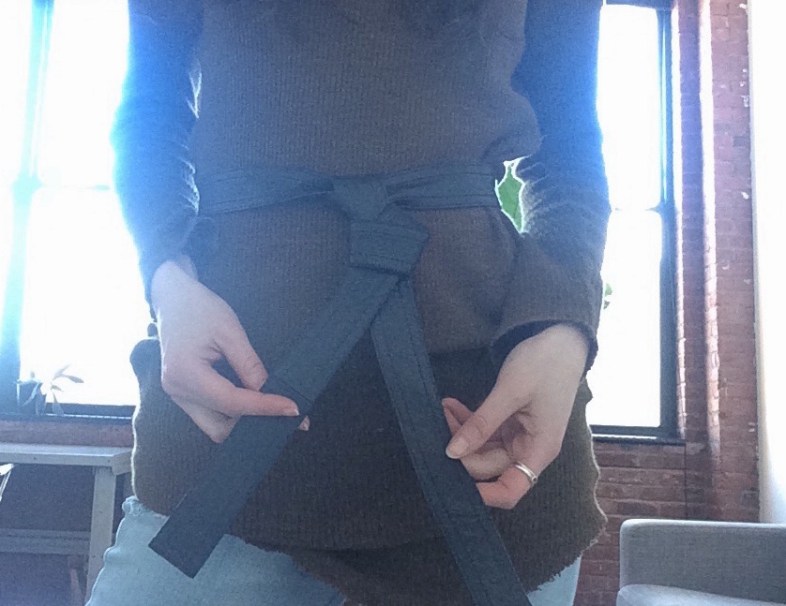 Much better.