Since I've started covering fashion, something I've encountered here on Thought Catalog more than stefpants herself is this "I don't follow fashion and am therefore intrinsically more high-minded than you" attitude. Having had much experience with this particular strain of self-regard, I've had time to think about it and have come to the following, not-so-far-fetched, actually-really-obvious conclusion. It seems that some people who lack a knowledge of fashion — a "fashion sense" as some call it — see any coverage of fashion as threatening. And it's specifically the prospect that they'll never understand fashion, no matter how much they try, that they're threatened by. As such, merely glancing at the headline of a fashion article is enough to propel them into a defensive rage. It's like the kid who breaks up with his or her partner solely out of fear that the partner is going to do it first. Because fashion isn't one of those topics like political science that immediately exudes legitimacy, it's often seen as an easy target — which might explain why these people consider remarks like this to be sufficient enough to debase the entire fashion industry.

They use their "basic"-ness as a shield to deflect any insightful thoughts on fashion that cross their path. And they use it to fall back on, as if the pursuit of basic-ness is infinitely more noble than pursuing fashion in any capacity, presumably because it grants them more time to focus on the stuff that matters — y'know, like political science.
A new exhibit that recently went on display at London's Design Museum entitled "Women Fashion Power" addresses this drawn-out, arbitrary, and widespread belittling of the fashion industry and the effect this has had on women. Thanks to these stubborn fashion naysayers, supporters of fashion (and especially women) have not been able to embrace fashion the way they'd like. As Vanessa Friedman wrote in the New York Times, "Fashion, like money…[is] the tool all people use — and have used, as the exhibition makes clear, since Joan of Arc threw on some male armor — but refuse to admit they use." But this exhibit aims to change all of that by turning the spotlight away from the designers and onto women — "the muses of fashion" as they're referred to in the Guardian — who see clothes as "'projecting personality, not about conforming'" (curator Donna Loveday's words). And it's not a fruitless pursuit either; much can be learned and gleaned from the history of fashion, in particular how women have utilized it to empower themselves.
The exhibit follows the sartorial bents of women like Joan of Arc, Margaret Thatcher, and all the way up to Hillary Clinton. Also featured are a series of Q&As with working women today in fields like finance, business and politics, who are equally as successful as they are into clothes (and they're very successful). The exhibit makes a prescient point and brings to mind some other people — whose identities are indelibly intertwined with fashion — that are currently speaking up to make a real difference. Like Janet Mock, Lea T, Laverne Cox, and Carmen Carrera — all beacons of strength and female empowerment and all unabashedly into fashion.
It's the fashion naysayers — those who aim to prove that fashion is not a righteous pursuit — who are really just getting in the way. Uncoincidentally, they're also probably the same people who have probably never heard of Meadham Kirchoff and other likeminded fashion designers with feminist and politically-charged agendas. Or Julia Nobis, for that matter — one of the most coveted models at the moment who also happens to be finishing up medical school. They've probably never read articles like this either, written by model Marc Sebastian about the deep-seated homophobia he's encountered on shoots and go-sees. Because why would they? They're too busy making sure that the fashion-inclined people of the world are, as the Guardian aptly put it, "pigeonholed as frivolous."
And while the slew of spring/summer 2015 campaigns that were just recently released may not hold a candle to, say, Wendy Davis and her never-to-be-forgotten bright suit and sneaker getup (which, i might add, now conjures up images of strong, tenacious, and determined women), there's still a pretty consistent theme running throughout of "women who boss" that deserves our attention. Take a look at some of the best spring/summer 2015 manhandling moments below.
1. Kimye for Balmain men's spring/summer 2015 campaign.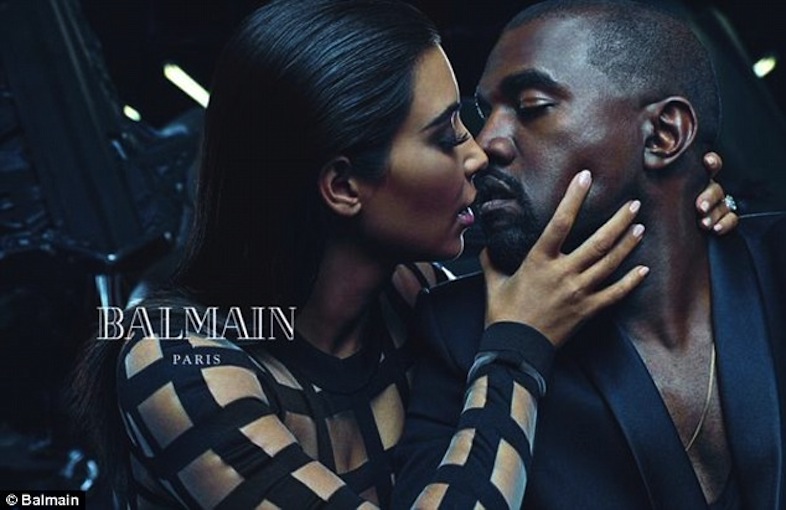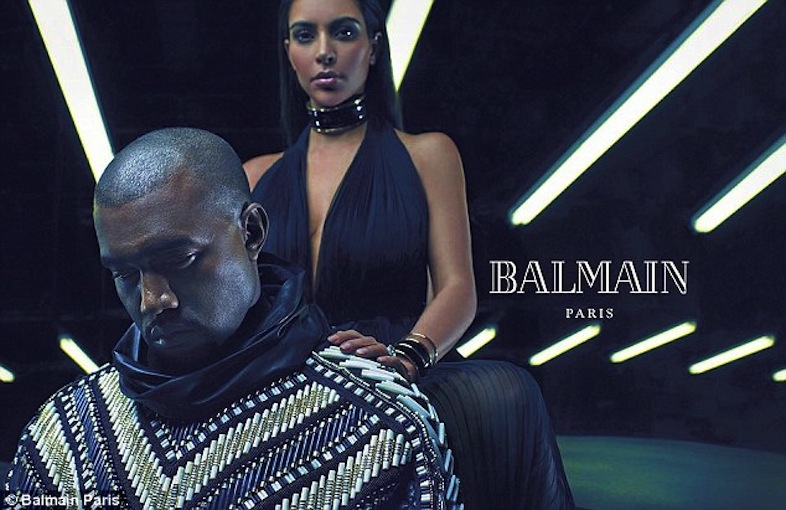 Would it be too much of a stretch to say that the way in which Kim grabs Kanye's face here evokes "Women Fashion Power"'s overall message — that women should no longer be seen as slaves to fashion? Lensed by Mario Sorrenti, the ad depicts a role reversal of sorts in which it's the woman in the relationship, and not the man, who runs the show.
2. Givenchy's spring/summer 2015 campaign.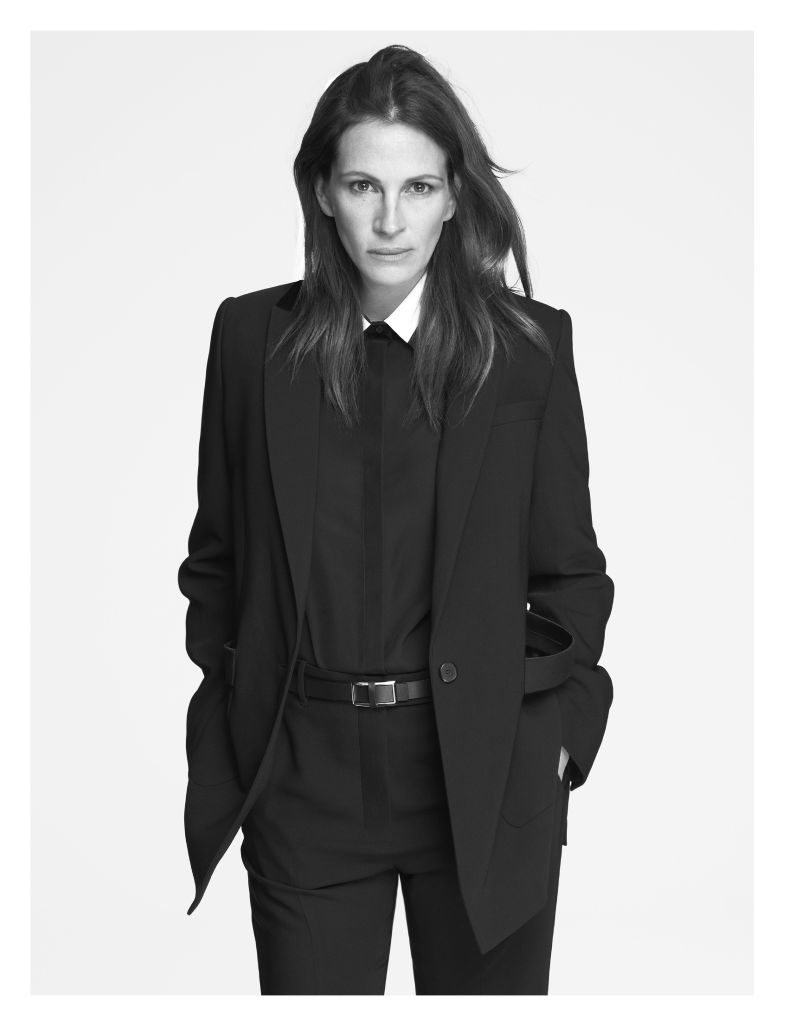 There are two threads to Givenchy's spring '15 campaign — one starring Julia Roberts and another starring Imaan Hammam, Stella Lucia, and Mica Arganaraz (but all shot by Mert Alas and Marcus Piggott). In the former, Julia is seen wearing an Annie Hall-like suit — a masculine pantsuit with a bit of a feminine vibe to it. And while the appropriation of menswear (and the arbitrary gender lines subsequently established) is appreciated, it's the latter of the Givenchy ads that deserve our full attention, in which Imaan, Stella, and Mica are head bitches in charge clad in some of Givenchy's more feminine looks; as "Women Fashion Power" explained, "There's a sense of power coming from embodying your gender, not denying it."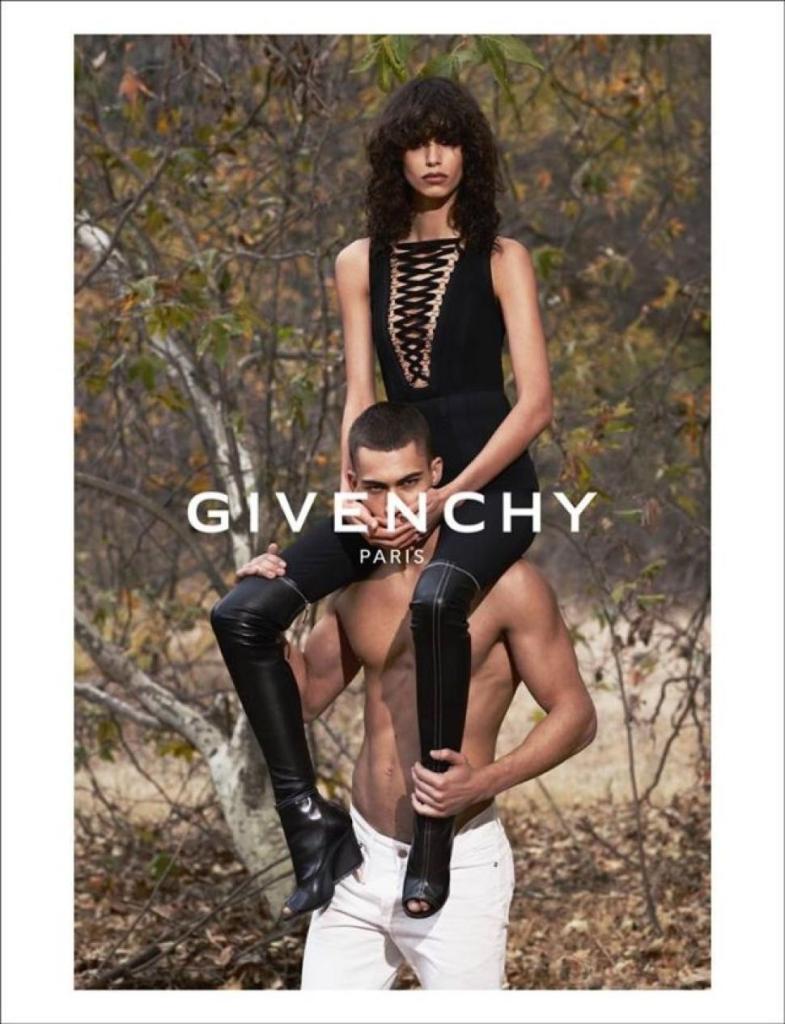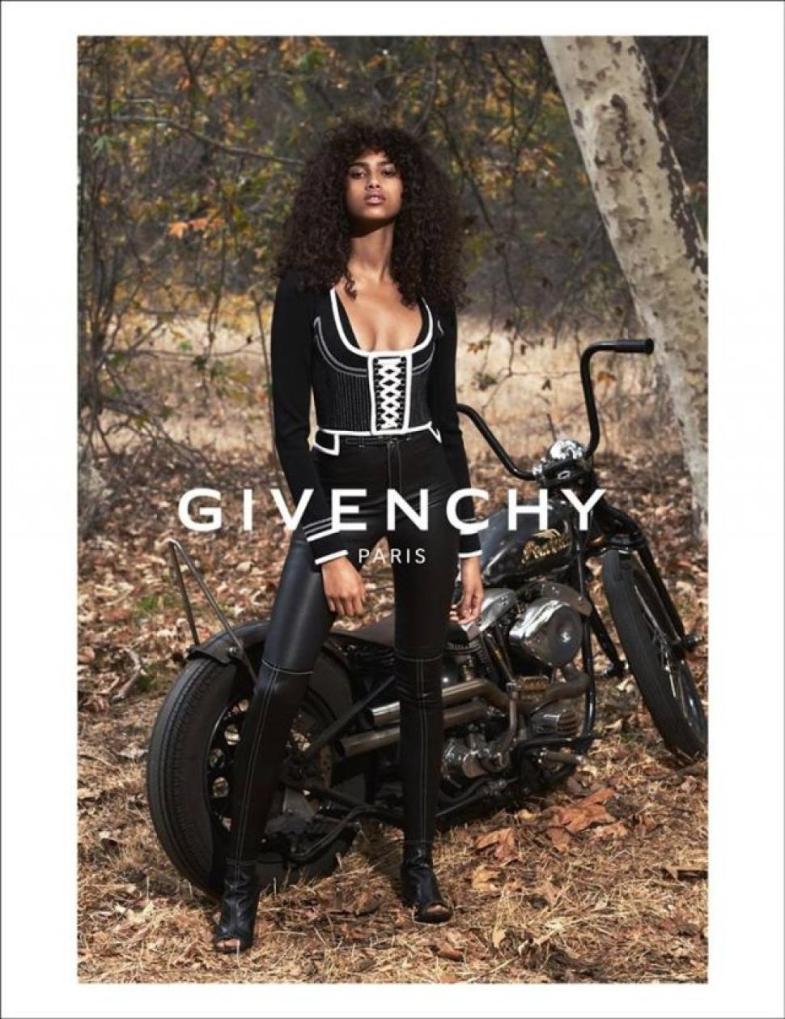 Here the girls derive strength not from feigning masculinity, but from embracing their femininity. And it's not in spite of these clothes but because of them that they have full control over themselves and their authority — that they can confidently own (or maybe just pose with) their choppers and that Mica can assertively sit atop Alessio Pozzi's shoulders and silence him with ease.
3. Agent Provocateur's spring '15 campaign with Naomi Campbell.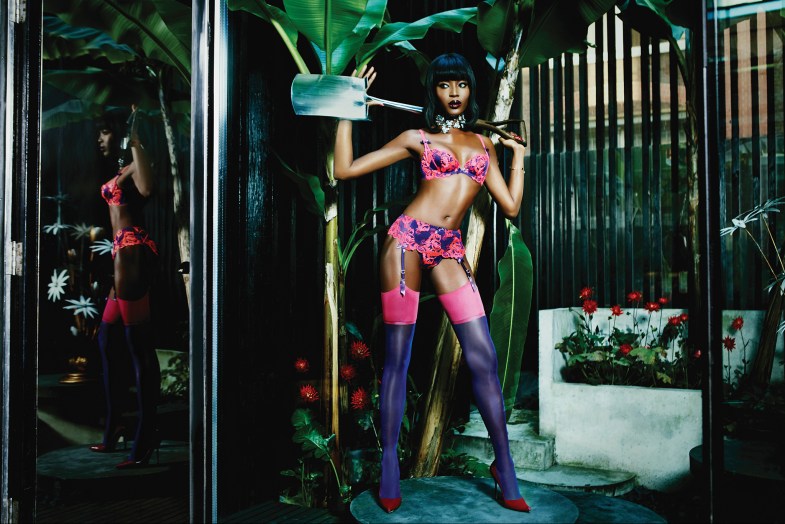 Shot by Ellen von Unwerth, the campaign oozes female empowerment. Just when you think Naomi has forgone her no-bullshit-attitude for a naked, vulnerable one, she comes at us brandishing a goddamn shovel. The message echoes that previously-mentioned misconception people so often have of fashion and its supporters. Just because I match my bra to my underwear, garter belt and tights, Naomi seems to say, does NOT mean I'm some vapid ho.
4. Irina Shayk for Linda Farrow eyewear.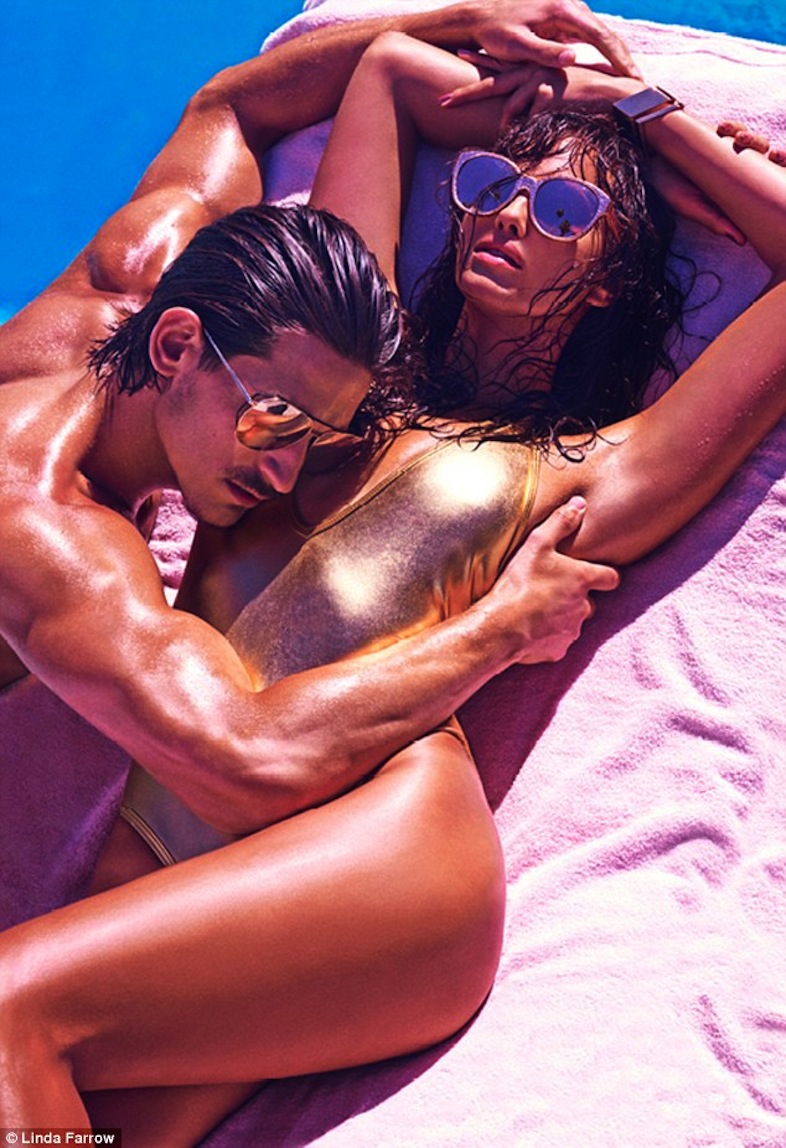 As women continue to surpass men in the workforce, it would only make sense that fashion campaigns would update their boy-girl interactions accordingly. Enter Irina Shayk in the new Linda Farrow campaign shot by Mariano Vivanco. She's a woman who doesn't rely on men and can thus use them as her little toys — use them in much the same way as men typically boast of using women. What's more, she knows what she wants; touch me this way, she seems to say. No. Not there. A little further down — yes, just like that!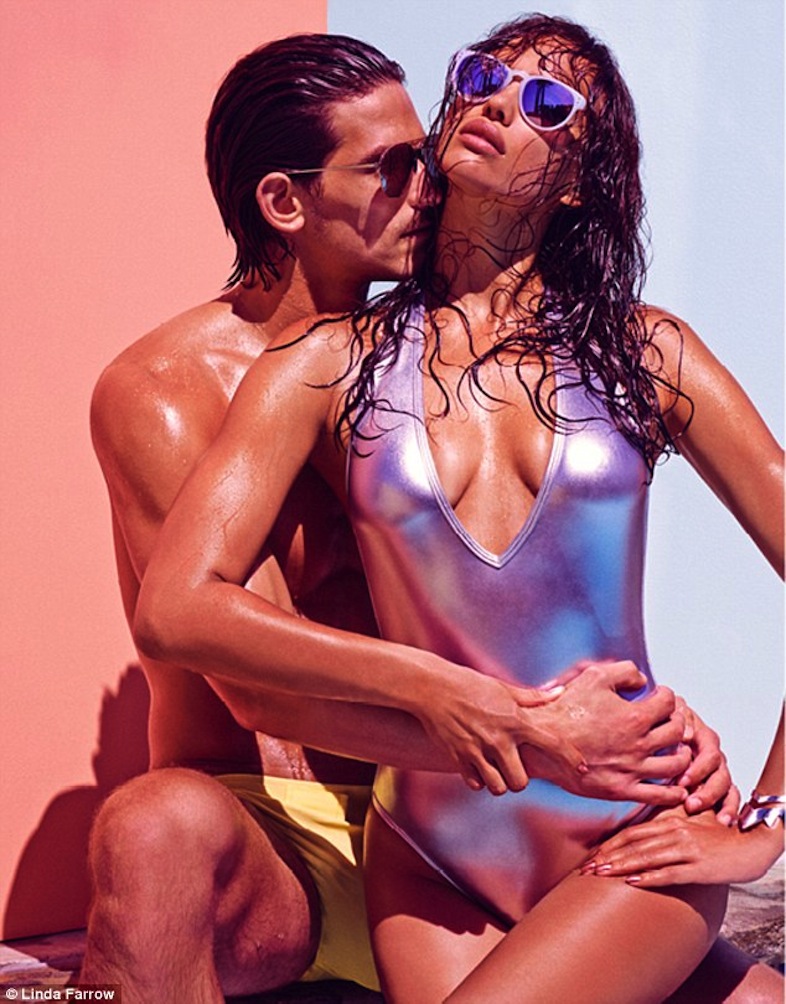 And as soon as she's done, she tosses them aside.

Follow the Instagram to get exclusive updates on Style Catalog.