We say "jeans" and immediately blue jeans come to mind. But why? Jeans are only blue because the denim is colored with an indigo dye; initially, jeans were nothing more than a light cotton fabric. And blue jeans are so typical, so obvious; everyone wears them. Everyone sings about them too: Lana del Rey, yes, but before her came Neil Diamond, Elton John and David Bowie. I think it's about time we changed things up. And Gap would certainly agree.
SPONSORED
1. They're understated.
Like butterfly clips or Bijou Phillips, black denim belongs to the group of understated '90s trends that you hardly even took note of until they were gone. Well thankfully GAP has brought them back in new, but equally understated iterations. Like these black denim elastic pants on Camille — there's a distinct depth to them that the average pair of jeans lacks and, when paired with a simple turtleneck and slip-on sneakers, a chic French look to them too.
2. It's one step up from casual.
Yes, black denim is still denim, but there's something about a black wash that feels much more sophisticated than a blue wash. It's appropriate to wear to work and is hardly even distinguishable from a pair of black trousers, as Camille Rowe demonstrates in these simple black GAP jeans. Hate changing your daytime clothes just to go out at night? I don't blame you; and with these jeans you won't have to. I think in fashion they call this a "transition" piece; but in life, I call it convenience.
3. Harry Styles.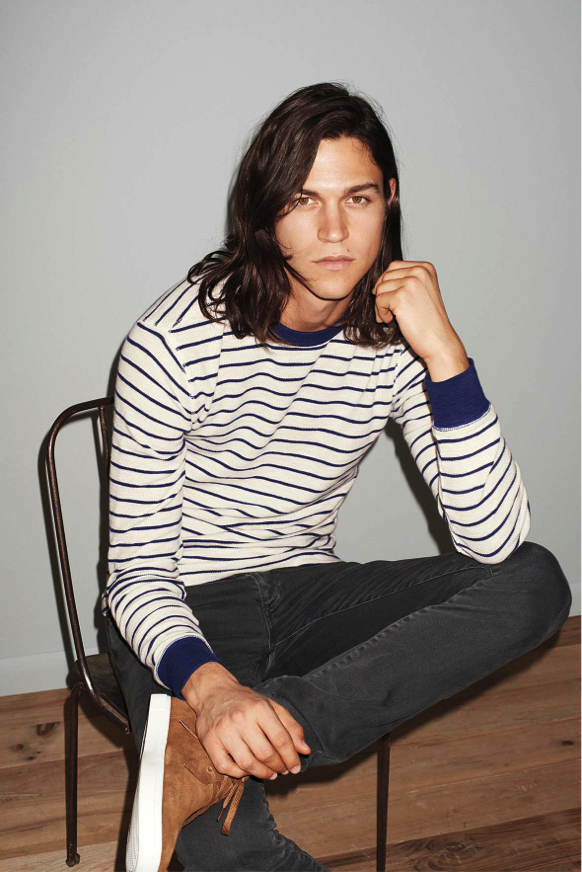 Ever wondered why the most sought-after human on this earth is also a black denim crusader? Try taking a gander at Miles in a pair of GAP's black denim jeans – that should clear up any confusion. These black jeans are every man's answer for how to look stylish, without giving off the impression of trying too hard.
4. They look clean, without having to actually be clean.
The beauty of a black wash is that it's practically stain resistant. Because what could you possibly spill on a pair of black jeans that would stand out? The answer is red paint but, barring that, you're pretty much in the clear. Black denim won't judge you like a pair of blue denim jeans will; they allow you to be your messiest self while still looking presentable.
5. For a different kind of fade.
How to make a fresh look out of possibly the longest-standing clothing item there is? GAP realized that black denim (unlike other colored denim) takes a lot longer to fade and used this as a jumping off point for their fall collection. The result is a light, grey-hued fade like the one on this jacket. Add to that the frayed neckline and it's the perfect example of raw-looking denim at its finest.
This post brought to you by Gap. Dress Normal.