Here we weigh in on the beauty and style looks we're currently lusting over. We promise to deliver fairly simple and easy tips, along with affordable products to help you pull them off.
Thus far, the only purple I've sworn by went by the name of Drank. A delicious, sugary grape drink, Drank contains melatonin and rose hips, comes in a can the size of a 40 oz. of Sapporo, and stole my heart one year in college when it became my closest friend and a trusted sleep aid.
If you asked me about purple hair a year ago I would've probably said something along the lines of "Leela from Futurama, done and bye." I didn't know of any other purple hair and I'll admit: I was naïve. But as more and more celebrities emerge with this distinct shade of purple (as many have in the past year), I'm continuously surprised by its consistent appeal. I'm not talking about that jet-black-with-violet-shine shad of purple either. I'm talking lavender and lilac, almost verging on silver.
And then it hit me — well, yes, my bathroom door, but also: Claire Danes, My So-Called Life. Her hair was PRACTICALLY purple back then.
I'd say somewhere between an auburn and an aubergine? And I think we can all agree it looked GOOD.
---
As we all know, Nicole Richie has it: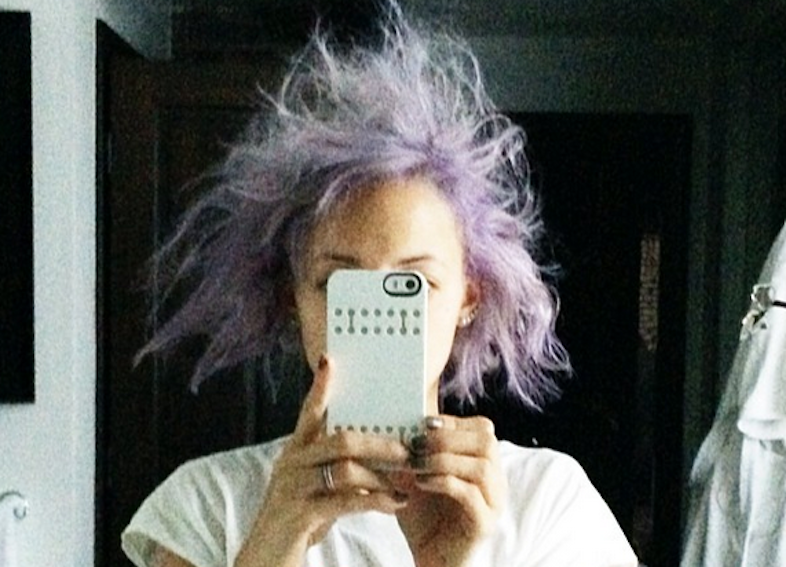 And Kelly Osbourne:
But did you know Ke$ha has it too?
Or Anna Paquin?
That's what I thought.
And finally, Cara Delevingne in the new Love, for good measure:

If you want your hair looking like any of the above, I'm pretty sure Manic Panic is the way to go.